The Ampersand Hotel is located in the museum district in London and from this, the hotel has taken inspiration into creating a unique concept that unites its guests with the local surrounding area through the five themes, namely; botany, music, geometry, ornithology and astronomy.
Originally built as a boutique hotel and was previously called as the Norfolk Hotel, the Ampersand Hotel now has a total of 111 rooms and suites which is a great contrast from the 80 rooms that it previously had.
Gaining popularity among other new hotels in Europe, the Ampersand Hotel has been declared as the second-best new hotel in Europe (based on user reviews and ratings in the world). Critics have described the hotel as a fresh and welcoming hotel with fun and exuberant interior.
Interested about this hotel? Check out this Ampersand Hotel: It's Rooms and Facilities for a quick overview of the hotel!
Dining
The Apero at the Ampersand Hotel is one of the most popular restaurants in Kensington. Food served at the restaurant includes easy-going Mediterranean cooking for lunch.
The Drawing Rooms' specialty on the other hand offers all-day coffee and patisserie while The Wine Room boasts of a delectable gourmet experience and fine wines.
Facilities
Ampersand Hotel has a gym (fitness center) that is fully-equipped with the latest equipment. Its Technogym has facilities such as a bike, treadmill and cross-trainer with integrated digital screen, internet access and iPod dock, as well as free weights.
The location of the hotel (near Hyde Park) gives guests from the hotel the opportunity to enjoy outdoor activities such as horse-riding and roller-blading. A table tennis table is also available at The Games Room.
Meeting and Events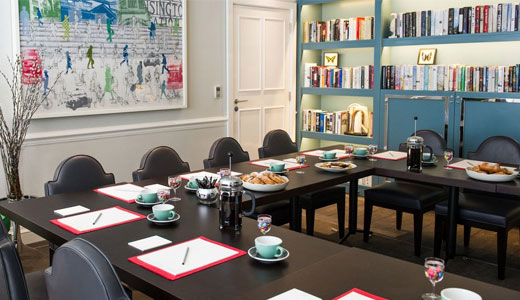 Meeting and Event Rooms at the Ampersand Hotel are equipped with state-of-the art facilities, perfect for a corporate even or party venue. The hotel has 3 spaces that guest may look into: The Library, The Games Room and The Wine Room.
Rooms
Inspired by the local London neighborhood, the rooms at the Ampersand Hotel are designed with the five central concepts: botany, music, geometry, ornithology and astronomy. Its 111 rooms and suites are provided for comfort and luxury.
Check out the best hotels in London right here!