Longing for a luxury vacation? With the heat of the sun on your back and the feel of the sand at your feet? Well, you are one with us on this view! We sure do miss the beach and all the fun things that you can do on it.
Among the most popular destinations for those who love the sea is Maldives. It is a paradise that continually entices thousands of tourists from around the globe and never fails to leave great memories made especially outstanding with our loved ones.
One resort that offers luxury and indulgence is the Velassaru Maldives. Located on a private coral island, the Velassaru is a 25-minute speedboat ride from the airport, perfect for those who wants seclusion and privacy on the Indian Ocean.
For a glimpse of what awaits you at the resort, check out this Indulgence at the Velassaru Maldives and feed your imagination for what is in store for you!
Activities
Velassaru Maldives offers a wide variety of saltwater escapades including activities to keep you up and excited the whole day. From diving to snorkeling to a wide variety of water sports- such as water-skiing, knee boarding, wake boarding windsurfing, para sailing and so much more- the resort has it all.
Guests may also enjoy the Marine Center where bido adventures, house reef explorations and marine biology explorations.
Services and Facilities
Prides itself for providing 'luxury at your fingertips', the resort is handled by staff who can speak with guests in their language and are available 24-hours.
Adding up to the staff, the resort is equipped with facilities and services that caters to all the guests' needs including but not limited to in-villa dining, laundry service, free Wi-Fi net, DVD library, boutique, onsite photography services, infinity pool, fitness center, tennis court and currency exchange.
Spa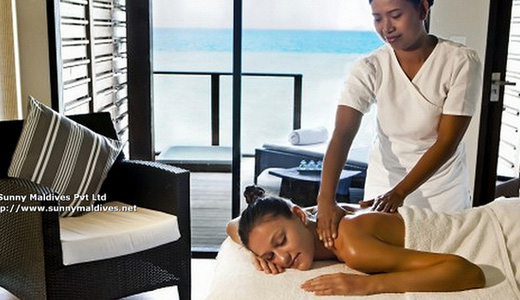 The Spa at the Velassaru is the perfect place to relax and soothe the body. Its over water treatment pavilions provides classic therapies for guests wanting to rejuvenate.
Spa facilities include: relaxation rooms, manicure and pedicure room, hydro pool perched over the lagoon and steam room. On request, the resort also offers Yoga sessions for strength, relaxation and flexibility.
Villas and Bungalows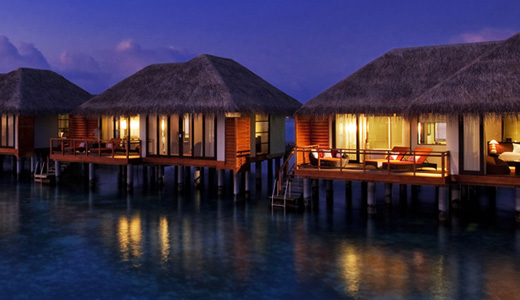 Image By: Velassaru Maldives
For the ultimate retreat, the resort has amazing accommodations for all of its guests that includes a Deluxe Bungalow, Beach Villa, Ocean Water Bungalow with Pool, Beach Villa with Pool and Lagoon Water Bungalow with Pool, among others. Each villa and bungalow are designed with elemental colors, high vaulted ceilings and are inspired by local architecture in harmony with the tropical surroundings.
Wine and Dining
A vacation isn't complete with mouthwatering cuisines to satisfy all types of appetite. Velassaru has 5 enticing dining venues and two innovative bars to indulge in. Each of these are uniquely designed to sate and content all guests.
More of North Male Atoll, Maldives' popular resorts!
Like This Post? Pin It!