Spanning over 604.3 kilometers, Madrid is a city that is filled with sights that caters to every traveler's need. Among its most popular attractions that tourists love to explore is its extensive areas of parks, gardens and "green zones".
Madrid prides itself for being one of the European cities with the highest number of trees and green surface per inhabitant. This is evident in the well-tended parks and plazas that are beautifully landscaped and maintained.
For tourists who wishes to Explore Madrid, Spain's Green Zones and Famous Outdoor Attractions, Bike and Walk Tours are offered by several agencies. Here, your will get to experience the city as it is and visit its world-renowned parks and plazas.
Take some time to mingle with the locals and tourists alike and be part of the city. Check out the list below for some places you may explore during your trip!
Cerro del Tio Pio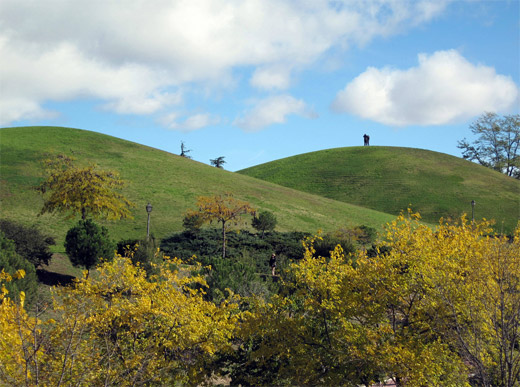 Translation: Park of the Seven tits
Location: Calle de Benjamin Palencia | Parque Pio Felipe, Madrid, Spain
Consists of a series of seven hills, the Cerro del Tio Pio offers excellent and breathtaking views of the Madrid skyline. Aside from this, the park also has a bike path, a gazebo, a bar and a children's play area, plus extensive lawns and trees.
Faunia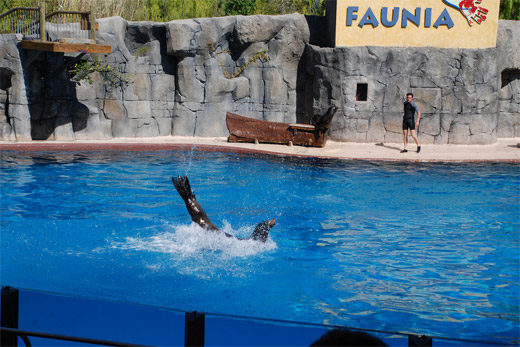 Location: Avenida de las Comunidades, 28 | Valdebernardo, Madrid, Spain
The Faunia is a huge biodiversity theme park in the city that is home to thousands of different species of animals from all over the world. This huge nature park has 8 of the worlds eco-systems and 3,500 animals and is great for the families.
Gran Via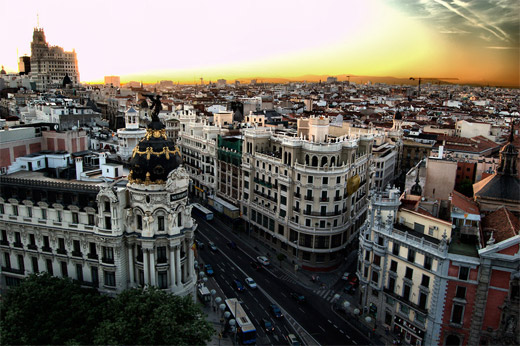 Location: Madrid, Spain
The Gran Via is a famous street in Madrid that showcases early 20th century architecture in the city. Aside from being one of city's most important shopping areas, Gran Via contains a large number of hotels and large movie theaters.
Madrid Rio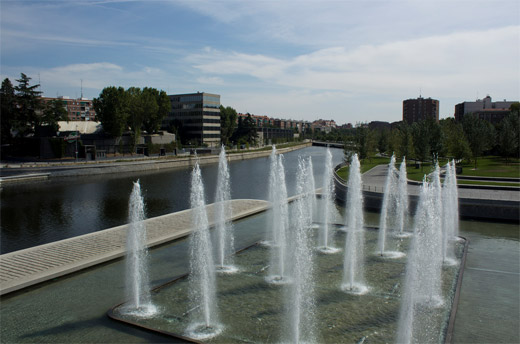 Location: Calle Camino de Perales, Madrid, Spain
Madrid Rio is an impressive 10km-long park that runs along the banks of the Manzanares River. The park offers a variety of sports and recreational facilities that is great for the family and group of friends.
Plaza de Cibeles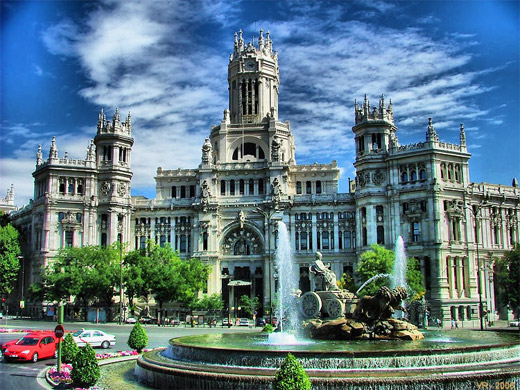 Location: Madrid, Spain
Regarded to be one of the most beautiful and grand squares in Madrid is the Plaza de Cibeles. It is a square with a neo-classical complex of marble sculptures with fountains. One of the square's highlight is the Cibeles Fountain that was named after Cibele (or Ceres), the roman goddess of nature, who is seen as one of Madrid's most important symbols.
Plaza de España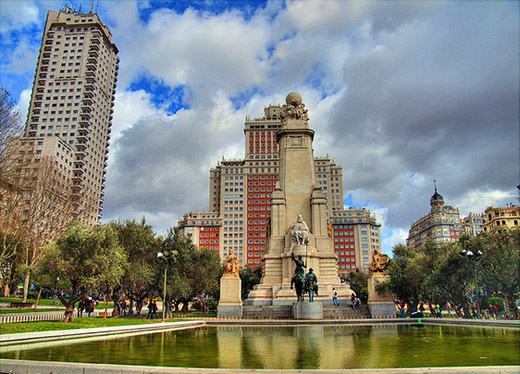 Location: Madrid, Spain (Centro)
Plaza de Espana is one of Madrid's most popular and largest square. Located at the end of the Gran Via where tourists where it is filled with street vendors, tourists and sunbathing locals on sunny days. One highlight of the plaza is the monument to Miguel de Cervantes, writer of the world famous story of Don Quixote de la Mancha and his trusty squire, Sancho Panza.
Plaza de la Villa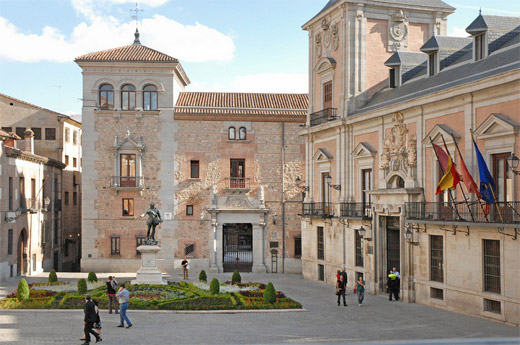 Location: Madrid, Spain (Centro)
A picturesque small square in the heart of Madrid, the Plaza de la Villa is a historic site with breathtaking architectural buildings. At the center is a statue of Alvaro de Bazan, the Spanish Admiral who planned the Armada, the fleet that attempted to invade England.
Plaza de Oriente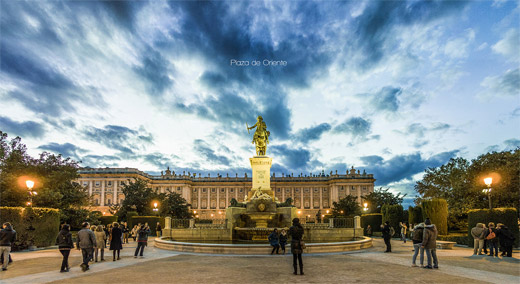 Location: Opposite Palacio Real, Madrid, Spain (Centro)
The Plaza de Oriente is a square adorned with small gardens and many statues and borders the Madrid's Royal Palace by its pedestrian. A large equestrian statue of king Philip IV set upon a fountain decorated with allegorical statues is located at its center.
Plaza Mayor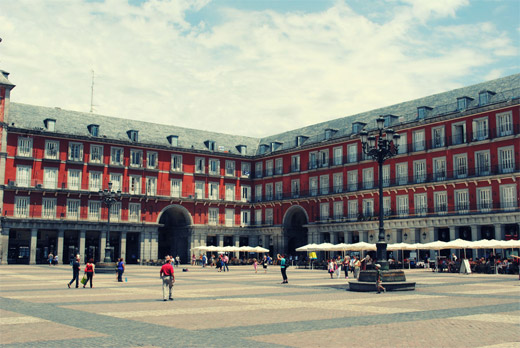 Location: 28012 Madrid, Spain (Centro)
Plaza Mayor is grand arcaded square that is very popular with tourists and locals. The plaza has been the center of festivities, bull fights, royal coronations and executions in the city since its creation.
Puerta del Sol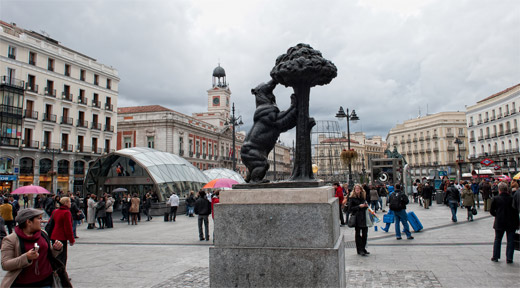 Location: Madrid, Spain
For tourists wishing to explore the city, the Puerta del Sol is the perfect place to start your exploration. It is considered as one of the city's most lively places and is the heart of Madrid's historic center.
Parque del Retiro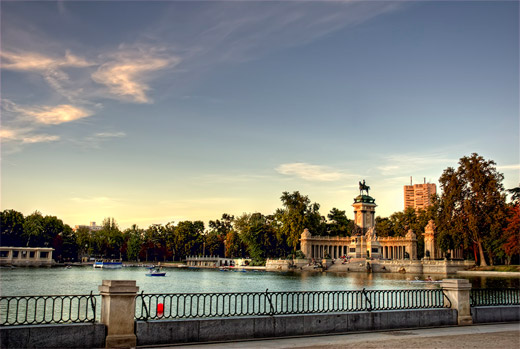 Location: Between C. Alfonso XII and Avenida de Menendez Pelayo, Madrid, Spain (Retiro)
Considered to be the most popular park in Madrid, the Parque del Retiro was created as a royal park where it was partially laid out in a formal French style, while other parts are more natural. Some of the highlights of the park are the Museo del Ejército, The Lake and the Palacios. Do you want to know more about Spain? Try to check these Spain landmarks.
Like This Post? Pin It!