Victoria's most populous city as well as its capital is the city of Melbourne. It is one of Australia's most creative and exciting city that never fails to entertain tourists and locals alike. From world-class arts and cultural heritage institutions, a spread of the world's great cuisines, lively entertainment and amazing shopping centers, Melbourne definitely has it all. With streets bustling with energy and endless possibilities of fun and adventure, Melbourne should be included in your list of cities to visit.
Melbourne, Australia Top Attractions lists down some of the most visited spots in the city. Enjoy your visit by exploring its parks, gardens, historic architecture and more!
1. Bourke Street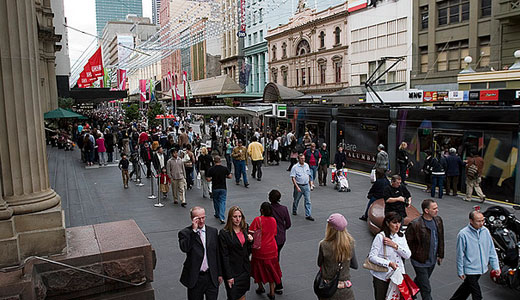 Location: Melbourne, Australia
Enjoy a walk down through Bourke Street and indulge on its Lanes, alleyways, little streets, arcades, cafe society and fascinating shops.
2. Cook's Cottage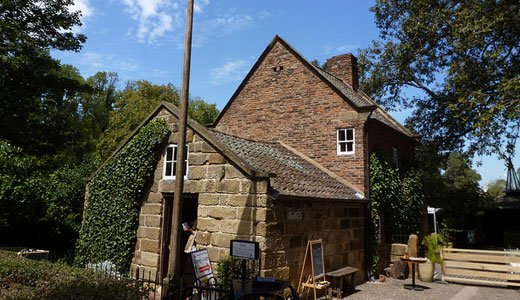 Location: Fitzroy Garden/Wellington Parade, East Melbourne VIC 3002, Australia
One of Melbourne's historical landmarks, Cook's Cottage is the restored home of Captain James Cook. The building is a double-storey cottage with a traditional English cottage garden.
3. Crown Entertainment Complex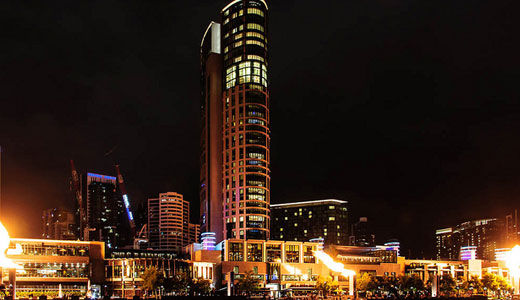 Location: 8 Whiteman St, Melbourne VIC 3006, Australia
Crown Entertainment Complex is one of the world's largest entertainment complex that covers two city blocks. The Crown offers a wide variety of dining options, grandest ballroom, a multi-tiered auditorium for shows of world-class performers, hotels, casinos and other extensive facilities for guests with disabilities.
4. Dandenong Ranges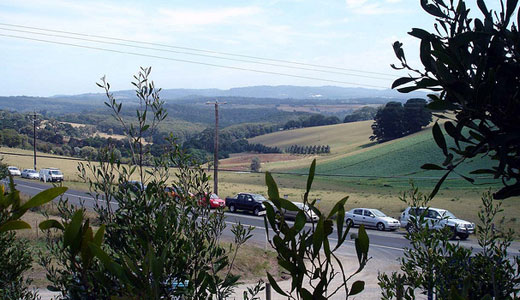 Location: Melbourne, Victoria, Australia
Get in touch with mother nature with Dandenong Ranges and explore its secret fern glades, towering forests and eclectic villages.
5. Etihad Stadium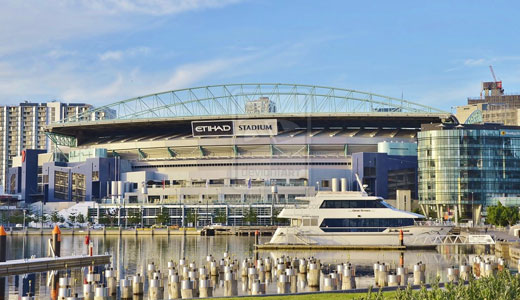 Location: 740 Bourke St, Docklands VIC 3008, Australia
Previously known as Telstra Dome, the Etihad Stadium is one of Australia's leading multi purpose venues. With a seating capacity of up to 55,000, the building is designed to host major sporting and entertainment events.
6. Eureka Skydeck 88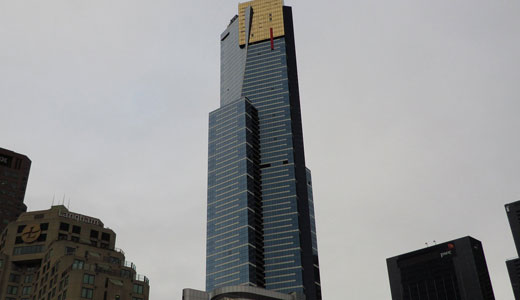 Location: Eureka Tower/7 Riverside Quay, Southbank VIC 3006, Australia
Eureka Skydeck is a 297.3-meter skyscraper tower that offers a spectacular view of Melbourne from its observation deck of the highest public vantage point in the Southern Hemisphere.
7. Federation Bells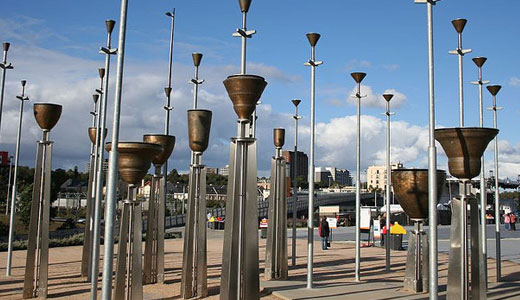 Location: Birrarung Marr Park, Melbourne, Australia
The Federation Bells are 39 upturned bells cast in bronze alloys created for celebrations of the centenary of Australia's federation in 2001. The bells play 3 times a day on a daily basis between 8am and 5pm.
8. Federation Square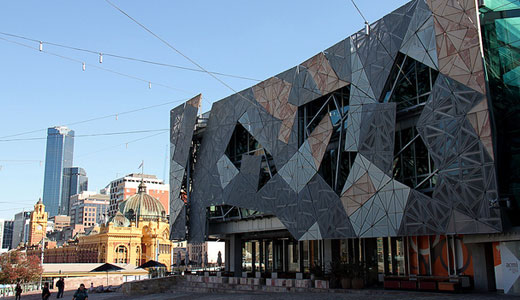 Location: Flinders St, Melbourne VIC 3000, Australia
Federation Square is a public square where people usually gather to chill out and have fun. With its cultural precinct and free WiFi, its a popular tourist attraction.
9. Flinders Street Railway Station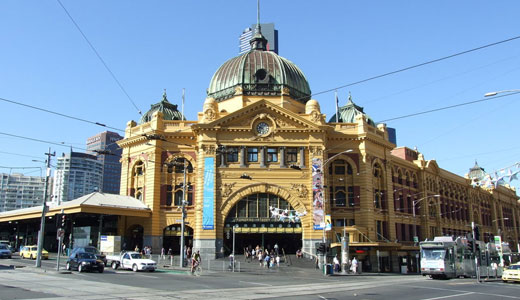 Location: Melbourne VIC 3000, Australia
Considered to be the oldest station in Australia, the Flinders Street Railway Station was opened in 1854. One of Melbourne's famous landmark, the station is an institution that is included in the daily routine of many people.
10. Luna Park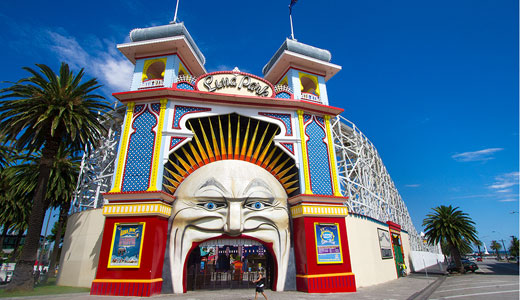 Location: 18 Lower Esplanade, St Kilda VIC 3182, Australia
Bursting with exciting rides, amusement for kids of all ages and entertainment for everyone, Luna Park in Melbourne is a great place to spend the day with family and friends.
11. Melbourne Aquarium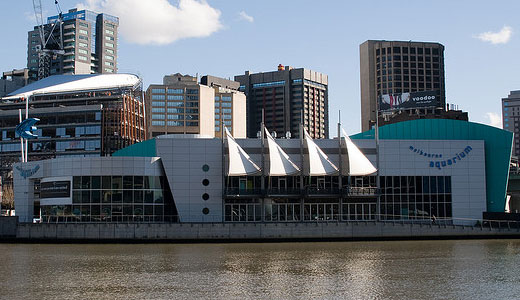 Location: Flinders St, Melbourne VIC 3000, Australia
For an entertaining and educational experience, a visit to the Melbourne Aquarium will guarantee you with that and more! The Aquarium is home to thousands of aquatic animal and has several shows and events to look forward to such as dive presentations, Penguin Passport, Fish Feeding and Shark Dive Xtreme.
12. Melbourne Cricket Ground (MCG)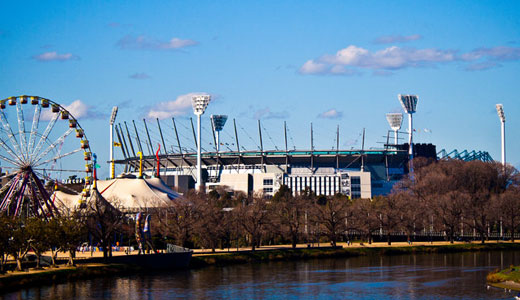 Location: Brunton Ave, East Melbourne VIC 3002, Australia
An Australian sports stadium, the Melbourne Cricket Ground or MCG is a home to the Melbourne Cricket Club. It is the largest, oldest and the most popular sporting venue in Australia.
13. Melbourne Docklands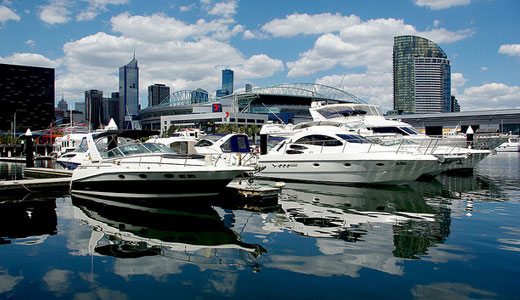 Location: Melbourne, Victoria, Australia
The Melbourne Docklands offers a wide variety of entertainment and events for all. From arts to sports and culture, everyone will surely enjoy visiting the Docklands with friends and family.
14. Melbourne Museum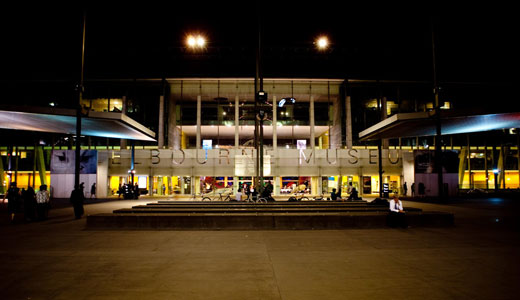 Location: 11 Nicholson St, Carlton VIC 3053, Australia
Get to know the state of Victoria in the award-winning Melbourne Museum. The museum offers amazing collection in its eight galleries including its complete skeleton of a blue whale, the Bunjilaka Aboriginal Cultural Center and IMAX theater.
15. Melbourne Zoo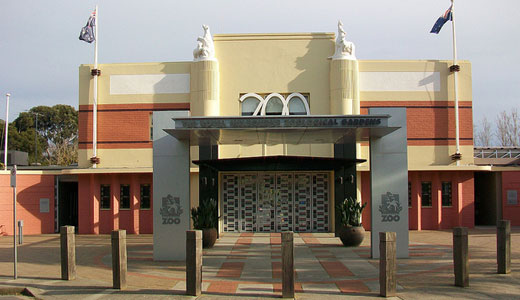 Location: Elliott Ave, Parkville VIC 3052, Australia
The Melbourne Zoo is Australia's oldest zoo and was opened in the year 1862. The zoo is home to over 320 animal species from Australia and around the world. Zoo highlights includes Growing Wild, Keeper Kids, Butterfly House and Trail of the Elephants.
16. National Gallery of Victoria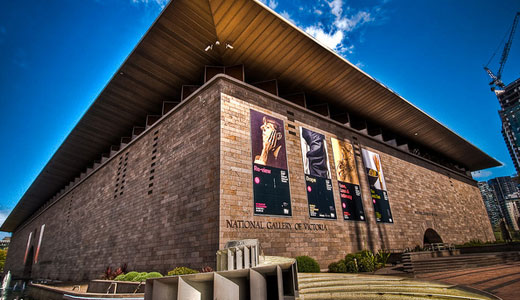 Location: 180 St Kilda Rd, Southbank VIC 3006, Australia
Popularly known as the NGV, the National Gallery of Victoria is an art museum and is considered to be the oldest public art museum in Australia. The museum's collection includes Indigenous (Australian Aboriginal) art, Australian colonial painting and Australian Impressionist painting.
17. Queen Victoria Market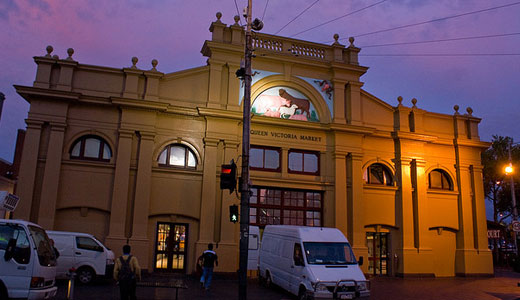 Location: 513 Elizabeth St, Melbourne VIC 3000, Australia
The largest open air market in the Southern Hemisphere, the Queen Victoria Market (also known as Queen Vic Markets or the Queen Vic), is a major landmark in Melbourne and has become a major tourist destination with its wide variety of stalls and shops.
18. Royal Botanic Gardens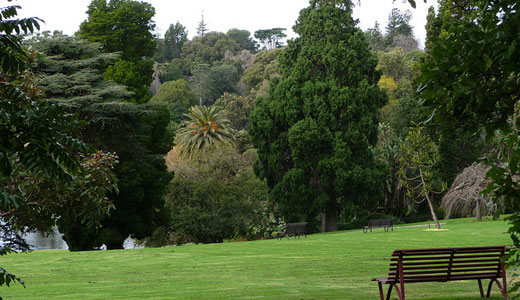 Location: Birdwood Avenue, South Yarra, Victoria 3141, Australia
Melbourne's Royal Botanic Gardens is an internationally renowned botanical garden with 38 hectares of landscaped gardens. It hosts over 10,000 floral species, the majority being non-native species.
19. Shrine of Remembrance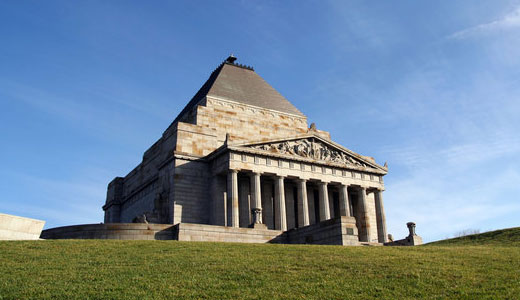 Location: Birdwood Ave, Melbourne VIC 3004, Australia
The Shrine of Remembrance is a historical landmark in Melbourne built as a memorial for the men and women of Australia who served the war.
20. St Kilda Beach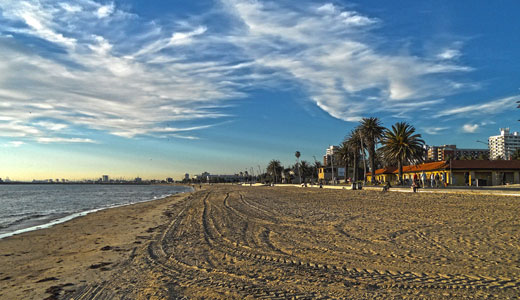 Location: St Kilda, Port Phillip, Victoria, Australia
Melbourne's most famous beach, St. Kilda Beach is a sandy beach that is about 700 meters long. Recreational activities such as windsurfing, sailing, kite surfing, rollerblading can be done here aside from the usual swimming and sunbathing.
21. St. Patrick's Cathedral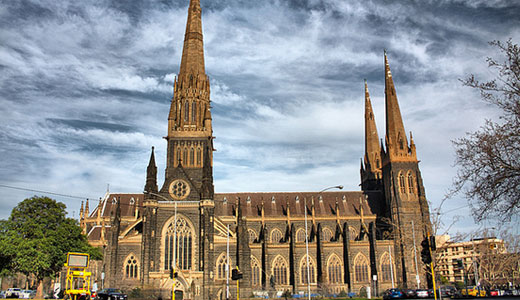 Location: 1 Cathedral Pl, East Melbourne VIC 3002, Australia
The cathedral church of the Roman Catholic Archdiocese of Melbourne is the St. Patrick's Cathedral. Famous for its Gothic Revival style of architecture, the church is considered to be the tallest and largest church building in Australia.
22. St. Paul's Cathedral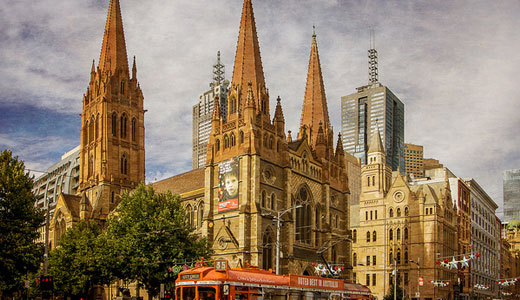 Location: Flinders Ln, Melbourne VIC 3000, Australia
St. Paul's Cathedral is a major landmark in Melbourne with its Gothic transitional design of architecture. It is also the metro political and cathedral church of the Anglican Diocese of Melbourne.
23. State Library of Victoria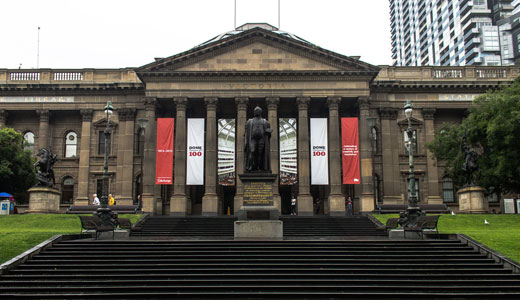 Location: 328 Swanston St, Melbourne VIC 3000, Australia
The State Library of Victoria is the central library of the state of Victoria which also houses the original armor of Ned Kelly – Irish Australian bush ranger. It holds over 2 million books, 16,000 serials, and many more.
24. Werribee Mansion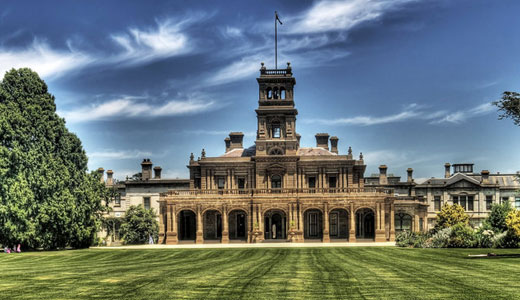 Location: Gate 2, K Rd, Werribee, Victoria 3030
Described as a living postcard of the 19th century Australia, the Werribee Mansion is tourist attraction in Melbourne with 10 hectares of formal gardens. Highlights of the mansion includes a parterre, pond and original grotto.
Interested to know more about this amazing city? Get to know Melbourne's historical landmarks to understand its history and its people.
Like This Post? Pin It!