America's Wind City, Chicago, is considered to be one of the most populous city in the country. The city's bustling streets is home to about 3 million residents, not to mention the millions of tourists that visits the city annually. Its towering skyscrapers, world-class museums and dining, lush parks, lakefront attractions, wide variety of shopping centers, vibrant nightlife and unending entertainment makes it a premiere tourist destination for travelers wanting the high life of the city. With its indisputable city charm, Chicago has a lot to offer its guests who love nothing more than a good time. The city's tourism has created various sights and attractions to satisfy even the most difficult of travelers. Enjoy a romantic date on the Lake Michigan while enjoying the sights of the city, learn new things at world-class museums, enjoy a lazy day at the park or at the zoo, stroll around shopping malls or enjoy the city skyline – all this and more you can get in this amazing city.
If its your first time to visit the city, better check out this Top Attractions in Chicago, Illinois as your guide so as not to miss the attractions that makes the city worth visiting. Go out and feel that familiar exciting feeling of being in a world-class metropolis!!!
1. Adler Planetarium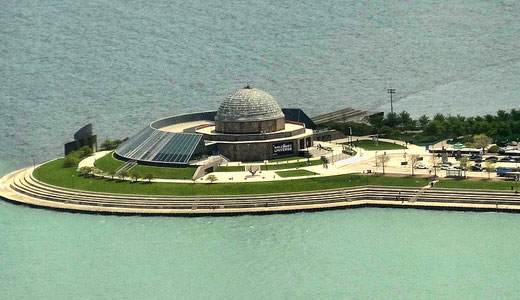 Location: 1300 S. Lake Shore Drive, Chicago, IL 60605
The Adler Planetarium is considered to be America's first ever planterium. It offers immersive theater programs, numerous exhibitions and special events such as lectures and viewing parties.
2. Art Institute of Chicago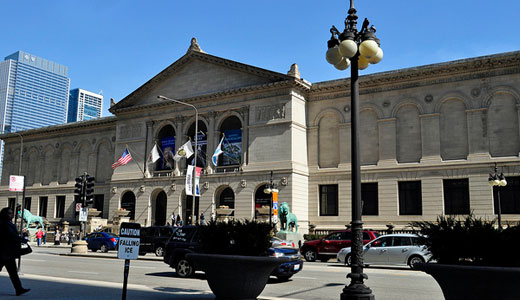 Location: 111 S Michigan Ave, Chicago, IL 60603-6404
Chicago's gem, the Art Institute of Chicago, is a famous art museum that houses the world's greates art collection including Impressionist Art, contemporary American and European works, Arms and Armor exhibit and many more. The museum is also known for its infamous bronze lions that grace its elegant exterior.
3. Buckingham Fountain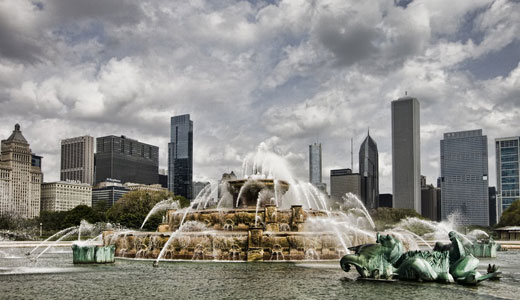 Location: Grant Park, Chicago, IL
Commissioned in honor of Clarence Buckingham, the Buckingham Fountain – otherwise known as the Clarence Buckingham Memorial Fountain, is one of Chicago's most popular landmark. Located in the the center of the Grant Park, the fountain is considered to be one of largest fountains in the world and showcases an interesting animation of water display.
4. Chicago Botanical Garden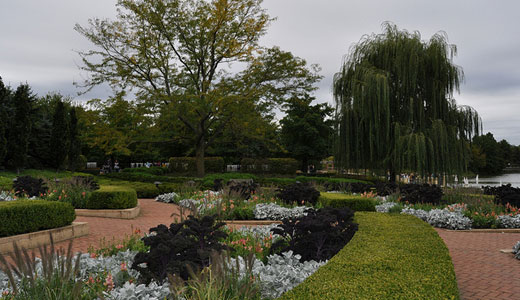 Location: 1000 Lake Cook Road, Glencoe, IL 60022
Described by many as a living plant museum, the Chicago Botanical Garden is set on a 385-acre of land with nearly 25 display gardens, nine islands, and countless varieties of flowers. Its beautiful landscape and scenery is the perfect place to relax with the family, friends and loved ones. Among its display gardens are the English Walled Garden, Rose Garden, Native Plant Garden and Bulb Garden.
5. Frank Lloyd Wright Home and Studio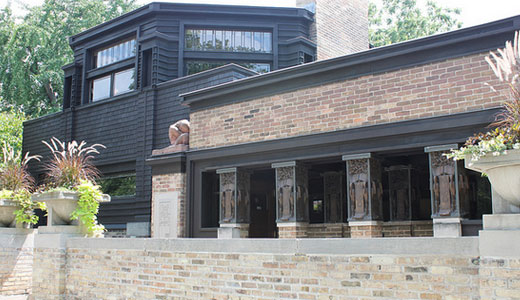 Location: 951 Chicago Avenue, Oak Park, IL 60304
Frank Lloyd Wright is recognized by the American Institute of Architects as "the greatest American architect of all time." The Frank Lloyd Wright Home and Studio has been his sanctuary where he designed and executed more than 130 of 430 completed buildings. It is considered to be a living laboratory with guided tours of Frank Lloyd Wright's remarkable reinvention of interior spaces.
6. John Hancock Center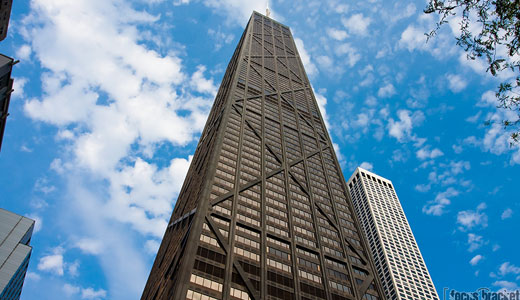 Location: 875 N Michigan Ave, Chicago, IL 60611 (Gold Coast)
John Hancock Center or 'Big John', as it is known locally, is a skyscraper in the city that is remarkable not only on its height but of its design as well. A favorite among the locals and tourists, the observation deck at the top of this 100 story building gives the best view of Chicago's downtown area, the Loop.
7. Lake Michigan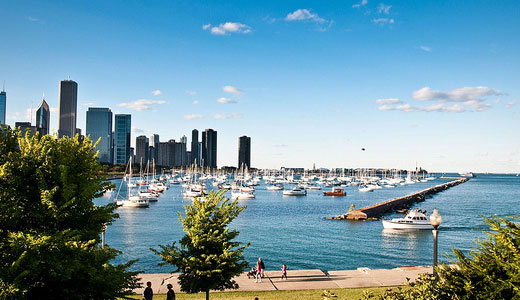 Location: Chicago, IL
Chicago's Lake Michigan is the city's source of drinking water, port access to the Atlantic and summertime playground. Considered to be the third largest of the Great Lakes, it is used mostly as a venue for several events in the city plus a place to enjoy the scenic view that it provides with sightseeing tours.
8. Lincoln Park Zoo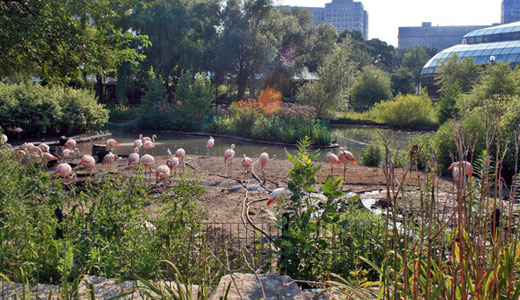 Location: 2001 N Clark St, Chicago, IL 60614
The Lincoln Park Zoo is the largest park in the city with a total of 1200 acres of land area. This world-class zoo is home to an incredible array of animals and offers a variety of exhibits and displays such as the Kovler Penguin and Seabird House, the Pritzker Family Sun Bear Children's Zoo, Treetop Canopy Adventure and an interactive exhibit called the Farm-in-the-Zoo.
9. Magnificent Mile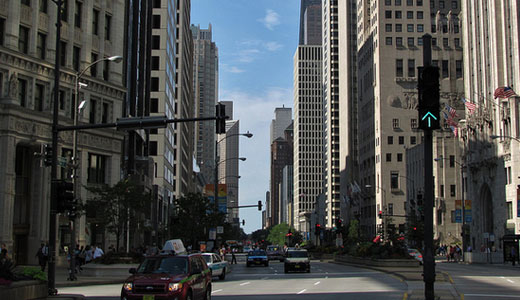 Location: Chicago, IL
Chicago's version of the Champs-Elysée – a major avanue in Paris where all major celebrations where held- is the Magnificent Mile. It is a wide boulevard with exclusive shops, museums, restaurants and ritzy hotels.
10. Millennium Park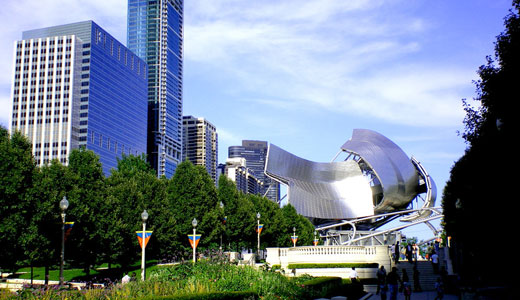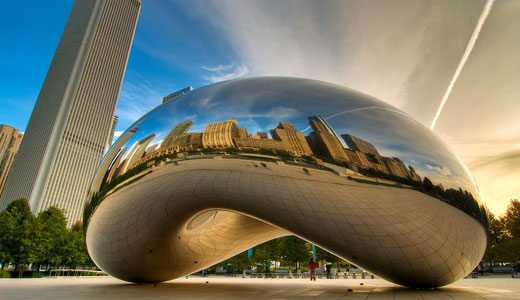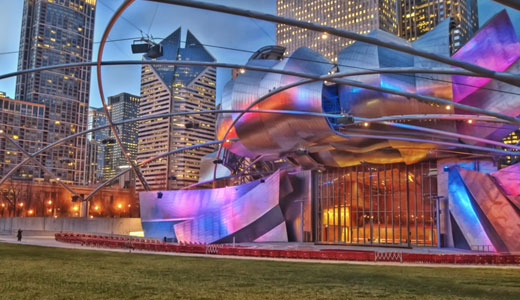 Location: 201 E Randolph St, Chicago, IL 60602
The Millennium Park is regarded as the crowning glory of Chicago. It is a magnificent modern park with unique public artwork, state of the art facilities, and beautiful gardens. The park's architecture and landscape design have won the city numerous awards. Among its stand-out features is the Pritzker Pavilion, Harris Theater, Crown Fountain, Lurie Garden, BP Footbridge, and the most famous of all, the Cloud Gate. The Cloud Gate is a bean-shaped structure that has became one of Chicago's most photographed attractions, not to mention a symbol of the city.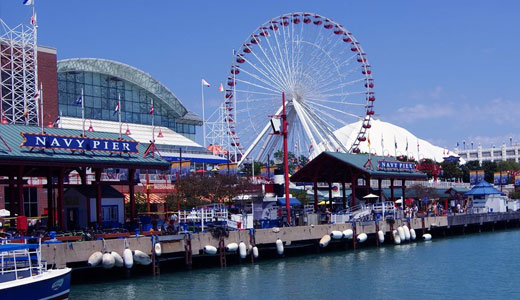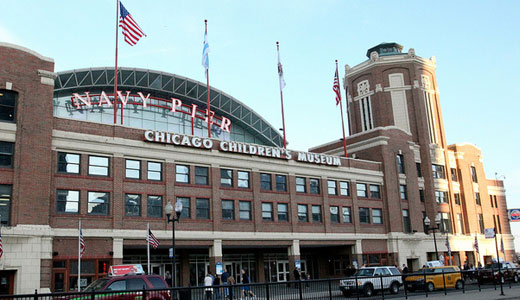 Location: 600 E Grand Ave, Chicago, IL 60611 (Gold Coast)
Navy Pier is a lakefront playground in the city that attract millions of tourists annually. It is a 50 acres of land with parks, promenades, gardens, shops, eateries and attractions that caters to everyone's taste of fun. The Chicago Children's Museum is also situated here where kids can explore and learn.
12. Old Water Tower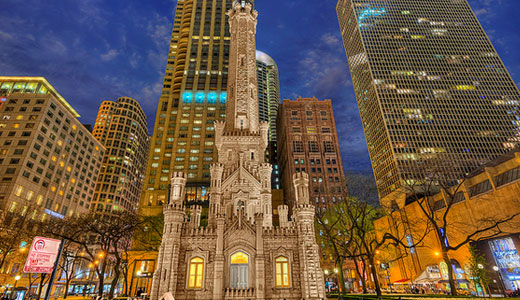 Location: 806 N. Michigan Avenue, Chicago, IL
Considered to be the first American Water Landmark, the Old Water Tower is an important historic attraction in Chicago. It is one of the two buildings that survived the Great Chicago Fire of 1781. A symbol of Chicago's resilience, despite various attempts to demolish the tower, it now houses a gallery which showcases works from local photographers.
13. Shedd Aquarium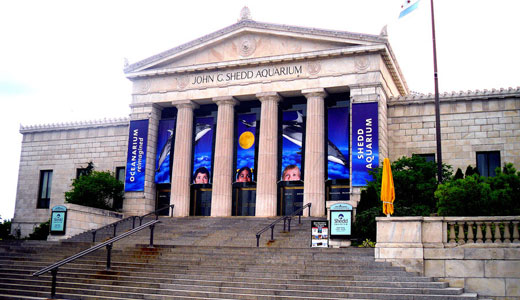 Location: 1200 S Lake Shore Dr, Chicago, IL 60605
Shedd Aquarium is one of the most popular attractions in the city, attracting about 2 million visitors annually. It is home to 20,000 aquatic animals and has several exhibits including the Caribbean Reef, Oceanarium, Tropical Water Gallery and the Illinois Lakes and Rivers Gallery.
14. The Field Museum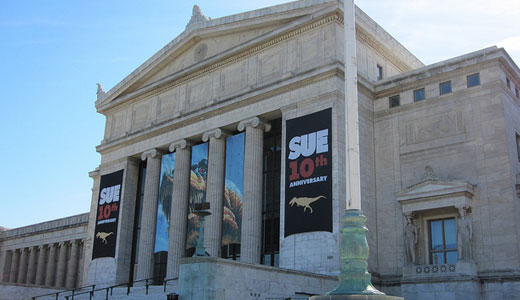 Location: 1400 S Lake Shore Dr, Chicago, IL 60605-2496
One of the finest natural history museums in the U.S is the Field Museum. It is home to biological and anthropological collections and to over 20 million specimens and a 25,000 volume natural history library. Among its exhibit are the Evolving Planet, Moving Earth, Ancient Egypt, Maori Meeting House.
15. Willis Tower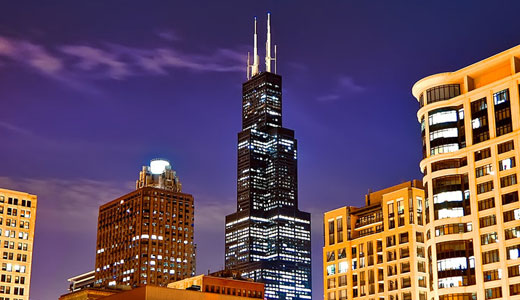 Location: 233 South Wacker Drive, Chicago, IL 60606 (Formerly Sears Tower)
Formerly known as the Sear Tower, the Willis Tower is one of the world's tallest building and the tallest building in Chicago that dominates its skyline. Aside from being an office building, the tower is a cultural and iconic landmark in Chicago. Its Sky deck is a favorite attraction among the locals and tourists alike for its amazing views of the city.
To fully help you in planning your visit to this city, check out this best hotels in Chicago for a comfortable vacation.
Like This Post? Pin It!