Botswana's tourism is mostly focused on game reserves and wildlife attraction. But did you know that Botswana's landmarks are also worth the extra day or two of exploration?
Among the countries in South Africa with amazing safari adventure, Botswana has been tagged as Africa's hidden treasure with its brilliant wildlife and remote, unspoiled wilderness areas.
Travellers all over the world who long for adventure and pure nature experience are finding Botswana a promising tourist destination. Tourists visiting the country usually visits the Okavango Delta, Moremi, and Chobe as part of their safari adventure.
Aside from its heavy concentration of wildlife, game reserves and national parks, Botswana has various landmarks which usually includes natural attractions from expanses of salt flats, Kalahari desert and some very beautiful mountains.
If you're an adventurer at heart and would love to explore remote and wild areas, we got Traveling Through Botswana's Landmarks that lists down some amazing stops in Botswana to include in your next itinerary.
Botswana Tourist Attractions
Botswana tourist attractions are not only focused on game reserves and national parks. Here's a list of Botswana landmarks that you should definitely include when you are in the country:
Baines Baobabs (Seven Sisters)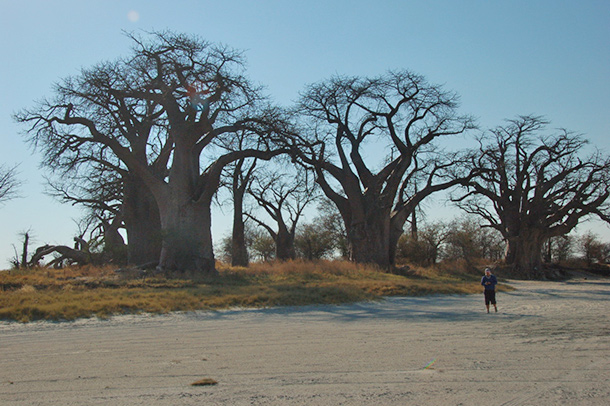 Location: Nxai Pan National Park, Botswana
Dominating an island on the edge of Kudiakam Pan is the group of trees known as Seven Sisters or Baines Baobabs. These trees are unusual because African baobab trees (Adansonia digitata) rarely grow so closely together in natural clusters.
For travellers visiting, there is a campsite where you can stay overnight (but you need to bring your own provisions). If you are doing this, please remember to bring your wastes with you when you head out.
Kalahari Desert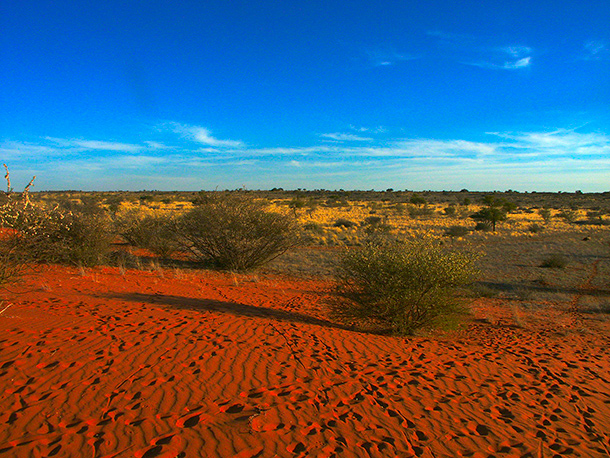 Location: Kalahari Desert, Botswana
The Kalahari Desert is a large, basinlike plain of the interior plateau that lies mostly in Botswana but also covers some parts of Namibia and South Africa. Home to large number of animals and plants, many organization have set up several Game Reserves and Parks in the area.
Kgale Hill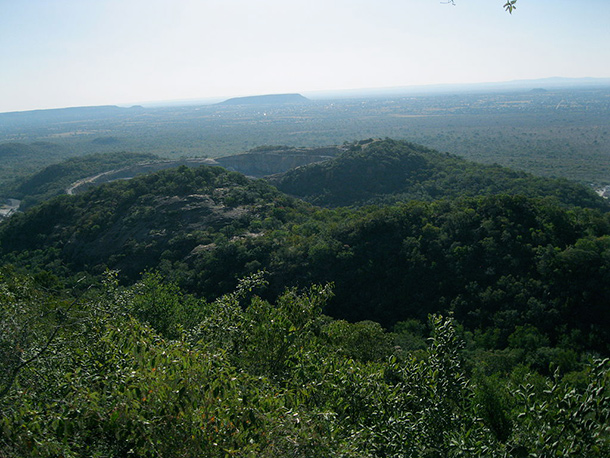 Location: Game City, Gaborone 00000, Botswana
Kgale Hills is one landmark in Botswana that many hikers would surely love to climb. It is located on the western side of Gaborone.
Once on top of this hill, hikers will be rewarded with the breathtaking view of the city and the Gaborone Dam and may be able to spot one of the black eagles which is said to nest in the Hill's cliffs.
Kubu Island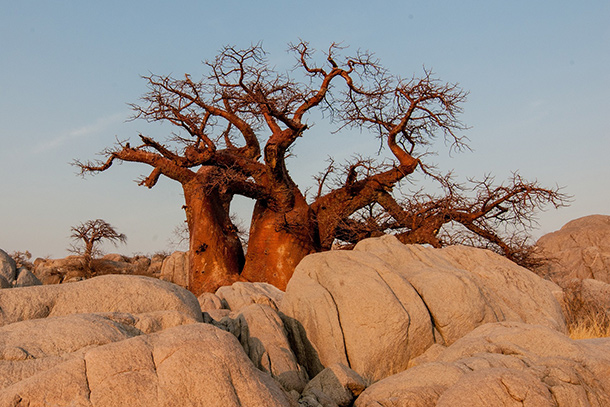 Location: Makgadikgadi Pans National Park, Botswana
A rock island that had risen from a white sea of salt, Kubu Island was once submerged under a lake in the Makgadikgadi region. Ancient stone cairns, fossilised bird droppings and Stone Age artefacts can be seen here.
If you are to visit, guided walks are available for those wanting to see this unique and untouched attraction in Botswana.
Camping is also allowed at pre-determined places. You may check their official website for more information.
Livingstone Cave (Kobokwe Cave)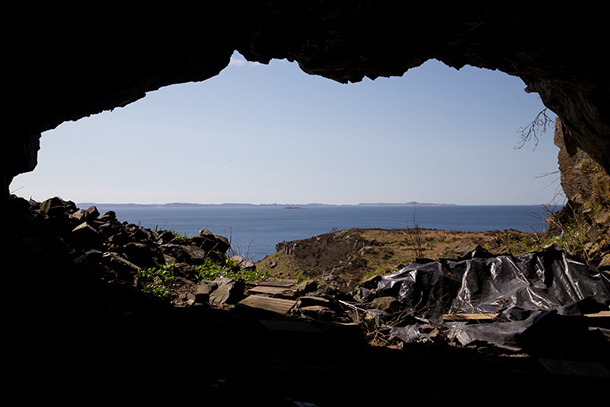 Location: Molepolole-Moshupa Road, Gabane Botswana
Believed to be occupied by evil spirits years ago, the cave has been a popular tourist landmark in Botswana. It is located in the village of Gabane.
To reach the cave, you need to climb a 15-minute walk up a path. There's a Botswana Heritage Sign marking it so you wouldn't be lost.
Matsieng Footprints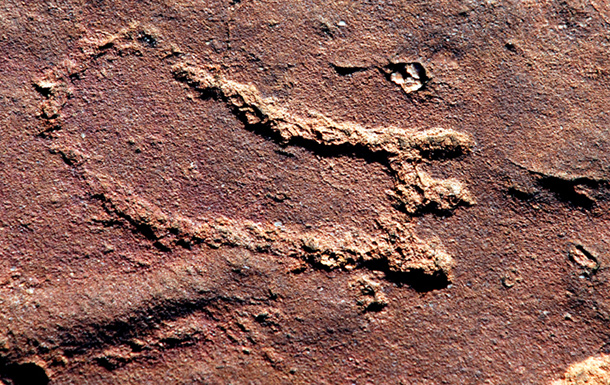 Location: Off A1, Near Mochudi, Gaborone, Botswana
The Matsieng Footprints found between Gaborone and Francistown is a famous landmark in the south of Botswana.
Spread over vast distances in the ancient sandstone rock and is estimated to be between 3,000 to 10,000 years old.
It is said to be the footprints of a giant called Matsieng who is said to have emerged from a hole in the ground with his animals and people.
If you are to visit, a guide will help explain the history and interesting facts about the footprints and the area.
Okavango River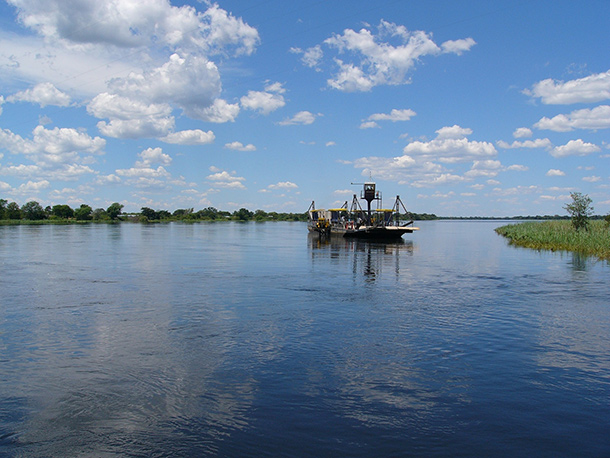 Location: Botswana
The Okavango River is the fourth-longest river system in southern Africa. Skirting its way from Angola to Nambia and Botswana where it empties into a swamp in the Kalahari Desert, known as the Okavango Delta or Okavango Alluvial Fan.
There are around 600,000 people living near the river, with almost all of them depending on it for sustenance. Hotels, lodges and camps have also been build within the Okavango Delta.
Tsodilo Hills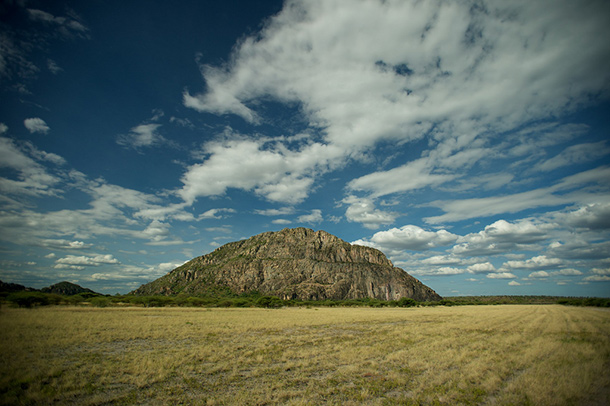 Location: Near Sepupa | Northwest Botswana, Shakawe, Botswana
Considered to be one of the most significant rock art locations in the world, the Tsodilo Hills is located in a remote area in the north-west of Botswana. With three of its hills bearing local names: 'The Male', 'The Female,' 'The Child', it has been the home to a series of rock paintings.
Guides are provided fo those wishing to see the hills and the art up-close.
Travel Tips when visiting Botswana
Because of its wildlife diversity, certain travel tips can be found all over the web for travellers. If you are headed to this side of the world, here are some basic things you need to know:
1. Vaccines. Check your travel clinic before your trip to make sure that you avail and complete your required vaccinations.
2. Pack Appropriately. Temperature in Botswana may be extreme: hot or cold. Make sure to check the season during your travel dates and pack appropriately.
3. Check the latest health advice on Botswana before your travel dates to be sure.
4. Driving. Avoid driving at night outside of towns. Some roads are not lit and may cause collision with roaming wildlife.
5. If you are camping, check your clothes (especially your footwear) before putting them on. Crickets and other insects may have gotten inside while at night.
6. Pleas be mindful of your surroundings and adhere to any rules and regulations given by your guide or the locals you get to interact with.
Have some Botswana Landmarks not featured here? Tell us about it!!