Just recently, my husband and I decided to try out some of Cebu's attractions (both the new and the old). We came across a new interactive museum that I thought my nephew will like: the Upside Down World Cebu.
This trick-eye interactive museum has been entertaining kids and adults alike in some parts of Asia and is now doing the same in Cebu.
How to Get Here
Located at the 2nd floor of City Times Square across Parkmall in Mandaue City, the Upside Down World Cebu is a fun place to take your photos to the next level.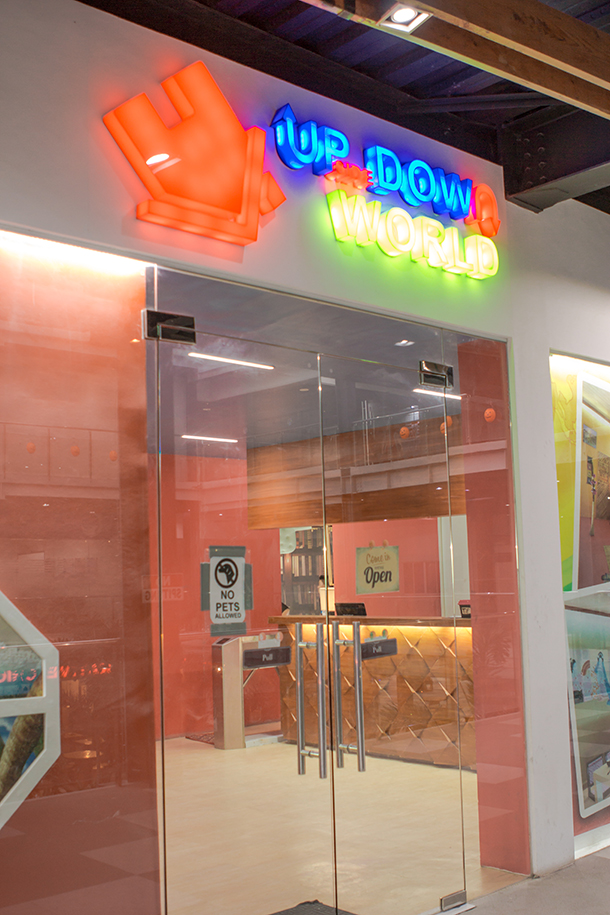 To get there, simply ride any public utility jeep (PUJ) going to Park Mall. City Time Square is directly across Park Mall, next to the Big Hotel Suites. If you're new in Cebu, don't worry. It's very easy to find! 😉
We have decided to take my nephew with us as I wanted to see a child's reaction to interactive museums like this. A child will be the best judge, don't you think?
What to Expect at the Upside Down World Cebu
We have opted to visit the museum on a Friday, to ensure that my nephew doesn't have classes the following day and to avoid the usual crowds on weekends.
There were 6 of us, including my nephew, my sisters, my husband and my brother in-law. I find places like this quite enjoyable when you're in a group! Wouldn't you agree?
Upon arrival, there were several groups already at the museum enjoying themselves and taking photos. We had to wait for a bit for our turn.
To ensure that everyone get enough time to pose and enjoy everything, the management had to see first if at least one area was vacant for us. This was alright as I didn't want to be rushed and wanted to take my time.
Entrance Fee at this time of writing is at 250 Php for adults, 170 Php for kids (4-12 yrs old) and free for kids 3 years old and below.
The museum is also open from Monday to Sunday, 10 AM to 9 PM. You may check out their FB page.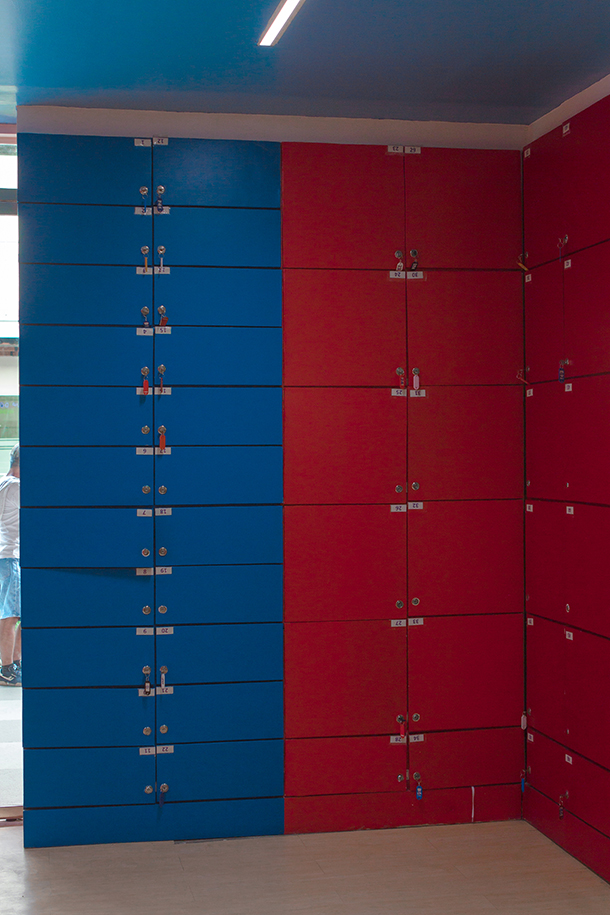 Upon paying our entrance fee, we were assigned one locker to keep our shoes and other personal belongings. Shoes or any kind of foot wear, except for socks, are not allowed inside.
People tend to lie down on the floor a lot for the photos so it was a necessity. Don't worry, the lockers have their own keys that you can bring with you.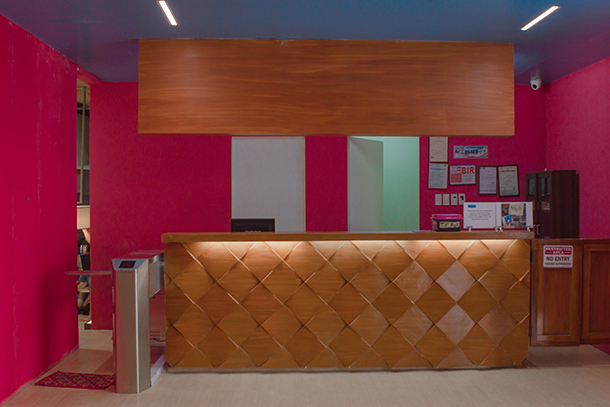 There is also an area on the reception where souvenirs are displayed and sold if you wanted to purchase one. Chips and drinks are available too, in case you need something to munch on! 🙂
When everyone was set and one area inside was vacant, we were ushered in. We skipped a few areas and started from the last exhibit.
While wandering around, it is quite noticeable how clean and well-maintained the place is. The displays were colorful and pretty cool. I love the lighting inside as well. It's like walking in a studio.
There are a total of 11 themed rooms. Each meticulously arranged than the last. The set-up is perfect for families and friends who want to get that epic shot!
My husband, who loves taking pictures, was all praises when he was scrolling through the photos when we got home. And if he was pleased, I'm contented that we got amazing shots! 😉
Funnily enough, my nephew was a bit hesitant when he first saw the set-up. I couldn't blame him.. It would've looked a bit odd for a little kid. LOL.
At first, my sister tried to persuade him to join us. He was very uptight at first.. I was scared he was going to have a tantrum. LOL. But, as we were progressing through the poses, he was loosening up and joining in!
If you're feeling a bit lost on how to pose (just like we did on our first try), no worries! The staff at the Upside Down World Cebu Rooms will be more than happy to assist you!
Ours was very game (and very patient) and took some of our photos. He gave us instructions on where to pose, how to pose and how to edit the photo on your phone. LOL. To be honest, I got a bit confused on this. Hahaha.. Must be the place.. 😛
Here are some of our cute photos at the Upside Down World Cebu Themed Rooms:
Casino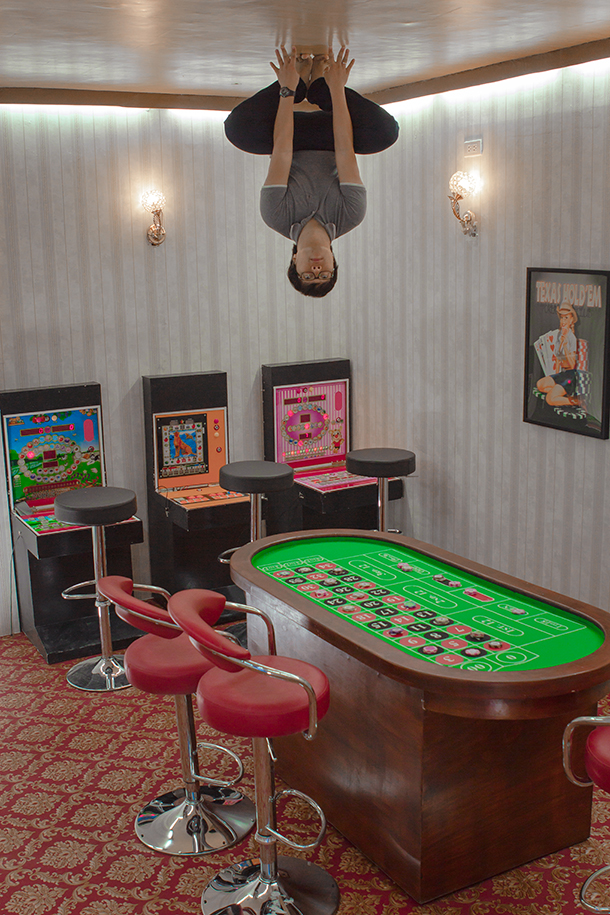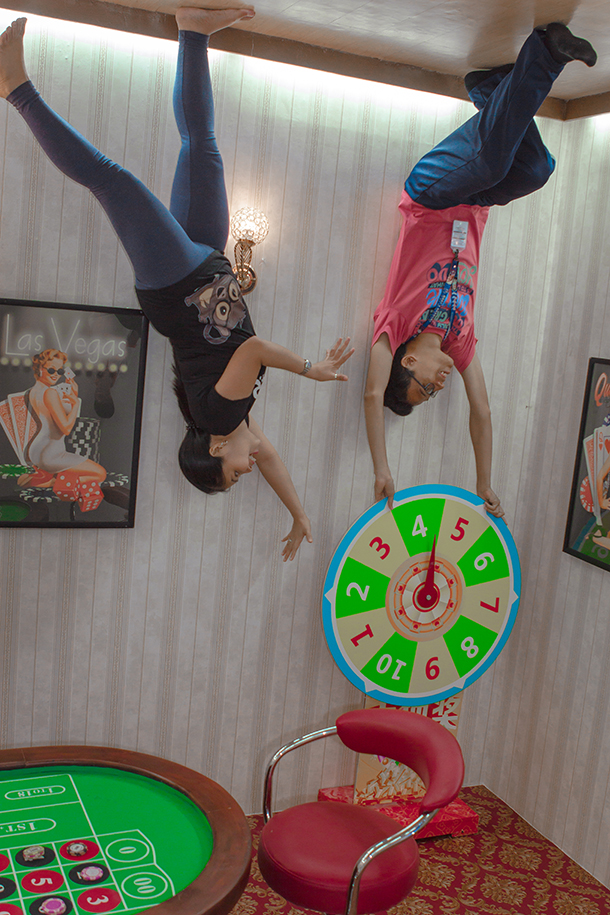 This was the first room we checked. A bit struggling on the poses! haha.
Fortune Teller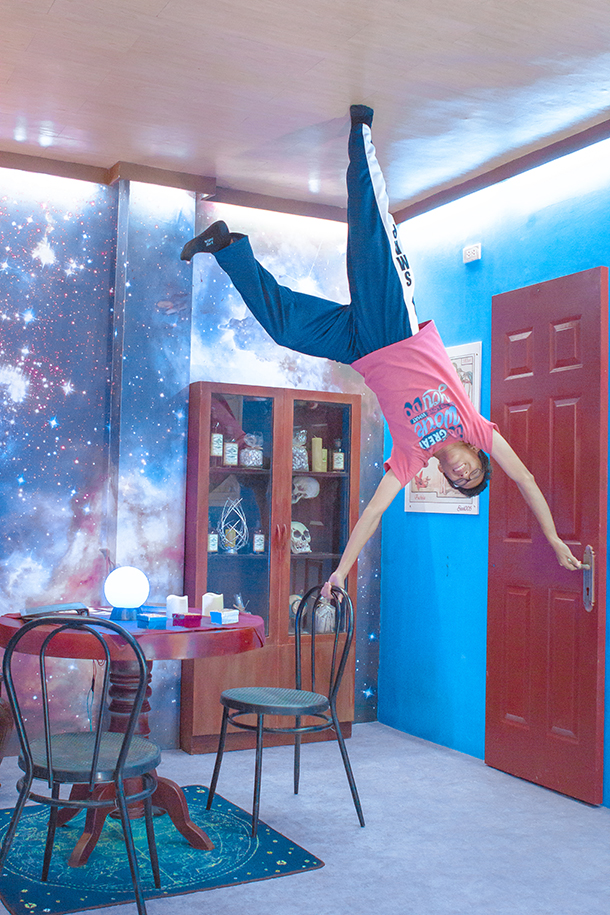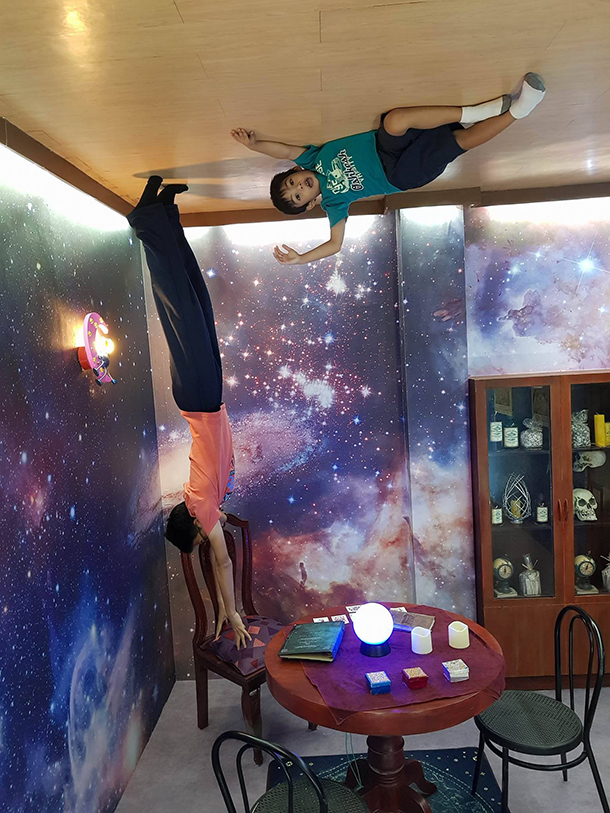 So my nephew has decided to join us despite being forced to at first. He's trying, though! 😀
Laundry and Bath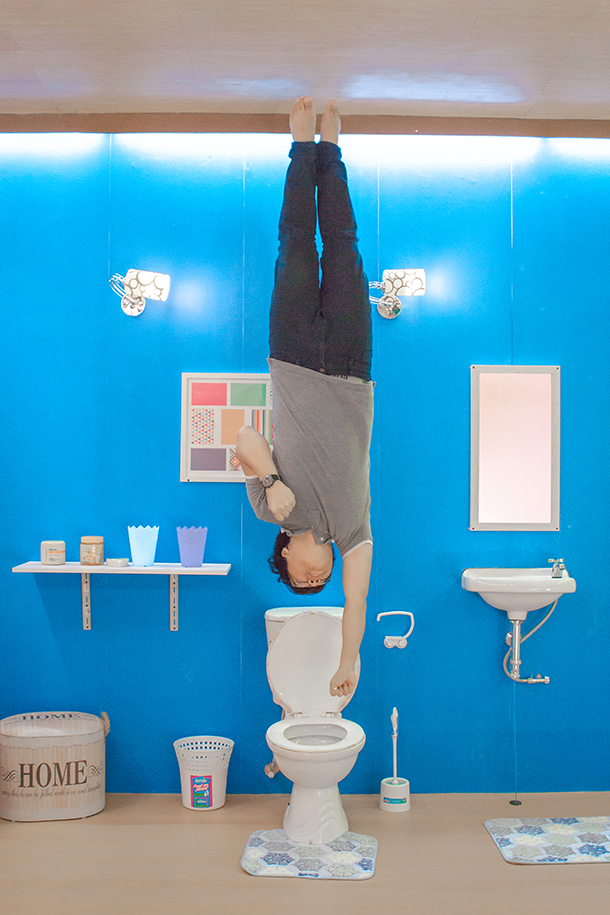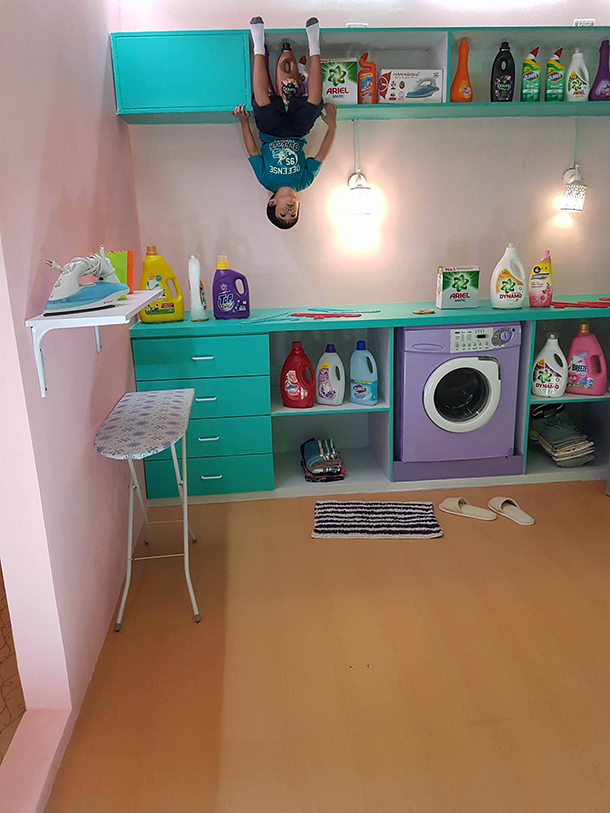 So.. The creativity begins!
Dining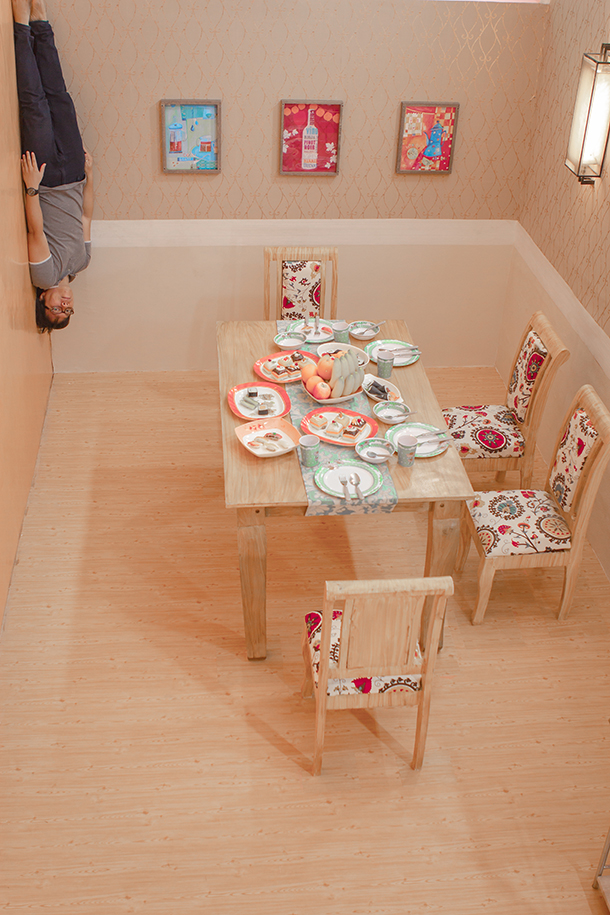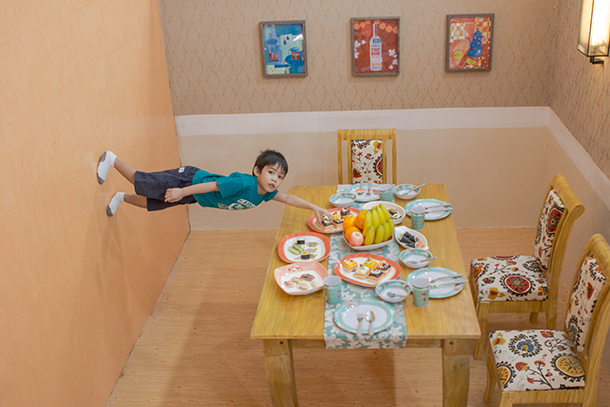 I've just realized my husband has been giving me the most epic poses. He can definitely be my future 'model'. hahah!
Kitchen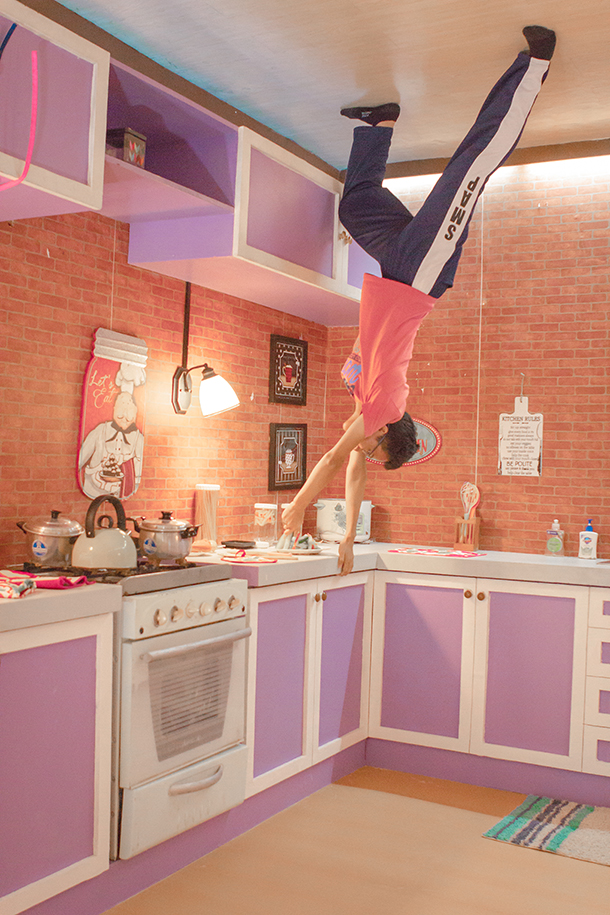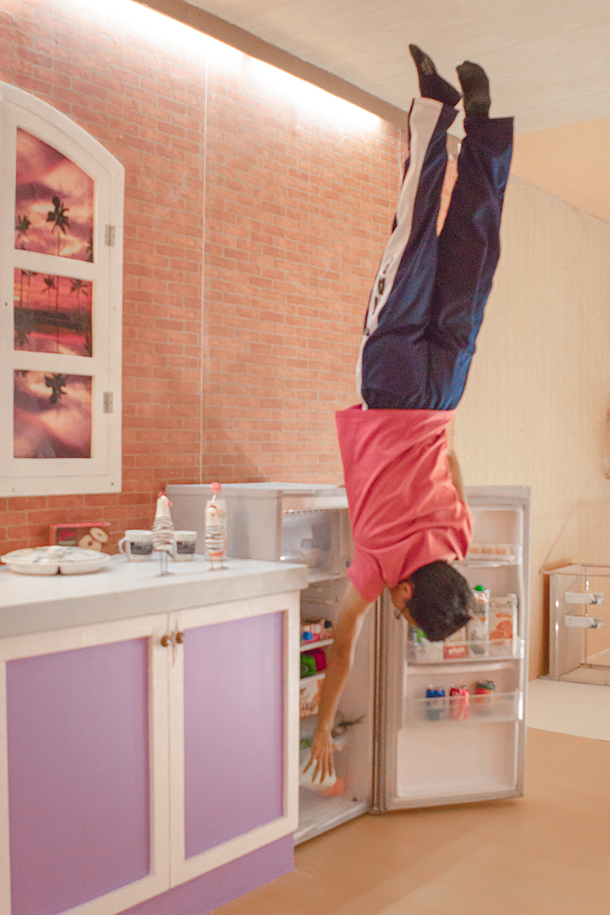 Jumping and reaching does produce cool photos! 🙂
Market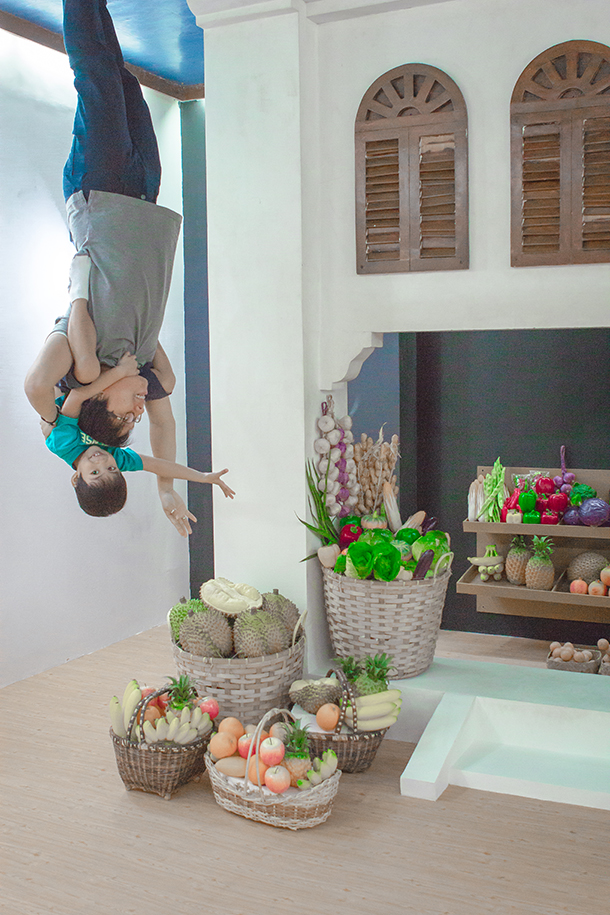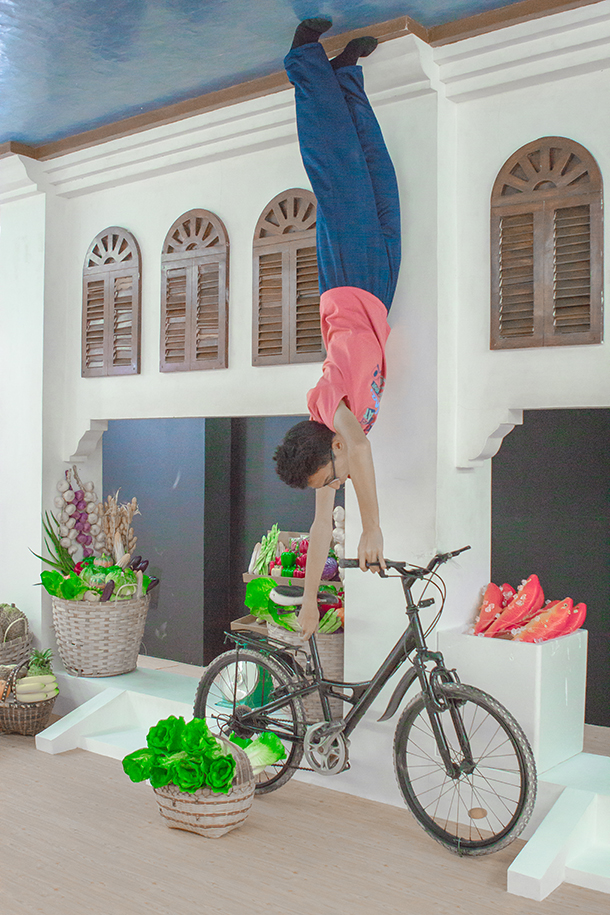 Imagine if you can really do this! Amazing! 😉
Playroom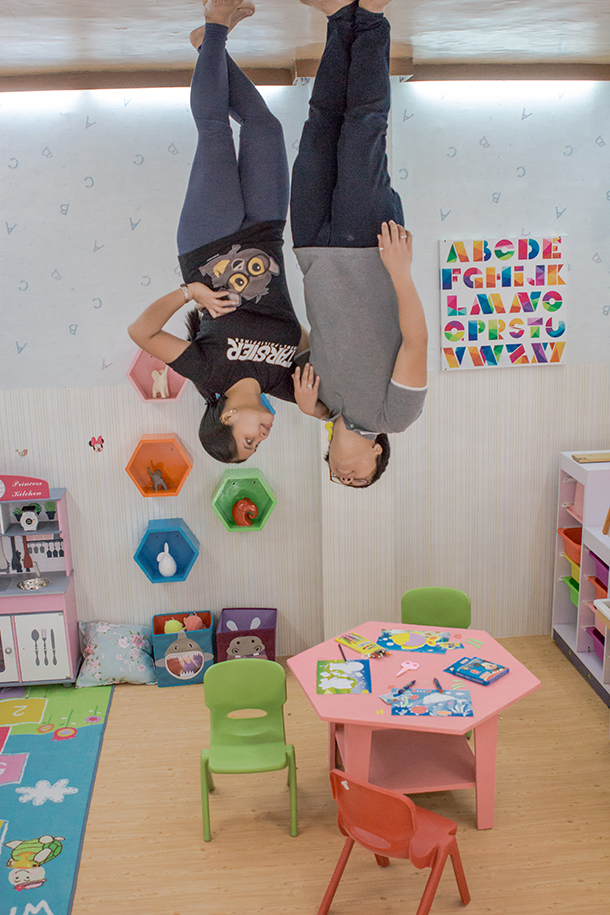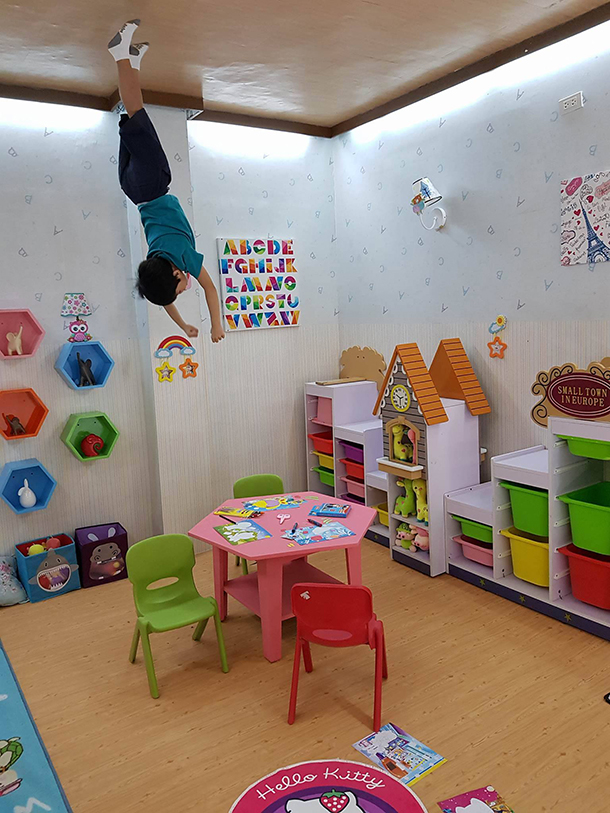 I love how each room are meticulously arranged.
Bedroom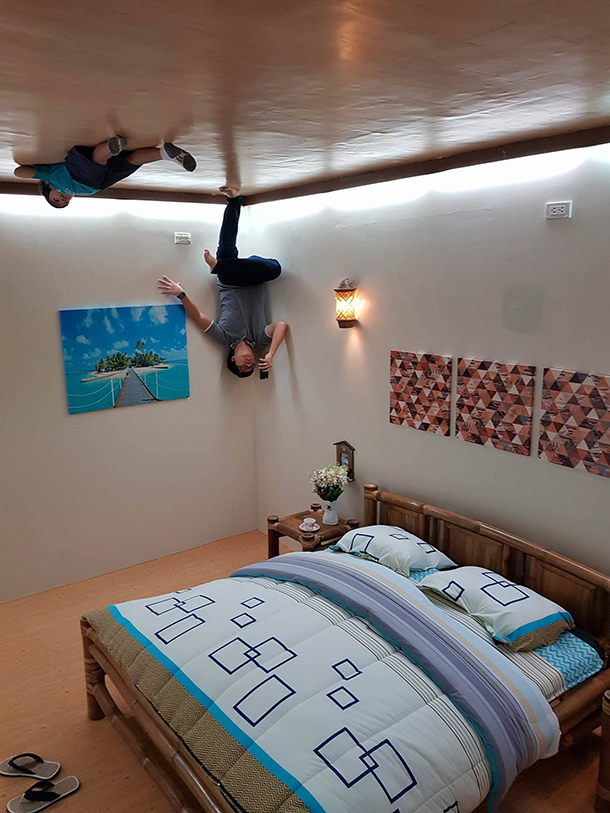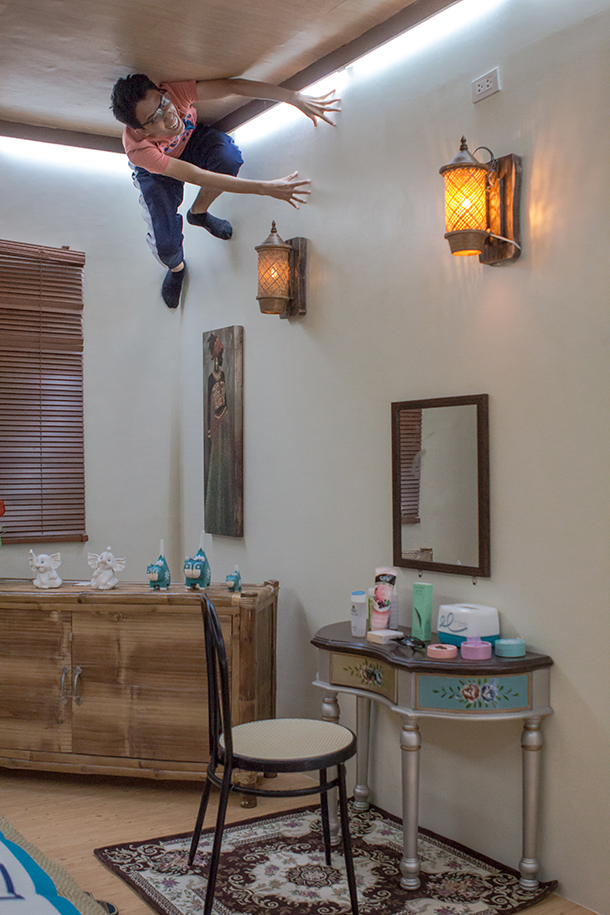 Funnily enough, my nephew enjoyed this bedroom themed-room. He loved laying on the floor right under the bed. LOL.
Library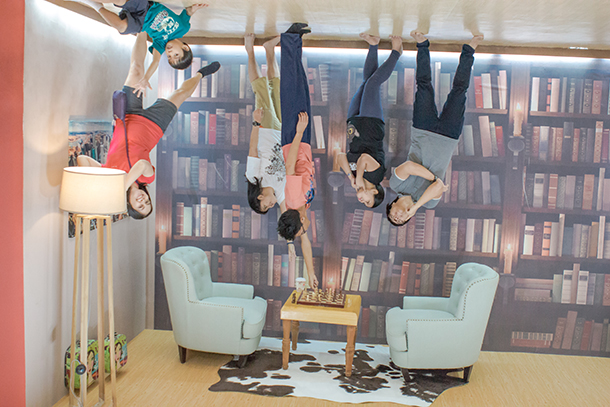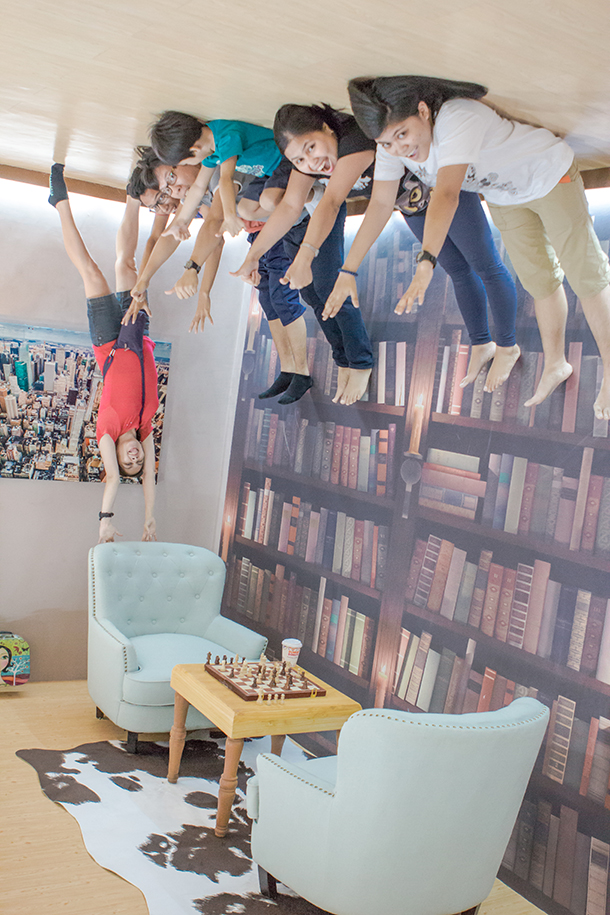 Taking photos as a group is definitely fun!
Living Room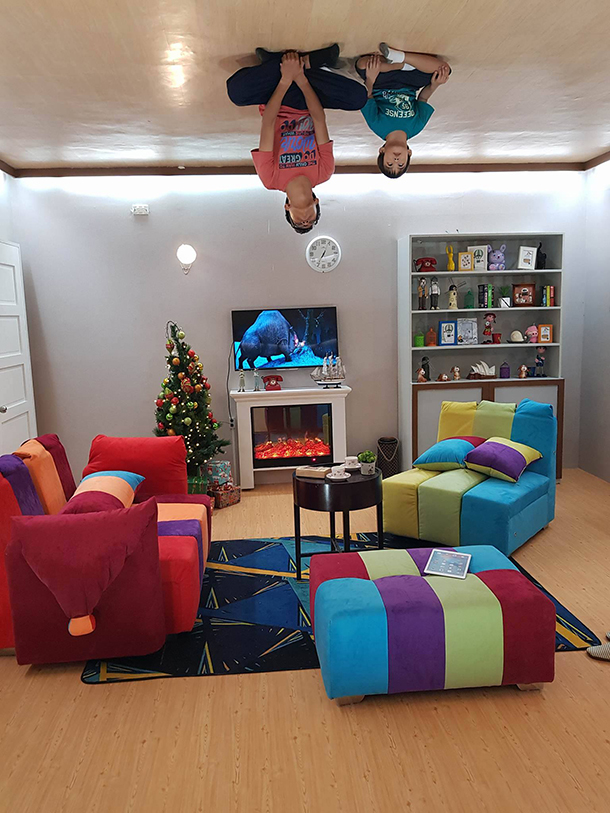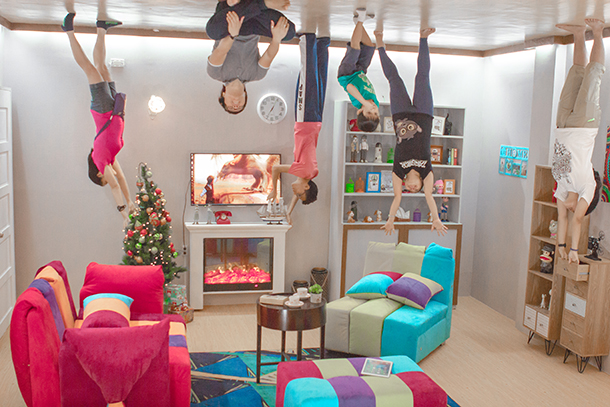 Pose and be creative! Doesn't matter if you look comical! LOL.
We spent around 2-3 hours enjoying the place and being creative with our poses. It was good thing my brother in-law was with us… He was pretty game to be our 'model'! 😉
Admittedly, what I thought a place only kids will enjoy has got us, the adults, enjoying it too! We did not know what to expect at first, to be honest. This was my first time. But, the experience exceeded our expectations.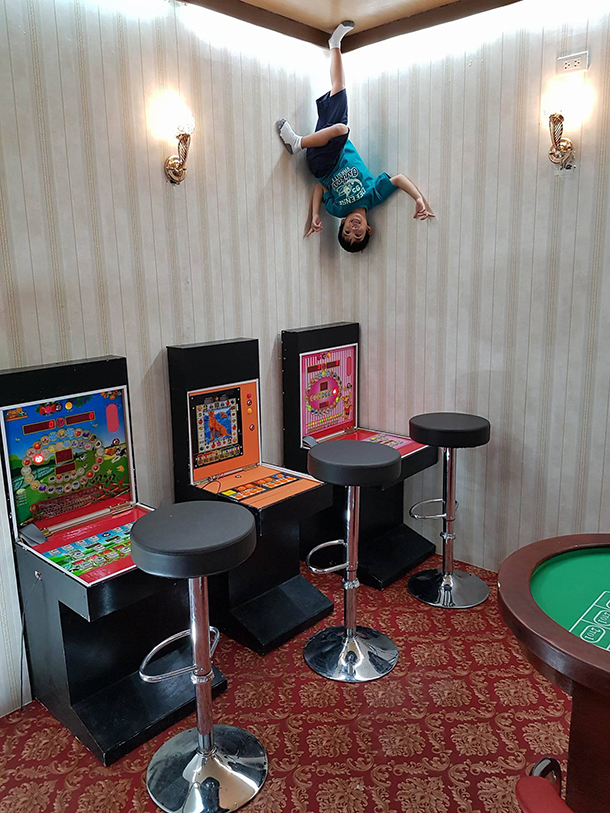 This little boy was already enjoying himself. We took this photo before we headed out. He was feeling pretty playful at this time and totally forgotten his initial fear!
Over-all Verdict
Was it worth the entrance fee? Well, for someone like me who enjoys photos and loves art, then definitely a big YES!
If you're a fan of great photos and love to update your social media accounts (i.e. FB or IG), then this is something I'm sure you'll love! Get crazy and be creative!
Have you visited a fun and interactive museum? Would you love to check this out, too?
Like This Post? Pin It!