If you are on the planning stage of your Taiwan trip, this Taiwan itinerary is a good starting point for you.
Taiwan has always been one of the countries that never crossed my mind to visit. Aside from the seemingly few tourist attractions in Taipei (except of course for the Taipei 101), it requires tourist visas for us Filipinos.
When the visa exemption was implemented, however, my friends and I decided not to miss an opportunity to visit the country. While preparing the itinerary, our friend from Ludify trips suggested we avail of tours in various regions of the country. Since we wanted to maximize the trip (we were only there for 4 days), we enthusiastically agreed.
When is the best time to visit Taiwan?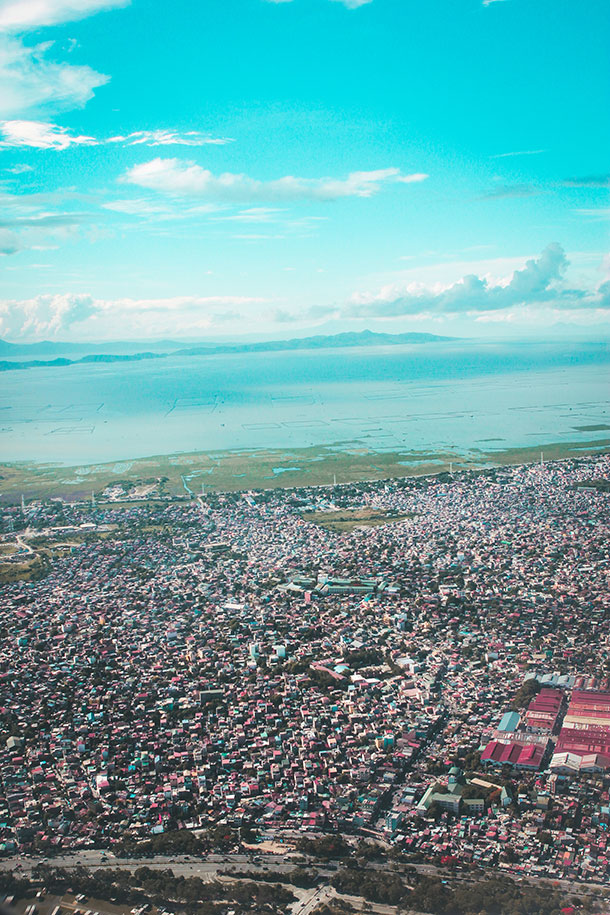 Taiwan has a subtropical climate. Tourists usually visit the country from June to August when the summer season arrives. The months of April to June and September to November, however, are more recommended due to the more pleasant weather. We visited in June, so we were able to witness the beautiful flower fields in Taichung.
Are visa required for a visit to Taiwan?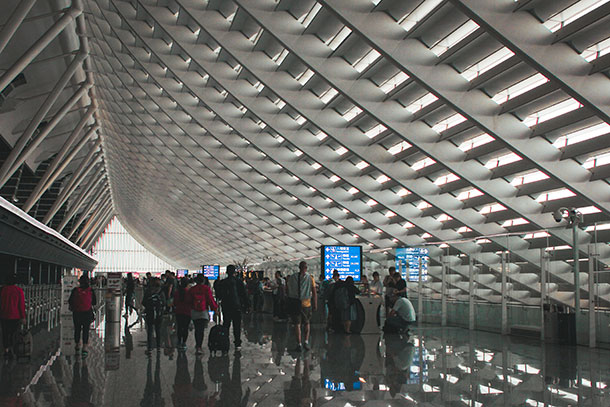 Before, Filipinos are required to get a tourist visa when visiting even for a few days. Today, however, there has been a visa-free entry of up to 14 days until 2020. Hence, the influx of Filipino tourist visiting the country.
If you are planning to book a ticket from August 2020 and onwards, you will need to check the latest update from the Bureau of Immigration.
How many days do you need in Taiwan?
Taiwan is a country rich in culture and to fully experience it, you will need around 8 to 12 days. But, if it is not possible, then 4 days will suffice as long as you plan your activities well.
How much does a visit to Taiwan will cost?
Like all places to visit, your budget will depend on the type of traveler you are. So if you prefer to be more comfortable, of course, it will mean a higher cost. But, if you are a budget traveler, like us, you can get by with spending at least 14,000 PHP (270+ USD). That is still without the extra spending money for souvenirs.
If you are very budget-conscious, you can skip some of the activities that I will be enumerating below.
Taiwan Itinerary For 4 Days
4 days may be a little bit too tight, but with proper planning, you can still maximize your trip. Here's how.
Day 1: Arrival, Taipei 101 and Shilin Night Market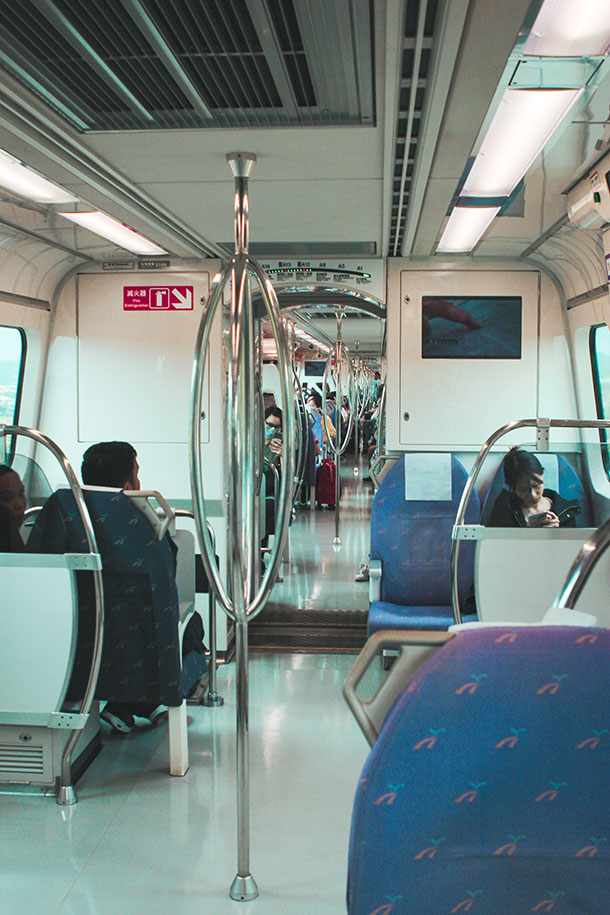 We arrived in Taoyuan at around 9:55 AM from Manila. We took a red-eye flight from Cebu to Manila, then an early flight (around 7 AM) to Taoyuan.
Upon our arrival, we immediately lined up to the immigration. Once cleared we picked up our MRT tokens, Easy Card (just like the Octopus Card in Hong Kong) and our portable wifi.
By the time we arrived in Taipei, it was already past 12 NN and we were already starving. We chose to eat at one restaurant at the Taipei City Mall before heading out to look for our home for the next few days.
When we finally arrived at the Pillow Hostel, we were advised that they do not allow early check-in but we were welcome to rest at their common area. At around 2:30, we were already asked for our passports and I was given a quick tour around the area. The room was booked under my name, hence I was given the instructions to relay to the rest of the group.
Once it was done, I distributed the keys, relayed the instructions and finally, we were able to rest.
Taipei 101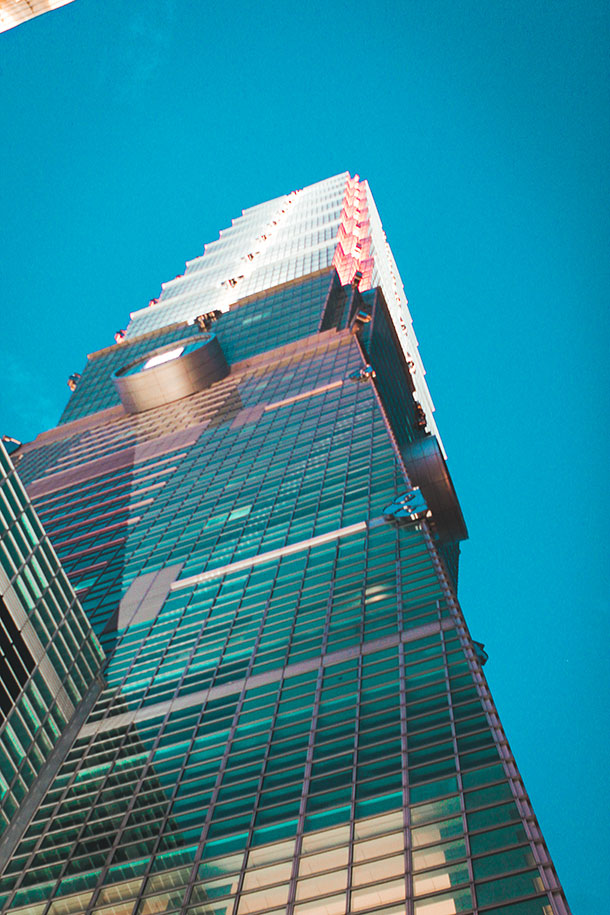 We were already running late with our 5 PM schedule for the Taipei 101, which was pre-scheduled when you book your tickets. You can re-schedule (once) but it will still depend if there is a vacant slot.
When we arrived, the ticketing machine (where we were supposed to claim our physical tickets) was already closed. So we hurriedly went up to their main ticketing booth (right at the entrance to the observatory) and presented our tickets.
Thankfully, we managed to catch the 6 PM schedule and were hurriedly ushered in with the rest of the group.
There were photo opportunities just after the entrance while we waited for our turn on one of the fastest elevators in the world.
If you love architecture, just like my husband, you will love visiting Taipei 101. Aside from the gorgeous 360 views over the city, you can also take a quick tour of its massive internal damper right at the heart of the building.
There are also shops of food and souvenirs at the top for those who are hungry or want to buy a souvenir or two.
Shilin Night Market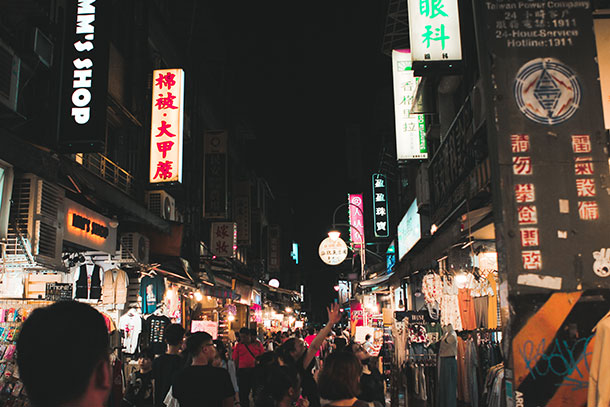 After Taipei 101, we decided to visit one of the popular night markets in the city: the Shilin Night Market.
Just like what I read in blogs and on the internet, Shilin is bustling with activities and is brimming with the smell of people, food, dry goods. You can certainly spend hours just browsing through their shops and tasting the street food.
Day 2: Walking Tour, Maokong, and Night Bus
Our 2nd day Taiwan itinerary was focused on exploring Taipei. This time we spent the day roaming around the city with the walking tour and the night bus later that night.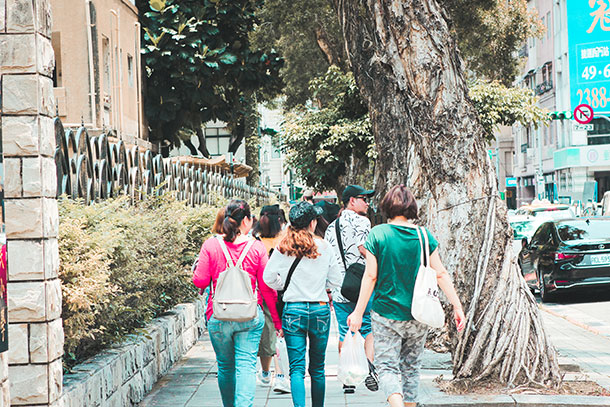 Taipei has several walking tours that tourists can join anytime. Our friend booked us a free historical walking tour with one of the local tourists' groups in the city.
I quite enjoyed the tour because we were taken to interesting spots in the city. I think the only problem was that it too hot and humid that it was, at times, uncomfortable to be walking around.
Nevertheless, it's one of the most recommended activities to include in your Taiwan itinerary, especially when you are on short trips.
Maokong Gondola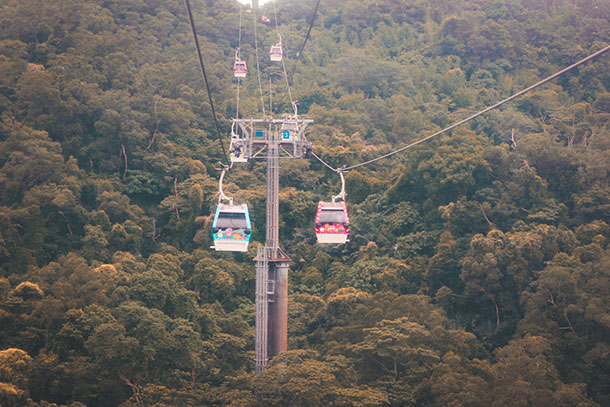 After the walking tour, we hurriedly rode the MRT to the Taipei Zoo where the Maokong terminal is located. The ride to the Taipei Zoo was a bit too long (for me personally maybe because I was already starving by then. LOL), but it was not an unpleasant trip. Taipei's trains are quite efficient, much like in Hong Kong and Singapore.
Upon reaching the terminal at the Taipei Zoo, we had to walk for more or less 5 minutes to reach the Gondola Station. If it's your first time, remember to read signs and follow where they are pointing at to ensure that you won't get lost. 🙂
At the entrance, we had to redeem our actual tickets, which was booked online. I simply showed the code on the voucher that was emailed and the ticketing officer gave me the tickets.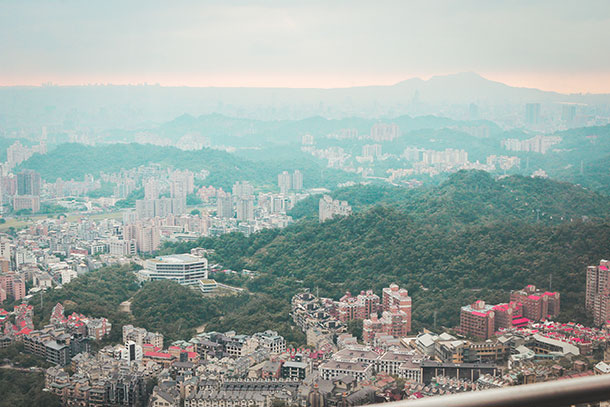 It is also important to note that you will have to go up to the topmost portion of the building to ride the gondola. There is also a separate line for those who want to ride the regular cabin and the crystal cabin, though the fare is the same. Similarly, the number of heads per gondola is limited to 8 persons per gondola for the regular cabin and 5 passengers for the crystal cabin, so if you are in a large group. It is good to remember that especially when grouping people.
When we arrived at Maokong, we immediately looked for a place to eat. There are many shops here and you can easily get overwhelmed with the selection. If you love milk tea, this is also a great place to go to tea hunting because of the various shops and tea plantations here.
Aside from the shops, there is not much to see when you are already in Maokong. I think the highlight of our visit was the breathtaking views onboard the gondola.
Taipei Sightseeing Night Bus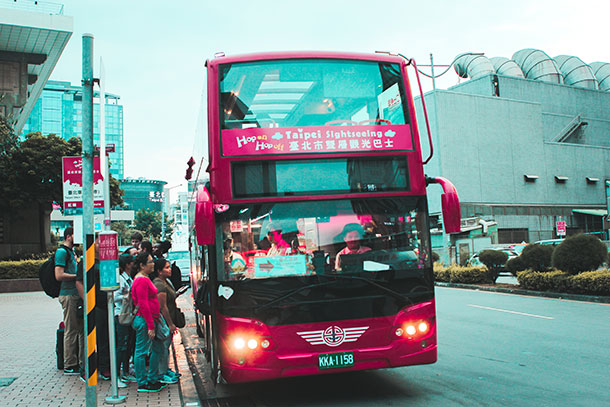 After riding the gondola, we rode the train again to the Taipei Main Station. We were going to take the hop-on-hop-off bus for the Taipei Double-Decker Sightseeing Night Bus at one of its exits. There is a staff waiting at the bus stop and you can just show your printed voucher to them. Once the barcode is scanned he/she will give you the physical ticket and a brochure.
The tour took about 1 and a half hour and we quite enjoyed the night time view of the city from the bus. There are pre-recorded guides at the bus per chair that you can listen to while enjoying the sightseeing experience, like most hop-on and hop-off bus tour.
We were supposed to go to another night market on our 2nd night, but I declined because I had some pending work to complete for a client and couldn't pass up the chance to submit it that night.
So, my friends and I returned to the hostel and decided to call it a day.
Day 3: Northern Coast Tour and Ximending Night Market
Another must-try activity when in Taiwan is their day trips from Taipei. We did 2-day trips on our 3rd and 4th day in the country.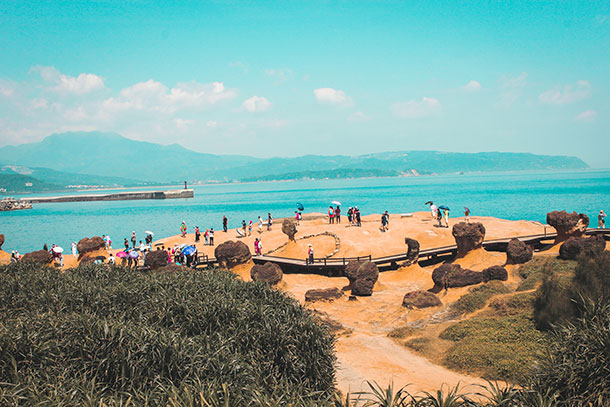 We have decided to do a day trip to the Northern Coast on the 3rd day of our Taiwan itinerary. This region is popular for its rock formations and natural tourist spots.
The highlights of the tour were the Yehliu Geopark and the Shifen Waterfalls. Although, if you are into markets, the Jiufen Street Market is a feast to both the mouth and the eyes with its colorful stalls.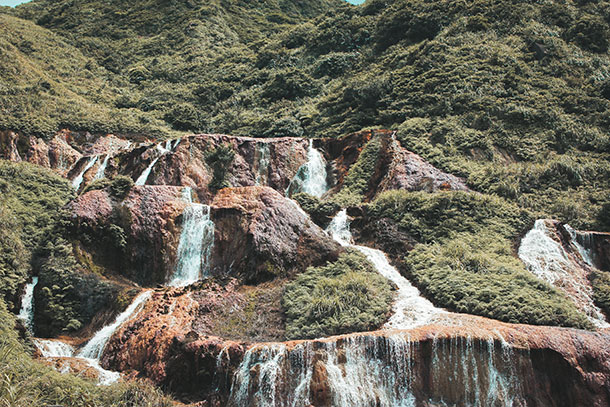 The trip took an entire day, we left Taipei at around 9 AM and then arrived at around 4-5 PM. So if you are planning to do this too, it's best to allocate an entire day in your Taiwan itinerary.
Ximending Night Market/ Shopping District
It was still early when we arrived in Taipei, so we decided to visit another night market, or rather shopping district in the area: the Ximending. It was not too far from our hostel and we wanted to look for someplace to eat.
Like Shilin, Ximending is also bustling with activities. But, the Ximending has a more sophisticated air about it with more shops instead of stalls and more younger visitors.
Day 4: Taichung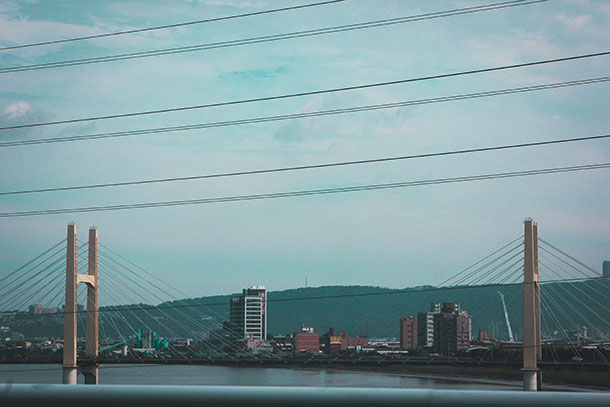 Our flight back to Manila was at 2 AM the following day (supposed to be the 5th day of the trip). So, we had time to kill before we needed to go to the airport.
On our 4th and last day, we decided to take another last day trip to include in our Taiwan itinerary. This time we will be visiting Taichung.
Fortunately, the hostel where we were staying allowed us to leave our things in the lobby. They just requested that we picked up our things before 12MN.
They even allowed us to use the bathroom and change before we left for the airport without additional fee.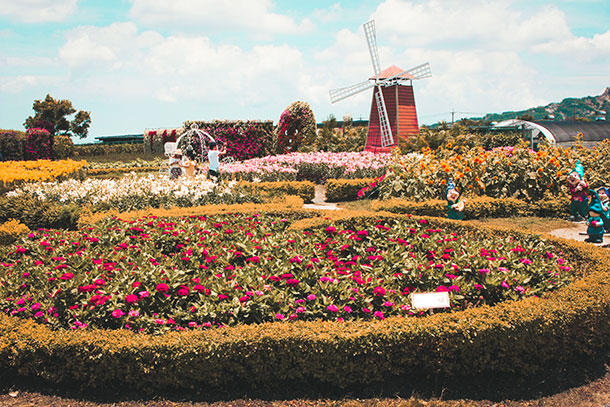 For our Taichung tour, we left the hostel at around 9 AM. But unlike the previous day, the travel time was a lot longer. We got stuck in the traffic at some point so we arrived at our first destination near lunchtime. This meant that we were already starving.
Despite being stuck in traffic going to and back to Taipei it was still alright. We loved the more relaxing pace of the tour and the activities compared to the day before. There were also a lot of amazing photo opportunities on this day trip. And if you are an Instagram fan, you'll enjoy taking photos.
Going Home
At the airport, we managed to grab some dinner and return the pocket wifi first before checking-in at the counter. And BTW, it is best to grab some food earlier in the night. We discovered that the food court near the entrance to the check-in counter is not 24/7.
At the departure area, we also used up the remaining amount in our Easy Cards. We purchased food items from the vending machine.
Over-all the trip was great, though the trip from Manila to Cebu was exhausting due to delayed flights. Our supposed to be noon flight was moved to 7 PM, so it was frustrating, to say the least.
Sample 4-Day Taiwan Itinerary
If you need help with planning your Taiwan itinerary, below is a sample itinerary that you can also benchmark.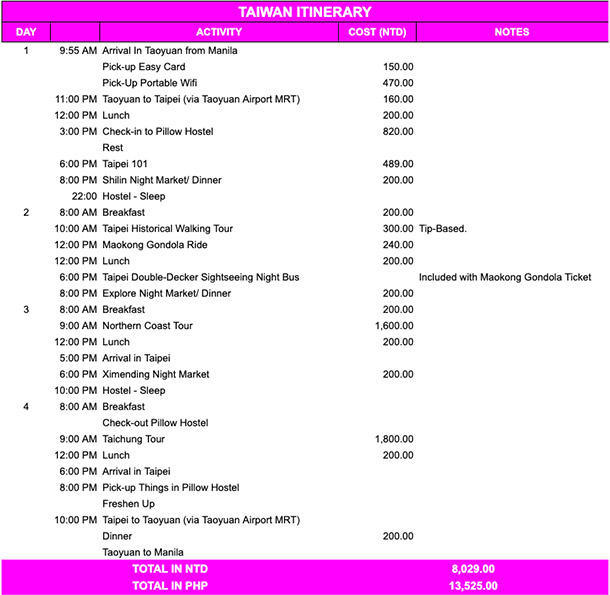 As seen in the image above, our over-all expenses were less than 15,000 Php, including meals. This does not include, however, other miscellaneous expenses including souvenirs and a few snacks in between the trip.
Have you been to Taiwan? What was your best experience, so far? Share it with us on the comments below.
Oh, and if you have been to the country, what would you recommend people should include in their Taiwan itinerary too?
Like This Post? Pin It!