Have you found the perfect Coron accommodation?
When planning a trip where you have several activities planned, the best way to go is to look for a clean and affordable accommodation.
And that's what we did with our Coron Trip.
Planning for our Coron vacation was done a couple of months before the actual trip, as with our usual practice. This is to provide ample time to prepare the budget and scout for our Coron accommodation, itineraries, tour groups and the like.
Since we were with my sister and her husband, planning was even more convenient. My sister likes to organize stuff and this was no exception. See? Siblings are indeed cool to travel with!
Coron, Palawan has indeed a lot of accommodations you can choose from. From resorts to hostels to the luxurious ones and to the budget-friendly, there is something for any type of traveler.
As for us, we were going to spend most days out, so a budget-friendly Coron accommodation was desirable. A family member referred Darayonan Lodge Coron to us. They have stayed there before and was pretty much satisfied with the hotel's services.
The Darayonan Lodge is a friendly Coron accommodation with comfortable amenities perfect for our planned itinerary in Coron.
Upon checking on the internet, we found out that the lodge also offers various Coron Palawan tours. A good plus as we wanted to explore more of Palawan's tourist attractions.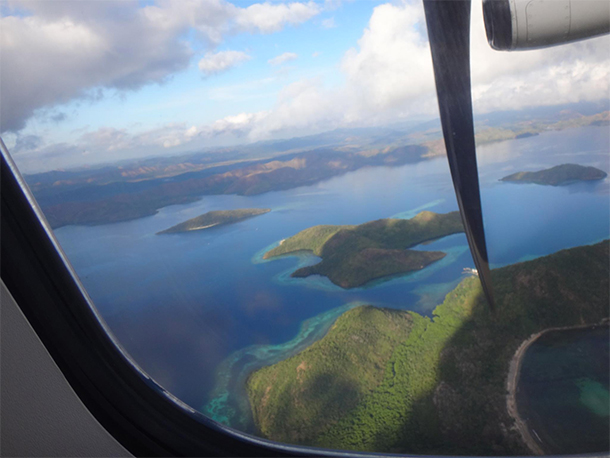 Despite the late night travel from Cebu to Manila and then Manila to Busuanga, our initial tiredness was completely washed away when we saw this amazing view from above.
It was such a welcoming site and indeed gave a definite promise of great moments ahead.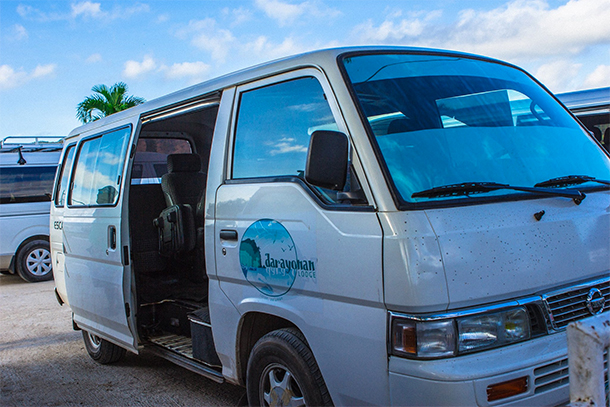 Our flight to Busuanga from Manila arrived at around 6AM. A van was waiting for us at the airport to take us to the hotel in Coron. It took us approximately 30 mins to reach the hotel which, to our delight, was located at the city center.
We had plans to explore the town on our own and it was awesome that the commute to our point of interest was pretty easy.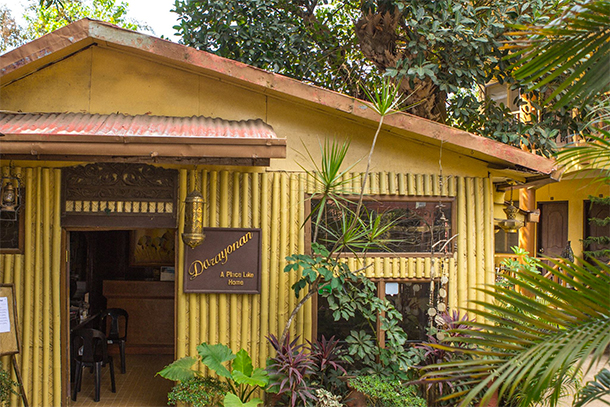 The hotel is set up with a homey feeling and very traditional look. At first glance, it seems like a residential building. It's enclosed with a fence surrounded by plants. The rooms were separated on several buildings.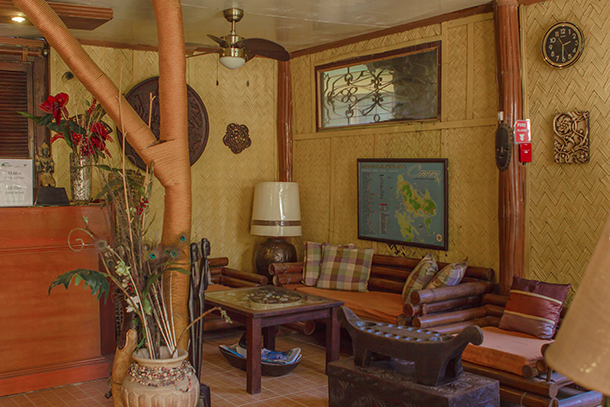 I love the map of Coron displayed at their reception area. It was fun checking out the places we were going to and understanding the geography of the island :).
As it was still early in the morning, we had to request if we can check in early. We were advised to wait a little while as the room was still being prepared.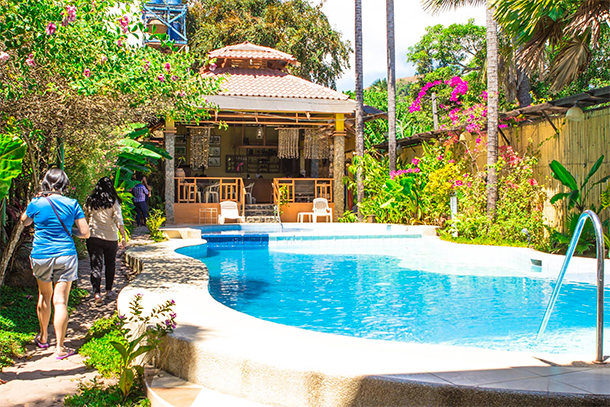 While waiting, we opted to have our breakfast in the hotel. Breakfast was served at the poolside bar.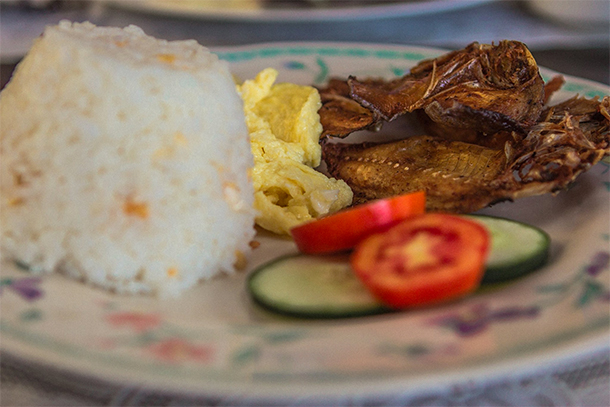 The staff at our Coron accommodation was very helpful and introduced us to one of Coron's delicacy, the Danggit Lamayo. They were very friendly too and even gave us a tip or two on going around town.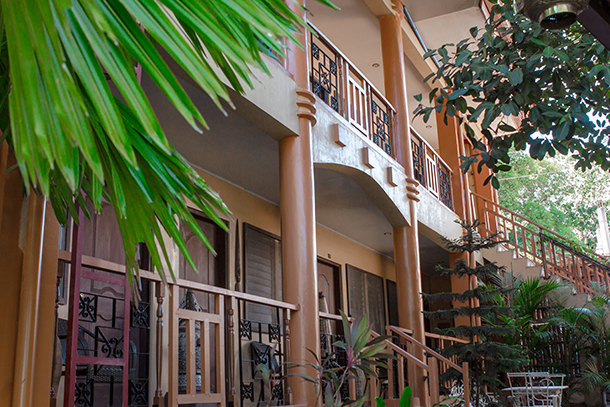 I had no qualms of being on the 2nd floor, but the staff kindly accommodated us on the first floor. I was pregnant at that time and climbing the stairs might put unwanted strain on me.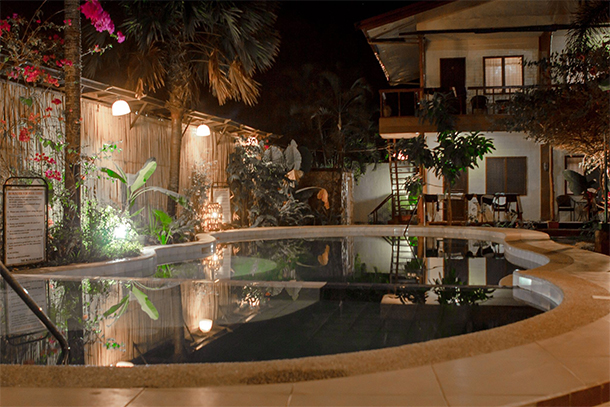 Our room was just in front of the pool which was pretty good. There was no fear of slipping btw! 😉 To be honest, I was feeling pretty good at that time.
The pool was pretty clean. We had a quick dip after our Coron Ultimate Tour. The water and the ambiance was very relaxing indeed.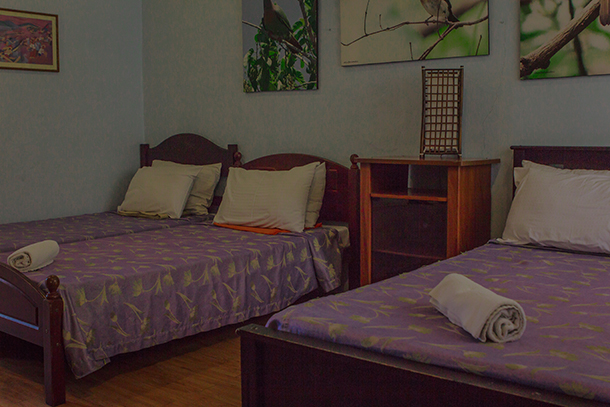 We have booked a family room, good for four (4) persons. The price was very reasonable and already included breakfast for the 4 of us. The room was originally good for three (3) persons, but we added one extra bed.
Despite not having Wi-Fi inside the room (wi-fi was only available at the common areas), we were pretty comfortable.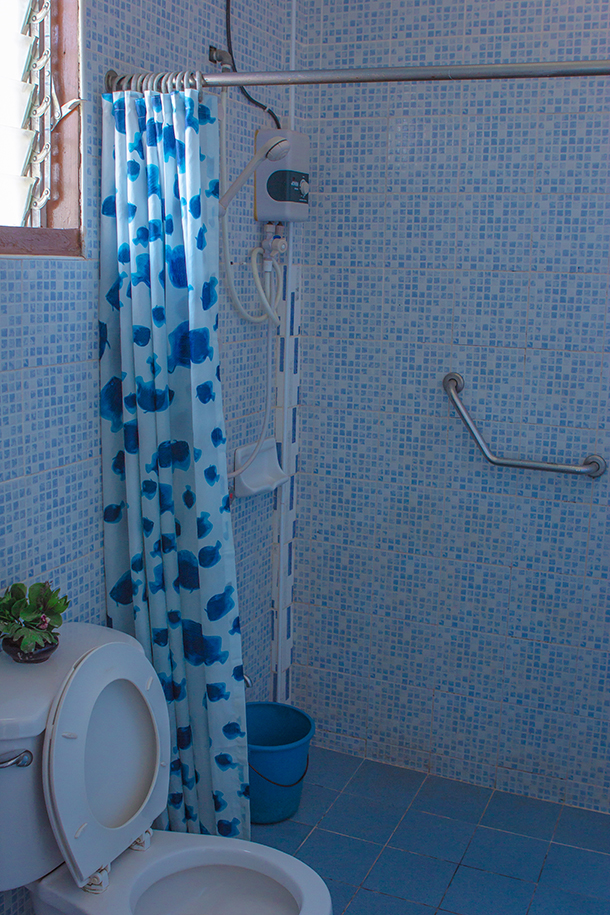 We had plenty of room for our stuff and all the basic necessities were provided for. 🙂 There was cable TV, the ACU was working, the sheets were clean and the bathroom was well-provisioned (and of course, clean and had hot water 😉 ).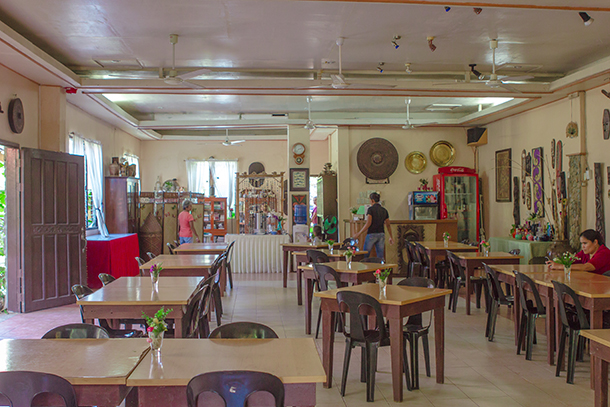 Their dining room is pretty impressive with its cute display of items. We did not eat here though, as we preferred to eat at the poolside minibar on breakfasts.
Also, we have opted to explore Coron's food scene thus the exploration of local restaurants :). It was summer then and the weather was too gorgeous just to stay indoors!
Aside from the usual services you'll expect from an accommodation, Darayonan Lodge Coron also arranged our Calauit Safari Tour and Coron Ultimate Tour for us. They even prepared sandwiches for us on the day of our safari tour as we started out pretty early in the morning.
There are many ways to book a room here and one of the easiest (and affordable too) is reserving through hotel booking websites.
Darayonan Lodge Coron Review: Over-all Verdict of our Coron accommodation
Over-all, Darayonan Lodge Coron was perfect for our short but very enjoyable Coron vacation. The hotel was very budget-friendly and had a homey feel about it. It was just perfect for us who was mostly out the whole day and wanted to have a friendly Coron accommodation to return to at night.
Like this post? Pin it!