Among the Philippines' most famous tourist destination is the Palawan island. Located on the MIMAROPA region, the island is called as the Philppine's last frontier. Home to the famous Underground River and the Tubbataha Reef Marine Park, Palawan does not only offers amazing beaches but other great natural resources as well. All of which has been preserved and remains untouched until this day. For tourists wishing for a place of adventure and a chance to unwind and get away from the hustle and bustle of the city, the island is the best place to do just that. Indulge in the culinary tastes in the island and its peaceful and tranquil atmosphere that is purely Palawan.
Surrounded by islands, islets, rocky coves and sugar-white sandy beaches, Palawan is indeed one of Asia's most alluring tourist destination. For a list of great places to visit in the province, Favorite Tourist Attractions in Palawan, Philippines will be your guide. Check out some of Palawan's most promising spots and let its magic envelope you!!!
1. Barracuda Lake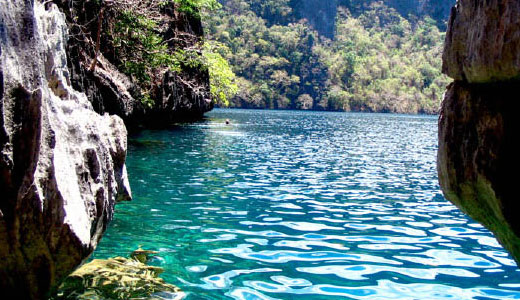 Image By: Maria Sahil Lim Sailor
Location: Northern part of Coron Island, Palawan, Philippines
Barracuda Lake in the Coron Bay is an interesting and unusual diving spot in Palawan. The lake is declared as one of the world's natural and beautiful sanctuaries and is referred as the "craziest dive site in the Philippines". It is located at the top of a volcano crater that offers a dreamy scenery with blue-turquoise waters, surrounded by limestone cliffs.
2. Big Lagoon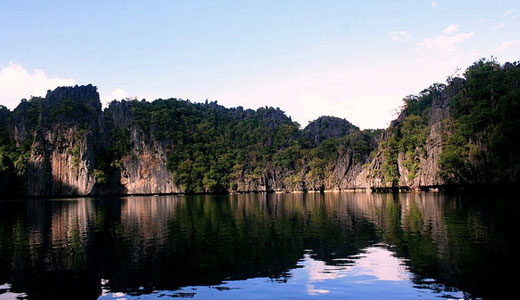 Image By: Dodjie
Location: El Nido, Palawan, Philippines
The Big Lagoon in El Nido is a breeding haven for fishes and crutasceans. It is set on the middle of karst limestone formations with crystal clear waters.
3. Caluit Island Wildlife Sanctuary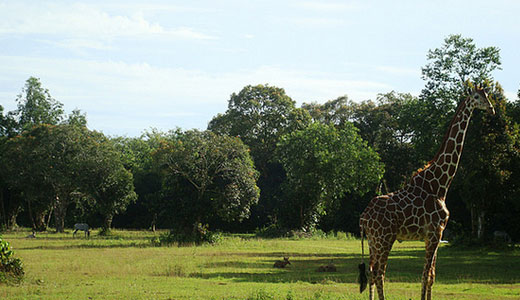 Image By: A n g e l i
Location: Calauit Island, Palawan, Philippines
Situated on the Busuanga Island in the province of Palawan, the Calauit Island Wildlife Sanctuary was home to a variety of exotic, indigenous and marine animals. Among these are the Bushbucks, Elands, Giraffes, Impalas, Calamian Deer, Mouse Deer, Palawan Peacock Pheasant, Dugong, Sea turtles and Giant clam. Today, however, Calauit Safari's wildlife population has dwindled. This part of the island is made up of undulating topography with narrow coastal plains, widespread grasslands and low ranges of hills.
4. Coron Bay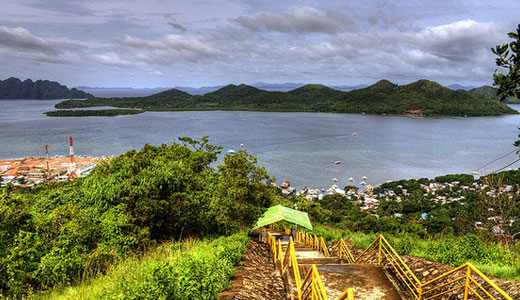 Image By: Avelino Rico Jr
Location: Coron, Busuanga, Palawan, Palawan, Philippines
Popular among divers around the world, the Coron Bay in Palawan boasts of fabulous wreck diving spots in the world. History says that US fighter aircraft and dive bombers have sunk 24 vessels from Japan in this area. Some of these wrecks have now been discovered. Aside from the wrecks, the corals in the area are quite exceptional and shouldn't be missed.
5. El Nido Marine Reserve Park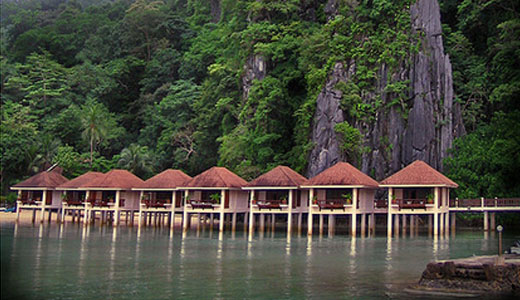 Image By: m dee88
Location: El Nido, Palawan, Philippines
Occupying a total of 96,000 hectares, the El Nido Marine Reserve Park is a premiere tourist destination that boasts of rain forest, mangroves, white sand beaches, coral reefs, and limestone cliffs. Its divers Eco-system creates a breathtaking and fascinating natural scenery that will surely enchant tourists.
6. Entalula Island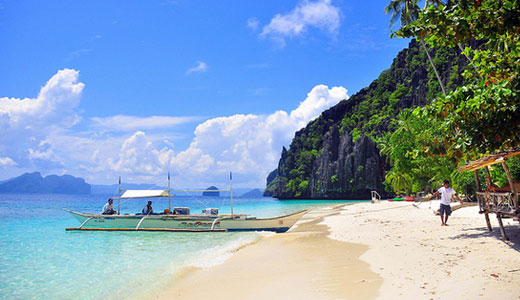 Image By: Angkulet
Location: Bacuit Bay, El Nido, Palawan, Philippines
The Entalula Island is a private beach where tourists from Lagen and Miniloc can reserve in for dinner or lunch. Filled with water activities, the beach at the Entalula Island is fringed with white sand, some with rich coral and fish populations at forty to sixty feet.
7. Honda Bay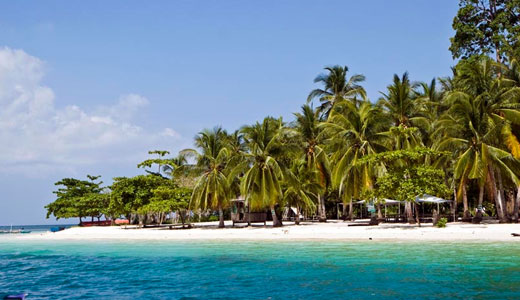 Image By: IcemanUK
Location: Puerto Princesa, Palawan, Philippines
One of Palawan's beautiful tourist destination is the Honda Bay in Puerto Princesa. It is surrounded with several islets with shallow reefs and wonderful beaches. Aside from the terrific opportunities of diving in the area, the bay is the perfect place for lounging around on its sand.
8. Kayangan Lake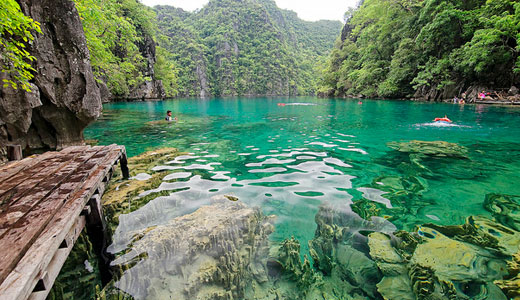 Image By: Jay Suan
Location: Palawan, Philippines
Lake Kayangan is nestled on top of a mountain. For tourists visiting this place, a 10-minute steep climb is required. After this, you will be rewarded with a breathtaking view and crystal-clear waters. The lake Kayangan has been awarded as the cleanest lake in Asia.
9. Palawan Crocodile Farm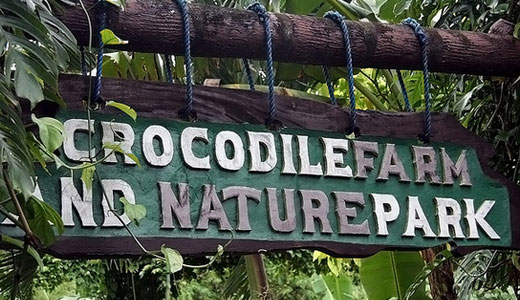 Image By: John Ryan Cordova
Location: Puerto Princesa, Palawan, Philippines
The Palawan Crocodile Farm is a conservation center that breeds Palawan's crocodiles, some of which are saltwater species and others which live in freshwater only. The center provides some interesting and educational experience for its guests.
10. Puerto Princesa Subterranean River National Park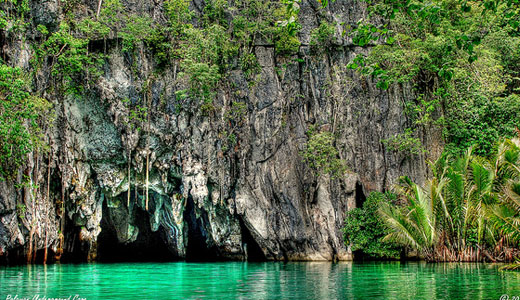 Image By: Armando Alorro
Location: Puerto Princesa, Palawan 5300, Philippines
One of the most distinguished protected areas in the Philippines and awarded as one of the New 7 Wonders of Nature, the Puerto Princesa Subterranean River National Park is Palawan's most popular attraction. Featuring a karst mountain landscape with an 8.2 km long underground river that flows directly to the sea, the Underground River provides a unique nature experience that tourists visiting Palawan shouldn't miss.
11. Secret Lagoon Beach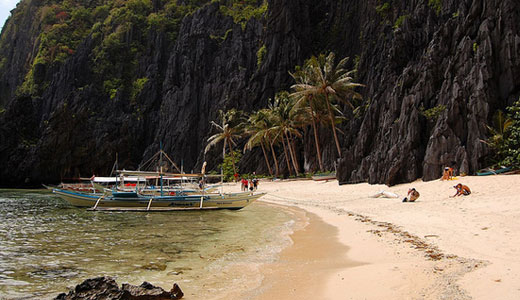 Image By: Angelica Andrea Cruz
Location: El Nido, Palawan, Philippines
Separated into two by limestone cliffs, the Secret Lagoon Beach is an interesting island in El Nido. A secret lagoon is hidden on one side while the second is comprised with gorgeous stretch of fine, white sand beach. Access to the lagoon is through a small opening.
12. Small Lagoon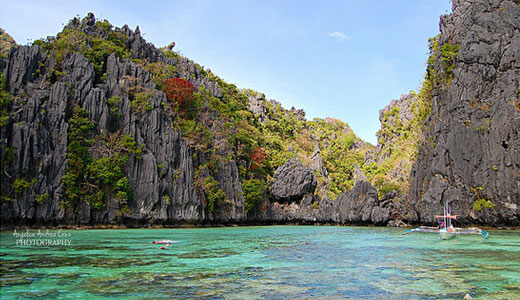 Image By: Angelica Andrea Cruz
Location: El Nido, Palawan, Philippines
The Small Lagoon is another must-see attraction in El Nido with its orchid-lined limestone walls and bountiful marine life. With its tranquil turquoise-green waters, the Small Lagoon is a favorite destination for tourists visiting El Nido.
13. The Immaculate Conception Church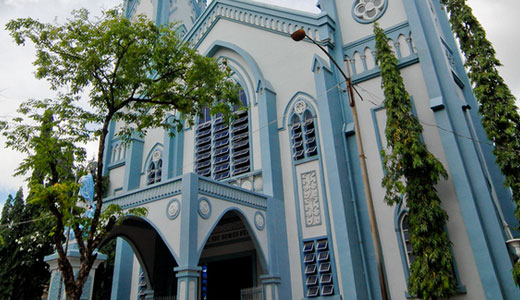 Image By: scuba_dooba
Location: Puerto Princesa City, Palawan, Philippines
Serving as a dedication to the Patron Saint of Palawan, the The Immaculate Conception Church is one of the tourist attractions in Puerto Princesa. Its astounding architecture, with angular structures and well preserved edifice from a century back had made it a worthy place to visit.
14. Tubbataha Reef Marine Park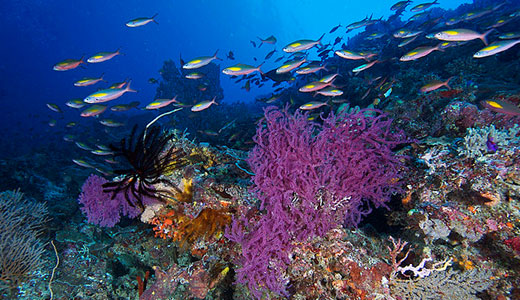 Image By: It's More Fun in the Philippines!!!
Location: Puerto Princesa City, Palawan
The Tubbataha Reef Marine Park is an atoll coral reef that includes 130,028 ha, including the North and South Reefs. It has a very high density of marine species with pristine coral reefs, extensive lagoons and two coral islands. The area was a nominee at the New 7 Wonders of Nature.
15. Ugong Rock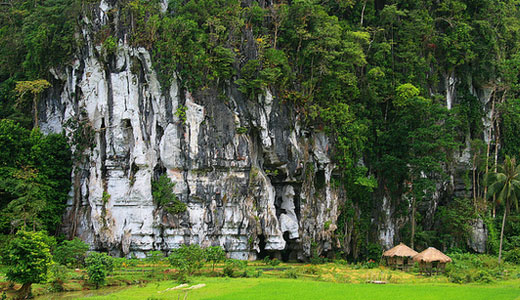 Image By: Maricel Argenal
Location: Puerto Princesa, Palawan, Philippines
Puerto Princesa's Ugong Rock is another promising tourist destination in Palawan. A trip to Ugong Rock is guaranteed to be as exciting as any travel destination with its unique combination of caving, climbing and zip line. The rock formation stands like a pedestal that offers a 360 degree of view of lush green fields and mountains.
Get the most of what the Philippines can offer you! Check out Boracay's top tourist attractions and surfing spots in the Philippines.