Long weekends are usually spent going to places to unwind. And Gibitngil Funtastic Island is definitely a great choice for those looking for a place to visit in Northern Cebu, Philippines.
We had initially planned a nice long vacation on one of the Philippine's top tourist destinations. Unfortunately, the plans were cancelled a day before we were about to travel due to some unexpected or rather unfortunate incident. Hence, we've looked for another option to spend our vacation – Medellin!
How to Get to Medellin, Cebu?
Medellin is a small town at the northern part of Cebu and is about 3-4 hrs ride from Cebu City (weather and traffic permits). Take note, we had a private car with us and traffic was pretty heavy on some parts of Northern Cebu).
For those wanting to go to Medellin via the public transportation, there are several air conditioned and non-aircon buses available at the North Bus Terminal in Mandaue City. You can take either buses going to Medellin's neighbouring towns: San Remegio, Bogo or Daangbantayan. Once there, you can just take the local tricycle to Medellin. Or better yet, take the bus going to Kawit as this goes directly to the town.
Funnily enough, we thought we were just going to be lounging around the beach or the resort the whole weekend, so we did not bring any of our usual 'travel stuff' such as gadgets and swimming gear. We were very unprepared for the fantastic adventure we were about to do!
How to Reach the Gibitngil Funtastic Island?
One of Medellin's hidden gem is the Gibitngil Funtastic Island. It's a resort about 10-15 minutes from the mainland.
You will need to take a small banca to reach this amazing place. Cost of banca differs based on the size. We were 6 adults plus a child and we had rented this banca for 1,500 Php (30 USD)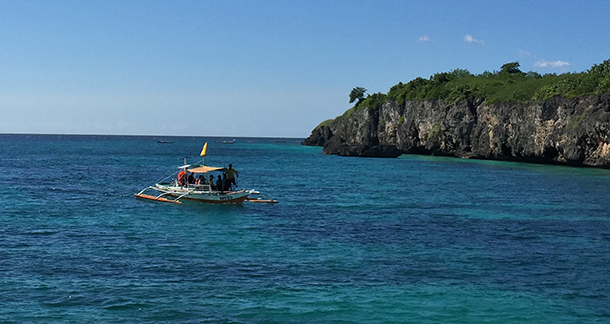 Some smaller ones cost around 1,000 Php or 20 USD. So you better bring on the haggler in you! LOL.
Things to do at the Funtastic Island
The Gibitngil Funtastic Island has been open around 2011-2012 and has seen several changes in the past years including the resort's color exterior (from flamboyant colors to toned down).
Before, there were several activities that one can enjoy such as ziplining, kayaking and use of banana boat. However, at the time of our visit, these amenities were no longer available. It was not a problem at all, since there are other things one can enjoy on the island alone. Who wouldn't enjoy that unique set-up?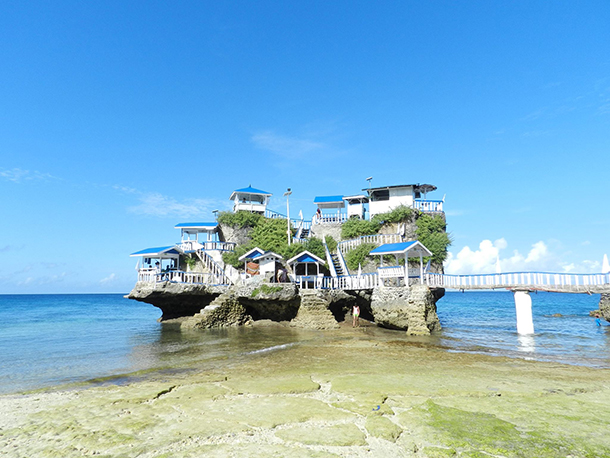 We arrived at around 8AM as we were eager to spend our day on the beach and get the most of vacation. Entrance fee is just at 15 Php per head and you can already enjoy the water!
The resort offers a variety of cottages that you can choose from. Rates range from 150-500 Php (3 USD to 10 USD). The cottages were built on top of several rock formations, connected by concrete pathways (pretty unique!).
We chose this average size cottage perfect for our group. We also had one of the great locations (more about that later as to why it was perfect for me. LOL.)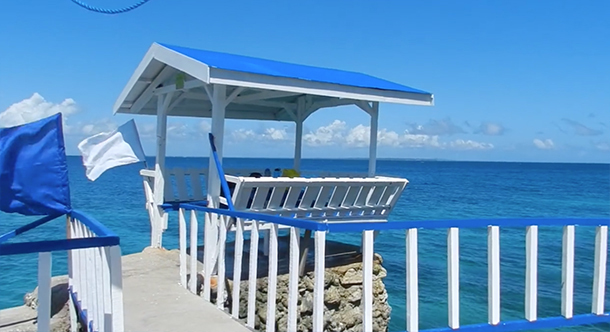 Here are 6 things to do in Gibitngil Funtastic Island that you will love!
1. Swim in the Crystal Clear Water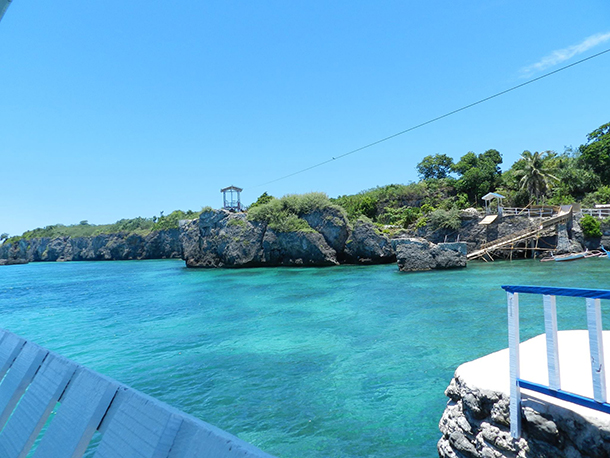 One thing that I absolutely loved about Gibitngil is its crystal clear water! It's sooo refreshing especially after a couple of hours basking in the sun! We can actually see the bottom of the sea from our cottage.
Despite the heat (it is summer by the way), the water was cool. In fact there were areas where the water is cooler than the rest. Mind you, you should wear your life vests if you are not a good swimmer since there were areas where the water was deeper and the waves can be tough!
2. Snorkeling with the Fishes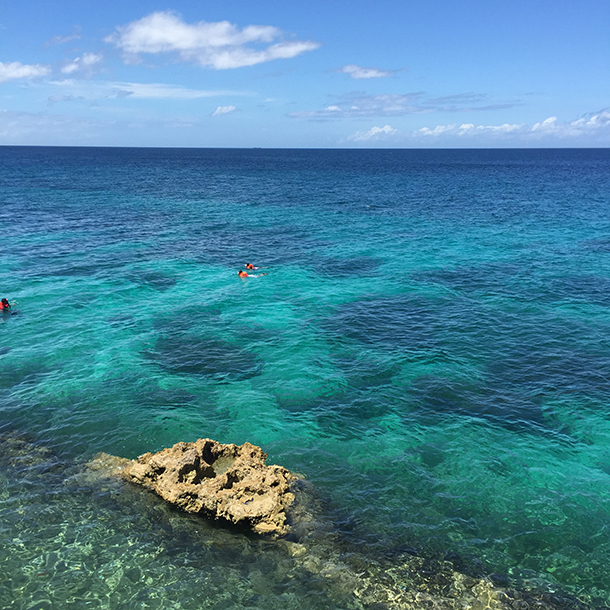 Our family loves snorkelling and we surely did just that at Gibitngil! There were several types of fishes that you can see in the water (though admittedly I'm no expert when it comes to names) and the variety was great!
As for corals, there were some though I did not get to explore it all (being pregnant has its cons, I guess). The seabed was interesting enough so I think, snorkelling will be worth your while too!
3. Cliff Diving on a 30-40 Ft Drop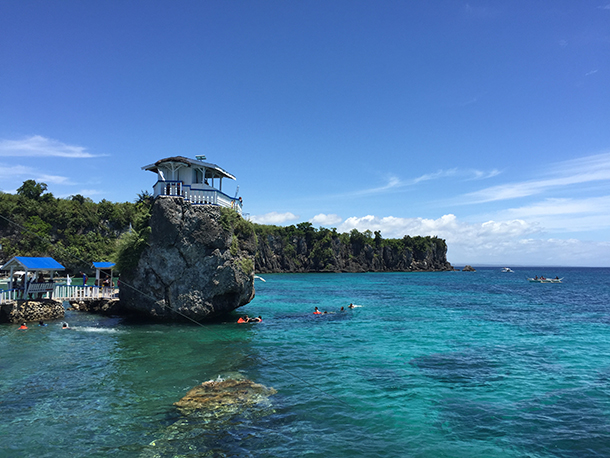 Now this is something that you adrenaline junkies will adore! Funtastic Island has this 30-40 ft drop (depending on the sea level) that you will love!
Obviously, I did not try that but my brother-in-law did. He is young and I was amazed by his guts to do it without hesitation.
If you can't brave the 30-40 ft drop, the resort offers another alternative for you. It has another diving spot that you can also try, it is about 8-10 ft.
Our cottage was right next to that drop and my in-laws and husband (not to mention my nephew who did not jump by the way, but enjoyed watching everyone else jump) took turns in jumping in and out of the water.
4. Selfie with the Amazing Rock Formations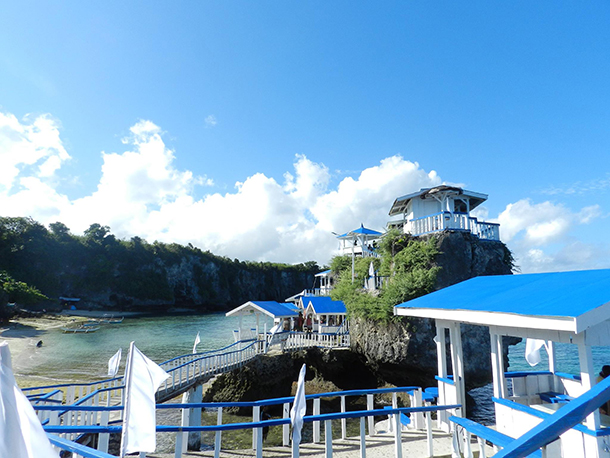 Aside from the waters, the place has astonishing views. Even just getting there from the mainland, you will love the rock formations and landscapes!
Since this is the time for social media and selfies have become such a trending thing to do, Gibitngil Funtastic Island is the perfect place! We were also near this great spot where you can pose for photos (do jump shots and all) so it was pretty cool!
It would be best though, if you have underwater camera on hand so as to ensure that you will not worry if your phone or camera gets wet. It's the beach, after all! 🙂
5. Chill on Top of Gibitngil Funtastic Island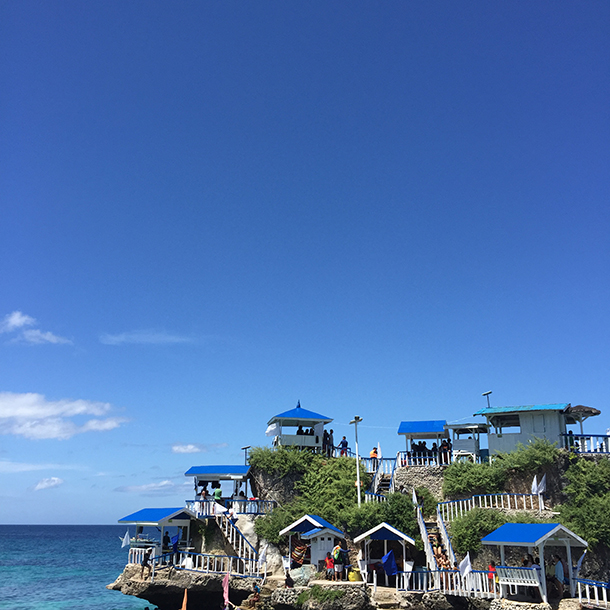 Now, weekends or vacations (for that matter) are best spent chilling and the beach is just an amazing place to do that! I for one enjoyed a couple of minutes nap before I went back to the water for another round of swimming. The air was cool, the weather was great and the sound of the waves – not to mention the chatter and laughter of the rest of the guest – was just soothing.
The privacy of your cottage (there were about one or two cottages per rock) was just perfect for those wanting time to relax and enjoy each other's company.
6. Night Swimming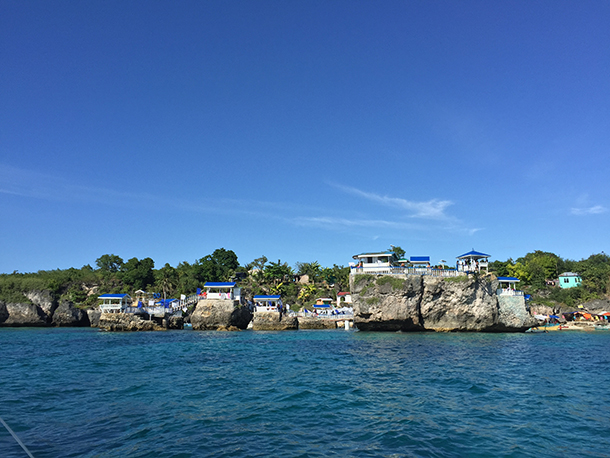 We didn't get to try this since we were booked at a resort in Medellin but there were several spots where you can go camping and have your night swimming. There were no hotels mind you, only spots where you can pitch your tent (should you wish too).
I personally think it will be a nice experience to try this out especially on summer!
We left the resort at around 3PM – we had about 7-8 hours to enjoy the place and we had a little kid, so this was pretty cool with us. The experience was really amazing!
We were just sorry we did not bring our complete swimming gear or additional gadgets with us. This was really an impromptu getaway and though it was unexpected, we had the time of our lives!
Have you been to Gibitngil Funtastic Island? Share your experiences with us! We'd love to hear them too!
Like This Post? Pin It!