Have you tried working at co-working spaces in Cebu City?
Since quitting my corporate job more than a year ago, I've never really appreciated the freedom of becoming a digital nomad. That is, being able to work independently whenever and wherever I please.
It was just recently when I started working at home and being able to spend time with my family that it became a lifestyle that I love having.
But what is frustrating, however, is the lack of available conducive co-working spaces near me. Especially when I wanted a change of scenery for a few hours.
My sister, who is taking her board exams soon, was the one who introduced me to several co-working spaces in Cebu City that are not only conducive but are also budget-friendly.
As someone who used to go to coffee shops at local malls, it was a relief to finally be able to find cafés in Cebu with a fast internet connection and a productive ambiance in the air. Bonus points that they mostly smell of coffee!
I know that with this digital age, there are plenty of us who prefer to work from home or become location independent.
It does not only allow us the flexibility of time. But it allows us to pursue what we love the most without being held down by offices and the hours we spend there.
Most digital nomads too (especially those who love to travel) will surely come to appreciate these affordable spaces where we can work as we please.
If you are in Cebu for a couple of days (or months, depending on your trip duration), we have these 3 affordable co-working space that you can go to for a couple of hours a day.
If you have traveled to the Philippines, you probably know how erratic our internet connection can be.
Most are pretty slow and will get you frustrated at times (trust me). These co-working spaces in Cebu City are a gem for digital nomads passing through the city.
Having said that, these are some of the cool co-working spaces you can visit when in Cebu City.
PS: We are still trying out other co-working spaces and will update this post from time to time!
Co-Working Space in Cebu City: The Workplace Café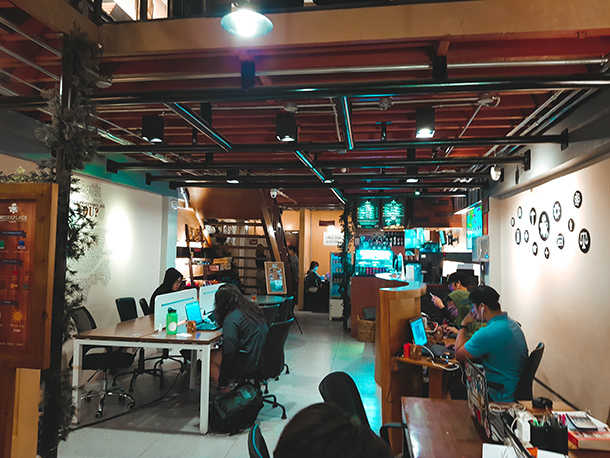 The Workplace Café was our first destination. They had great reviews online for a cafe in Cebu so we've decided to start with them.
This café is built like a coffee shop with office chairs and outlets on every table and soft music in the background.
The homey color of brown dominates the interior with warm lights illuminating the room. It's a two-floor building with lots of available space for students and professionals alike.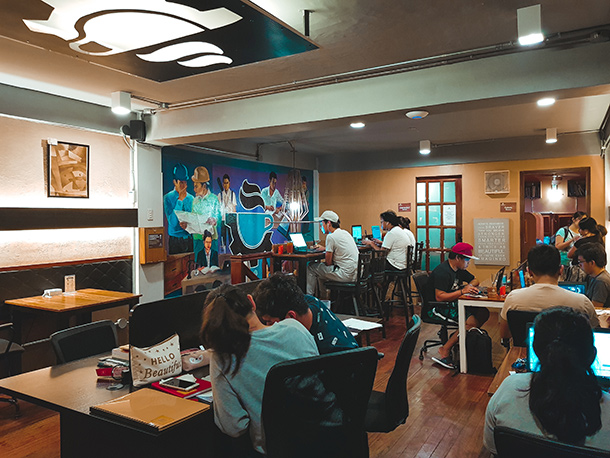 My sister favored this co-working space in Cebu among the three that we have tried so far. She, in particular, loved the cubicles that the Workplace Café has as it allows privacy among others.
It gave her some peace especially when the place has a lot of customers. The open-spaced tables were comfortable enough for me though.
What I particularly enjoy is the affordable rate (40 Php for hourly rates and 320 for daily rate). It also comes with free coffee/ iced tea.) and the friendly staff and the positive frames on the wall to remind people to be productive and work hard.
Pretty good for mind-setting.
It is located along the road is it's pretty not hard to miss. The Workplace Café is located near universities so expect a rather full-house on most days. We've been there on weekdays and during local holidays and so far all chairs and tables and filled-in by 1 PM.
As mentioned, it's near a university so there are plenty of dining options too. The café does sell plated meals with food ranging from 90 Php onwards.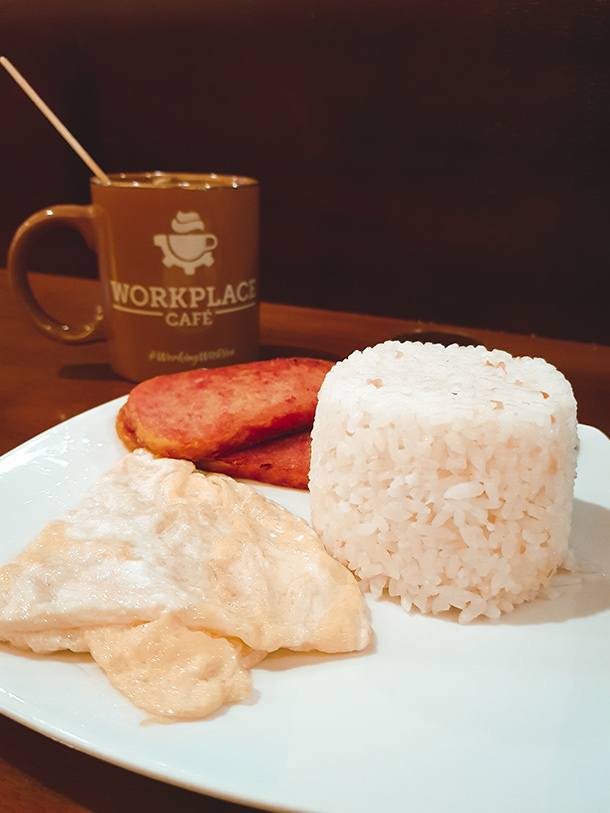 But if you want to save, you can always bring some food with you. We did this a few times and it is pretty convenient and budget-friendly.
We tried their all-day breakfast several times too and there were meals that are affordable.
Hourly rate applies as well as a daily rate. They also have monthly rates where you can enjoy the café's amenities all month long.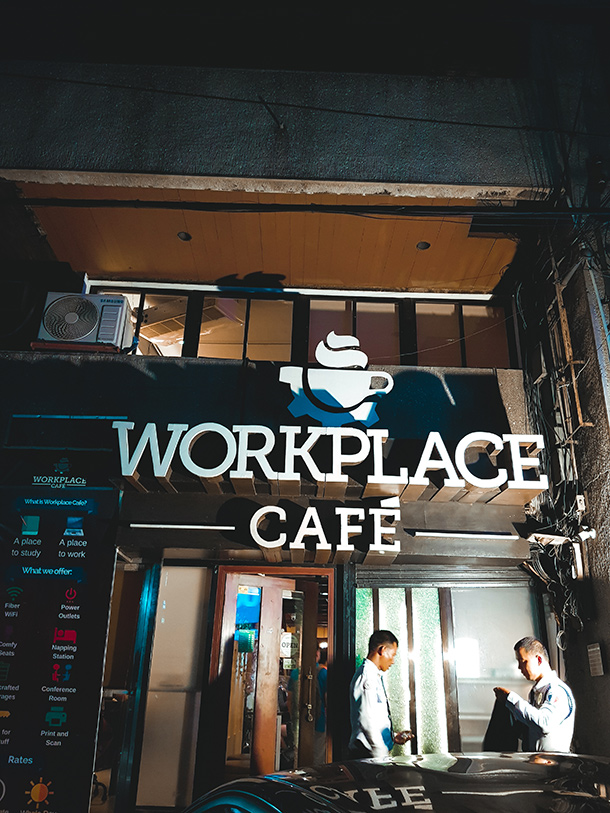 Parking space is super limited with only two slots available. If you are bringing a vehicle with you then you'll have to look for a parking space somewhere else.
We brought our car with us on our first day and we had trouble getting a place to park it.
There's a strip of pay parking about a block away and I'm a bit wary with regards to the safety of your vehicle if you leave your car for too long. The guard was helpful though and informed us when the 2nd parking slot was free so that we can transfer.
The bathroom can get wet and sometimes the flush doesn't really work. Good thing that the water is abundant and you can manually flush it with water from the tap.
Patrons are mostly students too so expect plenty of books on the tables but you'll definitely feel the serious and productive ambiance in the air.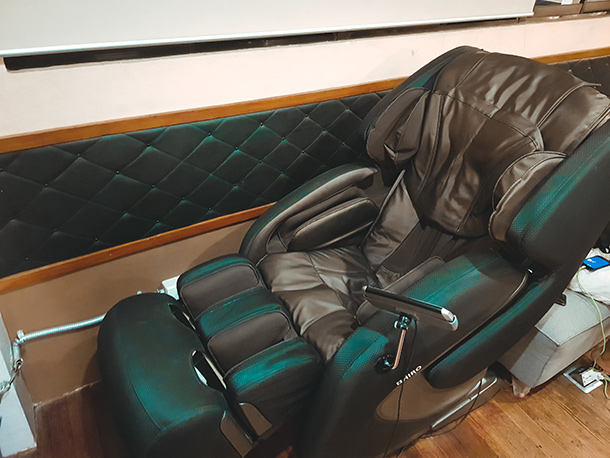 Aside from the cubicles and tables, the cafe does have a conference room (on separate rate) and a Power Nap Station if you need to relax. And they offer lockers for rent if you need to get out for a while and leave your valuables behind.
How to Get to The Workplace Café
Take any public utility jeep passing through Ramos Street in Cebu City (14D). You can also use this map:
Feel free to get in touch with them through the Workplace Café Website for the recent rates and updates!
Co-Working Space in Cebu City: The Headquarters Cebu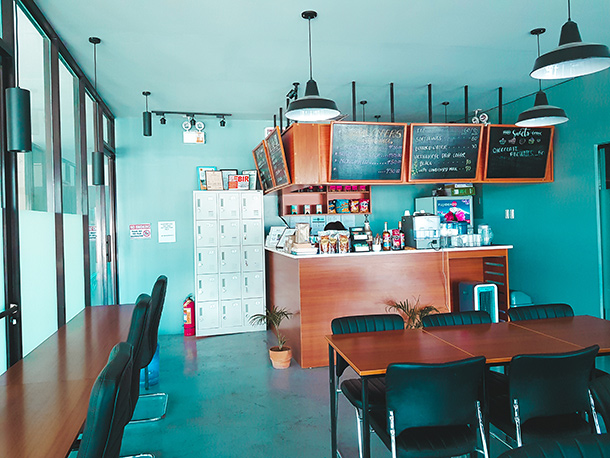 The Headquarters Cebu is another co-working space right in the heart of Cebu City. I personally love the location as it is near a mall strip with plenty of food options (you know for lunch just in case you're looking to save some cash).
We visited Headquarters Cebu twice already and it seemed like we had unfortunate moments when we were there.
On our first visit, the ACU was not working well so despite that the area was not full, it was a bit hot (but not to the point of being uncomfortable).
Fast forward to our second visit, the ACU was working perfectly but the internet was acting up. There were limitations on the websites that we can open.
And coming from someone who needs to open a variety of websites all at once, it was frustrating and we just had to leave and look for another area.
Nevertheless, I wouldn't judge the entire experience based on that one time. Our first visit was very productive and we did enjoy the amenities and the productive ambiance.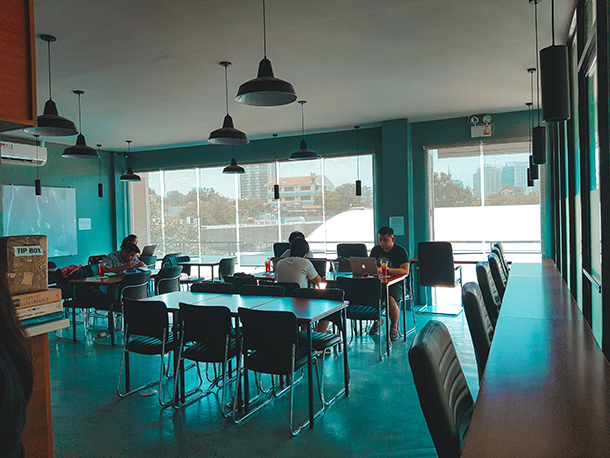 Compared to the Workplace Café, Headquarters Cebu is much smaller and less the homey ambiance. The café has glass walls so it's pretty bright in the day though they have shades to cover it when it gets too bright.
The café's interior is much simpler and does not have a lot of decorations. The tables are pretty basic with wide and comfortable chairs for its customers.
Some outlets were at the underside of the table while there are some at the walls.
They have several parking spaces too as it is in a commercial area. So you wouldn't have to worry about leaving your car behind.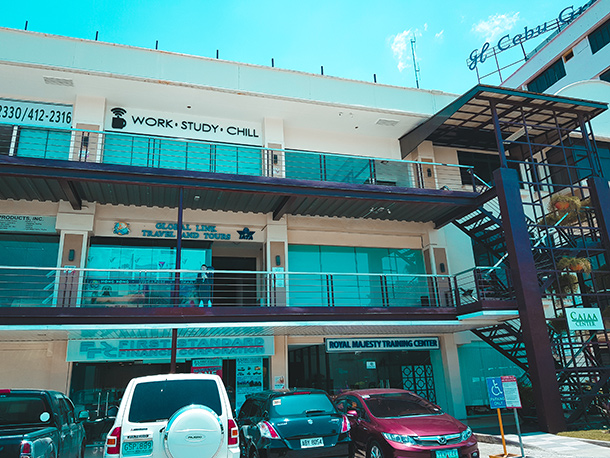 Headquarters Café is also located in an old building but the newly refurbished floor. It's on the third floor and there are no elevators to take you up.
Climbing up the stairs can be a good exercise but personally, it's not too people-friendly with its open stairs.
The restroom is located outside the café and is shared by the rest of the offices/centers on the third floor. So far it's clean and has the 'new' feeling.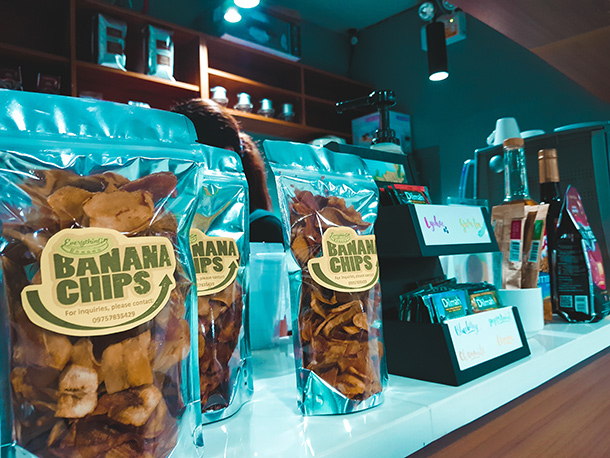 Rates at the time of our visit were at 30 Php per hour with one free coffee or iced tea. Unlike the Workplace Café, they don't have any rice meals on the menu.
Just a variety of drinks and a few foods for snacks. Nevertheless, you can bring food from outside should you wish to eat inside.
This co-working space in Cebu is less crowded than the Workplace Café. Most customers that I've noticed were digital nomads and young professionals. You can say that I love the cafés productive ambiance.
Like the Workplace Cafe, the Headquarters Cebu also has a conference room (on separate rate) and lockers for rent if you need to get out for a while and leave your valuables behind.
How to Get to Headquarters Cebu
Take the jeep passing through Escario Street from Colon, Ayala or IT Park. You can tell the driver to drop you off at Vibo Place. Or follow the map below:
Have questions? Feel free to get in touch with them through Headquarter Cebu Facebook Page for the recent rates and updates!
Update (June 2020): The Headquarter in Cebu is currently closed.
Co-Working Space in Cebu City: The iiOffice Cebu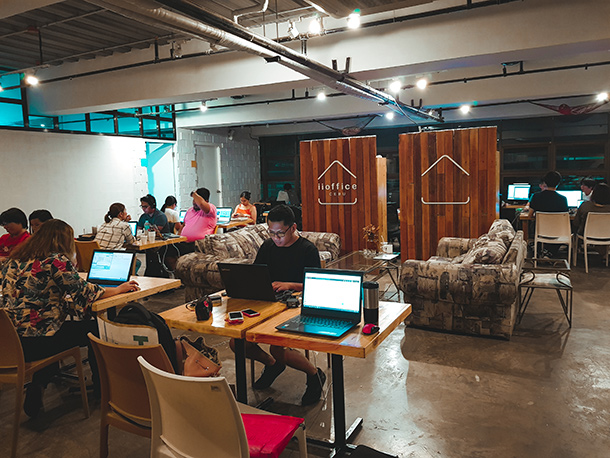 On our search for another co-working space, we stumbled upon iiOffice Cebu. This co-working space has a more 'office feel' about it that I love. We noticed that most of them are in groups and seem to be working together.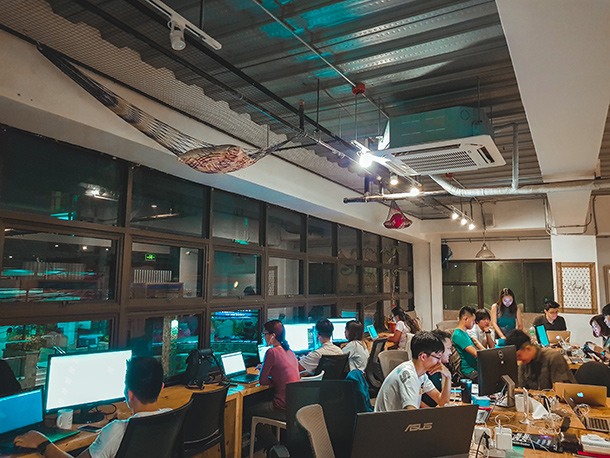 Unlike at the previous co-working spaces we've been to where we saw individuals being productive alone (either studying or working remotely), iiOffice Cebu, however, is occupied by groups being productive together. Which, for us, was really a great thing as it added a rather productive environment.
iiOffice Cebu is a bit expensive than the others as they don't offer hourly rates. Rather you'll have to pay the daily rate which is at 300 Php per head.
This already covers the fast internet connection plus free-flowing coffee, tea, and water.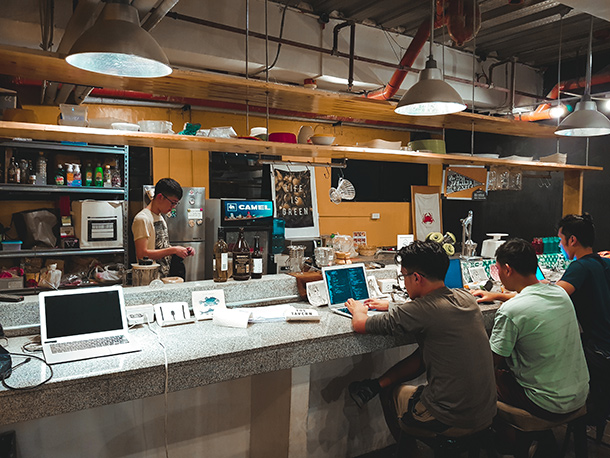 They also have a common kitchen where everyone is free to use the utensils and the equipment. But of course, guests are expected to clean up after themselves.
Snacks for sale are also spread out at the kitchen counter for anyone wanting a bite in between work.
iiOffice Cebu didn't have a parking lot for its costumers though and is not easily noticeable when you are passing through the area.
It's on the second floor of a building right across the AVON. The gate of the building does have signage so you can look for it when passing by.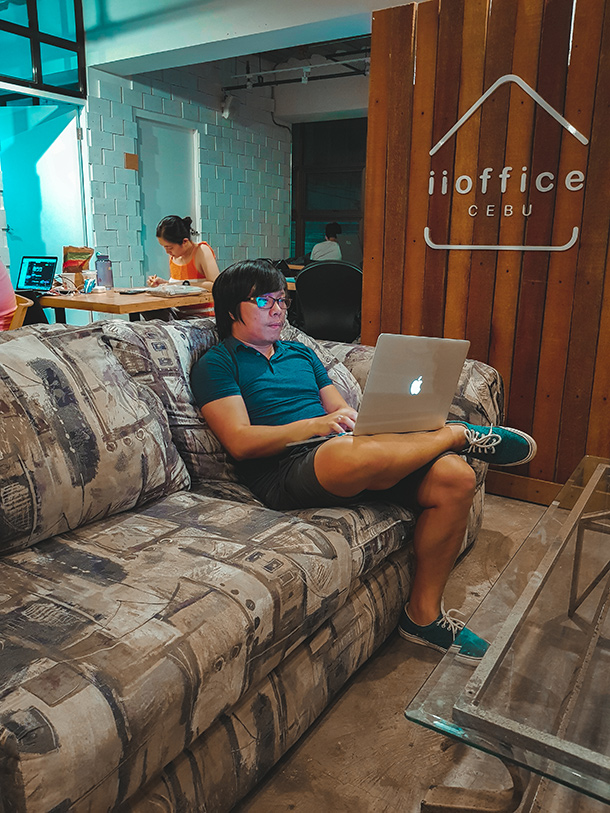 iiOffice Cebu is indeed ideal for large groups. They have two conference/ meeting rooms available for people wanting to have a close-door discussion and lockers for monthly rent.
There are several comfortable spaces too if you want to lounge on the big sofa or at cushioned chairs.
How to Get to iiOffice Cebu
There were PUJs passing thru here. Just take the jeep passing through Don Gil Garcia Street. You can also ride a jeepney going to Jones or Colon (if from Ayala Area) or vice versa then alight near the Avon Building at Osmeña Boulevard.
From there, enter the building (just pass through) and when you get to the other entrance, you'll be taken directly to the iiOffice Cebu entrance.
Do you have any questions? Feel free to get in touch with them through the iiOffice Cebu Website for the recent rates and updates!
Conclusion
Overall, we found all the co-working spaces very comfortable and affordable. Personally, I am looking forward to discovering more co-working spaces in Cebu City in the next few months!
Like This Post? Pin It!