Have you tried the Binondo Food Crawl?
When we travel with friends we usually love to see new places and try out amazing adventures. That being the case, we often miss out on tasting the local delicacies and must-try food.
This is mostly due to the fact that our time is usually limited and our itineraries are full-packed.
When we visited Manila, we had a couple of hours to spare and we're given the opportunity to go on a Food Crawl at one of Manila's most interesting places: Binondo.
Considered to be one of the world's oldest Chinatown – the oldest to be exact – Binondo has a wide array of interesting and delectable foods that every foodie lover should try!
The Binondo Food Crawl is also gaining popularity among the locals, and who are we to not try it too!
Guided by one of our friends, who interestingly enough, is establishing her travel agency in the Philippines, we were up for an hour or two of food treats!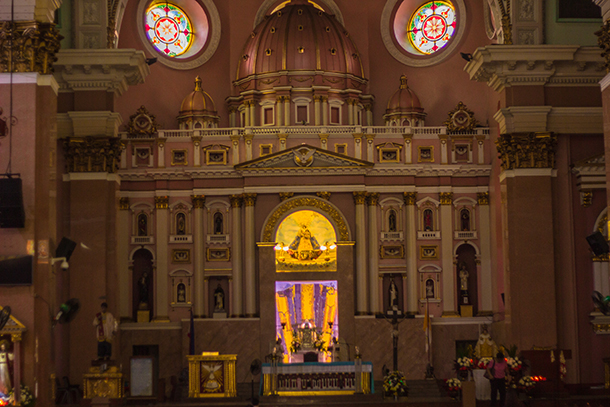 After our brief Intramuros Walking Tour, we were dropped off at the Binondo Church, our starting point for the Binondo Food Crawl.
Like most Catholic, we took a quick stop at the church. After saying a little prayer, we were ready for the delicious treats!
Our appetite? A little! Remember we had our late lunch just a few hours ago. LOL.
Nevertheless, we were ready to sample everything! Here's a list of the restaurants and stalls that we visited.
Where to Park
You can park your car/ vehicle at the Lucky Chinatown Mall. The mall is open from 10 AM to 10 AM. It'll give you enough time to eat your way through Binondo.
Please do check the mall's hourly rate for parking spaces before leaving your car.
If 10AM is a little late for you to start the Binondo Food Crawl, you can also park in the empty parking lot located on the right side of the street of Binondo Church (if you are coming from the Jones Bridge).
The van that took us was parked here.
What and Where to Eat During The Binondo Food Crawl
New Phou Heng Lumpia House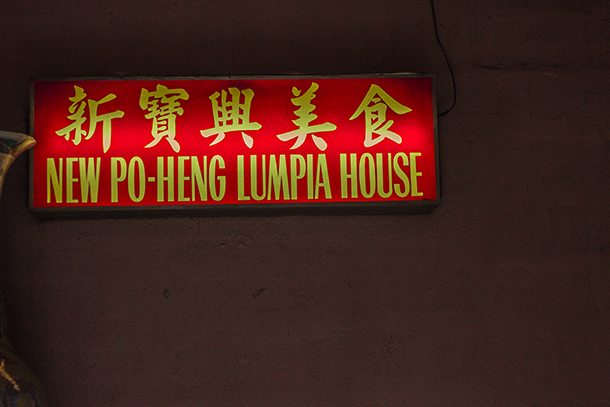 Address: 531 Quintin Paredes St, Bgy 289, Zone 027 Binondo, Manila Metro Manila, Quintin Paredes Rd, Binondo, Manila, Metro Manila
Opening days/hours: MTWThFS from 7 AM to 7 PM; Sundays at 8 AM to 5 PM
Contact Number: (02) 241 8789
Our first stop was at New Phou Heng Lumpia House which is famous for their yummy and equally affordable fresh lumpia. You may well take note that one serving can actually fill you up.
They also have a variety of other food that you can choose from including Maki and Misua.
As we were still a bit full, we shared a few of the lumpia between us.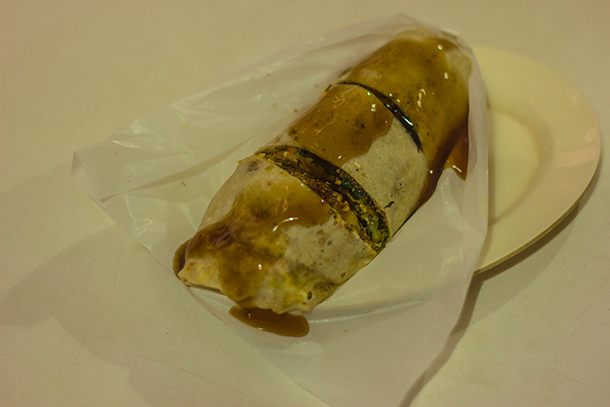 The lumpia is filled with peanuts, cabbages, dried seaweed and carrots to name a few. They also have their very own sweet sauce that you can put in the lumpia for a more flavorful taste.
Eng Bee Tin Chinese Deli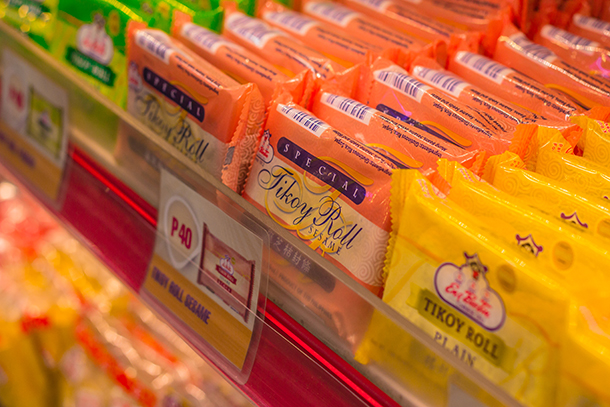 Address: Address: 518 Quintin Paredes Rd, Binondo, Manila, 1006 Metro Manila
Opening days/hours: Daily at 7:30 Am to 8:30 PM
Contact Number: (02) 241 9999
Right across the Lumpia House is one store that we needed to visit.
Before heading out to our next food stop, we just had to purchase some of Binondo's famed hopia at Eng Bee Tin Chinese Deli.
Actually the store sells a lot more than hopia. They have a variety of traditional Chinese delicacies including hopia, tikoy and peanut balls.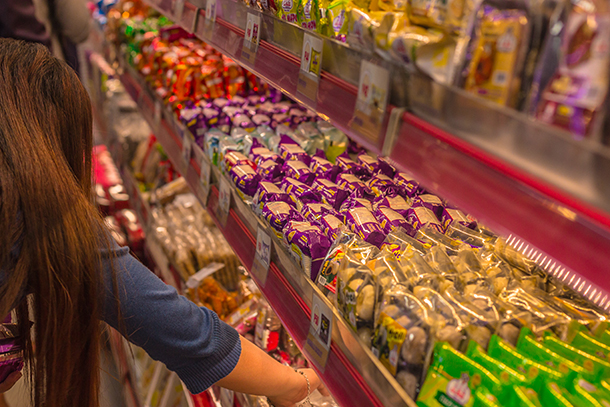 We had a plenty of options to choose from and spent a couple of minutes browsing through their selection.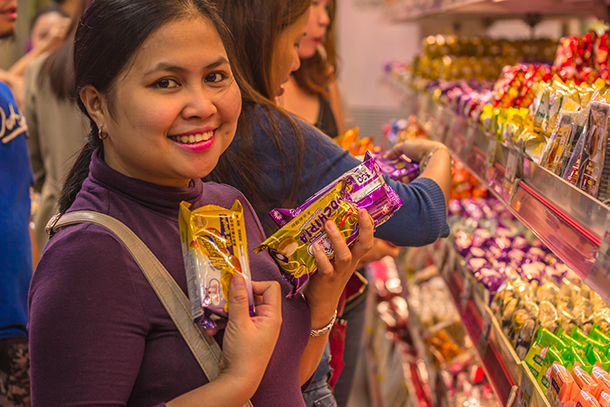 I settled for some Hopia Ube and Mochipia (a kind of hopia with tokiy at the center) and Hopia Combi (hopia with 2 in 1 flavour). Delicious treats to be saved for later! 😉
After purchasing our goods, we headed to our (technically) 3rd stop for the Binondo Food Crawl.
Quik Snack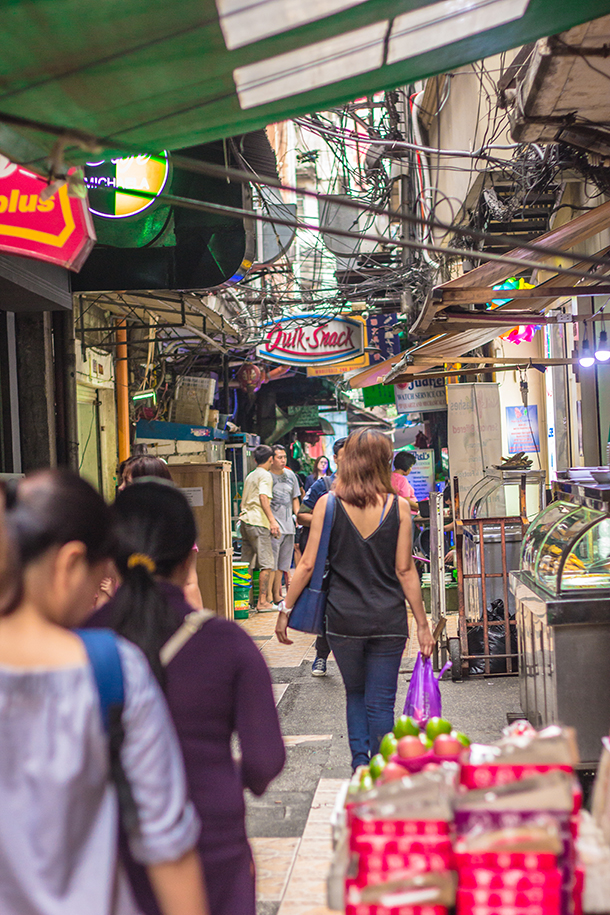 Address: Carvajal St, Binondo, Manila, Metro Manila
Opening days/hours: Daily at 9 AM to 6:30 PM
Contact Number: (02) 242 9572
Quik Snack is a local favorite because of their delicious Chinese food spiced up with other Asian flavors. The restaurant is air-conditioned with modern interior.
Here, we ordered two (2) different dishes that was highly recommended by our guide: Indonesian Tauhu and Beef Sate with Kangkong.
Both had distinct flavor that I found pretty unique, not the usual food I order at restaurants, but it did not disappoint.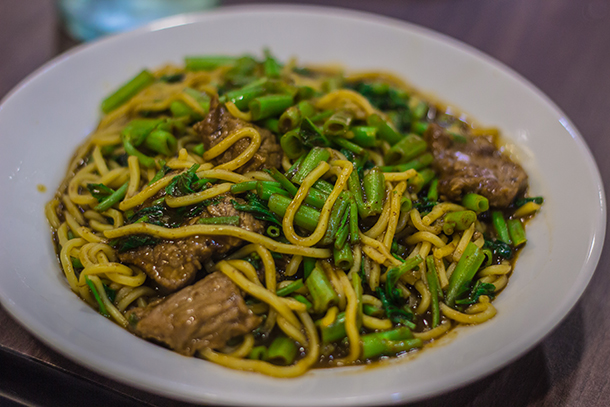 I was a bit partial to the Beef Sate with Kangkong. The beef was juicy and tender and perfectly combined with noodles.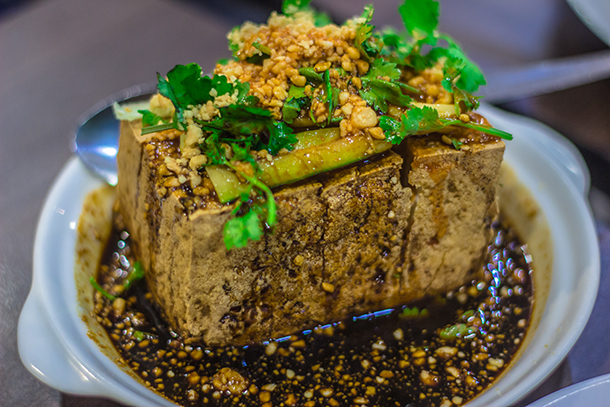 The Indonesian Tauhu was another dish that I found very unique to my tastebuds. I believe it was made of tofu, cucumber, crushed peanuts, parsley and some kind of sweet sauce.
We ordered a piece of the dish and had it for sharing between the group. Talk about cheap eats! 😉
Sincerity Restaurant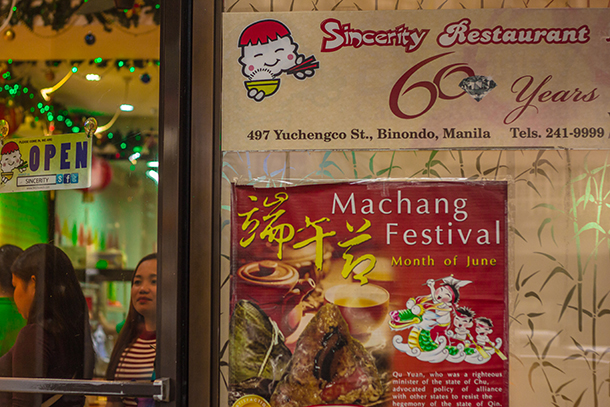 Address: 497 Yuchengco St, Binondo, Manila, 1006 Metro Manila
Opening days/hours: Daily from 10 AM to 10 PM
Contact Number: (02) 241 9991
I have tasted fried chicken so many times, but the Sincerity Fried Chicken in our Binondo Food Crawl is definitely one fried chicken that stands out from my memory (and taste buds. LOL).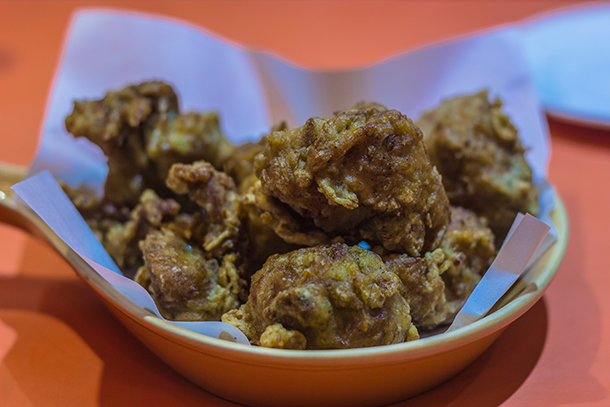 We ordered one (1) serving of their Sincerity Fried Chicken for sharing. I must admit I was expecting the usual fried chicken that I usually taste, but it clearly did not meet my expectation. In fact it exceeded it!
It had a sweet flavor and was juicy that I liked very much.
The restaurant was a bit hidden. You'll definitely need to watch out for it when walking in order for you not to miss it.
We were told that their Oyster Cake is a favorite too but we did not try it. We were pretty full at this time and we all agreed to just sample a bit of the food.
Lord Stow's Bakery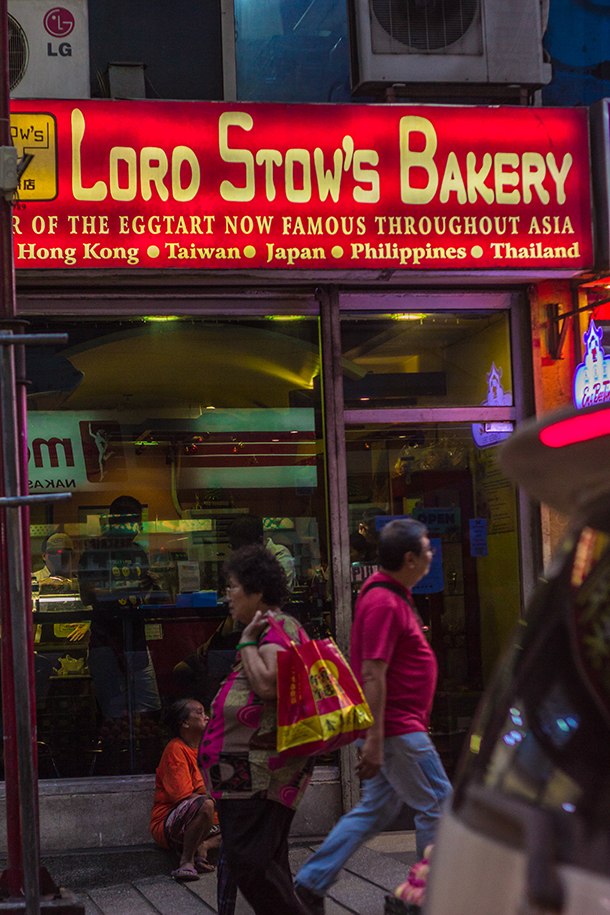 Address: 707 Ongpin St, Binondo, Manila, 1006 Metro Manila
Opening Hours: Mon – Sun 7:30AM – 7:30PM
Contact Number: (02) 247-3305
On our 5th and final stop of the Binondo Food Crawl, we headed to this small bakery that bakes pretty delicious egg tart that can rival those that I've eaten in Macau!
Lord Stow's Bakery in Binondo is also a favorite stop for those wanting small and sweet snacks and 'pasalubong' for the family and friends.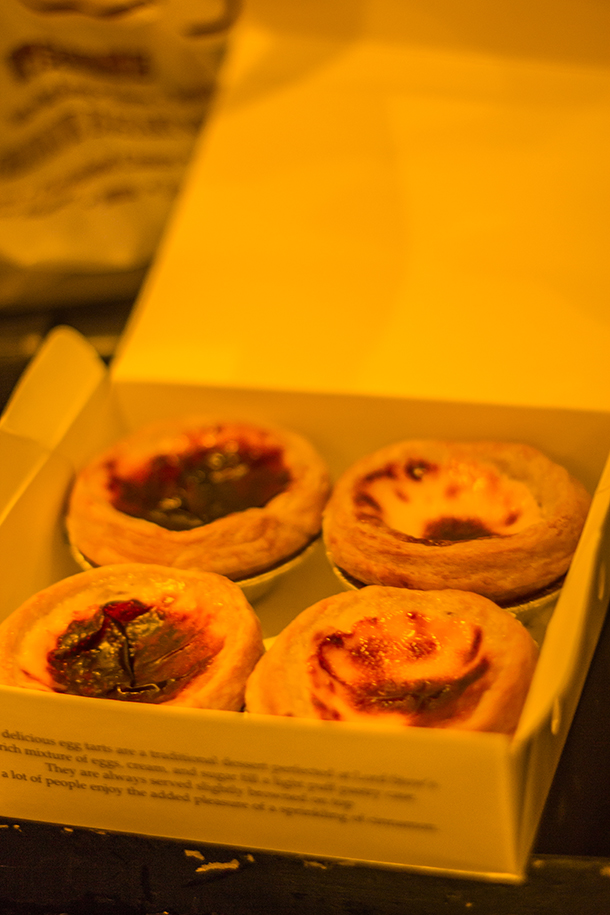 We ordered one box of their egg tart to go around the group. The egg tart had some yummy sweet filling on delicious pastry.
The bakery was a bit small. I think most people will just grab something from the store and head out.
Nevertheless, the egg tarts were delicious and pretty much quenched my body's need for some sweets.
We left the bakery and headed to our 6th stop. The restaurant was closed by the time that we got there though.
Our guide had originally prepared several stops for the Binondo Food Crawl. It was getting a bit late, however (one of our friend needed to go home as she had work later that night), so we cut it short with the 5th stop.
We were pretty agreeable at this time since most of us wanted to rest. We had a rather adventurous activity the next day (stay tuned about it on the blog! 😉 ).
Aside from the time constraints, I guess one lesson that I've learned here is to go on a food tour on an empty stomach. LOL.
We were partially full when we started the Binondo Food Crawl since we just eaten our lunch. So we were pretty full by the time we were on our 3rd stop. LOL.
Tour Route Map
Need some help with the directions? We have our Binondo Food Crawl Route Map for you!
Check out our route here!
Have you tried the Binondo Food Crawl? What was your favorite food? Share it with us!
Like This Post? Pin It!