Home to the cute tarsiers and of the Chocolate Hills, Bohol is definitely one of the most relaxing and beautiful islands you can visit in the Philippines. And its gorgeous tourist spots you'll be seeing on your Bohol Tour surely can back that up!
Over the years, tourism in Bohol has seen a tremendous growth with tourists frequently returning to this small but proud island.
I, for one, just couldn't get enough, not only of the island beauty but by its friendly people too.
One of the most popular way to tour the island is through the Bohol Countryside Tour. It's a whole day activity that will take you to the amazing tourist spots in Bohol.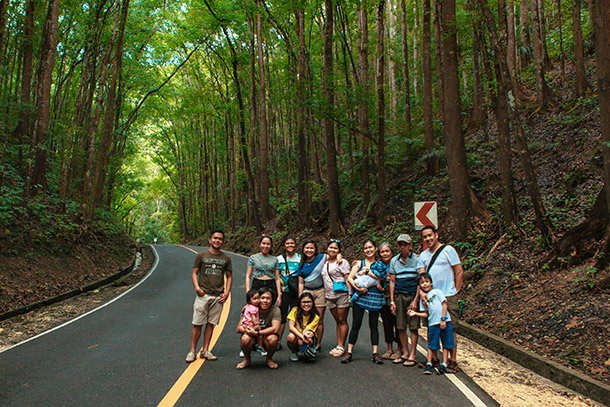 My family and I went on a Bohol Tour together as part of our long-weekend family trip. This was my second time to do this in years and it was fun doing it again with more companions.
Before it was just my husband (who was then my boyfriend), my sister and one of my good friends at work, NN. (Hi N!).
In this particular trip, we were a group of 11 adults and 3 children ranging from 6 months to 6 years old. So as you can see, it was a big group so planning the entire trip was important.
I didn't want to stress out my companions particularly my parents and the children.
The Bohol Countryside Tour was, in my opinion, the perfect way to enjoy the island without too much stress.
We were there for 3 days only. In truth, there are several tours you can enjoy while visiting. But as we had kids and the limited time, we opted to avail of the Bohol Countryside Tour.
Besides, it was the first time my parents were going to see the Chocolate Hills. I couldn't pass up the chance of letting them see it up close.
If you are planning on visiting Bohol in the next few months, the following are some of the factors that you need to consider particularly if you are planning for a group.
How to Arrange a Bohol Tour
First: Well, first off you need to establish the capabilities of your group. You can answer the following questions, if it helps:
Is there anyone who can drive for you?
How many are you?
How many days are you planning to spend on your trip here?
Second: If you have answered the above questions, then you are ready to look for your transportation!
Bohol Car Rental
If you are not in a rush and someone in your group can drive for you, then you may opt to rent a car and self-drive.
This is best for people wanting a bit more authentic feel to any trip. There are several car rental services in the island. You can even find one once you arrive at the Tagbilaran Port.
There'll be people waving placards at you for self-drive vehicle so you wouldn't have to worry. Plus, the Boholanos are, in general, very friendly and hospitable people.
I should know as I've worked with them a couple of times during my corporate job and they are fun people to mingle.
Bohol Packaged Tour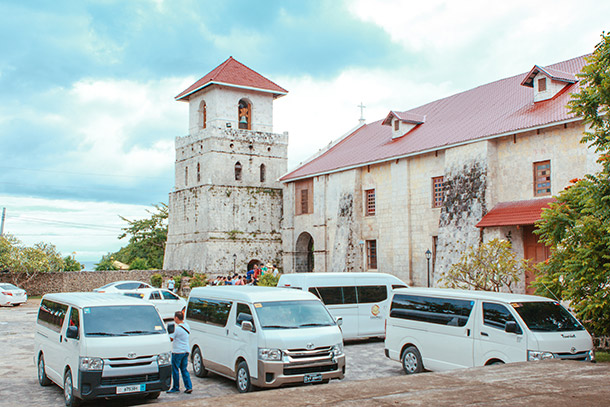 If you are in big groups, then a packaged tour is great. Especially if you have limited time. The Bohol tourist spots that you'll be visiting are a bit far apart and would take time for you to travel.
Hiring a professional tour guide will make the trip more convenient and efficient.
Price range differs based on the number of heads. We got ours at around 3,500 Php for the entire trip. The local operator we've contacted was a former colleague of mine and their service was impeccable.
Our local operator required no downpayment from us. So payment was made after the tour.
When is the Best Time to Do the Bohol Tour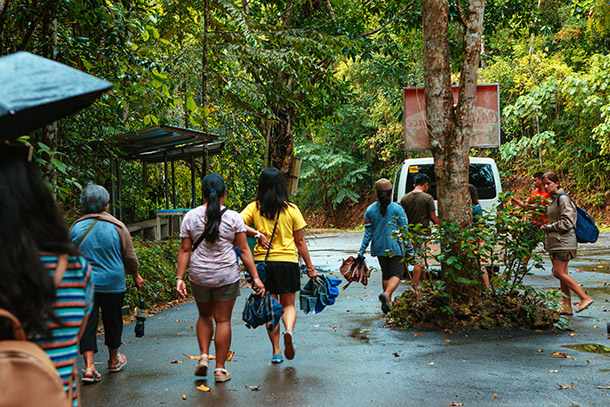 We visited on November (just in time for my husband's birthday). It was raining most of the time we were there. Despite that, we were still able to enjoy the entire trip.
If you want a sunnier weather, the months of January to May are recommended as the typhoon season is over and summer is in full swing.
How to Get to Bohol
There are many options to visit Bohol especially if you are from the major cities in the Philippines.
If you want to try the Bohol Country Tour, the entry point should be in Tagbilaran, Bohol's capital city as it the nearest starting point.
By Air. There are commercial flights going to Tagbilaran. But these flights are mostly coming from Manila.
As of writing, the Panglao Airport is being constructed. This will be, in the future, another option to visit Bohol as Panglao Island is just a few minutes away from Tagbilaran.
By Sea. Slowboats and Fast Crafts are also available from Cebu, Dumaguete and Siquijor. You can easily include this if you are planning to backpack from Cebu to Siquijor.
Others also make this as a day trip from Cebu City as it is very accessible.
You can check out the nearest port in the above areas for the schedule as they can change depending on the weather and craft availability. Price range starts from 500 Php onwards.
What to Expect During a Bohol Country Tour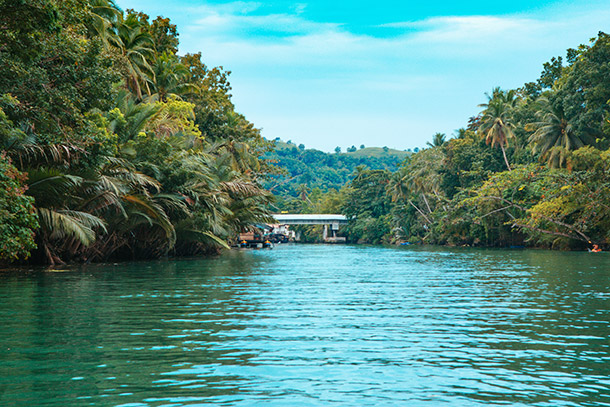 Bohol's tourist spots range from natural landscapes, to vegetation, historical spots and wildlife.
If you are headed to this side of the Philippines and doing the tour, expect to take part on a road trip. The entire activity can last the whole day: 7 hours the most.
There'll be plenty of short stops, some guided tours and sightseeing.
Wear anything that is comfortable to you. Comfy shoes and sturdy flip-flops will be most appreciated when you start climbing the steps at the Chocolate Hills Viewing Deck.
Bohol Tourist Spots and Things to Do
Below are the included tourist spots that you'll be visiting as well as things to do while there.
Blood Compact Shrine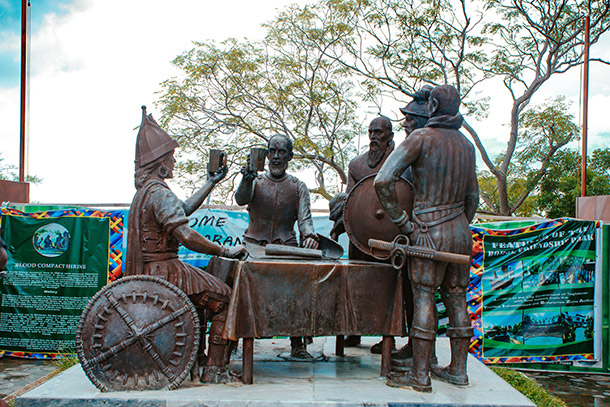 The Blood Compact is an important part of Bohol's history as this site was made in honor of the First Treaty of Friendship between Spain and the Philippines made by Miguel Lopez de Legazpi and Rajah Sikatuna.
On this site stands a five life-sized sculptures of me gathered around a table with Legazpi and Sikatuna supposedly making a toast.
What to Do: The Blood Compact is a quick stop to any Bohol Tour. Basically a few moment of photos. You can also read more about the site's history here and maybe buy some Bohol souvenirs.
Entrance Fee: None
Location: Barangay Bool, Tagbilaran City
Baclayon Church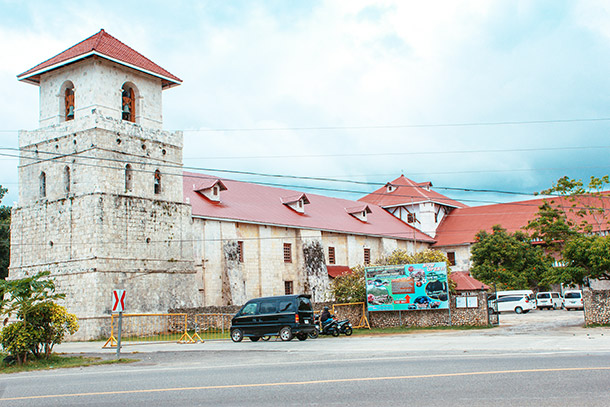 The Baclayon Church is considered to be one of the oldest church in the Philippines. It is said to be made up of coral blocks from the sea and white eggs (used as cement).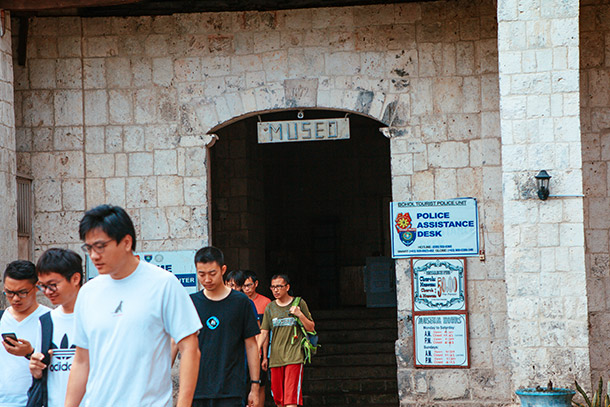 What to Do: Aside from taking photos of the church's facade and admiring the interior, there is a museum in the old convent next to the church. The museum is home to religious relics, artefacts and other antiquities dating back to the 16th century.
Entrance Fee: None (Baclayon Church); 50 Php for the Museum
Location: Baclayon Bohol
Bohol Python and Wlidlife Park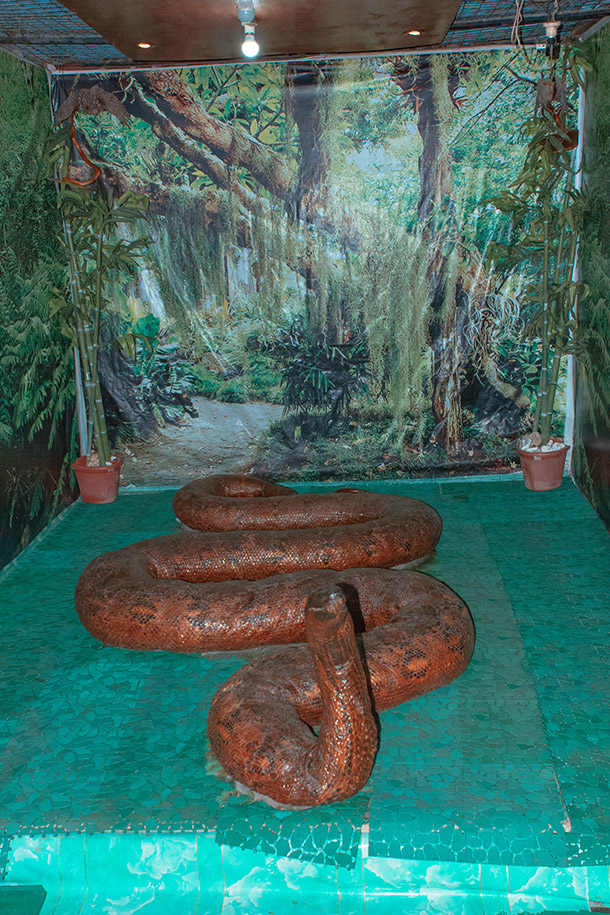 The Python Sanctuary in Bohol is once home to Prony, the reputed longest and heaviest python in captivity. She weighs over 300 kg and is around 23 ft long.
Prony died on August of 2013. Today, her remains have been preserved for future generations to see.
I was able to visit Prony when she was still alive and boy was she really HUGE!
What to Do: Aside the from the viewing of the remains of Prony, guests can also take a quick stroll through the mini-zoo the establishment has made. There are several birds, lizards, monkeys and of course, snakes held in captivity.
If you have more time and loves butterflies, you can also check out the butterfly sanctuary just beside the Python Sanctuary with additional Fees.
We did not bother visiting the Butterfly Sanctuary though.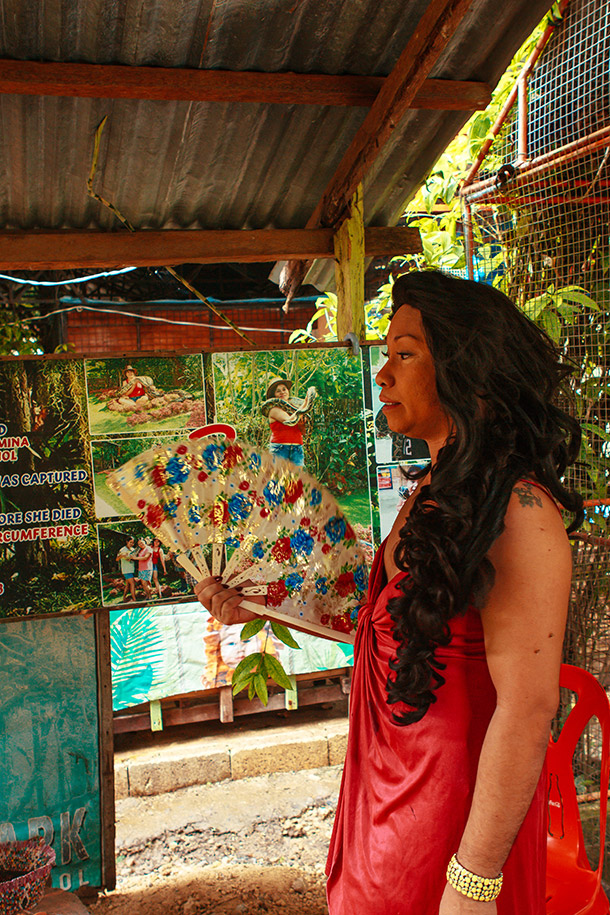 Watch out for Marimar too. The tour guide/ host of the exhibit. She also performs at the end of the tour. 😉
Entrance Fee: 45 Php for Python Sanctuary
Location: Baclayon, Bohol
Philippine Tarsier Foundation Inc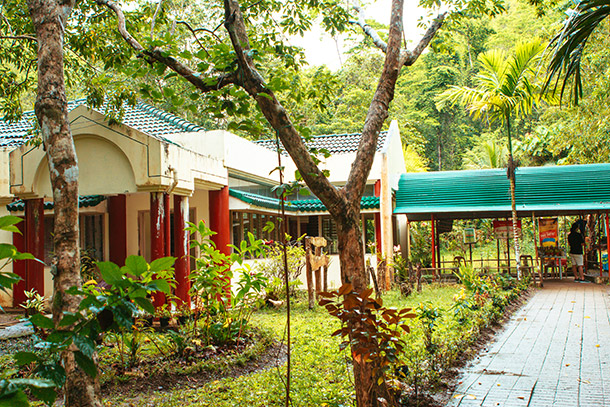 A Bohol Tour isn't complete without visiting a Tarsier Sanctuary and seeing these cute bug-eyed tarsiers!
There are two sanctuaries that you can visit while there. As for us, we opted for the Philippine Tarsier Foundation Inc.
The sanctuary aims to educate people on how to protect tarsiers as well as conserve and preserve them.
Before, there were so-called 'tarsier conservations' near Loboc where guests were taken to see the tarsiers. It was actually not good for the tarsiers. As per our guide, they were forcefully closed by the local government as it was illegal.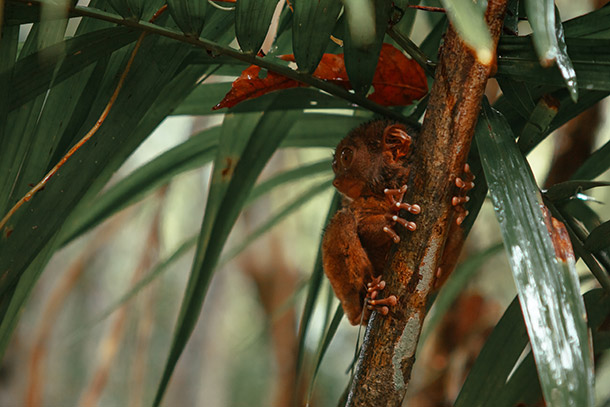 What to Do: You'll be taken on a 10-15 minute guided stroll through trees. Guides have already marked the areas where tarsiers have been spotted to make the tour more convenient and easier.
Guests are reminded to remain silent all throughout the tour and to avoid taking photos with flash.
There'll be a queue on who goes in first, so while waiting you can check out the sanctuary's displays on Tarsiers displayed in the area. You can also check out some souvenirs and goodies at their souvenir stalls.
They also have a film showing in one of their rooms for guests who are interested to know more about the tarsiers. The tarsiers are considered to be endangered species, so it is important that we help preserve them.
It was raining when we arrived there so we were able to watch the show too.
Entrance Fee: 60 Php
Location: Tarsier Sunctuary Rd, Corella, Bohol
Loboc River Lunch Cruise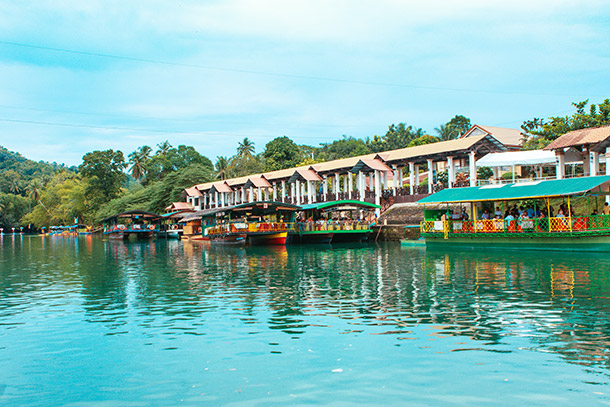 For lunch, the best way to spend it is at the Loboc River on board one of its floating restaurants. The cruise usually takes over an hour cruising along the Loboc River.
The Loboc River is said to be one of the cleanest rivers in the country. While dining, you'll be serenaded by a talented duo/ band at the back.
The view from the restaurant is very refreshing as you'll see plenty of vegetation on all sides.
There's a small water fall at the end of the cruise before returning to the port that you can use as backdrop for photos. You are not allowed to get out of the boat though.
There'll be kids and adults swimming and swinging on top of trees too as you float along the river.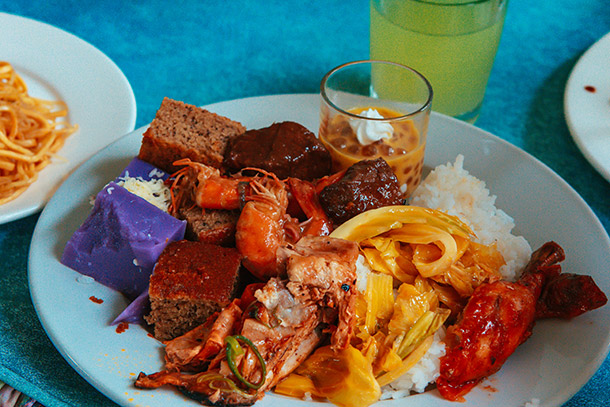 What to Do: Eat your heart away at the scrumptious lunch buffet provided by the restaurant. And don't forget to wave and say 'hi' to other guests on the other boats as you cross paths! It's always nice to see them smile and wave back, too!
Two separate floating platforms/ stages are set-up along the river. This is where the Loboc Children's Choir performs for the guests during their stop at their platform.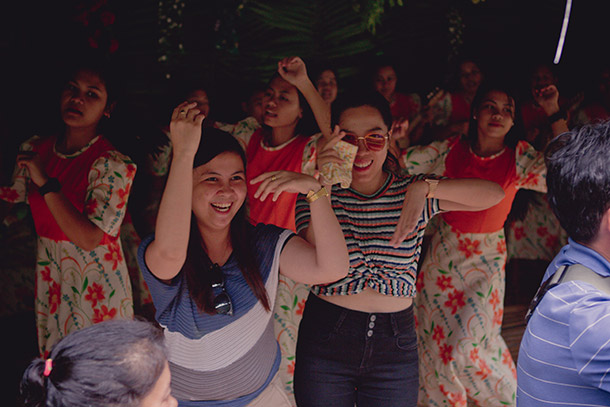 You can sing and dance along with them for a more authentic feel! Just like my sisters who gamely danced with the locals.
How to Pay for your Loboc River Lunch: At the main entrance, you'll be given a number stamp for your turn at the queue. Proceed immediately to the covered area near the entrance to the floating restaurants and wait for your number to be called. Ignore the souvenir stops at this time as there'll be plenty of time to scout for souvenirs after.
Fee: 550 Php (Note: Please inquire beforehand to make sure the latest amount per cruise)
Location: Loay Interior Road, Loboc, Bohol
Loboc Ecotourism Adventure Park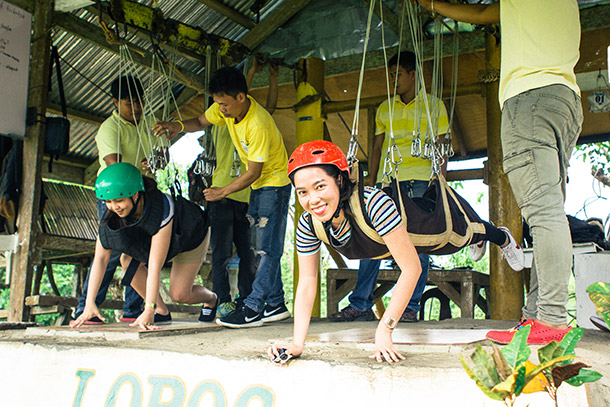 Up for some adventure? The Loboc Ecotourism Adventure Park is the perfect way to pump some adrenaline rush to your system.
Situated a few meters from the Loboc River Cruise, the zipline and the cable car will take you on a fun and scenic ride over the Loboc River.
What to Do: Choose from the cable car and the zipline to take you on a fun adrenaline rush adventure. My sisters gamely tried the zipline as they have never tried it before.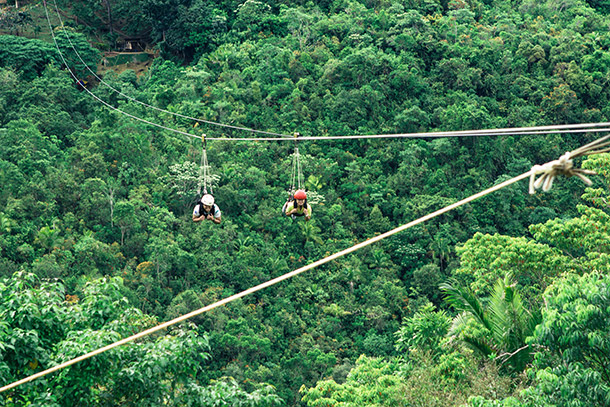 As for us, we did that years ago and it was an exhilarating moment. We decided to sit this one out and instead cheered them on and just took photos and videos of their experience.
If you are scared of trying out the zipline, it is pretty safe with a full-body sturdy cloth wrapped around your body and fastened securely to the cabe wire. You'll be doing the zipline like Superman facing the scenic view below.
Guests will also be wearing helmets as an additional protective gear.
My sisters went back and forth by zip lining and it was evident that they all had fun!
Fee: 300 Php (Cable Car); 400 Php (Zipline); 600 Php (Both Cable Car and Zipline)
Location: Loboc, Bohol
Hanging Bridge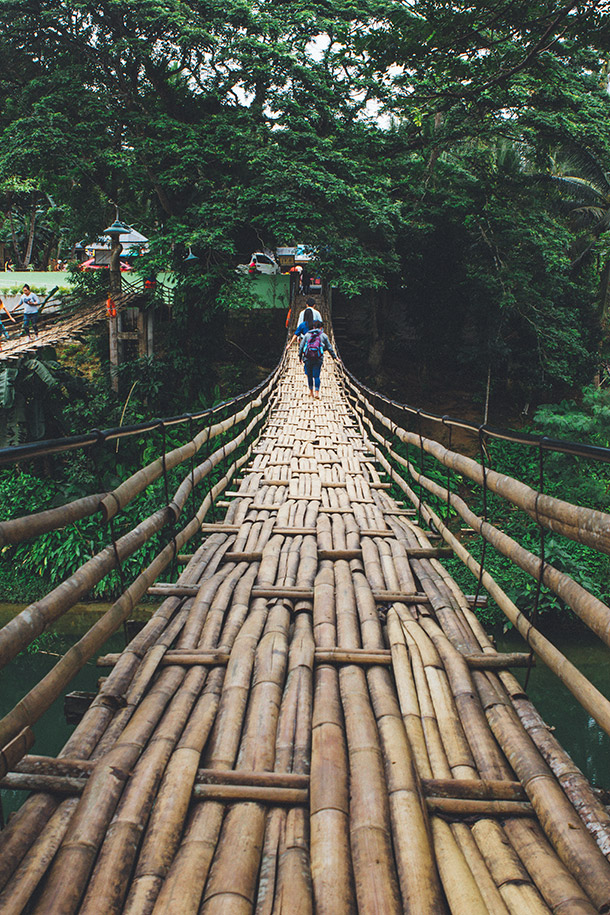 Get ready to make your knees go a little weak as you cross the Bamboo Hanging Bridge in Sevilla, Bohol.
The hanging bridge was originally constructed using bamboos and rope but was later on modified with more steel cables underneath to make it more sturdy. Overall, the bridge is about 40 meters long with lovely views of the Sipatan River below.
What to Do: Enjoy a leisure but shaky walk along the bridge as you take in the surroundings. The view at the centre is beautiful so take photos (if you can. LOL).
There are souvenir shops at the other side of the bridge if you want some Bohol goods too.
Entrance Fee: 35 Php
Location: Sevilla, Bohol
Manmade Forest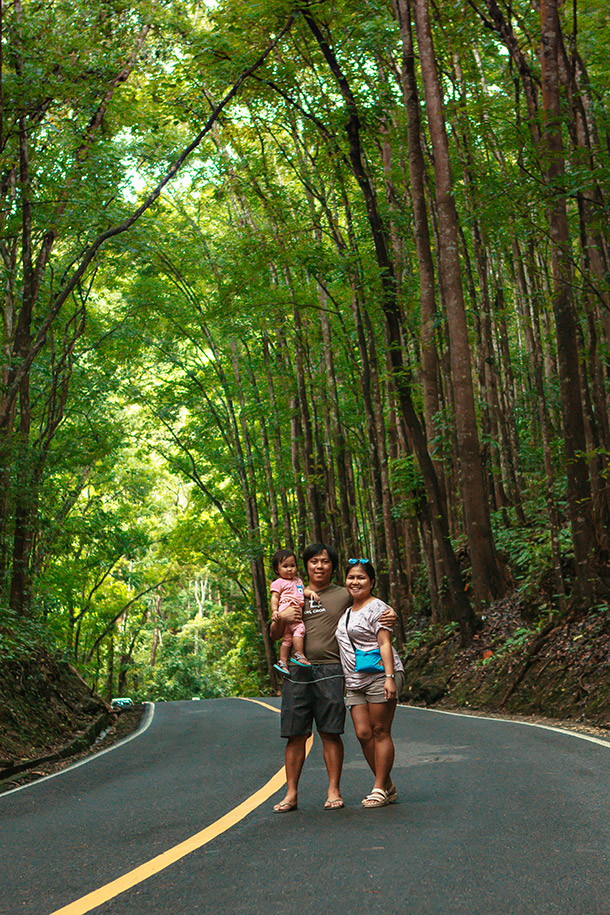 The Man-Made Forest is a two-kilometre stretch of mahogany trees planted along the road. This is similar to the Molave Man-Made Forest in Siquijor.
When I first passed through the Man-Made Forest in Bohol, I remembered being curious as to why the trees were a lot denser. The surroundings does not seem like you are in Bohol at all.
At a glance, the trees are seemingly uniform in height, thickness and design of leaves. Its ambiance will make you feel like like you are not in the Philippines at first.
What to Do: The Bohol Man-Made Forest is a great backdrop for your photos and is indeed IG-worthy. Take photos at the centre of the highway and fill your feed with cool shots.
Remember though to be careful and watch out for passing vehicle as it is still the highway.
Entrance Fee: None
Location: Bilar, Bohol
Chocolate Hills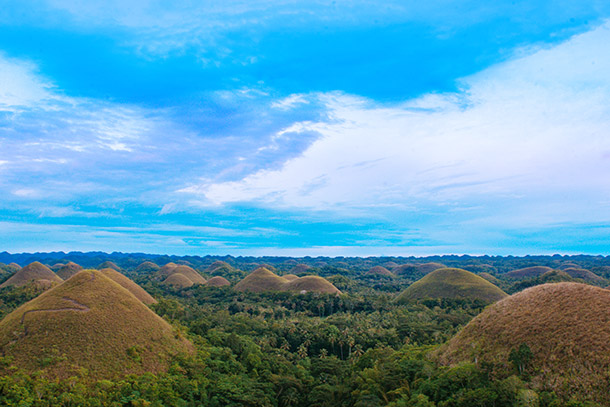 The highlight of any Bohol Tour is, of course, the Chocolate Hills. Chocolate hills are a unique land formation that look like, according to some, giant mole hills.
There are around 1,268 hills that are seemingly the same in shape and are between 30-50 meters high. The Chocolate Hills are covered with grass, that during the dry season, turns to brown, making the resemblance to chocolates much more evident.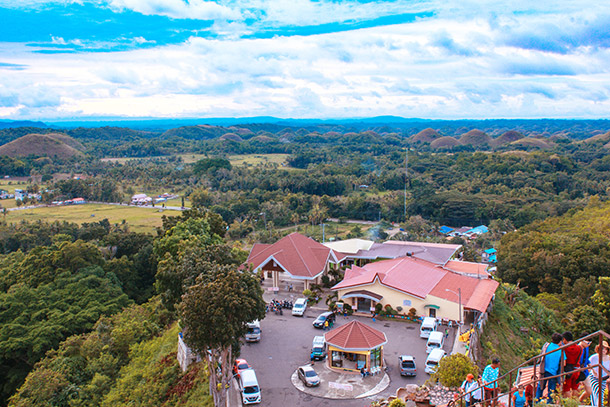 What to Do: Enjoy the view from the Viewing Deck and feast your eyes on the beauty of the hills and the surrounding areas. Sunsets are best viewed here with the cool air and beautiful scenery.
You can also grab a bite at the canteen and buy some souvenirs at the shops below.
If you have more time, you can try out the ATV Adventure down below (near the entrance). It's a guided tour that'll take you closer to the Chocolate Hills.
Entrance Fee : 50 Php
Location: Carmen, Bohol (closest area where the viewing deck is located)
Bohol Tour Itinerary and Cost
A Bohol Tour can take up an entire day to complete. Make sure to free up your entire day if you decide to try this.
Below is the Bohol Tour Itinerary that we have followed. I've also included our Bohol Tour Cost for anyone who is interested. I have added the cost of additional fees as well as the van rental amount for reference.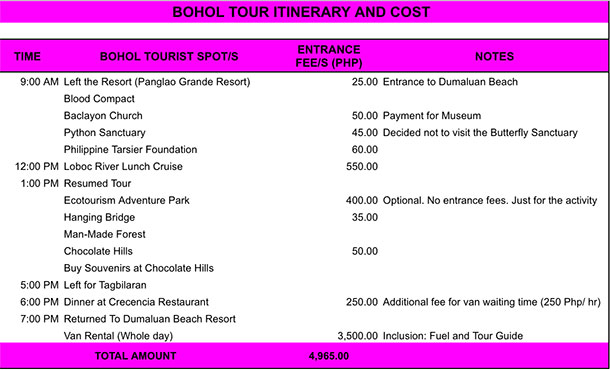 The itinerary is flexible and can be done in any order, depending on the route. You can skip one or two depending on your preference. If you opt to hire a tour guide, inform them beforehand of your preferred route.
Bohol Hotels
As I've mentioned previously, the best area to stay will be in Tagbilaran. However, you may also check out other resorts in Panglao Island especially within the Bolod Beach area. We have stayed here several times and loved the relaxing ambiance.
If you opt to stay within Tagbilaran, here are some of our recommended hotels for you:
Oasis Balili Heritage Lodge
If you are looking for a homey and affordable accommodation, the Oasis Balili Heritage Lodge is perfect for you. Enjoy the old-fashioned interior and the home-like feel of the lodge.
It is very budget-friendly too, perfect for budget-travelers and solo backpackers!
Belian Hotel
For a bit more comfort and modern facilities, the Belian Hotel is a good option for you. Located close to the Tagbilaran Port, you can easily catch your ferry the next day.
Ocean Suites Bohol Boutique Hotel
If you are looking for a more relaxed stay, the Ocean Suites Bohol Boutique Hotel offers great accommodations. The hotel's lovely ocean views in Bohol will definitely make your stay more pleasant!
Bohol Tour Essentials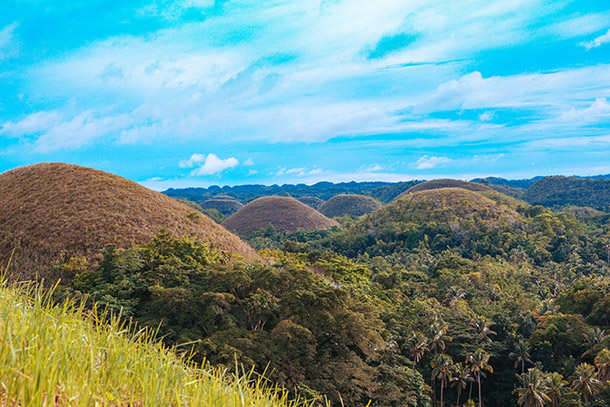 As with any tours, keep in mind bringing the following and some tips to remember to make your trip memorable:
1. Keep hydrated as it can get hot and you'll be on the road most of the time. This is essential especially if you have kids and elderly people with you, like we did.
2. Wear comfortable clothes during the trip.
3. Secure your things with you, not because of fear from pickpockets, but because there are activities that might require you to cross over bridges (Bamboo Hanging Bridge) and during the Loboc River Lunch Cruise. Loose object might be impossible to retrieve if they fall.
4. If you are visiting the Baclayon Church, remember that it is a sacred place and a dress code may be in place. Hence, shirts with sleeves and jeans.
5. Follow the guide's instructions especially at the Tarsier Sanctuary. Remember that you are guests of the tarsiers and you are in their home.
The Bohol Countryside Tour is definitely an amazing way to bond with families and friends. Personally, I found the trip very relaxing and a great way to spend with the family.
Have you been to this side of the Philippines? Share with us your experiences below!
Like This Post? Pin It!