Cold Springs is a favorite especially in tropical countries where most the time it is hot and humid. The Durano Eco Farm and Spring Resort in Carmen is a great retreat from the heat when you visit Cebu in the Philippines.
The eco farm is amazing especially for nature lovers who wish to spend a day out with nature. Although, it can't be a quiet retreat especially during summer and on the weekends. We were there on a weekend during summertime and it was crowded.
The trip was planned for the weekend where we spent the night at the Elsalvador Resort in Danao City. It was the perfect choice since Carmen was just a few kilometers away from each other. The drive took us about 30 minutes from the cold springs to the resort.
Since the check-in time at the resort was at 2 PM, my sister suggested that we go to the Durano Eco Farm in the morning. It suited fine for me because I was getting a bit overworked lately and the heat at home was just too much.
It was also the perfect opportunity for some quality family time. Besides, my daughter always enjoyed swimming, so we know she would love the experience too.
Disclosure: We use affiliate links on this post. Please read our Disclosure Statement below. Thank you.
How to Get to the Carmen Cold Spring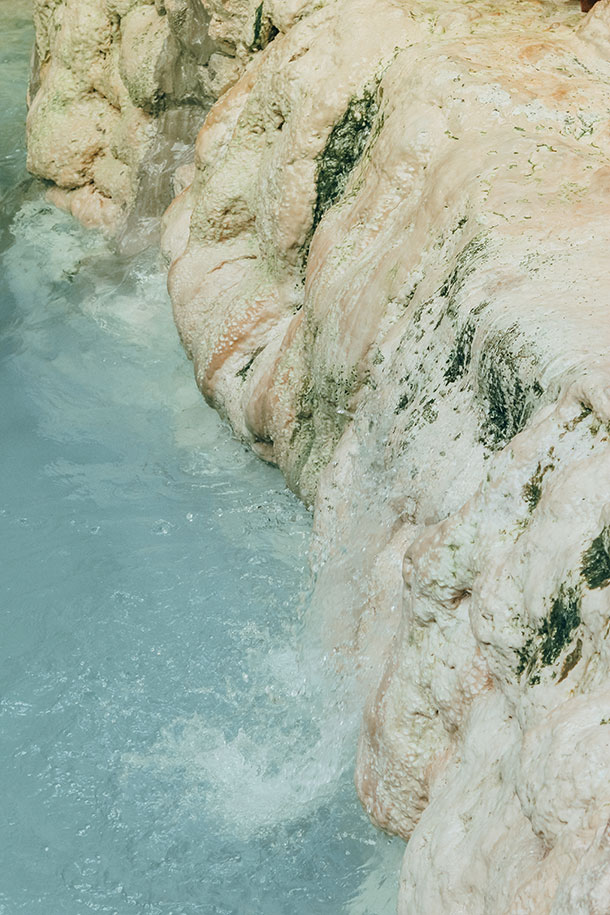 There are four ways to reach Carmen from Cebu City. You can ride the bus, the jeep, the van or you can drive and bring your car with you.
To take the bus, you can ride the bus going to Carmen or Sogod from the North Bus Terminal in Cebu.
For those who want to take the jeep, go to the Sun Gold near SM City Cebu and look for the jeep going to Carmen.
To take the van, go to the SM City Van Terminal and ride the van going to Carmen.
When commuting either by bus, jeep or van, you'll be asking the driver or the ticketing officer to drop you off at the market. At the public market, you can ride the habal-habal or motorcycle to take you to the Durano Eco Farm. Travel time from the market to the Durano Eco Farm is at 15 minutes.
As of writing, the fare the bus, van, and jeep is at 40 Php per head and the habal-habal is at 35 Php per head. Don't forget to inquire beforehand how much the fare is, just to be sure.
If you are bringing your own vehicle, you can drive by following the route below:
We brought our own car when we went and the road was concrete, except when you reach the actual property. Despite that, we had no problem passing through.
Entrance Fees and Rates at the Durano Eco Farm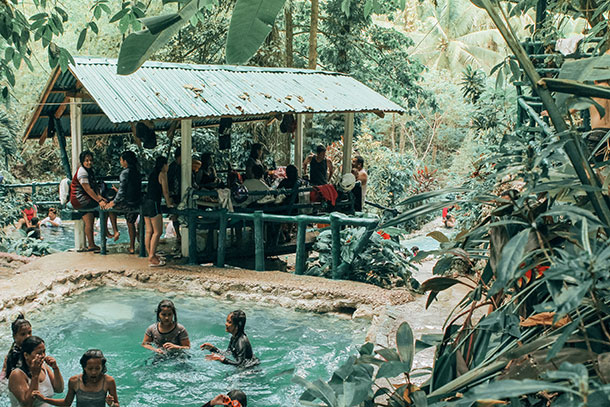 If you are to visit the Durano Eco Farm, of course, you'll want to know the expected fees. So here you go:
At the entrance, you'll be required to pay for the entrance fee of 100 Php for adults and 50 Php for children below 9 years old. The entrance fee includes payment to use the pool and the bathroom. You have to pay extra for the cottage and the tables and chairs.
You can choose to rent a picnic table (big umbrella, one table, and four chairs) for 300 Php or rent a day cottage which ranges from 1,000 Php to 1,500 Php depending on the size.
For reservations, you may contact them through their FB page or contact them at this number: 09394736658 or at 09175068335.
When we visited, the only reserve the cottage for us until 10 AM so if you call ahead then arrived at, let's say 11 AM, the resort can give it to other guests.
The cottage that we rented had 2 levels and each level had a concrete table and chairs. Despite being a group of 7 where two were toddlers, it was great that we had room for our things.
I personally thought that the only drawback was that the steps were a bit high. Nevertheless, we were able to conveniently put everything.
There is no corkage fee for any food brought inside Durano Eco Farm, so you can bring your provisions with you including drinks.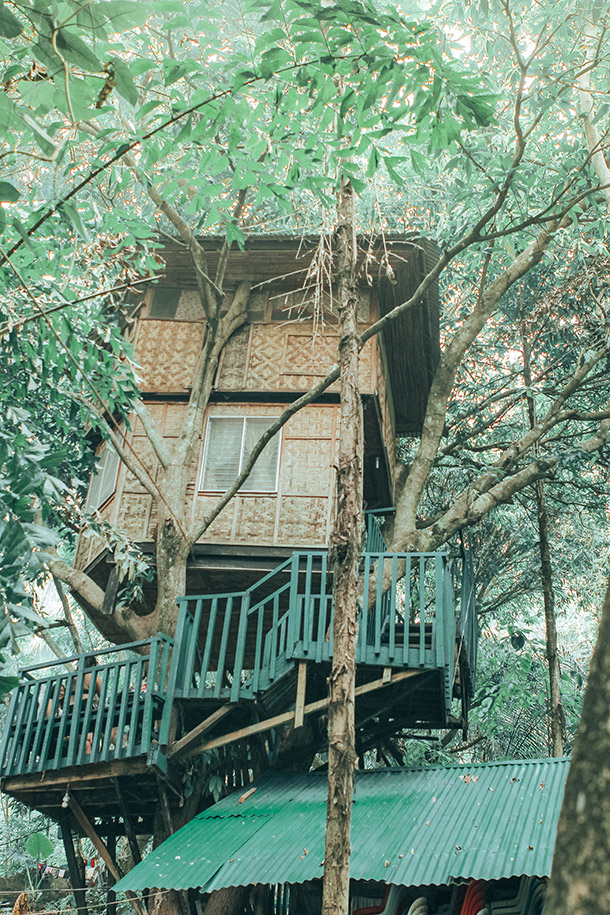 If you want to spend the night, you can easily do so either by camping or renting a room. The resort doesn't have tents though so you need to bring your own.
There are rooms for two persons and big groups of up to 6 people, although they don't allow all adults for the group room. Room rates start at 950 Php to 1,500 Php.
Please take note that only camping facilities are available for those who would like to stay the night. That said, you'd have to bring your own provisions.
What to Expect
The Durano Eco Farm and Spring Resort are set in a tranquil and peaceful place. If you are planning to visit, here are things that you need to expect:
Parking Area
One of the great things about the cold spring is that they have a parking area for guests bringing their vehicles.
It's not concrete though but nevertheless, you can find nice areas with shades. There was no parking fee when we visited but you can always give some 'tip' to the parking attendant.
Pools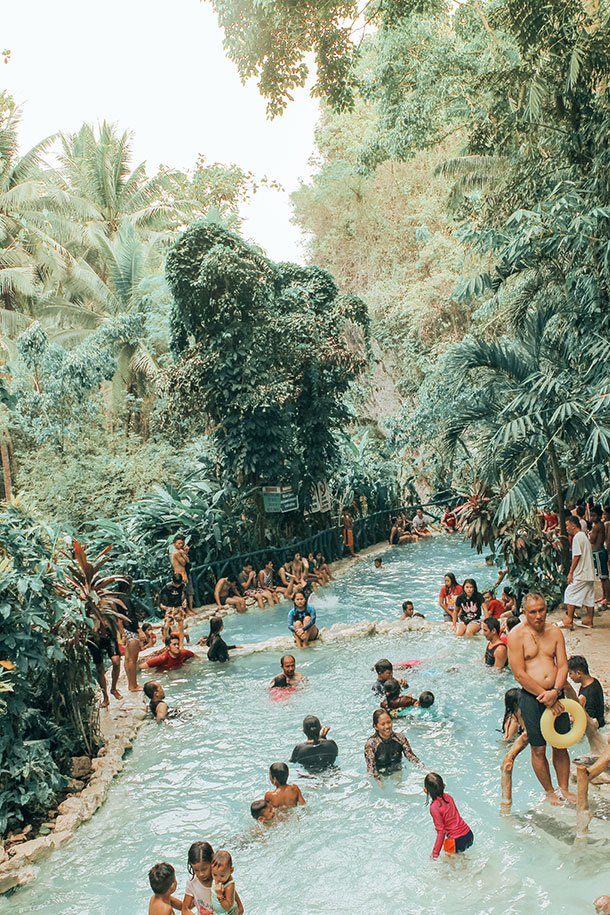 Duran Eco Farm and Spring Resort have several pools (eight to be exact) with water flowing freely from the highest level down to the lowest.
The pool has varying height too, depending on your preference. The deepest was at around 9 feet. Our cottage was located at one of the shallow pools for small kids, I think it was the last pool.
The pools are also tiled in white or light blue color. It makes the water more inviting and a lot pleasing to the eyes too.
Bathroom/ Rest Room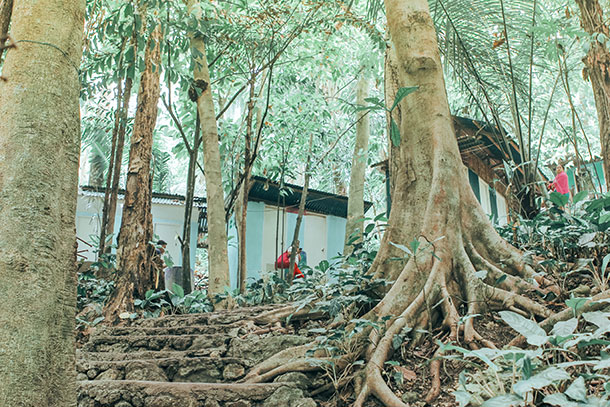 The spring resort also has a set of bathrooms in the upper part of the resort. There was water in most rooms if you want to freshen up. Although some were flooded inside with water when we were there.
I think it was because there were a lot of people and you know how it goes… Some can be careless.
There were rooms where the light wasn't working (I was able to check some as I was looking for a place to change). Some had no proper lock too, so you might need someone to look out for you.
Despite those, however, I think that the management is trying to provide everything for their guests. Maybe it was just that there were too many people when we visited.
Grilling Area
If you want to grill meat and vegetable, there are grilling areas that you can also use. They are strategically located so just ask the staff where they are.
Landscape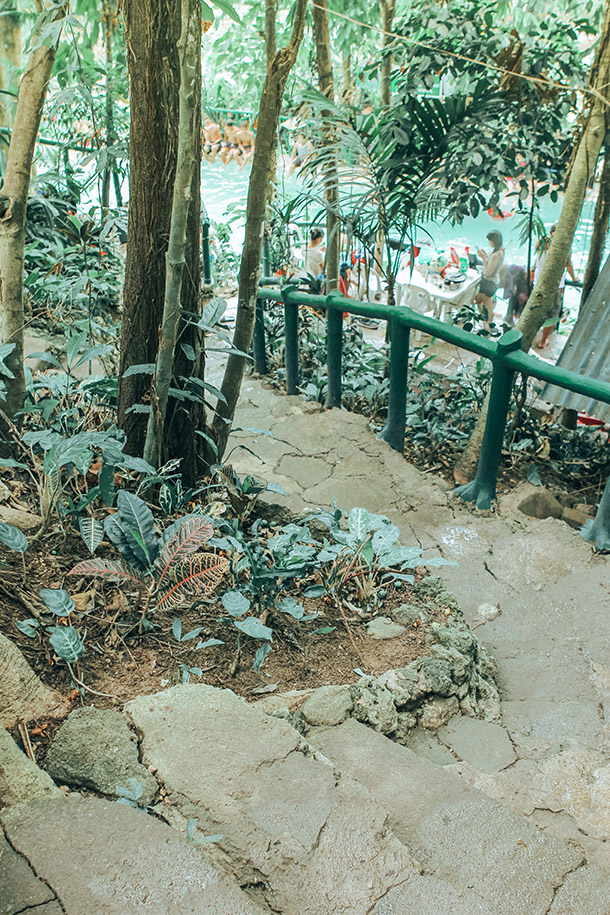 The resort is located on the mountainous area of Carmen, so expect some rocky terrain especially as you enter the property. There are also a lot of plants in the area (it is a farm after all).
Tips Before You Visit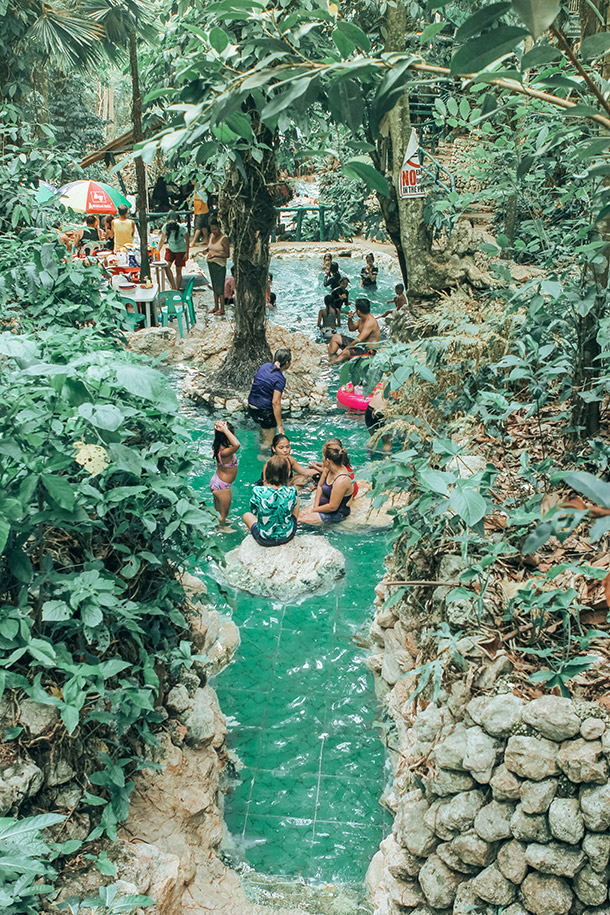 We know you would want to get the most of your visit, so here are a few things to remember:
1. Remember to wear comfortable clothes, especially footwear. There are stairs going up and down, so the walk can make you out of breath.
2. Put on insect repellent, especially on kids.
3. Keep hydrated at all times, especially during summer. Sometimes, because of enjoyment, we tend to forget drinking water.
4. Eating or drinking by the pool is not allowed.
5. Despite some of the pool being not too deep, remember to supervise children.
6. Pets are not allowed to swim in the pool.
7. It is recommended to visit on a weekday so that there'll be fewer people and you can enjoy it more, if you have the time. But if you like meeting people, going on a weekend will be fine too.
8. Dispose of your trash properly by bringing a trash bag then putting them on the right container when you leave.
And most of all, have fun!
Have you been here before? Share with us your experience below!
Like This Post? Pin It!
Disclosure: We are a participant in the Amazon Services LLC Associates Program, an affiliate advertising program designed to provide a means for us to earn fees by linking to Amazon.com and affiliated sites. Meaning, if you purchase any item by clicking on the link, I earn a commission at NO EXTRA COST to you. Thank you for reading the blog!