If you are planning to visit CDO in the Philippines, here's a great CDO Itinerary that you can follow!
Cagayan de Oro has been this urbanized city that always seems to be a little bit too confusing for me-like most cities do. But it completely changed my mind when I finally get a chance to visit it again with my friends and my husband.
The city is considered to be one of the logistics and business hub of Mindanao. Aside from attracting businesses, CDO is also the gateway to the beautiful tourists' spots and fun activities in Northern Mindanao.
Our trip to the 'City of Golden Friendship' has left us with wonderful and exciting memories of several 'firsts'. If you are headed to this fun city, take a look at our 5 days and 4 nights CDO itinerary!
How to Get to CDO
One of the good things about traveling to CDO is its accessibility. You can visit the city by plane, by boat or by bus – depending on where you are coming from.
By Plane
Cagayan de Oro is closest to the Laguindingan Airport. It has commercial flights going to and from major cities like Cebu and Manila.
Once at the airport, you can ride a van to take you to the city proper. Travel time is around an hour and fares are at 200 Php per person.
Most vans, like Magnum, drop you off at certain locations in the city like the mall. But if you want a more 'door-to-door' drop-off, there are vans that can drop you off at your required location. Just ask the personnel there and I am pretty sure they'll be happy to point you to the right person.
When on business travel, I'd usually prefer riding the Magnum van, well because the mall drop-off is more convenient for me. I usually take the last flight or early flight so I'd prefer to be dropped at the mall where I can grab a meal before heading to the office.
For this trip, however, we decided to take the 'door-to-door' drop-off vans to lessen the hassle of finding the hostel we were headed to. Fare is the same so it was hassle-free for us.
By Bus
For travelers coming from other cities and provinces in Mindanao like Davao and General Santos, taking the bus is more preferred. Travel time may take a while, around 5 to 7 hours, depending on the road situation.
I haven't tried this, but as per a former colleague who would travel from CDO to GenSan (General Santos) for work, the travel can be exhausting. If you are planning to do this, maybe allow one-day time-off with no activity to do once you arrive in the city.
By Boat
Commercial boats have trips from CDO to major cities too like Cebu and Manila. Travel time can take up to 2 days, especially if you are coming from Manila.
Remember to check their corresponding schedules ahead for easier planning of your travels.
CDO Itinerary Day 1: Arrival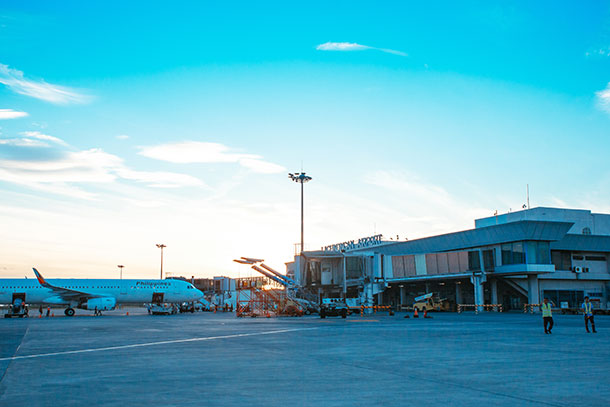 Our flight to CDO was early morning. It was an hour flight from Cebu where we arrived at around 6 AM.
As mentioned above, we decided to take the van that can take us to St. Nicolas Inn where our friend was staying with her brother.
When we arrived we left our things and grabbed some breakfast at one of the nearest fast food chains in the area. We went back to the hostel and just decided to while away the time until our friend's check out time.
We never got a chance to stay the night there, but we loved the ambiance of the hostel. The internet connection was great too and we were able to while away the time.
At 2 PM, we were ready to leave St. Nicolas Inn and go to the hostel we were supposed to stay the night in.
Check-In, Rest and Milk Tea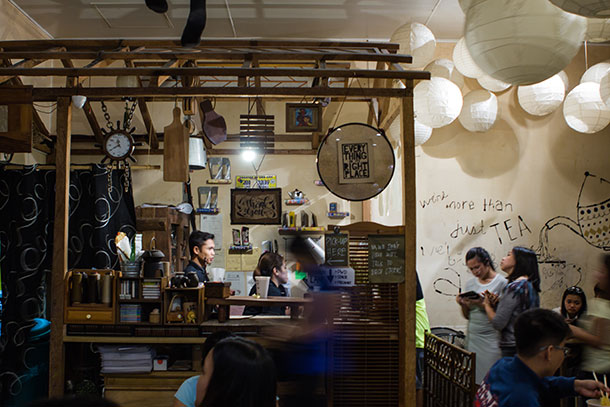 We took the tricycle to the Lifestyle District and checked-in at the Bed and Breakfast by Budgetel.
After leaving our things in the room, we went out to look for food. We opted to eat at the eatery near the area where we were staying. The place was clean, the food was good and it was affordable.
When we had our fill, we decided to rest for a while and just explore the area later that night. We woke up pretty early to catch our flight so we wanted to go and catch some 'Zzzzz'.
At around 6:30 PM, we went out to explore the malls near the hotel: Gaisano and Centrio Mall. After a quick stroll, we rode a tricycle (fare was at 7 Php). It took us to Grand Central where we had our first taste of CDO's local favorites: Chingkeetea. We ordered some mild ramen and a few of their popular milk tea. I like their wintermelon milk tea. 😉
By the time we were done with our food, we were ready to call it a night so we went back to the hostel. We were expecting an exciting day the following morning so we figured we needed some rest.
CDO Itinerary Day 2: Thrill Rides In Bukidnon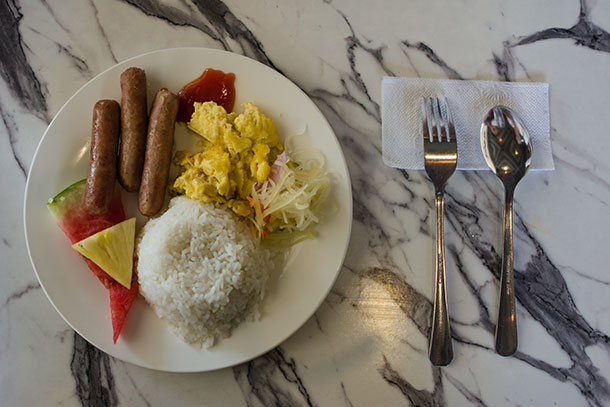 On the second day, we got up early for our 7 AM breakfast. Our other friend from Cebu, who just arrived earlier in the morning, joined us.
After a satisfying breakfast, we hurriedly got back to the room to prepare our things. The van arrived at around 8:30 AM and we were on our way to Bukidnon.
Camp Phillips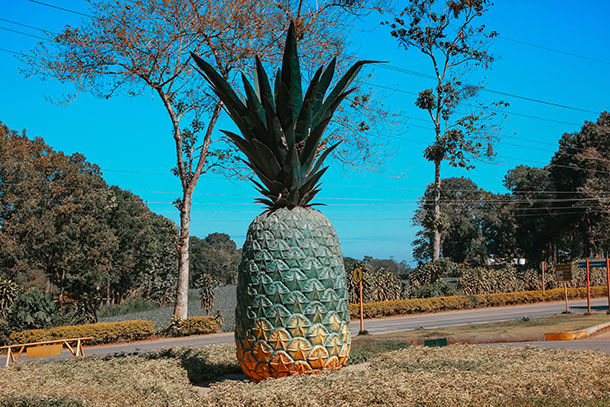 Our first stop was at Camp Phillips. It is famous for its big pineapple landmark and of course its pineapples. When you see the pineapple statue, this means that you have reached Manolo Fortich and you are just a few steps away from Del Monte's first pineapple plantation in Asia.
Tourists are often brought here to take photos of the large pineapple statue at the entrance of Camp Phillips.
After a few photos, we passed through the pineapple plantation and the village/ town created by Del Monte for its employees. It was very impressive, to say the least, the area looked peaceful and the view was amazing.
Dahilayan Adventure Park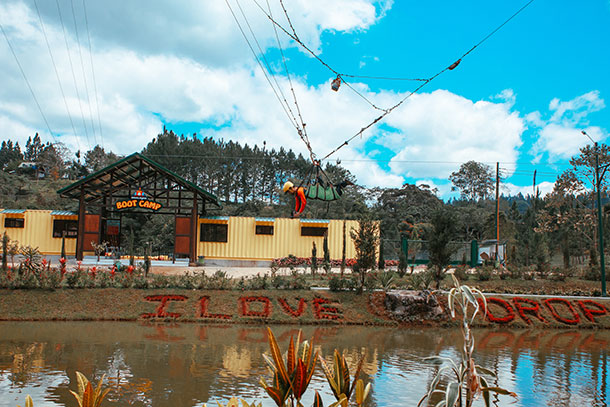 By 10 AM, we have finally reached our main destination: Dahilayan Adventure Park. This park is popular for its cool rides and it is home to one of Asia's longest zip line.
We spent around 2 hours here trying their zip line rides and witnessed one of our friends try Dahilayan's famous DropZone adventure.
Dahilayan Forest Park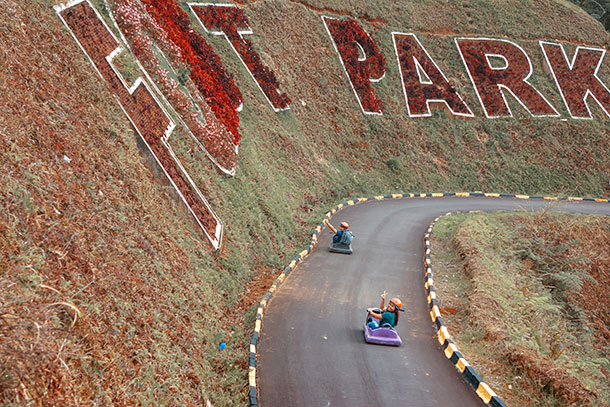 After Dahilayan Adventure Park, we then proceeded to the Dahilayan Forest Park which was literally just a few steps away.
After paying the entrance fees, we went inside with the aim of riding their Forest Luge. That didn't happen immediately though as we were sidetracked by the view and their playground. We took the time to take photos and play around like little kids! Haha.
When we finally decided it was time to try, we paid the fee and got the chance to try the luge. It was fun and definitely worth the price!
Del Monte Plantation and Clubhouse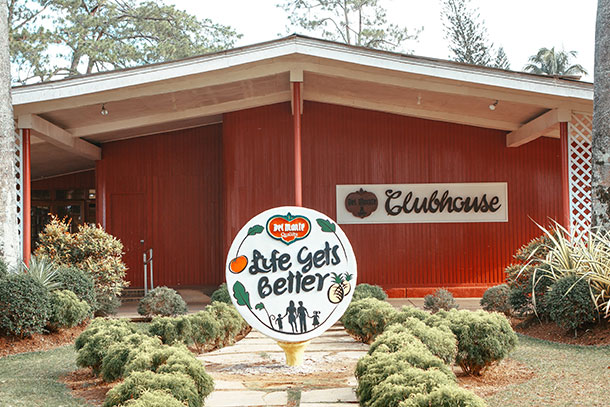 At 3:45 PM, we decided to have our late lunch at the Del Monte Clubhouse. It was a few minutes ride from the Forest Park so we settled in to enjoy the view.
My first impression of the clubhouse was that it was a bit old fashioned. The area was spacious with its checkered tables. The large windows afforded guests with the view of the golf course outside.
We ordered burgers and salads from the menu. The price was a bit pricey but you wouldn't really expect cheap prices for clubs like this. 🙂
Nevertheless, we enjoyed the burger (they have generous portions, BTW) and the salad as well.
At 5 PM, we were ready to leave Bukidnon and return to CDO.
We had our dinner at the Lifestyle District and enjoyed the live music at the open grounds later that night. It was a relaxing way to end the day, to say the least.
CDO Itinerary Day 3: Chasing Waterfalls and History in Iligan
Our call time for our 3rd day was still at 7 AM. We were traveling to Iligan and then will be checking out of the hotel and transfer to another one later that night.
We picked another group in El Salvador on our way to Iligan. By 10:40 AM we were at the gates of the Maria Cristina Falls.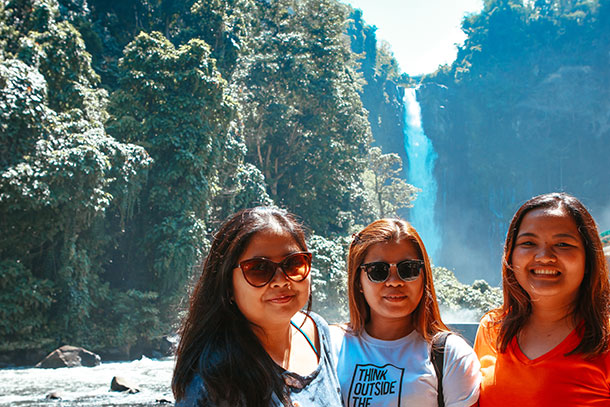 The falls is in a protected area because of its role in the provision of electricity in the region. They were on lockdown, however, because of the recent bombings in the area so the usual activities in the falls were stopped.
Thankfully, the guards let us in for a couple of minutes to see the falls. It would've been frustrating to not be able to see the falls just then.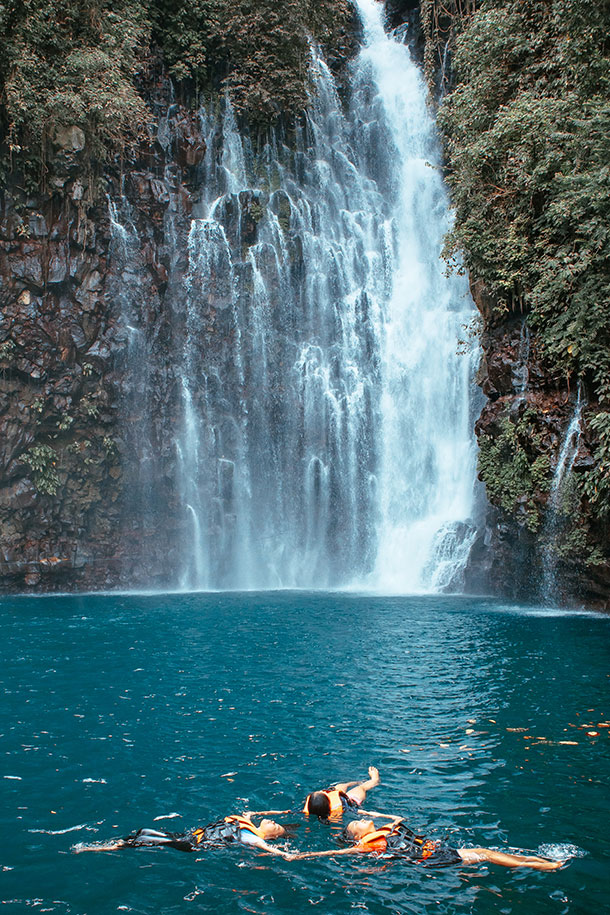 After Maria Cristina Falls, we went to Tinago Falls for some 'swimming time' and to take our lunch. Before going there though, we stopped at 'Gloria's Lechon' for some rice and roasted pork (also known locally as lechon).
To reach Tinago Falls, you'll have to take around 436 steps going down. Imagine the experience going up! It reminded me, again, of our adventure in Casaroro Falls. LOL.
The pain in the leg was worthwhile though as the waterfall is beautiful. We enjoyed a few hours of swimming, cliff diving, and waterfall massage while there.
Mimbalut Falls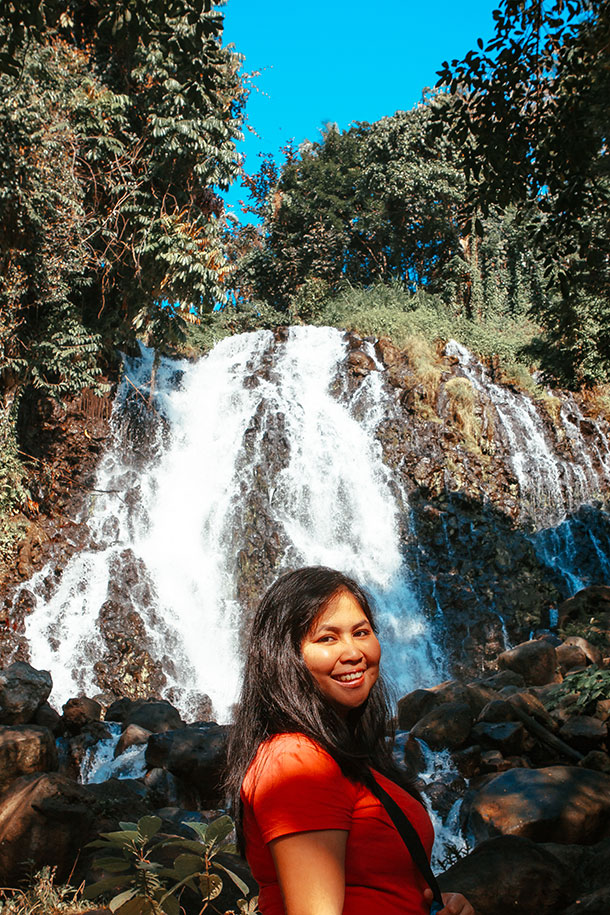 We left Tinago Falls at around 3:10 PM and then proceeded to the Mimbalut Falls. Because we have already changed to dry clothes, we just decided to visit the falls and not take a swim.
The falls is developed with cottages and concrete structures. So if you want to have a nice picnic here, you can definitely do that!
Macaraeg-Macapagal Ancestral House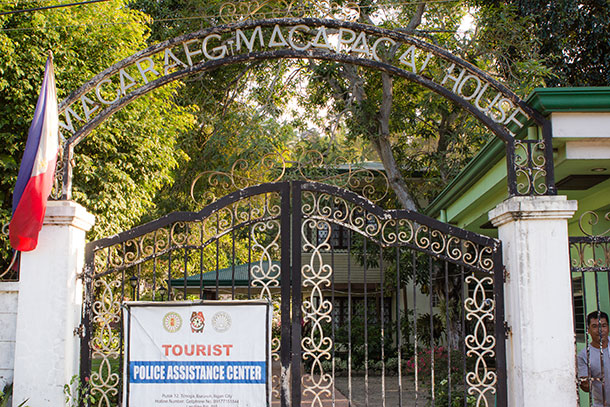 After visiting Mimbalut Falls, we headed to the Macaraeg-Macapagal Ancestral House. It's a historical spot in Iligan that history buffs will surely enjoy.
The ancestral house was owned by the Macapagal Family – a politically powerful family who had 2 Philippine Presidents.
We spent a few minutes having a tour around the house. The displays were interesting and gave you an interesting glimpse of the childhood of one of the Presidents of the country.
Chedings' Peanuts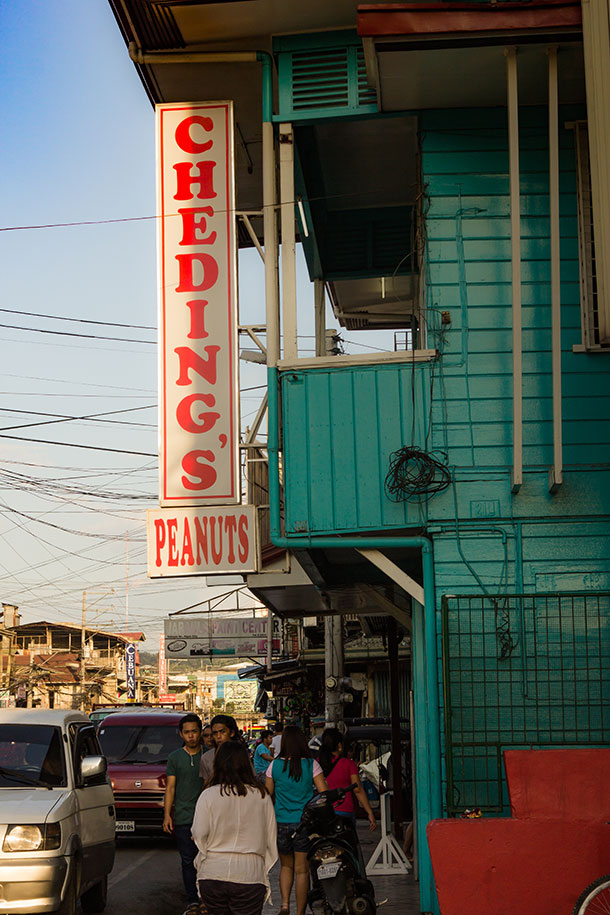 Before leaving, however, we stopped at the Cheding's Peanut House for some crunchy roasted peanuts. After buying a few packs, we were ready to go back to CDO.
The traffic was terrible on our way back. We arrived in CDO at around 7:30 PM and was dropped off at our 2nd hotel: G-Galyx InnHotel. By then we were exhausted and hungry too.
After check-in, we left our bags in the room and headed out to get some dinner. We went to Cucina Higala for some delicious food, it is personally one of my best places to eat in Cagayan de Oro.
CDO Itinerary Day 4: Rafting Adventure and Nighttime Stroll in CDO
On the 4th day, our call time was earlier at around 7:30 AM. We went out to look for a fast food chain to grab some food. After breakfast, we went back to the hotel to grab our things and checked out of the hotel.
We were transferred again to another hotel for our last night in CDO. So we had to pack our bags and bring them with us.
White Water Rafting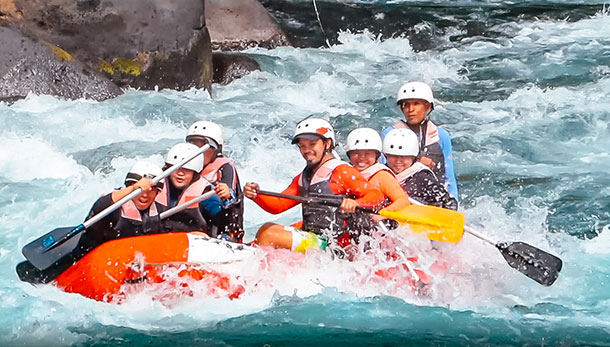 On the last day of our CDO itinerary, we booked one of the most popular outdoor adventures when in CDO: White Water Rafting.
It was easily one of the most fun and unique activities we did during the entire trip. I was glad that the rapids were not as hard as I was expecting it to be so everything went smoothly.
Our activity lasted for 4 hours and by the time we were done, we were hungry and tired. The package we availed included a meal so, after the activity, we were brought to the Gracias for our lunch.
After a delicious feast, we were dropped off to our last and final CDO hotel: the New Dawn Pensionne. We were supposed to leave at 4 PM to the High Ridge but decided not too because everyone was just too tired.
DIY City Tour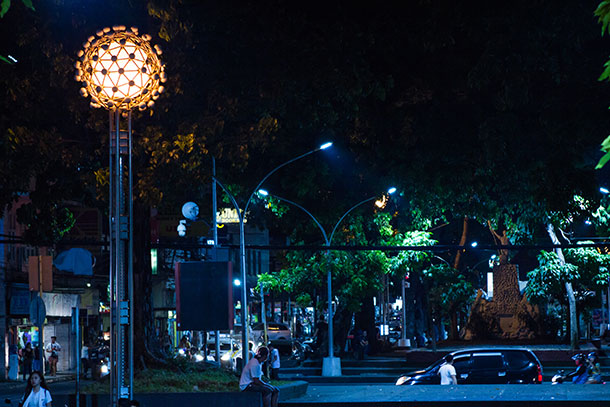 By 7 PM, everyone was feeling refreshed so we decided to take a nighttime stroll through the city and do a DIY city tour.
The pension house we were staying in was near the highway so we got into a jeepney and went to CDO Divisoria.
Our DIY tour took us to the Gaston Park, St. Augustine Church, and Museo de Oro. At 9 PM, we decided to grab some food so we headed to the Kagay-anon Restaurant near the Limketkai Mall.
After dinner, we walked around a bit and then finally decided to call it a night.
CDO Itinerary Day 5: Going Home!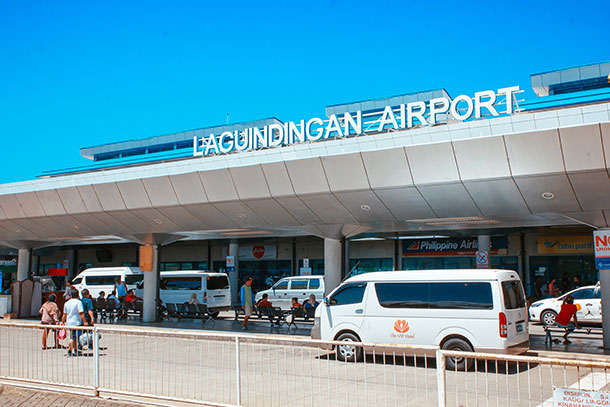 Our flight going home was in the afternoon. So we had the entire morning free.
We decided to grab some brownies from Bite Me Up at the Centrio Mall for 'pasalubong'. After that, we spent the day packing up and just getting ready.
We previously booked a private car to take us to the airport. Price was the same as the van which was at 200 Php per head, so I thought it was a good deal considering that we didn't have to go to the terminal.
By 11:20 AM, we were already in the car, settled in and was on our way to the airport.
CDO 5D4N Itinerary and Sample Budget
Because we want to share our trip with you, here's a rundown of our Cagayan de Oro trip and a breakdown of our expenses.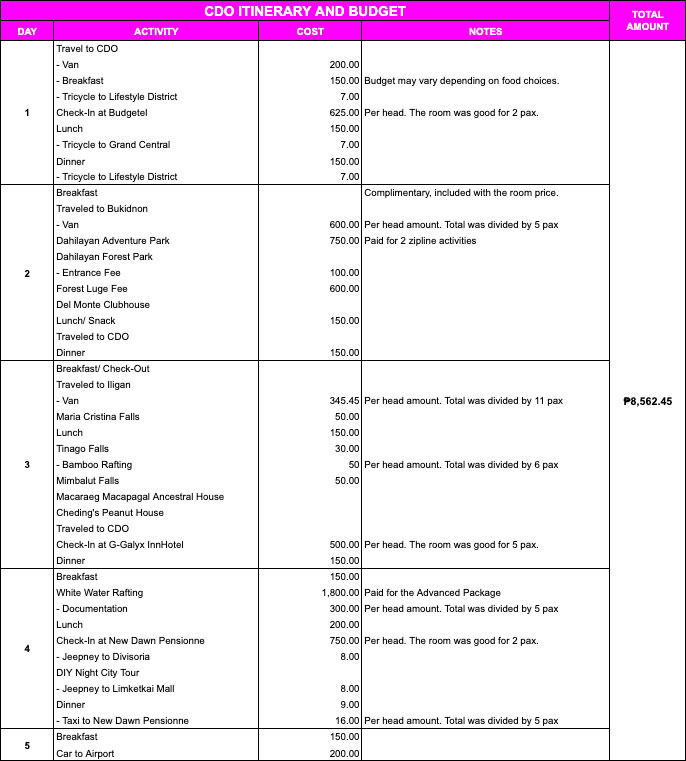 So if you are headed to this part of the Philippines, bring friends with you! It'll be fun (and cheaper) to do those sports and activities with a group.
But if it's just you? Go ahead then. It'll be one cool adventure for sure!
Like This Post? Pin It!