If you are looking for a relaxing weekend not too far from Cebu City, the Elsalvador Beach Resort in Danao is the perfect option for you and your family.
We had a rather quiet and relaxing staycation when we visited the resort a few days before school started for my nephew. It was the perfect choice to end the summer holiday: it was not too far from where we lived and the room was affordable for us two small families with a kid and two toddlers.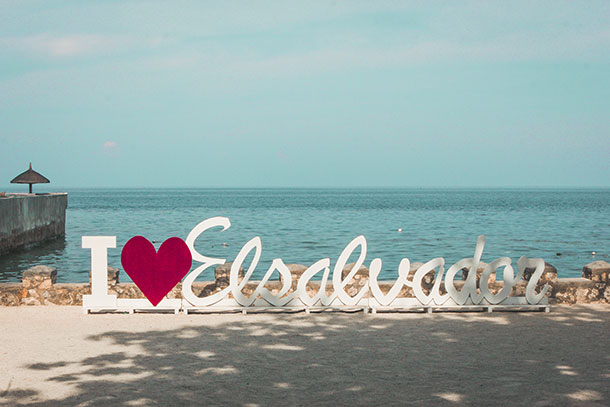 I first heard about the resort from my sister's husband (my brother-in-law) who would often have company events at the resort. While we were looking for a nice place to stay over the weekend, the resort was suggested and after checking out the alternatives, we decided to try them for the night.
My sister wanted to try the Cold Springs in Carmen (a municipality near Danao) in the morning. She wanted to try another cold spring after our visit to the Banyan Cold Springs in Tabogon earlier that month. Elsalvador was the closest and most accessible resort we haven't tried as a group.
How to Book a Room at the Elsalvador Beach Resort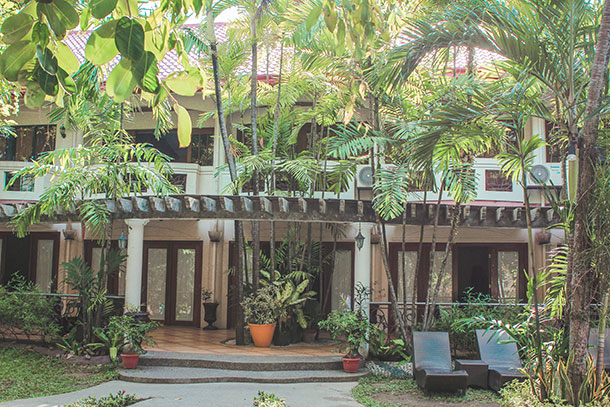 We booked a room directly through them by calling a contact number my brother-in-law got from work.
Other online booking options are through their website or through online booking sites where you can find cheaper and discounted deals.
How to Get to Elsalvador Beach Resort
Address: Km. 30 Cebu North Road, Sabang, Danao City Cebu, Philippines 6004
As I've mentioned before, the resort is fairly accessible as they are just located along the national hi-way and very easy to spot. It is just across the Sabang Elementary School in Danao City so you surely won't miss it if you are driving.
Here's a copy of the route going to the resort:
If you are commuting, there are three ways you can go on a ride. First option is to ride a bus from the North Bus Terminal in Cebu City that is headed to Carmen or any part of the North. Second option is to take the jeepney near Sun Gold in SM. There are jeepneys that'll take you to Danao. Third option is to take the van going to Danao in the SM City Van terminal. In all three options, you can alight near Elsalvador, just tell the driver beforehand so that they can drop you off near the property.
Checking In
Check-in at the resort was fairly easy and we haven't had any problem at all. We arrived at around 2-3 PM and after just a few minutes were finally ushered into our room.
Room Rates at the Elsalvador Beach Resort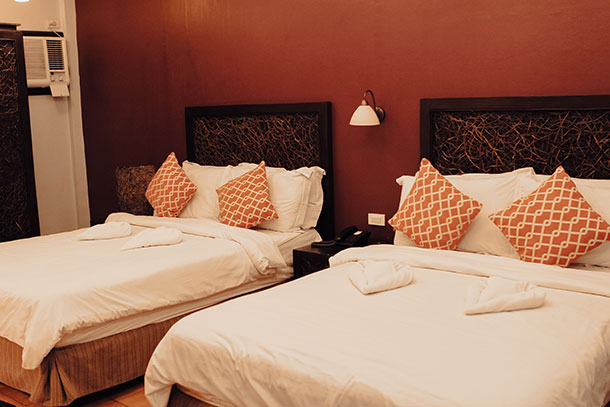 Room rates at the resort is pretty affordable. Price starts at around 3,000 Php per room, good for 2 persons. The breakfast is already included which is served buffet style at their restaurant with views of the ocean.
The room that we booked for the night was their Poolside Family Premier that could accommodate up to 4 adults and 2 kids. The price was around 5,700+ Php and included breakfast.
We had to add an extra bed for my nephew who was already 6. Children aged 10 and below were free, but since we already had 3 children with us, we had to add another extra bed. Their extra bed was at 600 Php per head, then you can add 325 Php for buffet breakfast.
Our room was rather spacious with a refrigerator and a dining area. There were plenty of spaces for our things and the snacks we have bought with us. We had some left-overs of snacks from our day trip to the Durano Cold Springs earlier.
I love the location of the room as it was just a few steps away from the adult pool.
Resort Amenities
The resort has got several amenities that you can also enjoy with your friends, family or partner when you visit. Here are some that you'll enjoy for sure.
Swimming Pools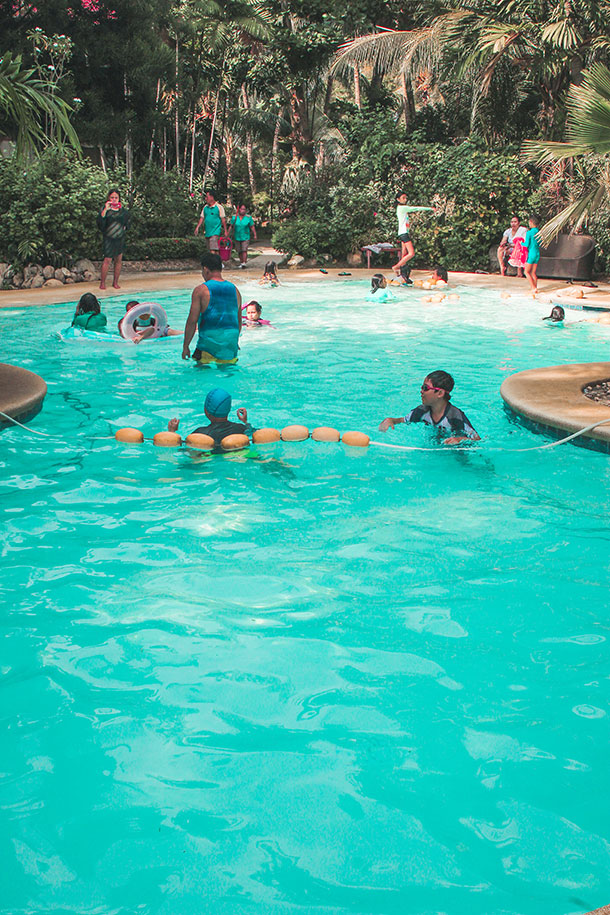 Elsalvador Beach Resort has 3 pools for their guests including an adult pool, a kiddie pool and a jacuzzi pool.
The adult pool was at 4 feet then sloping to around 6 feet (if I am not mistaken). They also have a small waterfall on the side too.
What I love about the pool are their unique floaters' that guests can use. The floaters are great especially if you just want to float away the time on the pool.
I personally love using it while we were there. 😉
Beach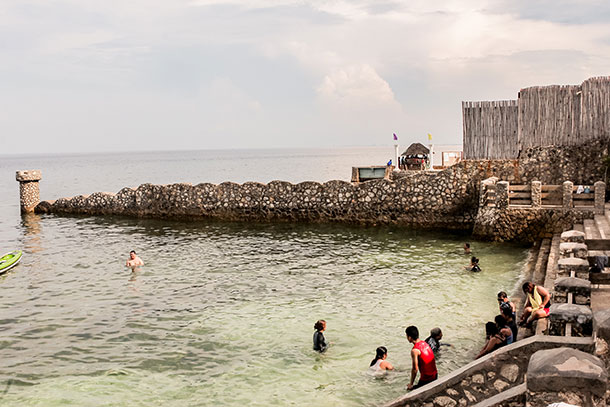 If you love taking a dip at the beach instead of the pool, then you will surely be able to do that when you are visiting the resort. They have an OK beach front for their guests.
I believe they have some sports facilities that you can also rent like a kayak if you want some great time at the beach.
Buddy's KTV
We, Filipinos, love singing along to great music. Elsalvador Beach Resort has a KTV that guests can also rent a few hours with your friends, family, and partner. And of course, alone too!
Restaurant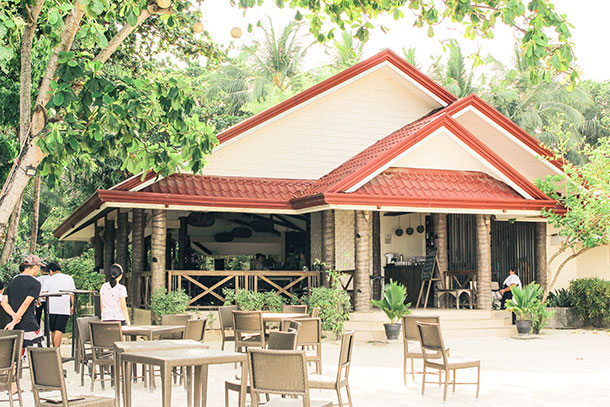 The resort's restaurant is located on the beach front so you'll enjoy dining with a view. This has the same vibe as Pacific Cebu Resort. They also serve the buffet breakfast here.
We had our dinner here when we stayed. The prices of their food are reasonable and the serving is also generous. We shared the food between us and we still had some remaining food that we brought to our room.
Elsa's Spa
A relaxing staycation at the resort can be maximized by trying out its spa. They offer room service too upon request.
Fitness Gym
If you want to get some exercise while staying at the resort, you can certainly do so. The resort offers per-session/ walk-in and monthly usage of the gym for a fee.
Day Use Offers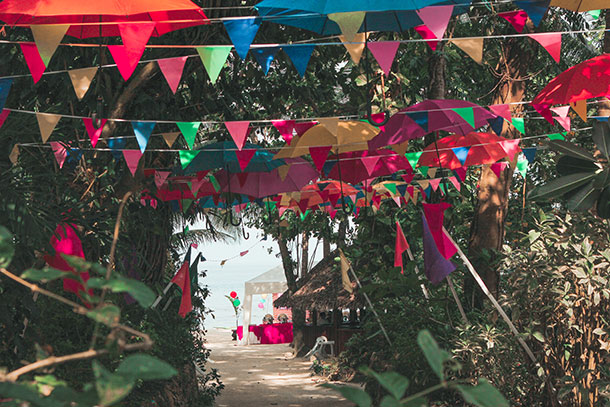 If you'd rather not stay the night, you can still enjoy the resort and some of its amenities by availing their Day Use offer. As of writing, their Day Use rate is at 220 Php for adults and 170 Php for children ages 4-10. Kids below that are free.
For inquiries on their current day use rate, you can drop them a message on their FB page.
You can easily enjoy a day here if you are visiting Cebu for a couple of days. The resort can be include in your itinerary including your Cebu Day Tour.
Check Out
Check-out took a bit of a while when we left. There were several groups leaving, checking-in and others were availing their Day Use.
The reception area was a bit small (more like a living room) so it wasn't that airy. But nevertheless, when it was finally our turn, they quickly sent someone to check the room and then we were good to go.
Elsalvador Beach Resort Review: Over-all Verdict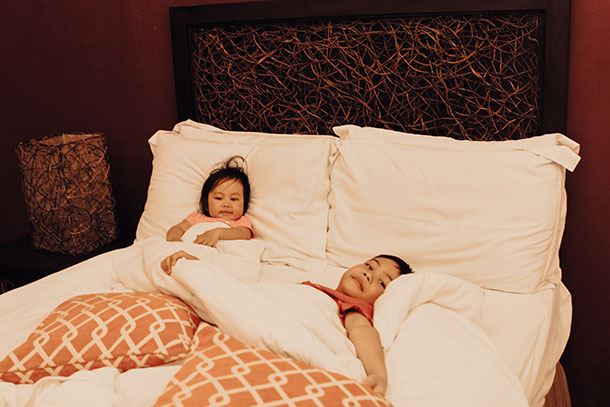 Overall, we had a fantastic time at Elsalvador Beach Resort and I would personally go back with my family. I loved the room where we stayed in, the staff were also pleasant and their breakfast was filling.
I enjoyed our leisure time at the pool too and could spend hours floating away. My daughter, in particular, loved the pebbles at the beach. 🤩
Like This Post? Pin It!