Cold springs are always a good idea, especially for the summer season. And visiting the Guiwanon Cold Springs in Tabogon, Cebu, Philippines is one perfect quick destination for families and friends. With its renovations underway, the owners have also changed its name to Banyan Spring Resort.
This is my second visit to the cold springs, and while I prefer how it was before, the prospect of its renovation excites me.
Guiwanon or Banyan is a popular cold spring in Brgy. Maslog, Tabogon – a municipality in the northern part of Cebu. It's small and very accessible – making it a popular stop for families in the area and nearby municipalities.
We went there early this year with the family and our kids. It was during the Holy Week and we wanted somewhere to cool-off. You see, summer in the Philippines was pretty hot. And it was a relief to be out and getting a dip from the cold waters of the spring.
How To Get To Banyan Spring Resort
A visit to the cold spring can be tiring, especially if you are from the city. The traffic can be exhausting, and the hours can be a bit too long.
So, I strongly recommend not making this a single day trip, rather stay the night and maybe explore more of northern Cebu, right after exploring Cebu City. You can head onward to Camotes, Bantayan, or maybe in Medellin to visit the Funtastic Island.
If you are planning to visit Tabogon, you can go visit by taking the bus heading to Tabogon at the North Bus Terminal in Cebu City. Fare is around 95 Php per head, but do make sure to ask the ticketing officer first before paying up.
You can either alight at the terminal and then hire a habal-habal or motorcycle to take you to the cold springs or alight just outside the cold spring (whichever you prefer). Just tell the driver to take you to either 'Banyan Spring Resort' or 'Guiwanon Cold Spring'.
If you are driving, just like we did, the cold spring is very easy to find. It is 3 hours from the city but can last longer depending on the traffic. Here is a map that you can follow:
Banyan Springs is open from 6 AM to 6 PM (Monday to Sunday).
Entrance fees to visit the Guiwanon Cold Spring is at 100 Php for adults and children and free for 8 years old and below. You also need to rent a set of table and chairs and cottage if you want to have a place to eat and maybe put your thing down for 150 Php (1 table and 4 chairs) and 100 Php for the cottage.
There are some shaded areas where you can just put your things down if you opt not rent a table or chairs. If you are going there on a weekend or maybe during summer, however, expect lots of people so its better if you have a pre-identified area to place your stuff.
There are no corkage fees when you visit so bring as much food and drinks as you want.
For parking fees, you'll need to pay 25 Php for a 4-wheeled vehicle and 5 Php for a 2-wheel.
If you have any inquiries, you can visit their official website or email them a message at banyanspringsresort@gmail.com
What To Expect When Visiting the Resort (Formerly known as Guiwanon Cold Springs)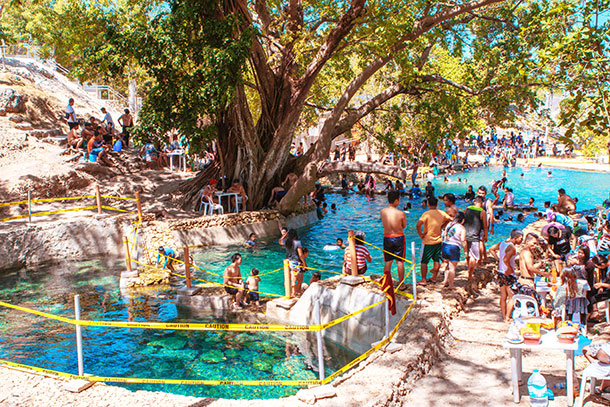 If you have visited the springs before, you can definitely see several changes and wouldn't easily recognize the place… Well, except for the big old tree near it. 😉
Before, it had a more natural feel to it, with the area surrounded by trees and with several wooden cottages on the side. The only 'unnatural' structure – if you can call that – is the concrete wall that was made to give it a pool-like feel. Though it has seen better days.
We visited the cold springs on a weekend during summer, so it was pretty crowded. And it was a hot hot summer so I was really expecting people to come looking for a respite from the heat. And dipping into a cold spring sounds very inviting, TBH.
Below are some of the things you would be expecting when you visit:
Parking Area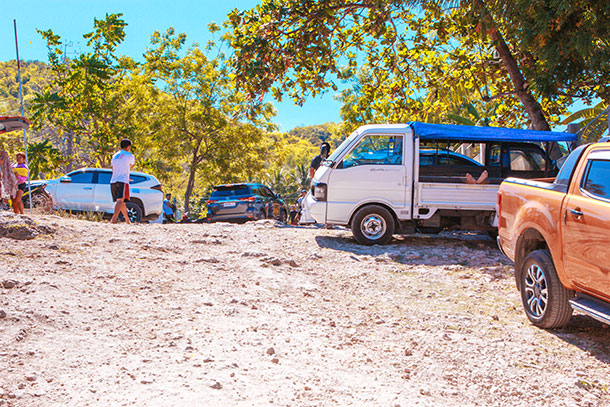 Comfort and Shower Rooms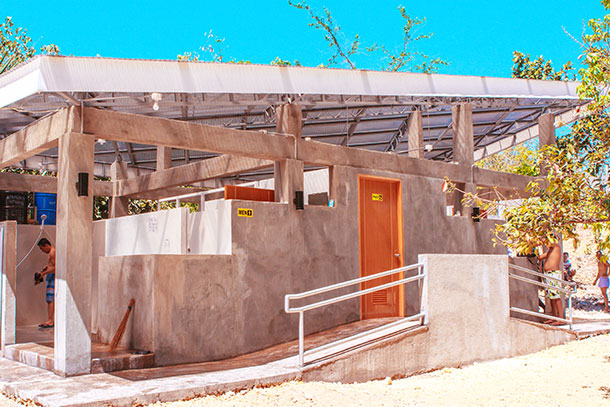 The resort has built a shower room and comfort room for its guests. It's located near the entrance so it's not too hard to be missed.
The shower area is separated from the comfort room and there is an open space where you can put your things on.
As I've mentioned before, there were a lot of people when we visited so it can get pretty crowded in there. There was a shortage of water supply when we were there so getting a shower was a bit of a problem. Though they did fill-up this large container for flushing the toilet.
I wouldn't personally put that against them as there were still renovations going on and it must've had affected the flow of water to the shower.
Cold Springs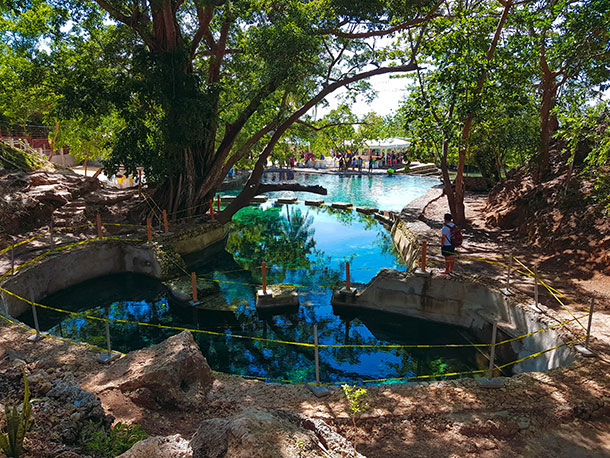 Banyan Spring Resort has divided the pool into 3 areas, although it is still not complete. Currently, there are 3 areas filled with water and only 2 are open for swimming.
Because it is a cold spring, the bottom part was not touched. The flooring is not even and there are sharp and slippery rocks underneath. I recommend people visiting to wear slippers or aqua shoes when going on a swim.
There is a lifeguard on duty too, and he is usually stationed at the base of the big tree with a life buoy on hand.
Eating and Drinking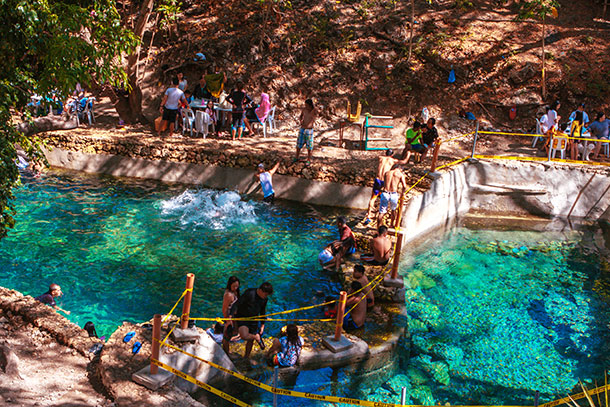 As mentioned before, there are no corkage fees so you can bring your own provisions. A store is located nearby (just within the parking area to be exact) where you can buy chips and soft drinks.
Currently, there are cottages on the premises and chairs and tables available for guests and they are set-ups around the spring. Just take note that there is a rule, that you can't eat or drink near water.
Travel Tips to Remember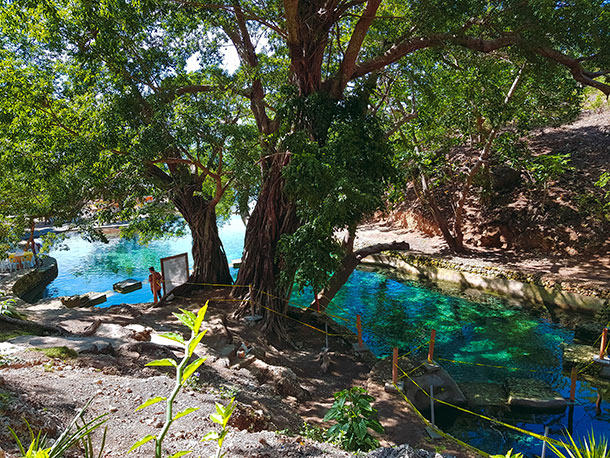 For people who'd love to visit Banyan Spring Resort, here are some friendly tips for you!
1. Read through the resort's do's and don'ts, pay attention and abide by their rules.
2. Be careful when swimming in some areas as the rocks can be slippery.
3. Have fun but avoid being too rowdy especially when you are with younger kids.
4. Keep an eye on your personal belongings.
5. Dispose of your trash and don't leave them behind.
Have you been here? Share your experience with us on the comment below!
Like This Post? Pin It!