We may have packed and unpacked a lot during our visit to CDO because of hotel change. But it was a good experience to be able to compare hotels in CDO and their services.
On our last night in the city, we stayed at the New Dawn Pensionne House in Cagayan de Oro City.
This hotel in CDO is conveniently located near several commercial establishments and is accessible for commuters – perfect for those who are visiting the city and looking to check out CDO and its nearby provinces and cities.
For affordable accommodation, we certainly enjoyed the hotel's comfortable facilities.
If you are in the city, this is a good option for people wanting a bit more comfort but still, stay within budget.
Here's a brief review of our stay at the New Dawn Pensionne House. Come take a look. You might want to stay here too.
Booking a Room
There are several ways to book a room at the New Dawn Pensionne. You can book a room directly by sending them an email (newdawnpensionne@grandcityhotelscdo.com) or calling them at the contact number (09264620881).
Otherwise, you can book immediately at online booking sites. I personally prefer to book online to avoid the stress of waiting for their confirmation. We've done this before with some of our trips and there has never been any problem.
How to Get Here
Location: Don Apolinar Velez cor. Macahambus, Cagayan De Oro City Center, Cagayan De Oro, Philippines, 9000
There are jeepneys that pass by Don Apolinar Velez Street. Just ask the drivers if ever you'd decide to take the jeepneys.
You can also hire a tricycle if ever you are already in the city. Just tell them to drop you off at the Pensionne House.
If you are just coming from Laguindingan Airport, you can take that van to take you to Cagayan de Oro. Then from the drop-off point, take a tricycle to take you.
If you are self-driving or riding a van that'll drop you off anywhere within the city, you can use the map below for the route:
Checking-In
Checking in was no problem for us when we arrived. We arrived at around 2:30 PM – regular check-in time starts at 2 PM.
There were people at the reception when we entered the room. But it took us just 5-10 minutes of the wait before we were given keys and finally ushered into the 3rd floor.
We were dropped off from our whitewater rafting activity. So we're tired and carrying heavy bags with us.
Thankfully we didn't have to wait long. Plus points too that they had some comfy cushions to sit down.
Room, Rates, and Amenities
It was with relief when we entered our room at the New Dawn Pensionne. Finally, we were able to rest after 4 hours of riding with the rapids.
We booked 2 Standard rooms at the hotel. One for my husband and me and the second was for our companions.
The rooms that we had were just beside each other. It was also near the elevator and the stairs. So it was easy to go between rooms and going out.
Our Room and Rates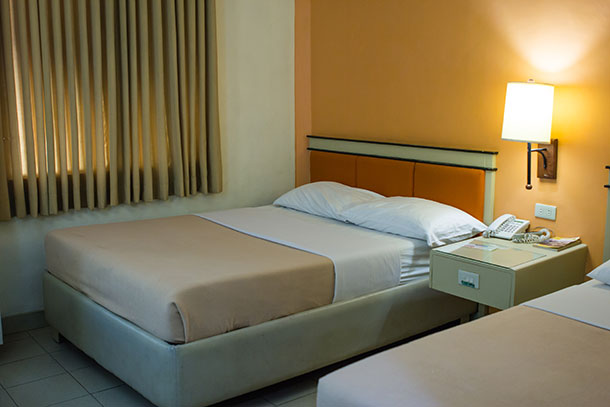 Each room had 1 single bed and 1 double bed. We were pretty lucky that we had a spare bed to put our stuff in.
I have this habit of preparing our clothes and sorting them once in a while. Space was a good thing to have for that.
Room rates vary depending on the room size. They currently have Economy room for 2 persons as well as Standard, Superior and Executive Rooms that can be occupied by 3 persons.
As of writing, the prices start at 1,700+ Php to 2,500+ Php per night. There was no breakfast included, however.
If you are a breakfast person, you do have several options. One is the hotel's buffet breakfast every morning served at the Ground Floor. Price was at 150 Php per head (I think. Though I recommend to please inquire at the Reception first if you are interested in availing).
The second option is at the fast food chains near the hotel that offers breakfast. There are 2-3 if I remember it correctly. Prices also vary depending on your orders.
Inclusions and Other Amenities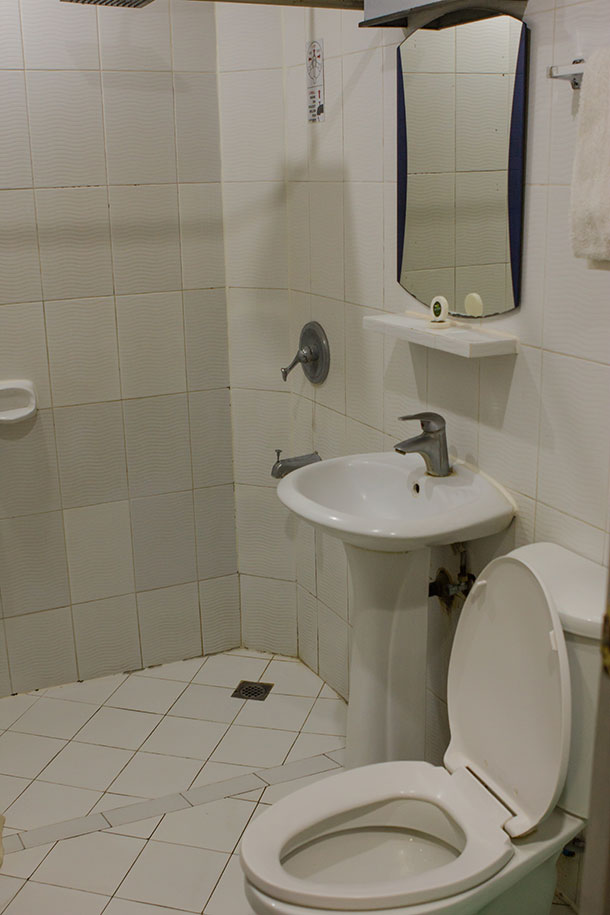 After our stay at the G-Galyx Inn Hotel, I was also personally glad that there were plenty of hanging areas to dry our clothes on. LOL.
Aside from the extra areas for drying our clothes, there was a closet with a couple of clothes hanger inside. Plus a wooden bench for our bags.
There's a full-length mirror at the door for guests to use as well as a vanity table and a wall mirror. A chair was also in the room facing the mirror.
The TV was old fashioned but it was working properly and had cable channels. I particularly enjoyed watching Crime Investigations during our stay. LOL.
The bathroom was averaged size with a shower area (enclosed within a shower curtain) and a toilet. There were free toiletries too and towels for us.
What I didn't like about the room though was that the window was facing a concrete wall. This made the room dark and we have to open the lights whenever we are inside.
Good thing that the room was comfortable and made up for it. The lighting of the room was of soft gold so it was not too hot or too cold.
We actually spent a few hours resting before finally going out for some night time tour of the city.
As guests at this hotel in CDO, you can also access the 'Sky Bar', I think it was called, at the New Dawn Plus. It's the building beside the New Dawn Pensionne. I think it's the same company.
Anyways, our companion was able to see the sunset on the day of our arrival. We tried visiting it before we went home the following day, but it was closed.
Check-Out
On our last day, we got in touch with a local vehicle operator whom we met on our arrival in CDO. He got us a car to drive us to the airport.
Our flight was in the afternoon and check-out was still at 12 PM. But we requested to be driven to the airport at 11:30 AM. So we were already checked out by 11 AM.
We haven't had any problem with the check out too. The Receptionist was just checking on her system and then we were given confirmation that everything was OK.
Overall Verdict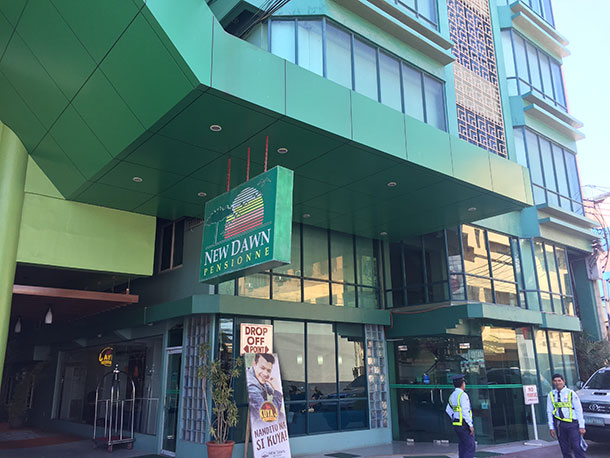 Overall, I had a very good experience with the hotel and its staff. Everything went smoothly and we were pretty comfortable with the room.
If I were to visit CDO again, I'd probably consider this as one of my options to stay in the city.
Have you stayed at the New Pensionne House? How was your experience? Share it with us on the comment section below!
Like This Post? Pin It!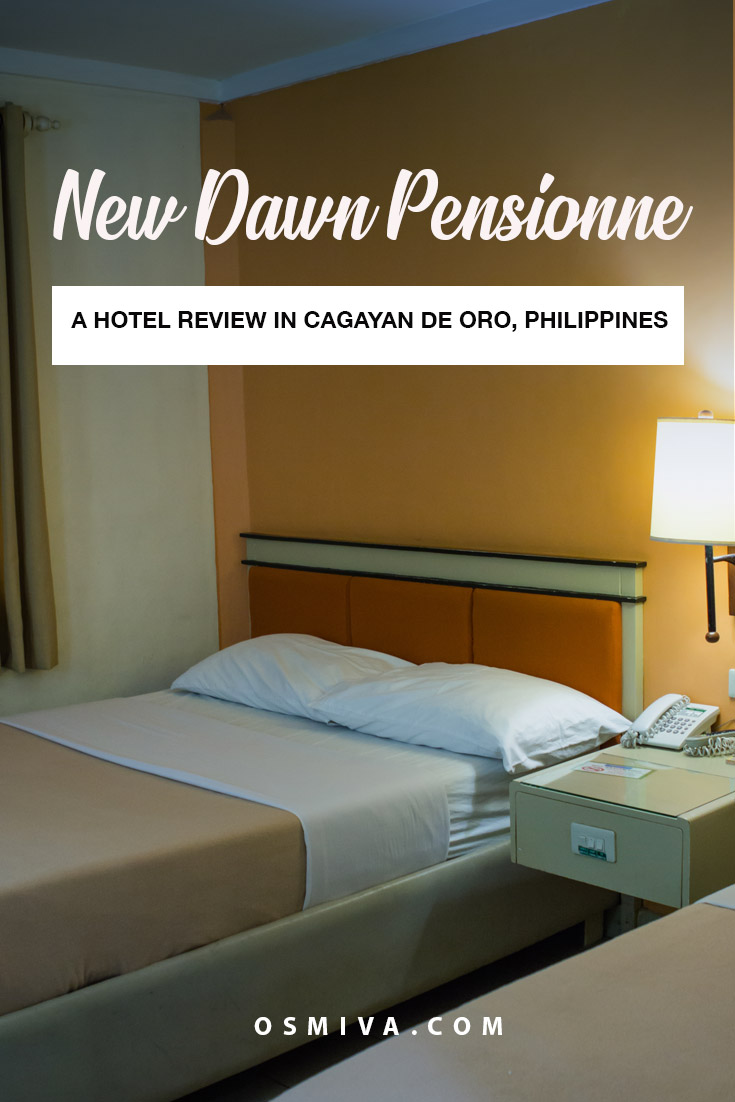 Disclosure: We use affiliate links on this post. Meaning, if you book any hotel/ resort by clicking on the link, I earn a commission at NO EXTRA COST to you. Thank you for reading the blog!