If you are looking for a place to eat your heart out when in Cebu, Philippines, the Sugbo Mercado (Cebu Market) at the Cebu I.T. Park is the place for you!
Food markets are fast becoming a great way to taste local cuisines and delicacies. It's also a great way to discover new budding food businesses in the area.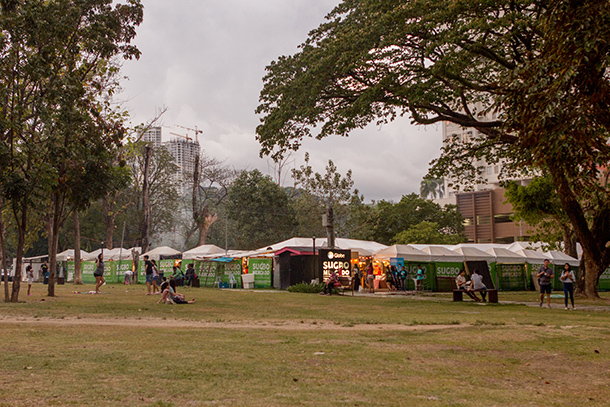 The Sugbo Mercado offers a wide variety of food for a relatively affordable price. It's a favorite hangout especially for locals who are looking for good food and sometimes, good music if there's a local band playing.
The market has been opened for quite a while now and has showcased a lot of interesting and delicious flavors. Before, it held bazaars in Cebu Business Park and SRP as well. They have recently opened 'The Market' at the North Reclamation Area in Mandaue City.
If you are visiting Cebu on a weekend, a visit to the Sugbo Mercado will be a great way to end the day after your Cebu City Tour or perhaps from your Balamban Road Trip. It's a cool way to meet locals too in a fun and satisfying set-up.
How to Get to the Sugbo Mercado in Cebu I.T. Park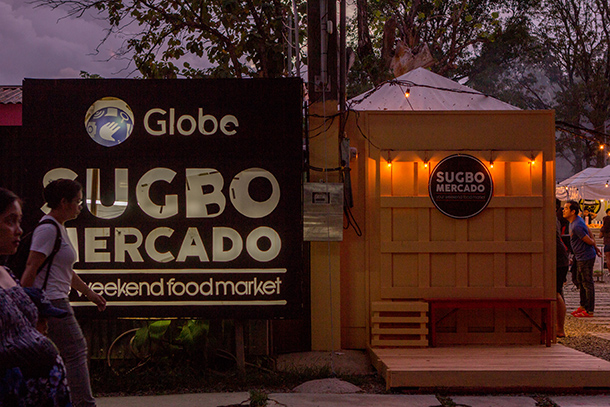 The Sugbo Mercado is located at the Cebu I.T. Park – one of the city's I.T. economic zone and a modern trading and lifestyle hub. To get here, you can either hire a taxi, or grab a car or ride the local PUJ (public utility jeep).
Jeeps in Cebu are number coded, so commuting is easy. Jeeps with 04L and the 17 (B,C,D) will pass through I.T Park.
If you are coming from downtown Cebu, simply look for jeeps going to Lahug or I.T Park, specifically those numbered with 17. Alight near the Shaka Restaurant. It's unmissable as the restaurant is built around a tree house with a big signage on the front.
If you opt to ride the 04L Jeepney either from SM City Cebu or Ayala, alight at the drop-off point in I.T park and walk your way towards the Sugbo Mercado.
You may also check out this map for your transportation guide:
What is Sugbo Mercado at the IT Park's Opening Hours?
Cebu's Weekend Foos Market is open every Thursday to Sunday from 5PM to 1AM. Great schedule for friends and families (and couples) who wants good food and good vibes during weekends.
What to Expect When Visiting Sugbo Mercado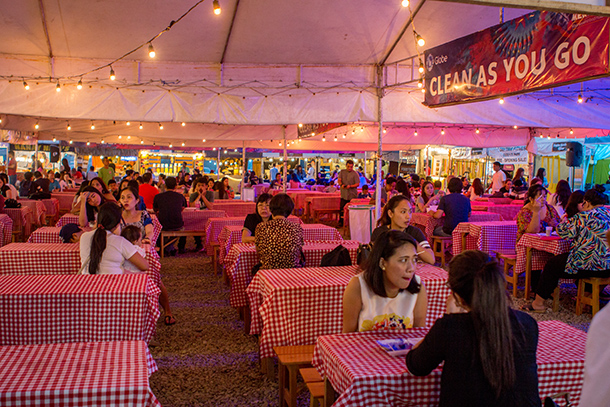 When visiting the Sugbo Mercado, here are some of the things that you should be expecting:
1. The Food Market is opened only during weekends. That is, every Thursday to Sunday between 5PM to 1AM.
2. There are tables and chairs available inside the area for everyone.
3. The market's set-up is outdoors. It is located in an open-air space.
Some area have no roof, except where the tables and chairs are and, of course, on the food stalls. So if it rains, make sure to bring an umbrella with you. The floor is also on direct ground.
4. It is also not well-lighted but is basked in soft light perfect for a cozy setting.
5. Best time to go there will be at around 5-6PM when crowds are less.
Sample of Delicious Food at the Sugbo Mercado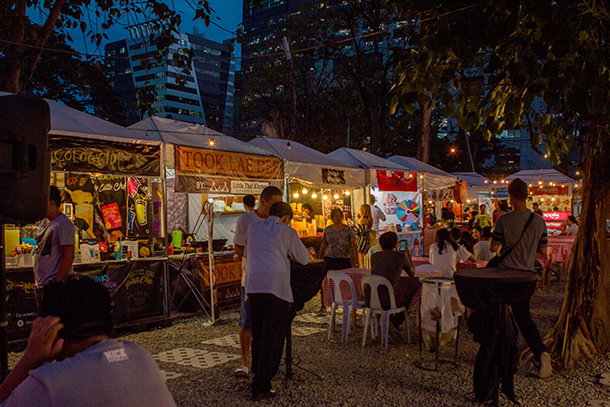 We have visited Sugbo Mercado a couple of times with the family and each time, we were treated to delicious treats. Here are some of the food we have tasted so far.
Please take note that some food stalls may not participate all the time. Despite that, it'll be a fun way to experiment with other food dishes while you are there.
Also, the food served here are from various cuisines, so expect a wide selection!
Here are some of the things that we ordered and a brief review about the taste.
Takoyaki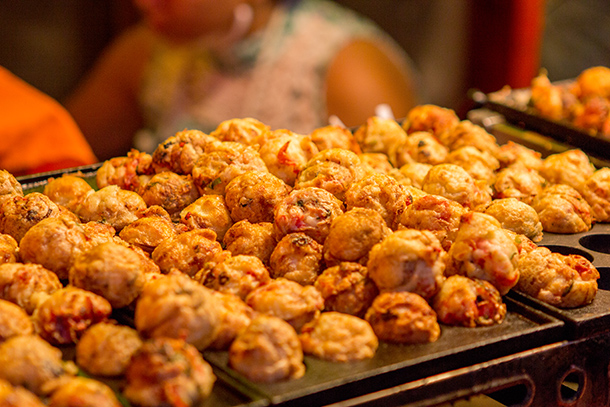 Who doesn't love this ball-shaped Japanese snack made from wheat flour-based batter and filled with delicious fillings! We ordered one serving for sharing and it was satisfying!
Lechon Belly (Roasted Pork Belly)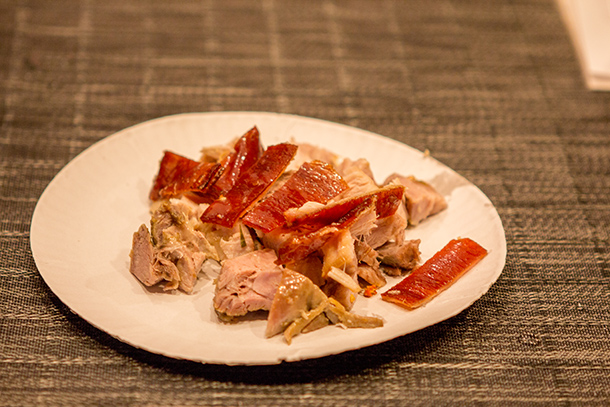 Ahhh.. The famous lechon belly. There are several fantastic food stops in Cebu that serves the best roasted pork and Jamal's Lechon is one of them. You'll definitely fell in love with the slow roasted pork served and paired with rice.
Vietnamese Fresh Spring Rolls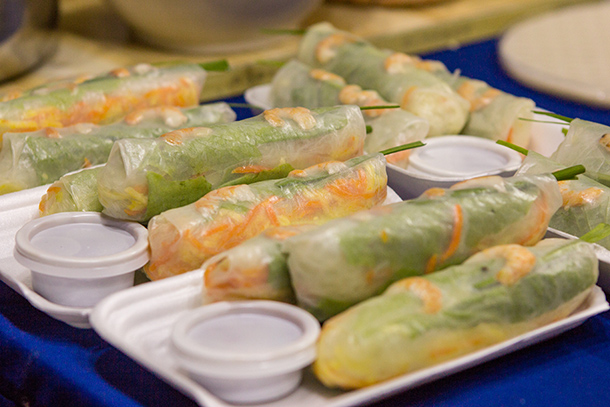 I've fell in love with these delicious goods a few years back when a friend introduced this to my taste buds. I love the tasty combination of the vegetables wrapped in rice wrappers.
Mee Goring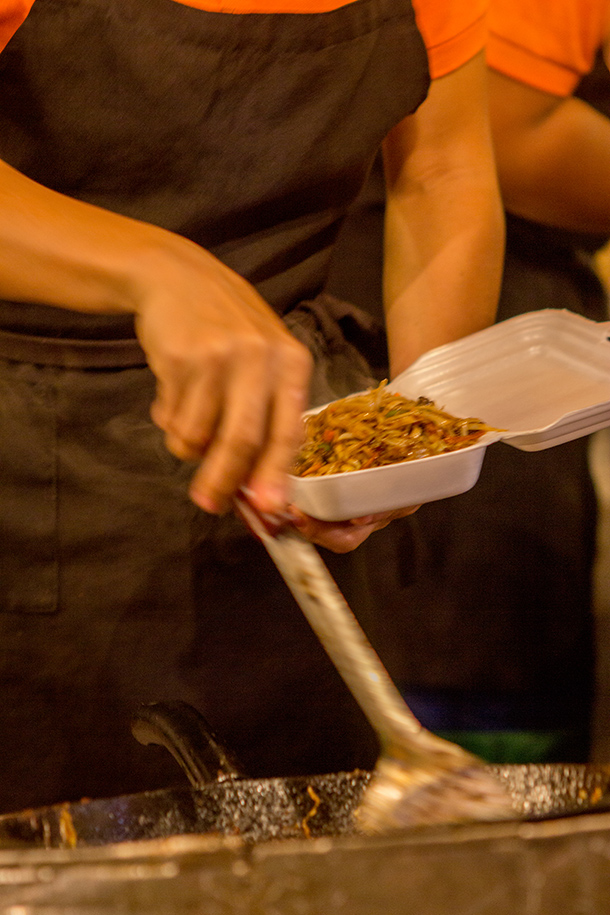 Mee Goring is a sweet dish of egg noodles combined with chicken, tofu and vegetables. There was a queue at this particular which sold the noodles and I can see why.
The noodles were delicious and was an explosion of flavors on the mouth.
Okonomiyaki With Noodles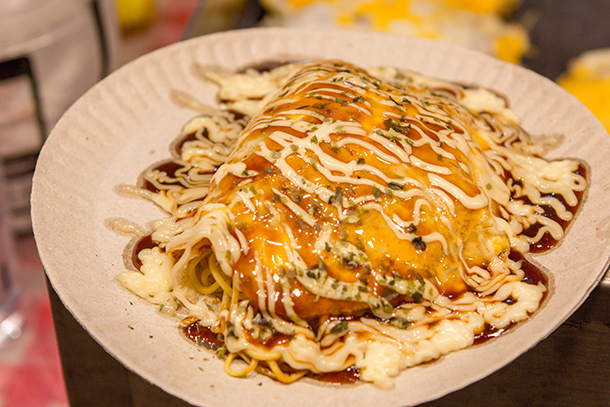 I'm not really a fan of pancakes but the Okonomiyaki With Noodles was a unique dish that introduced me to a whole new Japanese dish.
Okonomiyaki With Noodles is a combination of noodles, fried egg and some yummy sauce. It somehow reminded me of an omellete.
Macology Juice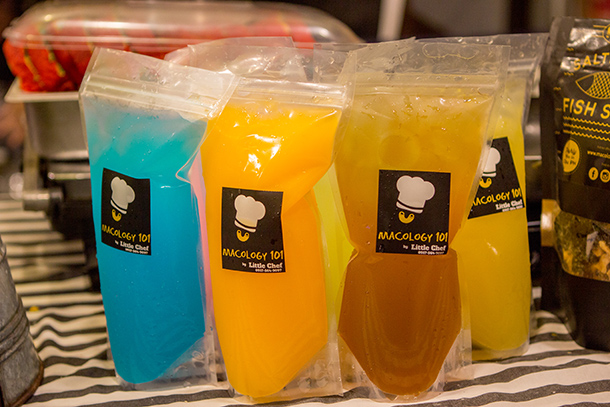 For drinks, we tried the juices from Macology 101. They were actually just plain juice with a variety of flavors ranging from pineapple, to lychee a few more. What I found cute was the packaging as it was pretty eye-catching.
Things to Do Around Sugbo Mercado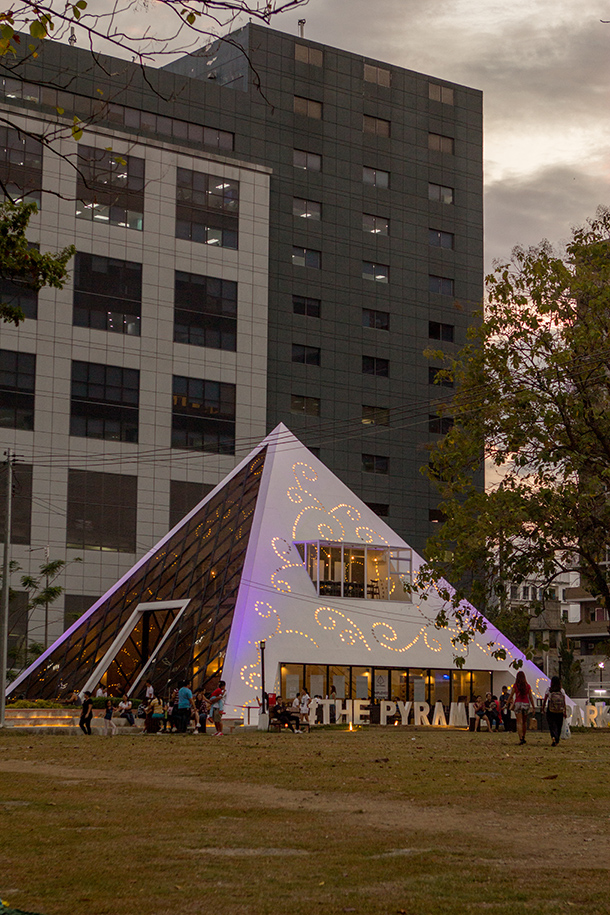 If you are full and sated with the food you've tasted, here are some fun things to do around Cebu I.T. Park:
1. Fill your IG with lovely photos. The Pyramid and Shaka restaurants alone are pretty and are definitely IG-worthy! It's literally right next to Sugbo Mercado so you can easily enjoy it after enjoying the food.
2. Love singing? The Music One Family KTV at the Walk is a good option to take your friends.
3. Take a stroll around a jungle of sky rise and modern living.
How To Join Sugbo Mercado Bazaars
What is great about this weekend food market is that they allow SME (small business entrepreneurs) and food start-ups to join their ever growing community.
If you are one of those, check out their website for details and requirements.
Like This Post? Pin It!