Iligan City is usually visited as a Day Trip from Cagayan de Oro City, Philippines. If you have one day, you can definitely visit some of the famous Iligan City Tourist Spots during your Day Tour!
I've never really paid attention when people talk about Iligan City. Especially at work, when we discuss the warehouse when we conduct audits.
Yes, I know that it is the home to the ever famous Maria Cristina Falls. But that is all. It never really piqued my interest.
I've also heard countless recounts of visits to Maria Cristina Falls and maybe acknowledge that it was a place I'd like to visit… Well, maybe one day…
That 'maybe one day' came true when we visited Cagayan de Oro early this year. It was a short trip but we still managed to visit a couple of provinces around the city.
Our itinerary included visiting some of the Iligan City Tourist Spots.
Disclosure: We use affiliate links on this post. Meaning, if you book any hotel/ resort by clicking on the link, I earn a commission at NO EXTRA COST to you. Thank you for reading the blog!
How to Get to Iligan City
Before we cover the spots you need to include in your Iligan City Tour Itinerary, let us discuss the basics in visiting Iligan.
Travelling to Iligan City is easy especially if you are already in Cagayan de Oro City.
By Plane
Laguindingan Airport is the nearest airport in the city. Flights from Manila, Cebu, Iloilo and Davao are available almost daily.
At the airport, you have two (2) options:
Option 1 is to take a taxi directly to Iligan City.
Option 2 is to ride a taxi going to the Laguindingan Terminal (Northern Mindanao). From the terminal, you can get a bus to take you to Iligan. Travel time is about an hour.
By Boat
If you are in Cebu and Manila, there are boats that can take you to Cagayan de Oro.
Travel time is around 7-8 hours (overnight) from Cebu and around 44 hours if from Manila.
Once in Cagayan de Oro, you can now take a bus going to the city.
By Bus
In Cagayan de Oro, you can now take a bus from the Bulua Terminal. Travel time is approximately 2 hours.
Please double check the schedule and fare for any of the transport mentioned above as the time and price may vary.
If you ever visit CDO, you can also decide to do a Day Tour to Iligan City. This is how:
Iligan City Tourist Spots
Maria Cristina Falls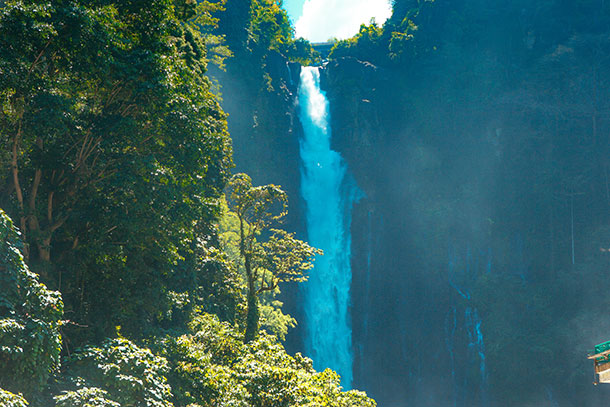 Maria Cristina Falls is definitely one of the must-visit sites when in Iligan City.
If you're a Filipino, you probably grew up reading about Maria Cristina Falls and how it is an important waterfall in the country.
The falls is about 320 feet tall and is surrounded by lush greenery on all sides. It is an oasis found at the boundaries of Barangays Maria Cristina, Ditucalan, and Buru-un.
Aside from being an Iligan City tourist spot, the falls also play a significant role in Mindanao's energy supply.
The Maria Cristina Falls is protected by the National Power Corporation (NAPOCOR) and is in a Natures Park.
Before including it to your Iligan City Day Tour, make sure that the falls is not under 'High Alert'. The management temporarily closes it to guests when this happens.
Entrance Fee: 50 Php per head
Tinago Falls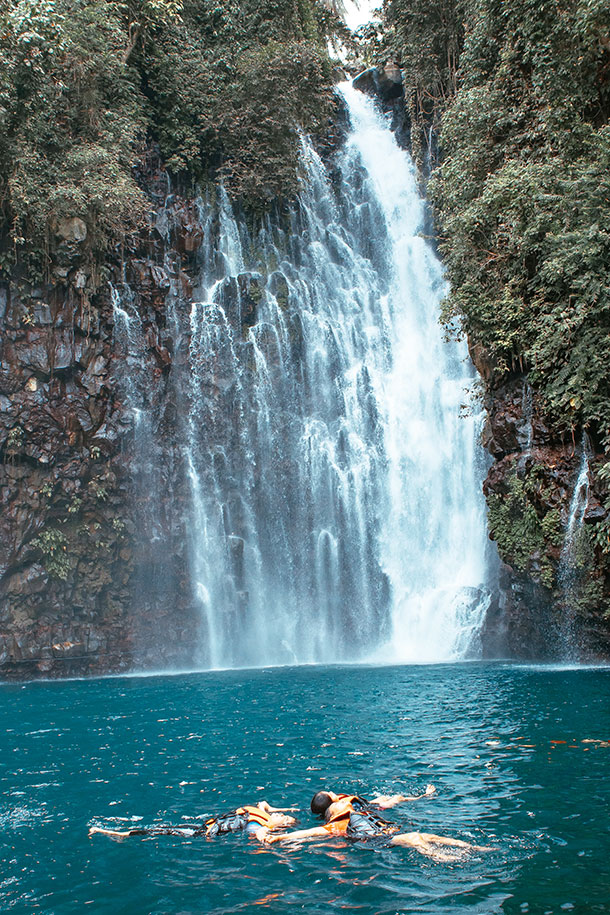 Another place to see in Iligan City is the Tinago Falls in Robocon, Linamon, Lanao Del Norte.
You need to go down 436 steps to see this beautiful waterfalls. Tinago means 'hidden' in English – which makes the name appropriate if not accurate. 😉
The falls is managed by the local government and is formally called the Tinago Falls Park and Resort. Personally, I was impressed by the presence of various CCTV camera in the area for safety and security reasons.
You can easily spend a day or maybe hours here if you want to. Cliff diving, waterfall massage and of course some nice and cool swimming are a few of the things that you can do here.
Entrance Fee: 30 Php
Mimbalut Falls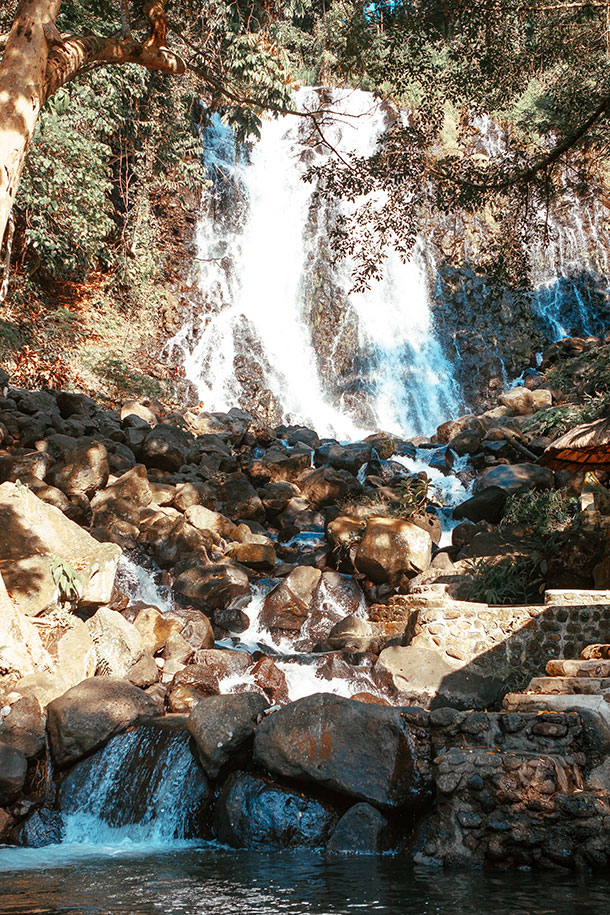 Mimbalut Falls is part of the Iligan Paradise Resort and Eco Park and is located near Brgy Buru-un. It is located just along the road, making it easy for people to spot.
The area surrounding the falls is commercialised with cottages, chairs and tables, a structure and even a pool.
When we arrived, not many people were inside the resort. But you will see locals washing clothes near the base of the falls.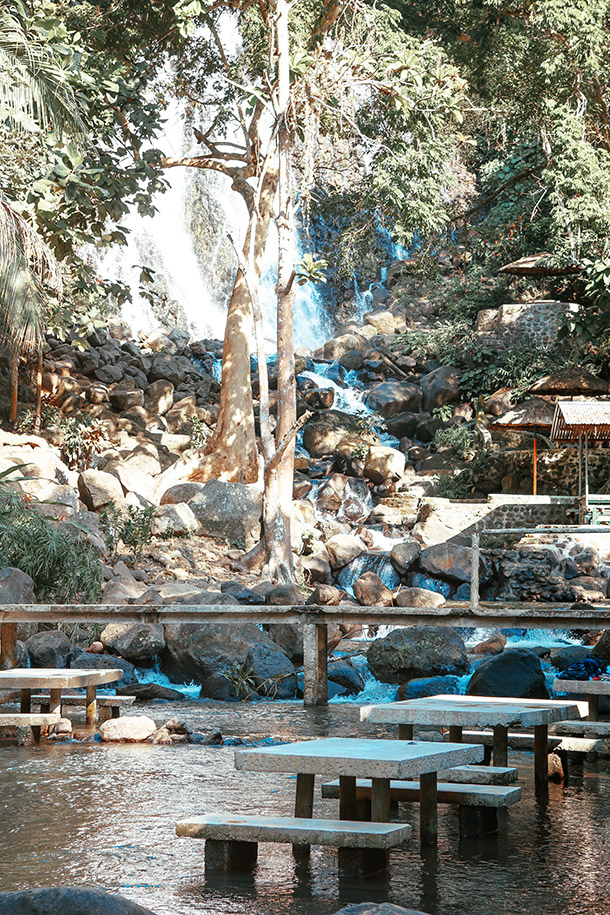 There are tables and chairs at the base too where people can eat and enjoy a day out with their feet on the water.
Taking a bath here can be pretty tricky as there are big stones at the bottom. Though the management has seen to it that there are concrete basins that act as a pool of natural water in some areas.
We did not swim here though because we have already dried up and have already changed into dry clothes in Tinago Falls.
Nevertheless, you can also take a dip here if you want. 😉
If you are to spend a day here, please be informed that they do have corkage fees for drinks bought outside.
We saw some tourists (led by their guide) who went around the resort to get near the waterfalls.
If you want to avoid paying the fees to get near the falls for some photo session you can also do this. Though the view wouldn't be as good as the view we had inside.
Entrance Fee: 50 Php (adult); 40 Php (kids and senior citizens)
Macaraeg-Macapagal Ancestral House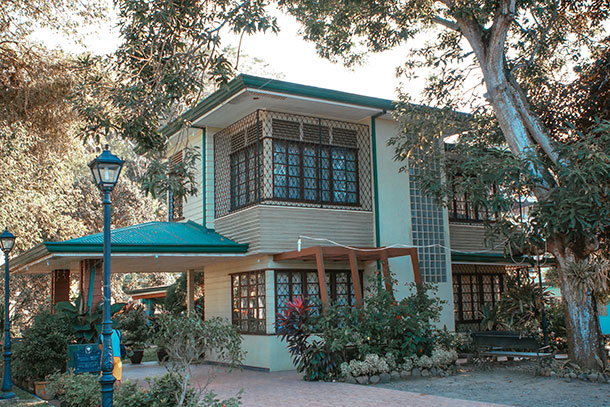 The Macaraeg-Macapagal Ancestral House is a historical spot in Iligan City. It is the ancestral home of the late President Diosdado Macapagal.
This is also where the second Lady President of the Philippines Gloria Macapagal-Arroyo (GMA) grew up. Because of this, the house is considered to be the first house in the Philippines where two President's lived.
The house is now a part of the National Historical Institute. It is being preserved as a tourist spot for people passing through Iligan City.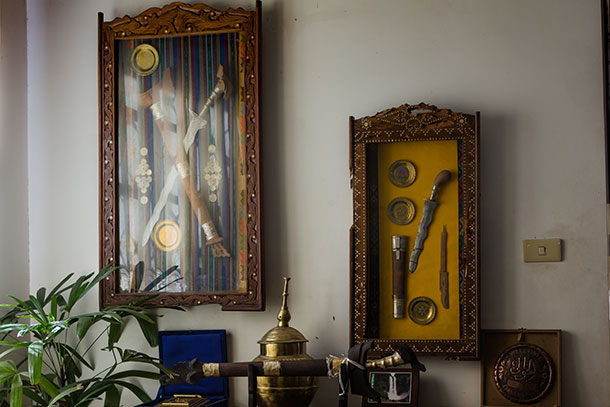 The house is home to several antiques and memorabilia of the Macaraeg-Macapagal family. There are several photos of GMA during her youth and her early years as a wife too.
We were taken to a complete tour around the house and given some information on when the family still lived here. The house is pretty simple and reflects the mid-range lifestyle of a politically powerful family.
Entrance Fee: None but donations are welcome.
Chedings' Peanuts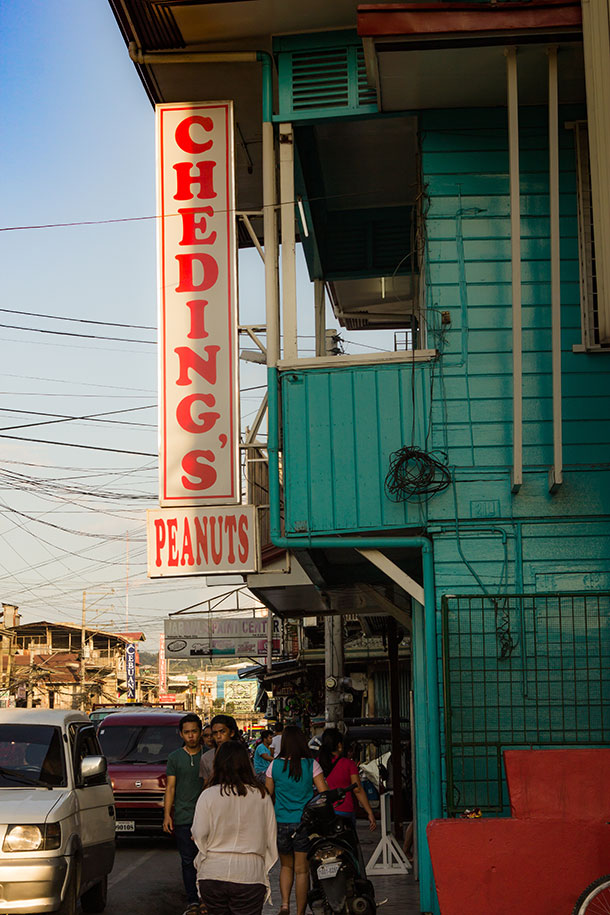 A visit to this 40 plus year old and only 'Pasalubong Center' in Iligan is also a must during your visit to the city.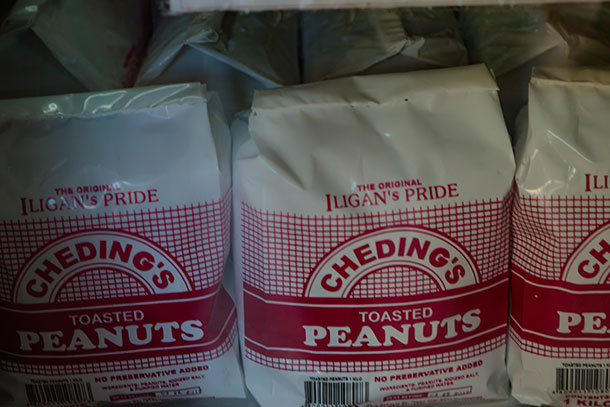 Chedings' Peanut is home to quality peanut products that Iligan City is famous for. Aside from the variety of peanuts sold, they also sell other delicacies and tasty snacks that you can munch on the road or take home to your family and friends.
We visited the peanut house on our way back to CDO. It was a quick stop for us and a chance to stretch our legs too. The traffic was heavy by the time we arrived at the centre.
Entrance Fee: None
Iligan City Tour Itinerary
For a quick view of our itinerary, below is a sample of our Iligan City Day Tour plus costs: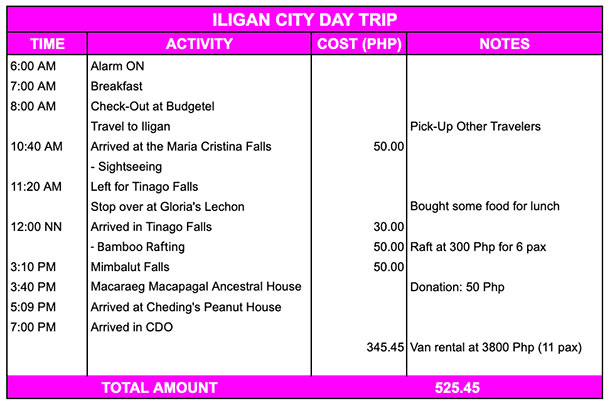 Our friend from LUDIFY Trips arranged everything for us including the itinerary and van rental. We had six other travellers who were there with us. This helped lessen the expenses, especially for the van rental.
Where to Stay in Iligan City
There are several accommodations in Iligan City that you can choose from if you decide to visit more of its waterfalls.
Below are some of the recommended places to stay in Iligan:
Maria Cristina Hotel
Location: General Aguinaldo corner Mabini street, Iligan City, Iligan City, Philippines
The hotel's convenient location is a good and smart choice for travellers who want to be near the city. Amenities include 24-hour security, daily housekeeping, postal service, private check in/check out and, 24-hour front desk
Cozy Inn
Location: Purok 3, Atis Street, Pala-o, Lanao del Norte, Pala-o, Iligan City, Philippines, 9200
Cozy Inn is a cozy affordable accommodation in Iligan City. Most rate already include breakfast.
Facilities inside the room include a restaurant, a 24-hour front desk and room service and, free WiFi
Go Hotels Iligan
The Go Hotels Iligan is another accommodation when in Iligan City. It is located 9 miles from the Tinago Falls and 39 miles from the Labo Airport in Ozamiz City.
Rooms have a flat-screen TV with satellite channels and a private bathroom as well as a 24-hour front desk and a shared lounge for guests.
So, do you think you'll want to spend a day or more in Iligan?
Personally, I'd love to go back and explore more of the city's waterfalls. 😉
Like This Post? Pin It!