Giving gifts can be frustrating especially if you don't have any idea what to give to a friend, a partner or a family member. But if your friend is a travel-lover like us, then this fun gifts for travel lovers will be a sure hit to them!
Usually, our gifts are based on how they are used and can be used. But, let's face it. Most travelers will have all the things they need. Especially if they are seasoned travelers who have seen it all.
If you need some guidance, and well, maybe some new options, we have some fun travel gift ideas that you can definitely choose from.
We do have a variety of options today, so come and take a look!
Disclosure: We use affiliate links on this post. Please read our Disclosure Statement below. Thank you.
Home Decorations
Sometimes we need some reminders of our love to travel at home. These home decor ideas will surely ignite some wanderlust spirit in you!
Decals
Decals are pretty easy to install and can definitely be removed as you wish. Here are some great products to choose from!
This Earthabitats Vinyl Decal Quote is excellent for reminding that there are places yet to be discovered!
Another inspiring quote for adventure-lovers. They will surely love this Adventure Wall Decal!
This motivational quote from BATTOO is a fun travel gift for people who are wanderer by heart.
And this one too for someone who needs a bit more encouragement to travel!
Here's something different from Decalmile. Fill a room with stamps from all over the world!
Add some fun and adventure to a little boy's room with Huangliao Travel Photo Wall Stickers.
Tapestry
If they love traveling as much as we do, the following tapestries are great gift options too.
Made of 100% polyester silky satin blend, the Ambesonne Travel Tapestry adds a unique, versatile and fun character to a room.
Emvency Tapestry World Wanderlust is another cool tapestry made from Polyester fabric that is skin-friendly and is durable.
Made from high quality 100% microfiber, this tapestry from Lunarable is lightweight and has super soft fabric. A unique addition to the interior!
Throw Pillow Cushion Cover
Throw pillows are great decor to give a room life and color. Below are some travel-themed pillow cover that you can definitely choose from.
Ambesonne Adventure Throw Pillow is a durable and environmentally friendly decorative cushion case to add color to a room.
Aremazing Cotton Linen Home Decor Pillowcase is perfect decor for indoor and outdoor use. The pillowcase is soft and durable and has a hidden zipper design.
The pillowcase from Fjfz has a breathable fabric that keeps the user cool and refreshed.
Easternproject Throw Pillow Covers are 100% grade cotton blend linen fabric that is breathable and durable.
Another cute throw pillow covers from Aremazing. The pillowcase is made of durable and environmentally friendly cotton linen materials.
Travel-Themed Curtains
Curtains are great accessories to a room. Not only because it gives shade to it but because it also brings a certain unique charm. Here are some funky travel-themed curtains you can give as gifts!
This cute curtain from Ambesonne is made from high-quality silky satin polyester blend that will add an elegant yet fun look to a room.
Ambesonne Old Newspaper Decor Curtains' vintage-theme is pretty cute and is charming. The curtain is machine washable, include 2 curtain panels and is 63 inches long and 108 inches wide.
Put some lucky stamps in your bedroom with this Travel Decorative Curtains by Superlucky. The curtain's design adds an elegant look to any space.
Art Wall Decor
If you are looking for something that can be interactive and can be displayed for travel-lovers at home, below are some cool travel-themed art wall decor for them!
Shiny Journey's Scratch Off Map Ultimate Pack is a great way to record memories and make the entire family (and maybe group of friends) be excited about certain upcoming trips.
Mark certain places or countries you have visited by using this Push Pin Travel Maps. The map is an elegant 2 inch black frame 39.5 Inches Wide x 27.5 Inches High
If your friend or partner is looking forward to road tripping through the US, this RV State Sticker Travel Map from Lushleaf Designs is an awesome gift for them!
These vinyl adhesives from BRIKETO are cute decorative add-ons to any house who the owner is a travel lover. The stickers are 6X6 inches in size and are easy to peel and stick!
Housewarming for someone who loves to travel? This wall art from Marla Rae is motivational and meaningful. The decor is 18″L by 12″H and comes with black painted edges and flush keyhole hanger at the back for easy hanging
Another Great Wall art decor is this Metal Tin Sign or art poster from Sumik. Size of the poster is 12" X 8" inches, with retro design, and eco-friendly.
Personal Travel Stuff and Toys
If you want to give something more personal that he/ she can use, this next list of cute and fun gifts for travel lovers are great options that you can also look into.
Photo Albums/ Scrapbooks and Personal Journal
Some travelers love to have keepsakes like photos while some love to write on journals about their adventure. Here are some cute photo albums and travel journals that you can give them!
ZEEYUAN Leather Vintage Photo Album and DIY Scrapbook is great for creative travelers who love to compile memories. The scrapbook has a leather cover that is both comfortable and soft.
This velvet covered Vintage Photo Album from Vosarea is a practical and multifunctional gift that any traveler will love. The album comes in 3 sizes (S, M, and L).
This Photo Album from Recollections holds over 100 photos in its 50 pages. A perfect way to remember moments!
Make writing a lot of fun with this fun travel journal from Erin Condren. The journal comes with sheets of illustrative stickers, 2 sheets of functional stickers and has a dimension of 5.7″ x 8.25″ and a weight of 0.35 lbs.
Toys for the Family
If you're going to give it as a gift to moms and dads who love to travel, the following toys are great for whiling away the time with kids, especially for long trips.
Kahootz Travel Spirograph Playset is the classic go anywhere toy that allows kids to create countless designs while traveling. The set includes a 24-page sticky note pad and instruction/design guide.
Give mommies and daddies some time out by allowing the kids to have fun with this Wikki Stix. The set comes with 48 Wikki Stix in six hot neon colors.
The Aitey Magnetic Building Blocks is a great puzzle game that helps kids exercise their brain, improve memory and practice hands-on dexterity skills.
Soy Wax Scented Candles
Sometimes when traveling, we struggle to find the perfect ambiance for a relaxing vacation. A scented candle like this Soy Wax Scented Candles from Wending is great for creating a pleasant and happy mood. The gift set contains 4 pack of different fragrances candle in a stylish gift box, convenient for carrying to vacation and easy to pack for travel.
Travel Accessories
Practical stuff can also be fun… That being said, below are some useful travel accessories (and gadgets) that can help travelers during their travels too.
Travel Laundry Clothesline Kit
This portable traveler's laundry line conveniently dries hand wash, socks, undergarments or other clothes overnight. The clothesline is made of a surgical quality braided rubber tubing and includes a 4 x 6 travel bag.
Portable Bidet
'Wait… What?' You may be asking that right? Well, if you have traveled to Asia, you will have been introduced to the bidet. And if your friend or partner have been and enjoyed it, they will love this too. The portable bidet from CuloClean can easily regulate water intensity and is durable and ecological.
Anti Spy Hidden Camera Detector
Safety is our utmost priority all the time especially when we travel. That's why this Anti Spy Hidden Camera Detector from Lesgos is the perfect give to keep our loved ones safe whenever they travel.
Solar Charger
The Hobest Solar Charger is a waterproof outdoor solar power bank that is also designed with LED Flashlight and USB Portable Charger.
Have you found the perfect fun travel gift yet? And if not, we still have these unique travel gifts and couple travel gifts that you can browse through for gift options!
Like This Post? Pin It!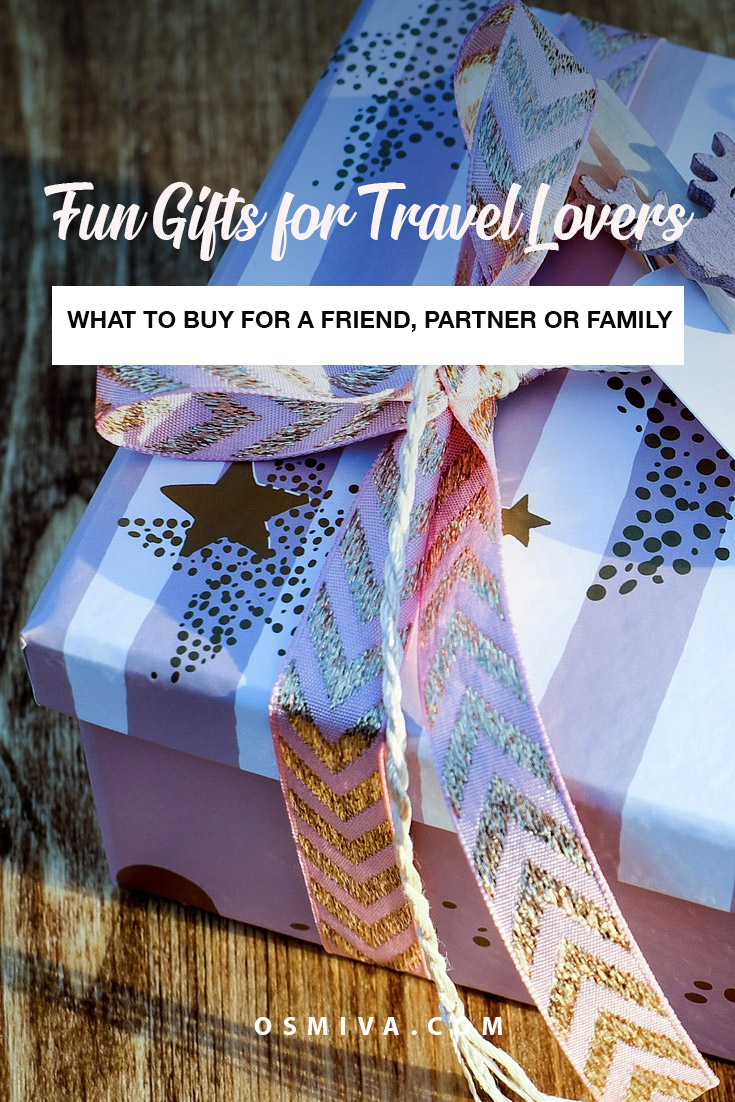 Disclosure: We are a participant in the Amazon Services LLC Associates Program, an affiliate advertising program designed to provide a means for us to earn fees by linking to Amazon.com and affiliated sites. Meaning, if you purchase any item by clicking on the link, I earn a commission at NO EXTRA COST to you. Thank you for reading the blog!