People would sometimes get overwhelmed with the variety of tourist spots in Phuket and wouldn't know where to go. We have here a list of interesting places to visit in Phuket to help you decide which sites to priorities when planning your itinerary.
Phuket is a province of Thailand and is often called as the Pearl of The Andaman. It is Thailand's largest island and has been regarded as one of the most popular tourist destinations in the country.
It is deep-sea diving, high-end dining and white beaches are some of the most favourite attractions here and one of the favourite places to visit in Thailand. Tourists will surely love the rich heritage in the island as mirrored by its temples and Sino-colonial architecture.
Aside from these, breathtaking natural attractions can also be accessed.
Get a chance to explore the wonders of Phuket and immerse yourself with the beauty that envelopes it. Check out this Interesting Places to Visit in Phuket, Thailand and be sure to see these places personally!!!
Bangla Road
Location: Patong, Phuket, Thailand
Bangla Road is Patong's liveliest party zone and famous for its fun-filled nightlife. It is considered to be the heart of Phuket's nightlife and is one of the island's popular attractions.
It is a favourite place to visit in Phuket especially for those who love people watching and socialising with tourists and locals. The street is lined with neon lights at night with loud music blaring from speakers of various establishments.
Flying Hanuman
Location: 89/16 Moo 6, Soi Katu Waterfall, Wichitsongkram Rd, Kathu, Phuket 83120, Thailand
Opening Hours: 8 AM to 5 PM Daily
The Flying Hanuman is an Eco-adventure that provides a totally wonderful and exciting zip line course. Tourists and locals will surely love this outdoor adventure and the adrenaline rush combined with the natural beauty of Phuket.
It prides itself as 'Phuket's Ultimate Zipline Experience' with 3 different activities, also called as 'Journey'. You'll be treated with various fun adventures on several platforms to take off from.
Kata and Karon Beaches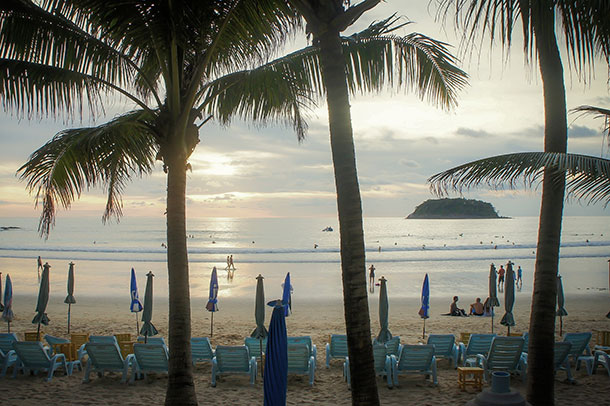 Location: Phuket, Thailand
Two of Phuket's most popular beaches are the Karon and Kata Beach.
Karon offers a number of budget guesthouses, restaurants and bars. It also has a wide beachside avenue that is perfect for evening strolls and shopping.
Karon Beach has over 4 kilometres of finest silica sand and sand dunes at the back.
Kata is very popular for families with its white sands, clear waters, palm-lined beach, great restaurants, and lively nightlife. It is considered to be one of the four classic bays in Phuket's southwest coast.
Aside from the beachfront hotels, there are budget-friendly accommodations at the back of the beach. If you like some entertainment and good food, small bars and restaurants are also available here.
Laem Phromthep Viewpoint
Location: 51/216 Soi Wat Bua Khwan, Ngamwongwan Rd., Nonthaburi 11000, Thailand
One of the most famous viewpoints in Phuket is the Laem Phromthep Viewpoint. The viewpoint offers a spectacular panoramic view from the southern tip of the Island all the way to Nai Harn Beach.
Tourists usually flock the area at sundown. Best time to visit is between 4 PM to 6 PM to enjoy the spectacular views.
Aside from the views, you can buy food from local Thai restaurants in the area. There are also small shops where you can purchase some souvenirs to take home. Just remember to haggle your way through.
Old Phuket Town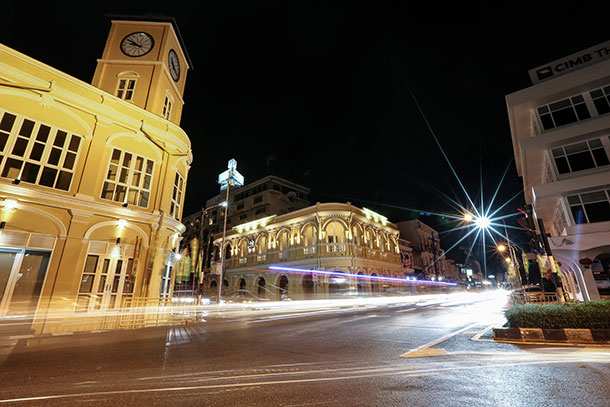 Location: Phuket, Thailand
The Old Phuket Town is a historic district in the island which embodies the unique personality of Phuket. The town has several shrines, temples (Buddhist and Chinese), 'shophouses', quaint cafes and museums.
You can definitely stroll around Phuket Town to get a feel of this quaint little town. The best time to do this is either early in the morning or in the afternoon.
Phang Nga Bay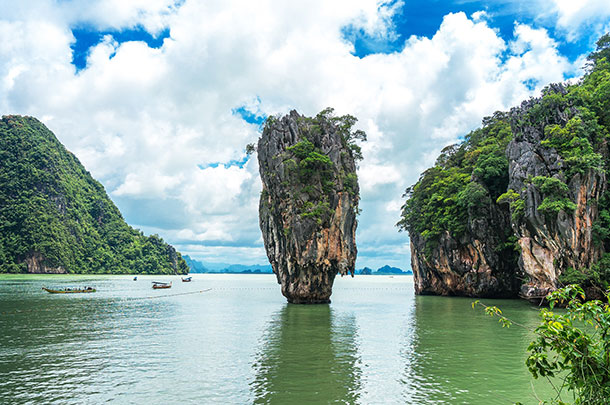 Location: Phuket, Thailand
Phang Nga Bay is one of Phuket's most famous attractions and one of the most interesting places to visit in Phuket. Here, you'll see sheer limestone karsts that jut vertically out of the emerald-green water.
Among its most famous spots is the James Bond Island and Koh Panyee. You'll be able to visit other places here like the Samet Nangshe Viewpoint (that offers gorgeous panoramic views in Phang Nga) and Koh Hong.
Day trip cruise is offered for tourists wishing to see these dramatic limestone islands and take a swim on its quiet beaches.
Phi Phi Island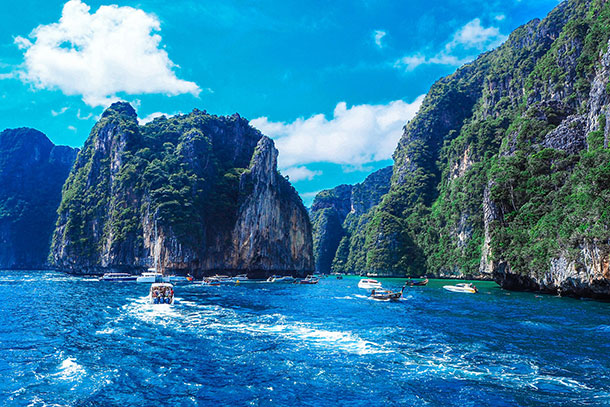 Location: Phuket, Thailand
Phi Phi Island is Phuket's island-superstar with its alluring and picturesque setting. It is considered by many as one of the most beautiful islands in Southeast Asia.
Phi Phi is made up of six islands, with the two main islands called Phi Phi Don and Phi Phi Leh. The islands are surrounded with towering cliffs and beach-fronted jungle, perfect for a relaxing vacation.
If you have watched the movie 'The Beach' with Leonardo Di Caprio, Maya Bay was one of the settings where the movie was filmed.
Phuket FantaSea
Location: 99 Moo 3, Kamala Beach | Kathu, Kamala, Phuket 83150, Thailand
The Phuket FantaSea is a cultural theme park with trapeze artists, performing elephants and other animals plus an exotic storyline. It prides itself as a show that enriches ancient Thai traditions.
The park offers a lot of amazing shows, carnival-like games, lots of shopping opportunities, a Palace of the Elephants, a Similan Adventure Center and many more.
You can avail tours and shows at the FantaSea entertainment complex.
The Big Buddha of Phuket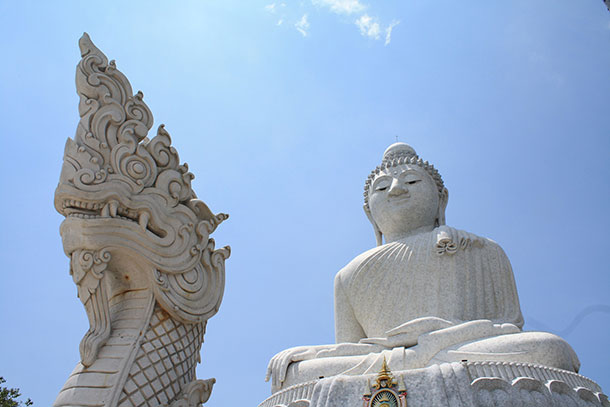 Location: Karon, Phuket, Thailand
Phuket's Big Buddha is one of the island's most important. It is also considered as one of the most revered landmarks with the huge image of Buddha sitting on top of the Nakkerd Hills.
The Buddha is so massive that it can be seen from as far away as Phuket Town and Karon Beach. This amazing statue is known among the Thai as the Phra Puttamingmongkol Akenakkiri Buddha.
Read more at http://www.phuket.com/magazine/big-buddha-today.htm?cid=ch:OTH:001Aside from this, the location offers breathtaking 360-degree views of the island.
Wat Chalong
Location: Chalong Subdistrict, Mueang Phuket District, Thailand
Wat Chalong is a Buddhist Temple that is surrounded with a wiharn, a mondop, an ubosot, a chedi containing a secret relic, a sala and a crematorium. The temple is the largest and the most revered temple in Phuket.
Some of the main sights to see here is the Poh Than Jao Wat, the Grand Pagoda and the 'exhibition home' of Luang Poh Cham.
Spend the holidays and vacations with your family at these family-friendly resorts.
Have you been to Phuket? Where was the most interesting place you've visited while there? Share it with us!
Like This Post? Pin It!