Are you looking for fun things to do in Singapore at night? Well, we just might have the right night attractions in Singapore for you to do during your stay! Read on…
Some travelers love partying or going out to places at night. This may be because the temperature is much cooler and that it is less crowded. Or maybe because it's more exciting when you are out after daylight.
Whatever the case may be, it's always fun to be out and about when a metropolis lights up and becomes alive after dark.
Singapore is not only known for its great attractions during the day but also with its lively night attractions. A dose of Singapore's version of a great and exciting night life will surely get your pulse beating quickly and heart pumping. Plus, it's a great opportunity to capture the city in photos!
Of course, we are not only talking about clubbing and pubbing, we are also talking about a relaxing night spent in this great country.
To help you out with the possible places to visit in SG at night, Night Attractions in Singapore gives you some idea where you can enjoy Singapore at night time. Be sure to include some, if not all, of this activity when you visit especially if it's your first time!
Take a look on this list of things to do in Singapore at night!
Boat Quay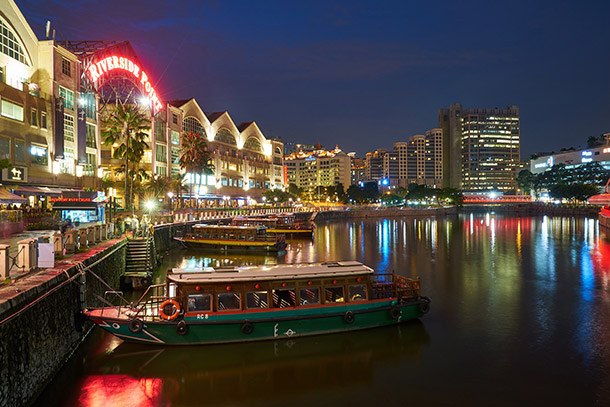 Location: Bonham St, Singapore 049782
One of the most favourite places to chill out in Singapore is at the Boat Qauay.
The Boat Quay is a trailblazer of the Singapore's night entertainment scene that offers a variety of high end restaurants, alfresco dining, lively bars and pubs.
Bugis Street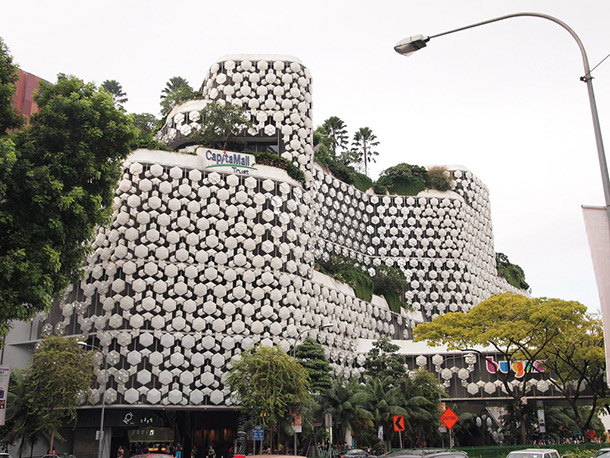 Location: 4 New Bugis St, Singapore 188868, Singapore
Bugis Street is Singapore's famous flea market. It is a unique retail shopping location with almost 800 shops.
This cobblestones avenue offers a unique blend of retail concepts ranging from chic and fashionable clothing and accessories, to beauty services like manicure parlors and hair salons.
A stroll at this busy street of shoppers is a definitely one of the things to do in Singapore at night.
Chijmes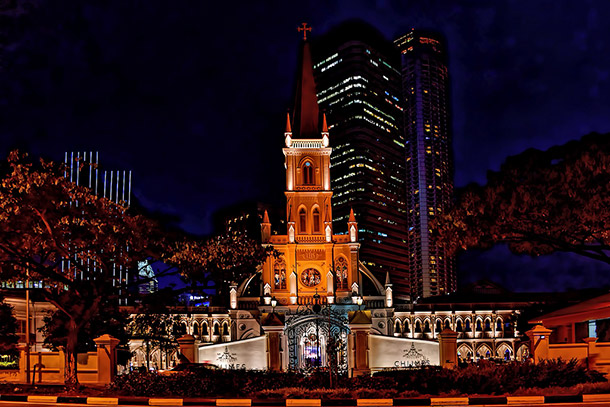 Location: 30 Victoria St, Singapore 187996
Chijmes, also known as the Convent of the Holy Infant Jesus is one of Singapore's historical landmark that has been restored to become a commercial complex.
The complex is now the center for shopping, dining and entertainment and is highly recommended for things to do in Singapore at night.
Popular joints such as Harry's Bar and Insomnia are located here for drinks and live music. A fun night attraction in Singapore for sure!
Chinatown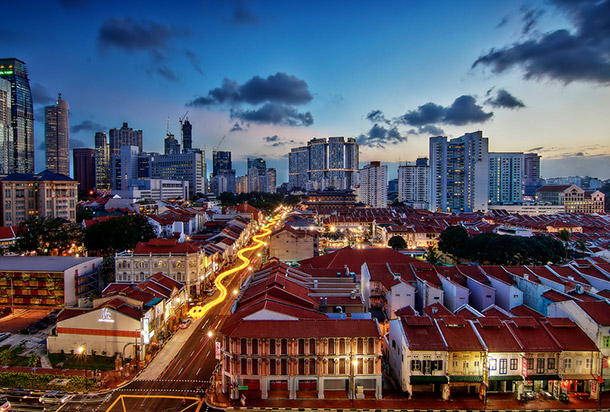 Location: Chinatown, Pagoda Street, Trengganu Street, Sago Street, Smith Street, 050005 Singapore
Singapore's Chinatown is the largest historic district in the country.
With about 200 stalls stretched all over its 4 streets, tourists and locals are guaranteed a unique and memorable shopping experience.
Chinatown is made up of exotic pre-war shop houses, bales of fine silk, and traditional handicrafts. A visit to its Night Market will surely immerse tourists and locals with the Chinese culture.
A different way to get to know this side of the county and a favourite things to do in Singapore at night!
Clarke Quay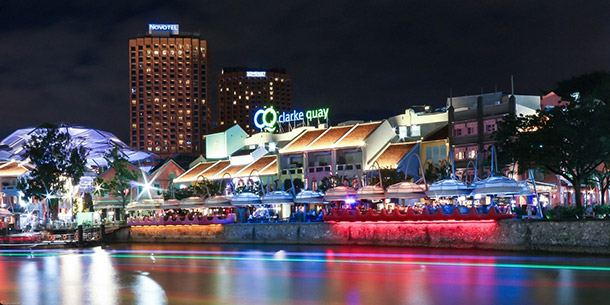 Location: 3E River Valley Rd, Singapore 179024
A colorful kaleidoscope of antiques houses, restaurants, hip cafes and jazz clubs, Singapore' Clarke Quay is one of the country's choice for dining and entertainment.
It offers a variety of options for everyone especially during the night with its lightened five blocks of restored warehouses and lively atmosphere.
Definitely one of the popular night attractions in Singapore!
Merlion Park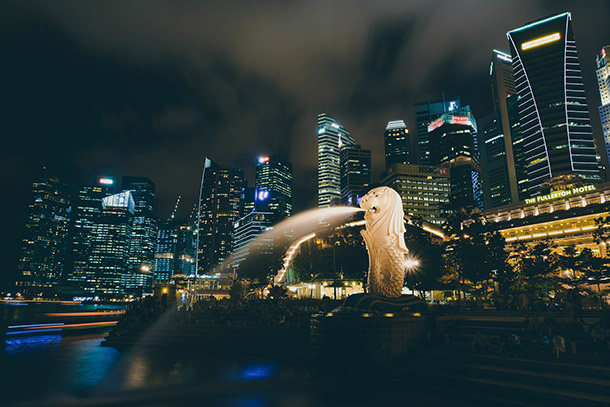 Location: One Fullerton | Fullerton Road, Singapore 049213, Singapore (Downtown Core)
The Singaporean Icon, the Merlion is a the archetypal symbol of Singapore. It symbolizes the country's humble beginnings as a fishing village.
The Merlion Park is one of Singapore's main tourists attraction that is beautiful at day and breathtaking at night. The park is a perfect location to take in the beauty of Marina Bay.
A definite thing to do in Singapore at night.
Mohamed Sultan Road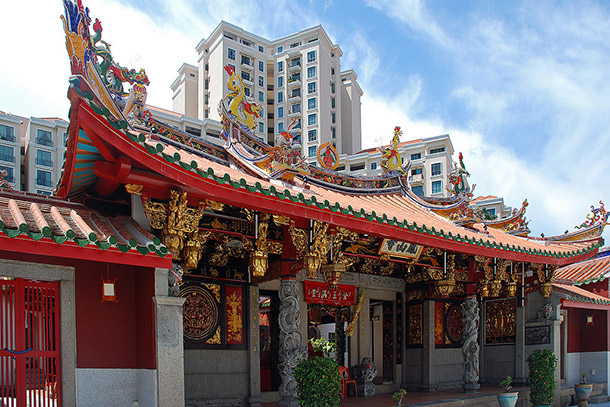 Location: Mohamed Sultan Road, Singapore
The Mohamed Sultan Road is a popular night-spot in Singapore. It is home to conserved shop houses and national monuments like the Hong San See temple.
The area becomes alive at night and is considered to be a pub or club district. It is a major access point for the Robertson Quay area and a favourite night attraction in Singapore.
Mount Faber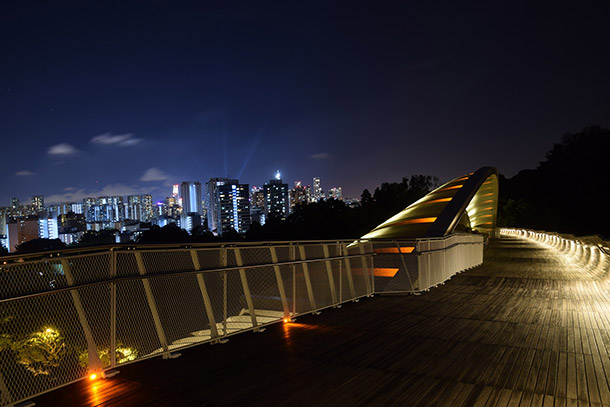 Location: 109 Mount Faber Road, Singapore 099203
Mount Faber is Singapore's iconic hilltop destination with parks, shops and restaurants.
One of its main attraction is the The Jewel Box which houses a retail shop, cable car rides, and five different restaurants and bar concepts. Expect a breathtaking view of Singapore's skyline right here.
Don't miss out a hike on the Henderson Bridge on your visit too. The bridge is basked in gold light at night and is a site that you won't love to miss!
Night Safari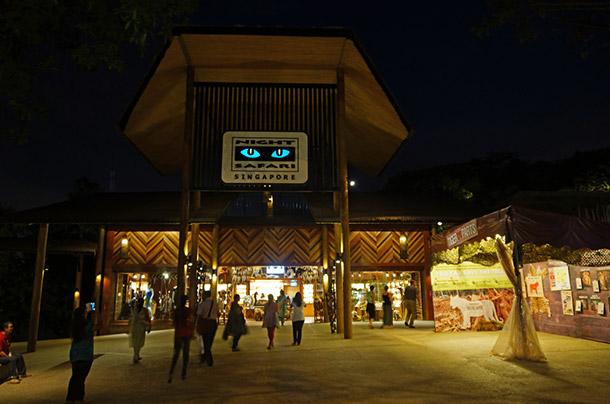 Location: 80 Mandai Lake Rd, Singapore 729826
The Singapore Night Safari in the country is where guests are given a night time tour around the park.
Here, over 1,000 animals can be seen grazing and hunting in their natural environment. The park provides a tram called the Gourmet Safari Express that does not only offer gourmet cuisines but a thrilling adventure throughout the park.
Orchard Road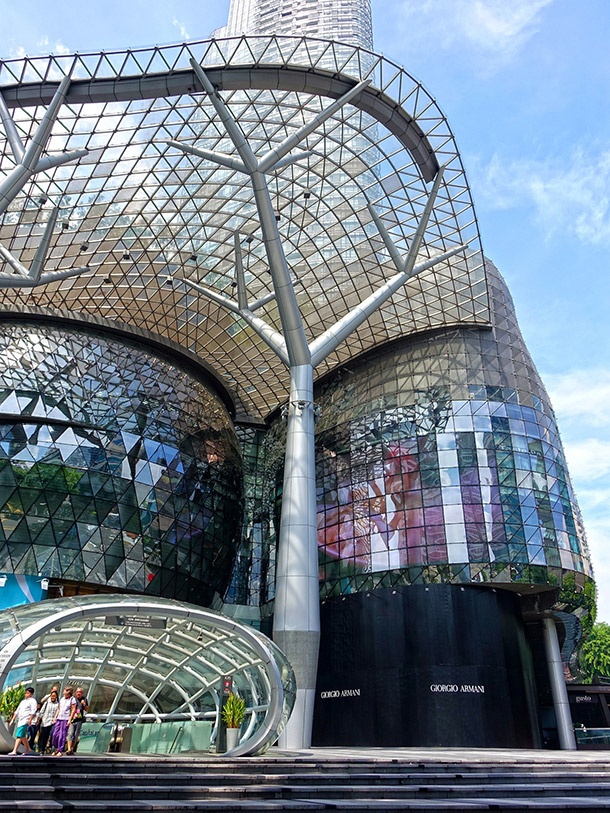 Location: Singapore, Singapore (Downtown Core)
Known as the famous shopping strip in Singapore, the Orchard Road is a one-way boulevard in Singapore that is filled with iconic shopping malls, restaurants and hotels.
It is considered to be a shopper's haven and cosmopolitan playground. The avenue is one great street to visit with great landscapes that becomes even more alive during the night!
Singapore River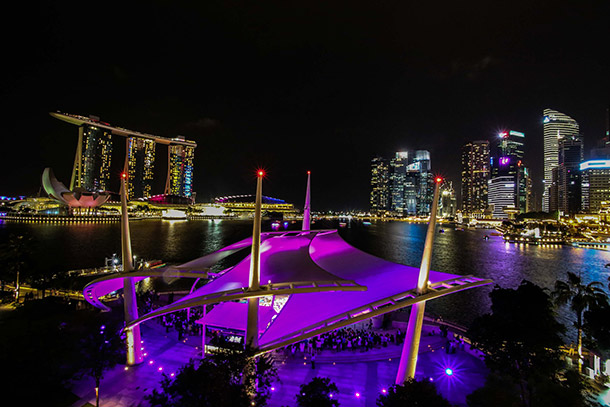 Location: Raffles Landing Site Singapore 049213
A river cruise through Singapore's main bodies of water taken at night is one Singapore night attraction that you wouldn't want to miss.
The cruise travels along the different quays in Singapore (Clarke Quay, Boat Quay, Robertson Quay and Marina Bay) where the city becomes alive with lights.
St. James Power Station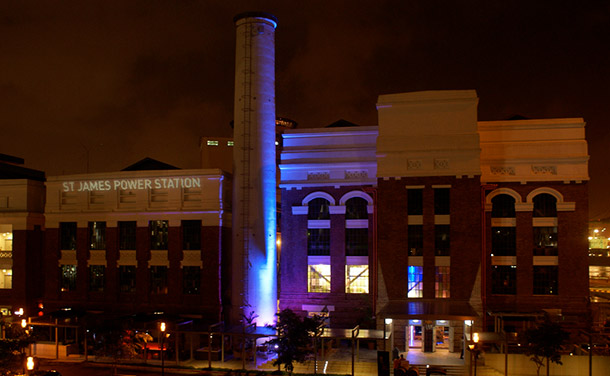 Location: 3 Sentosa Gateway, Singapore 098544, Singapore (Sentosa Island)
The St. James Power Station is a massive entertainment complex. It is the largest all-in-one clubbing destination in Singapore.
The complex has about 10 different venues that caters to a specific music genre.
Gardens by the Bay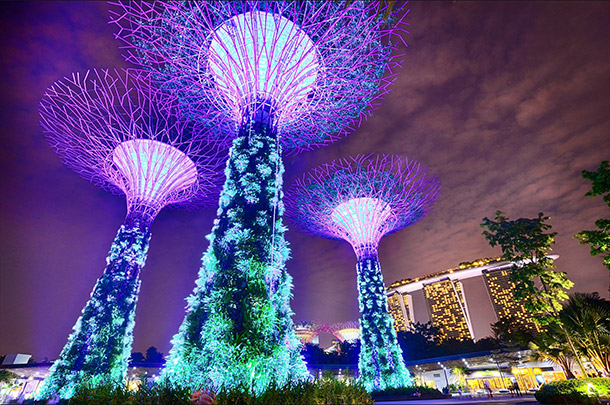 Location: 18 Marina Gardens Drive Singapore 018953
The Gardens By The Bay is a unique nature park at the heart of Singapore. It's a great place to visit especially at night with its colorful structures and amazing views.
Explore it's three (3) waterfront gardens and take in the magic that is Singapore!
Marina Bay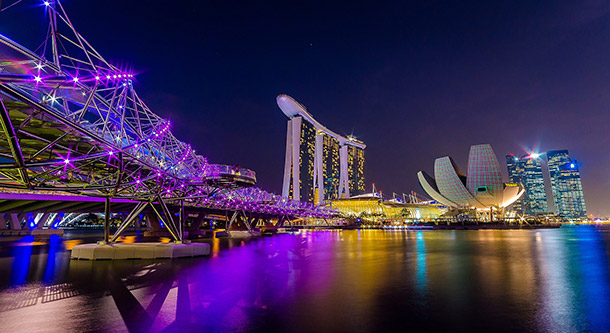 Location: Marina Bay Singapore
Marina Bay is an attraction in itself especially at night. The bay literally lights up with an enticing glow.
You can certainly stroll through the lookout points and watch the Marina Bay Sands and the Helix Bridge twinkle at night.
Singapore's nightlife scene has never been more interesting!
Aside from this great places to visit, you and your companion may want to experience the famed Singapore Night City Tours offered by several companies.
This will guarantee you a full overview of the latest happenings in the city at nighttime!!!
Looking for a place to stay in Singapore? Here's some hotels you'd love to check in!
Like This Post? Pin It!