If you're planning to treat you and your family a nice family vacation somewhere in Asia, you may consider bringing them to Hong Kong! Often dubbed as Asia's World City, Hong Kong's culture is as rich and colorful as its festivals and many tourist attractions. From theme parks to mountain trails to arts and performances to cruises, Hong Kong is indeed one of Asia's ultimate travel destination. Since bringing the entire family on a trip can be tiresome, it is best to entertain them with amusement and theme parks, museums or to a fun show. This will surely keep them occupied and enjoy the vacation more.
For ideas on where to bring the kids, Best Tourist Attractions for the Family in Hong Kong aims to help you decide on the best places to bring the entire family and spend some quality time together!!!
1. A Symphony of Lights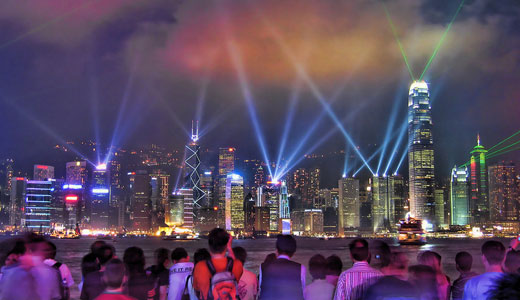 Location: Buildings on both Hong Kong Island and Kowloon
Guinness World Record's World's Largest Permanent Light and Sound Show, the A Symphony of Lights is a multimedia show participated by more than 40 buildings on both sides of the Victoria Harbour. Showcased every night as the weather permits, the show has 5 main themes: Awakening, Energy, Heritage, Partnership, Celebration. Among the favorite vantage points when seeing the show are at Tsim Sha Tsui Promenade, Golden Bauhinia and from one of the boat on the harbor.
2. Dolphin Watching Tour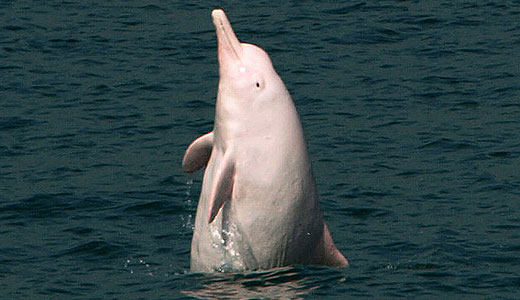 Location: Lantau Island, Hong Kong
Spend quality time with your family with Hong Kong's Dolphin Watching Tours around Lantau Island and Pearl Chau. Famous among these tours are the Pink Dolphins.There are several organizations with tours and cruises that are made available with tour guides to explain their natural habitat.
3. Hong Kong Disneyland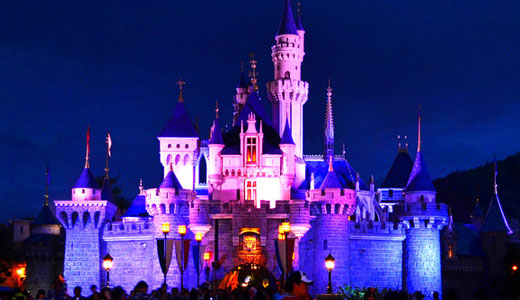 Location: Lantau Island, Hong Kong, China
Embark on a magical journey with your kids through Hong Kong Disneyland. With its four themed lands, namely: Main Street USA, Fantasyland, Adventureland and Tomorrowland. Kids and kids at-heart will have a fun and exciting day enjoying the musical shows, rides, parades and many more.
4. Hong Kong Heritage Museum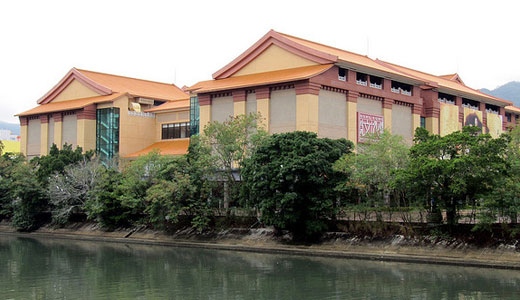 Location: 1 Man Lam Road, Sha Tin, New Territories
Patterned after the traditional si he yuan, also known as a compound of harmoniously blended houses built around a central courtyard, the Hong Kong Heritage Museum is a museum featuring art, history and culture of Hong Kong. The museum is divided into 12 divisions displaying relics that tells the history, culture and arts of Hong Kong and South China region.
5. Nan Lian Garden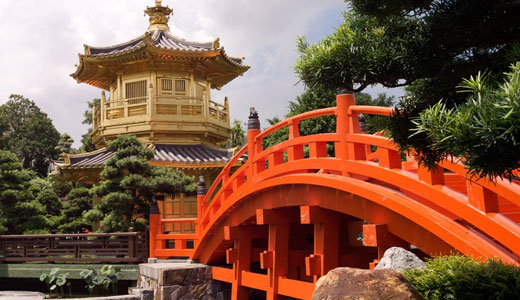 Location: 60 Fung Tak Rd, Honk Kong, Hong Kong
A Tang-styled landscaped Chinese garden, the Nan Lian Garden is famous for its beautiful, colorful and scenic view with a tranquil and serene atmosphere. A perfect place to spend a quiet and relaxing day with the kids. The garden is actually located in urban Kowloon. Noise barriers shield the garden from the sound of traffic and the trees placed inside the garden filters the dust from the surrounding area.
6. Ngong Ping 360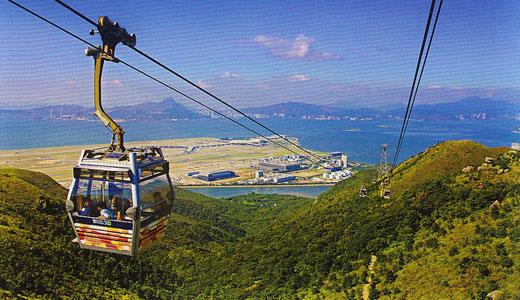 Location: 11 Tat Tung Road, Tung Chung, Lantau Island, Hong Kong, China
One of Hong Kong's must-see attractions, the Ngong Ping 360 is a tourist attraction with cable cars and a themed village. The Ngong Ping Cable Car is a 5.7 km cable car journey that travels between Tung Chung Town Center and Ngong Ping on Lantau Island. The ride offers a spectacular panoramic views of the Hong Kong International Airport, South China Sea, the Tian Tan Buddha Statue, and the North Lantau Country Park. It's Ngong Ping Village is a cultural themed village that incorporates two of Lantau's major tourist attractions: Walking with Buddha and the Monkey's Tale Theater.
7. Noah's Ark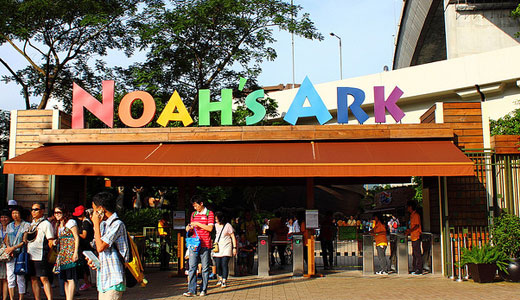 Location: 33 Pak Yan Road, Ma Wan, New Territories, Hong Kong
Considered to be the only full-size replica of Noah's Ark in the world, the Noah's Ark at Ma Wan Park is a favorite tourist attractions for families with its various activities and exhibits. Few of its popular activities or places to visit in the park is its Solar Tower, Solar Tower Camp, Ark Special and the Ark Garden.
8. Ocean Park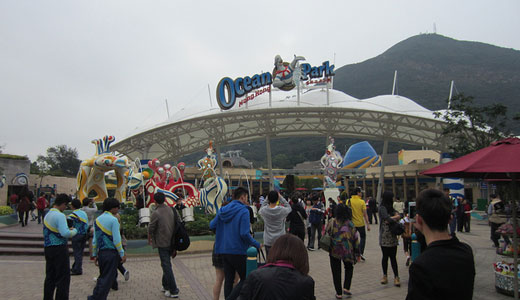 Location: Wong Chuk Hang, Hong Kong Island
The Ocean Park Hong Kong is a marine-life theme park with animal exhibits, rides and shows. Not only does it provide a fun and exciting experience, but an educational experience as well. In fact, the park has been awarded as Asia's first winner of the biannual Applause Award.
9. Repulse Bay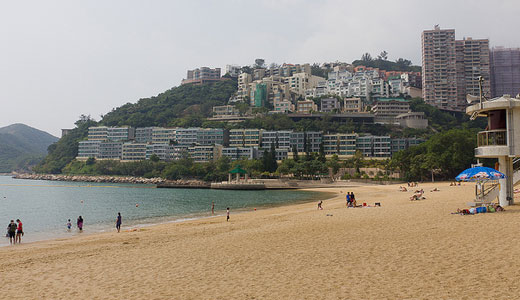 Location: Beach Road, Repulse Bay, Hong Kong Island
A day in the beach will surely lighten up kids of all ages. Visit one of Hong Kong's beautiful beaches, the Repulse Bay. It is a crescent-shape stretch of island with wide, wave-lapped beach that is perfect for strolls, sun-bathing and lounging around.
10. Snoopy's World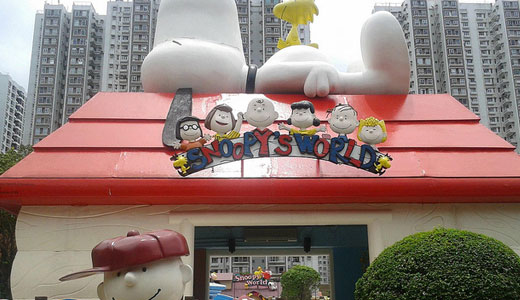 Location: L3 ShaTin New Town Plaza, New Territories, Hong Kong, China
Snoopy's World is a small theme park great for small kids. Divided into 6 small zones of 'amusements', namely: the Doghouse Entry, School Plaza: Peanuts Academy, Boating Canal: Canoe Ride, Baseball Playground: Peanuts Dugout, Mini Town Area: Peanuts Boulevard, and the Community Hall: Snoopy Wedding House. The park is a great place for Peanut-lovers out there.
11. Stanley Market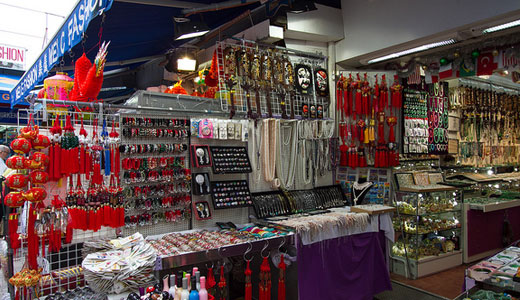 Location: Stanley Beach, Hong Kong, China
The Stanley Market in Hong Kong is a must-go place in Hong Kong if you and your kids are looking for souvenirs. Here, interesting shops with enormous selection of brand-name clothing items and accessories, home furnishings and many more are available.
12. Victoria Peak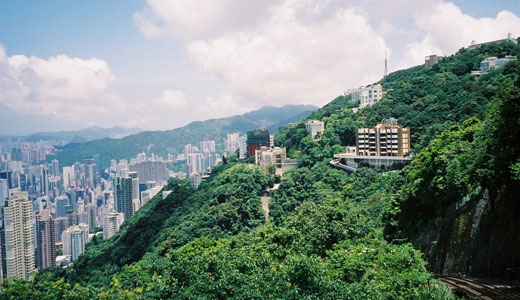 Location: 1 Lugard Rd, Hong Kong, China (Formerly Tai Ping Shan)
Hong Kong's highest point, the Victoria Peak is a favorite tourist destination in Hong Kong where several of Hong Kong's tourists attractions are located including Madame Tussauds Hong Kong, Ripley's Believe It or Not! Odditorium, and the Peak Explorer Motion Simulator. Aside from these, this part of Hong Kong offers a spectacular view of Hong Kong's skyline.
Always remember that spending time with the family should never be about the amount of money you spend with them but about the quality of time that you spent it together.
Planning on going with the family? Check out these hotels for your accommodation!
Like This Post? Pin It!