While scouting for a place to stay for a couple of days on our 2nd wedding anniversary, we came upon Solea Mactan Resort in Mactan Cebu. The resort was already in our radar months ago and so I now finally have a reason to book a room.
The resort has been in Cebu not too long ago and is still under construction in some parts. When you visit, you'll notice construction works still on-going.
But, despite that, you'll indeed admire the resort's landscape and relaxing ambiance.
We went to Solea as an anniversary getaway, just like our Pacific Cebu staycation last year. My sister, who also wanted some beach time decided to go with us. So we were a group of 4 adults and 3 children in total.
If you are also looking for a nice quick getaway from the city, Solea Mactan Resort is a nice option for you. Here's a quick review of why it is!
How to Book a Room at the Solea Mactan Resort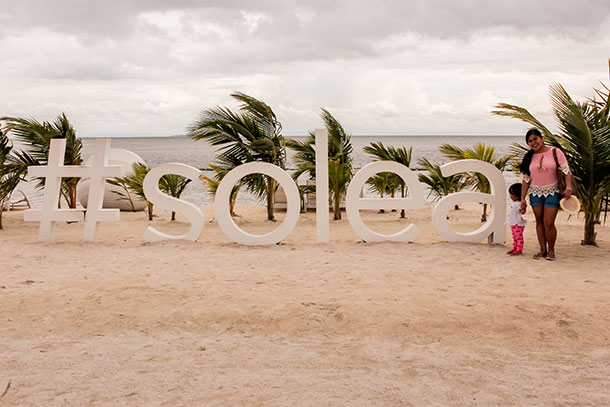 Room reservations can be done via the resort's website and by calling their hotline. My sister booked a room through it and got the room regular price.
We, on the other hand, booked a room through Agoda, which is my favorite platform at the moment. LOL. I was able to avail their discount in a room with amazing views.
There are 2 Solea Resorts online though: the Solea Seaview Resort and the Solea Mactan Resort. They are the same company and share the same amenities as we have discovered. But personally, I would prefer booking a room at the Solea Mactan Resort since their building is much newer.
How to Get to the Resort
Location: Juan Wahing Street, Cordova, 6017 Cebu
Solea is located in Cordova, Cebu. The area is a bit far from the town center.
To get here, you'll have to take the v-hire from SM City Cebu going to Cordova. At the terminal, hire a tricycle to take you to Solea.
If you are driving as we did, you can simply follow the route below:
They have open parking at the back of the resort, right next to the kids' pool and playhouse so you don't have to worry about leaving your car for the night. There is no parking fee.
Checking In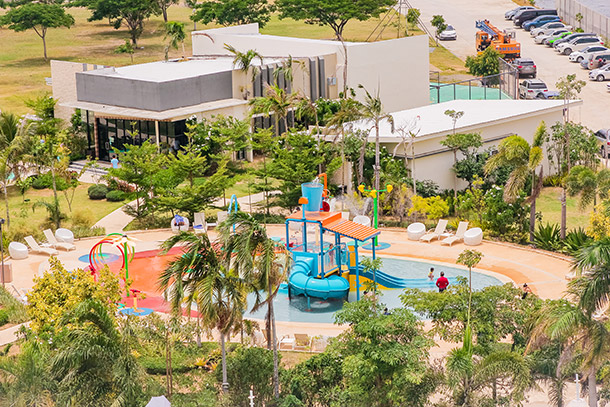 Checking in at the resort is easy and starts at 3 PM.
There were plenty of people at the time of our arrival too. So it took a few minutes before I was entertained at the reception area.
Since my sister had already booked a room the day before, we opted to try their early check-in. Unfortunately, the room wasn't available yet so we just decided to leave our things at my sister's room.
While waiting, the receptionist gave us a towel card in case we wanted to swim in one of their pools. It was a family trip so I was anticipating that my daughter would want to take a quick dip.
Good thing that we did because my daughter decided that she wanted to get wet at the Kiddie Pool. LOL.
By 2 PM, we decided to try if the room was already available. Fortunately, it was, so my sister and my brother-in-law helped me transfer the stuff while my husband and daughter were taking a swim.
We were also asked to deposit 1,000 Php just in case there were some fees we need to pay. I think it varies depending on the number of heads because my sister had to pay 1,500 Php (they were 2 adults and 2 kids).
Room Rates at the Resort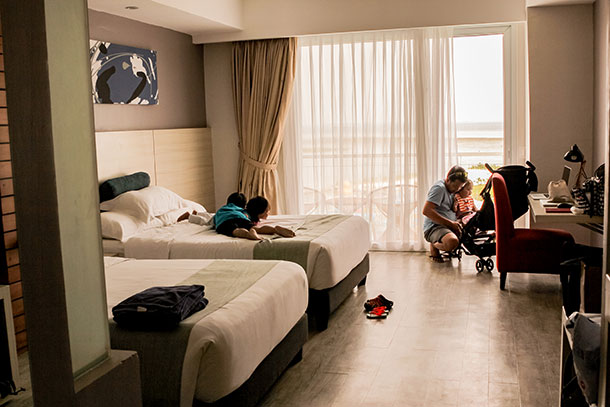 We booked a Premier Sea View Room via the booking website. For a nightly rate of 7,754 Php, we enjoyed their breakfast buffet, pools, and gorgeous sea views from our 6th-floor room.
Our room had the usual amenities: free WiFi, flat-screen TV, air-conditioning unit, a bathtub, and a mini-fridge.
There were also free snacks on a basket upon our arrival: some chips and soda. They also left us some sweets on the first and second night.
They also have welcome drinks that you can use in any of the bars in the resort. We availed ours on the rooftop bar and liked the views from up there while sipping ice-cold drinks.
Resort Amenities
One of Solea's best asset is its spacious area. They have plenty of areas for people to stroll around.
You can easily spend the day just enjoying the view either from above your room or from the beach.
Booking a room at the resort means that you can enjoy the various amenities of the resort. Some of them are:
Restaurants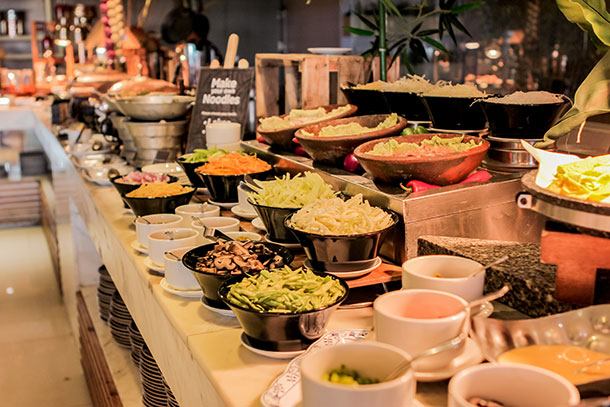 The resort had a total of 3 restaurants including the rooftop bar and 2 restaurants on the ground floor. They serve their breakfast buffet at the Earth Restaurant on the ground floor.
They also have buffet lunch in the same area which costs around 1000+ for 2 persons. We never got a chance to try it though because we opted to buy ala carte.
So far they have delicious food and generous serving per dish. I also liked how attentive their servers are. They also find ways to make your dining experience great.
During breakfast, they'd serve fresh fruits for you without asking and even some freshly cooked bacon on a plate.
Swimming Pools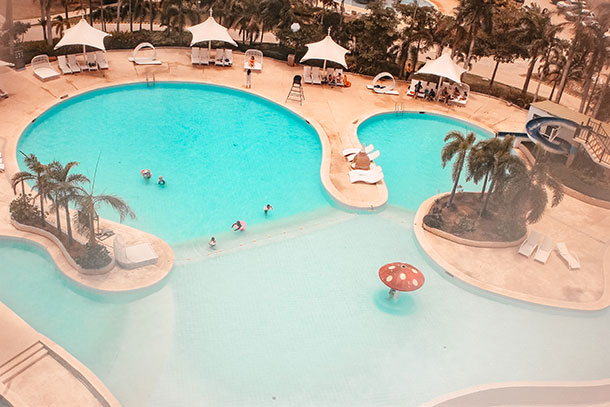 One thing that I liked about Solea Mactan Resort is their swimming pools… And boy do they have plenty!
As a guest, you'd get to enjoy not only one but 6 pools! Imagine that!
You can never have too many people sharing the same pool. haha.
They have children-friendly pools and pools with slides that kids and adults will love (although the slide wasn't that much thrilling as my sister and husband discovered). I think it wasn't as steep as they were hoping it to be. LOL.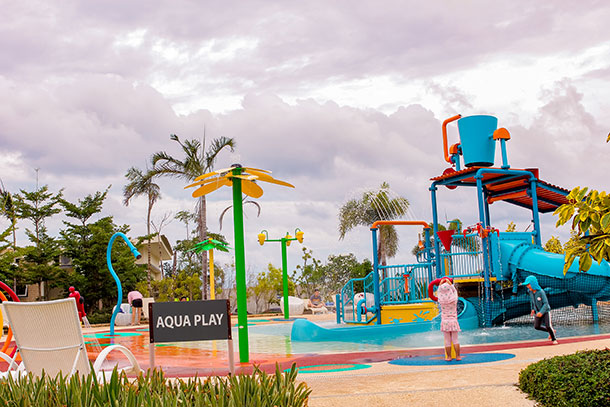 Both my nephew and my daughter enjoyed the children's pool or Aqua Play with its slides and buckets of water falling on the pool.
What I didn't like though was how the area near the infinity pool (which is near the reception area) would get wet. I think the location was not very ideal.
In fairness to the hotel staff, though, is that they try their best to keep it dry. They have stationed staff to wipe the floor every time and there is a vacuum of some sort near the wet tiles to help dry them off.
Pool towels are available near the infinity pool. You will just give your bath card to the person-in-charge and they will give you 2 pieces of towel.
The towels should be returned to get the card back. You will have to present the card back to the reception during check-out.
Water Park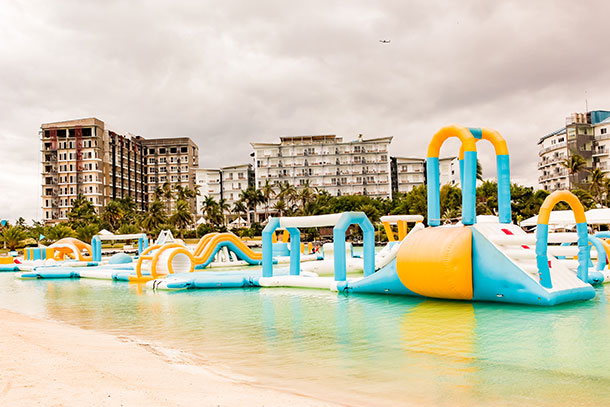 One of the fun things about Solea is their waterpark. It is a fun and challenging inflatable park.
The resort has a stricter policy when using the waterpark. You'd have to get this paper bracelet that serves as a pass that you can use the inflatable.
You can get the pass at the booth in between the Aqua Play and the Playroom. During check-in, you will be given this small paper that you will have to show to the in-charge. In return, you will be given the paper bracelet and a life vest.
We tried it and, let me tell you, you have to be prepared to fully enjoy it. The inflatable can be too hot at noon so the most desirable time is in the afternoon.
I strongly recommend that you wear a rash guard and long elastic pants while doing the activity. It can cause scratches on the hands, knees, and legs.
I didn't continue the course since I felt that my knees and hands were already raw. The shorts I was wearing shorts at that time was not a wise choice.
But my husband and sister did and it was entertaining to see them sliding on the inflatables and falling into the water. Haha.
Kids' Playroom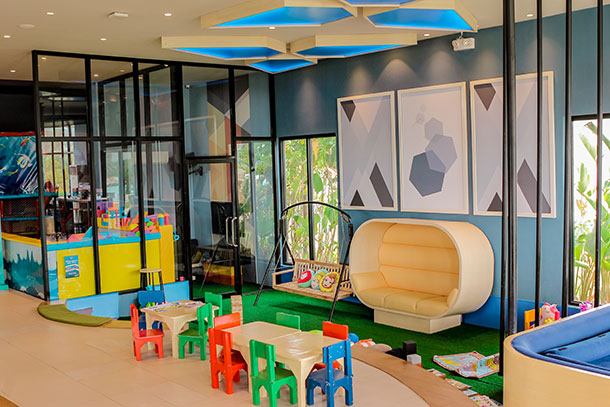 The resort's playroom is also great to spend time with your kids. The fee is already included in the room though we were forced to purchase some socks for the kids. We weren't able to bring any.
They had a pen filled with balls, some slides, trampoline, and some obstacle maze. There were some blocks and usual toys found in the regular playhouse.
A space with some books and crayons is also present. Aside from the toys and activities for kids, they also had some games for bigger children and even adults.
There were arcade games, a billiard table and a computer set that you can rent for an hour. Bicycles and hoverboards can also be rented here.
Check Out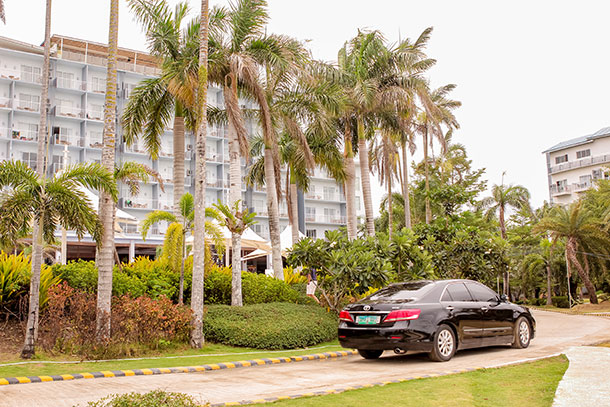 On the day of our check-out, I have already prepared our stuff earlier in the day to avoid delays. We opted first to let my daughter have her last swim at the pool before packing everything up.
Thankfully she didn't throw any tantrum when we finally told her to say 'bye-bye pool'. She just peacefully said bye-bye and let her father carry her back to the room where we changed and finally went down for check-out.
As expected, there was a queue so we had to wait for a few minutes. I even asked my husband to bring the rest of our things to the car while I wait for my turn.
Once we got our deposit back and the room was checked, we were ready to leave. But not before enjoying the view first.
My husband went to rent a bicycle while my daughter and I enjoyed a leisure walk to the beach. We also allowed her to play with the sand – something that she wasn't able to do the past few days we were in Solea.
Satisfied with our day and not wanting to get caught up in the traffic, we left the resort in high spirits.
Resort Overview: Over-all Verdict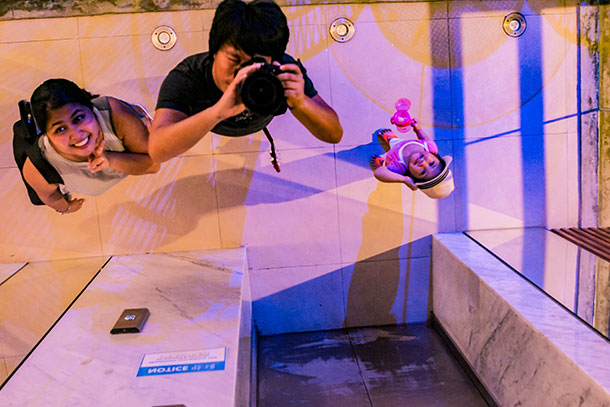 Over-all, we enjoyed our stay at Solea Mactan Resort. The food was expensive, true, but the service and their staff entirely made up for it.
The resort has got to have some of the most attentive people employed by any resort.
We loved our room too and enjoyed their facilities including their delicious meals. This, in my opinion, is what makes Solea Mactan Resort a recommended resort!
Like This Post? Pin It!