Are you visiting Taipei for a few days? Then a visit to the various Taichung attractions is warranted. If you need help planning a quick day trip of things to do in Taichung, this next post will help you!
Taichung is a city on the western side of central Taiwan. It is popular for its rich history and beautiful natural scenery.
The city is one of the best city to live in because of its pleasant weather. It is home to various innovative industries, recreational facilities, and shopping centers that make it a lovable place to live in.
When we visited Taiwan a few months back, we also got an opportunity to visit Taichung. Despite it being a last-minute addition to the itinerary, it was one of the best decision we've had.
If you are planning on visiting the city to see the Taichung attractions, here are some of our recommended things to do in Taichung for day trips!
How to get to Taichung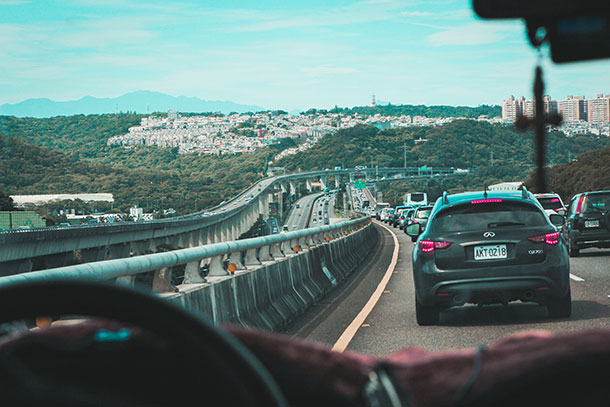 There are many ways to reach Taichung from Taipei. Below are some options for you if you to choose to do the tour by yourself:
By high-speed rail.
The high-speed rail is the fastest, reliable and the most comfortable way to reach Taichung. It is much more expensive than the train or the bus.
Travel time from Taipei to Taichung via the high-speed rail is around 40-70 minutes. Prices start at 670 NTD to 1,060 NTD depending on the ticket class.
By train.
Another way to reach Taichung is by train or TRA. It's more reliable but cheaper and will set you back 241 to 375 NTD. Travel time via TRA is from 2-3.5 hours.
By bus.
The bus is the easiest and convenient way to reach Taichung. While it is true that it is slower and often delayed by traffic, it is the cheapest and costs at around 220-260 NTD.
Travel time of the buses is 2.5 hours on a regular schedule. But if you are in a rush, the bus may not be a good option though.
By taxi or limousine
Taking the taxi or limousine is the most expensive mode of transport going to Taichung. Costs range from 3,500-5,000 NTD and will take around 2 hours depending on the traffic.
How to Book a Day Tour
If you don't want to arrange the trip for you, there are tour groups that can take you there. Ours was booked through our friends at Ludify Trips.
A van was waiting for us at 8 AM outside the Pillow Hostel where we stayed. Our guide was a local so communicating was a bit tricky. Good thing that he had this device that communicated in English to us which was helpful.
It was a Joiner's Tour and so two other Pinoys also went with us. Although we picked them up at the Ximen Train Station.
Tour Costs and Entrance Fees
The tour costs 1,800 NTD per head. This includes the vehicle for the entire trip, the guide, the reservation fee and the entrance fees for the trip.
Although the entrance fees were paid upon arrival at the specific Taichung attractions.
Entrance fee for the Houli Flower Farm or Zhong She Flower Market was at 150 NTD and 250 NTD for the Xinshe Castle. We had to pay an additional 200 NTD for lunch at the Flower Farm.
So in total, the amount was at 2000 NTD per head.
Things to do in Taichung
When visiting the city, here are some of the things to do in Taichung.
1. Visit Taichung attractions.
One of the top things to do in Taichung is, of course, visiting its top Taichung attractions.
We know that visiting all of Taichung attractions in a day is impossible. That said, planning a day trip can be pretty easy as long as you know where to go.
Here are some of the Taichung attractions that you'll need to visit.
Houli Flower Farm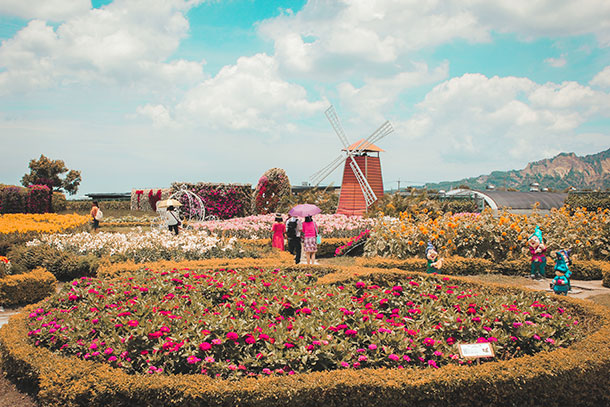 The Houli Flower Farm, also known as the Chung-She Tourist Flower Market is the first stop in any day trips to Taichung.
Its a spacious area with fields of flowers that reminded me of Sirao in Cebu, but has more flowers that you can enjoy taking photos of. Aside from the flowers, there are cute little structures and small pieces of furniture in the area for photo opportunities.
Families can also spend an afternoon here with its a family fun park and a playground for children.
Ticket Price: 150 NTD entrance (January-March) and 120 NTD (April-December). If with unlimited BBQ the price is at 350 NTD (Oct-May) and 300 NTD (June-Sept).
Summit Resort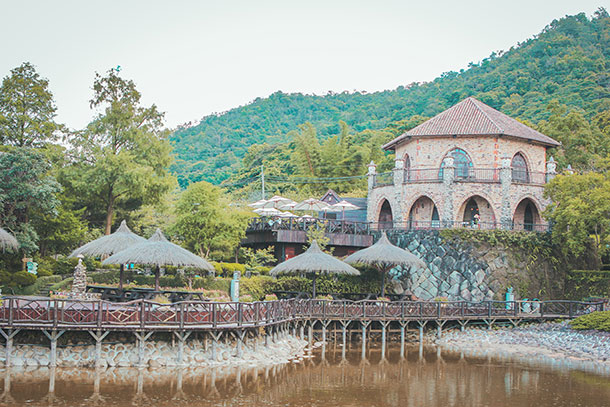 The Summit Resort is home to the famous Xinshe Castle. It is a European medieval fort in Taichung that is popular for its landscaped garden and fairy-tale like structure. Aside from the castle, there is a restaurant, a wine chateau, a pond, a waterfall, and a garden that guests can enjoy.
This was our second stop for the Taichung Day Trip right after the Houli Flower Farm. The entrance fee had a consumable worth 100 NTD that you can purchase at any restaurant in the area.
To be honest, we thought that the food was pricey so we opted to just purchase some milk tea at the Cafe. I think we added 50 NTD on the total bill per head as it was not enough.
Ticket Price: 250 NTD
Rainbow Village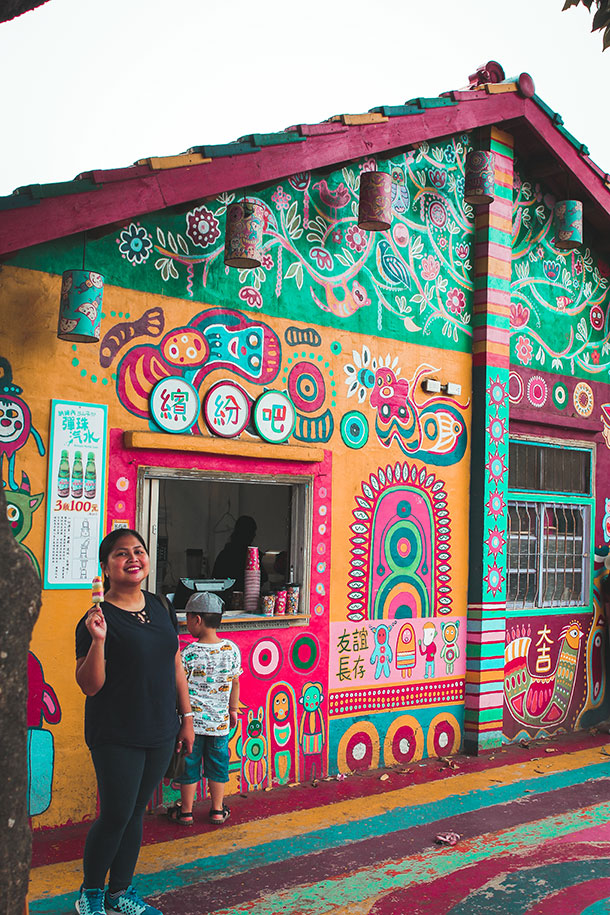 The Rainbow Village, also known as the Rainbow Military Dependent's Village, is a popular spot for people who love taking photos. It is famous for its beautiful and colorful painting on the walls of the buildings.
It is just a block of small houses, that was preserved. I was expecting something bigger. But when you look at it closely, you'll understand the art and the passion of the artists who have colored these small structures.
It was said that the government planned to demolish the buildings, but after a thousand petition, it was discontinued. Today, the Rainbow Village is a popular Taichung attraction that draws people in to take a snap or two.
There are some yummy and colored sweets that you can purchase at one of the establishments. It is perfect for a hot day!
Ticket Price: Free
Gaomei Wetland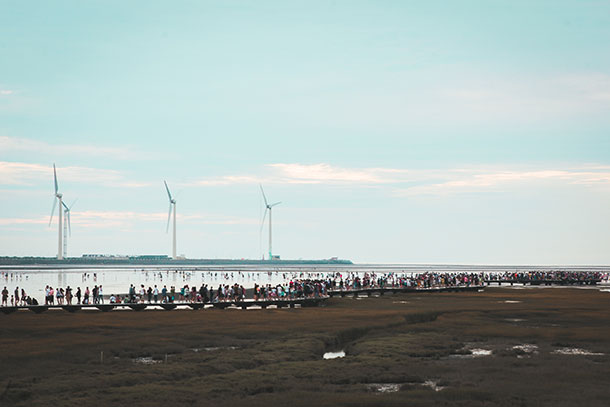 The Gaoemi Wetlands is a thousand hectares of land with over 120 species of birds calling it their home. There are sedge grasses here that make it distinct from the rest of the area.
Because it is a protected area, there are certain areas where people are allowed to enter. It is not near any public transport too, so coming here meant that you'll have to take a private vehicle with you.
There is also a huge parking area nearby where you can park your car, so that'll be one last thing to worry about.
Ticket Price: Free
2. Take Instagram-worthy photos.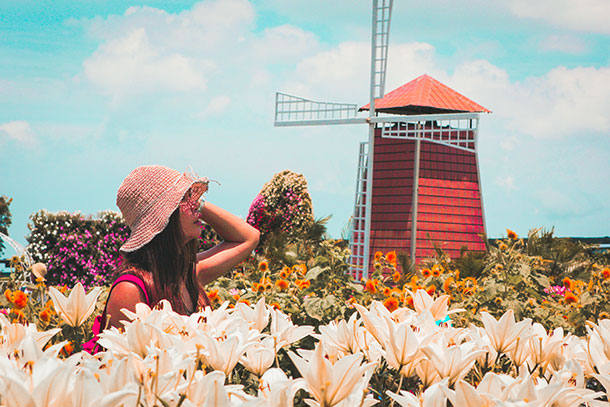 One thing that I noticed about Taichung is the photogenic places we have visited. This includes the flower farm and the rainbow village.
If you are into IG, then these two places should be high up on your list of things to do in Taichung.
If Instagram is not your thing and you just want some gorgeous shots, the sunset at the Gaomei Wetlands is amazing! Xinshe Castle also offers great photo opportunities for couples too!
3. Eat all the barbecue you want.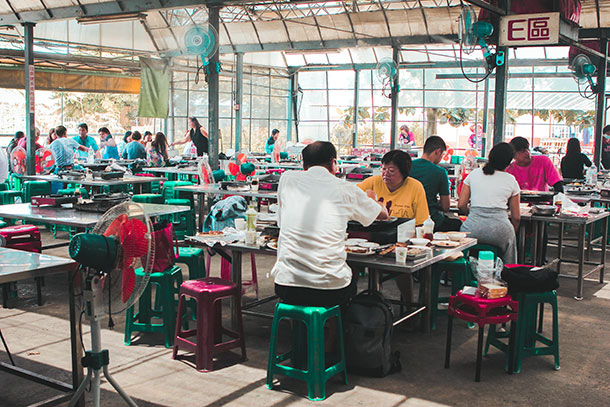 If you love to barbecue, then you can feast on some at the Unlimited Barbecue offered at the Houli Flower Farm. You'd just have to add another 200 NTD to the entrance fee and you can have lunch there.
We decided just to have our lunch there because we were already running late. I think we arrived in Houli at around 11 AM. We were caught up in the traffic going to Taichung from Taipei. And we didn't want to risk getting hungry on the road.
The food was unlimited including the drinks and the rice (we Filipinos can't live without rice, you see. 😀 )
4. Go back time at a medieval castle.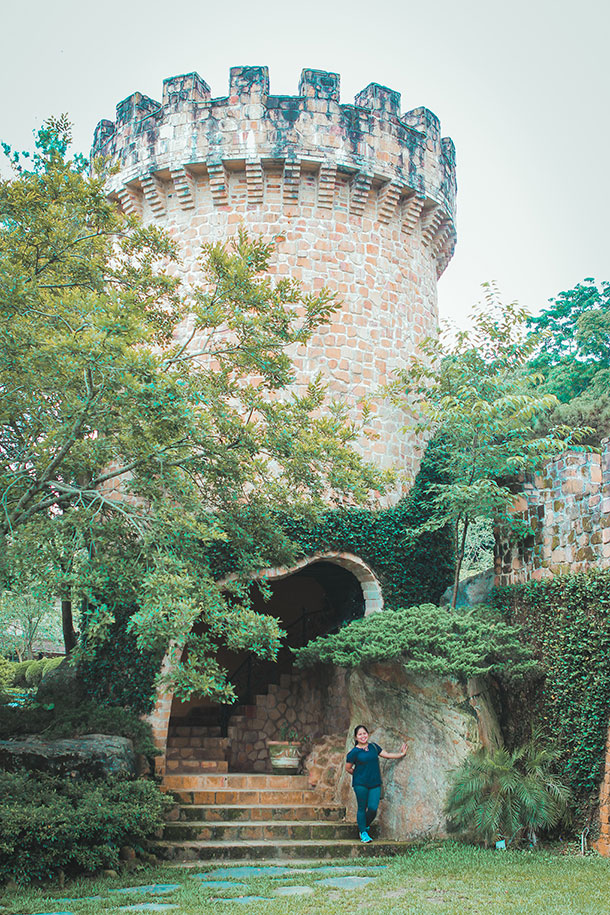 If you love medieval times, you'll enjoy spending the afternoon at Xinshen Castle with its turrets and gorgeous garden.
You'll love the wide beautifully landscaped garden at the castle for sure, just like we did. It is spacious that you can easily spend hours enjoying the view and taking photos.
5. Be a kid and enjoy the sunset at the wetlands.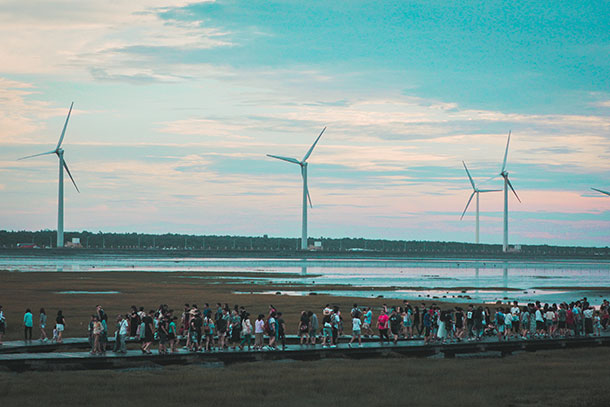 Another list on the fun things to do in Taichung is watching the sunset at the Gaomei Wetlands. The view is lovely, but it can be too crowded during peak season.
There were also kids playing in the water. And if you want, go ahead and enjoy the water too.
There are windmills in this area and a long pathway leading to the beach. It kind of reminded me of the Bangui Windmills in Ilocos and it felt like being back in the Philippines, somehow.
I remember seeing people selling food here so you can grab a bite or two if you are feeling hungry.
6. Eat fresh fruits
If you love eating fruits, then you will enjoy buying some delicious and huge fruits at the Rainbow Village. Our guide was very thoughtful and brought some delicious guava for each of us.
These were sold at the back of a van or mini-truck that was parked near the Rainbow Village.
What to expect and travel tips.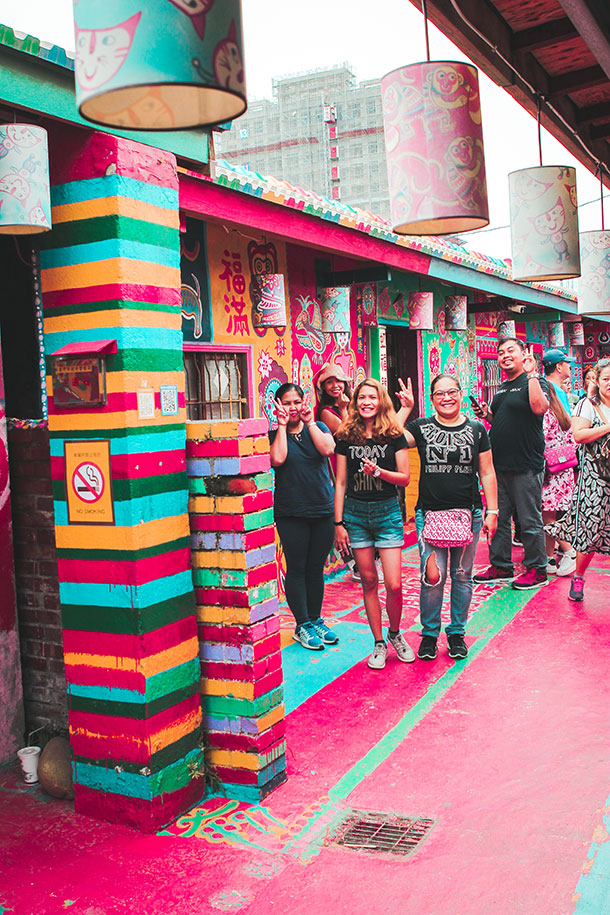 To fully enjoy your day trip to Taichung, here are some of the things that you should bring and remember:
1. Stay hydrated and bring lots of water for your trip to Taichung.
2. You can also bring some snacks while on the road. The traffic can be pretty bad at times.
3. Wear comfortable clothes during the trip.
Have you ever been to Taichung? What was your most favorite place to visit?
Share it with us in the comments below!
Like This Post? Pin It!