Where you stay, often makes or breaks your vacation. And we are glad that our stay at the Hale Manna Coastal Gardens in Moalboal (Philippines) made our family trip a memorable one.
Hale Manna Coastal Gardens, also known simply as Hale Manna Resort is a peaceful oasis in Basdaku, Saavedra, Moalboal. The area is popular for its gorgeous coral reef and abundant marine life.
Our family has always been a fan of the area and would try to visit at least once a year. And this year was quite memorable because it was our first, and hopefully not the last, family getaway for the year.
The trip was almost a last-minute decision because of certain restrictions, but looking back, I am glad that we pushed through.
After all, nothing beats going on an indefinite hiatus than a last-minute getaway beforehand.
How to Book a Room at the Hale Manna Coastal Gardens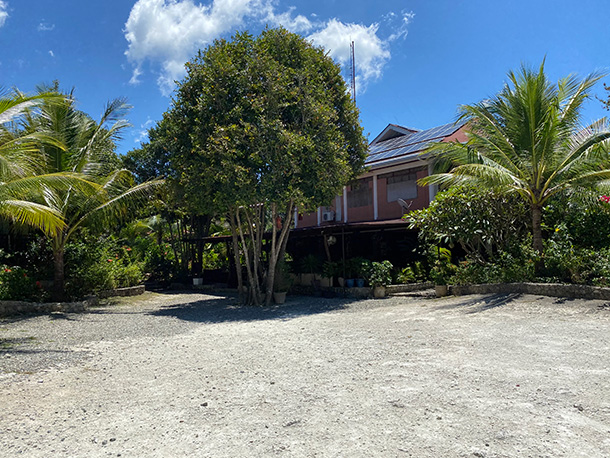 Booking a room at the Hale Manna Coastal Gardens can be done in several options:
Call them on their landline number at (032) 353 0596.
Visit their website to book and to get more details about the resort.
Send them a message through their FB page.
Ours was done via phone call. We were also required to pay 2,000 Php for the down-payment beforehand. My sister paid through bank deposit. The amount is deductible to the total bill during check-out.
How to Get to Hale Manna Resort
The resort is located in a quiet area of Moalboal. It is near Club Serena Resort and the Bigsand Campgrounds Resort.
If you are traveling from Cebu City, it is a 2.5-3 hours drive, depending on speed and traffic. You can check out this route for guidance:
For those who are commuting, you can easily take the bus or van from the South Bus terminal. Remember to ask the ticketing officer first before hopping on board. This is to ensure that you have enough cash with you.
Alight at the bus stop and get a motorcycle to take you to the resort. It is far from the main road, so walking is not an option. Especially if you have your luggage with you.
Note: It is important to note that due to the present conditions, commuting to the resort may be difficult. Guests are recommended to take a private vehicle or arrange transportation with the resort, instead.
Checking In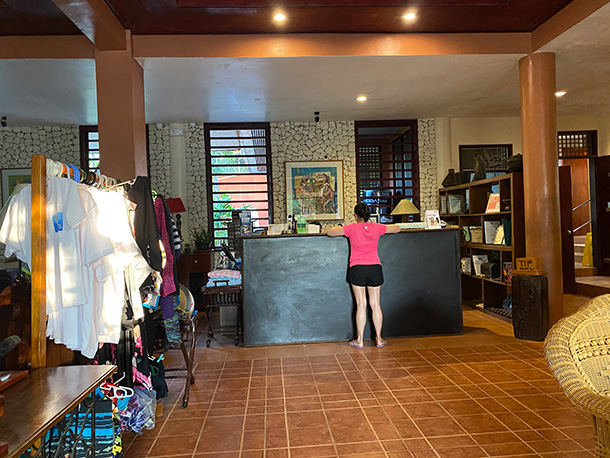 Checking in at the resort was convenient and hassle-free. After checking our booking details, we were directed to our room right in front of the beach.
We arrived there at around 1 PM. Their check-in time was 2 PM so we assumed that the room was not yet available. Good thing that it was so we were able to settle in before check-in time.
Room Rates at the Resort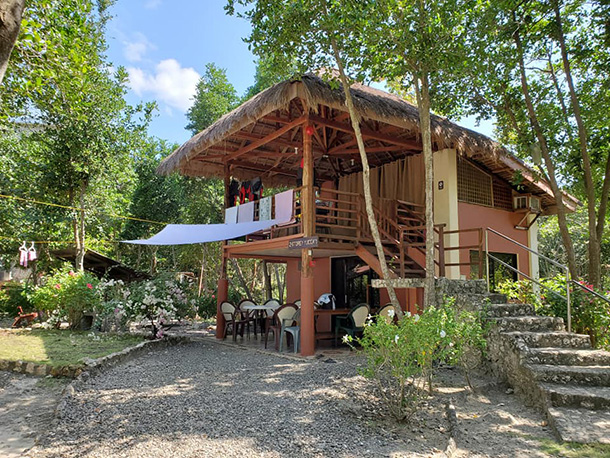 Rates vary depending on the room type. The resort offers superior rooms, pool-view rooms, special rooms, family rooms, and barkada rooms.
Price starts at 3,900 Php to 9,300 Php. Some rates do not include breakfast, so make sure to inquire before booking.
We decided not to avail of the breakfast and instead ordered ala-carte, which was a wise move. They had generous servings so it was enough for us.
Our room was 'Room 11' which was a 2-story family room. It is good for 7 persons and we were a pretty large group (9 adults and 3 children). We had to add 950 Php per head for the extra beds.
We had our comfort room, a terrace, and both rooms were air-conditioned. We had a bit of a problem with their ACU on the second floor on the first night. Good thing that the management fixed it up the following morning.
We also had an amazing location as we were close to the beach and the pool. There was a swing too, that my father likes to sit on to pass the time.
Resort Amenities
What we loved most about the resort is that it has a homey and relaxing ambiance. They had a pebble-paved path around the resort. Plus there were lots of plants around.
If curious, here are some of the resort amenities that we enjoyed.
Restaurant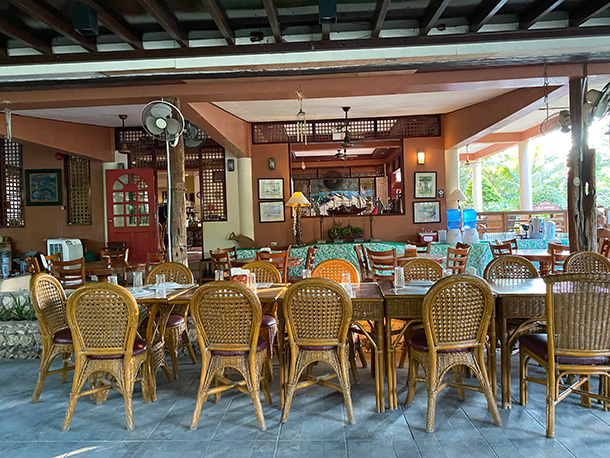 Hale Manna Coastal Gardens only had one restaurant that serves food to its guests. It is pretty spacious with dining options inside or at the patio.
As mentioned earlier, they have generous servings for a reasonable price. Meals range from 180 Php to 295 Php per dish.
Their restaurant opens at 7 AM, but you can arrange for early meals (if you are going on an island-hopping adventure). You just have to arrange it with the staff beforehand.
We also ordered our food the night before (for breakfasts, the following day). It was a good thing because the food was already ready by the time we arrived.
Beach and Swimming Pool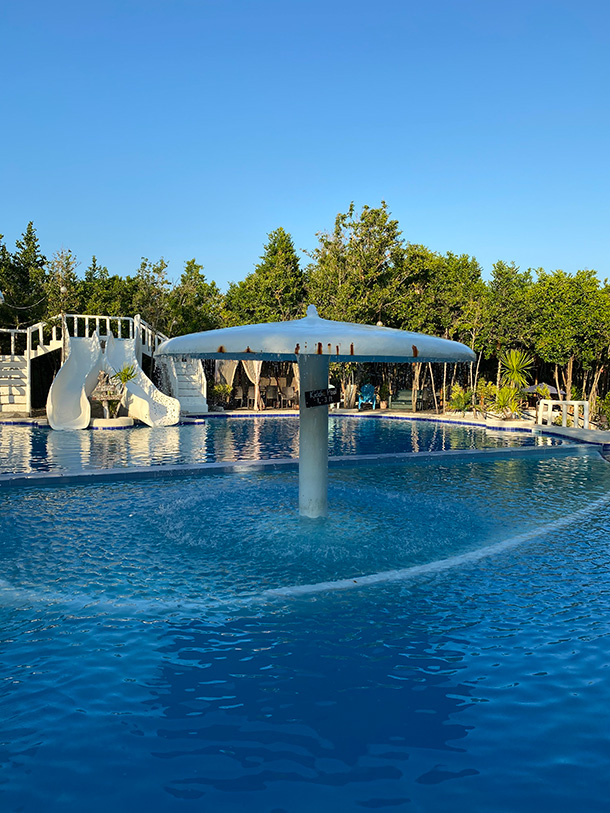 Moalboal's beach is one of those places in the area that we can never get enough of. The resort has a floating raft near the reef drop off.
If you love snorkeling or diving, this is a wonderful place to enjoy the colorful reefs and abundant marine life.
They also have 3 saltwater pools within the resort that is reminiscent of the lagoon at the Plantation Bay Resort in Mactan, Cebu. The pools are for kids and adults, so you can enjoy it with family and friends.
Water Sports and Activities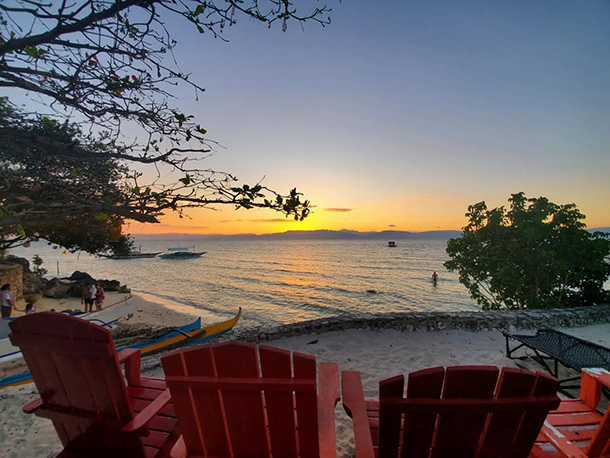 If you enjoy water sports, the resort also offers kayaking activities, on top of the snorkeling and diving.
The kayak was already included with our room fees, together with the snorkeling gear, life vests, and beach shoes.
If you want a break from the water activities, the resort also has board games available, a billiard, mini-golf (putting and chipping), massage services, and even a library for book worms like me.
There are beach huts and chairs, dotted in the area too. So you can just stay outside and enjoy the view and the fresh air.
Day-Use Options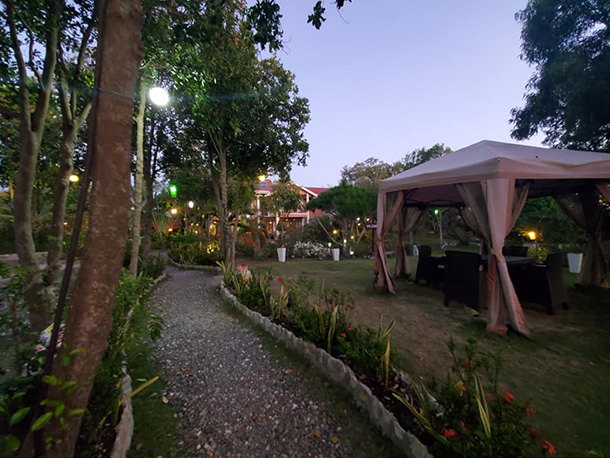 If you opt not to stay for the night, the resort has day-use options for interested visitors.
The rate starts at 450 Php per head, although children below 3 are free, and kids between 4 and 8 are at half-price.
The fee includes the use of the swimming pool and sea amenities.
You will need to reserve beforehand and rent a beach hut while there. There are no corkage fees too, so you can bring your food.
Check Out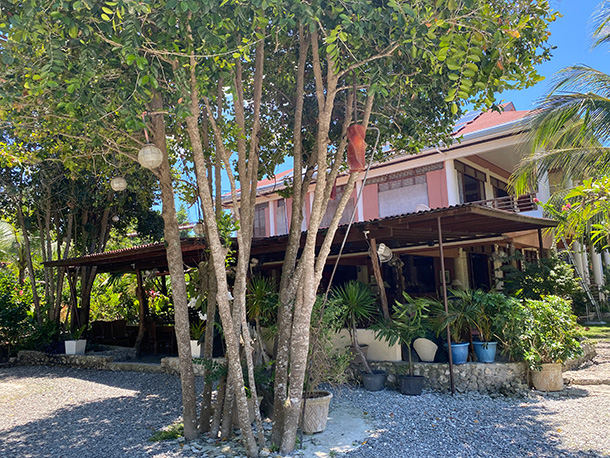 Check-out is at Noon and you have to pay 500 per hour, per room if you want to check out at a later time.
The check-out process was also convenient. Our food bill was computed during this time and it was handled efficiently.
We had a long drive ahead of us, so we had our lunch first before driving home.
Resort Overview: Overall Verdict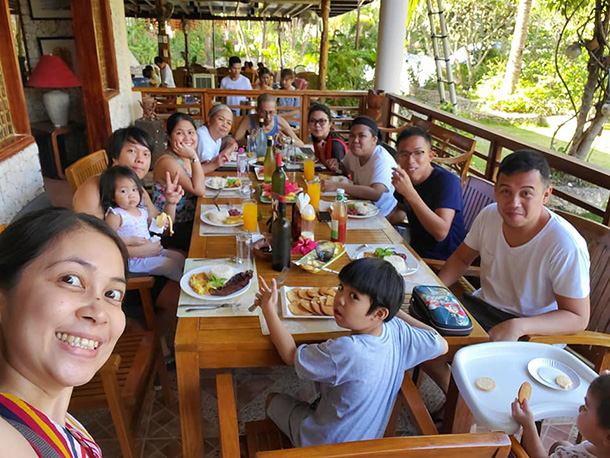 Overall, our stay at the Hale Manna Coastal Gardens was a pleasant one. My family and I were able to relax and enjoy the place.
One of the things that stuck us too was how friendly the staff were and how extremely helpful.
If you and your family – or even you and your partner – are looking for a relaxing and peaceful resort in Moalboal, this is one of our recommended places to stay!
Like This Post? Pin It!