Our family has always loved the beach, and most often, one of the problems we face is getting a comfortable, safe, and affordable place to stay in that can accommodate us all… Luckily, Eufron Beach Cabin in Santander, Cebu, had that and more!
People who come from a big family can often relate to the pains of choosing and affording comfortable accommodations. Ours was no exception because, after months of staying at home, we finally had the opportunity to get out of the house and unwind.
But, we were in a dilemma as we wanted an isolated place for our parents who are both senior citizens and little kids. My sister and I were both looking online and we stumbled upon Eufron Beach Cabin in Santander.
The cabin was exactly what we wanted, minus the sandy beach. You can rent the entire place exclusively, so we were guaranteed privacy and a peaceful setting.
So after days of discussion, we finally inquired and booked our stay.
How to Book Your Stay at the Eufron Beach Cabin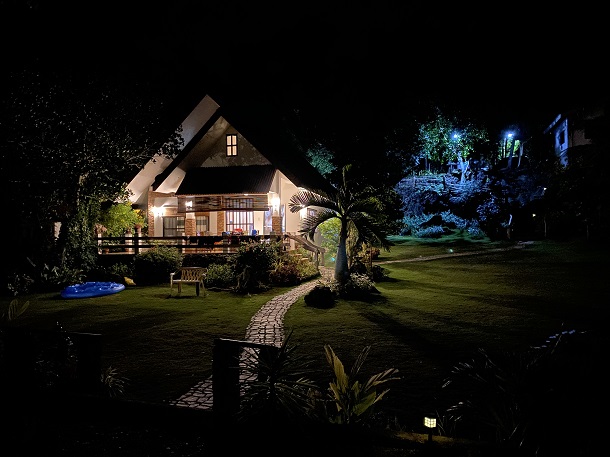 Booking the entire property can be made through Agoda or AirBnb.
Ours was made directly to them and just contacted them through their Facebook Page. We were asked to deposit 10,000 Php for our 3 days and 2 nights stay via online banking.
After much consideration, we decided to extend until Monday because of the long drive from the city. We were supposed to stay there from Friday to Sunday and then decided to extend one more day. After all, vacations (no matter how short) should be enjoyed without the stress of traveling.
How to Get to Eufron Beach Cabin in Santander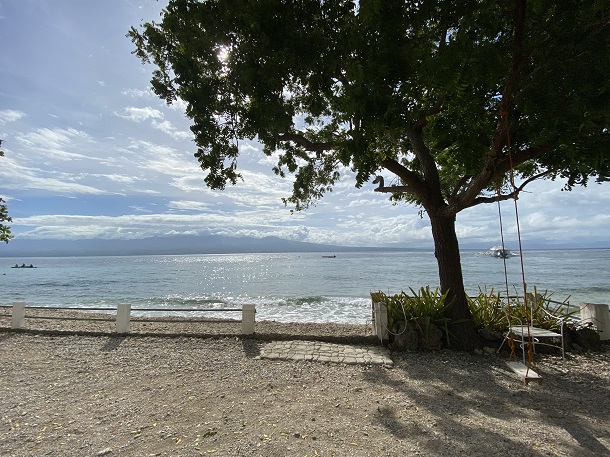 Eufron Beach Cabin is a comfortable cabin located in Canlumacad, Santander. It is in the southern-most part of Cebu province and will take you about 4-5 hrs travel time from Cebu City (depending on traffic and speed).
We did not commute when we went there. We left our residence at around 9-10 AM then arrived in Santander at 1-3 PM. We had some short stopovers, including getting and eating lunch.
The cabin is right along the highway, around 5-10 meters from the road. There is signage on the right side of the main highway that will tell you where to find it.
If you are commuting, simply board any bus going to Santander Cebu then let the ticketing officer drop you off at the town proper. At the town, hop on a tricycle or a habal-habal and then direct the driver to take you to Eufron Beach Cabin in Brgy. Canlumacad. There are numerous beach resorts near here including Santander Beach House and Emoha Dive Resort.
If you are driving, like we did, simply navigate using Waze or google maps:
Checking In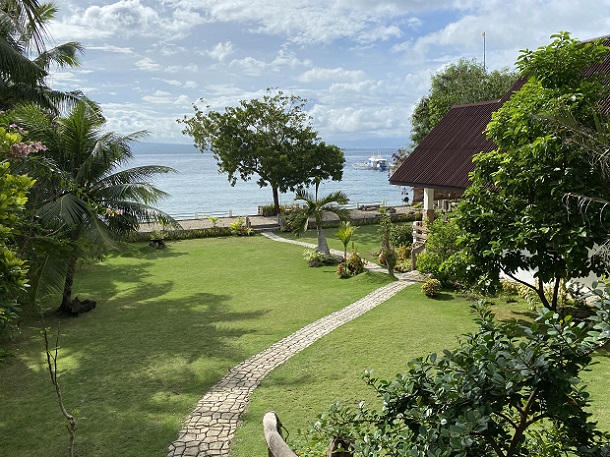 We had no problems checking in (check-in time was at 2 PM), as we have rented the entire place and the hosts were just next door and waiting for us.
Upon our arrival, we were directed to the house for us to settle in with the kids. We also opted to pay the remaining amount and inquired if we can extend until Monday.
We did not inform them beforehand that we were planning to extend until we saw the place. We loved the location and the cabin upon our arrival and instantaneously agreed to extend.
Fortunately the cabin was available and the host graciously accepted our request.
After settling our bill, we were ready to enjoy the place.
Rates and Features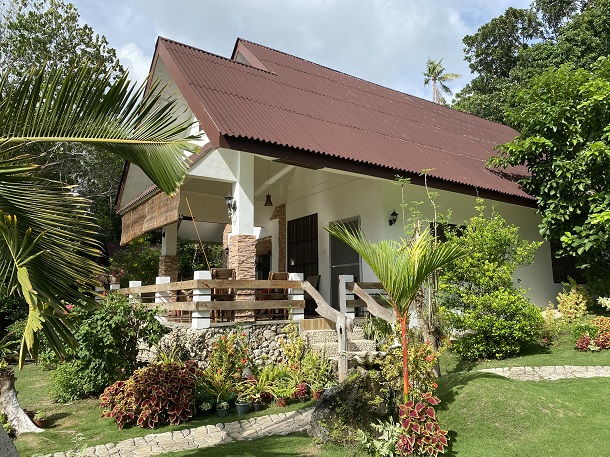 Renting the entire cabin was at 9000 per night, good for 10 adults and 4 children (ranging from less than a year to 8 yrs old). The maximum number of guests accepted is 12 heads. We had to pay an extra person fee of 500 Php per night.
Be sure to check the rate and prices before you book as it may change. Also, the host does not allow pets, parties, or smoking. So it is best for families and friends who just want to relax in a peaceful setting.
The rate is very cheap compared to other exclusive cabins we saw online. Plus the entire property is spacious enough for the kids to run around in (inside and outside the house).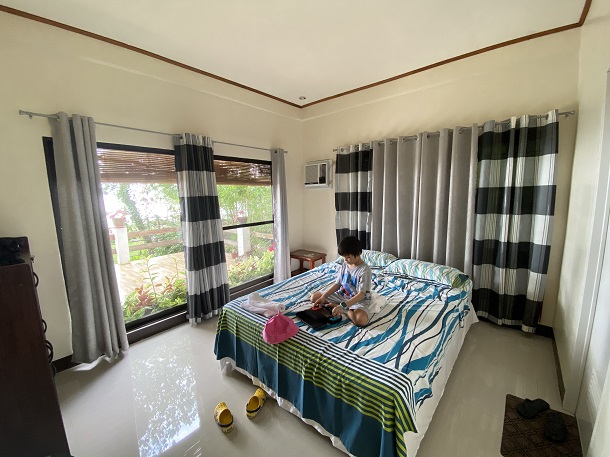 They also have parking space before entering the property. We had 3 cars with us and we were able to comfortably park them. It was a bit of a rough road though, and a bit inclined, so expect a bit of a challenge when arriving.
There are 3 rooms and 3 bathrooms – each with an air conditioning unit, a cable TV, good WiFi, and a full-functioning kitchen. Utensils, kitchenware, a refrigerator, oven, stove, and dishwashing soap are also available. Towels were provided, as well as drinking water.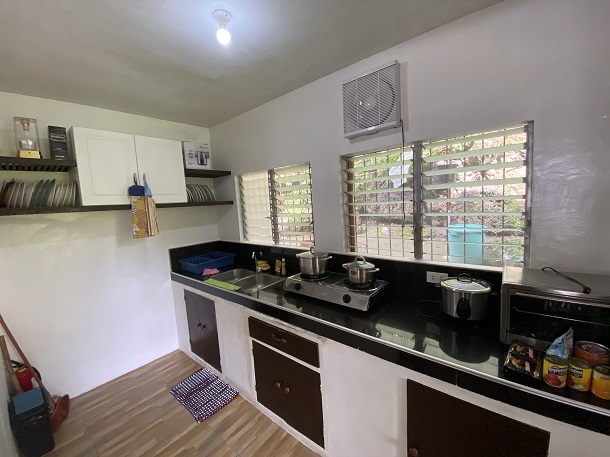 2 bedrooms with a queen bed each, hot and cold shower, and ACU were located on the 1st floor. The 3rd bedroom was on the second floor/ attic with 2 queen beds, 1 double bed, 2 single beds, and an ACU.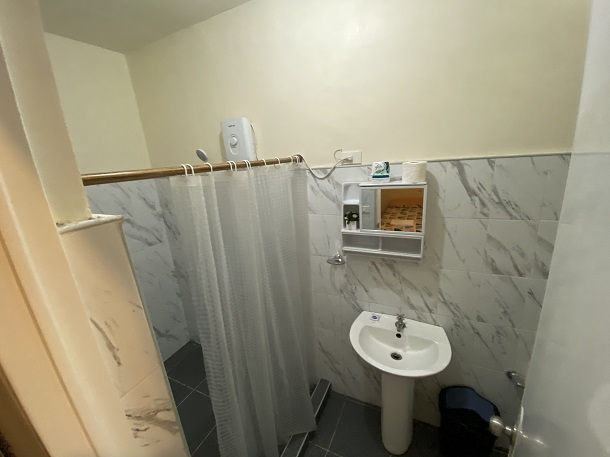 The bathroom on the 2nd floor was separated from the room by a large open space in between.
It was indeed our home away from home.
Activities To Enjoy
While the cabin is not entirely a resort with amenities, there are plenty of activities that one can enjoy. Especially with kids as energetic as ours were.
Below are some activities that you can enjoy too: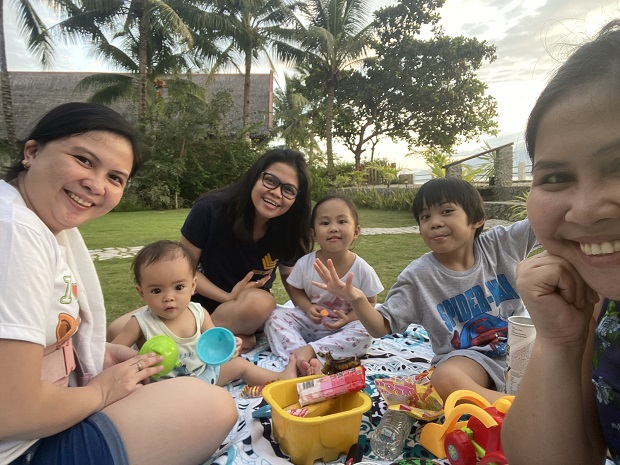 1. Picnic. The property has a large open space right in front of the beach. You can bring your picnic blanket with you so that you can lounge around in the afternoon with snacks.
Remember to bring a thick blanket though, or maybe 2-3 layers as the grass can be pretty sharp. The host generously lends us these 2 blankets to put below our picnic blanket. It was pretty thoughtful of them
2. Swimming and snorkeling at the beach. The cabin is situated right in front of the beach and has excellent access to it. We are fans of snorkeling and enjoyed the corals right in front of the property.
Despite the rocky sea bed, the water was clean and clear. There was also a sandy beachfront near the property (less than a 5-minute walk) where we met some friendly locals. We manage to set up our picnic blanket there and let the kids (my daughter in particular) build sandcastle.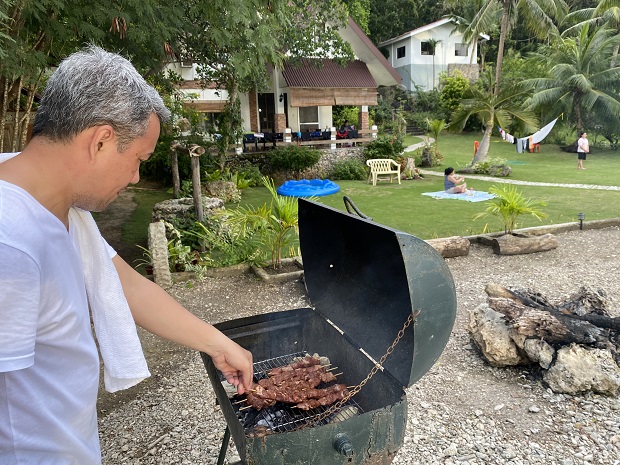 3. Grilling and setting up a bonfire. The beach is often enjoyed eating BBQs. Fortunately, the cabin had a grilling station near the front of the beach. Beside that is the bonfire area with large wood set up as seats around it.
4. Run around the lawn. With the spacious lawn, you can let the kids (or even the grown-ups. LOL) loose and run around. My daughter and her cousins spent almost all the afternoons we were there running after one another and playing pretend.
My sister and her husband even brought their portable swimming pool and set it up on the lawn for the kids. The host generously allowed us to use the property's water to fill the pool with water.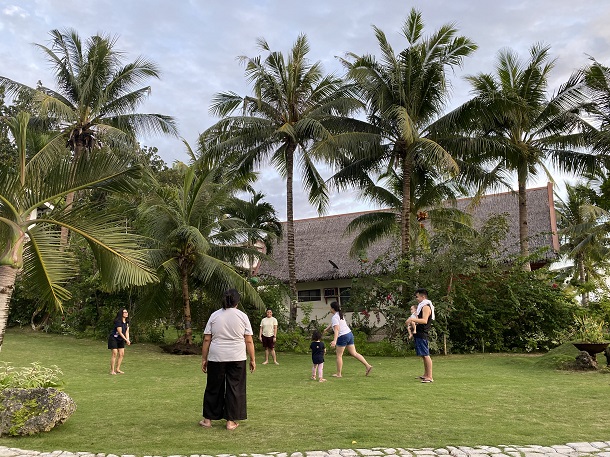 5. Play. With the big area, adults can also play around with games like frisbee and volleyball (minus the net). My sisters and the rest of the kids enjoyed playing there in the afternoons.
6. Chill. Now, one activity that I was looking forward to was just to chill and relax. What I liked most about the property is the large tree in front of the gate and the swing beneath it. There are chairs there too for you to sit down on and relax.
There are chairs, some lounge chairs, and a table on the veranda/ terrace too that you can use for outdoor dining. We enjoyed eating there at night time while enjoying the fresh air and quiet night.
Check Out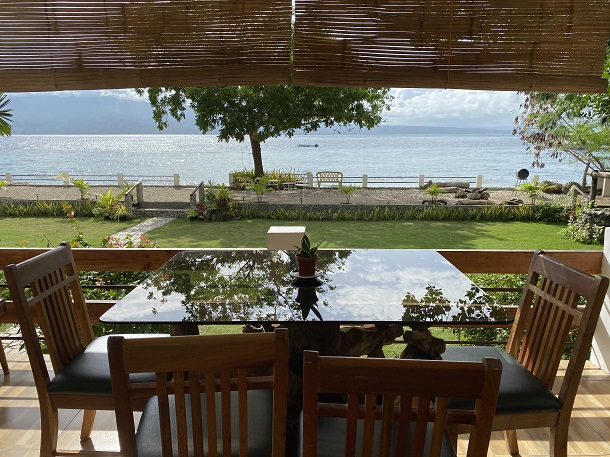 Check-out time was around 12NN, but because it was raining, the host advised us to leave later in the afternoon (around 4 PM) to avoid problems getting out of the property to the main road.
As per the host, the path leading to the highway can be slippery and we may have a hard time going up.
After checking the path, we decided that it was ok so we declined the offer and left at around 10 AM.
2 of our cars were able to smoothly go up, except for the last one. Thankfully, the host and a companion were there and helped us. It took us quite some time, but they were very patient and helpful.
Finally, all 3 vehicles were on the main highway and we were ready to travel back to our home.
Eufron Beach Cabin Overview: Overall Verdict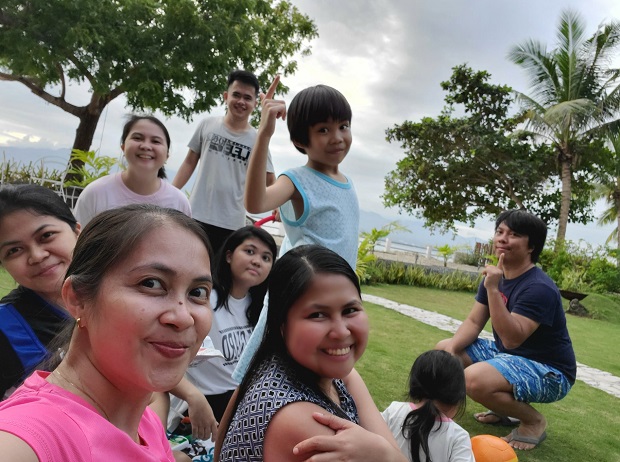 Our stay at the Eufron Beach Cabin was very memorable and relaxing. It was there that we finally managed to spend time together as a family.
If I could rate the host and the property, I'll give both 10/10 and recommend it.
The host was very hospitable and exceeded our expectations. The place was lovely and very relaxing. We would love to be back!
Like This Post? Pin It!