Have you thought of visiting Taipei but doesn't want to spend too much? The Pillow Hostel in Taipei is an amazing accommodation option for budget travelers out there!
Taiwan's tourism industry has enjoyed an influx of Filipino tourists in the past few months with the lifting of the visa requirement. That said, Filipinos's from all walks of life are visiting the country. And like most, my friends and I wanted to visit too.
Like most of our trips, we wanted to go on a budget. And so we did.
To be honest, the hostel was a bit too backpacker's for us. But since it was already booked, we decided to try it out.
If you are looking for a backpacking alternative, here is our review of the Pillow Hostel.
Booking a Room
Our room was booked through an online website by our friend who arranged everything for us.
You can also book a room their website should you wish to.
How to Get Here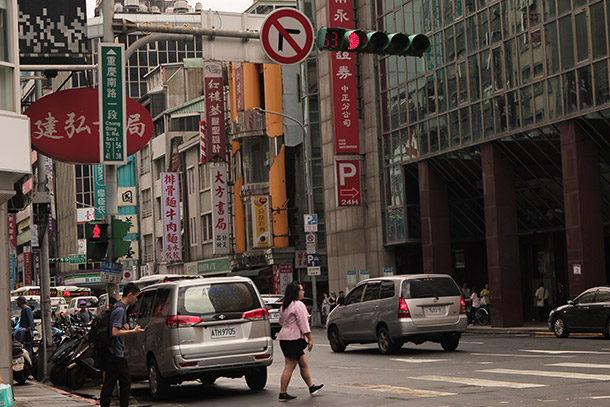 Address: 10045, Taiwan, Taipei City, Zhongzheng District, Section 1, Chongqing South Road
The Pillow Hostel is just near the MRT Taipei Main Station. You can exit through the Z10 exit and you will have a shorter walking distance.
You can also check directions here:
Checking-In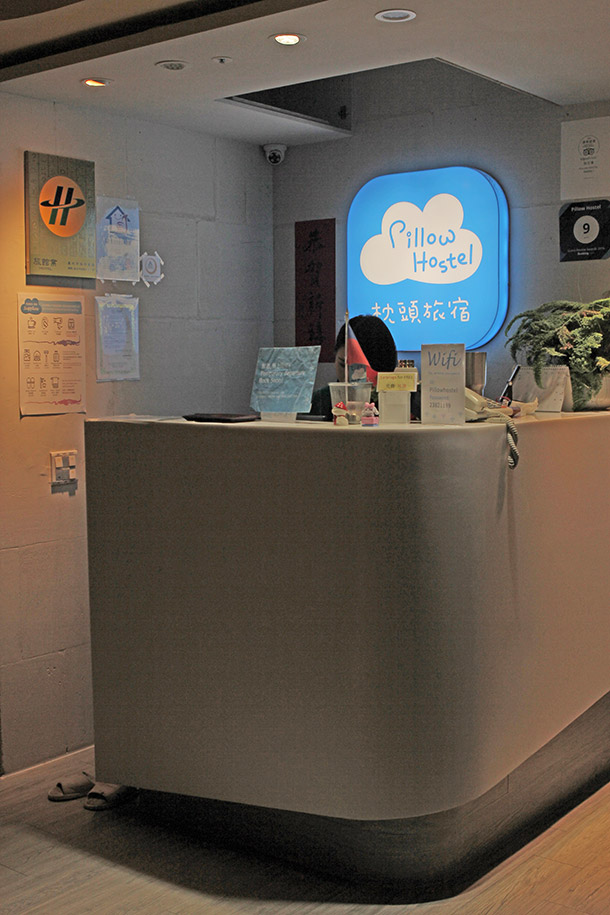 We arrived at the Pillow Hostel a few hours before we were allowed to check-in. Most of us had such a tiring flight from Cebu to Manila to Taipei, so we were exhausted by the time we arrived at the hostel.
Their check-in time was 3 PM and we were there at around 1 PM. We were so exhausted to the point that we just wanted to lie down and sleep.
The hostel didn't allow early check-in so we had to stay in the common area. Funny thing was, due to exhaustion, we did not see the line on the floor that instructed us to leave our shoes behind and step barefoot. LOL.
Nevertheless, our luggage was placed along the wall then we settled around the table at the common area to take some nap.
When it was time to check-in, the receptionist requested to see all of our passports. Our room was also not paid so we paid the entire bill during check-in.
Once our payment and our booking reservation are confirmed, we were given the keys to our lockers. Since I was the lead guest, I was shown around the area including the bunk beds, the bathroom, and the common area.
When we were done, I distributed the keys to the rest of the group and relayed the information.
Room, Rates, and Amenities
Pillow Hostel provides affordable accommodation for backpackers. They have bunk beds in dormitories for big groups.
Our Room and Rates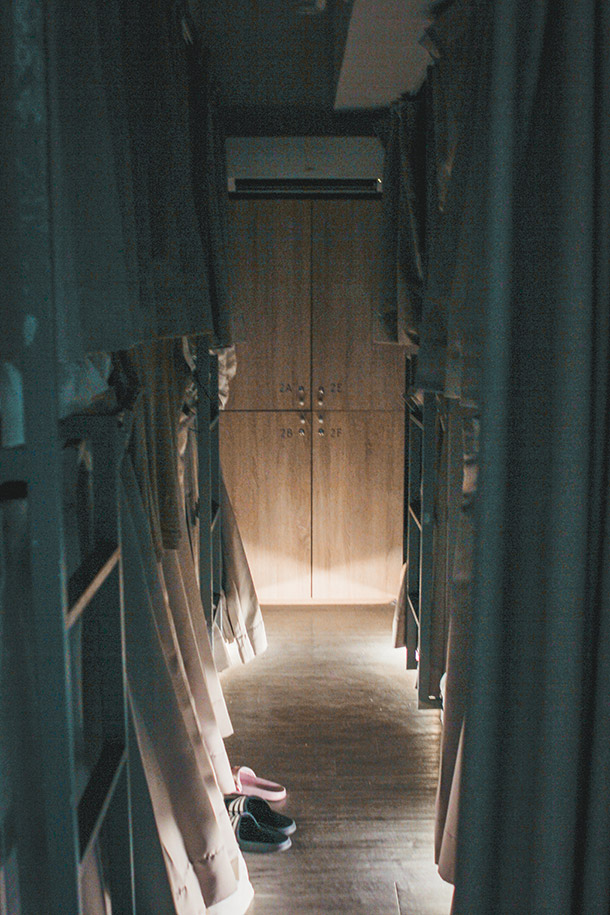 We booked beds in their female dormitory and mixed dormitory.
A night at the Female and Mixed Dormitory Rooms is at 438 Php. It was very cheap considering that the location was great.
There are thick curtains on each bunk bed too for some privacy as you go to sleep. Plus individual reading lights per bunk for guests who want to get some nighttime reading.
There is no shortage of outlets too in both the dorm rooms and the common area so you can charge all your gadgets with you.
The hostel leaves its bedsheets on each bunk for the guests to prepare their bed. There are no available towels, so guests can rent one from the reception. Each towel was at 30 NTD (at the time of our stay), but you can get two if you pay 50 NTD.
Inclusions and Other Amenities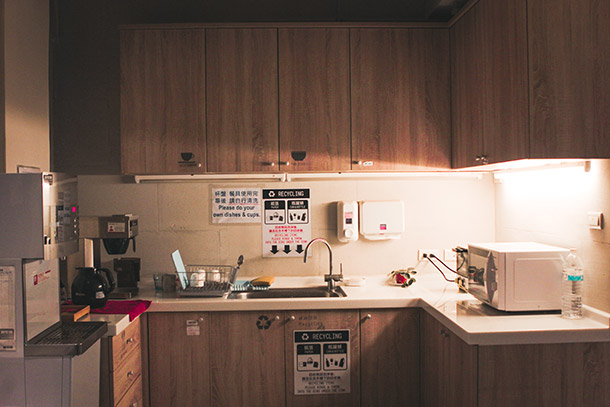 Staying at the Pillow Hostel will give you access to the hostel's free wi-fi, shared kitchen and shared bathrooms. The females have their own bathroom too.
The kitchen had cups, glasses, plates and even a microwave for guests to have. There is a water dispenser for free hot and cold water too. And a coffee maker where coffee is served in the morning.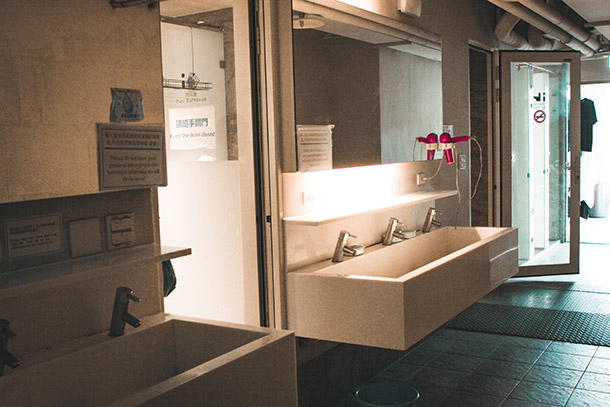 The bathroom had shampoo and shower gel available for the guests to use and a hairdryer for the women too.
Guests are also given locker rooms to keep their clothes and bags. These lockers were placed on the side so as not to intervene with the narrow space. Individual shoe lockers are also provided to keep your shoes once you enter the area.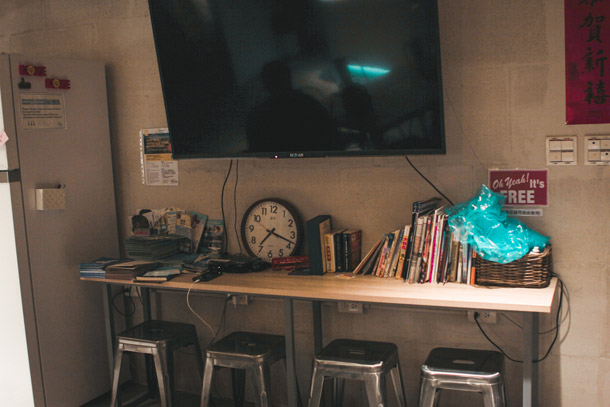 They also have pamphlets about Taipei and Taiwan that you can get if you need information. Plus a shared TV that everyone can watch at the common area.
Pillow Hostel's common area has chairs and tables that you can work in. It was a good thing for me especially since I had some work I needed to complete during the trip.
There is also a refrigerator that guests can use to store their food. A 7-Eleven was near the hostel so if you want to purchase some goodies and save it for the next day, you can certainly do so. Guests are just required to label their food so that other guests can't eat it.
Check-Out
Our flight back to Manila was early in the morning. We had some activities planned the day before so we decided to check-out the day before our flight.
We went on a tour in Taichung on that day so we decided to leave our things at the hostel.
Thankfully, Pillow Hostel allowed us to leave our things behind.
For those who plan to do this too, you can keep your things behind but only until 12 MN. Once it goes beyond that, there is a fee that you'll have to pay per baggage left behind.
Pillow Hostel has the easiest check-out process that I have tried including at the Ah Shan Hostel. We were just tasked to leave our keys on the front desk then put the bedsheets and pillowcase on the laundry bin.
We went back to the hostel at around 9 PM. The staff even allowed us to freshen up and use their bathroom. This was before we finally went to the airport to catch our flight.
Over-all Verdict of the Pillow Hostel Taipei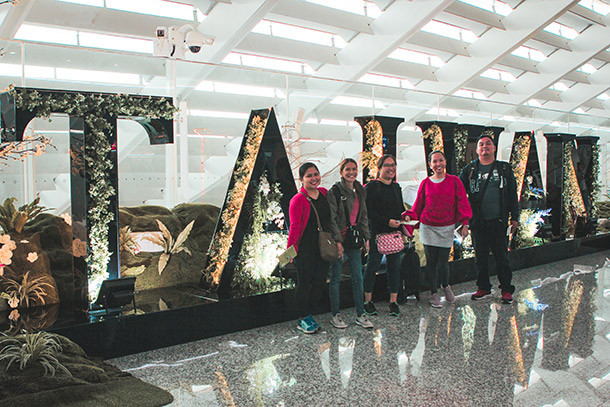 I personally would love to come back and stay at the Pillow Hostel when I go back to Taipei.
But maybe this time, I'll try booking the double bed in a mixed dormitory if I am with my husband. I find it pretty tiring crossing from one dorm to another because our stuff, especially the toiletries, are shared. LOL
Nevertheless, the staff was friendly and helpful. Plus, they were very strict when it comes to noise.
There was this one time that some guests were making a lot of noise early in the morning. They so kindly reprimanded them and reminded that most guests are sleeping.
Have you stayed in this hostel before? Share with us your experience below!
Like This Post? Pin It!