Visiting Boracay soon? That's so exciting to know! To help you with your itinerary, down to your meals, we have some great recommendations for you on where to eat in Boracay Station 2!
Boracay has always been one of the most popular tourist destinations in the Philippines, with people coming in from all over the world. That said, the question of where to eat in Boracay is never really a problem because of the numerous options available.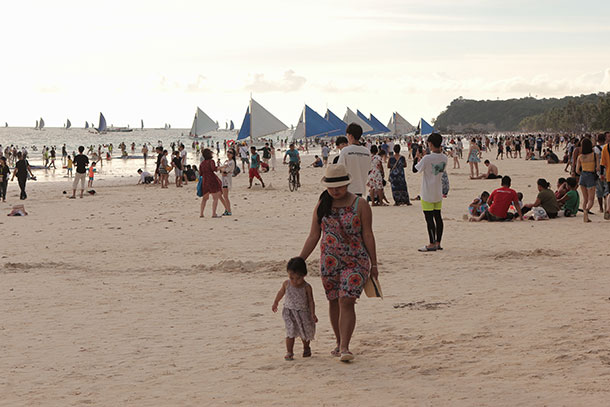 Boracay's food scene is diverse, with a variety of dishes available including pizza, pasta, burgers and of course the Filipino dishes we locals love. While the wide options are great, it can sometimes be very overwhelming.
We want you to get the most of your visit and not just spend time roaming around and deciding where to eat in Boracay (just like what happened to us). It can be a waste of time, and to be honest, can be exhausting if you are traveling in a group with kids.
We were only there for a few days, but I must say that we have found plenty of delicious options and we would like to share it with you! Some also have healthy options everyone will love!
If you are visiting this beautiful island in the Philippines, here are our recommendations on where to eat in Boracay Station 2!
Where to Eat in Boracay: Meals
We were in Boracay for 4 days at Station 2. And though we have eaten at several places, there are only two restaurants we can recommend for you to grab a meal.
There was this hotel where we were able to grab some dinner on our first night, though I forgot to jot down the name.
The food there was delicious and the music was pretty cool too. It was just located in Station 2 and just along the beach so it was easy to find.
Anyways, below are two restaurants in Station 2 that we highly recommend:
Lemoni Café and Restaurant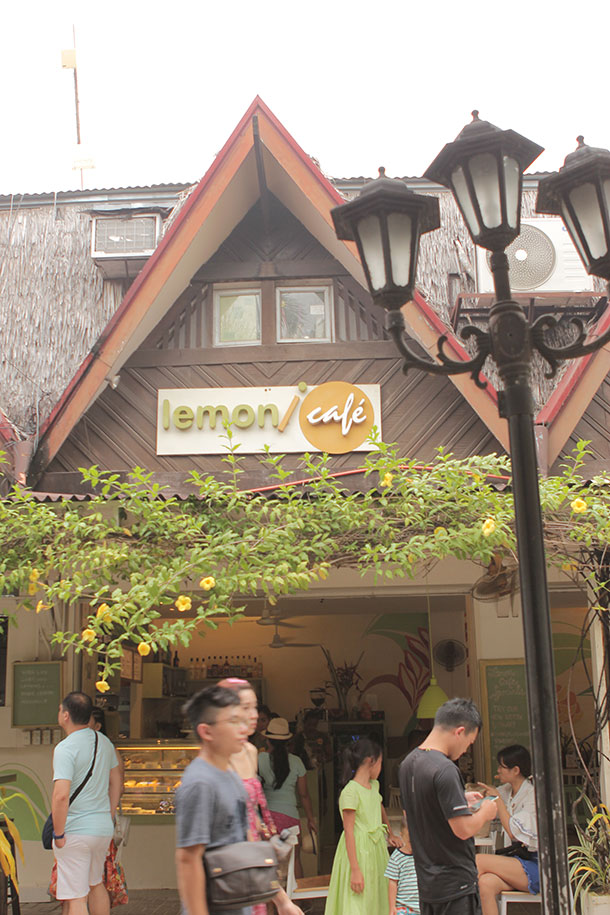 On the day of our daughter's second birthday, we decided to try out the Lemoni Café and Restaurant at D'Mall. It is very accessible and can be easily found.
They have a few rice meals options on the menu. But if you like burgers, pasta, and salads, this is a great option for you.
They have generous helpings of the food so you can share it.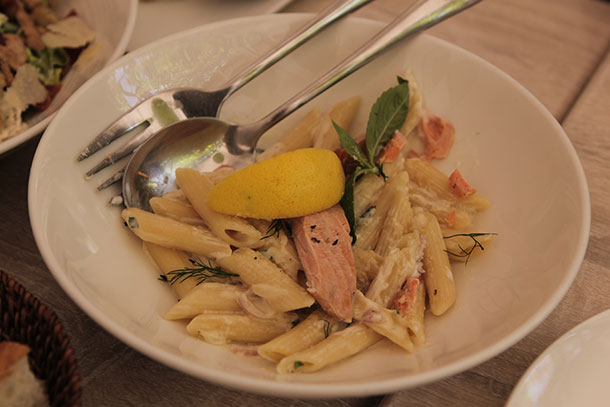 We ordered one caesar salad, grilled pork chops, and poached salmon penne pasta for the 3 of us, excluding our daughter. There were still plenty of leftovers when we were done.
Everything tasted delicious, to be honest, and I quite enjoyed the food they served. They also sang the 'Happy Birthday' song with us for our daughter.
How to Get Here: The restaurant is located at the D'Mall and just around the center of the mall where a Ferris wheel is located.
Prices:₱₱₱
Overall Rating: Excellent
Spicebird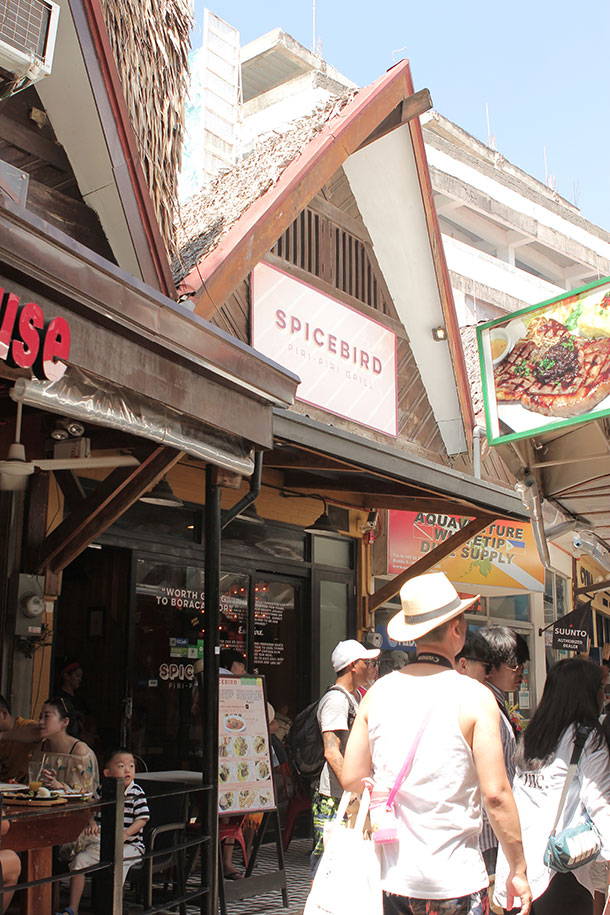 The Spicebird was a pleasant surprise as I haven't read about it in any blogs on where to eat in Boracay. We were just looking for a place to eat where it was air-conditioned because we had our little girl with us.
Most of the places in the area were full of people. Some even had long lines of people waiting.
Spicebird is located in between bigger restaurants so you could easily miss it if you are not looking closely. More so when the restaurants beside it have long lines. But you should really try because they serve some amazing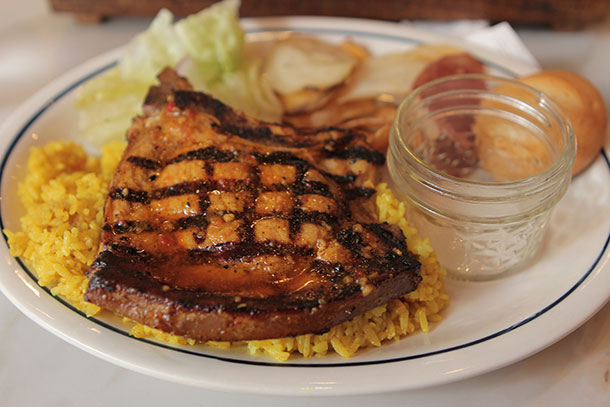 Their piri-piri sauce is amazing and they have 4 different sauces ranging from sweet to spicy. They are placed on small jars on each table so guests can help themselves and mix their sauces as they prefer.
We ordered their piri-piri boards: sausage, pork chops and their eggplant and squash combo, each paired with spice rice, salad, vegetable chips, and milky roll. Their dishes had that spicy flavor I have came to associate with Indian food.
How to Get Here: The Spicebird is located at the D'Mall Plaza, behind the Ferris wheel.
Prices:₱₱₱
Overall Rating: Excellent
Where to Eat in Boracay: Snacks
One thing that you'll enjoy about Boracay is the snack stops you can go anywhere. And I am talking about desserts.
Here are some great snack stops you can also indulge!
Halomango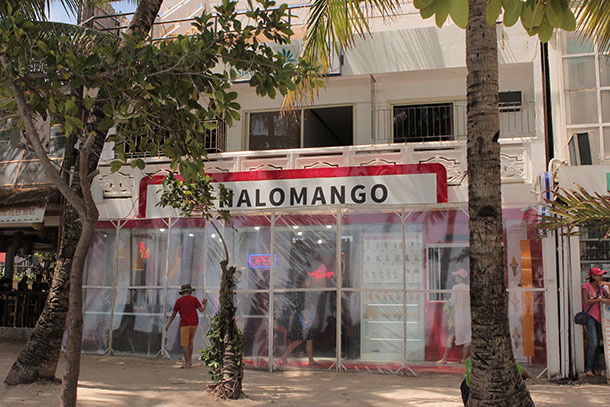 Ice cream, anyone?
The Halomango in Boracay has always been that stall in the area where you'll always expect a line forming. And you can easily see why.
Their mango-flavored ice creams are delicious and can refresh you with the heat from the beach.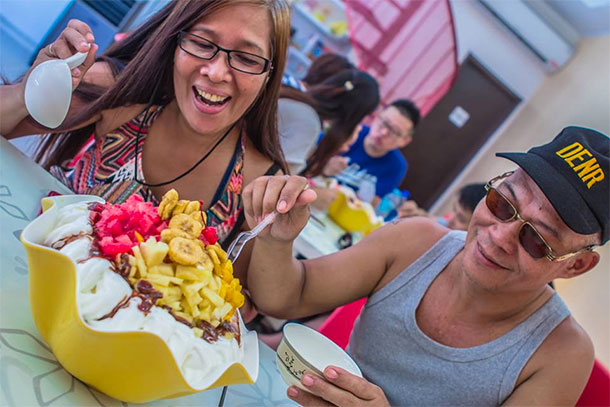 They serve their ice creams on cones, paper cups, and even large bowls. We tried that way back 2013, but with a variety of fruits and that large bowl can definitely serve up to 4 heads.
When we went back this time around, we tried some of the ice creams on a cup on our last day in Boracay. The line was long days before so we got bored waiting in line. LOL.
Nevertheless, their ice cream was delicious and the mango was pretty sweet. It's no wonder people are getting in line to grab some!
How to Get Here: Halomango has two stalls in Boracay. The first is the D'Mall, near the Budget Mart and Julie's Bakeshop. The second is just along the beachfront at Station 2.
Prices: ₱₱₱
Overall Rating: Very Good
Ice Flakes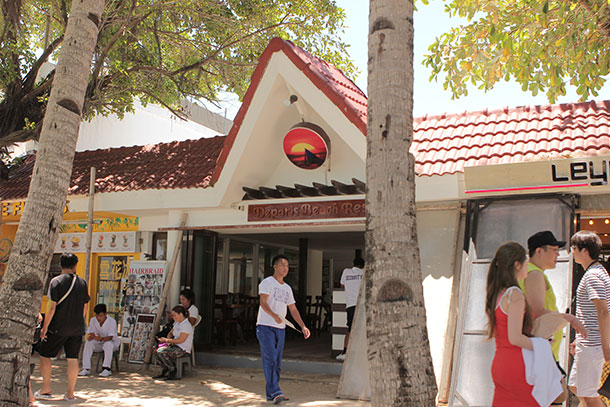 My husband is in love with anything sweet and cold, especially mango flavored, and so the Ice Flakes in Boracay was such a novelty for him.
They have several flavors available but we never really tried them because my husband was hooked with their mango-flavored ice flakes.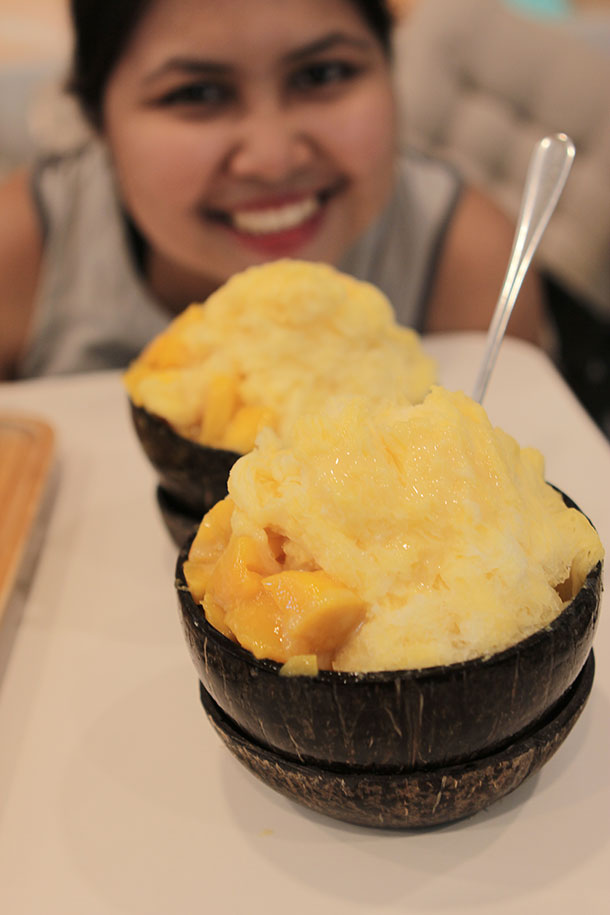 The ice flakes are served in banana leaves (for taking out) and on coconut shell made into bowls for dining in. The ice is served as flakes, with some kind of milk on it and topped with delicious and sweet mango bits.
We ordered several times during our stay and liked it a lot. I like their staff too who are very friendly and accommodating.
How to Get Here: The Ice Flakes is right beside the Deparis Beach Resort and along Station 2 Beachfront.
Prices: ₱₱₱
Overall Rating: Excellent
Real Coffee and Tea Cafe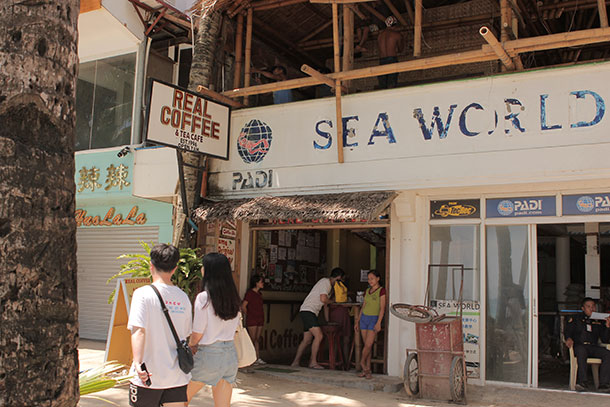 If you are a coffee lover and would love some delicious homemade calamansi muffins, then a visit to the Real Coffee and Tea Cafe at the Station 2 is a great option for you.
The coffee shop has a relaxing ambiance, with most of its interior done in a native design. They are home to the calamansi muffin, which is pretty tasty when served hot.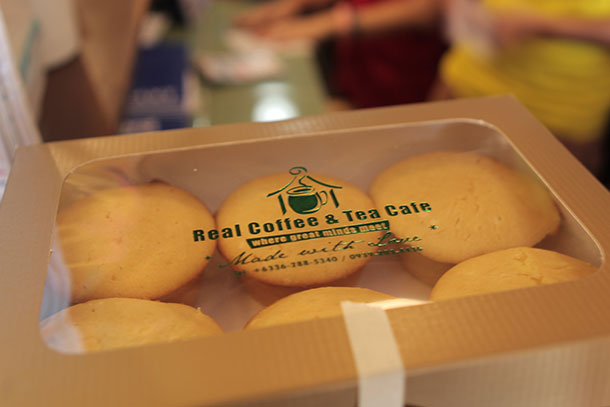 The muffin has a nice sour twinge to it that you'd find will pair well with coffee. We took home 2 boxes with us as pasalubong treats. The cafe sells them in nice little packages that you can put in your carry-on.
How to Get Here: The cafe is just along the beachfront in Station 2.
Prices: ₱₱₱
Overall Rating: Good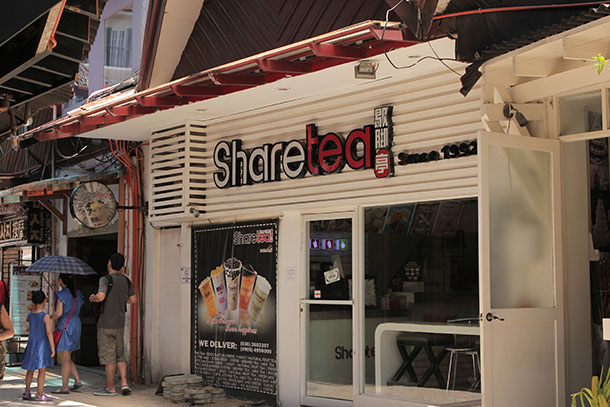 Milk tea lovers visiting Boracay will be glad to know that there is milk tea on the island and it's just in Station 2!
So I have always been a fan of milk tea and when I saw Share Tea's stall, I was pretty glad. They have a variety of flavor selection, and you can also adjust the sugar level.
I particularly enjoyed their Oolong Milk Tea with 30% sugar level.
How to Get Here: Share Tea is also located at the D'Mall tight next to the Lemoni Café and Restaurant.
Prices: ₱₱
Overall Rating: Very Good
So… We hope we have given you enough ideas on where to eat in Boracay when you do visit!
Like This Post? Pin It!