As travelers, our travel bags play an important role not only in keeping our things but in making us feel comfortable. Most of the time we tend to overlook a bag's functionality over its design and we ended up hating it. But that isn't the case when you use NayoSmart.
Earlier this month, we finally received our NayoSmart Almighty travel backpack from the manufacturer themselves. Despite the inconvenience brought about by the delay of shipment in our local post office, we were pretty happy with the bag that we received. Let me tell you why:
The Product: NayoSmart Almighty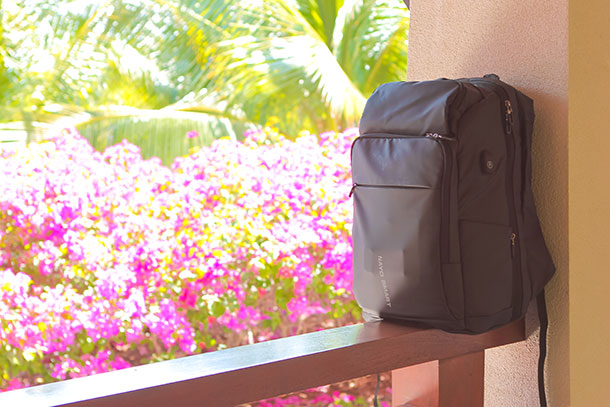 Before the travel backpack arrived, we were first given the chance to choose among the brand's travel bag collection.
At first, we wanted to try the Anti-Theft Shell because of the modern and sleek design of the bag. Besides, I thought it would be perfect for day trips and can hold our gadgets and what-not.
While this is true, the Anti-Theft Shell was a lot more for perfect for everyday use than for traveling as a family. To be honest, it wasn't an easy choice to make especially that the Anti-Theft Shell was more modern looking, handier and was just the right size for me.
Good thing though that we were given 2 travel bags: the Nayo Anti-Theft Shell and the Nayo Almighty so we were able to choose between the two depending on our preference.
After much consideration, we decided to review the Nayo Almighty. Let us take a look at the product and why we chose it:
PS: We will be launching a travel backpack giveaway before the year ends in collaboration with NayoSmart, so watch out for our announcement on our FB page!
Travel Backpack Material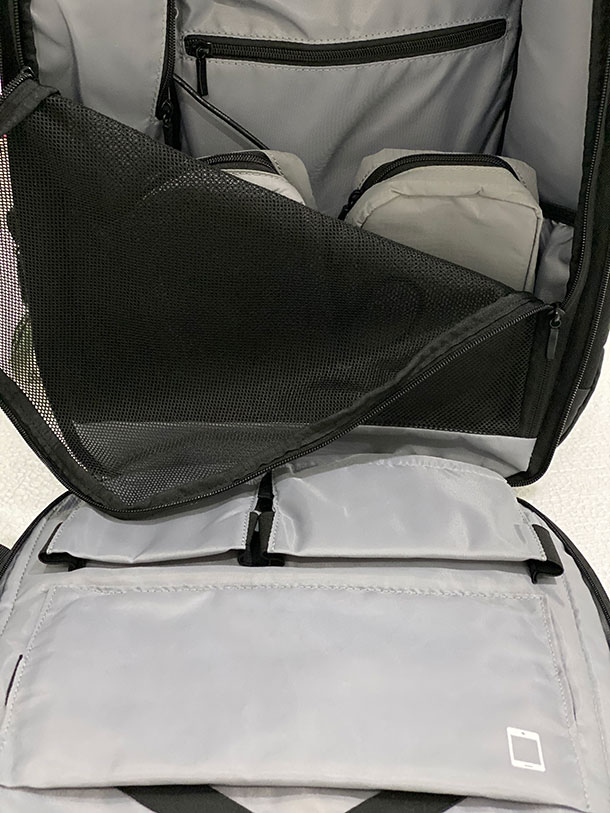 One of the first things we notice with bags is the material. And we were impressed with the quality of the bag and how the material is rich and sleek. You can instantly tell that the bag will last for years just by looking at it and feeling the material.
The Nayo Almighty backpack is made of high tenacity waterproof coating. Combined with this, the bag has high-density 600d polyester which makes it durable and weather resistant. It also has selected insulated pockets for water bottles, ensuring that the rest of your stuff will not get wet.
I was particularly impressed with the soft but thick padding on the bag's compartment for gadgets. While we were preparing to leave for a quick family trip in Cebu, the bag fell down from the couch to the floor. And this already contained all of our things and the bag was considerably heavy at that point.
To be honest, I was worried that the laptops will get damaged. Fortunately, we did not find any crack or scratch on it. Nothing was broken and everything was intact.
The bag also has a strong metal handle that assures you it won't get broken even if the content is heavy. It is flexible too which makes it comfortable to carry.
Plus, the backpack has a reversed SBS zipper that is designed for heavy loads and frequent use. It also matches well with the sleek design of the Nayo Almighty backpack.
The Bag Design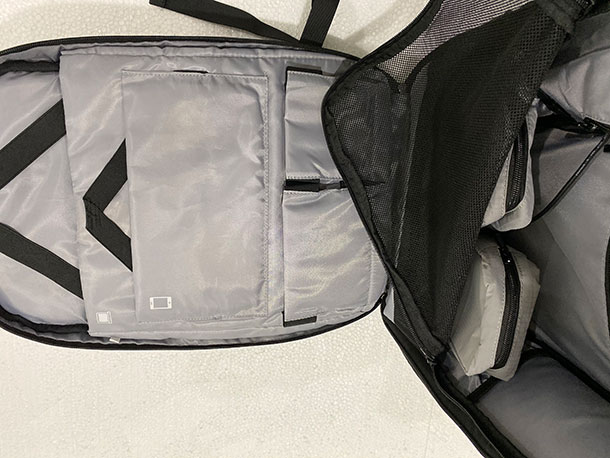 My husband love anything modern and minimal. When we saw the pictures from the NayoSmart website, we got impressed by the designs of each bag.
Admittedly, there were some reservations, since you know how 'Expectations vs Reality' incident often occurs. So I was not expecting much.
And well, we were wrong. The bag looks exactly like the one on the picture and we were pretty much in love.
NayoSmart currently has a total of 3 collections: large capacity, anti-theft, and business. Each of these collections has a variety of travel backpacks, each with a unique feature of its own.
The travel backpack we received is large enough to keep our stuff and is designed well to keep everything safe and organized.
As a Mom, I have been very appreciative of compartments and extra spaces for small stuff especially when we are bringing our daughter on a trip. And that is one of the main reasons, my husband and I were drawn to the Nayo Almighty backpack in the first place.
The bag has multiple compartments for gadgets and even more space for books, clothes, and other toiletries. I can even insert some baby medicines on small pockets.
My husband and I usually bring 2 laptops when we go on short trips, and we were able to fit the two-item inside, plus an iPad.
Backpack Functionality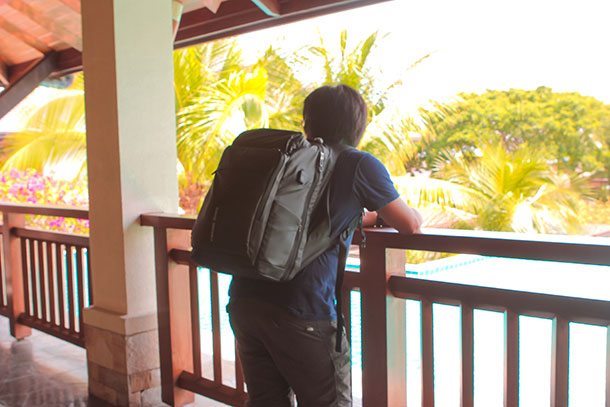 What we liked about the Nayo Almighty is that ergonomics are well-applied to the design. The harness has molded padding on the straps and on the back that allows comfort even when the bag and its content is heavy.
We are very particular regarding this when choosing travel backpacks especially after the hiking trips we did before where the pads and the sternum strap help ease back pain.
There are also small compartments on the outside for small stuff like keys and cards plus a zippered back pocket for documents and valuables. There are also straps on the for securing the bag to your suitcase, for your shades and a sternum strap to add extra support when carrying it with you.
The external USB charging port is also very handy especially when you need to charge your phone and connect. I can't recall a trip that my husband and I did wherein we didn't have any problem with charging our phones using our power bank while keeping it secure and organized inside the bag. Such a hassle to be rummaging around looking for our phones.
Lastly, I love how it can zip open like a suitcase which makes packing more comfortable. I always keep our stuff organized as possible, and this feature is so nice to have for a backpack.
When you try to grab stuff inside while on transit, you can easily do so without the fear of dislodging or disarranging stuff inside while looking for an item. This is perfect for moms like me who tend to bring all kinds of small stuff to keep our kid preoccupied.
Our Over-All Verdict of the Nayo Almighty Backpack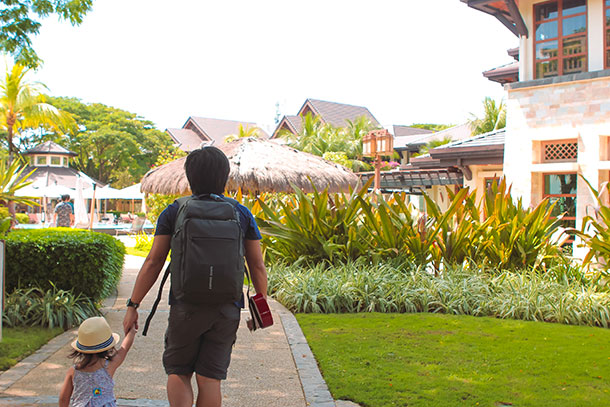 We were able to use the travel backpack on a series of short trips with the family. It was convenient and comfortable to use as well as very durable. We even managed to reduce the bags we usually use for short trips from 5 to 3 because of its multiple compartments and large capacity. And let me assure you that I always pack light, but with a toddler in tow, it makes a whole lot difference.
With its sleek and modern design as well as its functionality, we found the Nayo Almighty backpack to be the perfect travel bag for families traveling together, like us.
We couldn't wait to use it on more travels! And yes, we do recommend this backpack for all kinds of travelers!
Disclaimer: This article is in collaboration with NayoSmart and we were given the bags to use and review. But as always, all opinions are my own.
Like This Post? Pin It!