Cebu has always been a favourite place for food lovers. It has a lot of restaurants for you to try in and it certainly has some of the best delicacies available in the Philippines! Indeed the food in Cebu are worth trying out!
I've been living in Cebu for quite some time now and I haven't tried all restaurants that it offers. But the ones that I've tried were pretty impressive to say the least.
Cebu's delicacies range from sweets to dried goods and some mouth-watering roasted meats. You can be vegan and still enjoy the delicious Cebu foods.
Before you dive into Cebu's food scene, it is important to acknowledge that Cebu (and the Philippines as a whole) has had several foreign influences which go way WAY back.
That being said, many of our food has Spanish, Japanese, American and Chinese influences to say the least. You might find some of the Cebu foods here listed to be surprising.
Now I know how frustrating it is sometimes to find authentic food when we visit. I, for one, am saddened to find that a certain region's delicacies can now be found almost anywhere in the country. It lessens the excitement of finding unique and delicious food when we travel.
But then again, it is enjoyable to be discovering delicious foods and finding restaurants in local areas where we travel. So I guess that lessens the blow of finding the same treats in one province to another.
Nevertheless, I've created a list of delicious food that Cebu is locally known for. Check out this Cebu delicacies Guide!
Cebu Dishes To Try
Siomai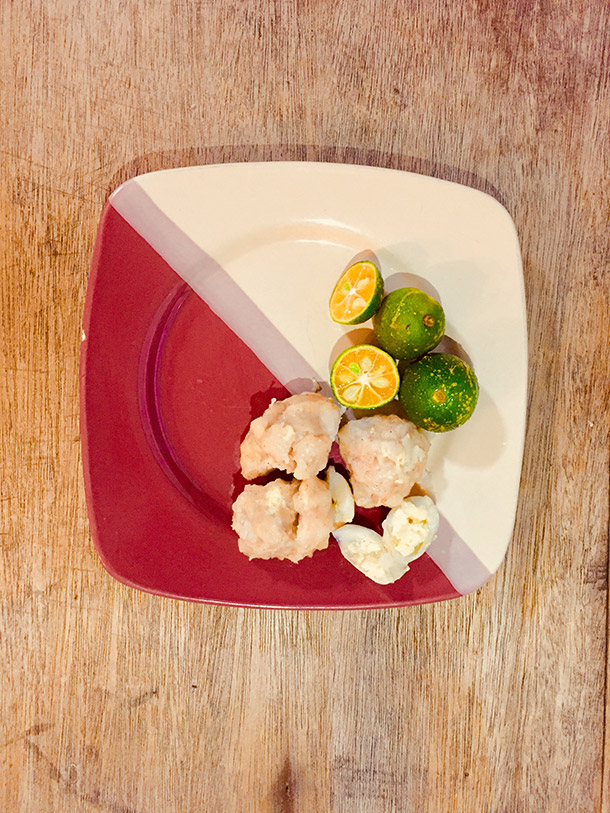 Siomai are pork wrapped in wonton wrapper and steamed. They are often sold in steamers and served with chili sauce.
Siomai is eaten best with puso or hanging rice that is wrapped and boiled in a triangular casing made of woven coconut leaves.
Where to Find the Best Siomai
There are several fast foods, restaurants and kiosks like Chowking, Dimsum, Harbour City and Master Siomai that sells siomai but if you want the original recipe that made the Cebuanos and its neighbouring islands fell inlove with Chinese dumpling head over to Tisa, Labangon. It's another barangay in Cebu that is home to the Siomai sa Tisa that is famous for their siomai.
You can also check out the map below for some Cebu authentic foodie experience:
Ngohiong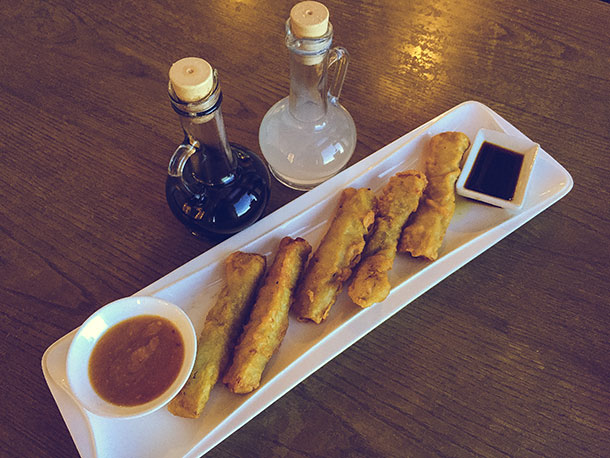 You've never really be in Cebu if you haven't tried the ever famous (and affordable) Chinese Ngohiong. Technically, like the siomai, it's of Chinese origin, but nevertheless, the Cebuanos have adopted ngohiong and the food has become a student favourite as it delicious and very budget-friendly.
Where to Find the Best Ngohiong
The famous Chinese Ngohiong can be found near one of the major universities in the city and the Workplace Café. Like the Siomai, it's a favourite with Puso and the special Ngohiong sauce.
Aside from the Chinese Ngohiong, you might like to try ngohiong served at Golden Cowrie (a local restaurant with several restaurant chains in the city). It's one of favourites when eating here.
Lechon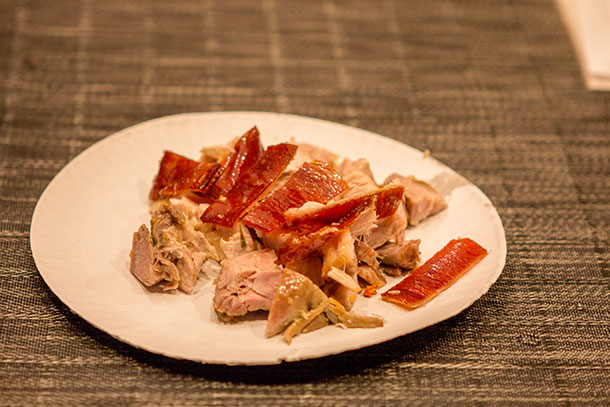 Cebu is known for its yummy roasted pork, locally known as lechon. It's an whole pig slow cooked over a pit of fire. The pig is stuffed with a variety of herbs and spices before cooking, hence the tastiness of the dish.
There are several well-known restaurants and kiosks who sell the best leeching in the city including CnT Lechon, Cebu's Original Lechon Belly, Rico's Lechon, Zubuchon and House of Lechon.
I personally love the spicy lechon from Cebu's Original Lechon Belly. My friends would pair them up with Puso (cooked rice in woven coconut leaves ) and atchara (pickled papaya).
Where to Find the Best Lechon
If you are visiting Cebu, head to Carcar (a municipality in the South of the province) and taste some there. You can make it a side trip when visiting Simala Church, Moalboal and Osmeña Peak.
Dried Pusit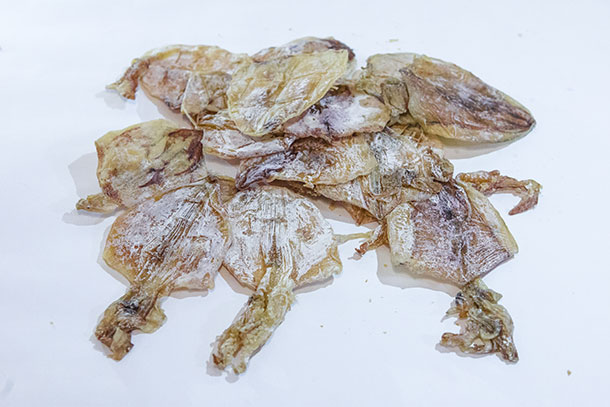 Dried pusit is another must-try Cebu Delicacy. It's sun-dried squid packed and sold in the market. They can be pretty expensive when you buy in packs. The most cheapest can be bought in Bantayan, but they are also available in Taboan, Cebu.
Dried pusit are best paired with fried rice and some vinegar for sauce. Yum!
Where to Find the Best Dried Pusit
You'll be tempted to buy dried pusit in the supermarket. But they are more expensive than elsewhere. If you can, you may buy some cheap and equally delicious pusit at the Taboan Public Market.
Danggit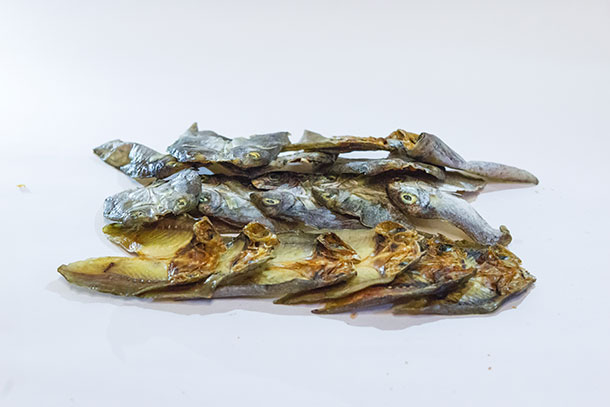 The dried danggit is the same as the danggit lamayo we've tasted in Coron. Like the dried pusit, the cheapest can be bought in Coron but there are available dried danggit at Taboan, Cebu too.
I love having the danggit at lunch time and pairing it with rice and vinegar too.
Where to Find the Best Danggit
Like the dried pusit, cheap but tasty danggit are also available at the Taboan Public Market.
Cebu Snacks and Bring Home (Pasalubong) Treats
Ampao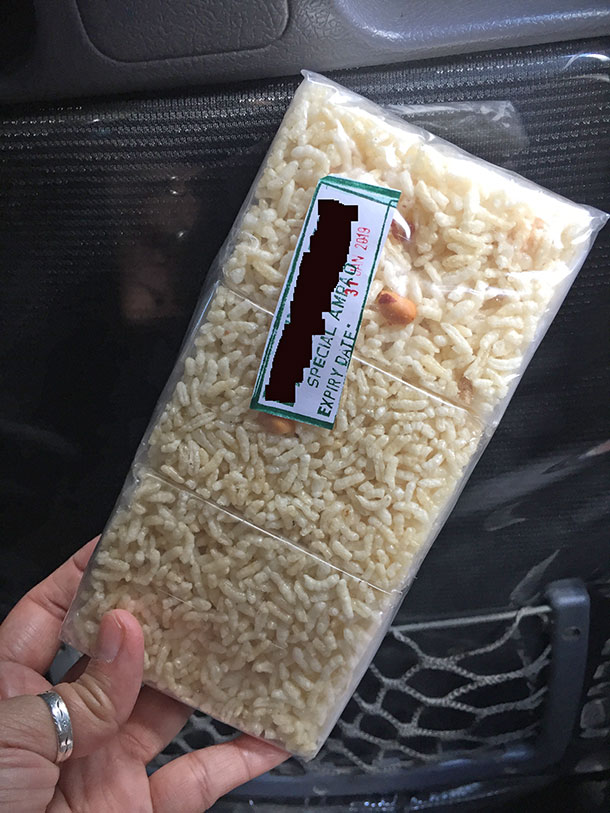 Ampao is another Cebu delicacy that is known to have originated also from Carcar. The ampao is a sweet puffed rice cake, white in color, crunchy and sprinkled with peanuts.
I remember my mother bringing home some of these sweet treats when she comes home from Cebu when we were kids. A good memory!
Where to Find the Best Ampao
You'll mostly see sellers of ampao when you are traveling down south of Cebu. There were sellers of ampao as well as chicharon when we were on the way to Dumaguete. You'll find them getting in and out of buses trying to sell their goods to passengers.
Otherwise, follow this map here:
Rosquillos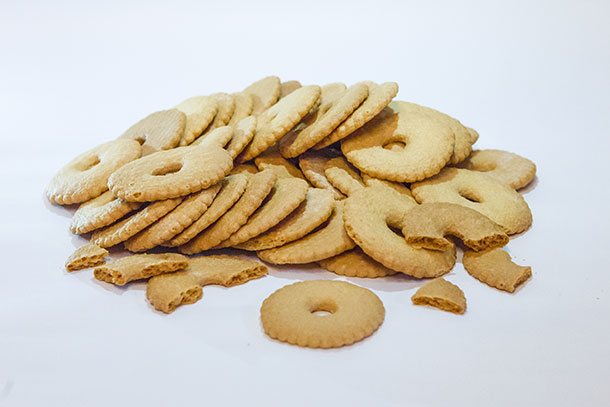 Rosquillos are cookies that are shaped like donuts and flowers. The cookie is sweet and light brown in colour.
Where to Find the Best Rosquillos
They are sold in groceries too, with lots of brands to choose from. Personally, I love Titay's Rosquillos among the rest. They have a pasalubong center too in the North of Cebu. Usually this serves as stop-over for people headed to the North particularly in Bantayan, Camotes or even the Funtastic Island in Medellin.
Otap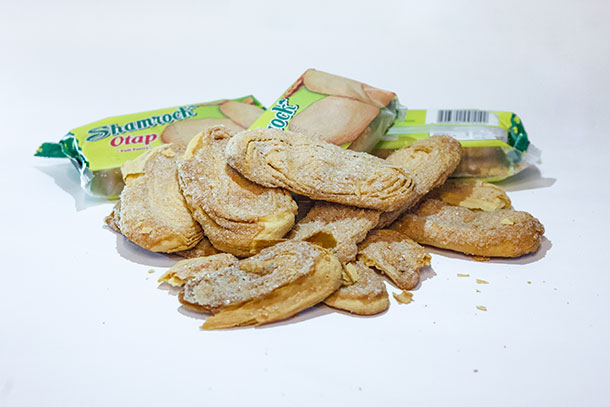 Otap are elongated puff pastry. They are crunchy and sweet snacks that has a flaky and crumpled surface.
Where to Find the Best Otap
The Otap is generally sold in groceries. But if you want something more authentic, head over to Shamrock one of Cebu's oldest pasalubong centres for their yummy Shamrock Otap!
Dried Mango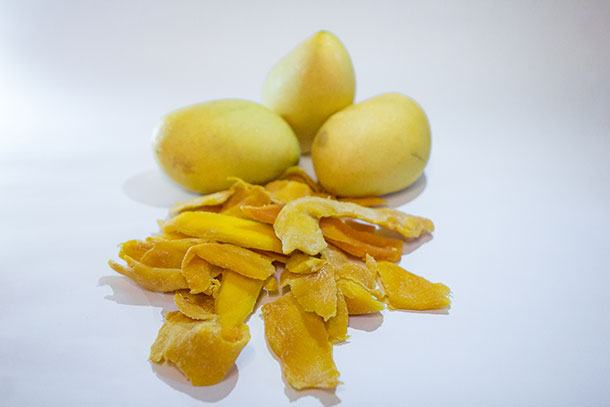 You couldn't go wrong with Cebu's dried mango for some afternoon munch. This cebu delicacy is made from, well.. mangoes, that are dried, packed, sealed and sold in pasalubong centres.
There are several varieties and brands that you can buy in groceries. You can choose between the ripe ones and the green mangoes that comes in green packaging.
Where to Find the Best Dried Mango
For cheaper dried mangoes you can buy some at the Taboan Public Market.
Chicharon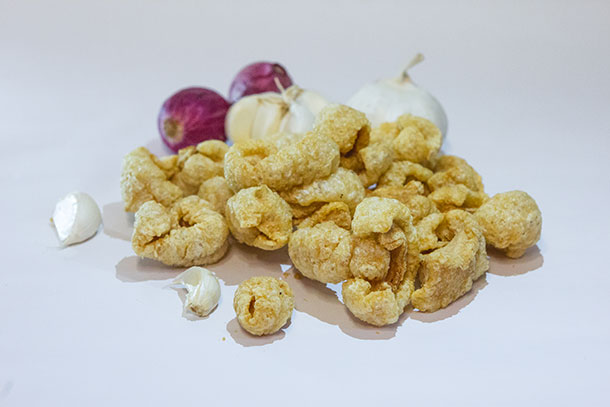 Chicharon are crispy fried pork that are favourites for snacks and some beer time. They are like the Vigan Bagnet but fried and dried.
Where to Find the Best Chicharon
We've tried eating them as viand and it was pretty delicious. Like the lechon, one of the best chicharon are also found in Carcar. The are sold at food stalls along the Carcar Rotonda and you can buy them by kilo. We usually buy them from our trip to Moalboal.
Cebu Dessert To Sweeten Your Meal
Halo-Halo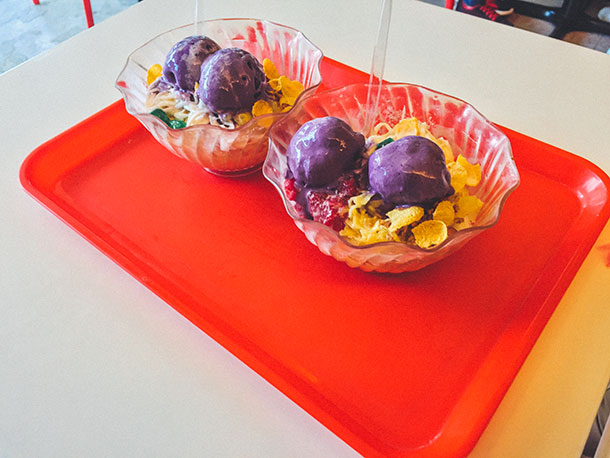 Up for some creamy and ice-cold desserts? Halo-Halo is a favourite especially during the summer months.
Halo-halo is made up of various ingredients, depending on the person preparing the food. It can be black beans, coconut strips, sweet red beans, coconut gel, macapuno and jackfruit among others. The ingredients are all placed together on top of crushed ice and topped with condensed milk and ice cream.
Where to Find the Best Halo-Halo
While you can have halo-halo almost anywhere in the Philippines be sure to head over to Melton's Halo-Halo when you are in Cebu. It is by far one of my favourites. I love the finely crushed ice that they use and the combination of ingredients too.
Like This Post? Pin It!