Are you looking for the best travel gadget to help your travels become easier and efficient? Well, we have this cool list of useful travel gadgets that you need to have.
We are all aware that travelling can sometimes be hectic. You would need some items that could make your adventures a lot more fun, a lot easier and stress-free.
Well, forget about those times when all you have to shove into your travelling bag are your clothing and some hygiene essentials. Because these days, there are more essential kinds of stuff you can actually bring with you while on travel.
There are travel gadgets that can make your travel a lot better and surely memorable. Aside from the great things it can do for you, it can also make you achieve your trip of a lifetime.
We are already living in a world of technology where everything around us is running fast. Being away from the wires leaves you outdated from the hustles and bustles of the world.
Good thing that nowadays, there are travel gadgets that will help you stay plugged into the virtual world. And there are gadgets that make small home comforts be easily available for us even if we are on the road.
Thus making our travel a lot safer, laid-back, memorable and easy-going.
Wanna know what these gadgets are? Take a look at our list below and be amazed at what these handy gadgets can do for you and your travels.
Disclosure: We use affiliate links on this post. Please read our Disclosure Statement below. Thank you.
Travel Gadgets to Help us Stay Connected
When we travel, it is important to stay connected with the ones who matter most. Regardless of where you are in the world.
Below are some electric powered gadgets to help us with our travels.
Travel Power Strip
Travellers with lots of gadgets (phone, tab or iPad, power banks) know how annoying it can be to check in at hotels or hostels with a limited outlet. Especially when you are sharing it with other guests too.
This Travel Power Strip is the answer to all your troubles! The gadget is not only an extension but also a voltage converter that can convert electrical surges for your gadgets while you charge.
Travel Power Adapter
Isn't it frustrating to check in at your accommodation, prepare to charge your phone or laptop, only to find out that the outlets and your plug are not compatible?
If this happened to you (and it did happen to us, unfortunately), this travel adapter from Ceptics is a good travel gadget for you. It has a total fo 11 adapter set and can be used with cellphones, iPhones, tablets, iPads and laptops.
It is also safety certified meaning it has a built-in 8A Fuse and is certified with FCC CE ROHS.
Rechargeable Batteries
Rechargeable Batteries are our friend when we go on business trips and travel pleasure. This will save us cost when our batteries run low and we need to use a new one.
Batteries are great for mouse, flashlights and other gadgets we use when we travel.
GoTenna Mesh SMS and GPS Device
Planning on going on a hike a few days? Or maybe going off-grid for a while? This smart device is great for staying connected in emergency situations when the cell service is down.
It allows you to go on group chats and other nearby users plus gives you detailed offline maps for any region in the world.
Solar Charger
When we travel, it is quite unavoidable to be in a place where there is no electricity. Especially when we love to be outdoors.
Solar chargers are our best friend when this happens as it allows us to charge our gadget wherever we are.
This travel gadget is fast recharging and has a capacity of 15000mAh.
Bluetooth Tracker
Lost your luggage? Your phone? Your key?
Worry no more with this Bluetooth tracker. You'll be able to determine the exact location of your item by hooking a GSM chip-equipped monitor to an app on your phone.
Well, if you had a bad experience with lost baggage before or any item while on travel, this can certainly help you have a peace of mind. You won't have to rely on anyone else just to get your item back.
Voice Command Watches
If you think a watch is a mere time-teller, then you are wrong. Martian watches can do more than just tell time. It can be connected to your phones through Bluetooth.
You can receive and make calls and receive and answer text messages using it. It can even be compatible with Android and Apple.
So, aside from having a fashionable watch, it also has amazing functions that go handy with it.
Two Way Satellite Communicator
Plan your trip with the InReach Explorer Handheld Satellite Communicator.
When cellphone service is non-existent and the area where you are travelling does not have any connection to the internet, you can use this handheld GPS that works by satellite. You can stay connected with pre-loaded text messages, delivery confirmation, SOS, and rescue monitoring centre.
This is a great app with built-in digital compass, barometric altimeter and accelerometer.
Functional Gadgets for Comfort
When we travel we often miss having the comforts of home. These functional gadgets will give us comfort wherever we go.
Multifunction Pen
At one point in our travels, we find that we need a pen, a screwdriver and a ruler. Even a phone stand! This ATECH Multifunction Pen is a great accessory to have especially for men who are constantly on the go.
The pen has 7 functions including a ballpoint pen, stylus, bottle opener, mini flat-head, Phillips screwdriver, metric and inch ruler and, phone stand.
Wacaco Minipresso
Need coffee wherever you go? This Wacaco Minipresso is a great travel partner with you! It has been designed to be the smallest, lightest and most versatile handheld espresso machine. So that you can have your coffee wherever you go!
The minipresso is also efficient and easy to use so even if you are not fond of technology, you can still use this!
Personal Water Filter
Need to drink water but there are no safe drinking water sources nearby?
This personal water filter is a great gadget to have. It removes bacteria, parasites and, micro plastics to the water, making it safe to drink.
It has undergone some rigorous testing and has passed as a good water purifier. So say goodbye to tummy aches!
Mini Travel Steam Iron
Travelling for work and need some crisp suit to meet clients? Or maybe travelling for pleasure but all the clothes you have brought are easily wrinkled?
This Steamfast is a cool travel gadget to remove wrinkles and is handy and portable. It also comes with a plastic measuring cup and a travel bag.
Portable Wash Bag
When you are out and about doing laundry can be a problem. Especially for long term travellers.
This Scrubba Wash Bag is considered to be the smallest washing machine that weights at only 145g.
It offers high-quality wash that is portable and, of course, helps you save money.
Gadgets for Entertainment and Leisure
Of course, gadgets for entertainments are also great travel companions.
They do keep us sane and relaxed especially after a day of rigorous walking, hiking or even swimming.
Mirrorless Digital Camera
Who doesn't like to take photos when we travel? Most of us certainly do!
And I am not just talking about for photos to be posted on social methods. For keepsakes that we can view from time to time too.
This Sony Alpha a6000 comes with 24 MP APS-C CMOS sensor and Focus Sensitivity Range, ISO 100-25600 (expandable to 51200) and, has up to 11 FPS continuous shooting.
The camera is compact making it easy to bring along wherever you go.
Kindle Oasis E-reader
If you are like me who loves reading books anywhere and anytime, then this Kindle Oasis E-reader is a great gadget to have.
This Kindle has a 7" screen with 300 PPI. It is also waterproof and portable.
Wireless Streaming
Watch TV anytime and anywhere you want using this wireless device that is connected to the internet.
You can even upload items from your smartphone right into your television if you want it to be seen on the big screen!
It also comes with a remote control with a headset so you can still enjoy your movies without disturbing others. You can also play games using the enhanced remote with motion control.
These gadgets are so cool, right? These can really be great travel buddies and they can also make you are travelling a lot of fun and easier.
You will be free from all the worries since your gadgets are there to save you. So, be smart in choosing which gadgets will suit your lifestyle and which will be totally useful for you.
Bring these best pieces of technology for your next travels.
Like This Post? Pin It!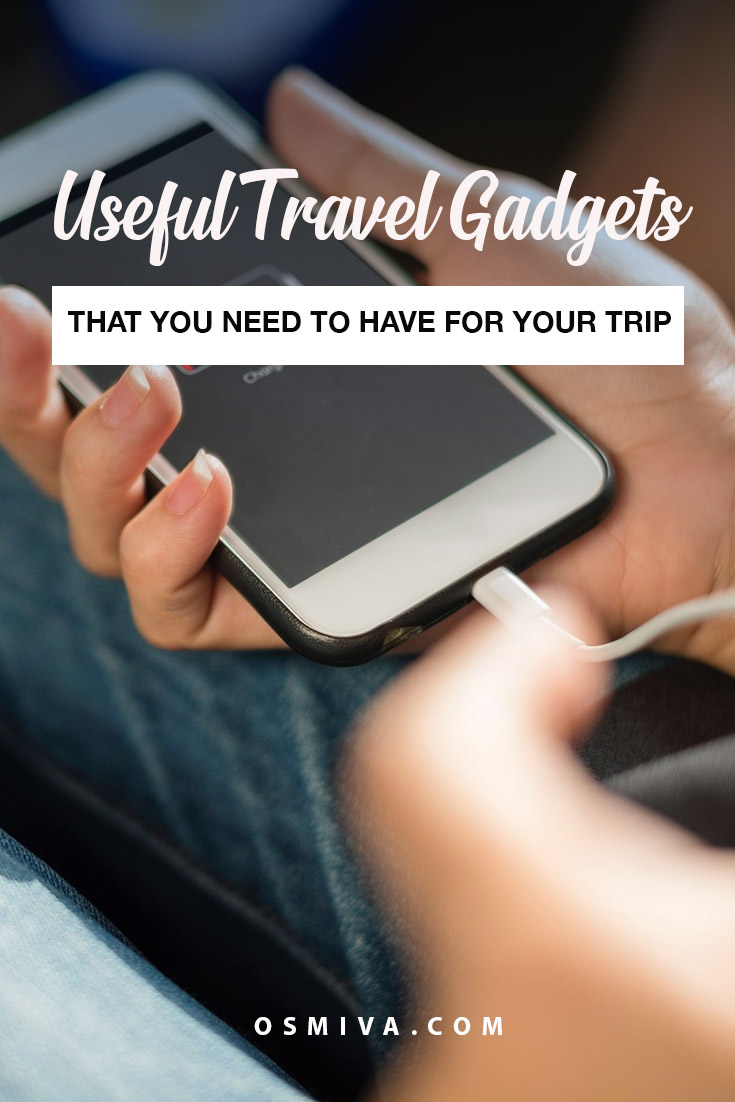 Disclosure: We are a participant in the Amazon Services LLC Associates Program, an affiliate advertising program designed to provide a means for us to earn fees by linking to Amazon.com and affiliated sites. Meaning, if you purchase any item by clicking on the link, I earn a commission at NO EXTRA COST to you. Thank you for reading the blog!