If ever you find yourself in Tajikistan, here are some of the Tajikistan tourist attractions that you should visit.
Central Asia is composed of countries like Kazakhstan, Uzbekistan, Tajikistan, Kyrgyzstan, and Turkmenistan. One of its interesting countries is Tajikistan.
The word Tajikistan means the "Land of the Tajiks", where Tajiks refer to Iranian-speaking peoples as used in the medieval times.
If you are an extensive traveller, Tajikistan is the place to visit.
With its beautiful and untouched mountain scenery plus exciting trekking trails and much more, this country is as exciting and as promising as any popular tourist destination in the world.
Transportation in Tajikistan
For travellers visiting, the mode of transportation around can be taxis, car rental, trains and buses.
In Dushanbe, Tajikistan's capital and largest city, official and licensed taxis are highly recommended to get around.
Though there are no meters to measure the price and distance. It is recommended, however, that you inquire first before riding one.
If you are visiting other places outside the city, taxis are often shared. The price is usually by person. Please don't forget to agree first on the price and make certain that the destination is clear.
Car rentals are also available. The roads are mostly in poor condition so you are recommended to rent a four-wheel-drive vehicle.
Trains and buses are also available and are very cheap. So if you are travelling on a budget, then this is a good option for you to move around.
Places to Visit in Tajikistan
For a list of amazing places to visit, Tajikistan, Central Asia Tourist Attractions lists down some great places to visit.
Check these out when you take the time to go to Tajikistan.
Alauddin Lakes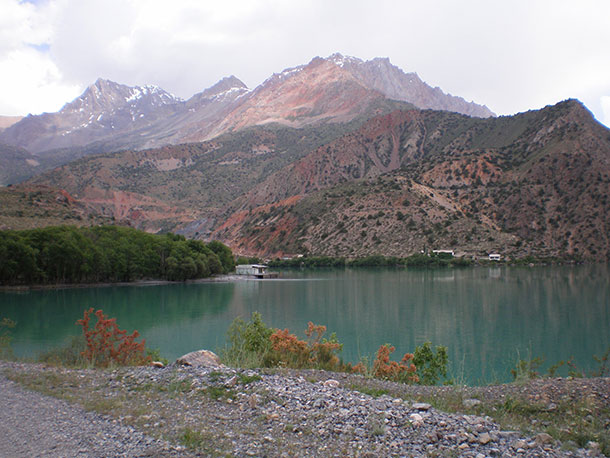 Location: Alauddin, Du-Oba, Tajikistan
The Alauddin Lakes is a beautiful lake basin with clear and cool waters perfect for swimming. It consists of four other small lakes that lie at an altitude of 2,783m.
The area also offers great mountain scenery perfect for a relaxing day. Alauddin Lakes are considered to be one of the most beautiful lakes of the Fan mountains.
Expect to be amazed by the beauty of the surroundings especially during sunset and sunrise.
Ayni Opera and Ballet Theatre
Location: Dushanbe, Tajikistan
Known for its intricate interiors, the Ayni Opera and Ballet Theatre is a theatre for opera and classical music concerts.
The theatre was built in the 1940s but has seen several renovations in the past years. It was refitted in 2009 and it is garden re-landscaped in the year 2013.
For booking of tickets, you can simply reserve your tickets at the front desk.
When you visit to watch a show, remember to follow a smart dress code.
Fann Mountains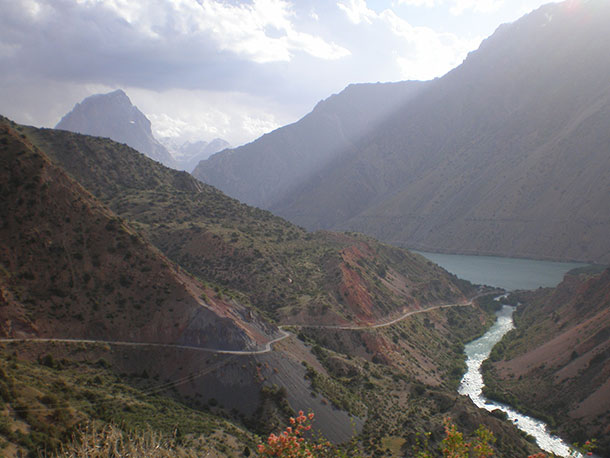 Location: Tajikistan
The Fann Mountains is one of the largest tourist attraction in Tajikistan. Mountaineering, rock climbing, and ice climbing are some of the activities that can be enjoyed here. Not to mention the great scenery.
The Fann Mountains boasts of a hundred peaks and several gorgeous lakes. If you ever plan on doing some activities on this gorgeous mountain, the best time to visit is from May to October for trekking and July to September for mountaineering.
Gissar Fort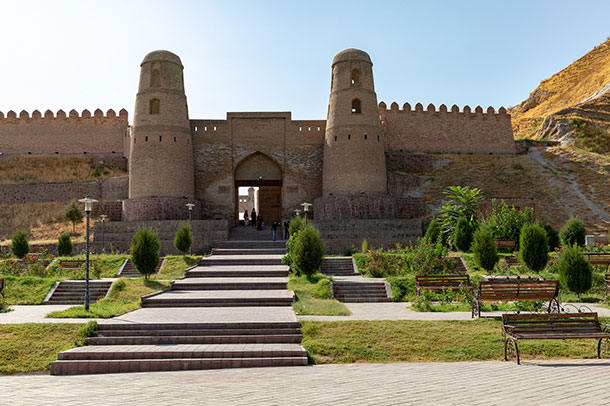 Location: Hisor, Tajikistan
Gissar Fort is a picturesque fortress in the Gissar Valley. The Gissar Valley is also known as Hisor or Hissar.
The fort is located in a hill with a great Islamic-style arched doorway, flanked by two round towers. It is said to have stood for more than 2500 years.
The fortress used to be the political centre of ancient Tajikistan. It served as the residence of Gissar bek, the governor-general of the Emir of Bukhara in ancient times.
The walls of the fort are three foot thick. Guns and cannon protect the courtyards, gardens, pools, and buildings on walls.
Iskanderkul Lake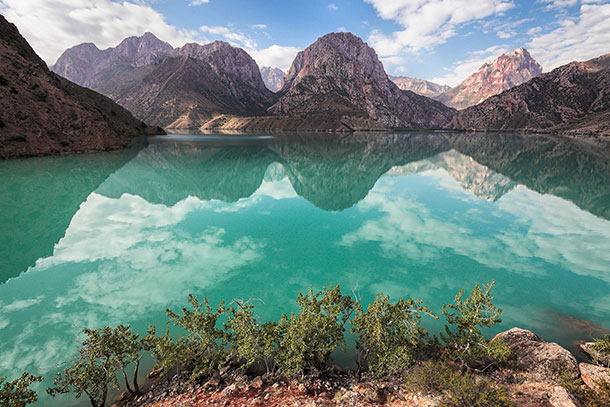 Location: Tajikistan
Iskanderkul Lake is one of the most beautiful places to visit in Tajikistan. It is 2.5 km long and 1 km across and sits at an altitude of 2,255m above sea level with turquoise and calm water. It is said that the lake is a crater lake formed after a rock fall.
A visit to the lake is a must when visiting Tajikistan, making it one of its popular tourist attraction.
Iskanderkul Lake was named after Alexander the Great. It is also called the Lake of Alexander the Great.
"Iskander" was the name of Alexander the Great in the East and "kul" means lake in Turkic languages.
Ismail Somoni Monument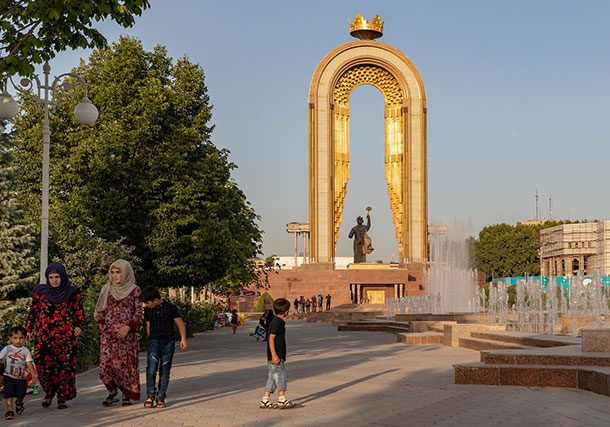 Location: Ismoili Somoni S of City Centre, Tajikistan
The Ismail Somoni Monument is one of Dushanbe's most visible monument to nation-building. The statue is of Ismail Samani, the 10th-century Samanid ruler.
It celebrates the 10th-century founder of the Samanid dynasty.
Kulikalon Lakes
Location: Kulikalon, Artuch, Tajikistan
The Kulikalon Lakes is a group of three glacial lakes, or tarns, in the Zeravshan Mountains of south-western Sughd Province.
They are famous for its ability to shimmer with all colours of a rainbow which provides a breathtaking sight.
Aside from its natural beauty, the lake is also classified as an IBA (Important Bird Area). It is home to a significant number of various bird species, either as residents or as breeding or passage migrants.
National Museum of Antiquities of Tajikistan
Location: 5, Academic Rajobov St, Dushanbe, Tajikistan
The National Museum of Antiquities of Tajikistan is considered to be the best museum in the country. It is a museum that focuses on the Greco-Bactrian sites of Takht-i-Sangin.
One of the museum's highlight is the 13 m-long sleeping Buddha of Adjina-Tepe (Witches Hill), which was excavated in 1966.
Many of the exhibits of the museum represent key pieces of the history of Central Asia.
Pamir Highway
Location: Dushanbe, Tajikistan
The Pamir highway was built by Soviet military engineers between 1931 and 1934. It was made to facilitate troops, transport and provision.
It is also called as M41 and traverse through Afghanistan, Uzbekistan, Tajikistan, and Kyrgyzstan in Central Asia.
The highway offers a unique travel experience plus amazing scenery.
Rudaki Park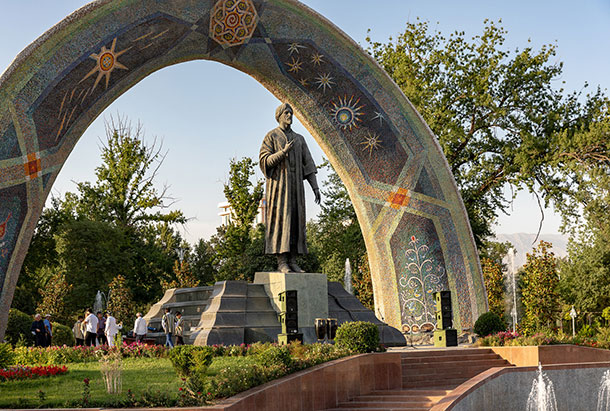 Location: Rudaki Ave, Dushanbe, Tajikistan
The Rudaki Park is a great recreational area in Dushanbe with views of the new palace plus the interesting statue of Rudaki at the centre.
It has a beautiful canopy of trees and a series of pathways through flower gardens and alongside lakes and fountains. A stroll here to unwind is a perfect way to spend the afternoon.
The park also offers views of the city's iconic new buildings and monuments.
Seven Lakes
Location: Marguzor, Tajikistan
The Seven Lakes is a popular place for tourists to visit when in Tajikistan. It is comprised of lakes named as Mijgon at 1640 m, Saya at 1740 m, Gushor, Nofin at 1820 m, Hurdak at 1870 m, Marguzor at 2140 m and Hazorchashma.
The lakes have very different waters that are changing colours from turquoise to green, blue and even black depending on sun position in the sky.
Timur-Dara Lake
Location: Tajikistan
The Timur-Dara Lake was formed by a dam with waters flowing from a small river also named Timur-Dara. Its water then flows out of the lake into Qaratag River and is situated among wooded slopes.
The lake has bright-blue waters and has coarse-grained granite sand which makes an excellent beach.
Impressed with these exciting places? Would you book a trip to Tajikistan too?
Have you been to Tajikistan? How was your trip? Share it with us on the comments below!
Like This Post? Pin It!