Our Ilocos Tour will not be complete without a trip to the northern province of the region: Ilocos Norte and visiting the various Ilocos Norte tourist spots.
Normally people will associate Ilocos to Vigan with its cobbled stone pathways and Kalesa. But if you move further up north, you will get to know more amazing sites to see and equally amazing historical places to visit.
Aside from the sand dunes and its 4×4 adventure and sand boarding, Ilocos Norte has a lot more to offer to guests wanting to explore its popular tourist attractions.
Ilocos Norte tourist spots is a combination of historical interests and natural wonders that make visiting the province very interesting indeed! After our exciting and eventful Paoay Sand Dunes adventure, I was – to say the least – happy to have a more relaxed day out.
Our day was mostly spent getting in the vehicle, riding for a few minutes (or hours, depending on the distance of the next spot) and getting out and exploring.
If you are headed to this part of the Philippines and have no idea of where to go and what to do, here is a list of Ilocos Norte tourist spots that travelers will love to check out!
Ilocos Norte Tourist Spots to Include in your Itinerary
Ilocos Sand Dunes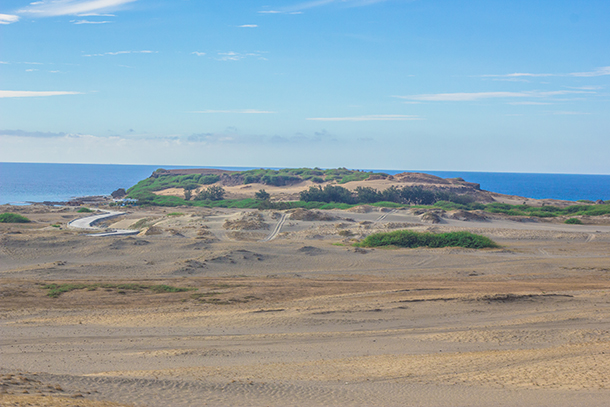 There are two (2) Sand Dunes in Ilocos that's pretty popular with locals who are looking for excitement and adventure: La Paz Sand Dunes and the Paoay Sand Dunes. We spent an afternoon at the Paopay Sand Dunes and if you could recall, we had a bit of a misadventure here.
Nevertheless, I'd love to go back and do it once again if ever given the chance to visit again.
Saud Beach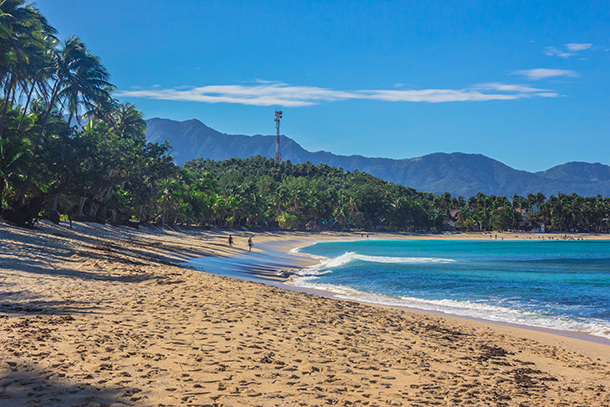 We were lucky enough to have spent the night near Saud Beach where our transient house was located. The beach was actually a few minutes walk away from our transient house. We did not really noticed it the night before because we arrived late and it was pretty dark when we settled in.
We spent a couple of minutes enjoying the view and the gentle sea breeze. It was such a pleasant morning to be out. Swimming was not part of our activity though as we just freshened up.
From Saud Beach, you can get a glimpse of the Windmills from the distance.
After enjoying the sea breeze we went back to the transient house to double check our belongings and check out. A few minutes of that and we were ready for the day ahead!
Patapat Viaduct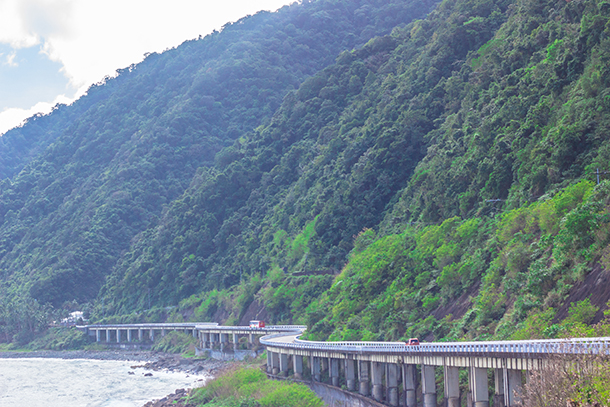 Moving further up north, we headed to one of the most scenic and most photographed bridges in the Philippines: the Patapat Viaduct.
The bridge connects Ilocos (its northern tip) and the Cagayan Valley Region and is about 1.3 km long. Patapat Viaduct offers a majestic view of the Pasaleng Bay and is zigzag in shape.
There is an area within the bridge that gives you an amazing view of the rest of the bridge and the mountain where its attached to. It is safe to say that this is one of Ilocos Norte tourist spots that is favored for photos.
When we arrived there at around 10 AM, plenty of passenger vehicles were already parked at the side road of the highway.
Good thing that the highway is not so busy and tourists can easily get out and have fun taking photos of the bridge and its scenery.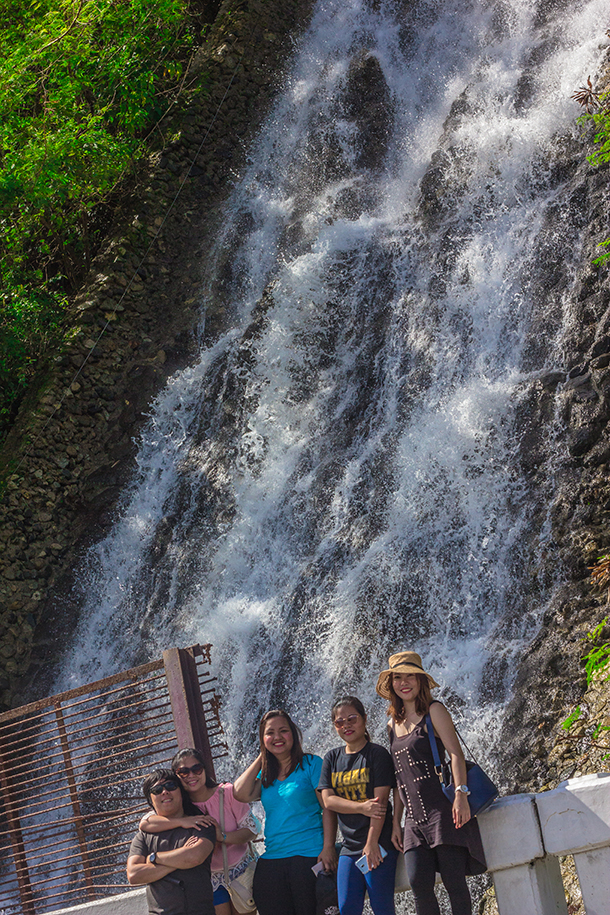 There is also this waterfall right beside it that you can take pictures of.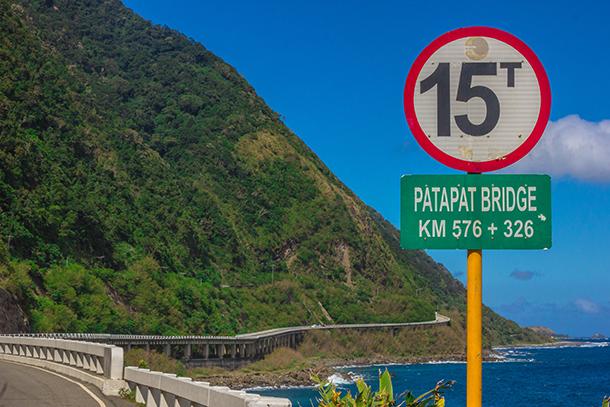 We also headed to the northern tip of the viaduct (at the Cagayan Valley area) for this gorgeous view of the bridge from this side.
A couple of minutes here and we were once again off to our nearest stop: our first taste of Ilocos' natural attractions.
Bantay Abot Cave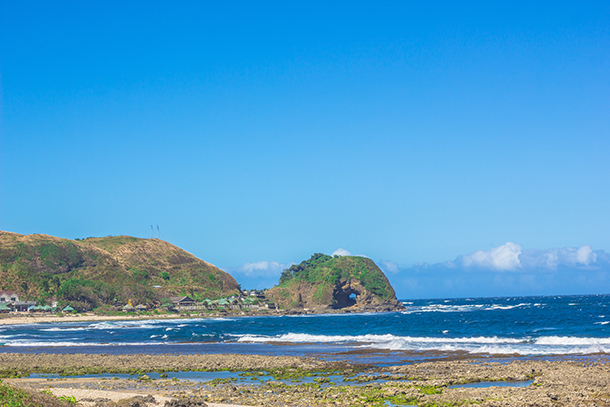 Amazing rock formations are also some of the things that you'll enjoy in Ilocos Norte. And one of them is the Bantay Abot Cave.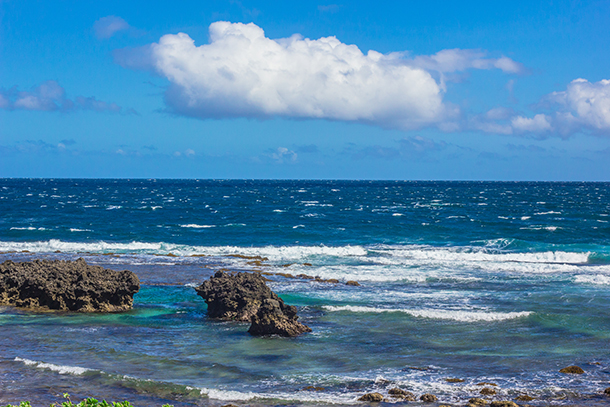 Prior to visiting the actual cave, we were guided to the other side of the hill that's less crowded and still offers amazing views.
We spent a couple of minutes enjoying the sounds of the waves crashing to the rocks and of course not missing some wonderful mandatory group photos.
To reach the cave, we had to go down some steps and pass through a rocky strip of the beach. Entrance fee to the cave is at 20 Php per person.
The Bantay Abot Cave (which means a mountain with a hole) is not really a cave but rather a rocky hill. There is a hole where people can climb to and take cool photos of the crashing waves and some big rocks as the backdrop.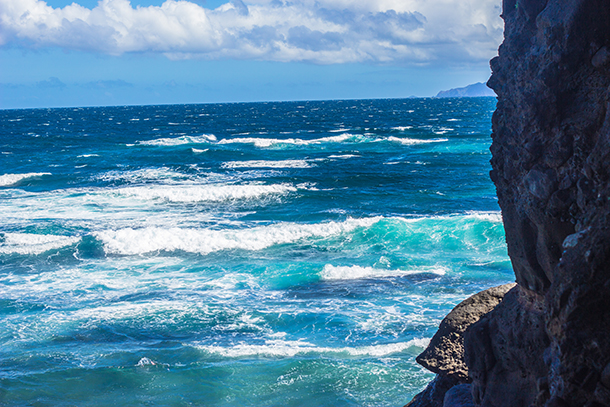 The waves near the cave is very rough, thus not an ideal place to swim.
When we got there, we initially had it all to ourselves. But after a few minutes, people were coming in and the place got a bit crowded.
We waited patiently until everyone left (well most of the crowd) to enjoy the views quietly.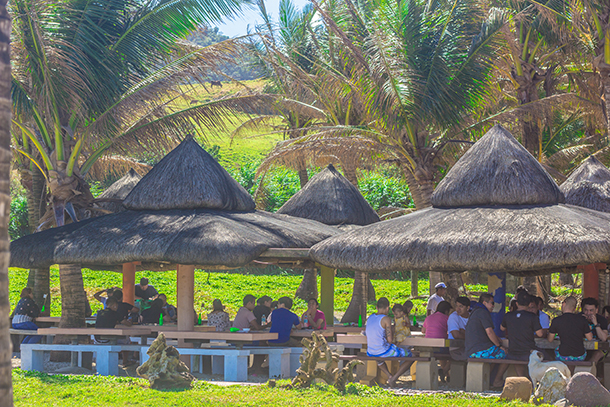 It was close to noon when we left Bantay Abot, so we decided to have lunch at the K&G Restaurant.
The restaurant was full of people and we got us a table outside where the wind was pretty strong. It was inconvenient in terms of keeping our utilities down, but it was very pleasant eating with that breeze coming in.
Aside from the food, the restaurant is also situated in front of another popular Ilocos Norte tourist spots.
Timmangtang Rock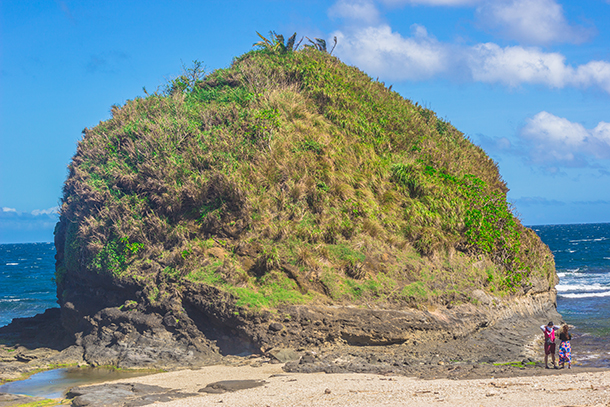 The Timmangtang Rock is another rock formation in Ilocos Norte that is popular because of its bell-shaped feature. It is said to be a part of the Bantay Abot Cave and that they are supposed to be 'Lovers Rocks'.
The Timmangtang Rock being the 'Male Rock' while the Bantay Abot Cave, the 'Female Rock'.
We had a great view of both the Bantay Abot Cave and the Timmangtang Rock from where we spent a few minutes resting after our scrumptious lunch.
There's a path that you can take to get closer to the Timmangtang Rock should you wish to. We, on the other hand, settled for a nice view from afar and did not bother to go up close.
The wind was pretty amazing and we were protected from the glare of the midday sun.
We drove for another half an hour to reach our next destination: the Blue Lagoon – a favorite Ilocos Norte tourist spots for beach lovers.
We passed through a stone structure at the entrance (it was actually still a few meters away from Blue Lagoon) and had to pay an entrance fee of 20 Php per head.
Blue Lagoon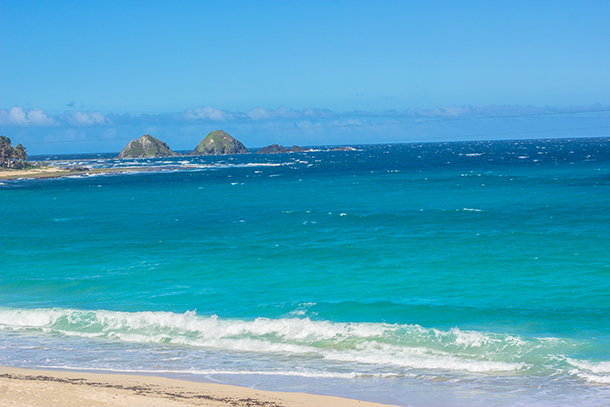 The Blue Lagoon is an amazing stretch of of white sand and clear blue waters located at Maira-Ira Point in Pagudpud, Ilocos Norte.
To be honest, I was not really expecting anything from this Lagoon. So I was pleasantly surprised when we got a glimpse of its waters.
It was such a great sight to see upon driving down the winding road that led us to the area.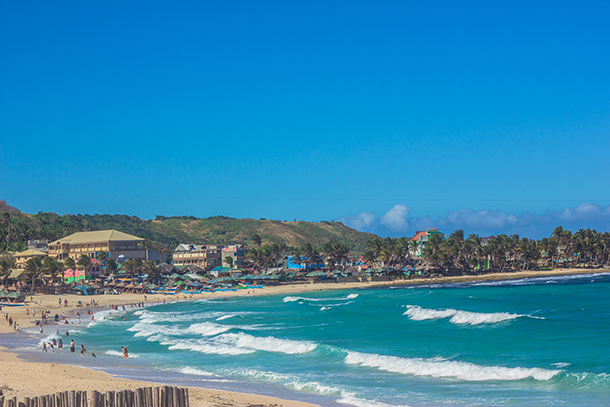 Fronting the Blue Lagoon is Hannah's Beach Resort and Premium Suites. They have built a park near the beach front.
I have mixed feelings about it to be honest, but you really can't blame the management for taking advantage of that wonderful view, right?
We managed to enter the resort without paying any entrance fee. We just stood at one of their cottages and enjoyed the view from there.
It was a windy afternoon and we can feel the sand on our face.
I read somewhere that the sand in Ilocos' Blue Lagoon is not as fine as those in Boracay or in Bohol. It has a more pebble-like characteristics which I guess made it more unpleasant to the face if thrown (or rather smacked) at you. LOL.
Despite the unpleasant feeling of the sand on our face, the view was indeed gorgeous from where we stood. I couldn't ask for anything more!
After Blue Lagoon, we headed back to the vehicle and proceeded to our next destination: the windmills!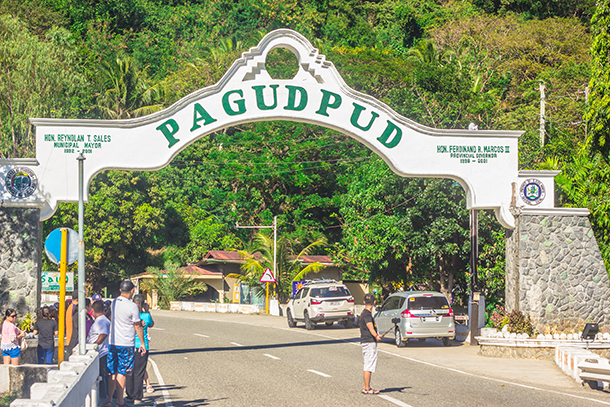 Before arriving at the windmills, we passed through another iconic landmark in Ilocos: the Pagudpud's Welcome Arch.
Actually, most municipality in Ilocos have this arches as you enter their jurisdiction. I think Pagudpud is special because of the popular places that you get to visit here.
Be careful when you attempt to get a photo here though, since it's still the main highway and it can get pretty busy.
Bangui Windmills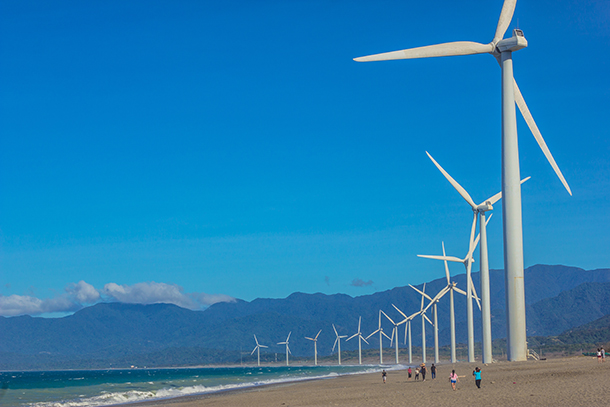 Bangui Windmills has been one of the iconic places in Ilocos that I've been dying to see. In fact, I was pretty excited just getting a few glimpses of it on our way to Saud.
When I saw it up close, it was such a marvel to look at. My husband even commented that it somehow feels like we are in a Power Rangers movie with those gigantic turbines lined up on the shoreline.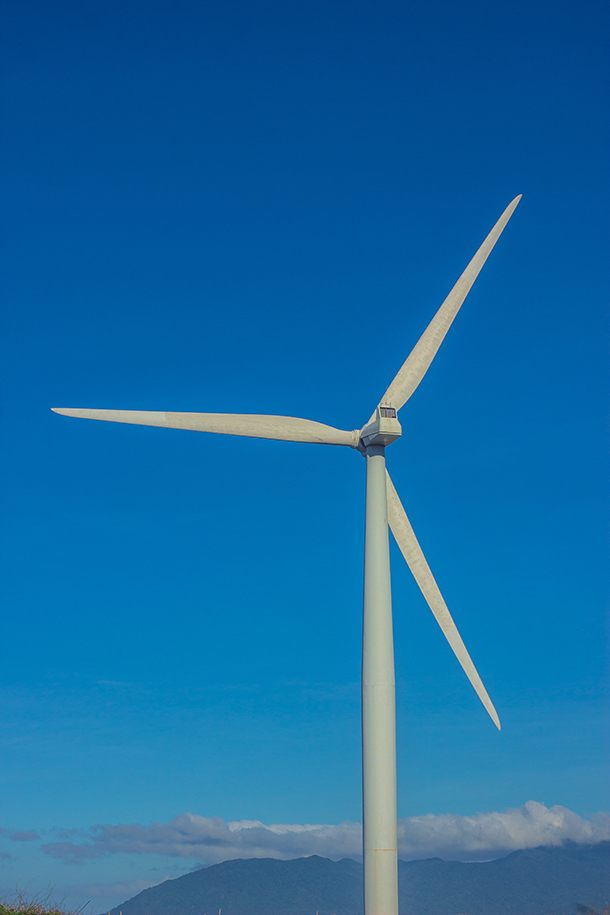 The windmills have been a powerful source of wind energy in the province. It does not hurt too that it's a sight to behold thus attracting tourists in the area.
Admittedly, the windmills are scattered in several places. In fact, you can see them almost anywhere near Pagudpud. But if you want to see them up close, you can either choose to go to Kapurpurawan (our next destination) or Bangui.
Parking here is very easy as there are plenty of spaces to park your vehicle.
There are several souvenir stalls that you will meet at the entrance of the beach too. And a functioning rest room for those wanting a nice rest room break.
We took a couple of minutes enjoying the windmills and the view. There were families and group of friends who were also enjoying themselves posing in front of the windmills. Of course, I just had to have my photo taken too! 😉
Kapurpurawan Rock Formation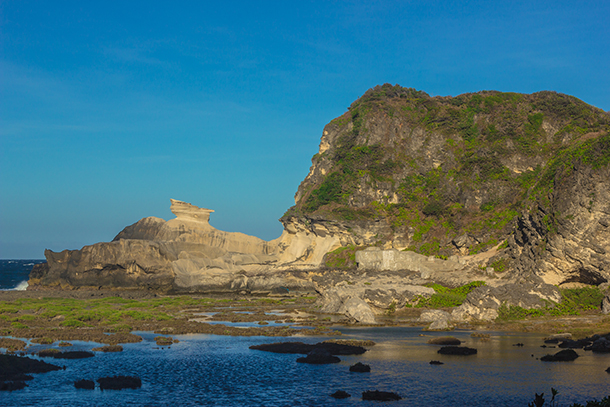 Leaving behind Bangui Wind Farm, we were now guided to another natural wonder in Ilocos Norte: the Kapurpurawan Rock Formation.
Kapurpurawan or 'puraw' is the Ilocano's term for 'white', which describes the astonishingly white rock formation that can be found here.
Upon arrival at the drop off point, you will not immediately see the rock formations. You will need to pass through several tourist shops and souvenirs and climb down a series of steps.
We each have to pay an environmental fee of 10 Php for the maintenance of the place at the entrance.
When we arrived at the base, we could see a white rock from afar. You have the option to hike or ride a horse (with a guide, of course) to get to the white rock. The fee was around 100 Php for a 2-way ride.
We opted to walk and just enjoy the view. The windmills was still visible from this area so it was a pretty nice and added a dramatic backdrop.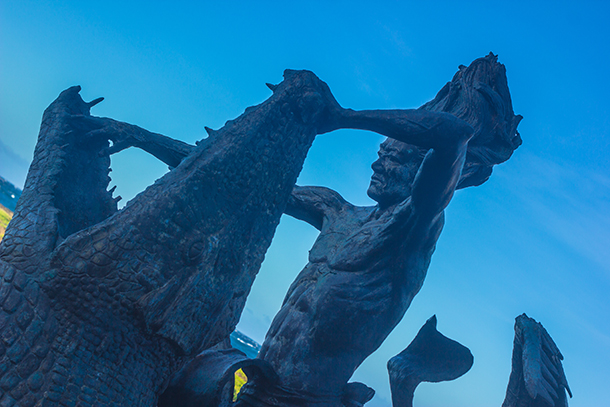 We also passed by this statue of the Biag ni Lam-Ang – an Ilocano epic poem – along the way and just had to stop to see it.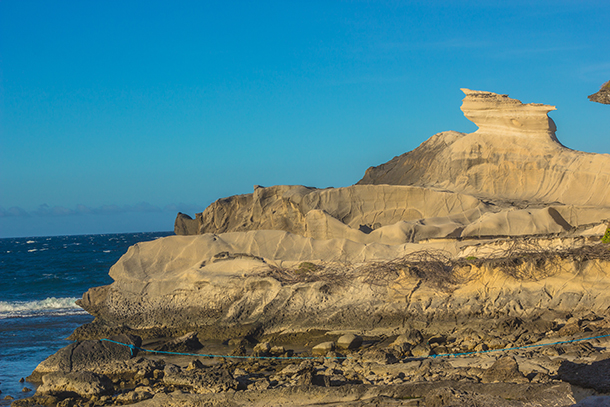 Our hike ended at this point as the view was pretty. From what we heard, people were no longer allowed to go near the white rock anymore to preserve it better.
Knowing that, we just decided to admire it from afar.
A few minutes here and we were ready to hit the road again (of course not without checking out the souvenir shop first and grabbing a bite from the snack stands.
We were going to spend the night in Laoag. Our last stop before we head back to Laoag, however, was the Cape Bojeador Lighthouse.
Cape Bojeador Lighthouse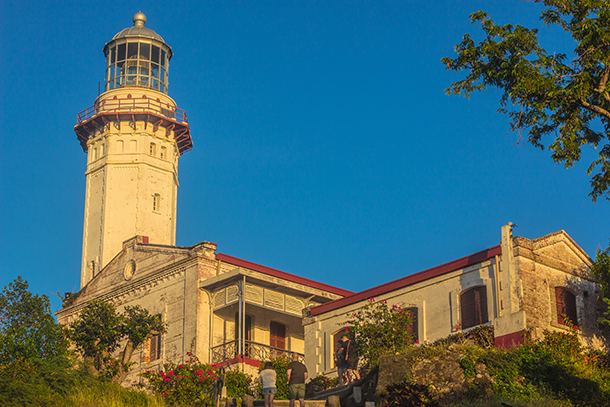 Sunsets are pretty magical (at least for us who loves taking photos and videos of it). It was such a cool way to capture it at Cape Bojeador Lighthouse!
We arrived at the tourist centre of the lighthouse close to sunset. There were tricycles at the base of the Vigia de Nagparitan Hill where the lighthouse is located.
From this point, vehicles were not allowed to drove through the winding road. You have the option to either hire one of the tricycles to take you up or to walk.
We opted to ride one of the tricycles going up and going down too as it does support the locals. Fare was at 10 Php per head.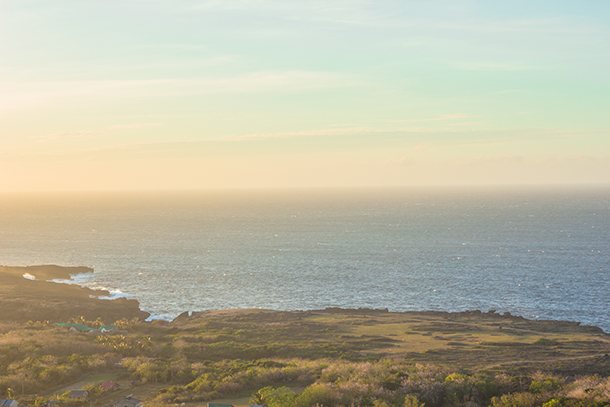 Upon arrival, we were greeted with a view of the surrounding areas and the lighthouse itself.
Aside from being a cultural heritage structure, the lighthouse also offers gorgeous views of the Cape Bojeador. Cape Bojeador is the northwestern tip of the island of Luzon in the Philippines.
Please note that there is an entrance fee of 10 Php upon entering the Lighthouse.
There were several rooms in the lighthouse that you can check out including a room that explains its history. Local guides are also visible in the area to answer your questions and of course take your photos should you wish to!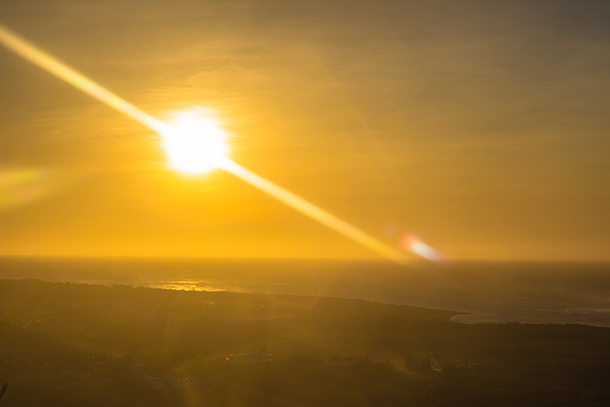 The lantern room was closed when we arrived. We did not get a chance to see it or the views from up there.
We just feasted our eyes on the beautiful sunset that we got the privilege to see from up here!
Finally satisfied with our day, we headed back to the parking lot where our vehicle was parked and headed back to Laoag.
Laoag Provincial Capitol and Aurora Park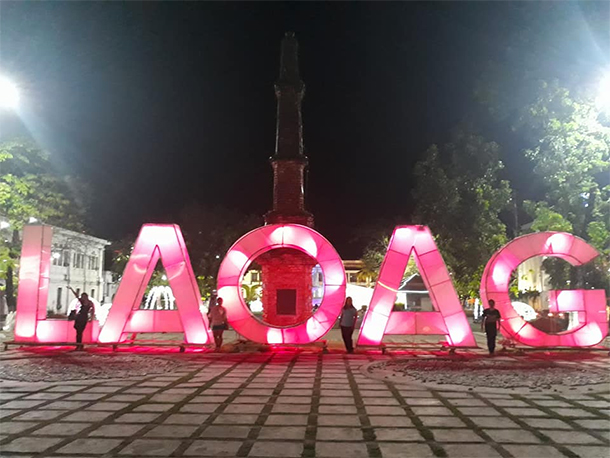 We've passed through Laoag City going to Pagudpud the day before and what caught my eye was the well-lit Provincial Capitol and Aurora Park.
Upon our return, we made sure to check it out before looking for a place to eat.
The Park is just facing the Capitol. From here you can check out the park including the 'Abolition of Tobacco Monopoly Marker' and the fountain.
There were a few locals chilling out in the area. Personally, I took it as a good sign that it was perfectly safe to stay here for a while.
After visiting the park, we headed to the nearest grocery store to purchase some essentials for the night. After which we had our dinner at a local fast-food chain.
Full and watered, we then proceeded to admire the Laoag Sinking Bell Tower. It was only a few steps away from where we ate.
Laoag Sinking Belltower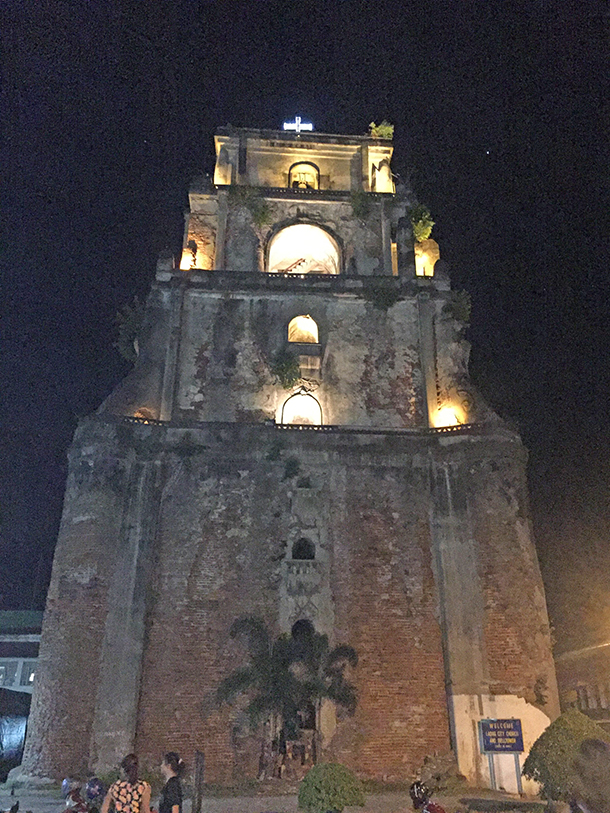 The Bell Tower is considered to be one of the tallest historic building in Laoag. It is also said to be sinking an inch per year.
Unlike most bell towers, Laoag's bell tower is located at approximately 80 meters away from the city's cathedral. An aspect that is unusual for most bell towers.
They are usually built attached to a cathedral or just a few meters away.
After looking around at the Bell Tower and the nearby church, we headed off to our accommodation for the night: People's Inn.
The following morning, we were ready by 8AM. We needed to get back to Manila before 11PM and the drive was hours away.
We still had a few stops that we wanted to take, thus the early start.
Malacañang of the North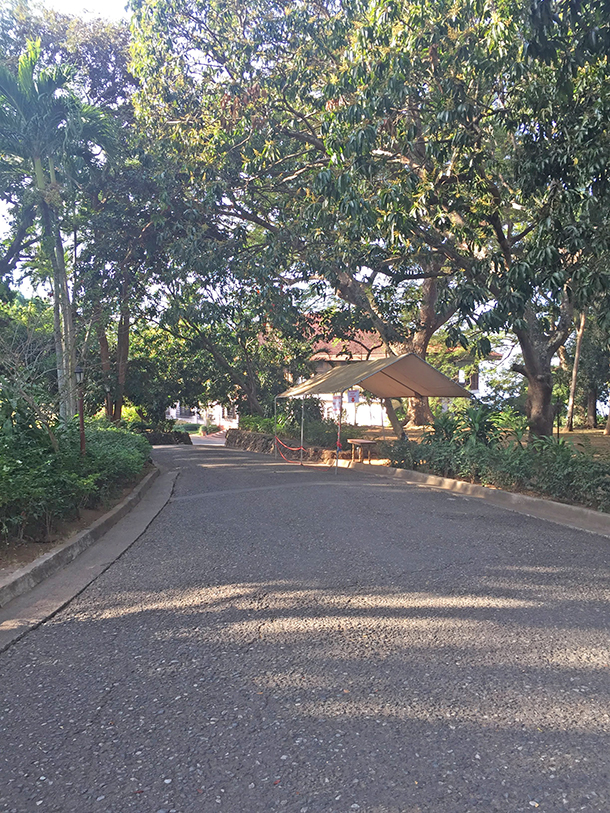 We still wanted to visit the Malacañang of the North and check out its museum. But unfortunately, we took a few wrong turns.
When we finally arrived, we found out that they open at around 9 AM. Since we did not have the luxury of time, we decided to skip it and just take a few photos from the outside.
Too bad though as I wanted to see the memorabilia of the late (and controversial) president of the Philippines: Ferdinand Marcos. Maybe next time!
Nevertheless, we did saw a glimpse of the Paoay Lake as we were leaving.
Before altogether leaving Ilocos Norte, we made our final and last stop: the Paoay Church.
Paoay Church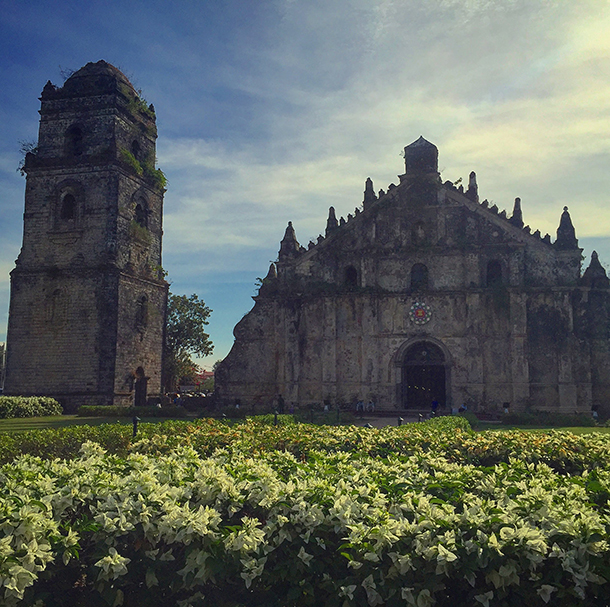 Considered to be a UNESCO World Heritage Site, the Paoay Church is beautiful as it is impressive. There was a mass on-going when we arrived so we did not get a chance to see the inside of the Church.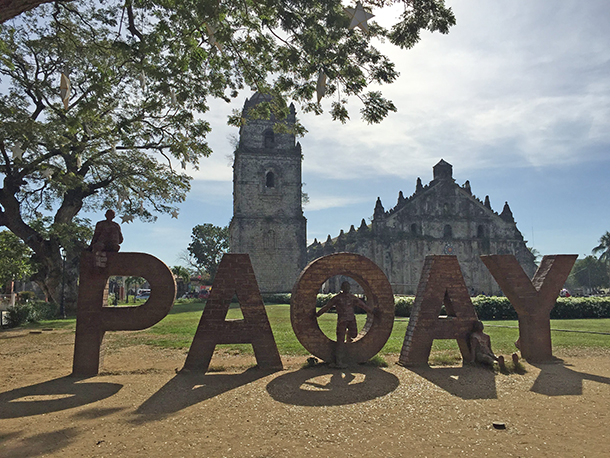 We did enjoy looking at the facade and this cute statue outside.
Back to the vehicle again and we're off to Vigan for some Vigan delicacies and lunch.
The various Ilocos Norte tourist spots that we saw was indeed a pleasant surprise. And from what I've seen, definitely a place that could not be entirely visited for a day only.
My husband and I are planning on maybe going on a road trip there one day when everything is settled in.
Here's a brief 1 minute video we've created of the highlights of our trip!:
Ilocos Norte Map
Need help with your road trip? Here's our Ilocos Norte map of the route we took!
As you can probably notice, we started at the northern part of Ilocos Norte (Pagudpud) before slowly making our way South.
How To Get to Ilocos Norte
There are several ways to reach Ilocos Norte from Manila (which is the common entry point for any traveler).
Via Public Bus. Public buses are available day and night with regular trips from several bus companies (examples are: Florida, Partas, Fariñas, and Maria De Leon) which will take you directly to Laoag City. Travel time is approximately 10-12 hours by day and 8-10 hours at night. Day trips take longer due to traffic.
Via Private Car. You can also drive to Laoag City from Manila. Travel time is about 8-10 hours depending on speed and stops. You may want to check out this map for your reference:
Via Air. Local airlines like Cebu Pacific, Philippine Airlines, and Airphil Express have daily scheduled flights to Laoag City. If you want to save, be sure to check their websites to watch out for discount and promo fares. Travel time from Manila is around 45 minutes.
Where to Stay in Ilocos Norte
Ilocos Norte has several affordable and convenient hotels that you can choose from when you visit. Check our room availabilities and room prices at hotel booking sites.
Have you been to Ilocos Norte? Which tourist spot do you highly recommend?
Like This Post? Pin It!