Among the many countries in the world, the Philippines has the longest Christmas season.
The season is already celebrated as early as September. Filipinos consider the months ending with the syllable 'ber' is Christmas months. It officially ends on the Feast of Epiphany or Three Kings (Tatlong Hari) on the first Sunday after the new year.
The Philippines is composed of various ethnic groups. This means different Christmas traditions are being observed though, of course, they somehow share some relevant similarities.
It's many regions, provinces, towns and cities flamboyantly display its Christmas Spirit by the lights, lanterns and 'belens' in almost everywhere.
Similarly, houses are already decorated with Christmas lights, Christmas trees and 'Belens'. While some shoppers, the organised ones like me (LOL), are already planning their Christmas list and purchasing Christmas items on stores.
Almost anywhere you go, Christmas greetings are shared by friends and loved ones as the Christmas month progress.
With our rich culture and history, this Filipino tradition has become a mixture of the western and Asian culture.
Philippines Christmas Traditions lists down the things that makes Christmas in the Philippines unique and interesting.
If you are looking for a country to visit this Christmas, take a look at how Christmas is celebrated in the Philippines and how you can enjoy it too.
After all, this is a great opportunity to immerse in the culture and tradition of a family-oriented country!
As Filipinos all-over the world celebrates this season of love, we relive our Philippines Christmas Traditions through this list!
Philippines' Christmas Decorations
Parol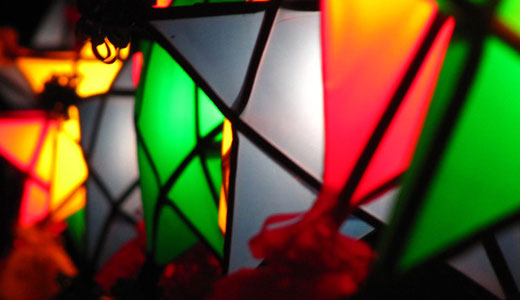 The Parol (also known as the Philippine Lantern) is a unique Filipino decoration traditionally made from bamboo sticks, colorful papers and shaped like a five-pointed star. A candle or coconut-oil lamp is placed inside the Parol for illumination.
Putting up a parol in homes, offices, schools and other establishments is a common Filipino tradition.
Today, the Parol has been innovated as well, forming into various shapes, sizes and are being made out from different materials.
There are cities and towns who like to have a parol-making contest and display it in central areas like the park or town plaza. Be sure to catch one of those when you visit!
Belen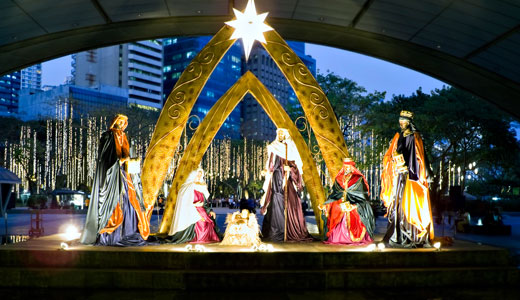 Another popular Christmas decoration in the Philippines are the Belen. This is similar with the Nativity Scene in many western countries.
It is a tableau depicting the Holy Family at the birth of Jesus. Like the Parol, Belens are also a favorite Filipino decoration that is displayed in many establishments, homes, offices, and parks.
The Belens are often displayed until the celebration of the Feast of Epiphany which marks the end of the Christmas Season.
Homemade Christmas Trees
Natural Christmas trees are scarce in the Philippines. Filipinos have turned to artificial trees to decorate their homes during Christmas. When artificial trees are too expensive for the budget, Filipinos turn to homemade Christmas tree to use at home.
These homemade trees are sometimes made from dried twigs, dead tree trunk and even recycled paper cleverly designed to look like a tree.
Cities and towns love to showcase grand Christmas trees too. It's always a festive and fun moment to mingle with locals while admiring the trees at nigh, all lit up!
Filipino Traditions on Christmas
Simbang Gabi/Misa de Gallo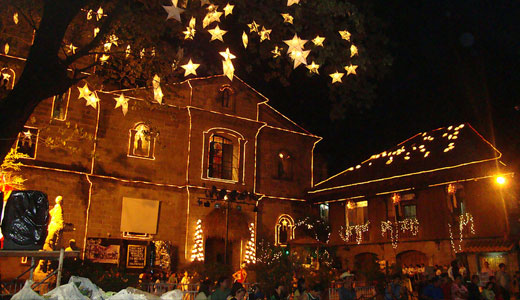 Nine (9) days before Christmas, a series of novena masses – locally known as Simbang Gabi or Misa de Gallo- are held in many Churches all over the Philippines. The novena, held at three or four o'clock in the morning, starts on December 16 and ends on the 24th of December.
The Simbang Gabi is a cherished Filipino religious tradition that shows deep devotion to God and increases the anticipation of the Nativity of Jesus.
Many Filipinos believe that if a person completely attend the nine masses, he can make one special wish that will be granted by God.
Several Filipino delicacies are sold for churchgoers. Some of the Filipino favourites are the following:
Bibingka. Bibingka are Filipino cakes made with ground rice, coconut mil and eggs. The cakes are traditionally cooked in clay pots lined with banana leaves. This type of cooking lets out an aromatic smell when served.
Puto Bumbong. Another favourite Simbang Gabi delicacy is the Puto Bumbong. It is a purple rice cake, steamed inside a bamboo tube. The rice cake is often topped with Margarine (or butter), freshly grated coconut and muscovado sugar.
Hot Chocolate. As Simbang Gabi is done at dawn, hot chocolate or 'tsokolate' is a favourite to warm up the body.
Christmas Caroling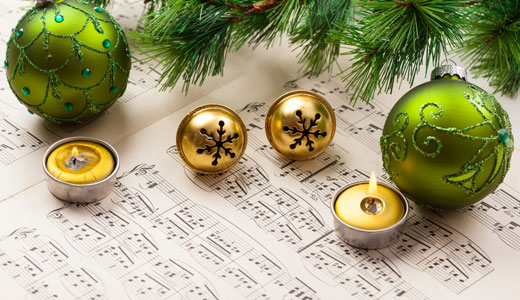 Like most countries , Christmas is celebrated with songs and praises.
The Philippines are among those countries where Carolers are welcomed everywhere. Groups of people (children and adults) would roam around the streets visiting houses, singing their hearts out with their instruments – tambourines and guitars.
At the end of the songs, after the home owners reward them with money, the carolers would chant or sing their words of "thanks".
Recently, caroling has become a fund-raising activity for Socio-Economic groups and private organizations.
Panunuluyan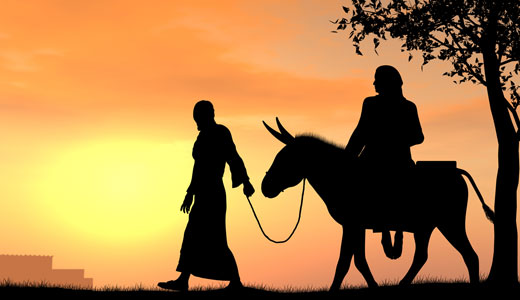 'Panunuluyan' is another Filipino tradition observed in some provinces throughout the Philippines. This is similar to the Mexican Posadas where the journey of Joseph and Mary in search for shelter while Mary was pregnant is being reenacted.
In some provinces, the re-enactment is done on the Eve before Christmas.
Monito Monita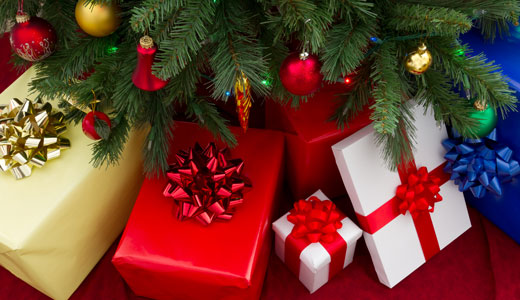 Schools, organizations, homes and offices hold their own Christmas Exchange Gifts. Similar with Kris Kringle, each participant has his/her own secret Santa who gives them gift.
Kris Kringle usually starts at the beginning of December. Friends, officemates and families start giving their monito/ monita certain gifts according to the requirements of the gifts for the day or the week. Example it can be 'something long', 'something funny' or 'something soft'.
If you're monito or monita loves to travel, for sure he/she will love some unique travel gifts!
Noche Buena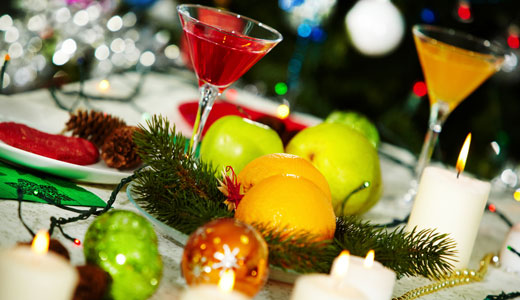 One of the most anticipated event for Filipinos during the Christmas season is the Noche Buena. Who doesn't love to eat, right?
It is a grand family dinner served at 12 midnight or after the midnight mass. Most families use their best china and silver ware during this feast and cook their best recipe.
A mark of close family ties, the Noche Buena is a favorite family tradition among Filipinos. During this time, certain Philippines Christmas food are always found on the table.
Christmas hams. Cured hams are a favourite for any Noche Buena and is almost always present. Incidentally, Christmas hams are also a favourite company gifts for employees. They are usually included in the Christmas giveaways that employers give to their employees during Christmas parties and end-of-the-year events.
Sweet Spaghetti. Many Filipino families wouldn't thought of leaving out the sweet spaghetti for Noche Buena. It's a favourite especially for kids and teens.
Pansit. A Filipino dish believed to give long life to people who eat it, pansit is a favourite Noche Buena dish. This is also best paired with slice bread (talk about carbo-loading! 😀 )
Fruit Salad. The fruit salad is a favourite dessert for any family meal. It is easy to prepare and can even last for days provided that it is stored in a cool and dry place.
Cake. Who wouldn't love some cake during Christmas Eve? Filipino tradition includes serving some sweet cake on the table for dessert. Among the favourite is the Chiffon Cake.
Keso De Bola. Or simply 'Cheese', the keso de bola is often seen during Christmas Eve and best paired for bread, ham and hot chocolate.
Fried Chicken. Who doesn't love fried chicken? Filipino's certainly do! And fried chicken are also served during Noche Buena.
Aguinaldo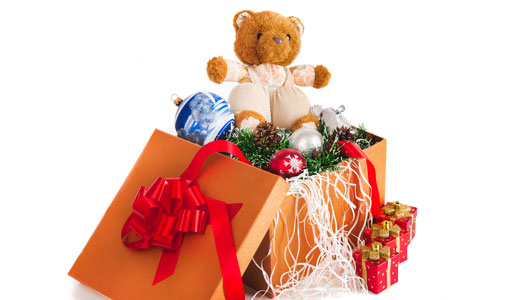 During Christmas day, it is a common Filipino tradition to visit relatives.
Children, together with other family members, would often wear their best or new clothes and go to elder relatives and godparents to pay their respect.
An age-old tradition called 'mano' where one's forehead is touched by the elder's hand is practiced by the children during their visit.
Usually, children are presented with gifts such as money, candy or toys by their godparents or relatives. These gifts are popularly called as aguinaldo.
With the modernisation of time, even the elder are given gifts and Aguinaldo. Moms and Dads in particular will love gifts that will make them feel loved and important on this special day!
New Year's Eve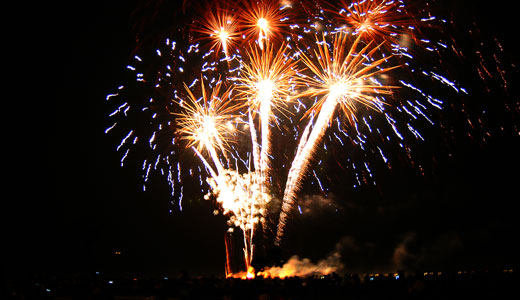 After Christmas Day, Filipinos are now anticipating the coming of the new year.
On New Year's Eve, Filipino families will now gather again for the annual Media Noche or Midnight Meal. Like the Noche Buena, the Media Noche is served at 12 midnight or after the midnight mass.
The feast served during New Year's Eve symbolizes the Filipino hopes of a prosperous new year. Setting out firecrackers, merry-making and loud noises is a tradition believed to cast out malevolent spirits.
Aside from the delicious meal served for the family, fireworks displays are also much anticipated in major cities.
Three Kings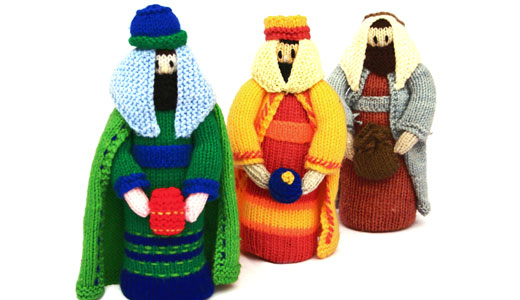 Three Kings or the Feast of Epiphany, is a religious event in the Philippines celebrated with a mass. It marks the end of the Christmas season. Christmas Decorations such as the Parol and Belen are now stowed away.
Christmas is much celebrated everywhere in the world. No matter where you are and who you are, we all look forward to the love that this season offers.
As for the Philippines, it is a season for the family. Come on over and visit us at this season and experience Christmas in the Philippines! After all, 'Iba talaga and pasko sa 'Pinas!'
Like This Post? Pin It!