If you are spending a day or two in Siquijor, don't miss out a chance to spend a day at the Cambugahay Falls! The falls may be small but there are fun things to do here!
A trip to Siquijor isn't complete without visiting one of its top destination: the Cambugahay Falls in Lazi, Siquijor.
If you are joining the Siquijor Coastal Tour, this is easily one of the stops that you'll get to enjoy. But if not, a day trip here can be fun and pretty enjoyable too.
About the Cambugahay Falls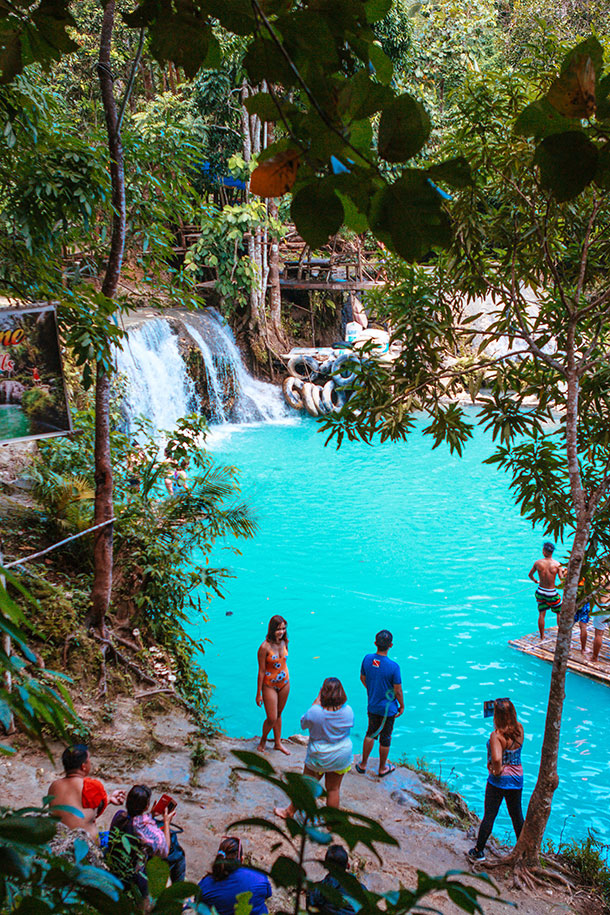 The Cambugahay Falls is a three-level falls right in the heart of Lazi. It's quite notable because of its blue-green waters and peaceful and relaxing ambiance. Not to mention it's fun and exciting Tarzan Swing.
Unlike Kawasan Falls in Cebu and Casaroro Falls in Valencia, the falls is not that high. More like the Pulangbato Falls.
You won't have to take a 30-minute hike or so to get to the next level. This makes the falls pretty family-friendly and accessible too!
Indeed one of the reasons to visit Siquijor with your friends and family!
How to Get to the Cambugahay Falls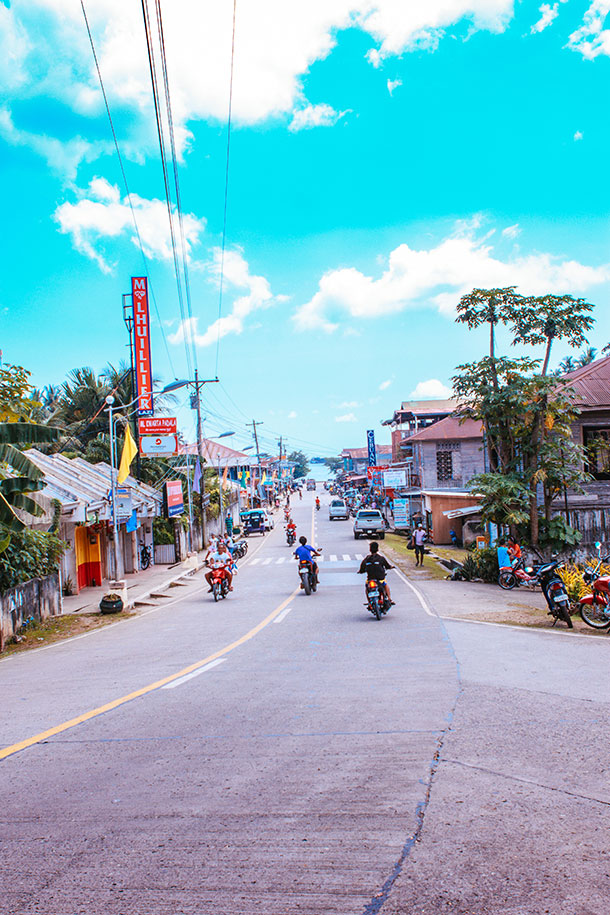 As mentioned above, the falls is located in Lazi, Siquijor. It is also included in the coastal tour.
If you're not taking part of any tour, you can simply take a tricycle to take you there. Or maybe rent a motorbike or scooter.
Remember that you'll be paying for parking fee as well. Ours was at 20 Php for the entire time that we were there. We were there for about 2 hours at the most.
As of writing, the fare within the town is at 10 Php per head. So if you are in Lazi and is planning to visit the falls, that is the minimum fare.
But if you are from another town, let's say Larena, fare is at 30 Php per head.
If you are riding a motorbike, you can follow this map.
This is assuming your starting point is at Siquijor Port, which is the docking point for boats or ferries from Dumaguete and Cebu. You can always adjust the details on the map, BTW.
Entrance Fee and Opening Hours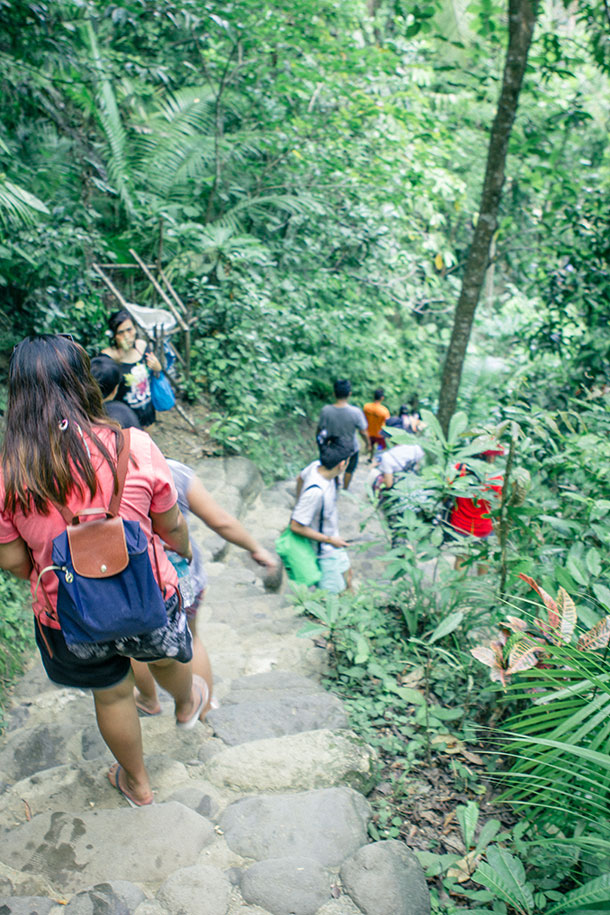 There is no entrance fee when you visit the falls. It should be noted, however, that the falls is open from 7AM to 5PM only.
What to Expect When Visiting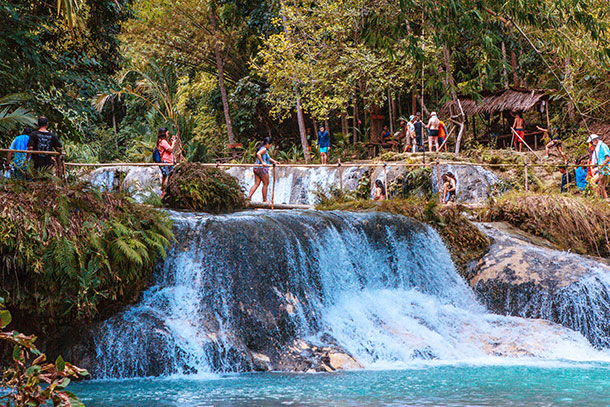 1. The most popular spot for swimming is at the third level. There you'll mostly see tourists and locals cheering each other for some waterfall jumping.
2. The Tarzan Swing is free and anyone can try it. But, you need to inform the lifeguard that you are going to jump in.
3. There are around 136 steps going down to the falls. Be ready for some huffing and puffing if you haven't had any exercise yet. But trust me, it's not as tiring as you'd expect it to be.
4. Life vests are available for a fee. When we went there, rental for one life vest was at 100 Php.
Things to Do at the Cambugahay Falls
Relax With Nature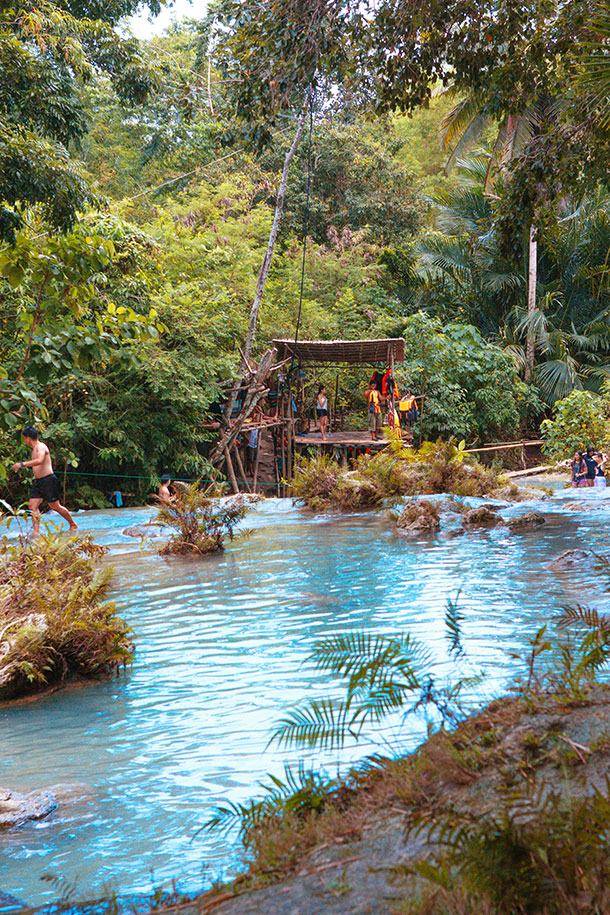 The falls is surrounded by vegetation on all sides. Aside from the usual noises of the people in the area, you'd get to enjoy a relaxing day with nature.
I personally love the sound of the rushing water and the swaying of the leaves as the wind blows. It has a hypnotic ambiance to it that I just love.
You can float in the water or simply sit around to get into the peaceful vibe the falls has.
Swim in the Cold Soothing Water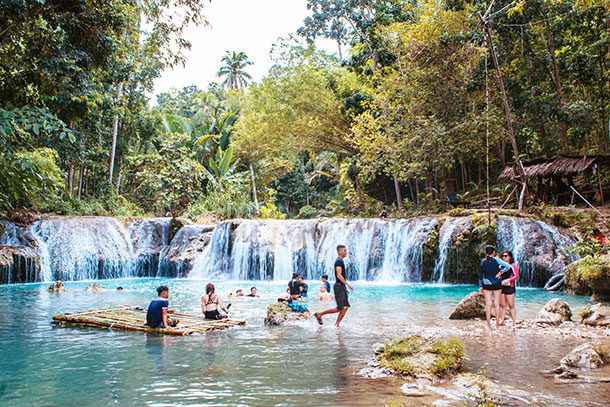 After a hot day of being in the tricycle or on your motorbike, a dip in the falls is a great way to cool off.
Come to think of it, you can visit the falls after the Mountain Tour or the Cantabon Cave. Surely, it's a good reward as any other to just soak in and let the water rush through the body and ease the stress of walking and climbing over rocks.
Nevertheless, the water of the falls is really inviting. And you can feel it in the air as you approach the falls. It's very tempting to dive into the water once you get there.
Do Some Waterfalls Jumping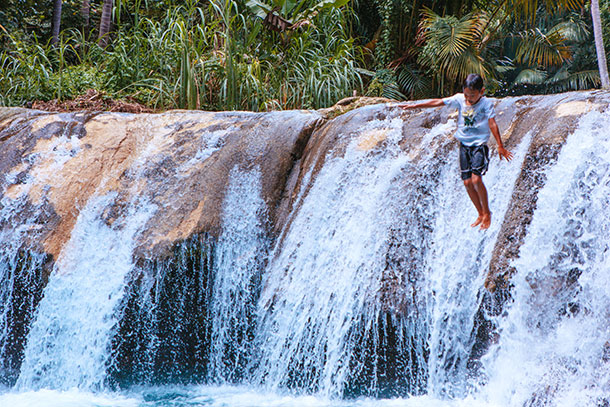 Want to try waterfall jumping? You can do that here!
The falls is not that high and people who love some quick adrenaline rush can enjoy some waterfall jumping with locals and tourists too!
You'll definitely not feel scared doing that here with locals and tourists cheering you on.
The best falls to do some waterfall jumping is at the third level so head over there if you are all for some fun.
Try the Tarzan Swing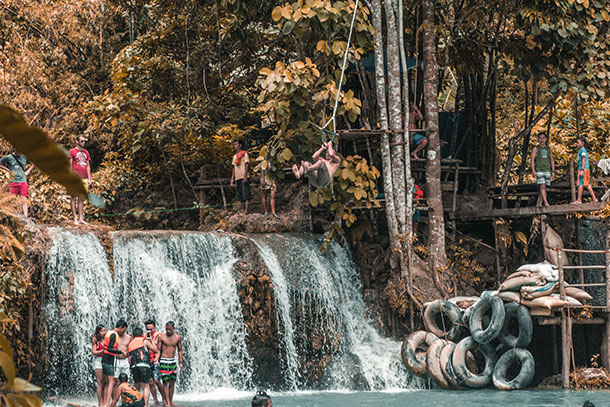 One of the most popular activity here is the Tarzan Swing.
Basically, you'll be swinging on a rope to jump to the water. It's pretty entertaining to watch people do some amazing backflips.
I did not try this though as I am not a thrill-seeker. But I could easily see people enjoying this.
Ride the Bamboo Rafter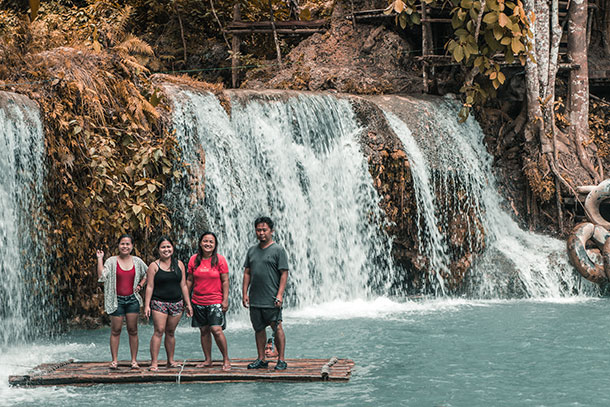 If you love something more subtle yet enjoyable, try riding the bamboo rafter and let a local guide you towards the waterfall. This is usually available at the first level.
I personally think this is perfect for those who aren't confident in swimming but would like to go closer to the falls (just like me! haha)
Price was around 20 Php per head. There was no time limit as far as I can tell. But if you are planning to try this for a bit longer, ask the guide first.
We stayed for a couple of minutes enjoying the cool water and the view. It was a fun way to relax.
Have some Waterfall Massage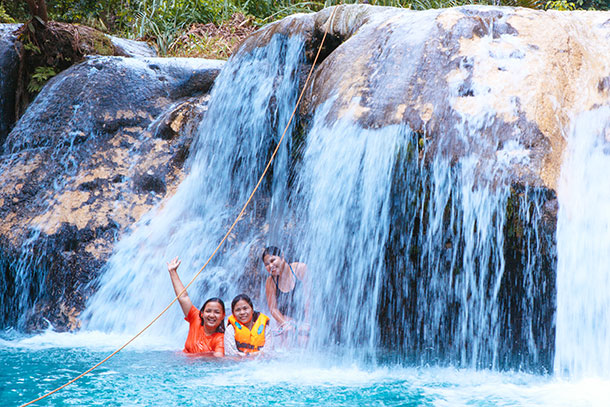 Like any other waterfalls, a waterfall massage is one of the favorite activities that you don't want to miss.
You can enjoy it here too when you visit. First is on board the bamboo rafter at the first level and second at the third level too.
There is an opening or small crevice where you can sit and let the water massage your back (any part of the body for that matter). You can move deeper and let the waterfall be a curtain of some sort.
Dine by the Falls
There may not be a big space for big and lavish picnics, but there are pretty decent area to put your things and enjoy a bite or two with friends and family.
If you haven't bought any food with you, there are stalls right at the entrance where you can buy some.
Get Friendly with Locals and Tourists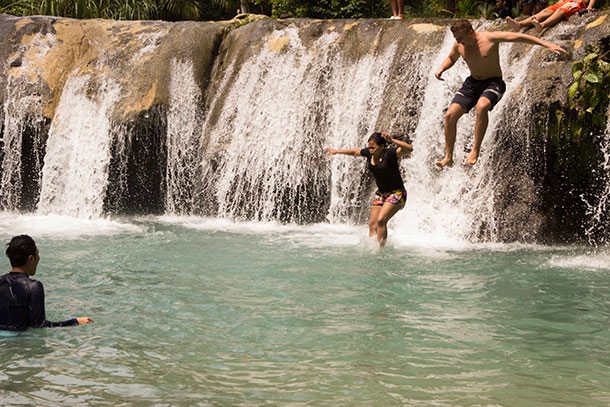 Be prepared to make friends with locals and tourists alike when you are here. It's hard not to as you'll be cheering each other on especially if you are trying the swing or jumping the falls.
Falls Travel Tips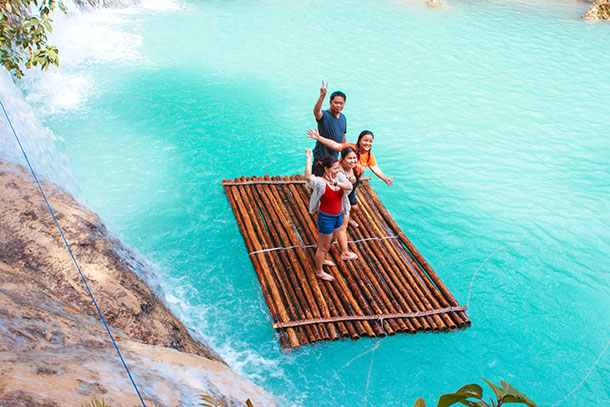 1. Remember to dispose your garbage properly when you visit. Don't litter as this can pollute our natural resources.
2. Wear non-slip footwear as there are places that are pretty slippery. Also the rocks can be sharp so it's better to wear something sturdy too.
3. Be careful when you try the Tarzan Swing and if you go waterfall jumping. Remember to inform the lifeguard beforehand especially when you try the Tarzan Swing.
4. Wear life vests if you are not a strong swimmer or if you don't feel comfortable with floating. Remember that safety should be a priority.
5. If you don't like bringing bags with you, then I suggest to bring one when you visit here to secure your things. There are no tables and chairs so you'll be placing your things on rocks. It wouldn't be fun if you loose something.
Have you visited the Cambugahay Falls and tried the Tarzan Swing? Did you enjoy your visit here? Share with us your experience on the comments below!
Like This Post? Pin It!