Are you planning a family trip in Boracay? Here is our recommended list of things to do in Boracay with the family!
Boracay has always been the party island. It is the place to go for a drink, nightlife and social life. Or it used to be.
After the 6 months rehabilitation of the island, I must say it's much tamer and kid-friendly. Something that I didn't know was possible back then.
On my daughter's second birthday, my husband and I decided to take here there. We wanted to see how the island changed from what we have seen years ago when we visited.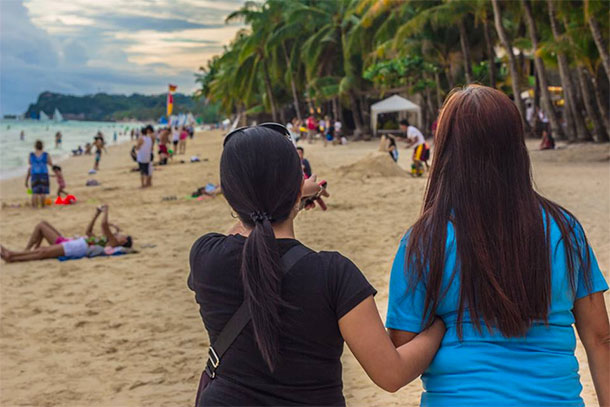 To be honest, I can't say that the island wasn't great for families back then. We traveled as a couple so I was paying more attention to what teenagers and adults can do back then.
Before, Boracay was a place for adults who wanted to have a good time. And I don't think kids will enjoy the beachfront with that too many people.
From what I remember versus what we experienced, however, I can say that Boracay is indeed a kid-friendly beach now!
If you are also planning to visit this beautiful island, here are some of our family-friendly and fun things to do in Boracay with your toddler!
Relaxing things to do in Boracay with toddlers.
As an island with an amazing beach, the island is indeed a relaxing piece of heaven today. If you just want to relax, here are some of the RELAXING things to do in Boracay:
Soak in the warm and crystal clear seawater.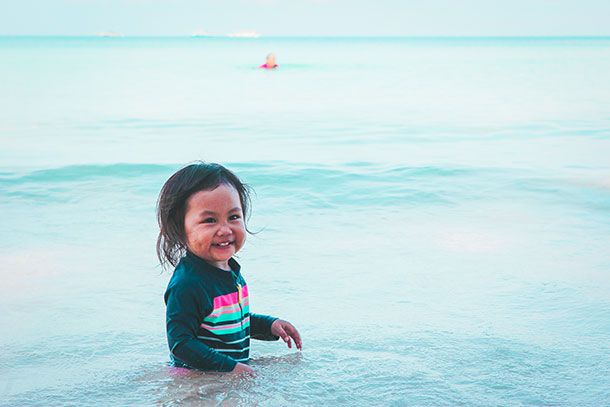 If you love spending hours in the water, you will love Boracay's warm and clear waters. You wouldn't even mind getting those sunburn!
What we enjoyed the most during our visit is our morning swim just in front of the resort we were staying. While my daughter didn't really enjoy it as much as we expected her too, my mother did spend hours just swimming.
Taste different flavors.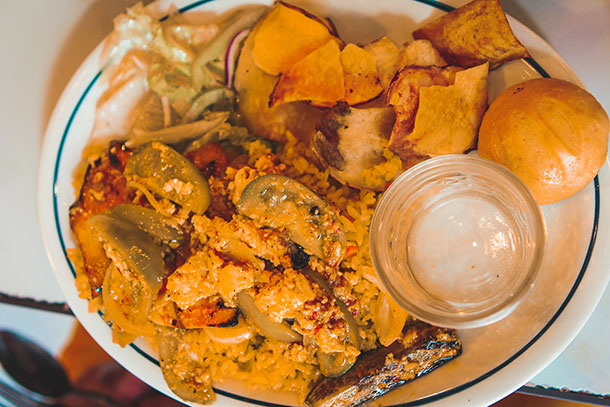 If you love a good eat, Boracay has amazing selection flavors that you'll love.
Because of the various nationalities visiting the island, there are many dishes available. Aside from the D'Mall, where stalls are, the beachfront is lined up with resorts and restaurants that have amazing options. Not to mention the lovely music at night, if you want to grab some dinner at these restaurants.
If you want to search for cheaper options, there are still a lot more in Boracay public areas.
Reminders: Boracay is implementing several rules which include the prohibition of eating on the beachfront. So do make sure to eat them in designated areas only and, of course, throw them properly.
Fall in love with the sunset.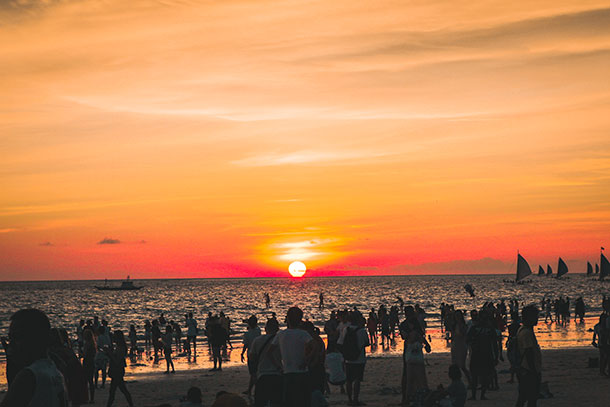 Boracay has got to have the best sunsets I have seen, especially in an island setting.
In the afternoon, you will mostly see crowds of people waiting on the beachfront. And they are actually not just waiting for anything, but a chance, or rather in the hopes to see the majestic sunset.
Well, aside from getting an amazing view on the beach, you can also enjoy it by trying the paraw sailing. Although the activity can be done at any time of the day, though its a different activity altogether. Also, children 0-6 are not allowed to join. So, this would be good for bigger kids aged 7 and above.
A paraw is a small boat that has a double outrigger at the side and most of these boats can carry up to 10 persons, though it differs based on the advice from the coast guards. Aside from the amazing view of the sunset, you can also rent a paraw to take you on an island-hopping activity in the morning.
Another option that you can do is enjoy a sunset cruise. Here not only will you get the chance to watch the sunset, but you'll also be able to enjoy various activities before. This includes stand-up paddle boarding, snorkeling and tubing activities.
How to Get There: One of the popular places to ride the paraw is near the Willy's Rock. You will see people lining up and waiting for their turn to ride the paraw near the area.
Where to Buy Tickets: There are various options to book a sunset paraw sailing in the afternoon and the sunset cruise online. It's a lot easier and you can just show your voucher to the representative.
Ticket Price: Prices vary depending on the activity. The package for the paraw sailing starts at 380 Php.
Enjoy the view and take photos.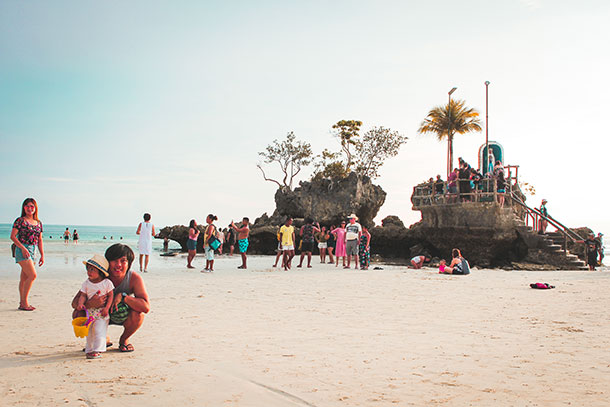 Boracay is so picturesque that you can't resist taking a snap of you, your little kid or just the view once in a while.
It's so postcard-perfect that it would seem, at times, a little bit dreamy.
My husband and I enjoyed some peaceful time in the afternoon just enjoying the view, and taking a snap or two of course!
Both local and national government has cleared the establishments taking up most of the beachfront before. So you'll be rewarded by uninterrupted views of the beach now.
Stroll along the gorgeous beachfront.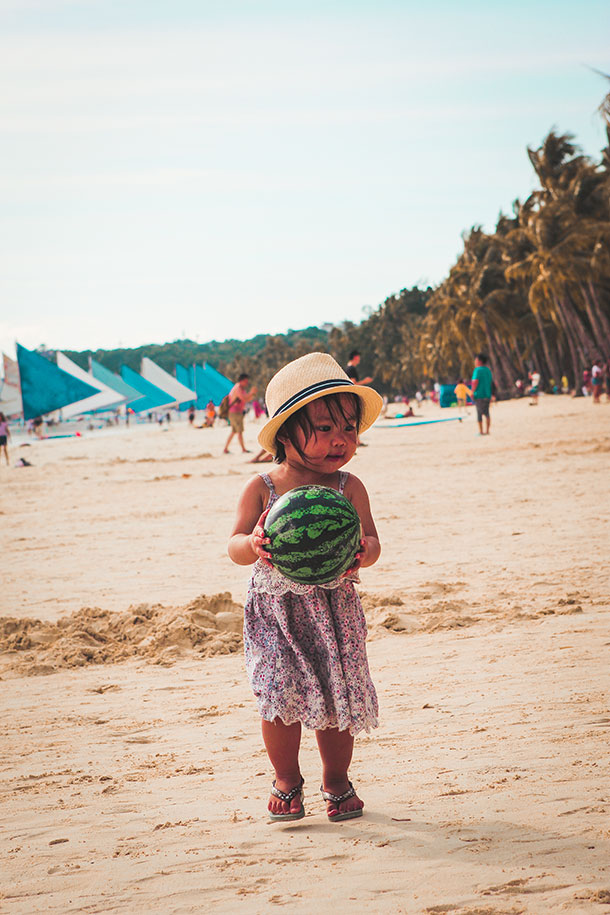 Afternoon and nighttime strolls are much enjoyed on the island and can be an entertaining activity. And not to mention the amount of exercise you get.
Like what I've mentioned before, the government has cleared several meters of the beachfront from the commercial establishments. So, the area is much wider now and a lot more enjoyable to walk in.
In the afternoon, you can go visit Willy's Rock (one of Boracay's popular tourist attraction and a favorite photo landmark) at the end of Station 1.
We did that on the day before we left with our daughter and we were so impressed (and a bit impatient to be honest. LOL) that she wanted just to walk from Station 2 to the rock. I guess she enjoyed seeing lots of people passing by.
Fun Things to Do in Boracay with Kids
If you want to book activities while on a holiday, you can certainly do so.
While some of us would prefer tamer activities, there are lots of options for you and the kids. And because our daughter was just 2 years old, we decided to skip some of the activities.
She was pretty much contented with running around on the beach. We would indulge her an afternoon of just playing on the beach that she really loved.
Nevertheless, here are some FUN things to do in Boracay!
Do some beach activities.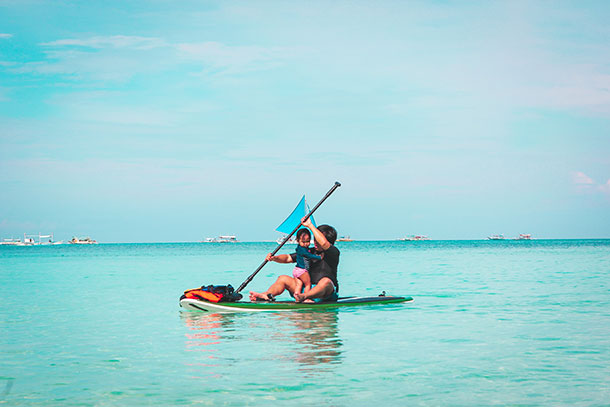 Like most beach islands, Boracay has a lot of beach activities you can enjoy too. You can go have some jet ski experience, try the wakeboarding experience and even the helicopter tour.
Please be reminded that there are age limitations for some activities so please make sure to check that before you book.
You can also rent a paddle boat and go enjoy it with your toddler! We rented one on our trip and even managed to take our daughter on the paddleboard. Although it was my husband who went with her.
We only tried the activity in the morning for 30 minutes which was more than enough for us.
How to Get There: Some of the activities have different meet-up locations especially for the jet ski, wakeboard, and the helicopter tour. The paddleboard, on the other hand, can just be rented with local people who wear uniforms.
Where to Buy Tickets: You can purchase tickets online, by clicking on the link below:
Jet Ski Experience
Wakeboarding Experience
Boracay Helicopter Tour
Ticket Price: Prices vary depending on the activity. Price starts at 3,300 Php per person. The paddleboard, on the other hand, was 600 Php for an hour and 300 Php for 30 minutes.
Avail of island hopping activities.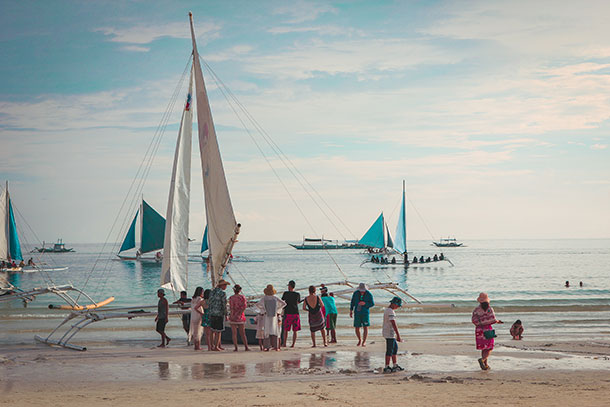 Another fun activity that you can include in the things to do in Boracay is island hopping activities. There are half-day tours and whole day tours that you can choose from.
Personally, we skipped this activity since we know our daughter would rather run around the beach than be limited in a small boat. My husband and I tried this years ago and it was a pretty fun experience.
Some of the places we visited, and you'll visit too are the coral garden, puka beach, crocodile beach, and balinghai. There are some tours that include the helmet diving tour and the parasailing.
If you are to ask me, the helmet diving tour that I tried before was not a really good experience for me. I remember getting annoyed by the pressure on my ear. LOL.
The parasailing stood out for me than the helmet diving. There's no better way to see them a part of the island from above.
How to Get There: Some of the activities have different meet-up locations. So be sure to read the instructions on the voucher carefully.
Where to Buy Tickets: You can purchase tickets online, by clicking on the link below:
Boracay Island Tour
Boracay Parasailing
Helmet Dive Experience
Boracay Island Half-Day Tour
Ticket Price: Prices vary depending on the activity. Price starts at 700 Php per head. Some, like the island tour, already have the buffet lunch.
Tips to remember when traveling with kids in Boracay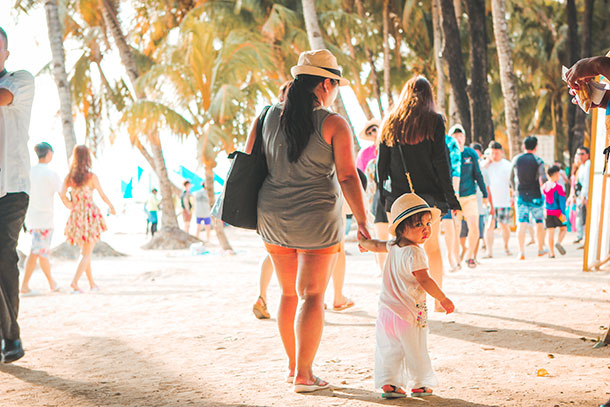 So you are bringing your kids with you in Boracay. It may sound pretty easy, but let me tell you that you need to prepare too!
Here are some things that you need to remember:
1. Make sure to bring plenty of fluids and small snacks if you are to go on activities. Even if you are just going to swim near your accommodation. They need to stay hydrated at all times. And a hungry kid is a grumpy kid too!
2. Bring child-friendly sunscreen to keep him/her from getting sunburned. You can also bring some kid-friendly mosquito patch to keep from getting mosquito bites.
3. Let them wear comfortable clothes and footwear too.
4. Don't forget to bring hats, caps or even an umbrella. The weather can be too hot at times or you'll never know when it might rain!
5. Always bring doctor-prescribed medicines (for fever, cough and runny nose) at all times. You'll never know when you'll need them!
6. Bring small toys (a bucket or a ball) to keep them pre-occupied at times.
7. Remember to get them to sleep or have a nap and never let them get too tired.
Now we know that as parents, we want to have a relaxing and stress-free vacation too. To get that, we should not jam-pack our itinerary with activities that they may or may not enjoy.
Remember that kids easily get tired and so we need to keep them in a much slower pace.
That said, the most important thing to keep in mind when traveling with kids is to spend quality time together!
Hope we have given you enough insight on things to do in Boracay with kids!
Like This Post? Pin It!
Disclosure: We use affiliate links on this post. Meaning, if you book any tour/ activity by clicking on the link, I earn a commission at NO EXTRA COST to you. Thank you for reading the blog!