Trekking Mt. Pulag is a definitely must-try to all outdoor and adventure-lovers out there. It is one of the most sought out trail in the country with it being the 3rd highest peak in the Philippines.
People who love hiking, trekking and mountaineering are gushing over the amazing trail and views one can experience at the summit. As a 'novice' myself, I did not fully see the excitement everyone else was getting. I've never even heard of Mt. Pulag before I started my so-called 'mountain adventures'.
But all of this changed when I saw the real beauty of this amazing national park in Benguet offers. And I'm sure that you will also change your mind when you finally decide to visit.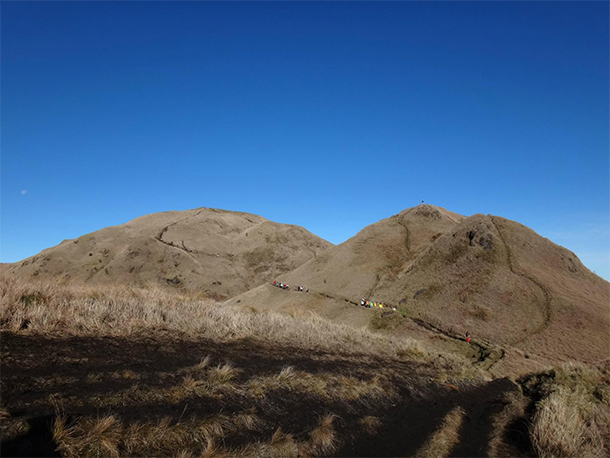 For the past couple of months before our trek to one of the Philippines' National Parks, we have tried several trekking adventures in Cebu: including Osmeña Peak, Mt. Manuggal and Mt. Mauyog.
Though some of the trail was pretty average (especially for beginners like me), trekking Mt. Pulag was a mixture of both easy and difficult. It was entirely a unique experience that was worth every breathless moment, every slip and every sore muscle we got.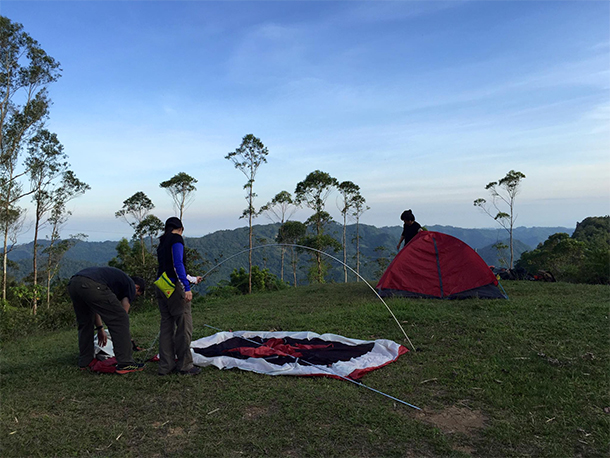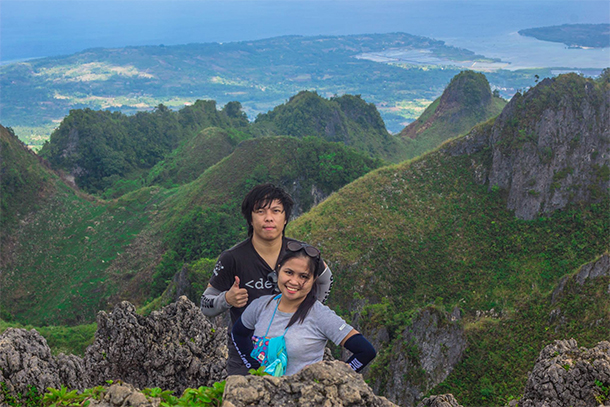 How to Reach Mount Pulag?
Our trip was an unforgettable one. We have endured the 5-7 hours bus ride from Manila to Baguio and spent the rest of the day exploring the city upon arrival.
Part of our exploration was looking for the last-minute things that we need to have for a safe and secure camping experience including making sure that our stocks were replenished.
We joined the Pagnatsaka Group as our guide in trekking Mt. Pulag. It was a small group yet we had the most amazing guides newbies like us could ask for. There were 2 trails – at the time of our trip – that were available for trekkers.
One is the Akiki Trail and the 2nd one is the Ambangeg/Babadac Trail. The Akiki Trail is favoured by more experienced mountaineers while the Ambangeg/Babadac Trail is for beginners or those who want a more relaxing trek to the summit.
You also have the option to trek the entire Ambangeg Trail. As for us, we only opted to start the trek from the Ranger Station.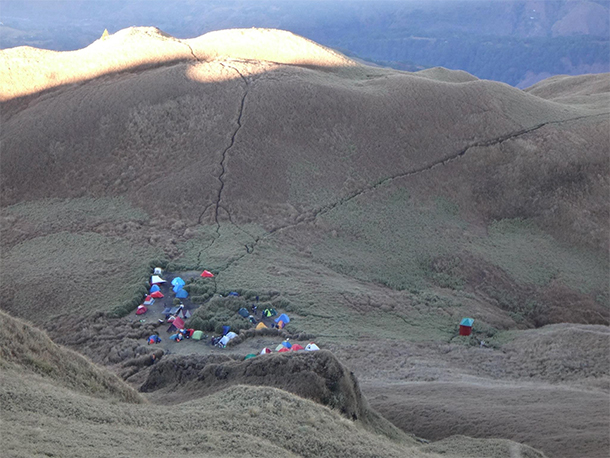 We left our accommodation the following day at around 3-4 AM for the pick-up point somewhere in the city. From there, we rode a van going up to the DENR Office.
All participants are expected to join the short orientation (including a short video clip) at the DENR Office to get an insight of what we will expect on our way up and what is expected from us.
From the DENR Office, we were dropped at the Ranger's Station and waited for our group to be called. Groups can start the hike to the first camp site one at a time so you have to wait with the rest of the hikers.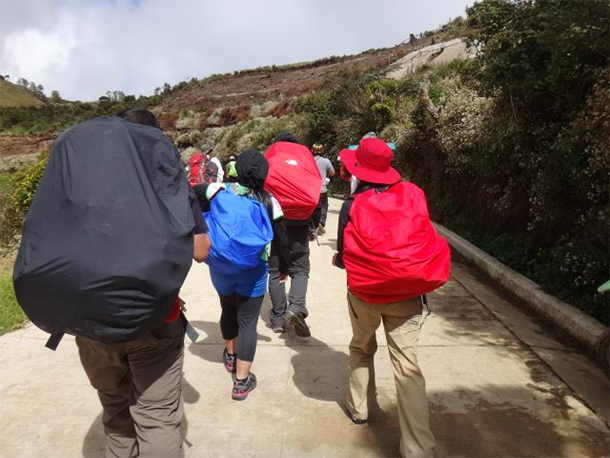 It was an hour going to the Camp Ground 1 and another 3-4 hours to the Camp Ground 2. The trail was great – challenging yet very beautiful. Each step a reminder to preserve its beauty for the next generation.
Tips for Trekking Mount Pulag
From the moment we took our first step going up until our ride back to the city, I had listed down 9 Things I Wish I Knew Before Trekking Mt. Pulag:
1. Get A Day's Rest or At Least a Good Night Sleep Before the Climb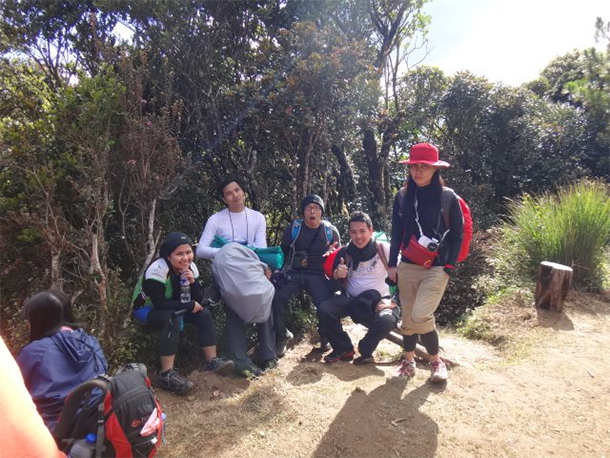 Like all other adventures, we all need to be well-rested before we try something out of our ordinary routine. As I've mentioned, we only arrived in Baguio the day before and I personally did not get enough rest.
This was a big mistake I guess, for I was not physically prepared to trek. The air as you go up gets thinner than the usual, so I was breathless and needed to take a few stops along the way.
It was good thing that my companions were cool about it, though. Good thing I was with family. LOL. It is always important to be healthy and be safe when going on mountain trips!
2. Don't Drink Energy Drink (if you did not have a good night sleep)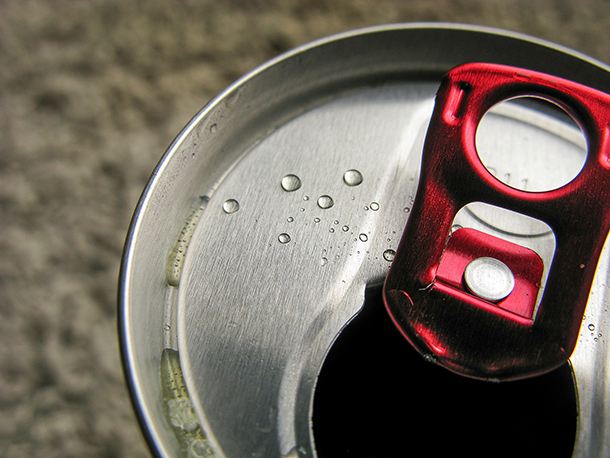 In relation to #1, it is also important not drink an entire bottle/ can of energy drink before you climb up.
Uggghhhh!! I can just remember this big mistake I did. I drank the entire bottle of energy drink hoping it will make up for the lack of sleep, but boy was I super wrong.
Just a few meters from the Ranger's Station, I was gasping for air and it was not a great feeling. It was an unexpected body reaction that completely caught me off guard.
Perhaps it was the sudden burst of caffeine in my system or just a different reason entirely, but it was definitely something I did not enjoy!
3. Never Be Too Proud to Ask For Help/ Assistance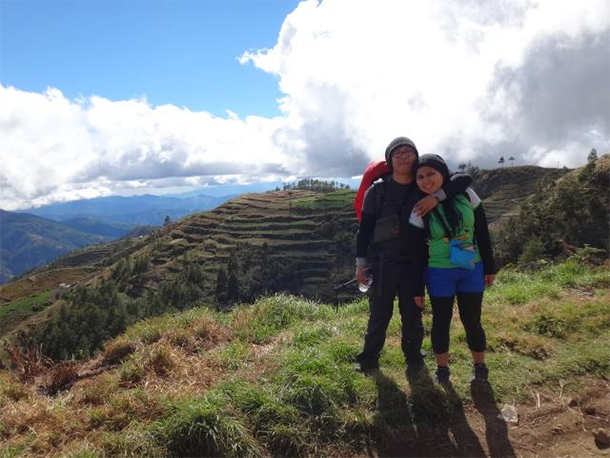 This is something that we need to learn during our travels. It's never easy to admit that you can't do it.
But, it pays to be honest to yourself to take off that extra weight (literally on this matter). So there I was, gasping for air but wanting to prove to the rest that I can trek all the way up while lugging my backpack along the way.
But no. I could not do it. I needed help.
Good thing, there were locals you can hire to bring your luggage and other extra gear all the way to the top. We hired one and, boy, was he capable to bring not only 2 but 3 of our bags. I think years of climbing the mountain and bringing stuff along the way pays off.
As for me, I was relieved of carrying that backpack and finally being able to hike all the way up without the extra weight.
4. Dress Warmly and Comfortably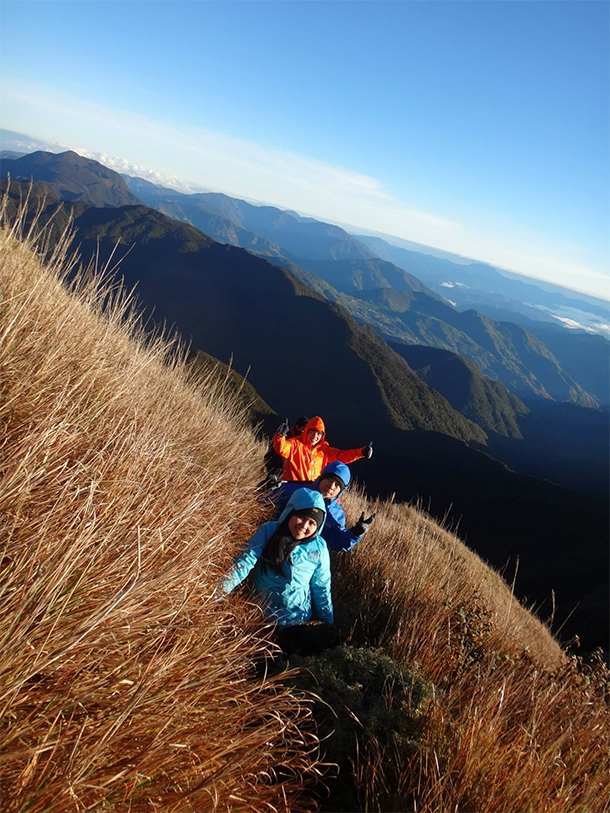 Born and raised in a tropical country, we Filipinos are not used to the cold.
A climb to this national park will definitely give you a chance to test how you can adjust to the difference in the weather than what we are used to. The temperature in the afternoon until sunset is still bearable.
But, wait until it gets dark up until dawn. Jackets are never enough. Even layers of it – and its uncomfortable wearing too many layers!
If you must, bring base layers with you. We joined the 4AM hike to the summit to watch the sunrise among the infamous Sea of Clouds, and it was chilly. And you will need all the feelings on both of your feet to be able to take the hike all the way up to the summit.
The temperature dropped to 1-15 degrees when we were there so it was a bit struggle especially at night, which will take me to my 5th thing I wish I knew.
5. Bring Comfortable Sleeping Gear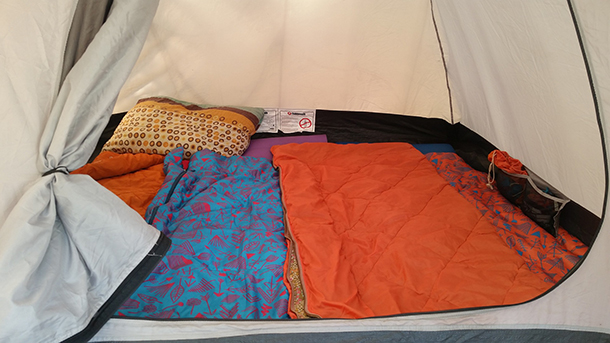 Good night sleep… I've been mentioning this before and let me tell you why, I never really had that when we were there. Aside from my 6th thing I wish I knew before trekking Mt. Pulag, which I will get to in a minute, we only bought sleeping bags with us.
Sleeping bags are great and all, but if you really wish to have a good night sleep, bring those extra foam with you. We previously purchased this great sleeping mats before (which was lightweight and all) but we did not bring it with us when we went hiking here.
A terrible decision to be honest. We have struggled to get a good night sleep all night.
6. Avoid Rowdy People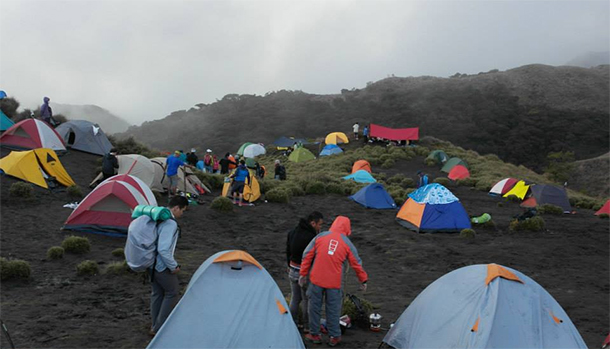 Isn't it annoying to be with a bunch of people who are loud and rowdy at the wrong time and at the wrong place? Well, we were very unfortunate to have pitched our tent beside this group of people.
They were drinking and telling stories the entire night! A very inconsiderate thing to do since the rest of the campers were resting and it was specifically mentioned during the orientation to keep quiet and respect other campers. *sigh* –End of rant -.
If you are about to look for the perfect camp site, avoid groups of people that gives you the impression of being there just to drink and be rowdy in general. Trust your instincts!
7. Bring Your Extra Batteries with You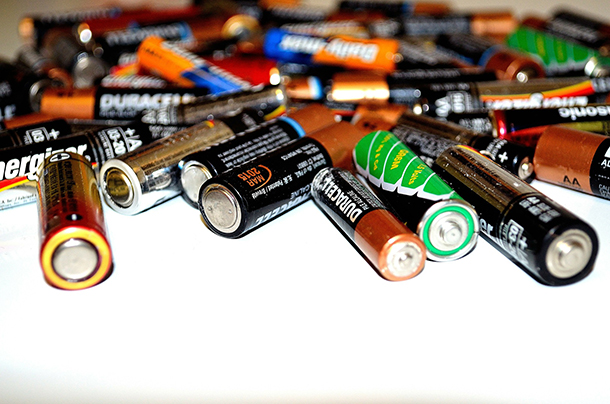 The summit is absolutely breathtaking. It's so picturesque that going there without taking a photo or two is a mortal sin. We did get a series of photos, but we weren't able to get as much as our heart would love to.
And why is that, you might ask?
Well, we did not bring our extra batteries with us but instead left it with one of our companions, believing that we will be together the entire time.
So, yeah. Lost some great shots and just satisfied our eyes with the amazing views.
8. Enjoy the Hike. It's Not a Race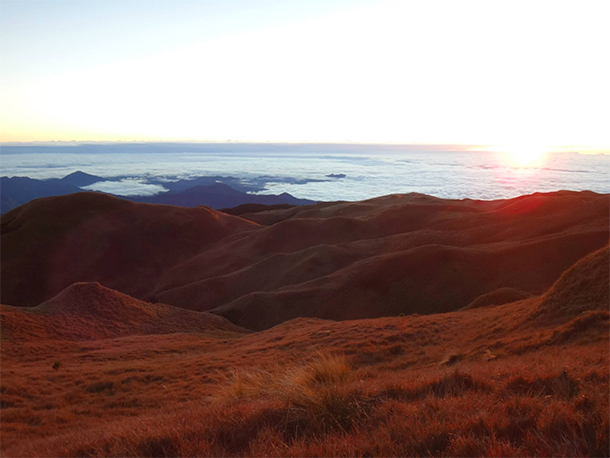 You're probably thinking, 'Duh?'. But the funny thing was, I was in a hurry!
But it shouldn't be that way. The hike to the top is definitely not a race.
So what if you are behind the rest? The destination is indeed great but the way up is definitely something to enjoy. Because of my 'condition' while trekking Mt. Pulag, I was not in the position to rush and be at the head of the line.
It was great though. I wasn't pressured and took some rest once in a while. Trekking is never a race but something to be experienced.
9. Expect the Unexpected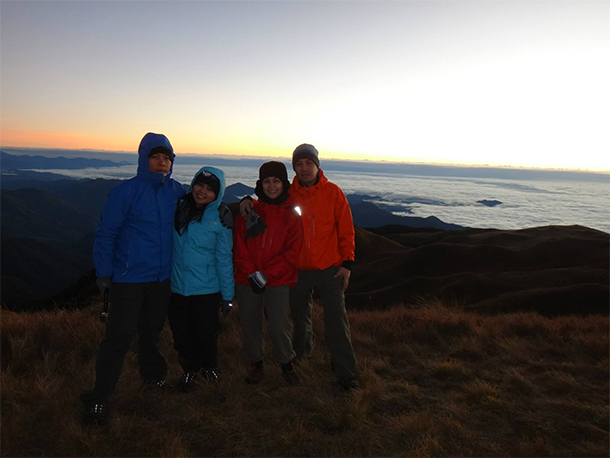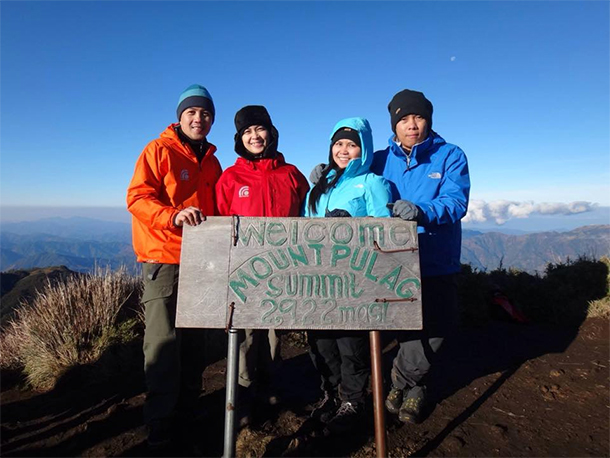 The highlight of an incredible hike like this is witnessing the sea of clouds. Unfortunately, not everyone can experience it.
The previous group who stayed the night before did not get the chance to see it though, which was a bummer. According to our guide, the weather at the base is very different from the weather at the summit.
So it is by luck or chance if you get to experience it the first time. We were pretty anxious when we heard this.
I mean, the purpose of our trip was to see the mountain at its finest! We were very fortunate, however, to have seen the sea of clouds with our very own eyes and experience its captivating beauty! Yey!
Like most, returning home and climbing down the mountain took less time than the way up. The feeling was satisfying and amazing at the same time. We had a few side trip going home.
Part of our tour included a visit to the Sulphur Spring, Hanging Bridge and the Ambuklao Dam.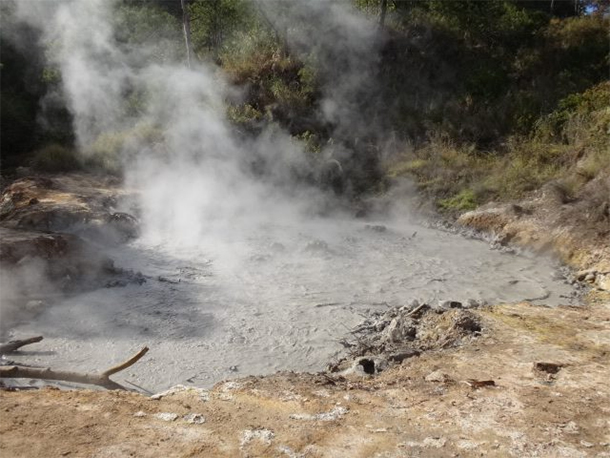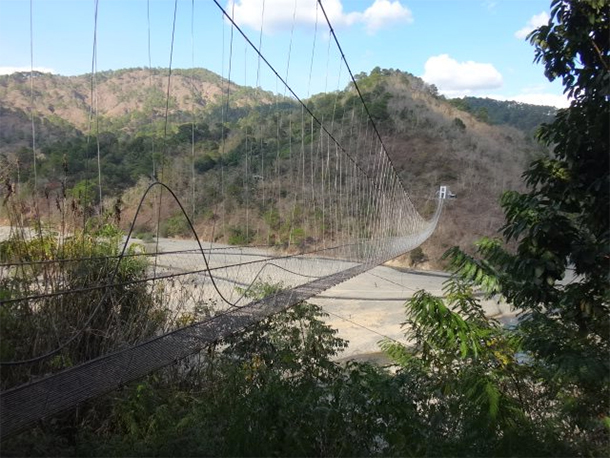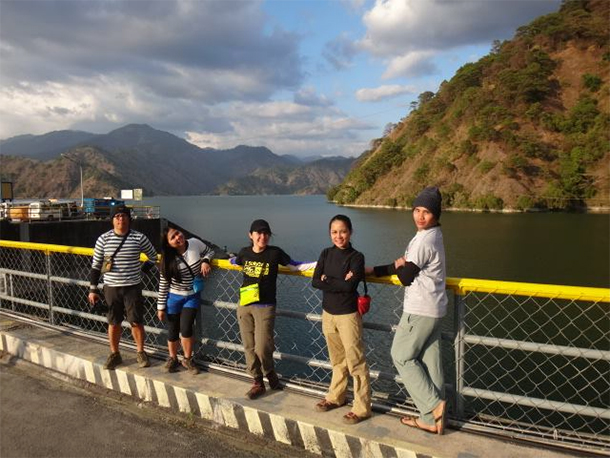 Have you tried trekking Mt. Pulag? Or another mountain, perhaps? How did you do? Any realizations or any experience that made you wish you knew before going?
Tell us about it on the comment section below!
Here's a group photo of our companions during the tour and a video of our super amazing adventure!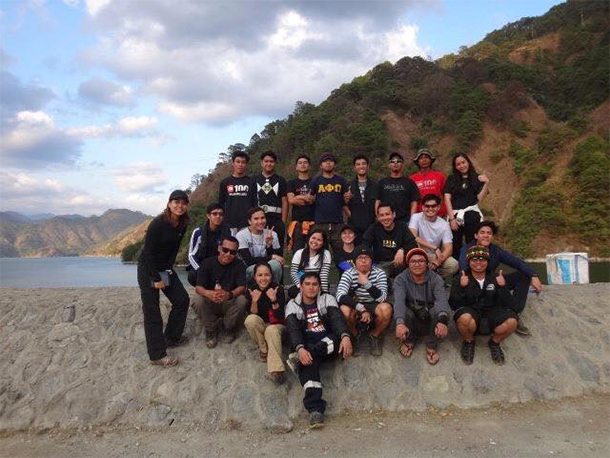 Like This Post? Pin It!