There is something about a sandbar that is captivating and seductive. Manjuyod Sandbar in Negros Oriental definitely has charmed me with its clear blue waters and long stretch of white sand.
I've been to several sandbars in the Philippines including those in Kalanggaman Island, Camiguin, Bohol and Palawan. Manjuyod definitely has something unique about it: the cottages that seemingly float in the middle of the ocean especially during high tide.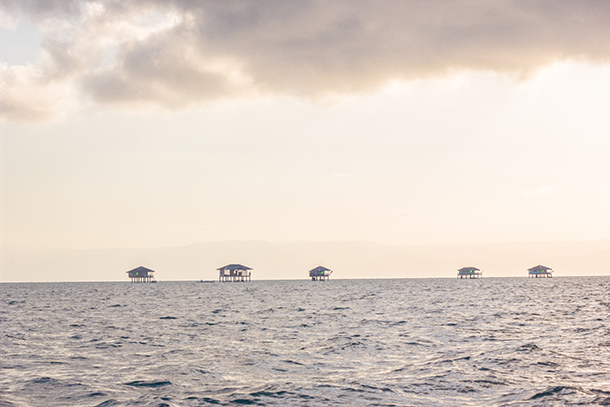 Dubbed as the Maldives of the Philippines, this sandbar located between Manjuyod and Bais in Negros Oriental has been gaining popularity to locals and tourists alike.
The sandbar is about 6-7 hectares (in length and width) of pure white sand. It is considered to be one of the longest sandbar in the Philippines. The long stretch of white sand is not always visible when you visit it though.
Our guide mentioned about the alternating dates and time when the sandbar is visible. It'll depend mostly on the tidal pattern in the area. So be sure to check out before you visit if you'd really love to see it!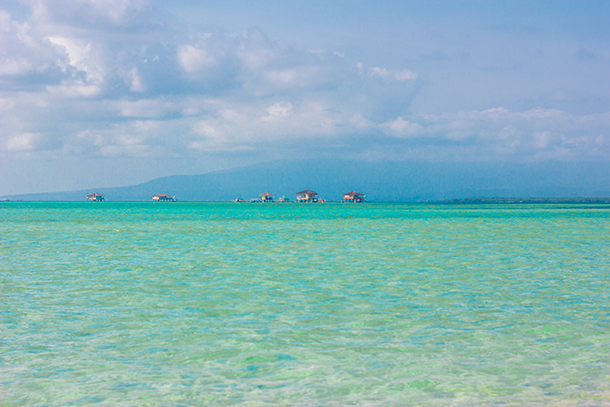 Ours was not an exception as the sea level was high when we got there despite it being early in the morning. We did not get to see the entire sandbar but it was still breathtaking because the sun was up, illuminating the clear blue waters and the white sand.
Admittedly, the waves were a bit rough when we started out but thankfully it did not last long.
How To Get To The Manjuyod Sandbar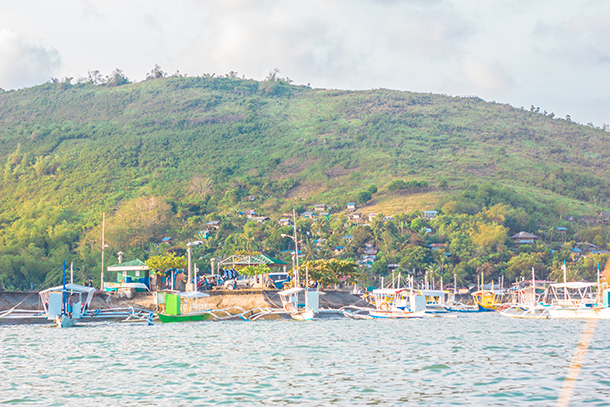 From Dumaguete City, ride a bus going to Bais City. You may ride buses going to Kanlaon or Manjuyod. Just ask the bus ticketing officer to drop you off at the Bais City Bus Stop. Fare of the non-aircon bus was at 61 Php – please take note that bus fare may change so ask beforehand.
At the Bais City Bus Stop, hire a local tricycle to take you to Canibol Wharf or Capiñahan Wharf (whichever you prefer). We started our trip to Manjuyod Sandbar from Canibol Wharf (as it was much nearer).
Tricycle fare was at 75 Php one way – that's already for 2 persons. We hired the same tricycle to take us back to the terminal later in the afternoon.
From the wharf, hire a boat to take you to the sandbar.
How to Visit the Manjuyod Sandbar On A Budget
It was just me and my husband and despite being on a budget, I still wanted to enjoy the experience without the hassle. The trip was included in our Dumaguete itinerary and I'm glad to say that we did not overstretched ourselves and saved plenty.
Our total expenses for the entire trip was only at 1,013 Php per head. Quite affordable huh?
Intrigued? Let me show you how we managed this with a few secrets that I've learned during the entire trip! Read on…
Go in Groups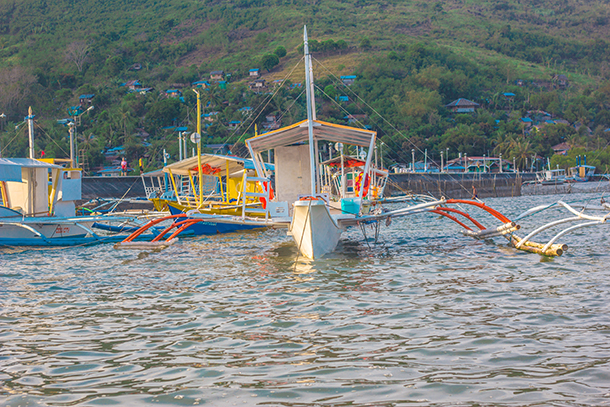 Boat rental usually starts at 3,500 Php – that's already good for a maximum of 15 persons. According to our guide, some small boats have rates at 2,000 Php good for 4 people.
So if you can go in groups, then the amount can easily be divided between yourselves.
Lunch is still not included here, however. Nevertheless, if you're with a group the food can also be shared.
Join a Joiner Tour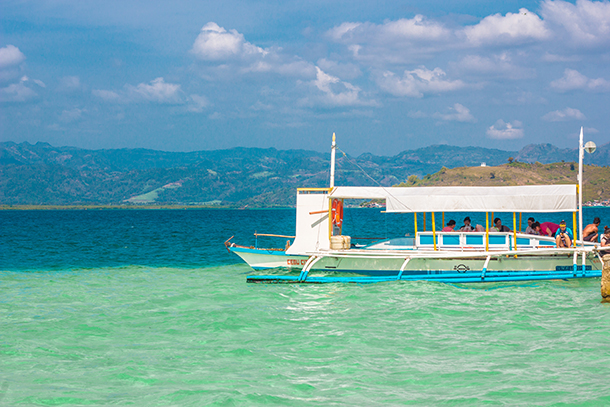 If going with a group seems impossible (I know getting together with friends and family is sometimes hard), then join a Joiner Tour.
This is the same with our Coron Ultimate Tour and Calauit Safari Tour where we joined a tour with several small groups to complete a single tour. This tours are the opposite to an exclusive tour and is usually organized by a tour operator.
Plus side of being on an organised tour is that lunch is usually already included with the package. Saves you the hassle of preparing your lunch.
Pre-Book Your Tour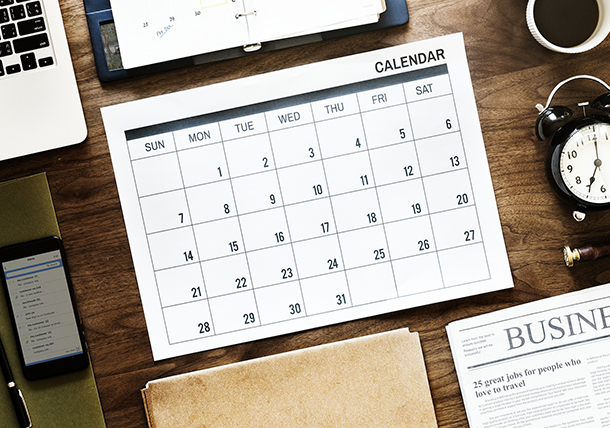 I know we all love to DIY (do it yourself). Admittedly, a trip to Manjuyod Sandbar can easily be done so. You just need to arrive at either Canibol wharf or at Capiñahan Wharf and hire a boat from there.
But here's the catch. Prices at the wharf are usually fixed by the association managing the boats. So the prices mentioned above are usually non-negotiable.
However, if you pre-book like we did, you can easily negotiate with the boatman/ boat captain.
Contact A Local Boatman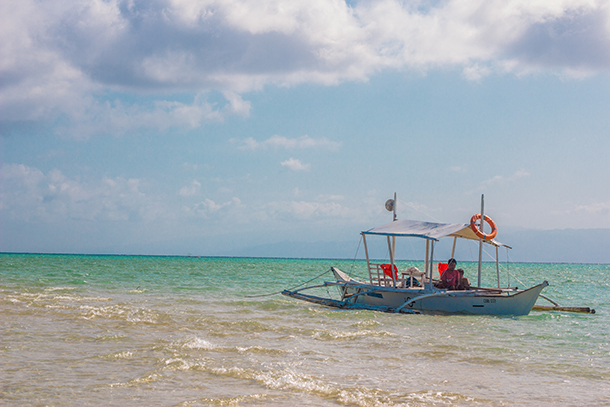 I've mentioned previously about negotiation with the Boatman in order to save. We found our Boatman/ Boat Operator directly on FB (thank god for cool FB groups!) and transacted directly with him.
He offers both an exclusive tour and a joiner tour. As with other boat rental, rate differs based on the boat capacity but both tours already included the lunch.
The joiner tour was fixed at 800 Php per head while the exclusive tour that he offered for two (2) persons was at 2,000 Php.
I still wanted to save so I opted for the Joiner Tour. As luck would have it, he was not able to get other passengers to join us on our preferred date and time (we were there on a weekday) so the tour turned out to be exclusive but still on the same price.
He was very gracious about it and proceeded with our initial agreement without re-negotiation.
I found out later that most boat owners/ captains are related thus they can lower their prices as needed or that they can go into an agreement between themselves.
Something that does not happen if you just arrive at the wharf without any contact person. Hence, the higher the price.
Manjuyod Sandbar Tour Package and Things To Do
A Manjuyod Sandbar Tour Package usually includes a Dolphin Watching Tour. I've read somewhere that there are packages that include a visit to a bird sanctuary and mangrove forest, but it was not included in ours.
It was alright though as I was just really interested with visiting the sandbar.
If you are though, feel free to inquire that to your tour guide as I'm sure they'll be perfectly happy to give you answers.
You'll probably wonder how we were able to get the most of our trip despite missing out those part of the tour. Well, here are some of the things we got to do and you can too!
Dolphin Watching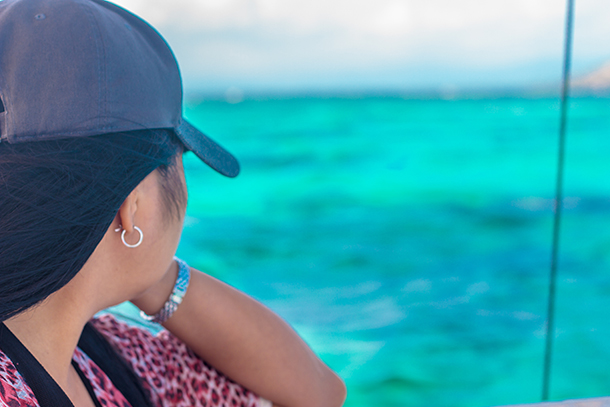 The dolphin watching is basically part of the package so you'll get to say hi to these wonderful mammals before enjoying the sandbar. But, that still depends on the weather.
As I've mentioned before, we started out with rough seas so we had to endure about an hour worth of bumpy ride before I decided to call it quits and just head back directly to the sandbar.
Besides we've seen some dolphins the day before when we were going to Apo Island. We've also tried dolphin watching before in Moalboal.
In fact, this is more or less the same area where we've seen the dolphins as I remembered we were taken close to Negros when we had our island hopping).
That being said, if you are fortunate enough to go there on a good weather, dolphin watching is certainly the best way to start your day!
Visit the Shallowest Part of the Sandbar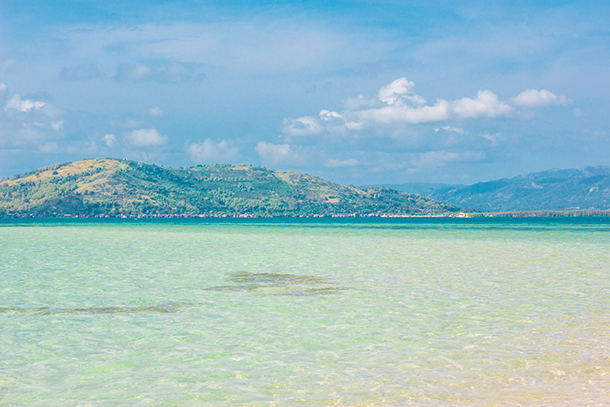 Before getting to the main part of the Manjuyod Sandbar, we were guided to the shallowest portion of the sandbar where, for a time, we had it all to ourselves.
We stayed there for a while to enjoy the picturesque view of the cottages from afar and the blue ocean and clear skies. You can take a dip here if you like or simply marvel at the view.
Snorkel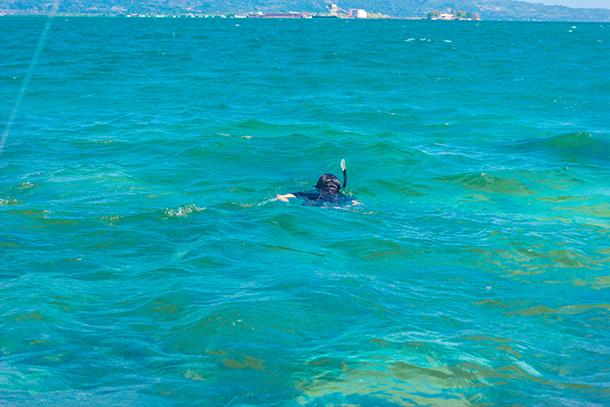 When another boat anchored near us, we decided it was time to go – we have already been there for awhile. Our boatman led us to an area near the sandbar where we can snorkel.
The area was too deep though and I had second thoughts on the life vests at the boat (we did not bring our life vests to this trip. Just one of the missing things on our island hopping packing list).
Nevertheless my husband jumped in to enjoy the corals while I stayed on the boat and had a nice chat with the boatman and his assistant.
We mostly chatted about the sandbar, it's history and the people behind its development. It's been gaining popularity to the locals and tourists that it didn't surprised me how busy the sandbar looked from where we were anchored.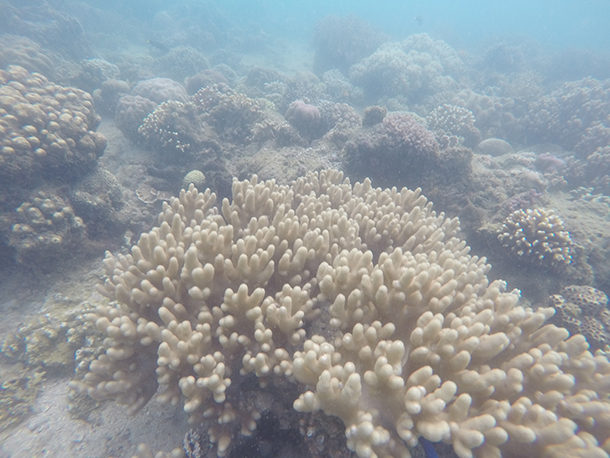 As per my husband there were corals and some school of fishes below. He did snorkel there for a while so I guess he was pretty much enjoying it!
Swim and Enjoy the Clear Waters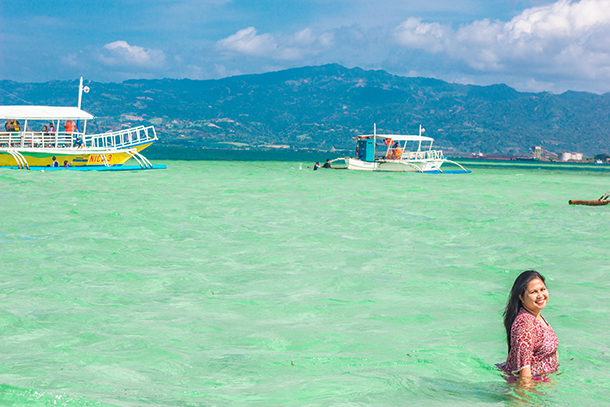 After snorkelling, we then joined the several out-triggered boats anchored at the sandbar. Since our boat was pretty small, we settled near the cottages.
Once slathered with sunblock lotion, I immediately plunged into the water for a nice and refreshing swim. As expected, the water was cool and very nice to the skin.
It was too salty though that it was somehow irritating to the eyes and I had to get my snorkeling mask to better enjoy it.
And because it was shallow, I even took a few dive practices. Not the jumping type of dive though. LOL.
There are a few merchants on boat selling some shells and coconut fruit too. We purchased some fresh coconut from one boatman and enjoyed it at the boat.
Nothing like some coconut juice under the scorching sun! Summer feels indeed!
Go on a Banana Boat Ride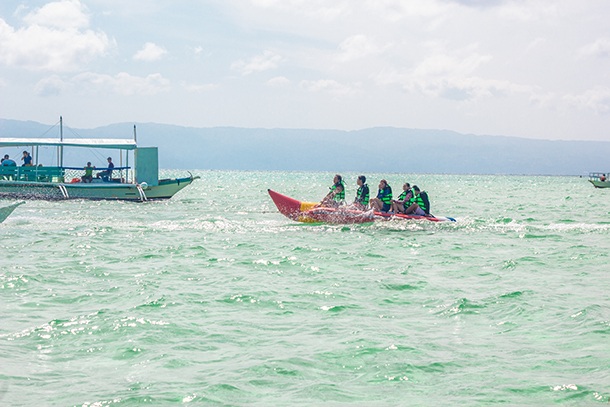 You can also go on a banana boat ride with your friends or family members. Instead of the usual jet ski, the banana boat is being tugged along by a smaller motor boat and will take you on a several spin along the sandbar.
If I'm not mistaken price was at 100 Php per head. Please don't forget to inquire!
We did not try this though as I was feeling lazy and just wanted to soak up some morning sun and sea water.
Overnight Stay at the Cottages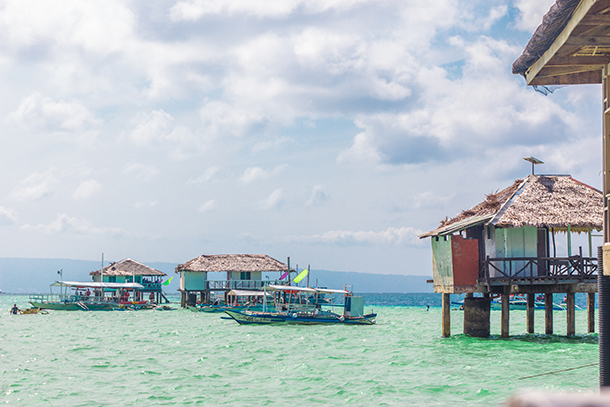 If you have plenty of time, you can rent one of the cottages for the night and enjoy the sandbar a lot longer.
As per guide, range of the cottage starts at 4,000 Php, depending on the type of usage (ie, overnight or 24 hours). The rate usually include the boat – to take you from and to the wharf – and the solar panel for your light in the evening.
Picnic at the Middle of the Sea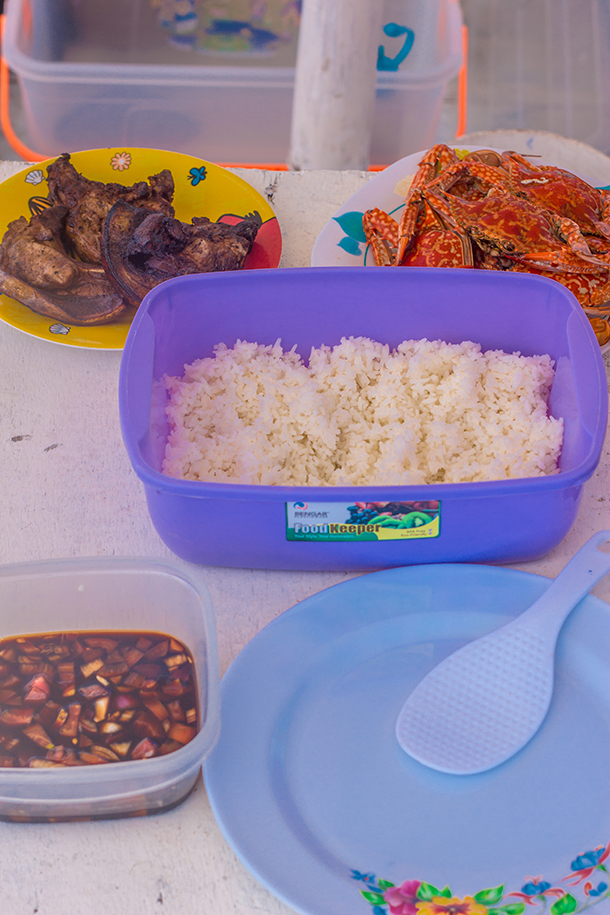 Lunch is served in the middle of the sea since there are no day cottages that you can rent. We had ours near a small island just a few meters away from Manjuyod Sandbar.
It was more peaceful and the boat was more steadier at this portion.
Our lunch was already included in the tour package. It consisted of freshly prepared rice, grilled pork and baby crabs. Yum!
Manjuyod Sandbar Itinerary and Budget
To help you with planning, here's a rough detail of our itinerary including our budget for this trip: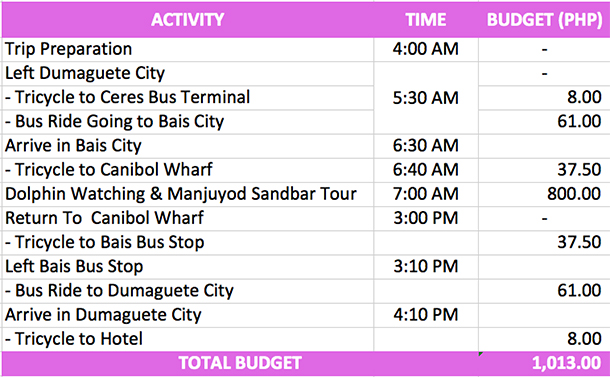 Disclaimer: Cost of our breakfast and dinner to this budget is not included. In case you're wondering, we bought our breakfast at 7 Eleven and happily enjoyed some coffee and bread while on the bus. Details of the food we ate for dinner is also included in our post of must-try restaurants in Dumaguete.
Manjuyod Sandbar Travel Tips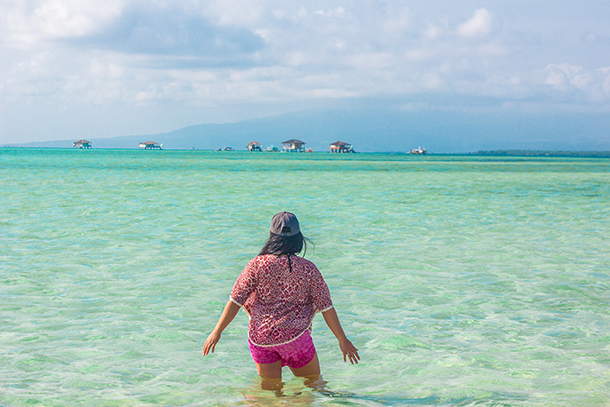 I have also included some notes and travel tips to help you enjoy your trip:
1. Best time to visit Manjuyod Sandbar is during summer as the weather is hotter and the sea is calmer. That's between the months of March to May.
2. Prior going to the wharf, make sure that you purchase your food beforehand. There are no restaurants at the sandbar. That is if you're not on an organised tour.
3. There are no changing rooms/ restrooms at the sandbar. If your boat has a built-in restroom, good for you. If not, no worries. There are comfort/ shower rooms at the wharf where you can change. There is no fee to use the restroom. But if you'd like to have a shower you can buy one gallon of fresh water at 20 Php per container. Remember to inquire first for change of price.
4. Make sure that your things are secured properly if going on smaller boats as it can easily get dislodged from the boat. The boat we were in was pretty small and the table was not attached to the boat.
5. Be sure to bring dry bags with you to keep your belongings dry. Check out our island hopping packing list for tips!
6. Don't forget to bring your island hopping essentials like sunblock and sunglasses as it can get pretty hot.
So… Who's up for an amazing trip to this beautiful sandbar in the Philippines?
Like This Post? Pin It!