Recently, I've been keen on trying out local delicacies and experiencing popular restaurants in a city/ place where I travel. Like we did in Coron and in Binondo a few months back. This was indeed one of my priority when we visited Dumaguete City just a few weeks ago: to visit popular restaurants in Dumaguete.
Dumaguete is best known for its creamy and mouth-watering Silvanas. And since I've got no intention of eating Silvanas for the entire trip duration, I was out to explore Dumaguete's food scene.
My appetite and my research led me to various restaurants and cafes in the city. It was a good thing though, as I later found out, Dumaguete has indeed a lot of restaurants to try!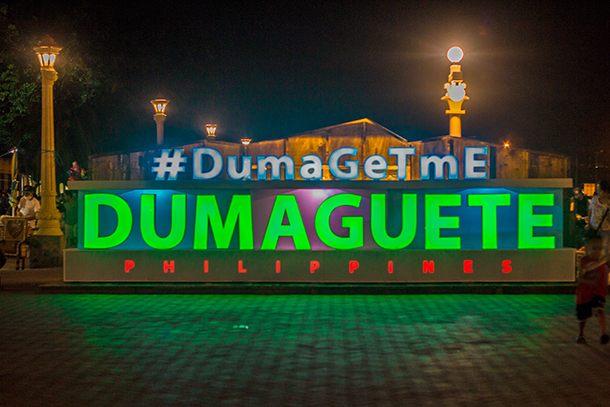 In a nutshell, Dumaguete usually serves as a gateway to the rest of Negros Oriental or a stop over for travelers going to Cebu or Siquijor. For some, there's not much to do in the city.
But if you look pass that seemingly 'uninteresting' impression, you'll see how laidback and charming the city can be. And very tourist-friendly, I might add. We spent 3 days exploring Dumaguete City and it's neighbouring municipalities for day trips and it was a memorable trip.
Personally, I found Dumaguete a very relaxing city to visit.
Nevertheless, if you are just passing through, food tripping is a must and is something that you'll enjoy for sure.
Our trip to Dumaguete lasted for 3 days and 3 nights (3 nights because we arrived at 6PM on our first day). In those 3 days, we have chosen to eat at a few select restaurants. We were based at the city centre and commuting back and forth to our restaurant of choice was easy.
Basically, we just rode a tricycle to take us to our destination. Fare was mostly at 10 Php except for those a bit far wherein the fare was at 12 Php .
Below are our selection including the ambiance, directions and our personal verdict.
Hope that this will help you when planning for your trip!
Hayahay Treehouse Bar and View Deck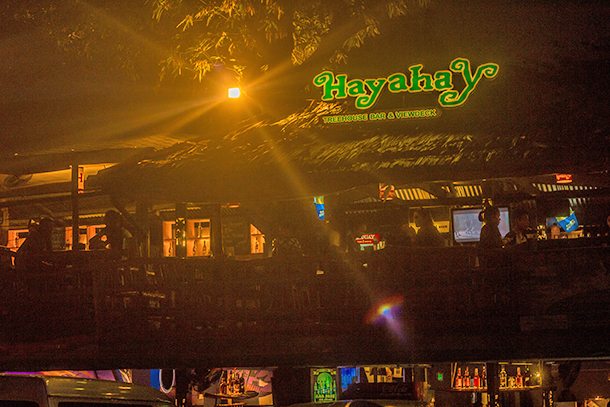 On our second night, we opted for a restaurant with a view. We were out under the sun the whole day, and I wanted a place with the views of the beach. Hayahay Treehouse Bar and View Deck definitely fit the bill!
Hayahay Treehous is located on an area with several restaurants all lined up facing the ocean. It was a bit busy when we got there. If you're looking for somewhere nice and quiet, this is not it for you.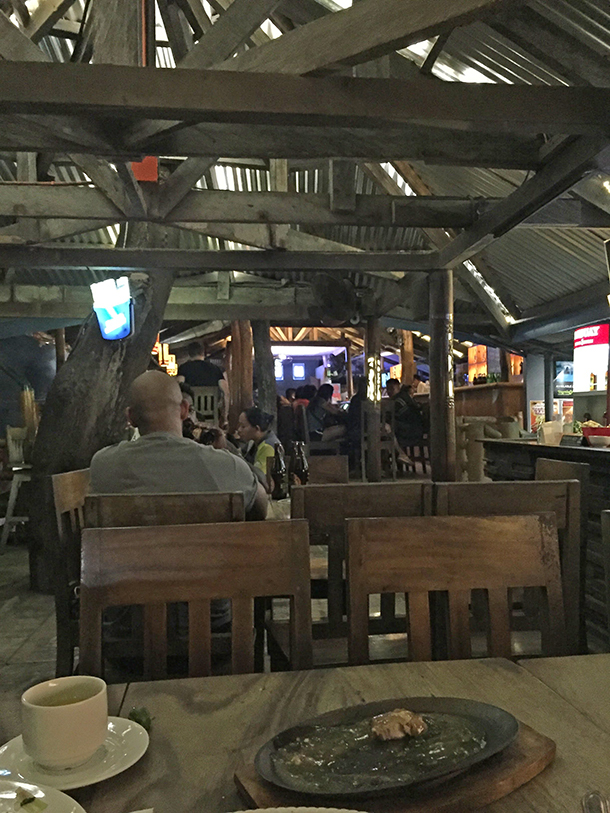 The restaurant has 2 levels: the ground floor has a stage for a live band to perform while the 2nd floor has an open and overlooking view deck of the ocean. When we were there, there was no band playing so we decided to look for an empty table and chair at the 2nd floor.
Price of the menu is same with other restaurants. Not knowing what to order, we asked for their best-seller. Here's what we got: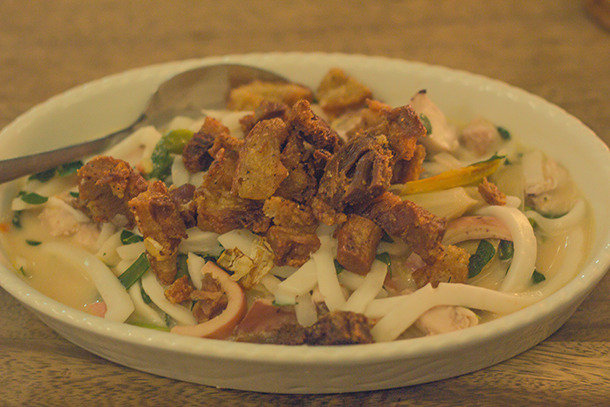 Their Dumaguete Express was made of squid, coconut strips and fried pork in white sauce. It was something new to me and it was delicious.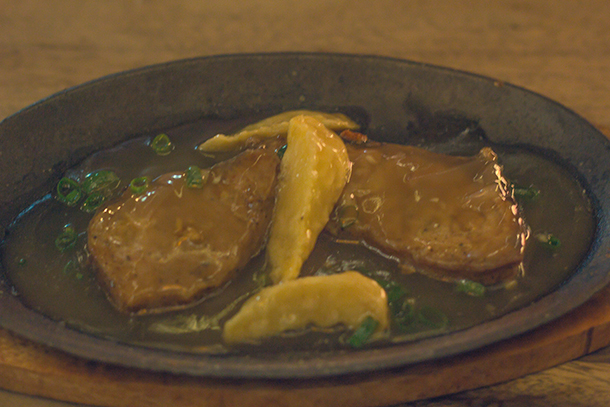 The Sizzling Tangigue was made with brown gravy and some potatoes. It was not sizzling hot when it was served to us. But the taste was alright.
Our viand was paired with a cup of rice. We also ordered some hot calamansi as my throat was feeling itchy when we were there. A sign of a runny nose for days to come.
How To Get There
From the city centre, ride a tricycle going to Hayahay Treehouse and View Deck. The restaurant is a bit far so fare is at 12 Php.
Address: Flores Ave | Piapi, Escano Beach, Dumaguete City, Negros Oriental, Philippines
Verdict
Waiting time for the food to be served took a long time than I expected. So if you're pretty hungry, then this will not be a good option.
Nevertheless, if you're out to have a few beers and live music, Hayahay Treehouse and View Deck will be a cool option.
Sta. Teresa Resto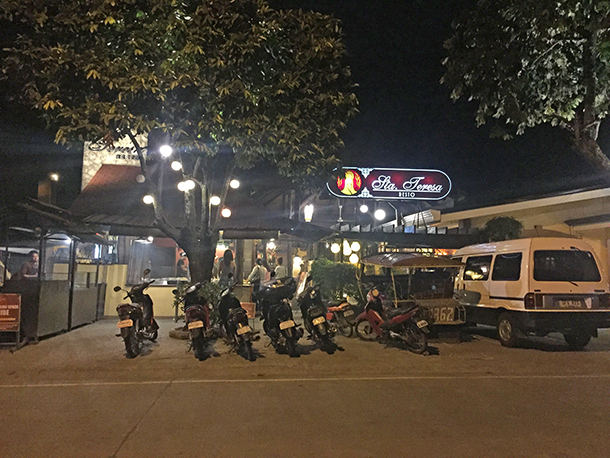 Our 3rd night, we went to Sta. Teresa Resto. It was near our first accommodation: Harolds' Mansion. We just arrived from Valencia where we visited Casaroro Falls and Pulang Bato Falls.
The fare was around 24 Php wherein 12 Php was from Valencia to Dumaguete Public Market and Dumaguete Public Market to the restaurant was 12 Php.
Sta. Teresa Resto had a homey feel about it. The restaurant is located near the residential area.
It was also a self-service type of restaurant where the food is displayed at the front and you can take your pick at the selections provided. They also have a grilling area at the front where fresh foods are grilled and served.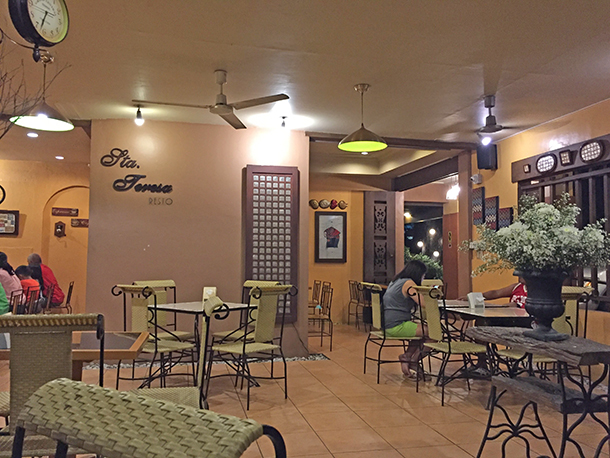 If you are on a budget, Sta. Teresa Resto is definitely the place for you! For a total of 179 Php we already had 2 viand, 2 cups of rice and 2 bottled water.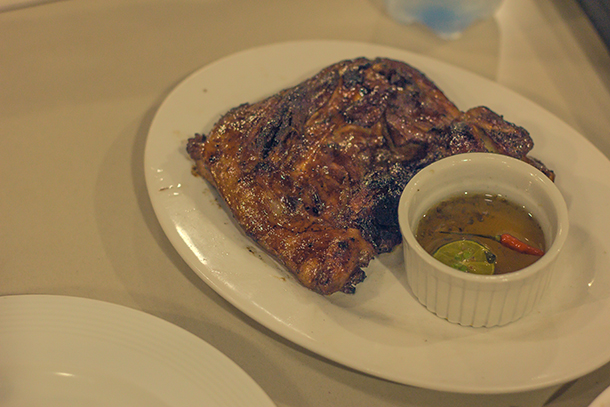 Their grilled chicken was juicy and was just enough for sharing. Of course, if you're pretty hungry, this is also good for one person.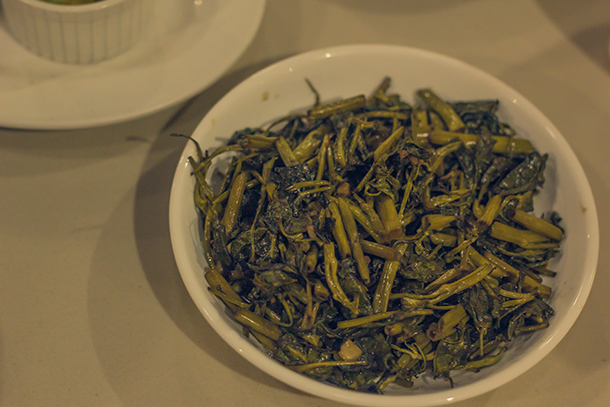 We also ordered Adobong Kangkong as I was craving for some veggies.
How To Get There
If you are coming in from the city centre, you can also ride a tricycle with a fare of 10 Php.
Address: San Juan Street 6200 Dumaguete City
Verdict
We liked the homey feel of the restaurant. It is clean and has a nice ambiance. Perfect for a budget-friendly meal.
Sans Rival Cakes and Pastries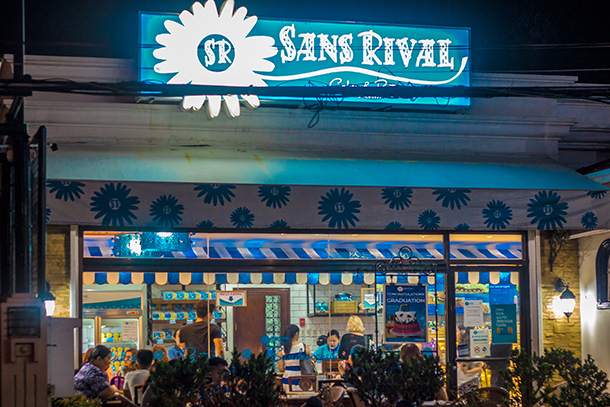 You won't say you've been to Dumaguete if you haven't been to Sans Rival Cakes and Pastries.
I've mentioned previously that Dumaguete is pretty famous for their yummy desserts particularly their Sans Rival and Silvanas.
We visited their pastry shop after dinner at Sta. Teresa Resto to get us some sweets. We went there at around 8-9 PM, and the shop was near closing. But despite that, there were still a lot of people lining up to get some yummy desserts.
When we went there, they had two (2) lines for 'take out' and 'dine in' so better take note. 😉
Aside from the sweets, the pastry shop also offers other food including pasta and burger.
We bought one loaf of Sans Rival Butter for take out. The loaf can serve up to 4 persons, I think. It was delicious and very creamy.
Unfortunately we did not take a photo of the bread but let me assure you that it had the distinct buttery appeal that we all love with our desserts!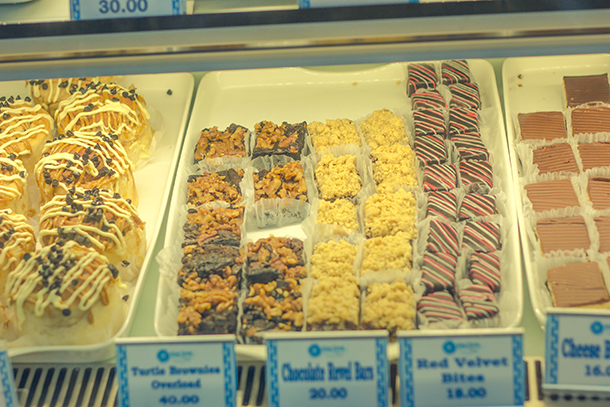 These were some of the desserts that they sell.
How To Get There
The Sans Rival Cakes and Pastries is located near the Rizal Boulevard, specifically at the corner of Sans Rival Bistro. If you are at the city centre, you can easily walk to the pastry shop.
The pastry shop is very easy to spot as its bright blue sign is very eye-catching.
Address: San Jose St, Dumaguete, 6200 Negros Oriental
Verdict
Their dessert was pretty delicious and would really recommend for you to drop by. If you are in Manila and Cebu, you can easily get some for yourself as they have already opened their branches there.
Casablanca Restaurant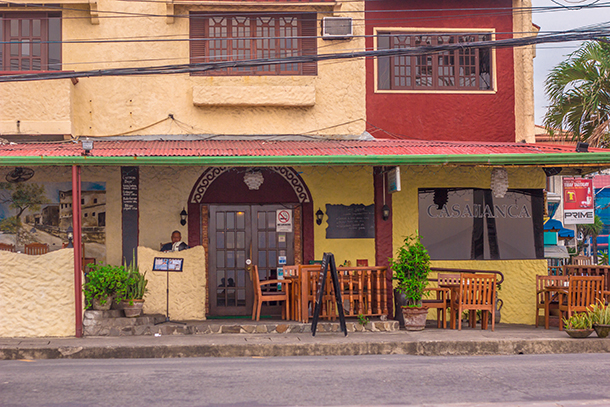 For breakfast on our last day, we headed to another restaurant along Rizal Boulevard. It had a fairly good view of the boulevard and, as I wanted to see some morning sunrise (and maybe do some video recording), this was a great place to have breakfast.
Unfortunately, the weather was not cooperating. We did not get to see the sunrise as it was gloomy. We did enjoy a fairly cool weather though, so I guess it made up for it.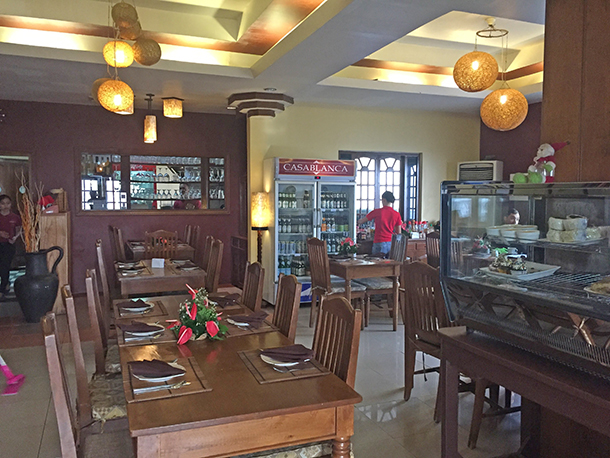 Casablanca Restaurant is famous for its Mediterranean food. The restaurant has a classy interior with wood toned furnitures and fixtures.
Despite the nice setting, we still decided to have our breakfast outside (they had tables and chairs set-up fronting the boulevard).
We were served some freshly baked bread and juice as appetizers prior to serving our ordered food.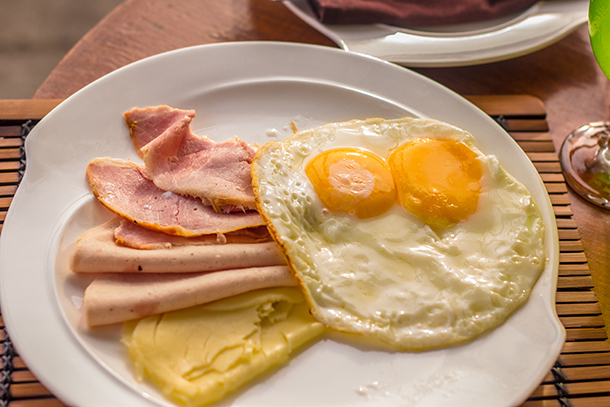 I usually prefer the filipino 'SiLog' for breakfast (short for Sinangag and Itlog – fried rice and eggs). It was not available however, and since I wanted to try something different, I chose their Continental Breakfast which was composed of a fried egg, cold cut ham and some cheese.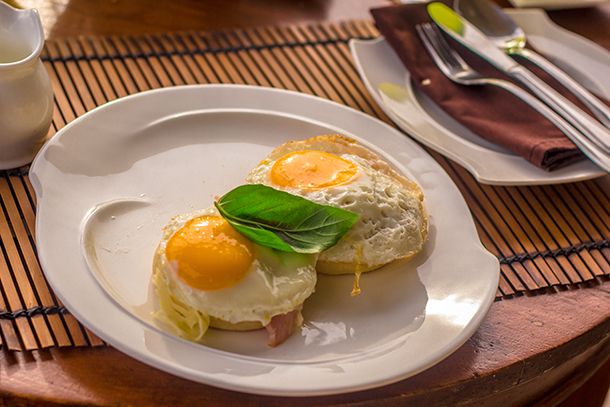 My husband settled for the restaurant's special of the day: English Muffins. The muffins had some cheese and fried egg on top. I was not able to try the entire combination, but I tasted the muffins and it was delicious!
How To Get There
The restaurant is just along Rizal Boulevard and can be walked if you are from the city centre. But if you prefer getting there quickly, you can always hire a tricycle for 10 Php per head.
Address: Rizal Boulevard, corner Noblefranca Street, Dumaguete, 6200 Negros Oriental
Verdict
The food was expensive, but it was delicious. It was a price to pay for the tasty and filling meal that we had. I've read that their seafood dishes are delicious, so I think lunch and dinner here is good too!
Gabby's Bistro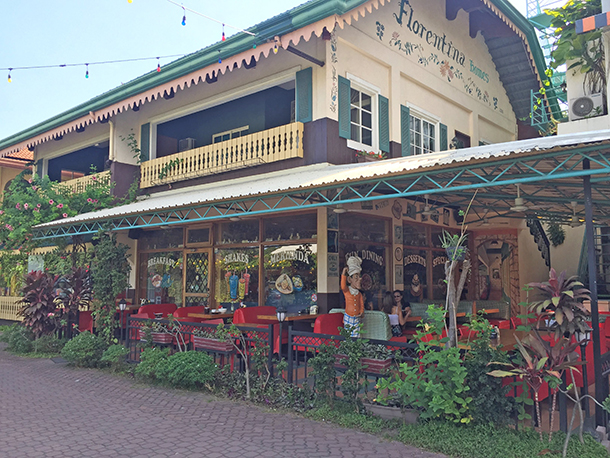 Gabby's Bistro is a casual dining option in Dumaguete that stood out for me because of its fun and colourful ambiance.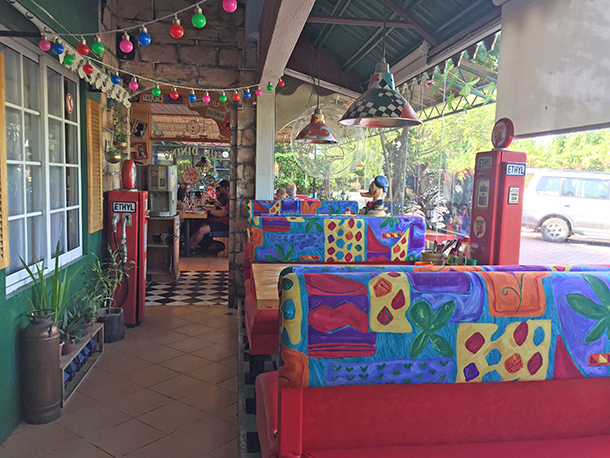 I saw a dear friend dining here when he visited Dumaguete months ago (it was also recommended to him by an officemate) so I knew that this was a food experience I didn't want to miss.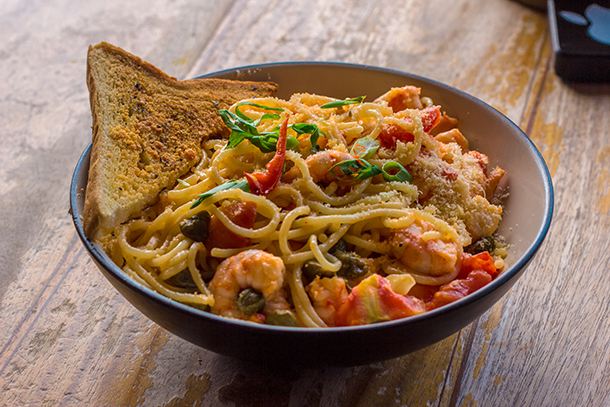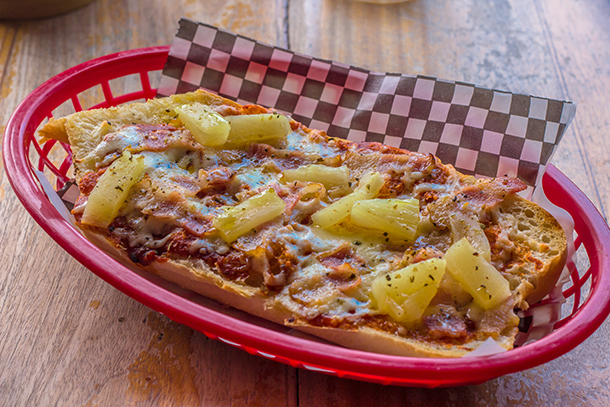 I wanted some light lunch so we ordered one Shrimp Scampi with its delicious sauce and shrimps and one Pizza Baguette Hawaiian for sharing which set us back at around 405 Php including drinks.
How To Get There
Going to Gabby's Bistro was a bit tricky (at least for us) as we were coming from the Twin Lakes in Sibulan. We stopped near the Bantayan-Dumaguete Crossing and hired a tricycle to take us to Gabby's Bistro. Fare was still at 10 Php.
The bistro was within a compound so there was a parking area, an apartment/ hotel and another restaurant.
There is another branch along Rizal Boulevard if you want another location much nearer to the city centre.
Address: E Rovira Dr, Bantayan, Dumaguete, Negros Oriental
Verdict
The price was a bit expensive for some pasta and pizza but I think the ambiance really made up for it. It is perfect for group dining specifically friends and family as the colourful and unique vibe of the bistro is pretty cool.
Sans Rival Bistro
Prior to leaving for Cebu, I wanted to get some early dinner. And of course, I didn't want to miss visiting Sans Rival Bistro – same company as the Sans Rival Cakes and Pastries- but focuses more on meals rather than desserts.
Like its pastry shop, Sans Rival Bistro was also busy when we went there. It was around 4:30 PM and to our surprise, it was still pretty busy with lots of customers inside. Guess everyone also wanted some early dinner.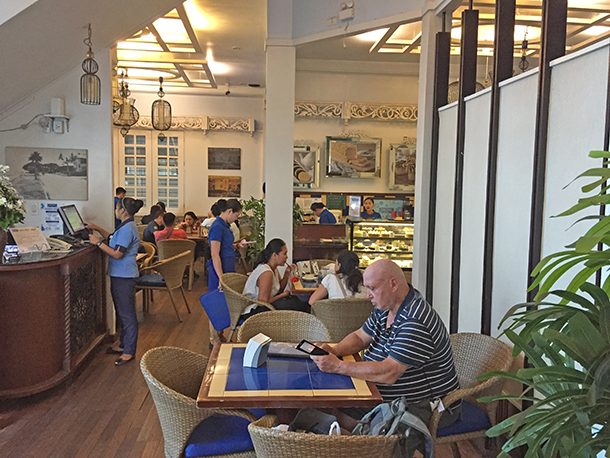 The restaurant is housed at the restaurant's ancestral home that added a certain charm to it.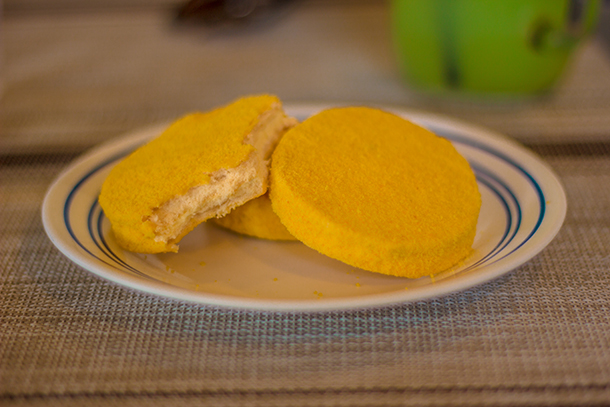 My husband was still full after our light lunch at Gabby's Bistro and just wanted some dessert. I ordered some butter-flavoured Silvanas.
For those not familiar, the Silvanas are frozen cookies with cashew meringue wafers coated with cookie crumbs. It's a dessert that can easily satisfy anyone's sweet tooth.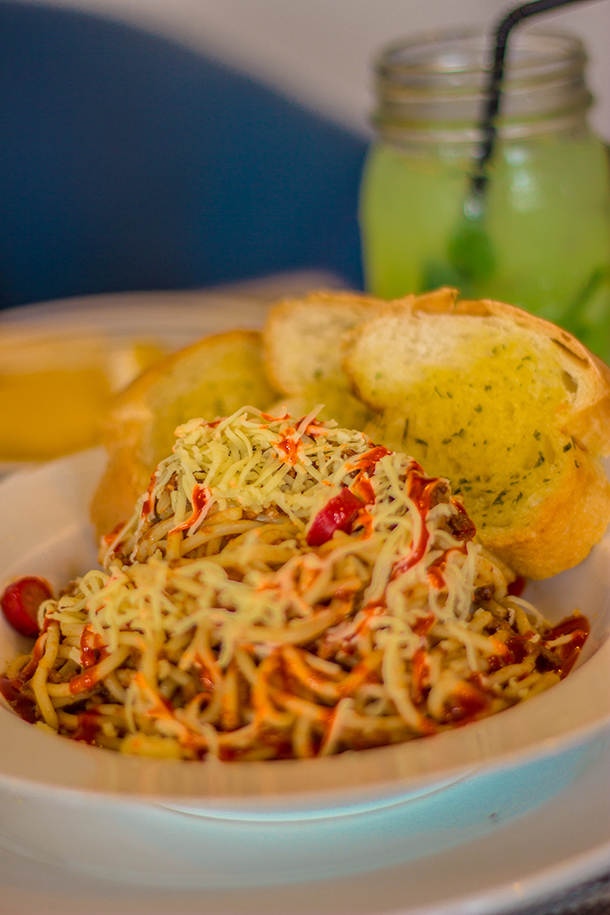 I, on the other hand, decided to have some Sans Rival Spaghetti which tasted sweet and creamy.
How To Get There
Sans Rival Bistro is located along Rizal Boulevard, and as previously mentioned, can easily be spotted because of its bright blue signage/ logo.
Its location can easily be walked if coming from the city centre – Dumaguete City is pretty easy to navigate on foot. You can also ride a tricycle with fare starting at 10 Php.
Address: San Jose St, Dumaguete, Negros Oriental
Verdict
Prices are perfectly affordable and is a lovely place to dine. Also a great place for family, friends, couples or solo.
There you go! I hope you enjoyed our Dumaguete Food Scene tour. I know there are still a lot of places that are unmissable if visiting Dumaguete.
In fact, I had several choices that I wanted to try but chose not too because, one (1) there was not enough time; two (2) some of our activities had complimentary lunch and three (3) some of those restaurants were pretty far from the city centre.
Nevertheless, it was such a cool gastronomical experience that I'd love to try again – maybe not in Dumaguete – but in other places that I'll be traveling to.
Watch out for more food scene review coming soon on the blog!
Do you have some Dumaguete restaurants' recommendation for us? Tell us on the comments below!
Like This Post? Pin It!