When planning for our Dumaguete Trip, I came across a majestic waterfall that at first glance, I knew I just had to check out: Casaroro Falls.
The Casaroro Falls, is not found in Dumaguete, rather is located in Valencia – another municipality in Negros Oriental. It can be done as a day trip from Dumaguete (which is usually the gateway to Negros Oriental's amazing spots).
The photo of the Casaroro Falls is a common sight especially on dorms/ hotels. It is a popular place for swimming, photo ops and just chilling with nature.
The hotel staff who gave us directions was actually a bit hesitant when we asked him about the falls as it was already 2PM when we left the hotel. According to him getting to the falls would take time and there's a chance that we won't be able to enjoy it.
As I wasn't planning on swimming at the falls (we just got back from a beach trip earlier in the morning), I was pretty cool with just seeing it personally.
Despite going there late, time and luck was with us as our waiting time for both the jeep and the tricycle was pretty quick.
Disclosure: We use affiliate links on this post. Please read our Disclosure Statement below. Thank you.
We left for Valencia at around 2:30 PM after looking for the jeepney terminal and asking directions from the locals. Good thing when we arrived, there was one (1) jeep that was waiting for the last 2 passengers and when we got in, we did not have to wait long.
This was also the same when we arrived at Valencia as we were able to get a driver/ guide upon arrival.
How to Get to Casaroro Falls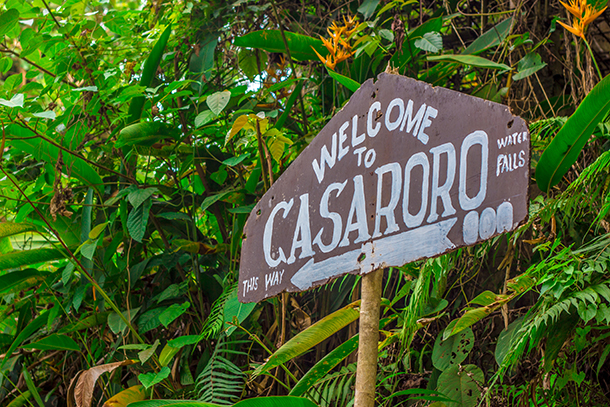 From Dumaguete, ride a jeep going to Valencia. You may also hire a tricycle to take you there. Just remember to haggle, though.
The locals we talked to highly recommended taking the jeep if you are coming from Dumaguete.
Please take note that the jeepneys for Valencia are not really located at a terminal. Rather it was at a junction around 4 corners from our accommodation. Ask locals for directions so that you won't get lost. 🙂
Travel time from Dumaguete City to Valencia is around 30 minutes and fare is at 12 Php per head. Alight at Valencia Terminal and ride a tricycle or a habal-habal going to Casaroro Falls. Fare is at 100 Php per head that's just for one way.
The driver/guide that took us was waiting at the terminal looking for passengers so we didn't wait for a long time for someone to take us to the falls. Instead of a motorcycle, ours was a tricycle (engine-powered, three wheeler vehicle) which is a good thing as my husband is not a fan of motorcycles.
Travel time from the Valencia Terminal to the entrance of the Casaroro Falls is at 14-20 minutes.
What To Expect When Visiting Valencia's Casaroro Falls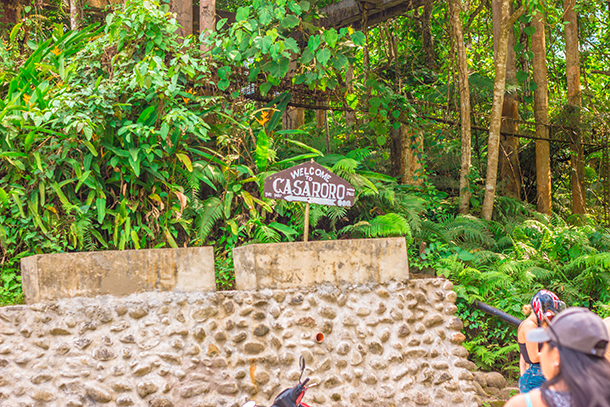 Our driver/ guide dropped us at the entrance to the Casaroro Falls. We paid 10 Php per head as entrance fee and registered our names on their logbook.
The latest rates for the Casaroro Falls is at 30 Php per head which also include the environmental fee.
There are local guides that you can hire to help you reach the falls. We, on the other hand, decided not to as there were people ahead of us and we thought of just following them.
We were warned beforehand that there is no clear path to the falls. And that the hike is not easy. Boy, were they correct!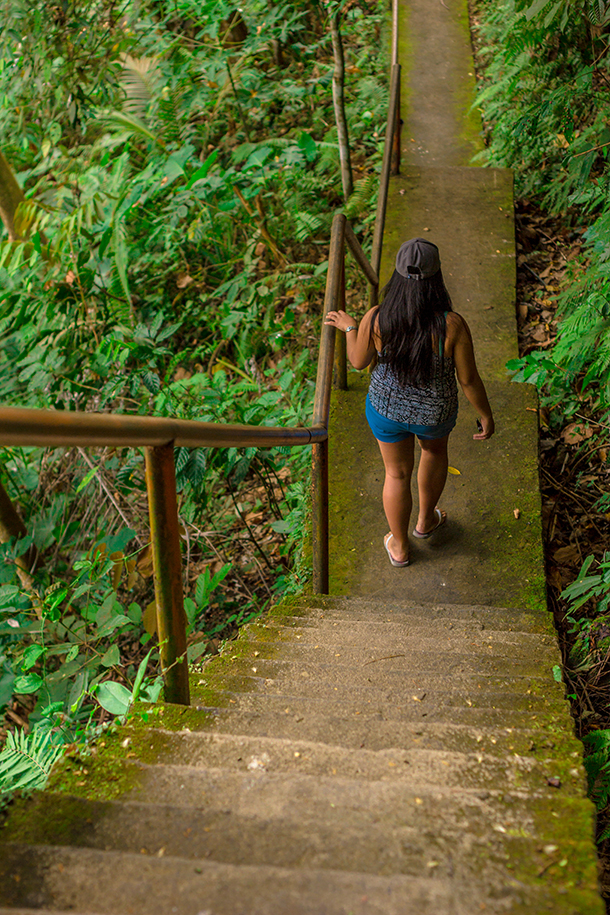 The first part of the trail was through a series of steps going down. As per our guide the steps was around 300+. Right then and there, I knew it will be pretty challenging when we head back.
I thought that it will be the most challenging part of the trail. As it turned out, it was just the beginning.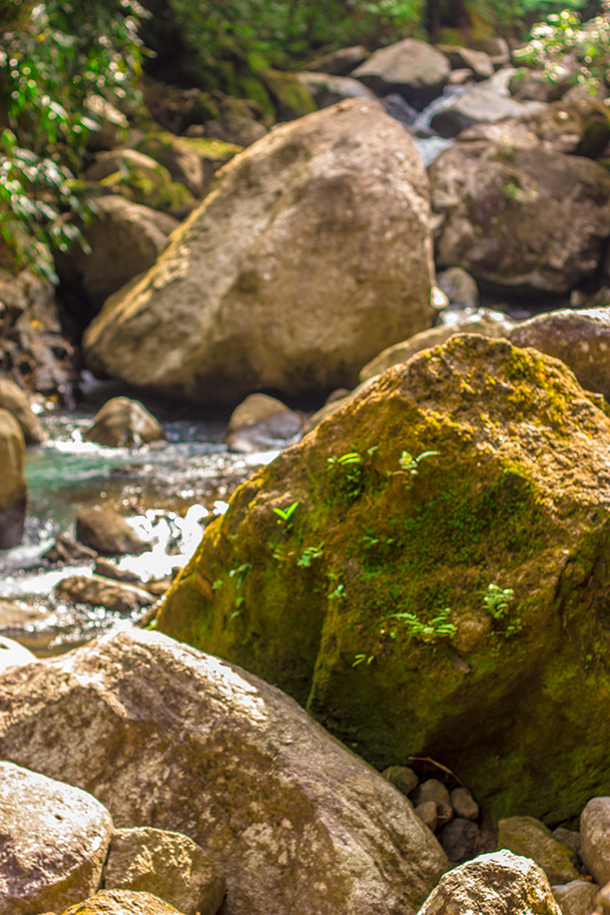 After the stairs, the trail will take you through a series of rocks and boulders all waiting for you to climb over and pass through.
There's a rest room at the base of the stair by the way, if you need a quick comfort room break.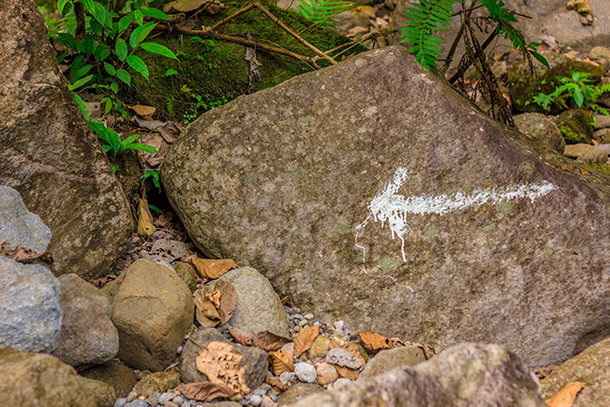 At the base of the stairs, there is no defined and clear pathway to the falls. Hence the availability of the guide for tourists wanting a more specific direction. But we found some arrows drawn on some big rocks to follow and some helpful people who pointed us to the right direction.
Here are some of the path we had to go through: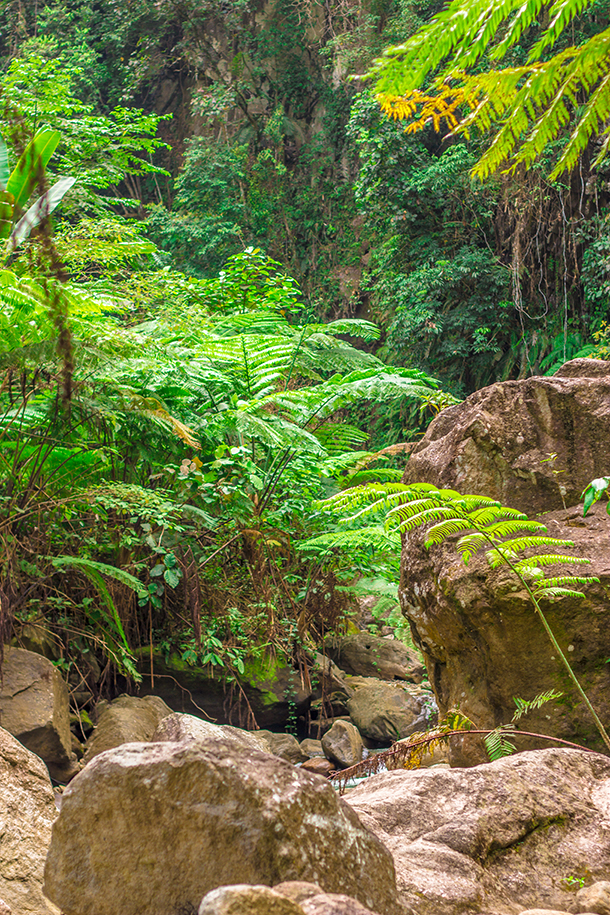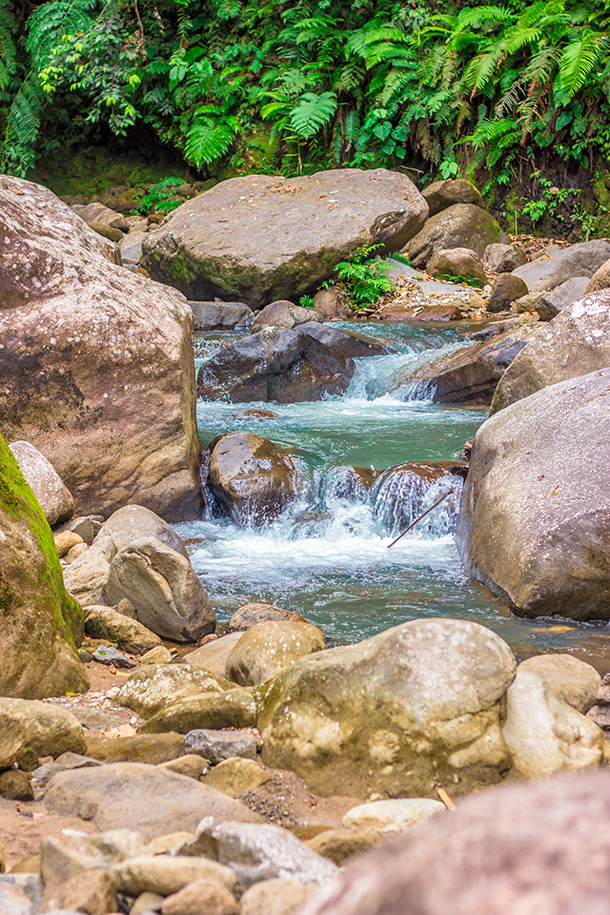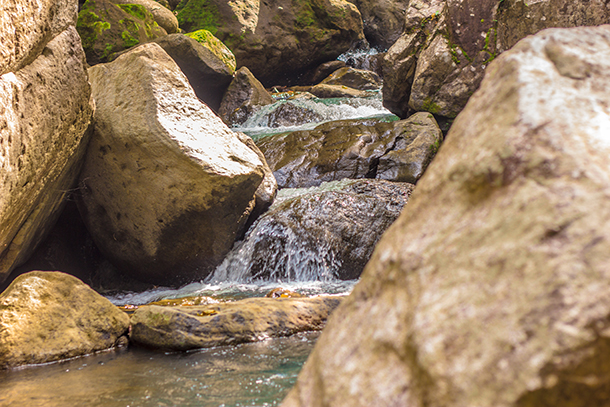 Along the trail, you will notice portion of damaged bridges that's supposed to serve as pathways to the falls. Unfortunately, as per our guide, it was destroyed when a typhoon hit the province a few years back.
The local government are still working on the renovation of the bridges to make it more sturdy.
I do hope they get to complete it as it would've been more convenient and safe for all tourists and locals who will visit Casaroro Falls.
According to our guide also, there were also a few cottages along the trail and some that are facing the falls before too but it was destroyed along with the bridge.
For now, anyone wishing to see the Casaroro Falls will need to pass through the same trail that we did.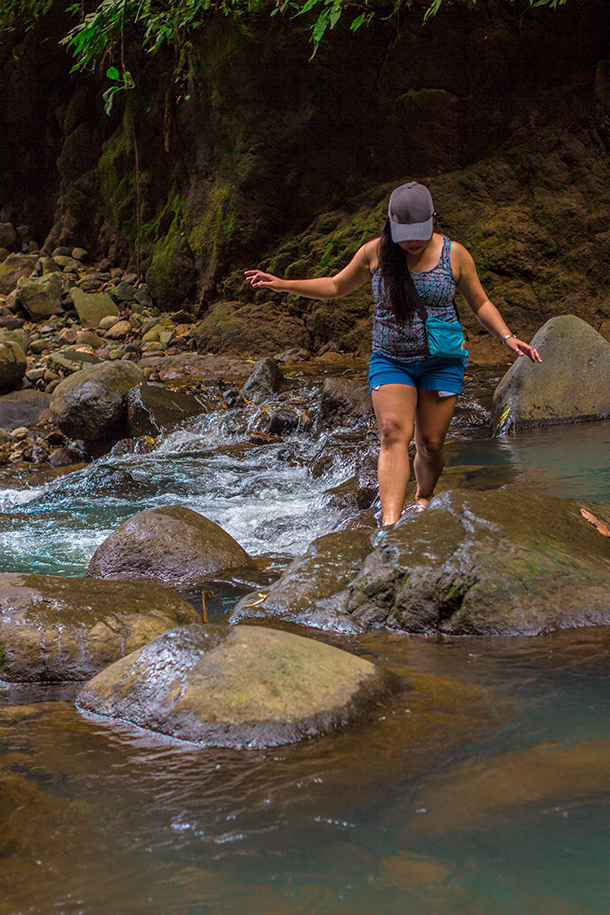 Aside from the rocks and boulders, we also crossed the stream thrice to my feet despair. LOL.
My legs felt like they were screaming halfway. They were already sore from climbing down the stairs and the rocks. It seemed like my body was already feeling the exhaustion of our whole day swimming with the sea turtles the day before and the early morning start earlier in the day.
I was longing for a less rocky path like those on our trek to Osmeña Peak and Mt. Pulag or even Masungi GeoReserve.
Admittedly, I was just about to give up. But my husband was determined and I knew I just had to see it too.
Lost in thought and just focusing on the path, it was with relief when my husband paused around a corner with a smile on his face.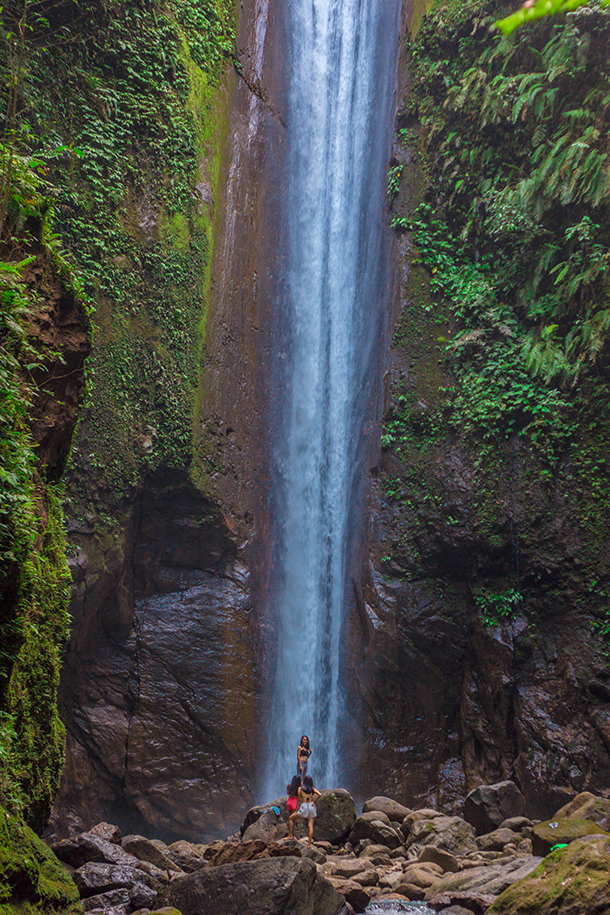 We have finally arrived and this view of the falls greeted us.
All in all, it took us around 30-45 minutes to reach Casaroro Falls. It was a pretty tough hike but I think it was definitely worth it!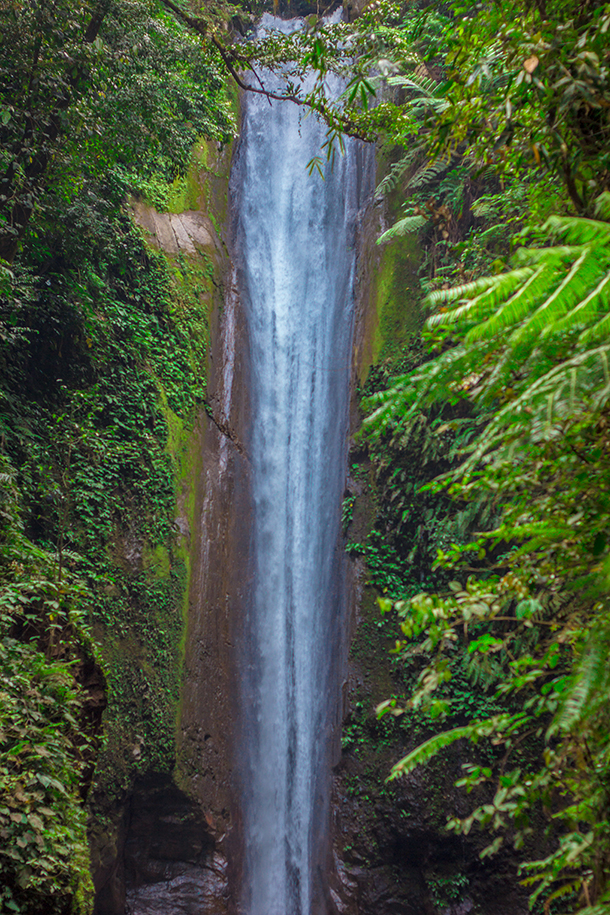 Not wanting to miss out – we did hike that challenging path after all – we moved closer and breathed in the cool fresh air.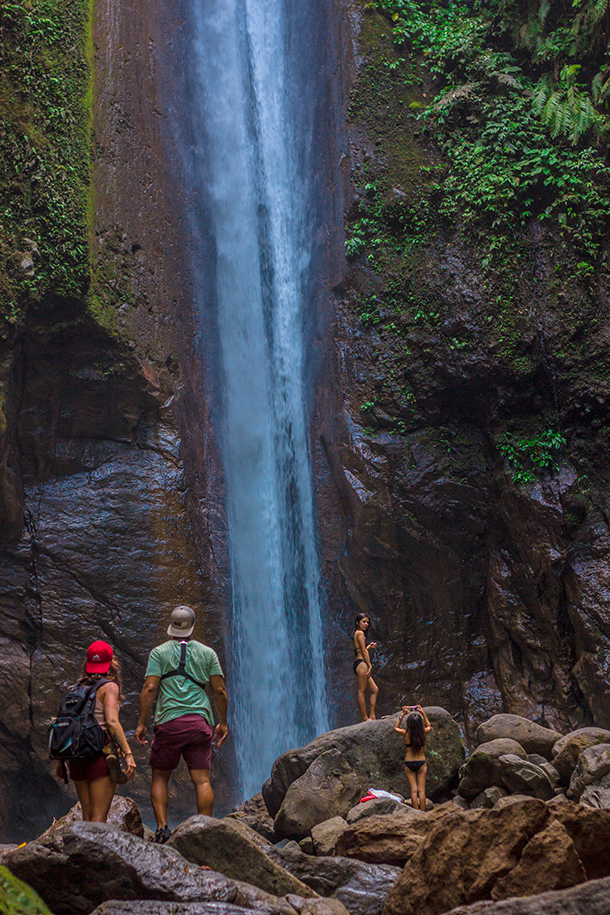 The group who were ahead of us were already enjoying their photo op session on top of these boulders for a better view of the falls.
I, on the other hand, was contented to enjoy the view from a distance. It was really relaxing.
The falls is very tall and unlike Daranak Falls, it's more majestic. I guess the ambiance of the area added a nice touch to the falls' beauty.
You can take a dip at some areas but be cautious especially as the current can be pretty strong.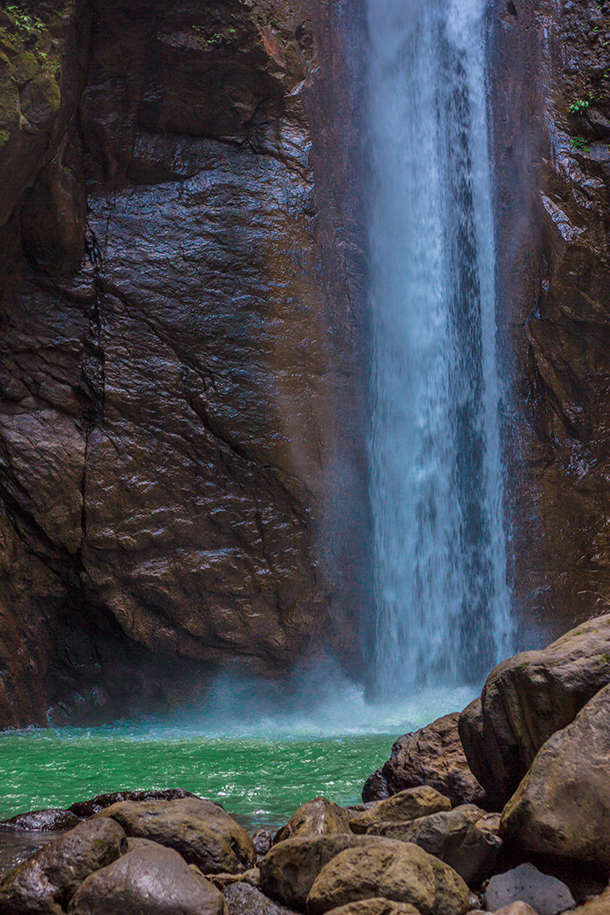 We were told that you can swim near the bottom of the falls too (but not directly at the cascading water). But same with the other areas, the current can be stronger here.
Feeling like we have already taken our fill with the view, we retraced our steps back to the entrance.
This time, I was more prepared than before and the hike seemed shorter. Though the stairs was a different story.
I was huffing and puffing (like the Big Bad Wolf. LOL) and had to pause at every landing. The soreness that I felt after the hike (and a few days after the trip) was a reminder of Casaroro Falls and the challenging hike that we did not really expect but enjoyed nevertheless.
Travel Tips When Visiting The Casaroro Falls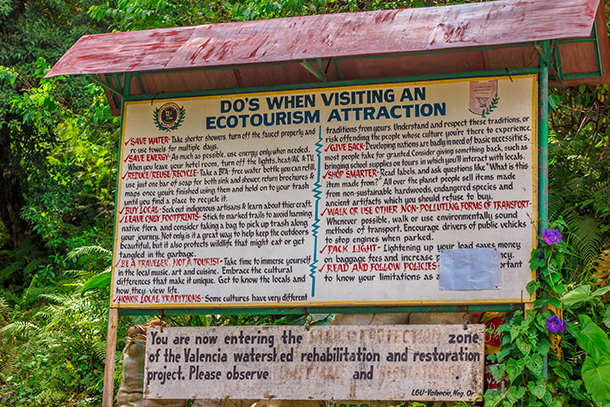 1. Wear comfortable footwear when going to the falls.
2. Bring some potable drinking water as you will need to stay hydrated while going through the hike.
3. There are no stores near the falls so bring food with you.
4. Bring your trash with you when you leave. It's never cool or alright to leave trash behind.
5. Come in earlier than we did to better enjoy the falls.
6. Be mindful of the path and be careful. Carelessness while climbing up and down the rocks may lead to injury.
Overall, visiting the Casaroro Falls is not for the weak-kneed individuals. It'll take time, effort and a day's worth of soreness. However, the view was really worth it and I'll be glad to visit again when the opportunity arrives!
What do you think? Will you try this hike? Share your thoughts with us! We'd love to hear from you!
Like This Post? Pin It!
Disclosure: We are a participant in the Amazon Services LLC Associates Program, an affiliate advertising program designed to provide a means for us to earn fees by linking to Amazon.com and affiliated sites. Meaning, if you purchase any item by clicking on the link, I earn a commission at NO EXTRA COST to you. Thank you for reading the blog!