Are you planning on visiting Negros Oriental? Here is our ultimate Dumaguete City travel guide!
Dumaguete City is the capital of Negros Oriental in the Philippines. It's a city best known as the travel hub in the heart of Negros Oriental.
The city serves as the gate point to the natural wonders and treasures of the province. Indeed, with its central location there are a lot of things to do in and around the city.
Dumaguete City is geographically small and there's not much to see within the city per se. It's pretty laidback, a bit like Puerto Princesa and Coron but less busy than major cities like Cebu or Manila.
However, if you explore more than the usual tourist spots, you will see the potential travel adventure you can do.
The city attracts a considerable amount of foreigners a year. It is located near Cebu, has several beach resorts, dive sites and is accessible to numerous natural attractions.
If you are looking for things to do in Dumaguete, take a look at our Dumaguete City Travel Guide to start planning your trip!
How To Get To Dumaguete City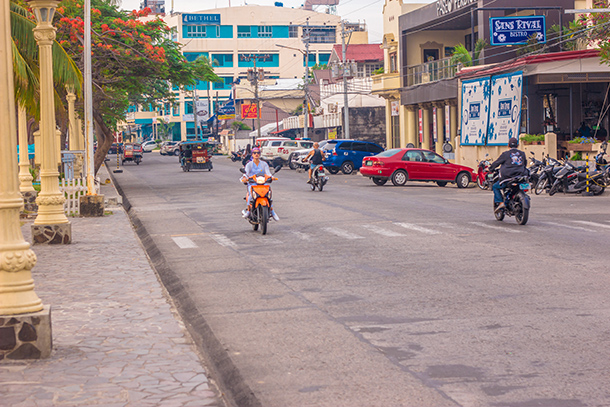 There are several ways to get to in Dumaguete.
Option 1 is to fly in from Cebu or Manila through local airlines.
If you're lucky, you can even purchase a round trip ticket for less than 2,000 Php.
Check out available flights here!
Option 2 is to take the bus from Cebu City to Santander (located at the Southern Tip of the Cebu province) and ride the 30-minute ferry / barge to Dumaguete.
Travel time from Cebu to Dumaguete is around 6 hours and fare is at 330 Php (this already includes the bus fare and the barge/ ferry). Please check the bus fare accordingly before you board as prices may change.
Option 3 is to take the Cebu-Dumaguete fast craft from Pier 1 in Cebu City. Travel time is around 3 hours. Sometimes the fast craft will pass through Tagbilaran City in Bohol before continuing to Dumaguete City.
Stop-over at Tagbilaran and enjoy the beach in Bolod Beach, Panglao! Tickets are available anytime!
Things to Do in Dumaguete City
Visit Dumaguete City's Tourist Spots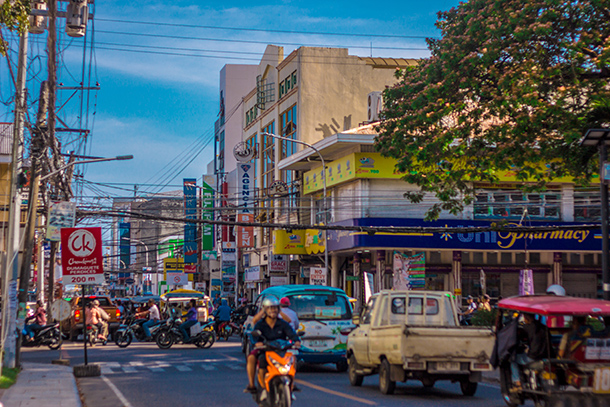 Dumaguete tourist spots may be few, but they are interesting enough to warrant a visit especially for first time visitors. Here are some of our recommended tourist spots in our Dumaguete City travel guide.
Rizal Boulevard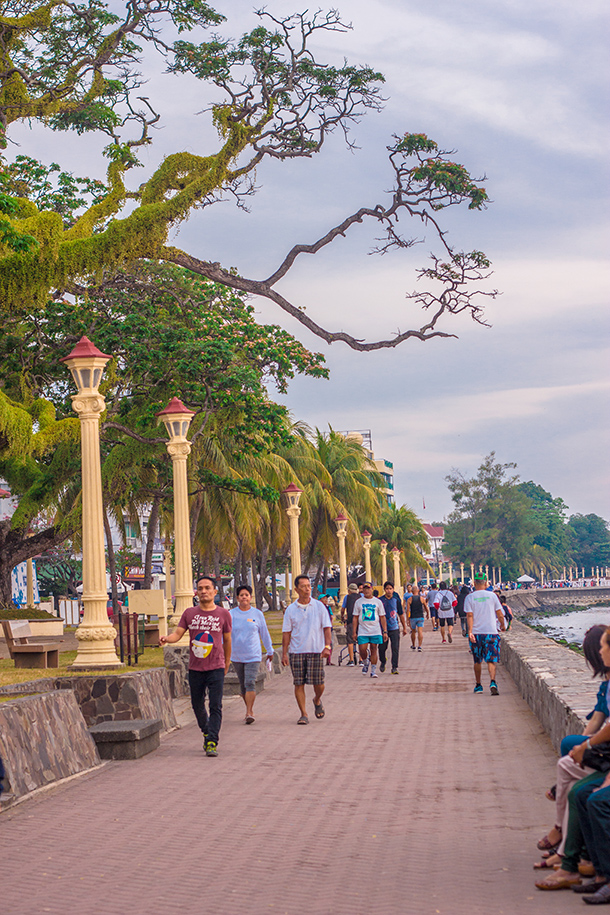 Rizal Boulevard is a long stretch of concrete pathways that overlooks the Dumaguete stretch. Its a cool family and friends hangout spot with benches on one side for picnics or to simply pass the time.
There are also several restaurants on the other side of the Rizal Boulevard facing the ocean, if you want to grab a bite or dine with friends and families.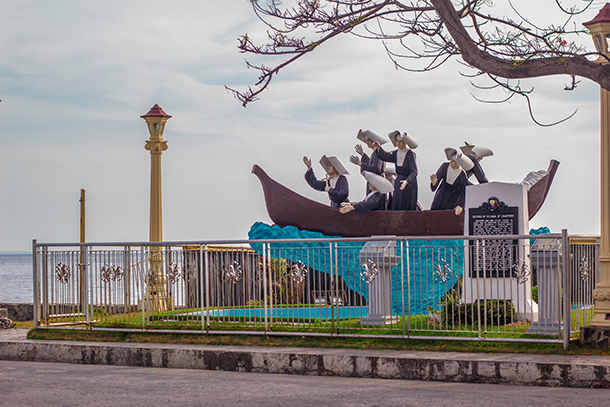 Aside from the ocean view, the boulevard is also home to some interesting statues with remarkable historical significance. Enjoy a leisure walk along the boulevard and take a moment to check them out.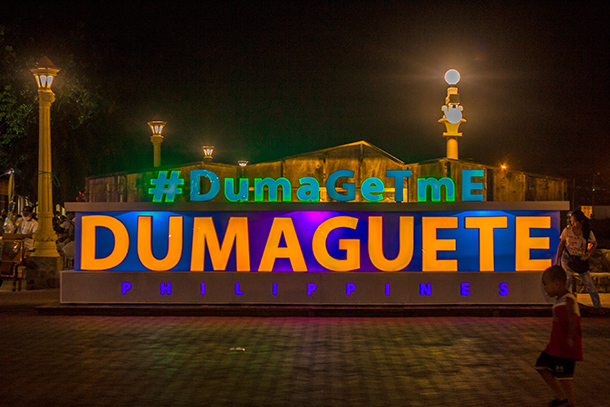 At night, the boulevard lights up with several lovely photo opportunities… We did enjoy taking photos of Dumaguete here. Selfie anyone?
If you are within the city, you can simply ride a tricycle here (that is, if walking not your thing). Buses and jeepneys (some of the local transportation in the city) also passes through here from other municipalities in the region.
Belfry Tower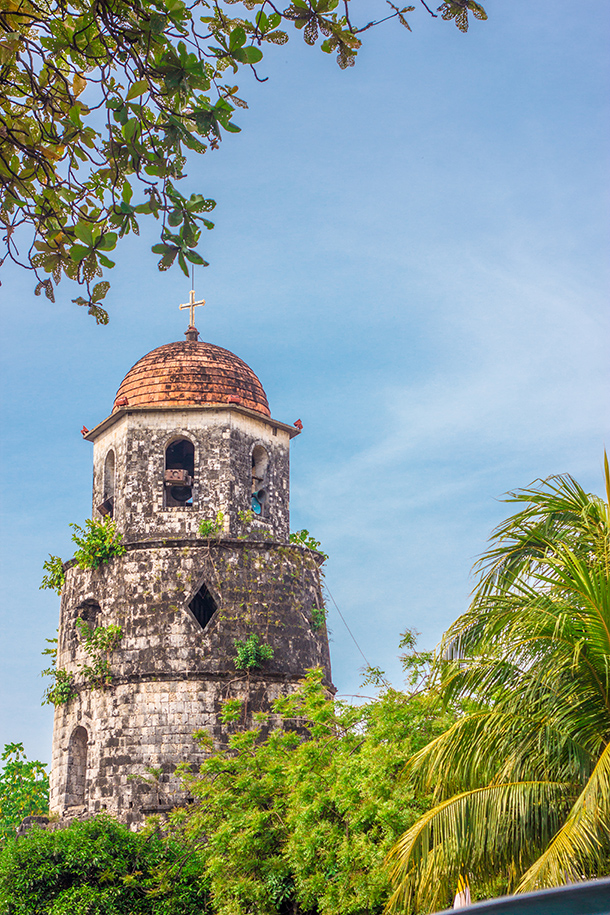 Dubbed as the 'Guardian of the City', the Dumaguete Belfry is considered to be the city's best known landmark and is one of Dumaguete's oldest surviving structures.
It has served as one of the city's defenses against pirate attacks in the early 1800s. Not in the combat kind of defense, rather as a watchtower to warn the locals if pirates are coming.
Because of historical significance, a visit to this popular tourist spot in Dumaguete is mandatory.
The Belfry Tower is easy to locate as it within the city centre. You can walk around the city and not miss this iconic structure.
St. Catherine of Alexandria Cathedral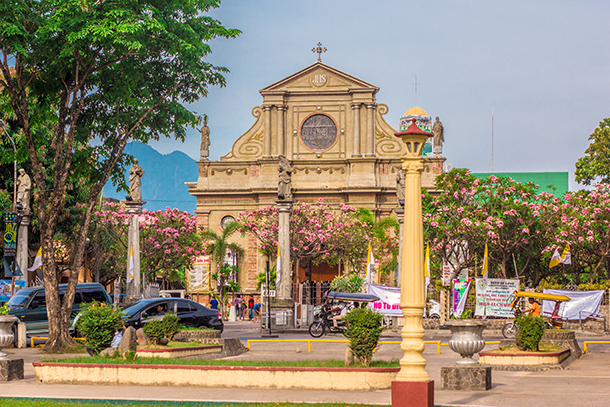 Right next to the Belfry Tower is the St. Catherine Cathedral, best known as the Dumaguete Cathedral.
Through the years, St. Catherine of Alexandria Cathedral has served as the centre of the city's Catholic religion and faith. The Dumaguete Cathedral is also said to be oldest stone church in Negros with several reconstructions and extensions to the facade.
Like the Belfry Tower, the Dumaguete Cathedral is easily noticeable and easy to locate with people flocking to the church especially on Sundays.
Siliman University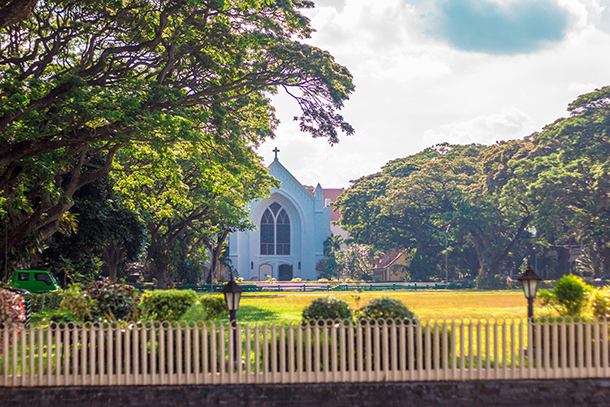 Dumaguete is also known as a 'University City' with four universities located here. Among those is the famous Siliman University. And this alone warrants an inclusion to our Dumaguete City travel guide.
The university is considered to be one of the country's top universities and a favourite among local students (within and outside the city) as if offers quality education.
If you are in the city, one of the popular stops you should check out is the Siliman's Anthropology Museum. The museum has recently been transferred to the second floor of Hibbard Hall.
It was previously housed at the University's oldest building, Silliman Hall.
Siliman's Anthropology Museum is home to rare and priceless collections of ethnological and archaeological artifacts dating back as early as 500-200 B.C. That being said, the museum alone is considered to be one of Dumaguete' tourist spots.
But if you're not in a hurry, take the time to stroll around the campus. Siliman University is surrounded by a sprawling green campus and has a rather impressive ambiance for academic learning.
Quezon Park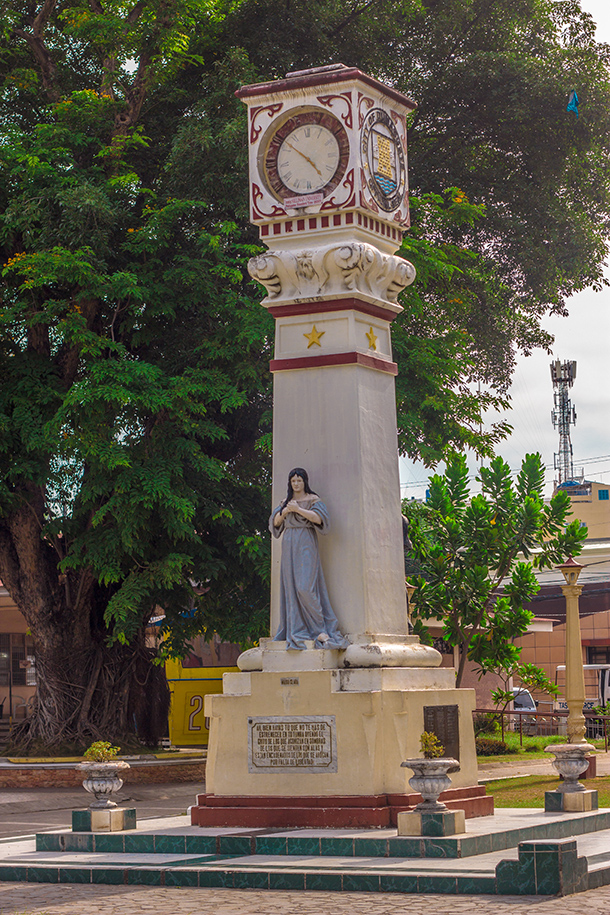 Fronting the Dumaguete Cathedral and the Belfry Tower is a leisure park you can enjoy a few hours in: the Quezon Park.
Occupying about 1.5 hectares, Quezon Park is surrounded by trees and plants and has several concrete structures (including a playground facility) for families and friends who just want to hang out.
Catch Sunrise and Sunset at the Rizal Boulevard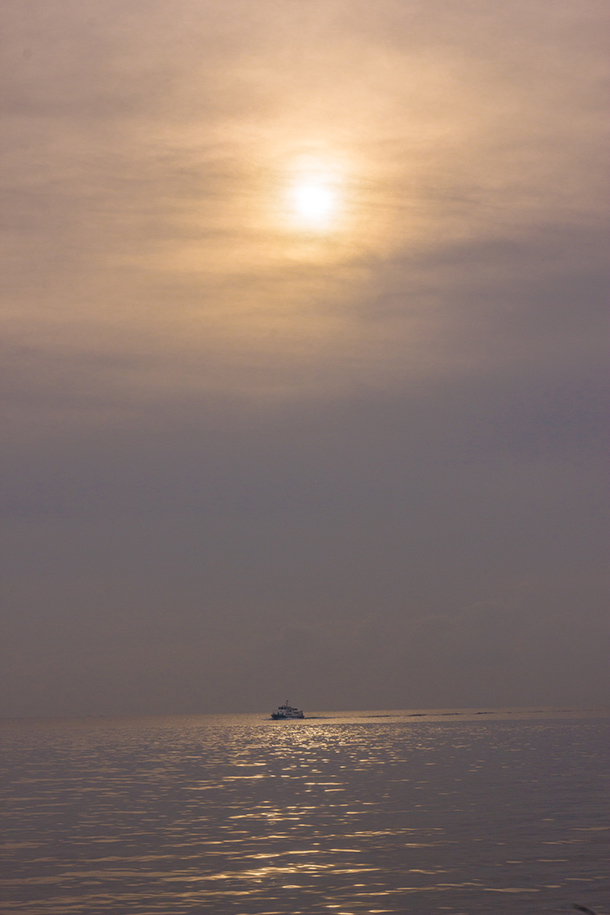 Catch the sun as it rises and sets over the horizon at the Rizal Boulevard. The ambiance is really relaxing.
If you want to stay fit while traveling, enjoy a morning or night run along the boulevard too. It's fun to do this particularly before or after watching the sunset or the sunrise.
You'll certainly not feel alone as other people are doing it too!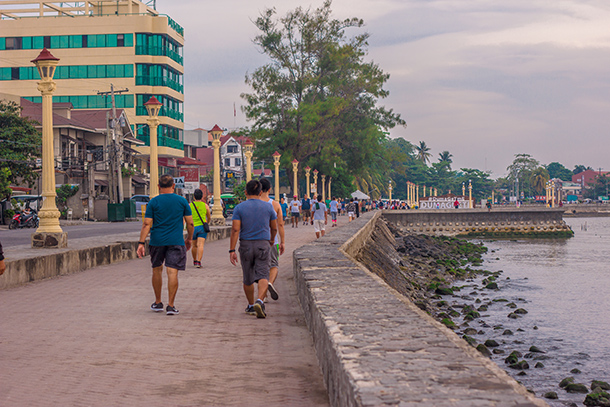 We were able to see locals and tourists alike walking their dog, jogging alone or strolling with friends and family on our third day in Dumaguete. It was pretty tempting to join in.
Enjoy the Delicious Food of Dumaguete City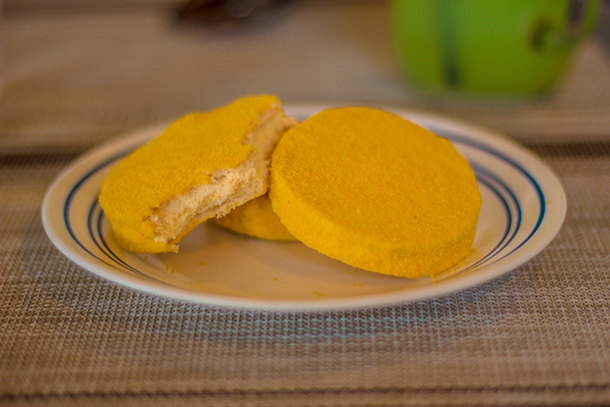 As a travel hub, Dumaguete has indeed a lot of unique and equally tasty options for people passing through and staying in the city!
Our Dumaguete City travel guide highly recommends that you take the time to explore Dumaguete's food scene and enjoy the various cuisines available.
Along Rizal Boulevard alone, you will have a lot of gastronomical opportunities. But if you are plan on heading out and explore other Dumaguete restaurants in the city, you can certainly do so. And with lots of options too, I might add.
Getting around the city is quite easy, just like most areas in the Philippines. Transportation in the country is very straight forward. You can almost get a tricycle anywhere to take you to your desired destination.
If you're feeling more local, try the 'Tempurahan' at night. It's located at the Rizal Boulevard and you will certainly get to experience eating the local way.
Do Day Trips from Dumaguete City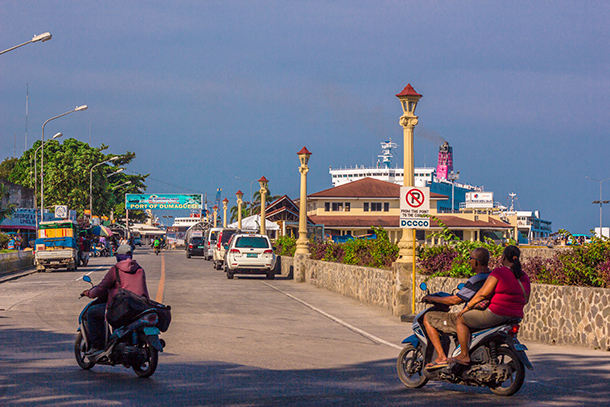 Dumaguete is a favorite stop-over and definitely one popular travel gateway to Negros Oriental's tourist attractions and point of interests.
During our stay we have visited a few and I'm personally hoping to explore more.
Apo Island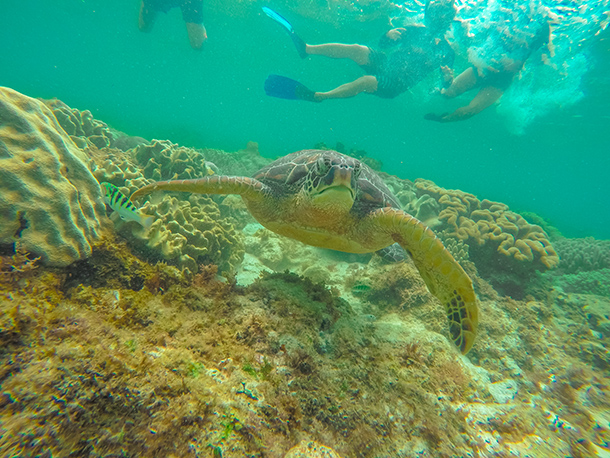 First stop is swimming with the sea turtles at the Apo Island. It's a safe activity not only for us people, but to the sea turtles as well.
There are local guides who'll take you along. This is a preventive measure from the local government to ensure that the swimmers will not get too close to these gentle creatures.
The island is about 30 minutes from the mainland in Dauin, Negros Oriental. You can get to Dauin from Dumaguete City via the local PUJ (jeepneys) or by bus.
We availed the Apo Island Snorkeling Package from Harolds Mansion Diving Center when we were there. It did save us the time and was generally convenient.
You will definitely need one (1) whole day to truly enjoy the island.
Manjuyod Sandbar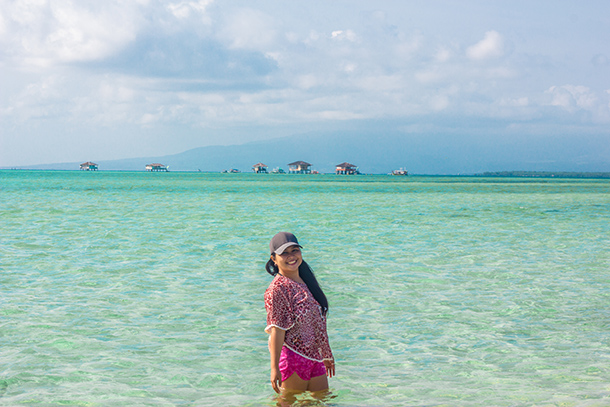 Manjuyod Sandbar is a popular tourist destination in Negros Oriental. It's an hour from Dumaguete City via bus.
The Manjuyod Sandbar is dubbed as the 'Maldives of the Philippines' with cottages erected at the sandbar. When the tide is high, the cottages all seem to float at the center of the ocean.
We spent a lovely day at the Manjuyod Sandbar and got to walk on its shallowest part. Our boatman also guided us to a snorkeling area where we saw some Clown Fish and a healthy amount of coral reefs.
We spent the whole morning here and had our lunch near the area too. You can always spend the whole day should you wish to.
If you have no time to DIY, avail the Dolphin Watching and Manjuyod Sandbar Tour here.
Twin Crater Lakes: Lake Balinsasayao and Lake Danao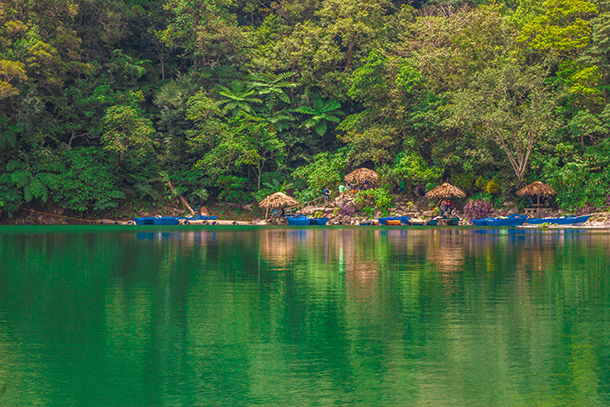 The Balinsasayao and Danao Twin Lakes in Sibulan is another tourist spot in Negros that you will love to spend a day in.
We took the bus going to Manjuyod and rode a motorcycle (habal-habal) to the mountains. Here we saw one of the most tranquil places I've been in. Nothing beats cool and fresh air on a summer day, right?
There are small boats that you can hire for a fee to the viewing area at the centre of the Natural Park. From the viewing area, you can see Lake Balinsasayao and Lake Danao from both sides.
Personally, this is a relaxing activity everyone can enjoy. You can allot a half day to explore the lakes.
If you want to save time, a Twin Crater Lakes and City Tour is also available here.
Mabinay Caves
Two (2) hours from Dumaguete City is Negro's 'Cave Town' – Mabinay. There are about 100 known caves in the municipality. Only 7, though, are open to the public for tours.
What's really cool about the activity is that you don't have to be a pro-caver to enjoy it. There are caves for almost anyone who wants to see the gorgeous stalagmites and stalactites and other rock formations in the caves.
Among the caves that can be visited for beginners are the Bulwang (big hole) Caves, Panligawan (courting) Cave, Pandalihan (marriage) Cave and the Crystal Cave. For experienced cavers, the Odloman Cave and the Cayaso Cave are favourites!
To full explore the caves and enjoy it, you'll need at least a whole day to check it out.
Valencia
Valencia is another municipality in Negros Oriental that is around 30 minutes from Dumaguete City. There are several popular tourist spots in the area that you can enjoy.
Simply ride a jeep to Valencia and hire a tricycle or a motorcycle to take you to the stops I'll be mentioning below.
A day here will definitely satisfy your wanderlust! Here are some of the great attractions we enjoyed:
Casaroro Falls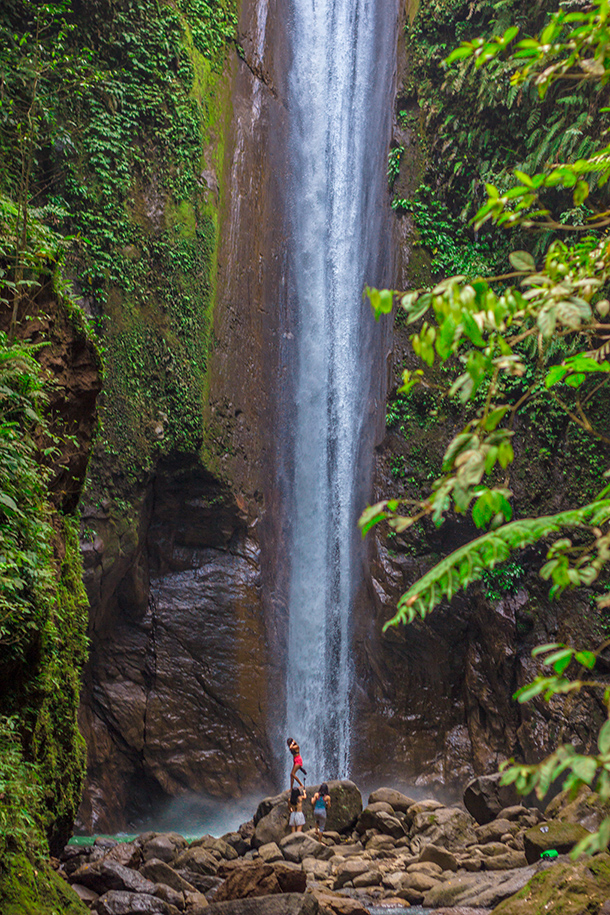 The hike to the Casaroro Falls is certainly worth it just to see this magnificent falls. Casaroro Falls is considered to be one of the most photographed waterfalls in the Negros province, and I can see why.
Its powerful cascade of water flowing freely is a sight to behold. The falls is also surrounded by green vegetation and equally peaceful surroundings.
With only the rush of flowing water as your background music, you will surely appreciate nature at its best.
Pulangbato Falls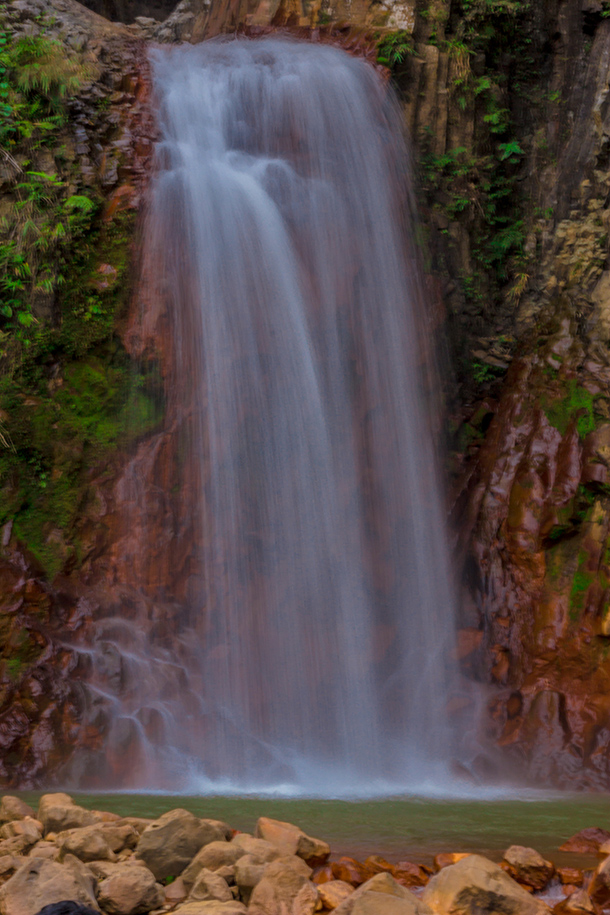 Take the plunge at the Pulangbato Falls and its twin and enjoy the newly built facility that surrounds both falls.
Pulangbato is definitely one of the tourist spots in Valencia that is unmissable. Enjoy a day here just swimming at the pool of red rocks and clear water.
Red Rock Hot Springs
If you want a nice hot bath, the Red Rock Hot Spring is a good place for you. The Red Rock Hot Spring is a relaxing sanctuary that'll give you a refreshing moment to relax and untie those tense muscles.
It's located next to the Pulangbato Falls so you can visit it before or after.
Sulphur Vent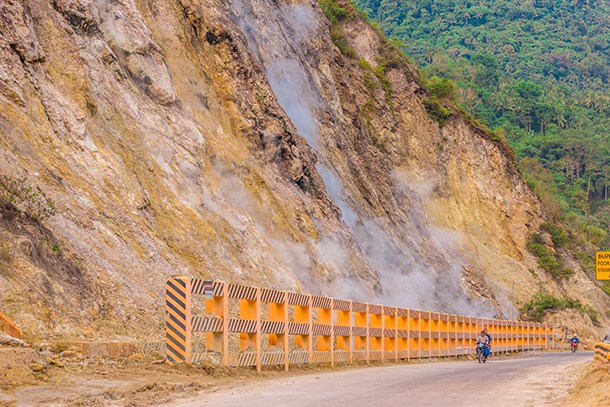 The Sulphur Vent is a quick stop going to Pulangbato Falls and the Red Rock Hot Spring. You can enjoy a few minutes marveling at nature working.
The fumes are, of course, overwhelming. But if you look past that, the Sulphur Vent is truly captivating.
Hanging Bridge
Just a few meters away from the Sulphur Vent is a hanging bridge that, well, you can stop for a while to take pictures in. It passes through some fuming rocks and can be an interesting sight.
Casaroro Falls, Pulangbato Falls, Red Rock Hot Springs, Sulphur Vent and the Hanging Bridge can be squeezed in for an entire day. That is, if you're not going to linger much at the falls and the hot springs.
Tierra Alta Resort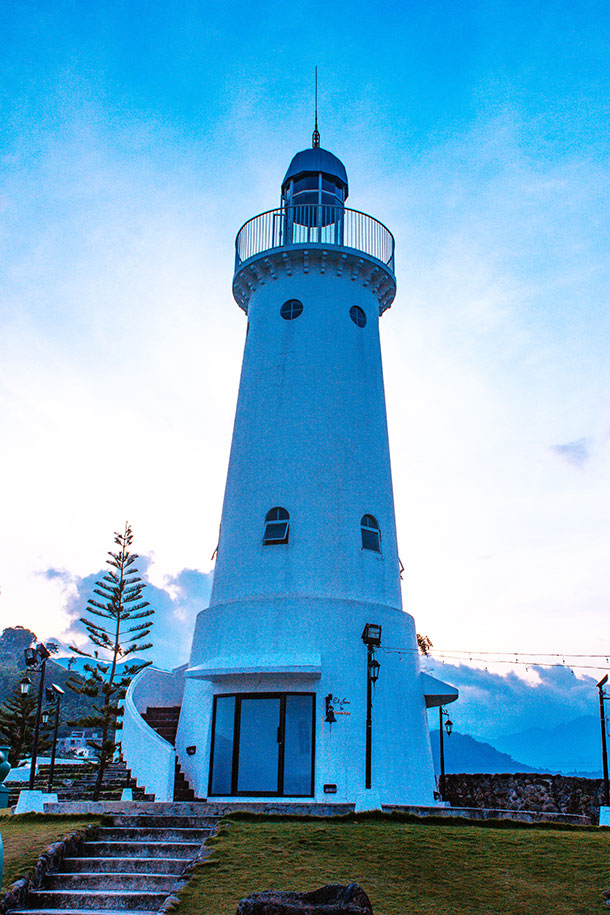 While Tierra Alta is still located in Valencia, you can allocate one (1) entire day enjoying this resort and its amenities. The resort offers Day Use for guests just wanting to stay for a few hours. You can also try their Tierra Café.
We were full when we got there so we just tried their burger (which had generous portions) and their caesar salad (which was delicious!). If you plan to just visit and see the place, order some food at the restaurant so that you won't have to pay the entrance fee.
Otherwise, if you have a day to spare, stay here the night and get comfortable.
Tierra Alta Residential Resort is situated at the mountainous region of Valencia and offers breathtaking views of the Negros province. The resort's aquatic pool is lovely and the Rush Zipline is a must-try experience.
Siquijor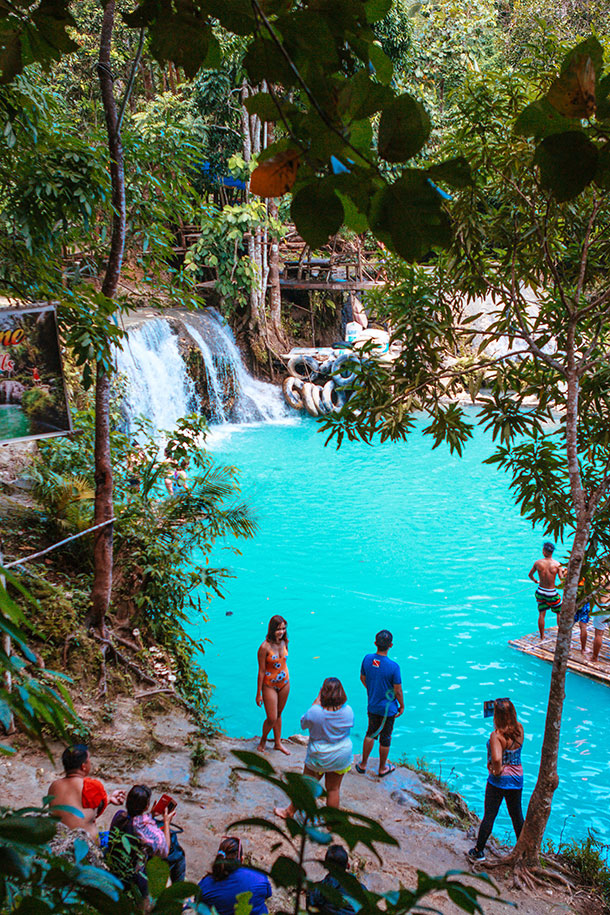 Siquijor is one of the closest islands to Dumaguete and warrants an inclusion to our Dumaguete City travel guide. You can take the ferry to the island and enjoy the Siquijor Coastal Tour and Mountain Tour.
The island offers amazing places to visit and that's barely covering the reasons to visit Siquijor!
Stroll Around the City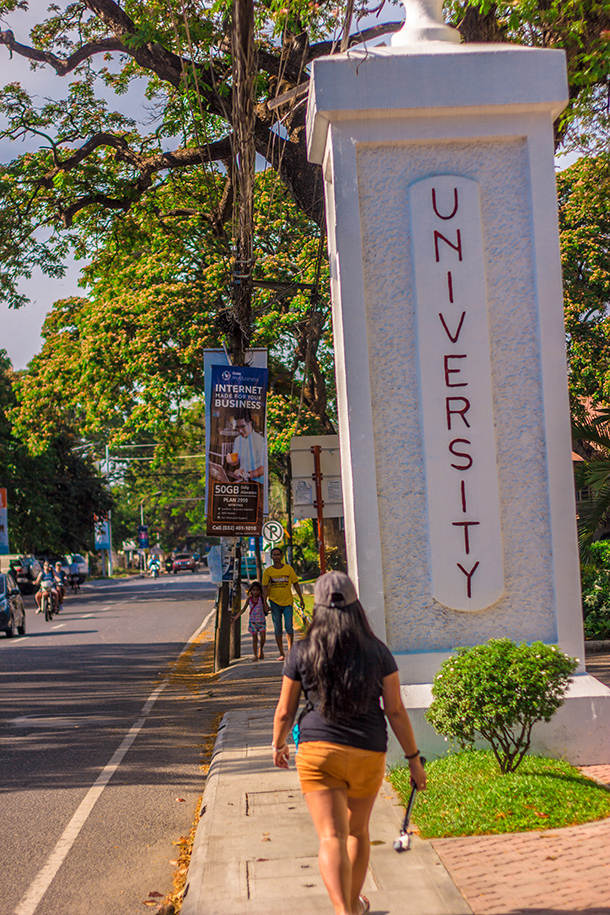 Dumaguete City is known for being the 'City of Gentle People'. I never truly understood it until I visited the city and enjoyed the people's hospitality and friendliness myself.
The city is safe and easy to navigate. It's quite small so wandering alone will not be a problem at all.
How to Spend your Dumaguete City Trip
While Dumaguete may be small and can be explored maybe in a day, a trip to some of the fantastic attractions nearby may take several days.
We went there and spent 3 days only and felt that we needed more time. Try spending at least 5 days exploring this side of the Philippines.
Where to Stay in Dumaguete City
Dumaguete City is filled with several hostels and hotels for all types of budget. Here are some great recommendations for you!
Golden Gate Suites
We stayed the night at the Golden Gate Suites in Dumaguete City. What we loved about it was that it was clean, with friendly staff and is centrally located.
The Golden Gate Suites has the following on-site features like free Wi-Fi in all rooms, daily housekeeping, 24-hour front desk, and luggage storage.
Harolds Mansion
If you want a budget accommodation, Harold's Mansion is a great option for you. The hotel is a backpacker favourite and offers tours to the Apo Island.
Enjoy a variety of convenient rooms of your choice and stay an hour or two at Harold's Mansion Hostel's relaxing roof deck.
The Flying Fish Hostel
Not necessarily a hotel, the Flying Fish Hostel is also a favourite among backpackers staying in the city. The hostel incorporates nature, convenience, and comfort and is located near health and wellness spa, beachside restaurants, bars.
Manhattan Suites Inn
Manhattan Suites Inn in Dumaguete is a comfy and centrally located boutique hotel. It's situated near one of the main malls in the city so buying supplies is definitely easy.
Room choices range from Family Suites to Deluxe Twin Room and Delux Family Room.
Hotel Essencia
Hotel Essencia is 3-star hotel that offers airport transfers, 24-hour room service and free Wi-Fi. The hotels has several well-appointed rooms to make your stay very comfortable.
Like This Post? Pin It!