Have you visited the Apo Island in the Philippines? If not, maybe you should start planning now!
The first time I've encountered a sea turtle in its natural habitat was during our Pescador Island Hopping in Moalboal, Cebu. During that time, we left disappointed because the sea turtles in the area were not friendly and were aloof to people.
When we've finally booked our ticket to Dumaguete City, visiting Apo Island was on top of our to do list together with the Manjuyod Sandbar.
I was debating against doing it ourselves (DIY) or just avail an Apo Island Package Tour. It was a tough decision as I weighing my desire to save money and at the same time I wanted a hassle-free trip.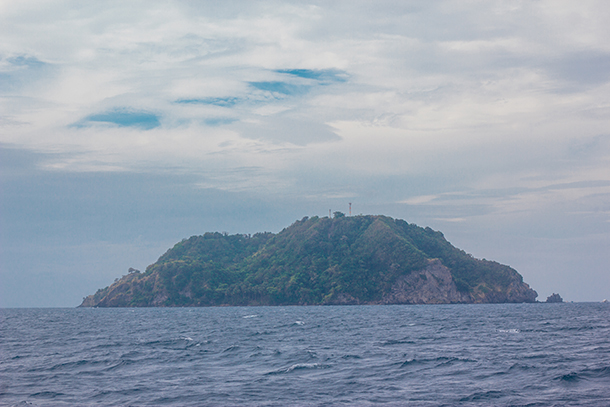 The convenient part in me eventually won and had me looking for affordable yet convenient tours to the island. It was all good as I was mostly doing the planning for our Dumaguete Trip and I saved myself pretty much valuable time in researching guides on doing it by ourselves.
Apo Island Tour Package with Harolds Dive Centre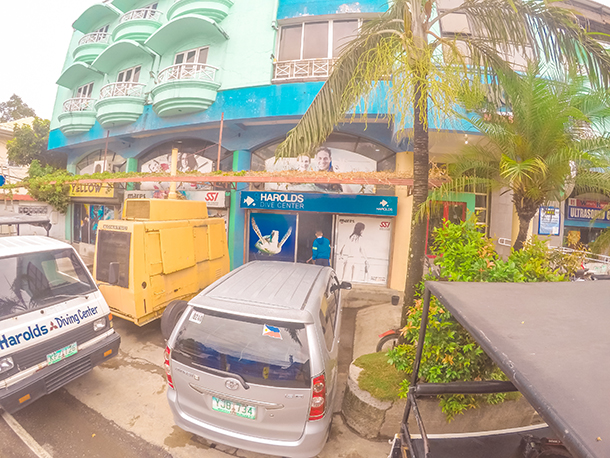 One friend recommended availing the Apo Island Package Tour at Harold's Dive Centre of the Harolds Mansion, where we eventually stayed the night prior to the trip.
On the day of the tour, we registered at their Dive Centre right after checking out. Registration includes payment of the entire tour and availing of equipments to be brought along the trip.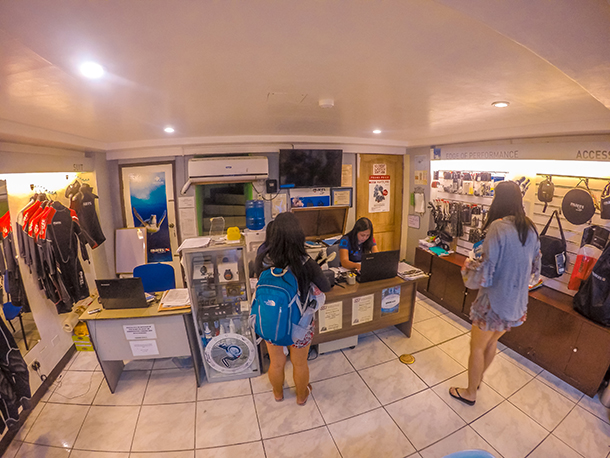 The equipments are already included in your fee (both for snorkeling and diving). Fee inclusions are the following: guides, dive and snorkeling equipment, marine park fees, lunch, free water, tea, coffee, boat and transfers.
The Dive Centre caters to both certified and non-certified divers with varying prices from 2,800 Php to 3,300 Php. For those not into diving, snorkeling is also available wherein the price is at 1,200 Php.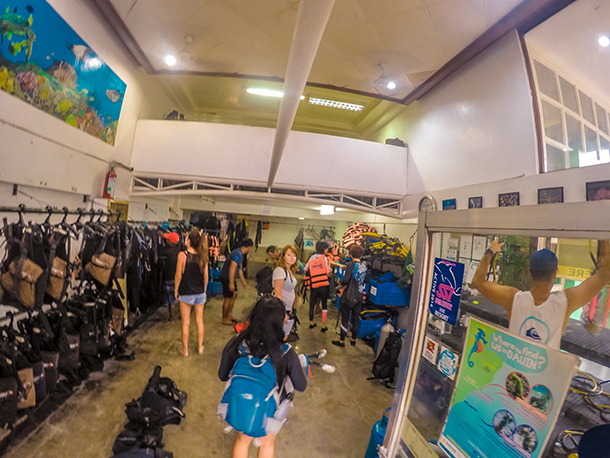 Harold's Dive Centre has two (2) separate offices: one for registration and the other for the availing of the gear the guests will need.
Basically, you will need to fill-up a form handed by one of their staff. Next is to pay the amount at the cashier, then proceed to the second office for the fitting of equipment.
After making sure that you'll have all the equipment you'll need, another staff will assist you to list down all the equipment you'll borrow for inventory.
After choosing and listing down our equipment for the trip, we immediately proceeded to the waiting vehicles at the front of the office with the rest of the guests.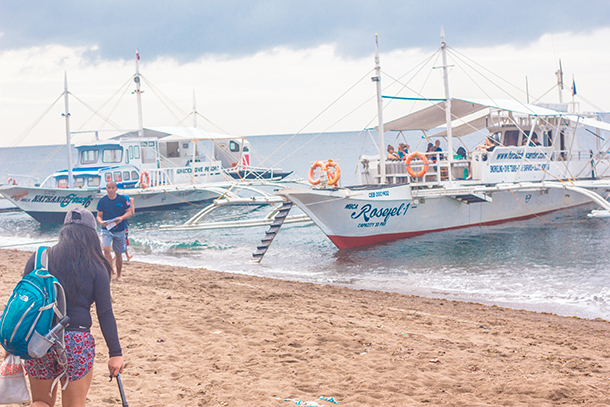 We left for Dauin at 7:30 AM. Travel time to Dauin is around 30 minutes. We arrived at approximately 8:05 AM and were immediately directed to another staff who had the master list of guests.
After confirming our names on the list, we were finally guided to the boat.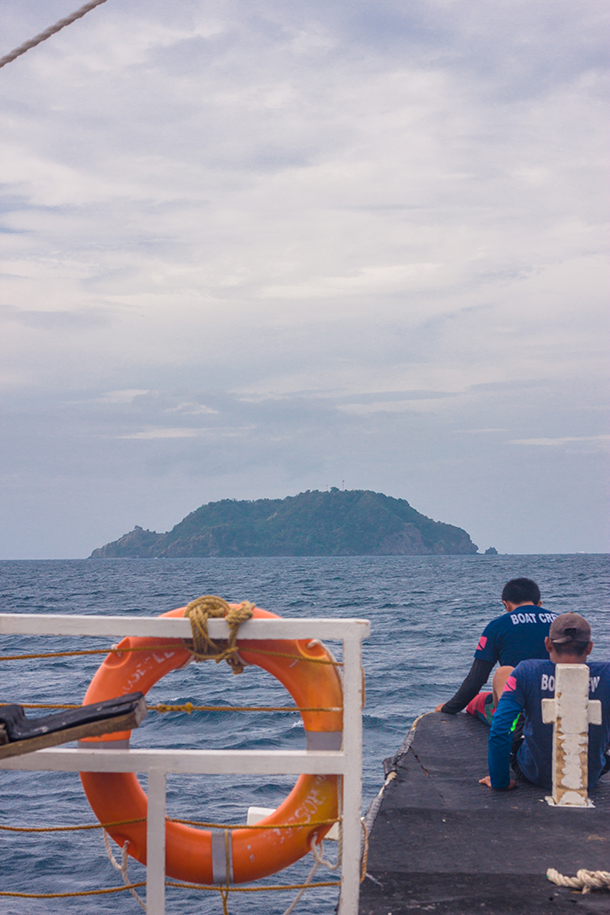 When everyone was settled in, another staff from Harolds Dive Centre got everyone's attention and started a brief orientation about the trip including safety reminders and boat features.
We were also asked to wear our life vests and then finally we were sailing away to the island.
Swimming with the Sea Turtles at Apo Island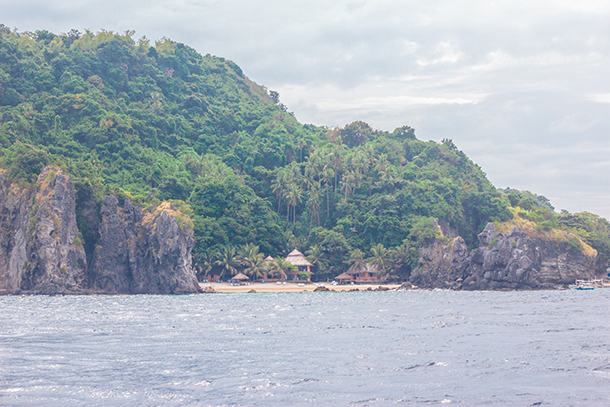 Our Apo Island Package Tour included snorkeling/ diving at 3 spots within the island's perimeter. We never docked to the main beach. Rather, we were mostly anchored at sea.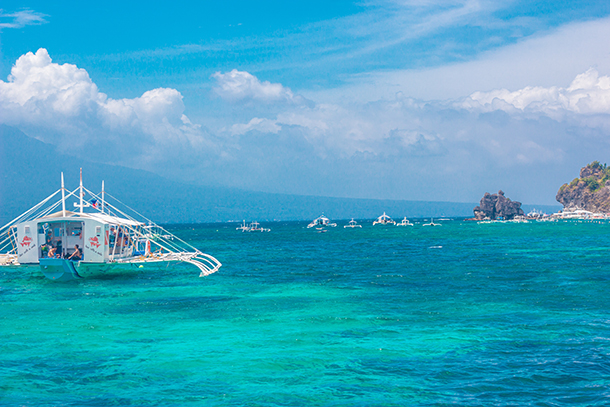 Our first stop was in front of the island's main beach.
Before we dived into the water, the staff introduced us to the guides. Each guide was supposed to have a maximum of 4 persons to handle and assist.
This is for safety reasons and to ensure that no guests is left behind.
Once everyone was assigned with a guide, we then excitedly jumped into the water in full gear.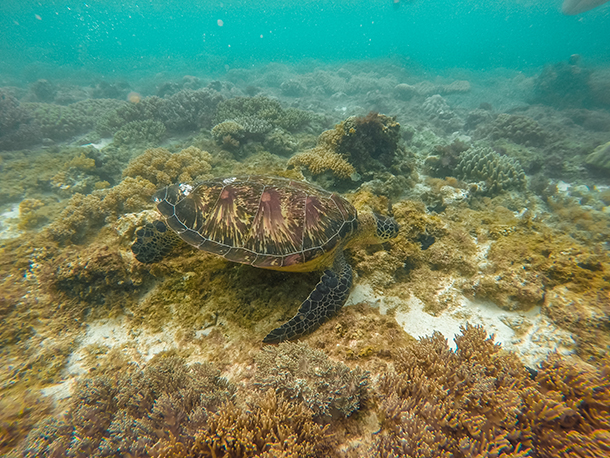 One of the guides spotted one sea turtle and naturally, almost everyone went near it, including us. For the record, the guides were always reminding everyone not to get close or touch the sea turtles.
Sadly, there were some who wanted to touch them and to get really close to get a photo.
It was a bit stressful to see that. I, however kept my distance and just contented myself with watching them from afar.
Thankfully, my husband is a good swimmer and got ourselves great shots of the sea turtle without touching them – some with him on the photo at the background.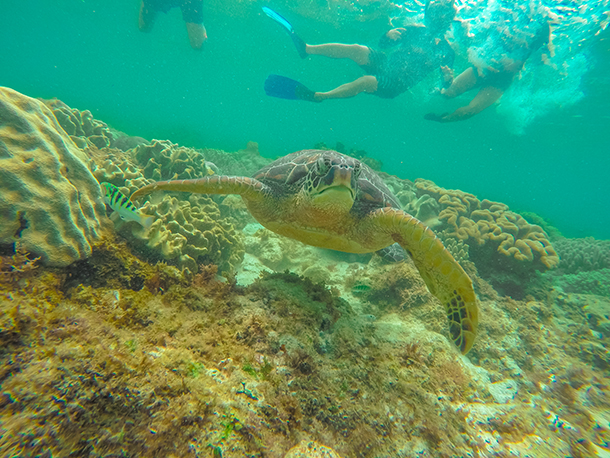 After a few minutes of swimming and observing the sea turtles, we went back to the boat. We were supposed to go nearer to the second site where we would be once again swimming with the sea turtles.
Actually, the sites were not that far from each other. I was expecting to be taken around Apo Island to see the sea turtles.
But we were just transferring from one spot to the other on the same side of the island.
Anyway, back on board, there was a problem with the engine and we had to wait for a while. Soon we were given the option to wait until the engine is fixed or just swim to the next spot.
It was a bit farther than the first snorkeling site. Most of us were a bit bored so almost everyone agreed.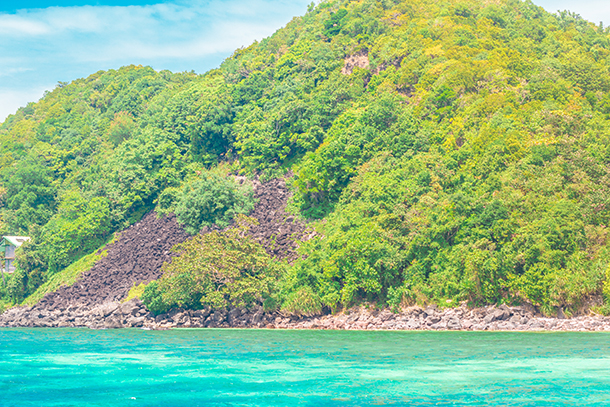 This time, we were taken near a secluded portion of the island where the water was shallower than the first.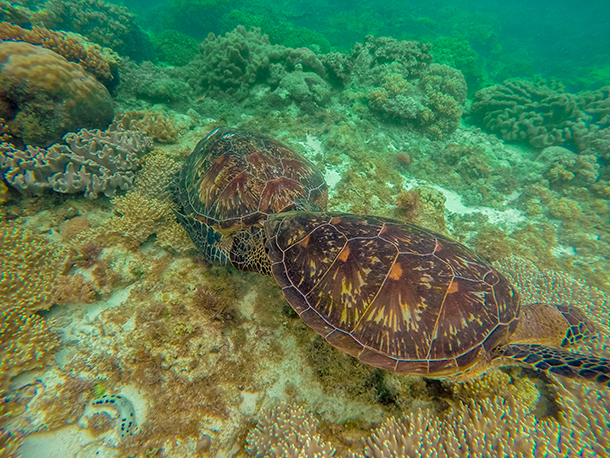 Here we saw two (2) sea turtles at once. It was pretty cool seeing them gliding along without a care at all..
They were very gentle and you can tell that they're pretty used to people. The sea turtles were mostly looking for food (and eating them) on the seabed.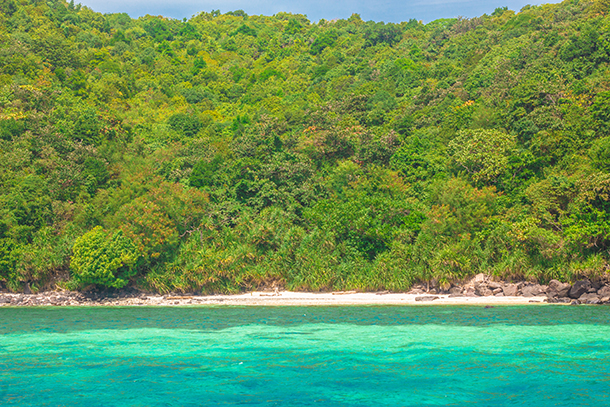 When most of us got tired, we were guided to the beach. It felt like a scene from survivors. LOL. There are no facilities here, just the beach, the sun and the trees.
A few minutes of soaking up the sun and we were once again called out to get back to the boat, which thankfully was working again.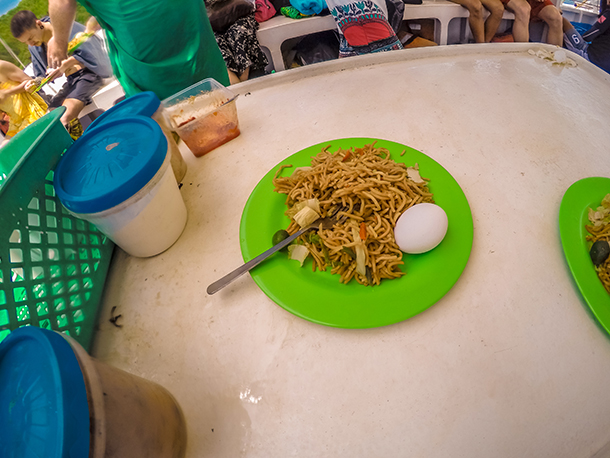 Food was already being served to the guests who were already there.
We were each given a plate of pancit (a Filipino native cuisine made of noodles and veggies) and hard boiled egg. There was fresh watermelon too.
Re-fills were available should one wish for another serving. The portions given to us were pretty generous so one plate was enough (at least for me).
I normally prefer having rice when doing swimming activities like this or when I'm on an island hopping activity like those we did in Mactan and Bohol. But the pancit and the egg was very satisfying.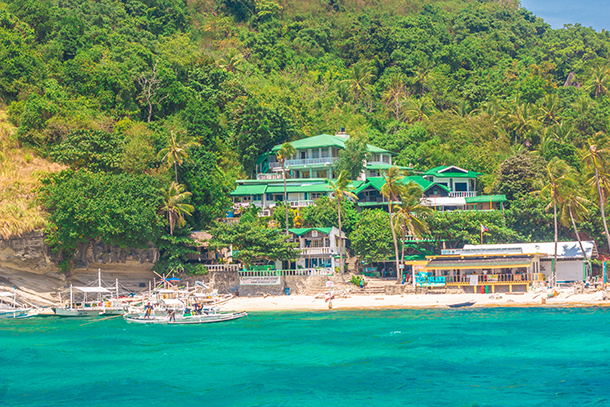 After lunch, we sailed to another spot at the island. This time it was much closer to the main beach.
We were once again taken near the sea turtles as they were eating and swimming. This time, most of our companions kept their distance too.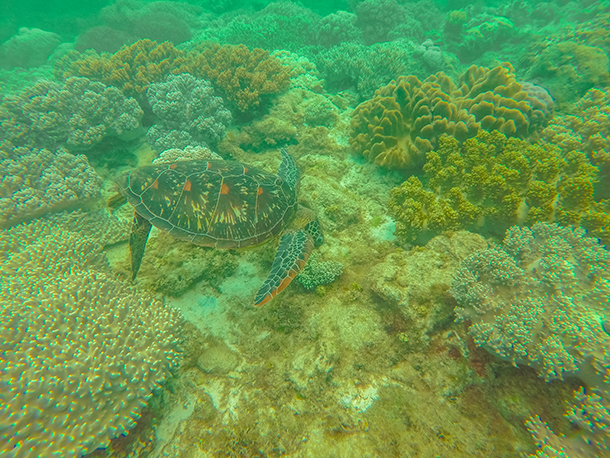 I love to mention the fact that Apo Island has a rich coral reef. I'm pretty sure the dive sites are equally as impressive and as rich as the areas we were taken to.
By 3PM, we were back on the boat and ready to sail back to the mainland.
The waves were a bit rough at this time and we were rewarded with seawater shower. LOL.
Back at Dauin, the service vehicles were waiting to take us back to the Harolds Dive Centre. We arrived at the Dive Centre at around 4:45 PM.
After returning our gear, we went back to the hostel to pick up our things and hailed a tricycle to our new accommodation for the rest of the trip.
How to DIY Your Apo Island Itinerary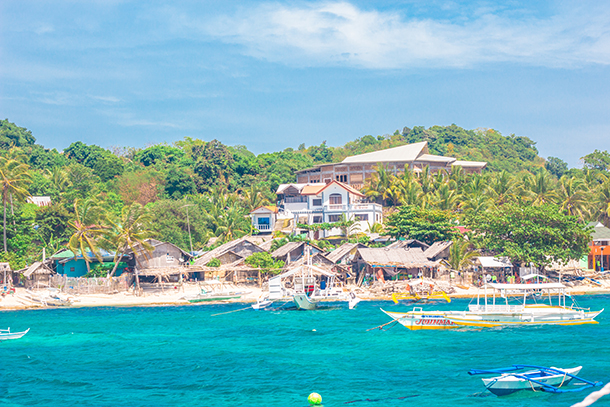 From Dumaguete, ride either a bus or a jeep to take you to Malatapay. You can tell the driver or the bus ticketing officer to drop you off at the Malatapay Market.
Fare is at 25 Php per head. Remember to inquire before you hop in!
At the Malatapay Market you have two (2) options to hire a boat to take you to the island.
If you're with a group, you may simply hire a private boat to take you. Boat rates start at 2,500 Php – that is good for 4 pax.
If you'd rather go on a public boat or if you're alone (if available as the first public boat sails at 8AM), you may do so with fares at 300 Php per head.
Please check prices of boats as it may increase or decrease over time. Also, before you dock at the island, secure your ride back to avoid getting stranded especially if riding the public boat.
Boat ride to the island is at 40 minutes or an hour (depending on the sea condition).
Once there, you will have to register and pay the environmental fee at the collector's house of the Bantay Dagat. There'll be different fees to be paid depending on your place of origin (that is if your a local of Negros Oriental or not), a senior citizen or a PWD.
Rates start at 5 Php to 100 Php. But again, please double check the rates upon your arrival.
There'll be additional fees for snorkeling and diving as well. This will be the guide fee as you will not be allowed to dive or snorkel anywhere without a local guide.
We had a quick chat with a local from Valencia when we went to visit Casaroro Falls and Pulangbato Falls.
According to him there was an unpleasant incident in the island years ago with a tourist (a foreigner). He was caught mistreating a sea turtle (throwing it out to sea and riding on its back).
This eventually led to the mandate of having a local guide for tourists visiting the area.
Having learned about that, I'm glad that local guides are now part of the tour to prevent the incident from happening again.
I have created a sample itinerary/ budget for you below as your guide: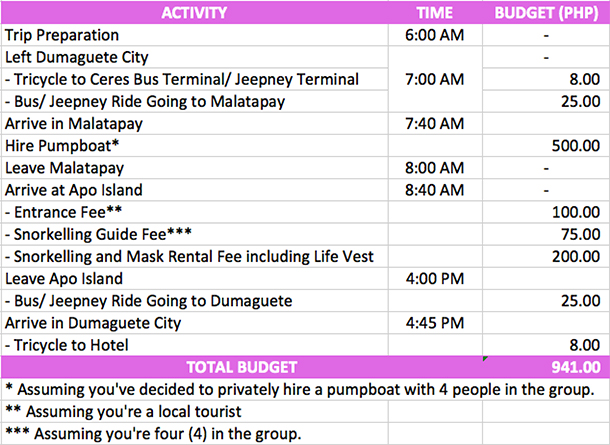 Please note that food is not yet included in the sample budget. Also, you can save if you bring your own snorkeling gear with you. You may check out our island hopping packing list here!
Apo Island Travel Tips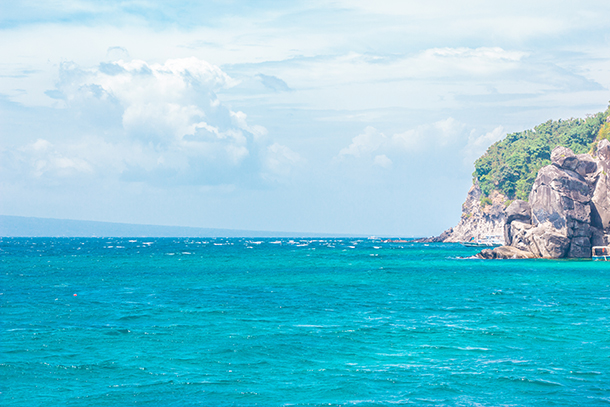 Below are some of the tips that I'd like to remind everybody. This is for those who wish to swim with the sea turtles and see the abundant marine life that the island is blessed with:
1. Throw away your trash properly. If possible, bring your trash with you when you leave.
2. Be mindful of the environment. Please don't step on the corals as they are home to the marine life.
3. Please don't touch the sea turtles when you get close. They are very gentle, but like us, I'm sure they want their personal space too.
4. As much as possible don't get too close especially if you're not a strong swimmer. The sea turtles often comes up for air (which is delightful to see, tbh). They might just bump into you specially if you're floating on top of them.
Apo Island Tour Package Experience/ Conclusion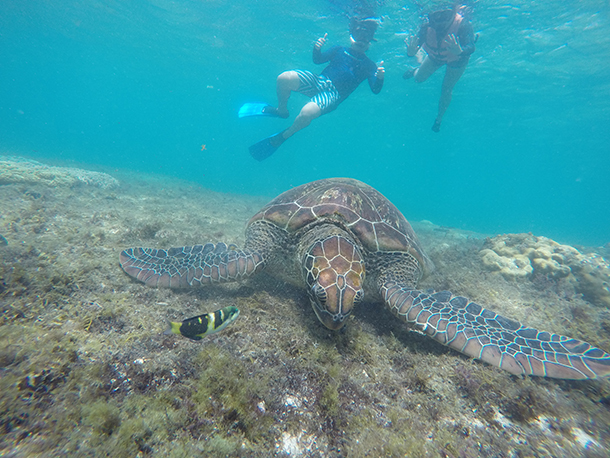 All-in-all, the trip to the island with Harolds Dive Centre was great. We thoroughly enjoyed swimming with the sea turtles.
Despite the small delays, I still think it was hassle-free and completely worth the fee.
Have you been to Apo Island? Share with us your experience on the comment below. We love to hear from you!
Like This Post? Pin It!