While planning for an upcoming trip with friends, I was searching through the net and found some lovely sandbar photos near Tubigon, Bohol: South Sandbar and Mocaboc Island. Coming from someone who misses the beach and wants to take advantage of summer, I knew that I just had to see it with my own eyes during our Bohol Island Hopping.
Thankfully, my friends (who loves the beach as much as I do) were pretty agreeable and were very much game to visit. We planned the trip on a weekend where everyone (who was willing) were available.
The weekend came bright and sunny. A promise of a gorgeous day to go on an island hopping adventure – again. This time we were heading to two (2) of Tubigon, Bohol's gorgeous sandbars: South Sandbar and Mocaboc Island.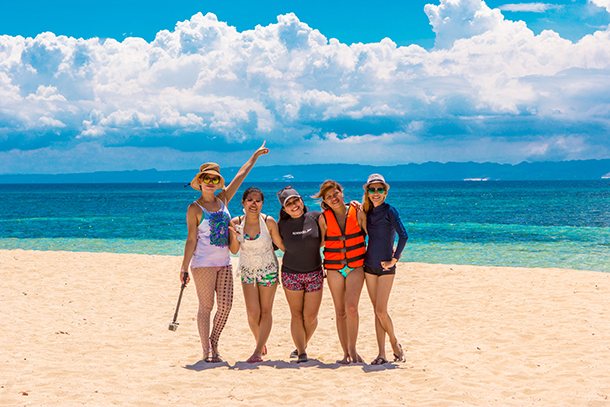 We had friends coming to Cebu and we were pretty much pumped up for a day at the beach together. Our supposed to be group of 11 was down to a group of 7 people…. BUT.. we did not let that stop us from getting on that boat and enjoying the day.
We were set to sail out at 8 AM but due to unavoidable circumstances, we did not leave until 8:45 AM.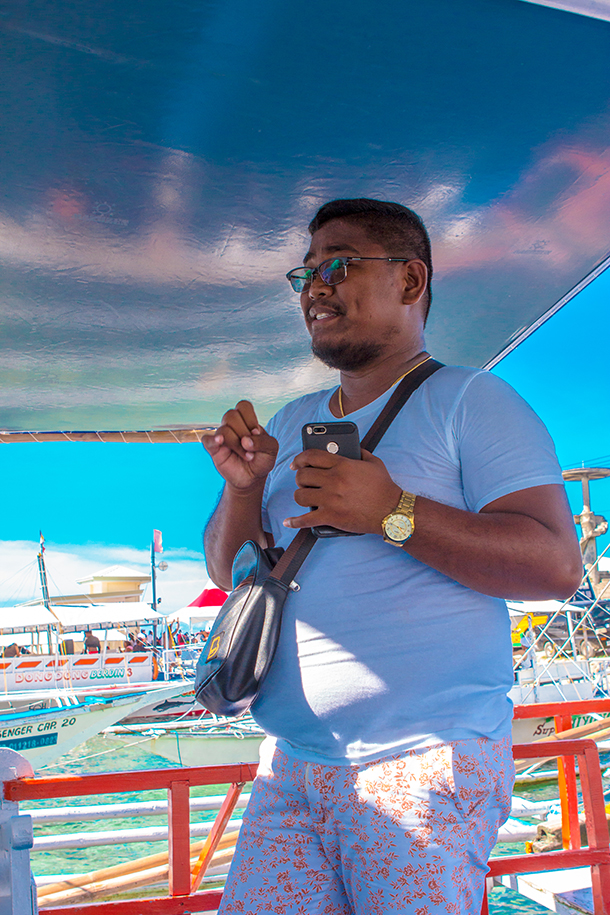 Before we set sail, we were given a brief introduction about the islands that we will be visiting by the owner, Mark Ramirez. He mentioned a few reminders on the entrance fee on the islands and the availability of life vests to name a few.
We were also given an added bonus to explore Gilutongan Island for some snorkelling activity. Talk about all day fun! 😉
How to Get To There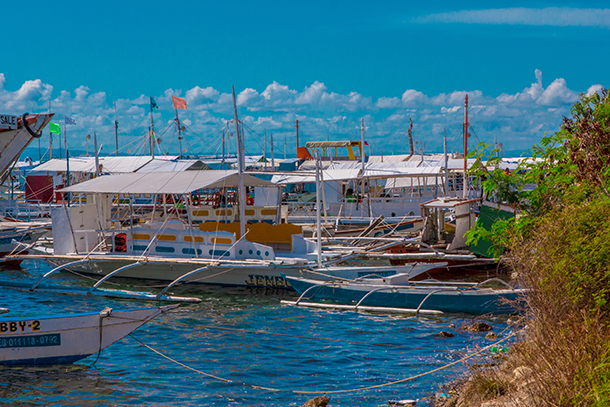 The sandbars are located between the islands of Cebu and Bohol. It is part of Tubigon's (a municipality of Bohol) jurisdiction.
Thankfully, there are several island hopping tour operators that have routes going to these sandbars.
This is definitely a trip that you can fit in to your Cebu Day Trip!
We were lucky that one of my contacts, whom we've previously availed their services on, also offers packages for Bohol island hopping.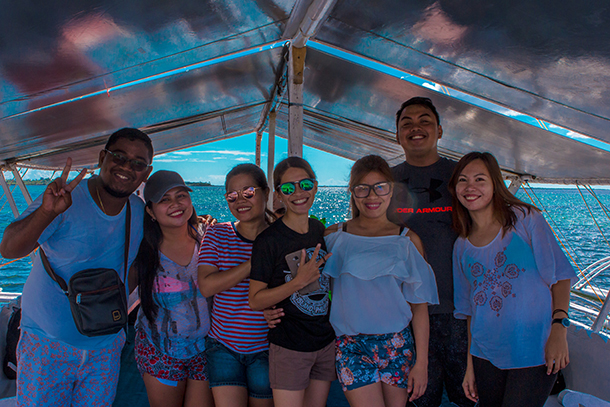 Ramirez Island Hopping and Tours have got several boats that you can avail for either Cebu Island Hopping or Bohol Island Hopping. You can have it exclusively or you can share it with other smaller groups.
I was able to contact them a few weeks before our planned trip and have paid the necessary amount to reserve our desired schedule. The remaining amount was to be paid on the day of the trip.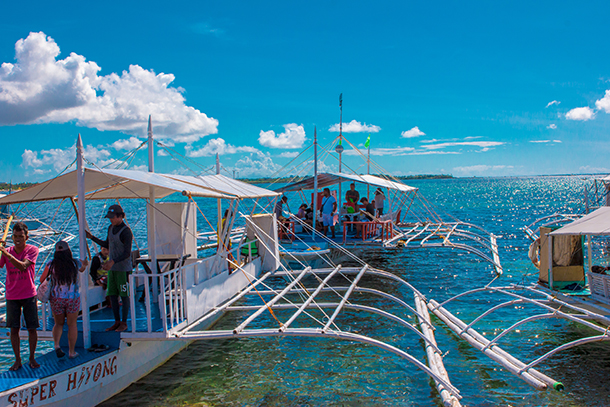 For your guidance, the boat we hired was worth 11,500 Php, good for 20 persons. So if you're with a group, it'll be much cheaper if you can divide the amount between yourselves. And if you can't gather 20 persons, you can always avail their Share-A-Boat like what I've previously mentioned.
The fee already included the Boat Captain's Professional Fee, Boat Crew's Fee, Cordova Port Terminal Fee and Boat Fuel.
Please take note that since the sandbars are about an hour (or more depending on your starting point) ride from Cebu, only the bigger boats are allowed to sail here.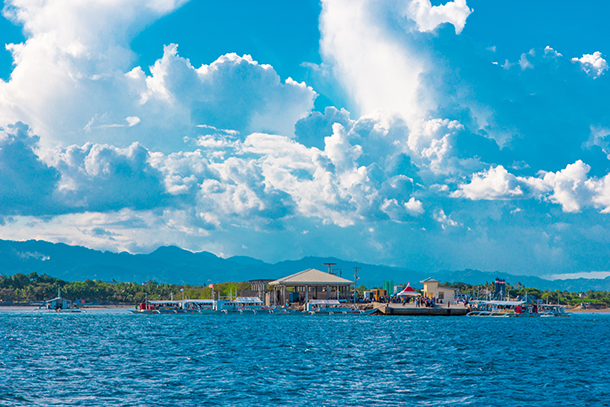 Like most of their trips, we were to depart from Cordova Port in Lapu-Lapu.
To get to Cordova Port, you will need to ride a van from SM or ride the public utility jeep going to Gaisano Cordova. From there, hire a tricycle to take you to the port.
We brought our own vehicle when we went there and basically just followed the map. You can check our route here:
As you can see our starting point is from SM City Cebu. It's one of the main malls in the province so if you're new in Cebu, this is easy to find.
Bohol Island Hopping
South Sandbar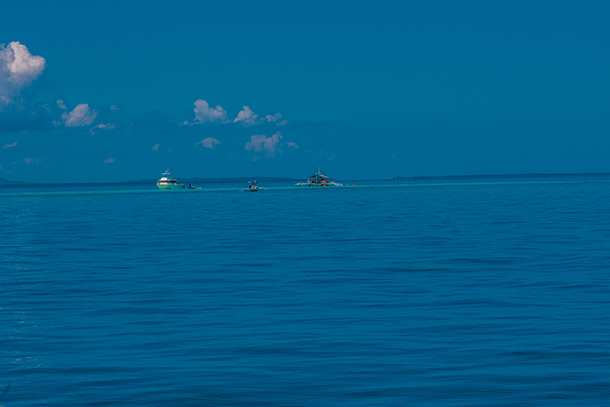 The South Sandbar was the furthest island among the two (2). It took us about an hour to reach what seemed to be a stretch of white sand viewed from afar.
It vaguely reminded me of the Manjuyod Sandbar in Negros Oriental minus the floating cottages or the White Sandbar in Camiguin. The sandbar was completely bare with no concrete structure in sight. You'll definitely feel like being in the middle of the ocean.
What I appreciated about the sandbar was that despite having no entrance fees, it was pretty clean.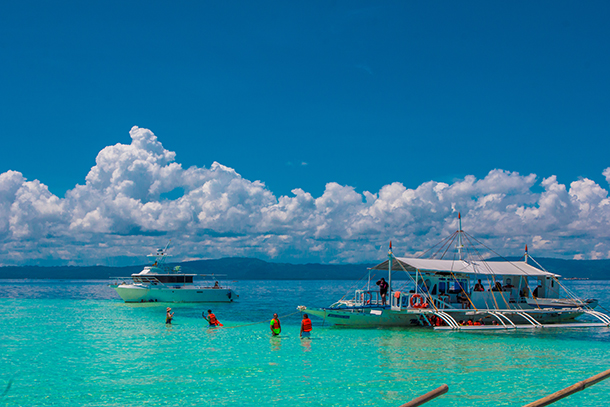 Unfortunately, when we reached the area, the tide was high so we were not able to see the actual long stretch of white sand. We can glimpse the sandbar though as the water is very clear.
I wasn't able to spot it immediately as we were approaching. In truth, I was busy looking for corals as you can see the bottom of the ocean from the boat. I only noticed it finally when the boat crew was already anchoring the boat to the seabed.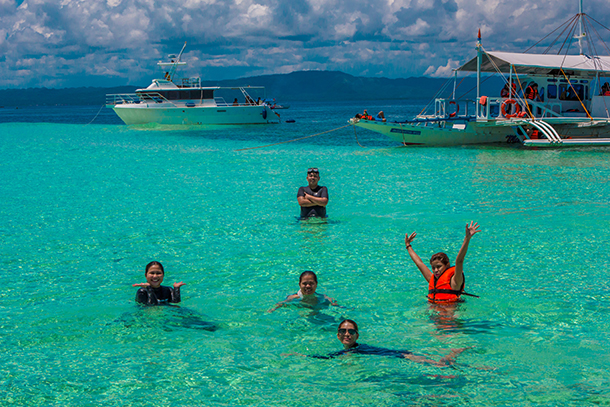 What I saw completely delighted me. It was actually very inviting that in no time we were swimming at the shallow waters like little kids.
A word of caution though to those who are planning on visiting especially on high tide: the sandbar is uneven. There will be places that can be shallow while some parts can be a bit deeper (about waist-high). So don't be too nonchalant especially if you have little kids with you.
Also, we noticed an area where the waves can be high (and a bit strong) especially for kids with floaters so be watchful to avoid unwanted incidents.
Going back to our trip, it has been a while since I've seen my girl friends so we were catching up while swimming on the sea.
My husband on the other hand went outside the sandbar and did some snorkelling around the edges. There were other boats anchored around the sandbar too where guests were also doing some snorkelling.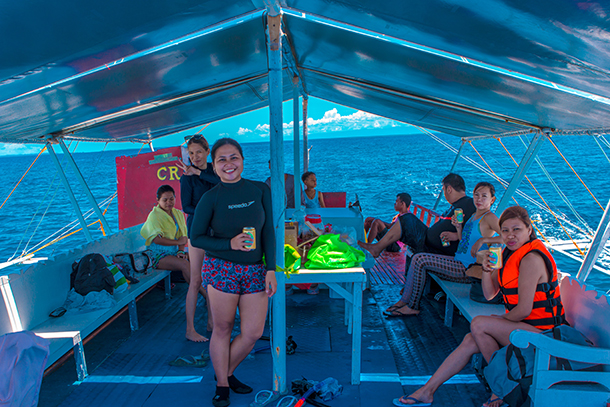 It was close to 12 NN when we decided to hop on board again for some lunch as most of us skipped breakfast earlier (I wouldn't recommend that though. If you're used to it, then it's fine. But if not, please eat before going on a trip).
Lunch was not included on our boat rental but we did enjoyed the food we prepared. Special shoutout to my Mom for cooking some of our viands for us – thank you Nay!
We had until 12 NN to enjoy the South Sandbar as we still had two (2) islands to visit and the boat was rented until 4 PM only. After finishing our lunch, we then headed to Mocaboc Island.
Mocaboc Island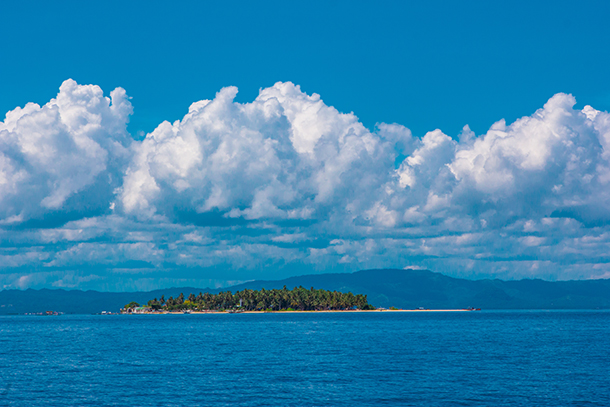 Mocaboc Island was only a few minutes away from South Sandbar. In fact, we passed by it on the way to the South Sandbar.
If you'll ask me about expectations, I'd say I have high expectations of the island. I was actually imagining it to be like Kalanggaman Island in Leyte or the Sambawan Island in Biliran & Maripipi.
All beach with no residents. Alas, the island is inhabited with a few residents just like in Tulang Diot Island in Camotes.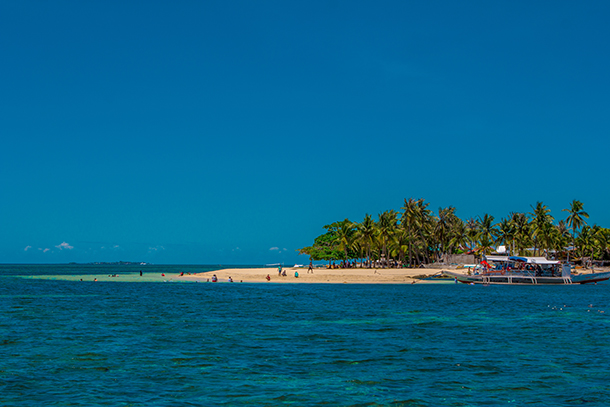 Honestly, I would have loved it more if it was completely bare. LOL. But since it wasn't, I didn't want my disappointment to get me. Thankfully I'm not the type who easily gets discouraged when visiting a new place (and neither should you!).
So we paid the entrance fee of 50 Php and hopped off the boat to take a look around. There is a local who will greet you once you are anchored to collect the payment, btw.
Fortunately what I saw and what we caught on camera did not disappoint us. Mocaboc Island is a photographer's dream!
True, the island's sandbar is not that long (in fact it was a curved stretch of white sand) and the water was not like those in the South Sandbar. There were also a few algae on the sea when we went there.
Though I cannot say that if it was from the island itself because sometimes when the tide comes in, algae from nearby islands can wash to the shore too. Or maybe there's another scientific explanation that I do not know of. LOL.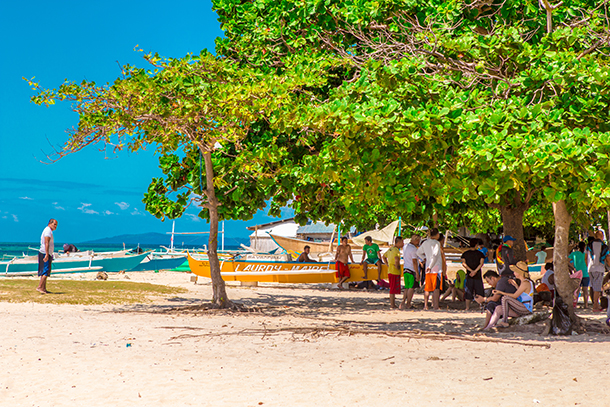 My friends and I had a lot of fun posing for pictures and enjoying the sea breeze under the shade of the coconut trees. We have also spent a couple of minutes soaking up some beach water.
If you haven't had lunch on the boat yet, you can also have it on the island under the trees for a nice picnic.
It was around 2 PM when we decided to go back to the boat to proceed to our last and final stop: the Gilutongan Island.
Gilutongan Island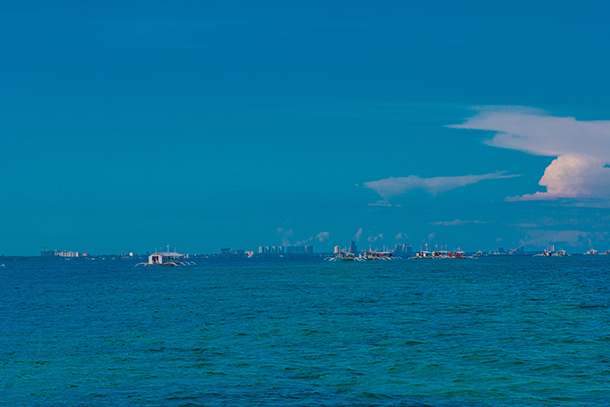 The Gilutongan Island is usually a part of the island hopping in Mactan, Cebu. But like I've mentioned before it was an added bonus from Mark of Everyday Summer – Island Hopping & Tours that this was included to our itinerary.
It was about an hour or more trip from Mocaboc Island. I actually took the time to have a little nap. We had a pretty busy week and I haven't had the chance to take an afternoon nap for awhile. LOL.
Gilutongan Island is known for its fish sanctuary, thus making it a popular stop for activities like fish feeding. Honestly, I don't remember the fishes around this area.
We've island hopped around Mactan before, but Olango Island has definitely made a more impression on me in terms of its fish sanctuary.
Nevertheless, the few fishes we saw near Gilutongan Island were pretty cool too.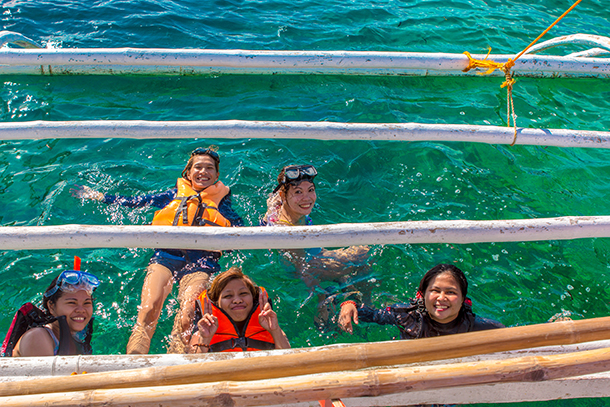 You might be wondering why just few? Well, we did not move close to the sanctuary. There's an entrance fee of 100 Php per person when you do. We were pretty contented to float along the sea however, so we chose not too.
It was another cool time to just catch up and talk with friends. One friend was leaving Cebu the following morning while the other in a few days.
We took the opportunity exchanging stories while drifting along the protective enclosure of the boat's outrigger.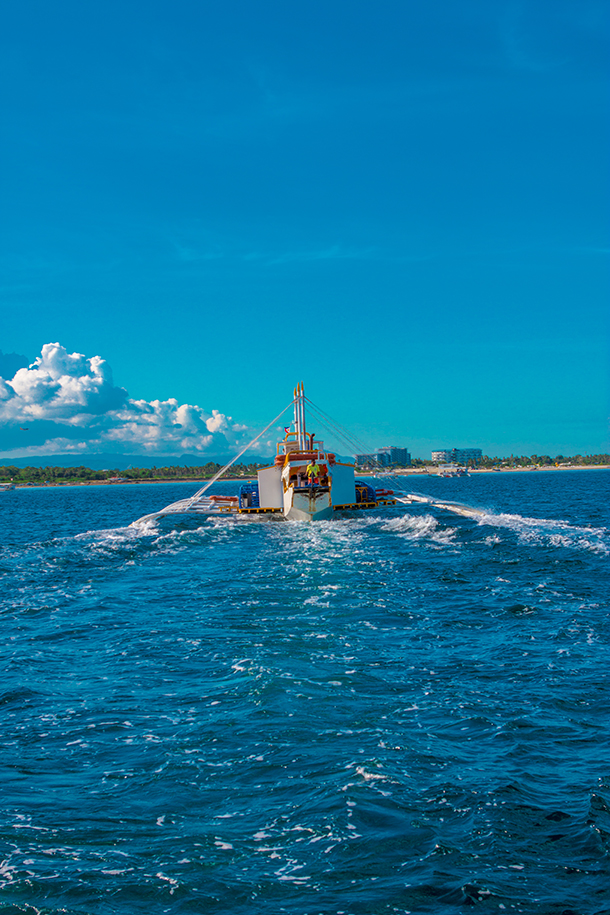 Bohol Island Hopping Travel Tips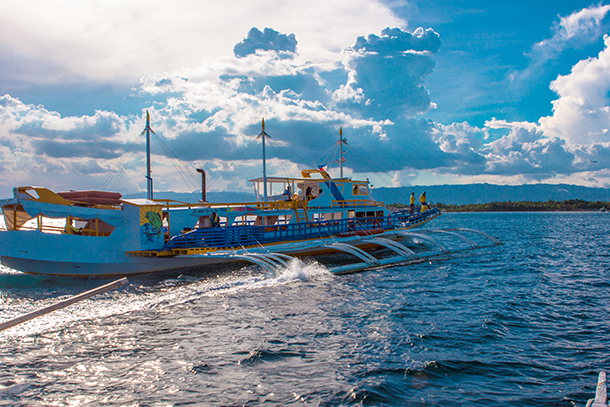 1. Lunch may or may not be included in your package so clarify beforehand. From what I've checked, there are boat companies that include food in their package.
2. Snorkeling Gear is not included in the package. Snorkelling masks are available for rent. You may ask the boat captain (or in our case, Mark) to rent one. The gear was at 150 Php each.
3. Don't forget to bring your island hopping packing essentials! You may check out this packing list we have prepared for you.
4. Rough seas may be expected especially if before or after the summer season. Summer in the Philippines usually starts on March and ends on May. Expect plenty of tourists by then so better book in advance.
Have you been to this part of Bohol? Share with us your experiences!
Like This Post? Pin It!