Do you believe in love at first sight? I certainly do and I am not referring to a person but with a place. I've seen a photo of a crescent-shaped island named Sambawan Island years ago and I just fell in love.
My husband was there around 5 years ago (that's where I learned about the island) and the view was breathtaking. I thought to myself that one day I'll visit and see that view myself.
And when the opportunity to do so finally arrived, I couldn't be more excited to see this gem in the province of Biliran.
Biliran has been in the shadow of its more popular neighbour province Leyte for the past years. Only lately has it slowly opened its doors to its amazing beaches that could rival even the most beautiful ones in the Philippines including Palawan and Cebu!
Sambawan Island, between the Maripipi and Biliran, is an island that has slowly gaining popularity to the locals and tourists alike. It's white sands, blue waters and topping it off with thriving marine life, make it one of Biliran's must-see destination.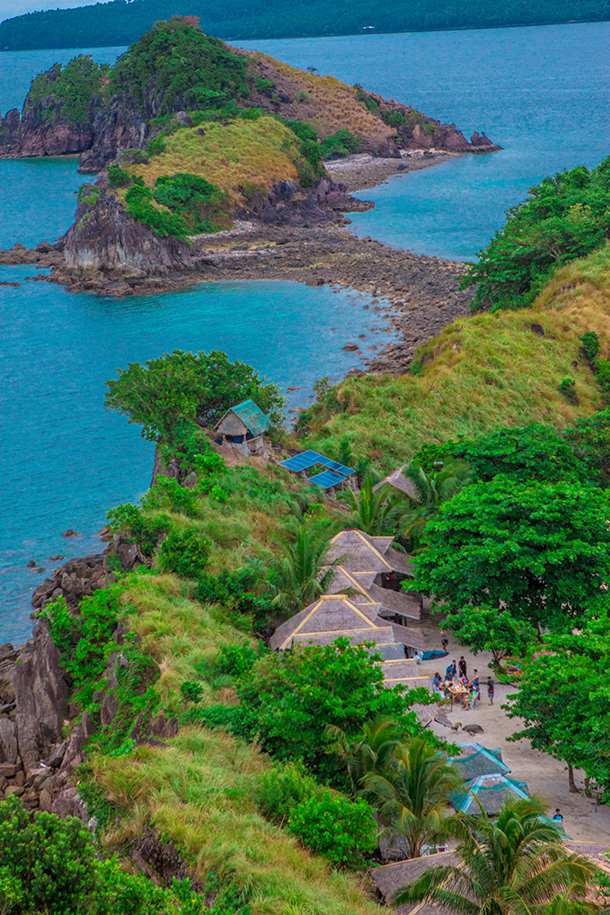 Apart from the white sandy beach, the island is a series of inter-connecting stony islets with rocky and grassy terrain. This makes it, in my opinion, beautiful and unique especially if seen from above.
The rocky terrain and interconnecting islet vaguely reminded me of Funtastic Island in Gibitngil. All those islets connected with bridges does have its charm.
How To Get To Sambawan Island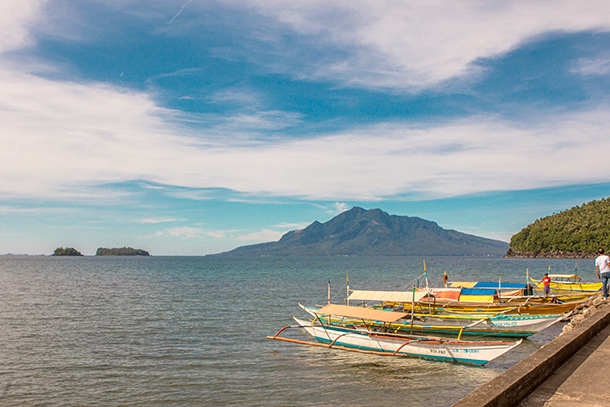 Sambawan Island can be reached through two (2) main islands: Biliran and Maripipi. If you are coming in from Manila and will be heading to Sambawan Island immediately, the best way will be to take a bus or a van going to Naval. Fare is around 250 Php with travel time of approximately 2-3 hours depending on the speed.
Or if you are coming in from Cebu, take the fast craft or slow boat going to Ormoc City. From there, take the bus or a van going to Naval.
Once on board the van/ bus, you may ask the driver to drop you off at the Kawayan port going to Sambawan Island. At drop off, ask locals to point you to the port.
As per my husband' previous trip, you can just walk going to the port as it is near. In case you miss it, alight at Naval Proper and ride a the local jeepney or hire a habal-habal going to Kawayan Port.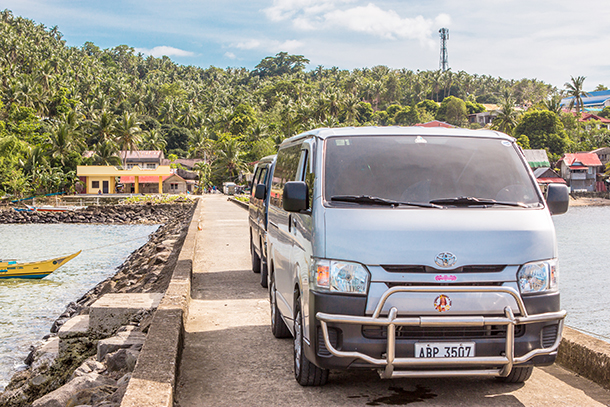 At the port, you can hire a boat to take you to the island. Boat rental starts at 3,000 Php to 12,000 Php, depending on the seating capacity and with travel time of around 45 minutes to 1 hour.
Please do take note that rates may change accordingly. It would be more cheaper if you go with a group to divide the cost between you (like we did).
If you want to explore Maripipi first, you can catch a ferry from Naval Port where fare is around 100 Php and travel time can take up to 1.5 hours.
The ferry going to Maripipi is scheduled so better check out the time and date fo your arrival. Usually, they leave for Maripipi at 10 AM daily except on Sundays.
From Maripipi hire a habal-habal (local term for a motorcycle/ scooter) to Brgy Ol-og with fare of around 75 Php per head.
Then take the boat going to Sambawan with travel time of 20 minutes and boat rental of around 600 Php good for 5-6 persons. Prices are also in approximation.
This is way cheaper but will definitely cost you time. It depends mostly on the number of persons you're with and the time you have allotted for this trip.
What are the Facilities and Amenities in Sambawan Island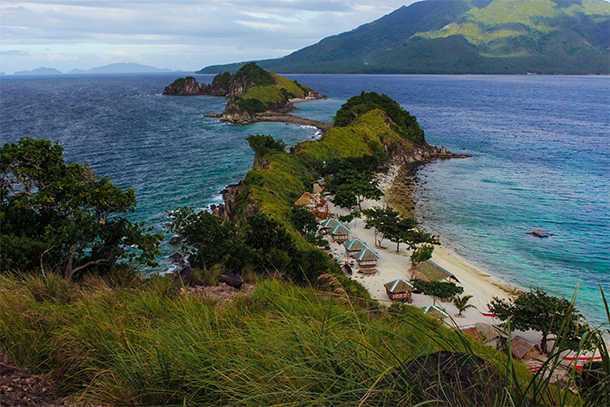 When my husband visited back then, the island was still very untouched. Some of the amenities (including the rooms) and the access towards the other part of the island was still not available.
During our visit, it can be noticed how time (and the resort's efforts) have changed the island. Here are some of the facilities and amenities that you'll expect when you visit:
Room Cottages for Overnight Stay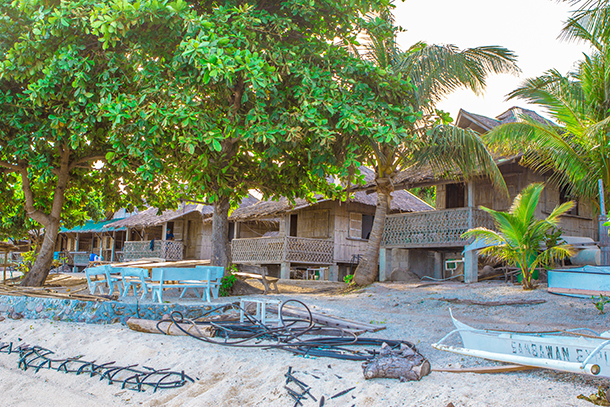 When we visited there were several big cottages that were for rent that ranges from 1,000 to 2,500 Php per day.
This depends on the capacity per room. The rooms can easily accommodate groups of 2-15 persons.
Our group rented a total of 2 rooms for the night. Originally, we were supposed to camp here, but our companions kindly shared us their room. The room had an attic that was still available so we were able to sleep with a roof above our heads.
Not missing out on a bit of star gazing, my husband and I spent hours doing so after dinner. It was so peaceful!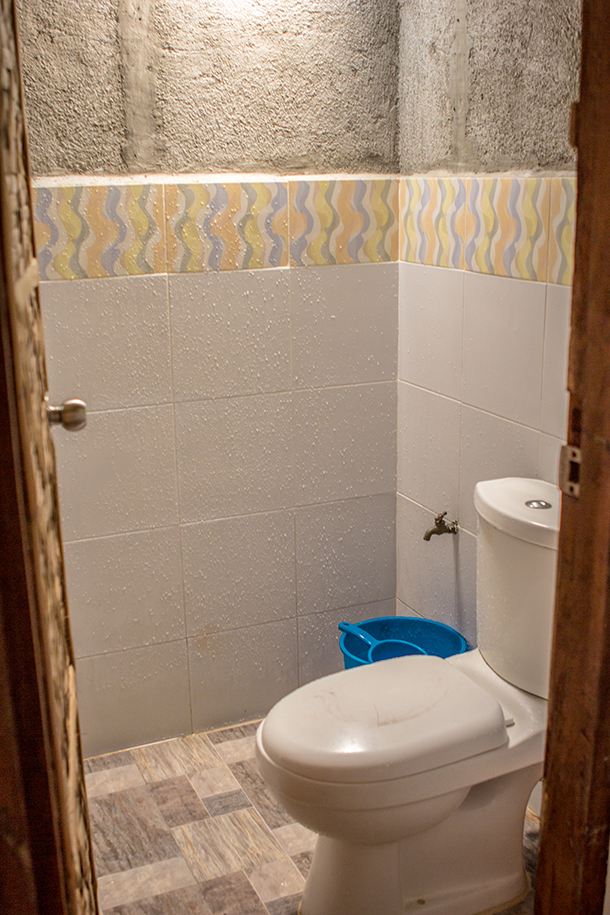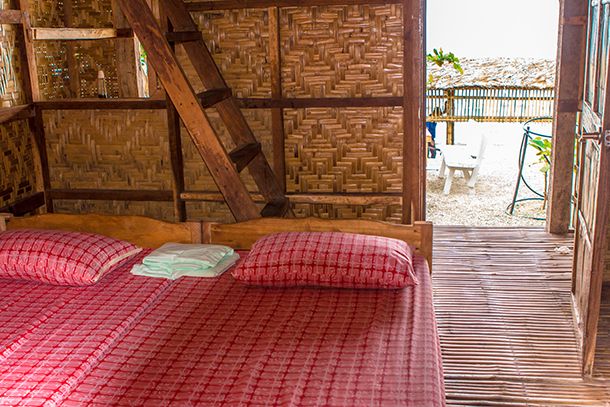 The room has beds with beddings, a toilet and bath. It also include some fresh water that you can use for taking a bath and washing the dishes.
The water is limited, however, and would depend on the type of cottage you have booked. Bigger cottages for 12-15 pax includes 200 liters of fresh water while the smaller cottage for 2-6 pax has free 100 liters of fresh water.
Once you run out of the supply, you will have to pay for the extra water consumed per litre.
Cottages for Day Use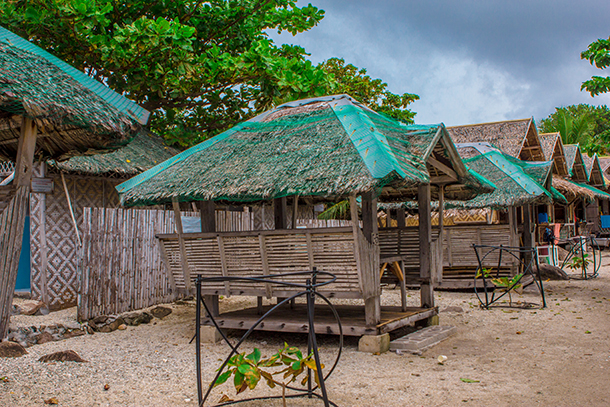 If you're there for the day only, you can rent one of the cottages/ beach hut available on the beach front for 300 to 1,000 Php.
My husband and his friends before was able to rent this along with pitching a few tents on the area. Some stayed inside the tent while others decided to sleep on the bench.
Grilling / Cooking Area
If you want some warm and freshly cooked food, you can easily do so at the island's BBQ and cooking area. Just remember to purchase your supplies beforehand.
We were able to enjoy some delicious grilled food during dinner!
Canteen/ Convenience Store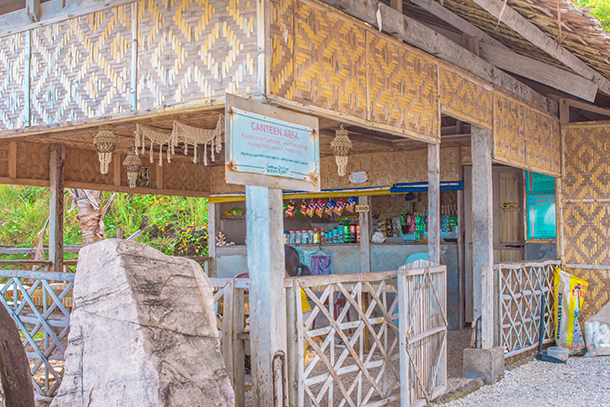 This is the island's canteen where canned goods and some supplies are sold. We never bought any items, however, because we already bought all our provisions with us.
Nevertheless, its presence is an assurance that you'll survive the night just in case you forgot to bring along some basic items with you!
Things To Do in Sambawan Island
You will never get bored in the island for sure! Sambawan Island has a number of activities that you'll enjoy including the following:
Swimming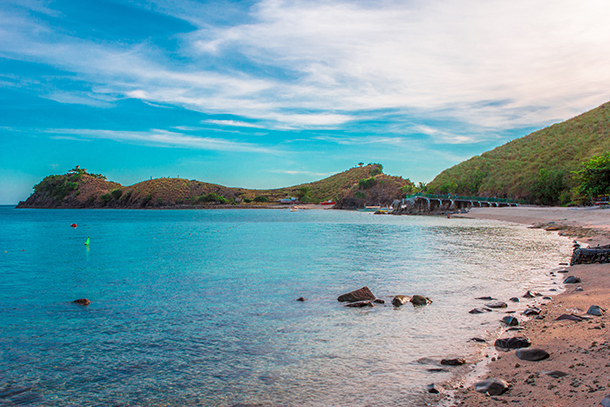 Swim in the island's blue waters day and night! Sadly I was not able to take a swim because I had my period, but I did took a few nice walk on the shore and boy was the water cool to the skin and very clear!
I was tempted (like super tempted) to take a dip, but sadly did not give in. My husband did though and spent hours enjoying the water!
Snorkeling
The island's seabed is teeming with abundant marine life so if scuba diving is not for you, snorkelling will surely do! My husband saw some sea turtles once when he went out for a swim.
Scuba Dive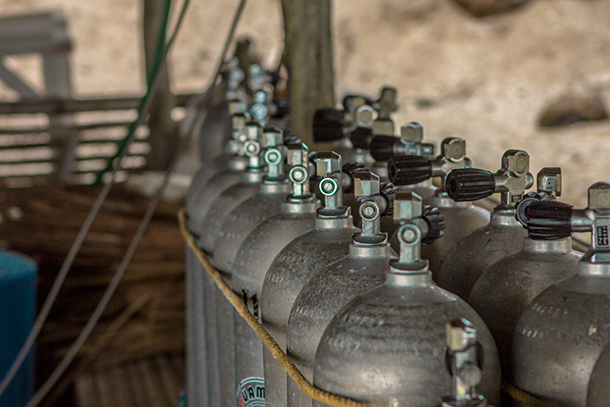 Scuba Dive and experience Sambawan's underwater delights! Rental for scuba diving equipment is approximately at 2,500 Php.
We saw some local guides dressed and geared up for scuba diving on the day we left. Unfortunately, nobody from our group tried this activity.
Kayaking and Paddle Boarding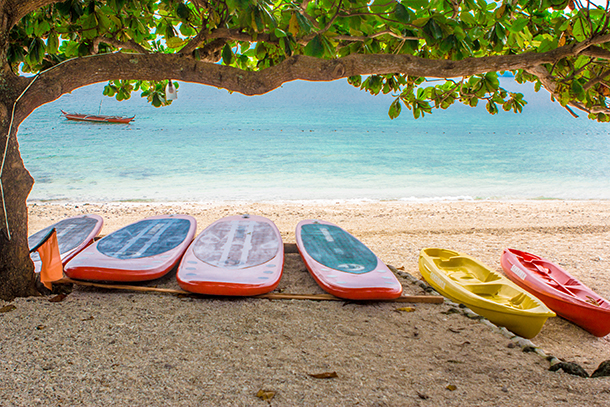 If you love kayaking, Sambawan Island has some kayaks for rent which is about 300 Php per hour. Some of the people in our group rented one and enjoyed paddling it out at the beach.
There are paddle boards available too.
You can use the kayak to go to the other part of Sambawan Island for some photo ops and avoid the trek that we did just to get this views. We saw a couple who did that and it was pretty convenient.
Trekking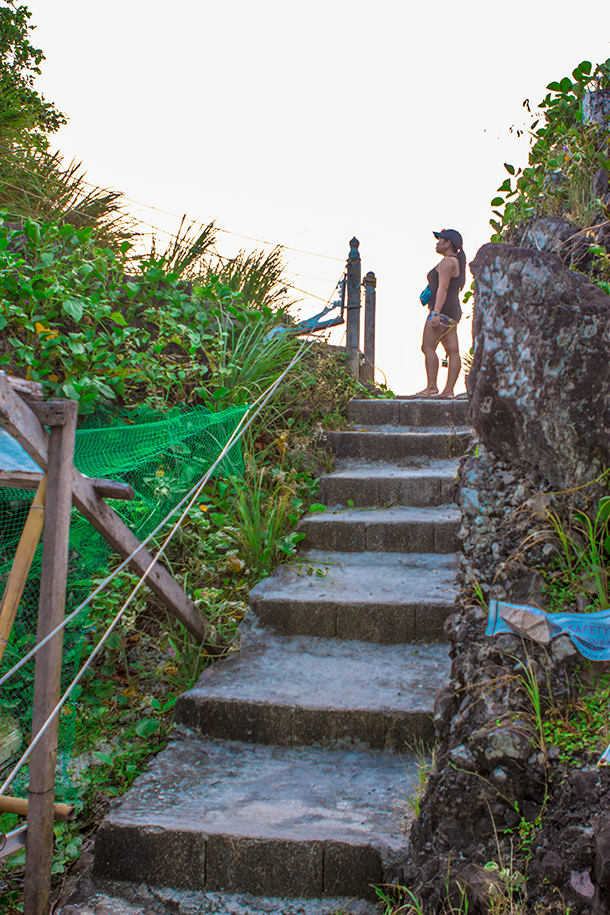 The island's mountainous terrain is a perfect excuse to do some trekking. The resort (Sambawan Island is managed by the Sambawan Dive Camp and Beach Resort) has put up some concrete steps to make the ascent and descent easier.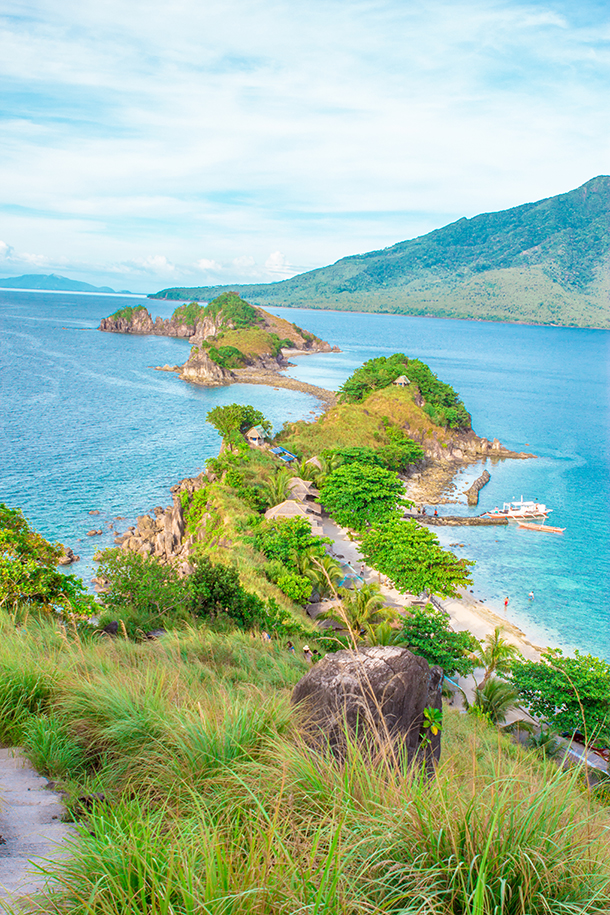 And this is something that you should not miss. The views is breathtaking from above.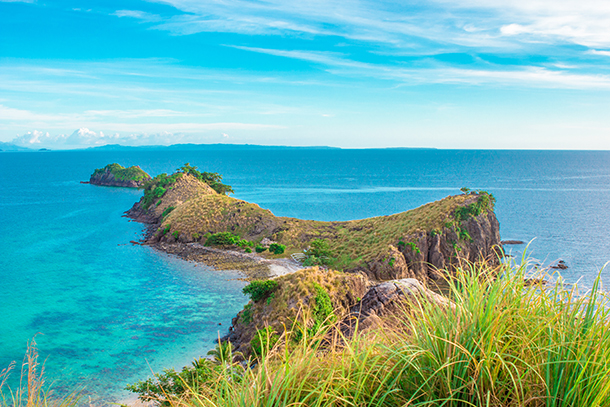 There are two 2 areas at the top that offers amazing background and climbing over rocks to get this shot is worth it!
Please do take note that the view deck is closed at 7 PM for safety reasons though.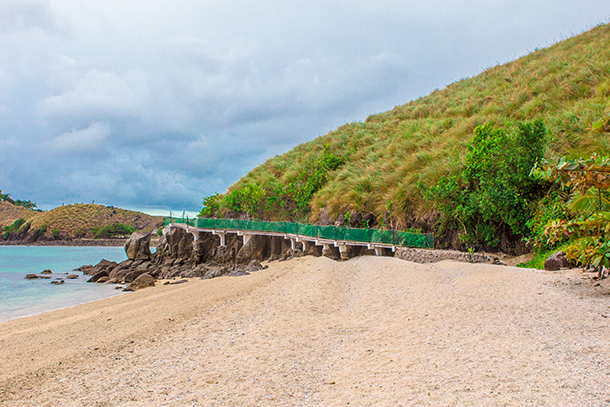 At the beach, there's a bridge or pathway that was built for easier access to the next area on the island. Some of the boats docked here. Ours, however, docked on the other side.
We were able to explore this part of the beach and even managed to climb up in hopes to reach another portion of the island for more views.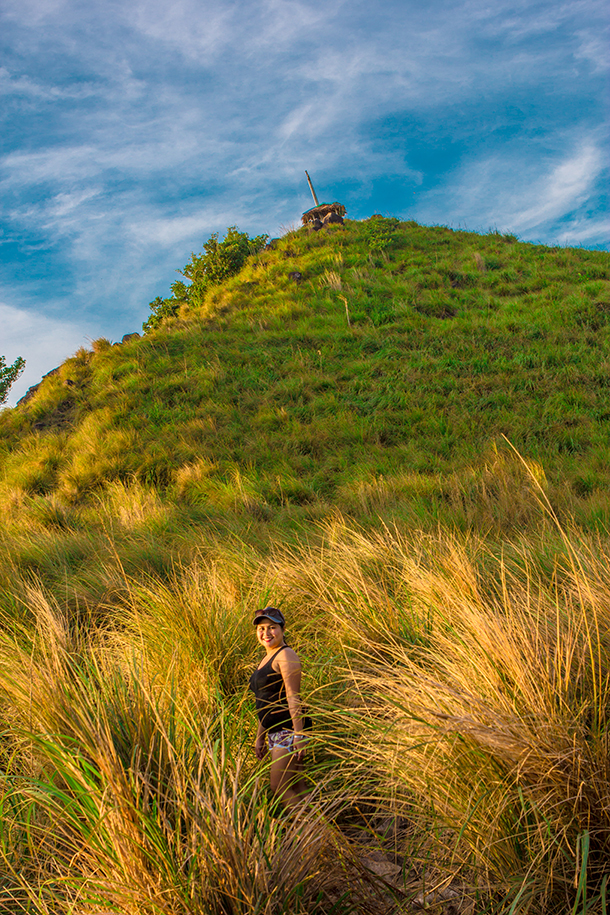 Unfortunately we weren't able to do so as it was pretty steep. But we did get to enjoy the hike going up.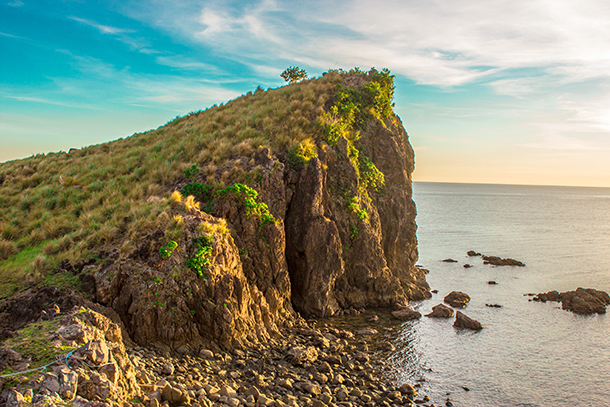 I hope they also improve this area here as the views of the cliff up close was beautiful! The first part of terrain was a bit inclined though so climbing up and going down was challenging (and I was wearing slippers at that time so it was pretty tricky).
Sunrise and Sunset from the Watchtower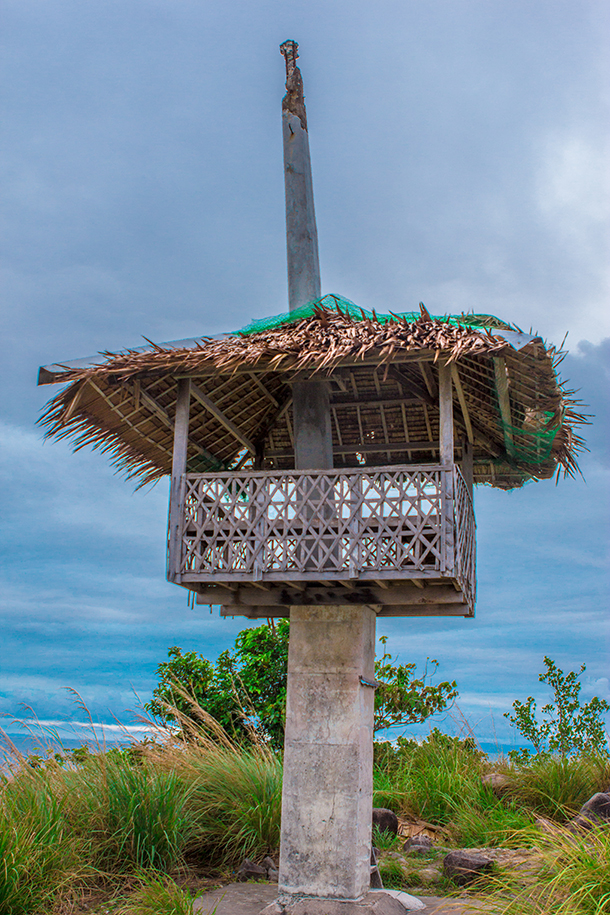 The watch tower at the top of the hill is great for sunset and sunrise watching. Unfortunately we did not capture the sunrise from the island as it was gloomy in the morning.
It was also the reason why we left Sambawan Island at 10 AM instead of the agreed 7AM as the waves were rough.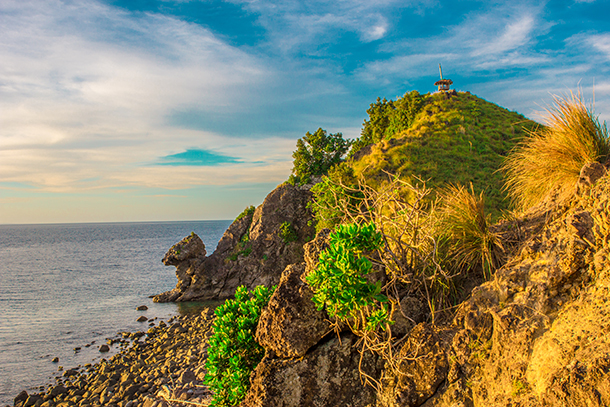 We did saw the amazing sunset and golden hour so it was still a good thing.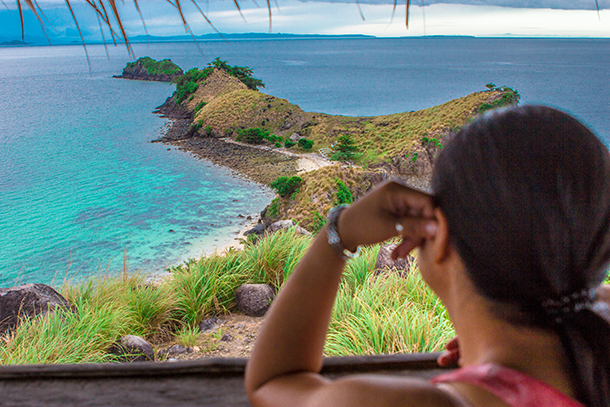 Despite the gloomy weather the following day, I found the view from the watch tower very relaxing and calming.
Camping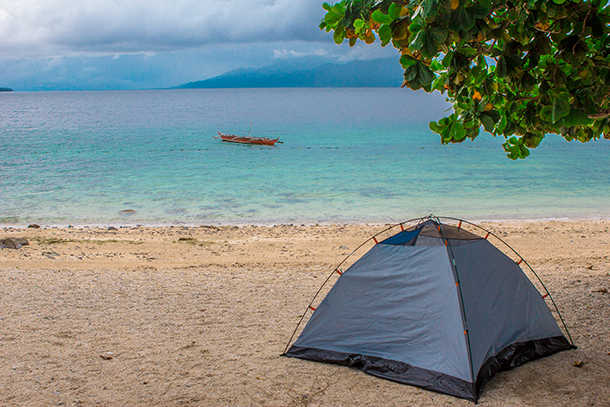 If camping is what you prefer, you may certainly do so at Sambawan Island. The island has some long stretch of white sands that you can put up your tent.
Please take note that there is a pitching fee of 100 Php for small tents.
Travel Tips When Visiting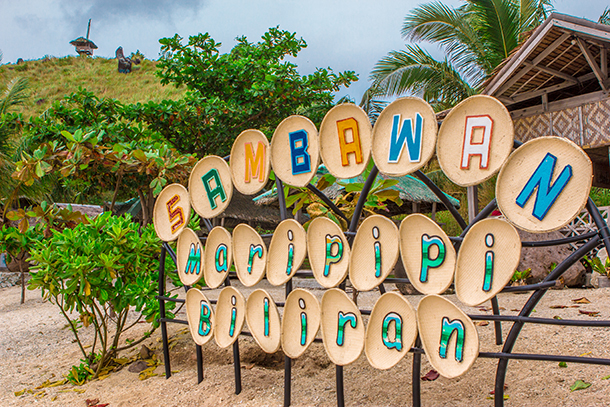 1. Purchase your supplies needed for the trip beforehand to cut cost. There is a small canteen/ convenience store at the island with your basic needs just in case.
2. Rough sea conditions are sometimes expected so better travel there in the morning when it is more calm. Expect rougher waves after 5 PM. My husband vaguely remembers their previous trip with friends where the sea was rough. The waves were pretty high and they had to endure a longer travel time from Naval to Sambawan Island and vice versa.
3. An entrance and environmental fee of 100 Php per head is collected. There is also a docking fee for boats chartered here which is around 50 – 300 Php depending on the size of the boat.
4. Electricity at the island is available only from 6 PM until 6 AM the following day. So bring power banks with you just in case. We use Silvertech as our powerbank for our trips. It can charge up to 3 mobile units and is very handy.
5. If you can, bring some electrical extensions especially if you're with a big group so that you can charge your phones simultaneously.
And don't forget to bring your travel essentials! Most of this items on our island hopping packing list will come very handy!
Our stay was short but I hope to return and maybe do more trekking and kayaking around the island. I'm pretty sure snorkelling here is also a great activity.
Have you been to the Sambawan Island? Or is there as island that's been on your list for so long that when you finally get to visit it, it was amazing? Share it with us!
Like This Post? Pin It!