Are you having problems with planning your Coron itinerary? Here's a comprehensive guide for you!
Eleven-thirty in the evening.. I know I should be sleeping or resting.. But there I was, waiting for our plane and hoping we won't be delayed..
We were on our way to Coron and we had a total of (more or less) 7 hours of travel time including the stop-over in Manila. It was a connecting flight because there was no direct flight from Cebu to Coron at the time of our booking.
I was around 5 months pregnant at that time and honestly it was exhausting and my back was aching. We were at the airport and looking for something comfortable to sit on (and maybe rest my foot on) was next to impossible.
I then settled for my neck pillow tucked between the hard chair and my back and waited for the plane to arrive and maybe get some 'zzz' on the plane.
This trip to Coron was planned months before. I didn't thought of cancelling any of our plans (though my husband was very much considering it).
It's one on my bucket list for Palawan's tourist attractions, so cancelling was undesired.
Like the well-organized person my sister is, details of our trip was already booked prior to the trip including our accommodations, Coron itinerary, places to eat and travel agencies.
We only had a few days allotted to explore Coron, so we've decided to book travel agencies in advance especially for our Calauit Safari and Ultimate Coron Tour.
However, if you decide just to go ahead and head there without any advance booking, it's not a problem at all. There are a lot of agencies that you can inquire upon arrival. We were handed out brochures for several types of tours at the Arrival Area.
Travel agencies can also be accessed at the town proper. Advertisements of tour packages are also available within the town so there'll be plenty of options.
We arrived in Ninoy Aquino International Airport (NAIA) Terminal 3 at around 2 AM and had to wait for the shuttle service to take us to Terminal 4 where our flight to Busuanga was stationed.
Our flight to Busuanga, thankfully, was not late. Plus the weather was great. This gorgeous aerial view of Coron was our early morning reward. It seemed like a welcome greeting to us from above the plane.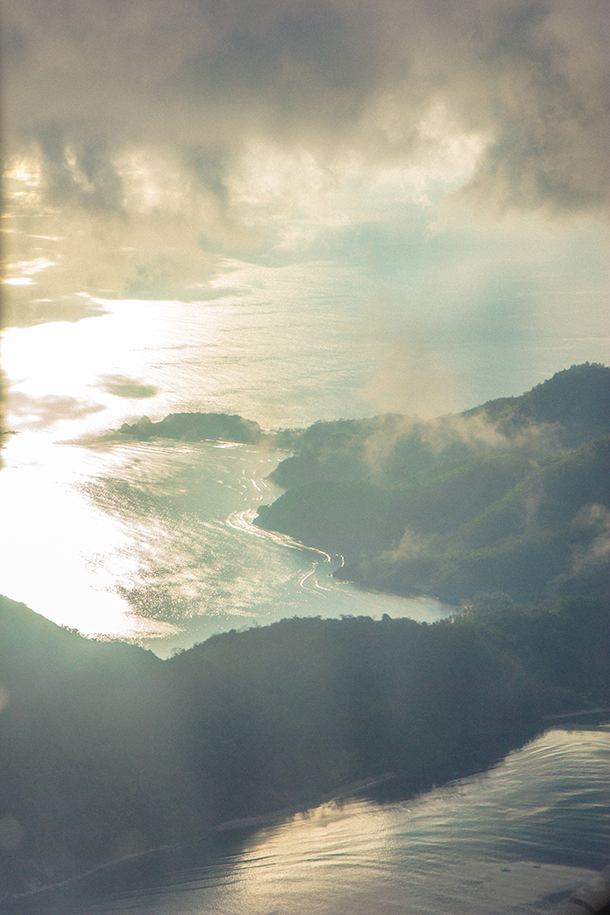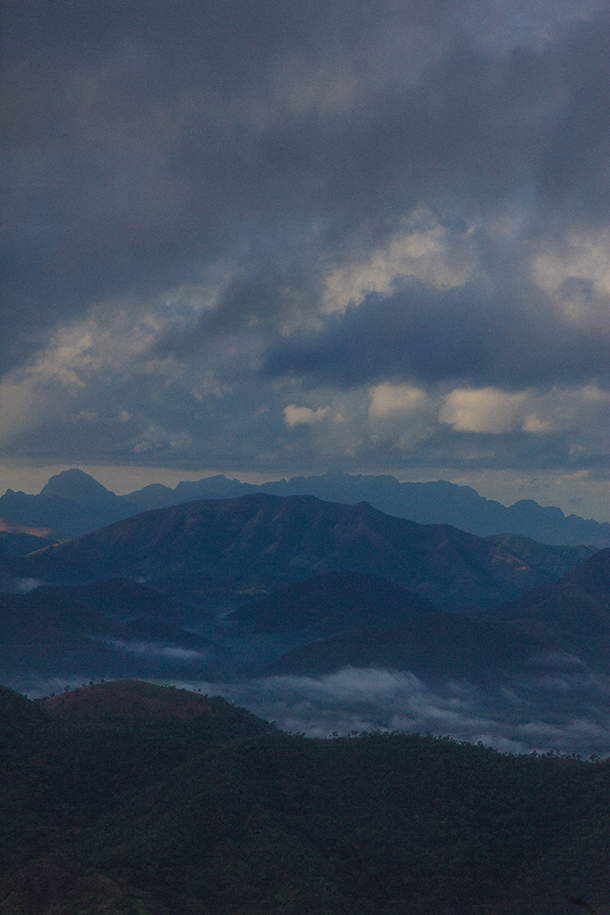 Upon arrival, our driver from the Darayonan Lodge Coron picked us up from the airport. Good thing too that the lodge allowed early check-in. I've prepared a review of our stay at the Darayonan Lodge Coron BTW.
Coron Itinerary Day 1: Coron Town Tour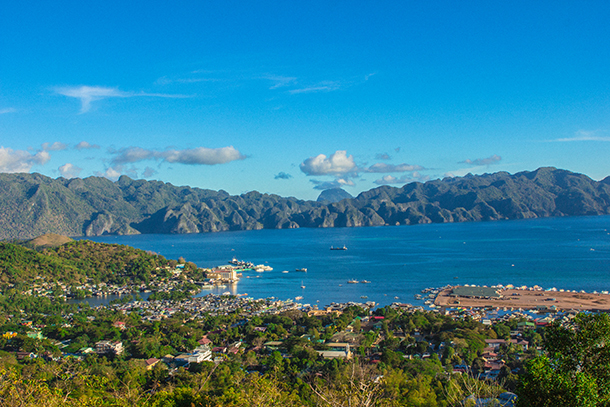 Since it was a little too late for any tours at this time, we decided to have our own Coron Town Tour.
We decided against taking a travel agency for this particular activity of our Coron itinerary as the town was small and it was fun getting to know the area by foot and commuting like a local.
After breakfast, we immediately headed out and took advantage of the weather as it was still not too hot.
In the morning, we mostly covered areas within the town proper including the St. Augustine Church, Lualhati Park and Cashew Harvest.
We took a brief break after a delicious lunch at Lolo Nonoy's Food Station and decided to freshen up and rest for a while. Our town tour resumed again at around 4 PM where we headed to Mt. Tapyas for a 720-steps hike and a nice hot bath at the Maquinit Hot Springs.
We did not thought of hiring a tour guide to assist us with the Coron Town Tour. You can easily do-it-yourself too!.
Coron Itinerary Day 2: Calauit Safari Tour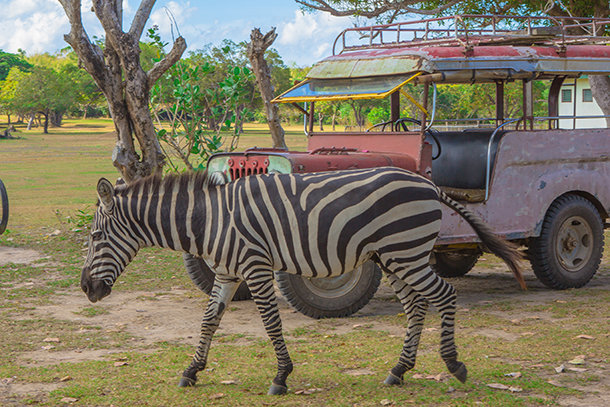 On our second day, we once again woke up super early in the morning for our 4 AM pick up to Salvacion, Busuanga.
We were advised at the Reception Area that there'll be an opportunity for a bit of swimming after the Calauit Safari Tour. We decided against bringing additional clothes however, as we were too lazy to go and get extra clothes. LOL.
The Calauit Safari Tour was an activity that my sister wanted to try ever since we've booked our flights to Coron. She saw this local footage of the tour months before and found it very interesting…
The tour took a whole day in our Coron itinerary to complete and it included an island hopping at the Busuanga Bay afterwards. Overall, Calauit Safari Reserve was pretty interesting.
We ended the day with a delicious dinner at the famous Lobster King in Coron. Definitely a must-try!
Coron Itinerary Day 3: Coron Ultimate Tour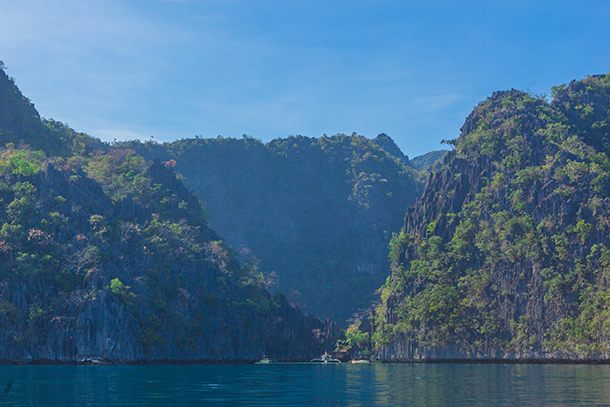 Our day 3 activity in our Coron itinerary was what I've been looking forward to. I've really been looking forward to see all the amazing land and seascapes of this beautiful island..
Call-time was a bit later than the previous day. The port where the island hopping will start was just near the Lualhati Park.
A van from the travel agency picked us in the morning. We were part of a Joiner Tour, meaning the trip was not exclusively for us. We had a few small groups join us too.
There are several island hopping tours in Coron, we however, picked what the agencies call as the 'Coron Ultimate Tour'. The tour took us to the lagoons and lakes that Coron is famed for.
Sadly, we were not able to visit Kayangan Lake as there was an on-going investigation for the deaths/disappearance of two (2) tourists. Nevertheless, Barracuda Lake did not disappoint (it was the replacement). The water was very clear and pretty awesome to swim in.
We had lunch on a picturesque set-up at the Beach 99. Such a pretty ambiance for a relaxing lunch!
The tour ended with us on high spirits! It was so amazing experiencing the Twin Lagoon and the Barracuda Lake on such a perfect day.
When we returned to the Lodge, we decided to take a dip on the pool to freshen up.
We feasted on a meal of fresh seafoods at the Santino's Grill. It was just one of the Coron restaurants that we tried in during our visit.
Our flight back to Manila was around 2:50 PM. Hence, we've decided to have a lazy morning and just stayed at the lodge to complete our packing.
As expected, there was a bit of a delay on our flight back. We did not mind it that much, though. There are some things that you can get used to, I guess. LOL.
Headed to this part of the Philippines for a brief period? Here's our sample Coron itinerary that you can look into for your planning convenience! Enjoy!
Sample Coron Itinerary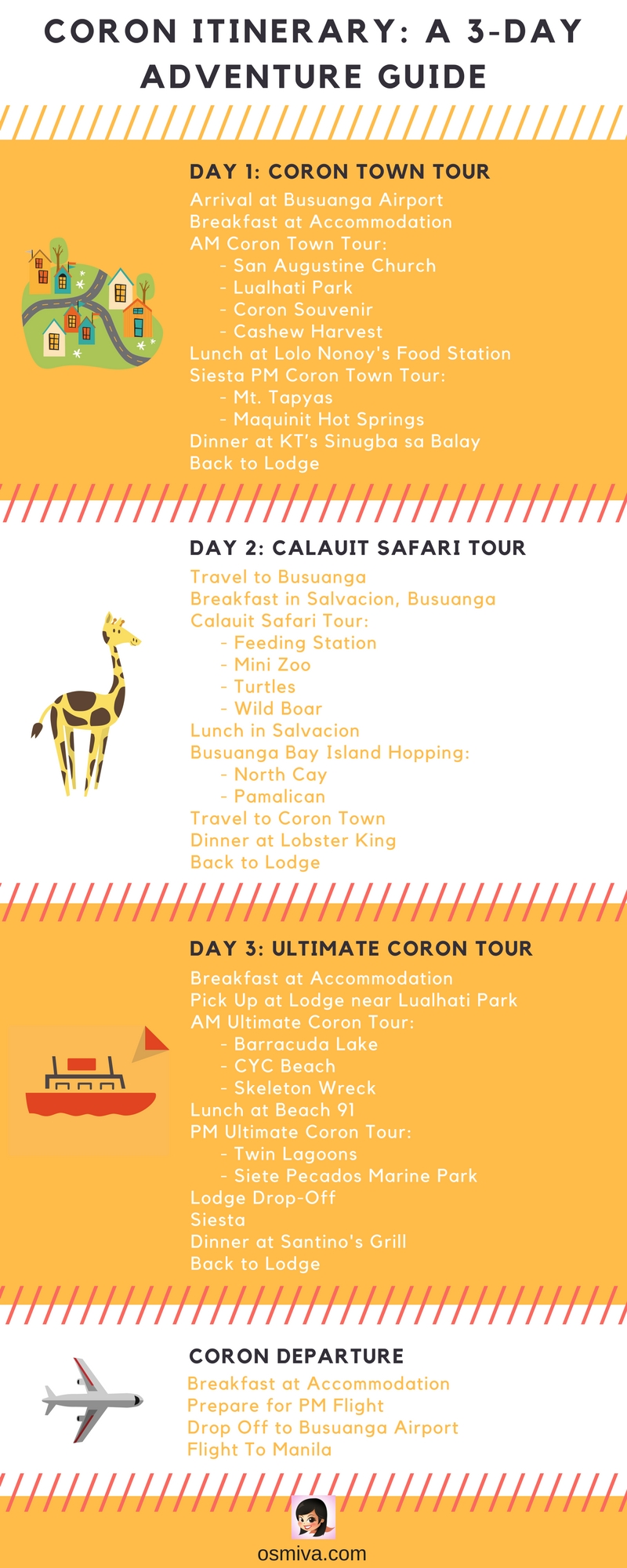 The following is our estimated budget for the entire Coron itinerary: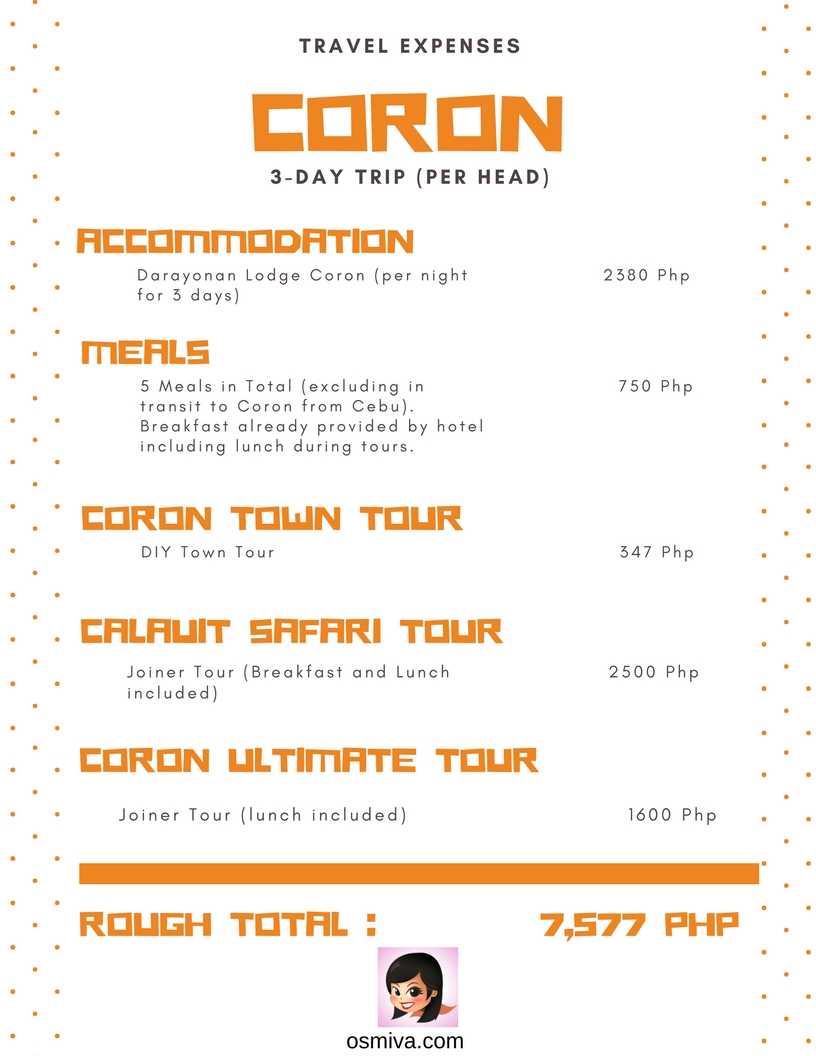 Like This Post? Pin It!