Usually, when we go on a trip, we only have a couple of days to explore and unwind. This is mostly because we either have limited time or a pretty limited budget. With hop on hop off bus tours, however, you can enjoy short visits.
When we travel on limited time, we have this tendency to want to explore the place on our own and make the most of our time. I, for one, love to do this especially if my husband and I are on vacation by ourselves.
Our first visit to Singapore and Hong Kong were no different. We pretty much took advantage of their efficient transportation system!
We have seen no reason why we should try out the city's Hop On Hop Off Bus Tours because of this.
Roaming around the city, we've previously noticed this buses filled with tourists, but never paid it much attention as we were contented with our maps and brochures. It was great to move around the city like most locals do.
We spent most of our trip exploring the city on our own and going to some of the recommended touristy spots we usually see on television and on the brochure.
Besides, we were pumped up and willing to take that endless walk to go from one destination to another.
On our next trip however, we were particularly curious on how this Hop On Hop Off Bus Tours work – never having tried it before.
Admittedly, it was more expensive than using the public transport. Price range depends on the location, of course. You may check their websites in advance should you wish to see the cost.
Personally however, I think it was a great way to experience major tourist destinations like Singapore and Hong Kong. Also, if you're going with older people who'd rather sit than walk or you're with kids, these Hop On Hop Off Bus Tours are lifesavers!
In order to avail of this tours, you must of course, need to purchase the ticket. You may do this online (visit their site) and/ or visit their ticketing offices in the city.
For our Singapore and Hong Kong trips, we bought our tickets at their ticketing offices. You may check the local brochures found at the airport for the areas where tickets are being sold. Or you may purchase them directly online, like we did in Macau.
Both were pretty convenient to say the least. Just make sure you get their maps and/or brochures before you start the tour. This is to ensure that you don't get left behind and you'll know your stops and pick-up points. 🙂
We had this problem on our first try in Singapore. We had no maps or brochure from the Bus Tour, thus, there was a bit of confusion on our part. But, we still enjoyed it, nevertheless!
Some bus tours operate on a single route while other have multiple routes that you can take. It is important therefore to know beforehand what attractions/ destinations you will pass on the route you will take or avail.
Like for example in Hong Kong, there were about 3 routes that our Hop On Hop Off Bus Tour usually take. We took all three – though a bit more expensive than the single route. It was still though great since we did get to see more areas in Hong Kong than the usual.
So if you have some budget to spare, here's Reasons Why Hop On Hop Off Bus Tours Rocks for Short Visits:
Convenient Way of Exploring the City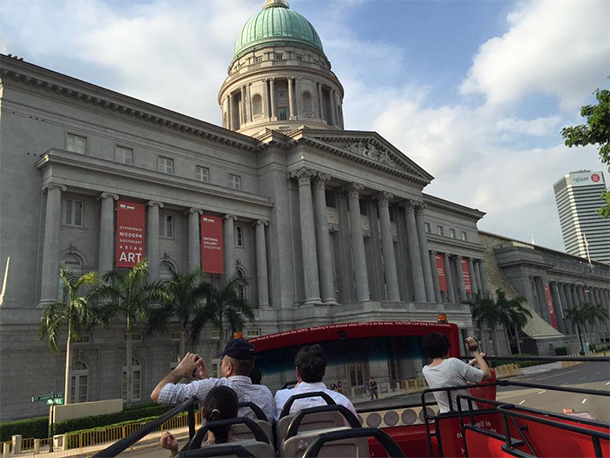 Getting around the city and experiencing it on a Hop On Hop Off Bus Tour is pretty convenient. You just need to know and be familiar with bus stops' location and the time of interval per bus so as to ensure that you will not miss it.
It's a hassle free way of touring around and seeing the entire city. Bus stops are usually strategically located near popular landmarks and tourist destinations, which gave us the opportunity of seeing it all.
And as previously mentioned, if you are with elderly people or with kids, these Hop On Hop Off Bus are lifesavers.
It's a great way to navigate the city without worrying about your companions since you get to comfortably sit while looking at the views.
You Get to See Almost Everything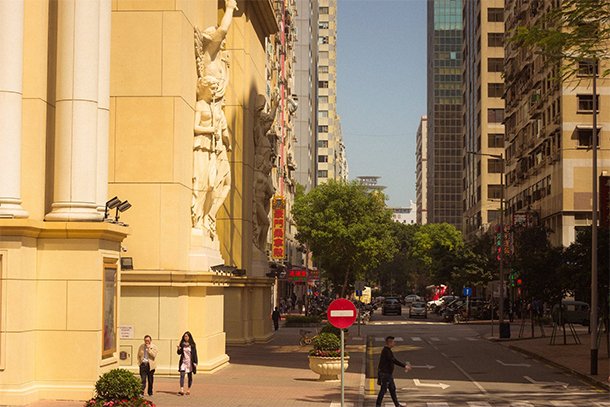 The beauty of riding in a Hop On Hop Off Bus is having the opportunity to see the entire city at above street level. Most bus are double decked, which gave my husband and I a chance to enjoy the view.
It also helped us familiarize the city from the bus for easier navigation if and when we wanted to explore it more by foot.
Allows You to Get Photos From a Different Position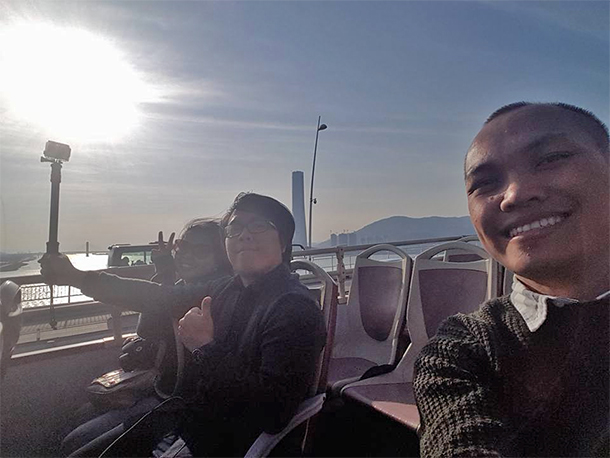 Wanting that great photo? Well, photo opportunities on board the Hop On Hop Off Bus Tours are plenty. You won't need to find elevation to get landscapes and skylines. Just being on top of the double decker bus will be enough! 😉
Personally, some of my best photos from my trip were onboard the bus!
Makes Planning your Itinerary Easier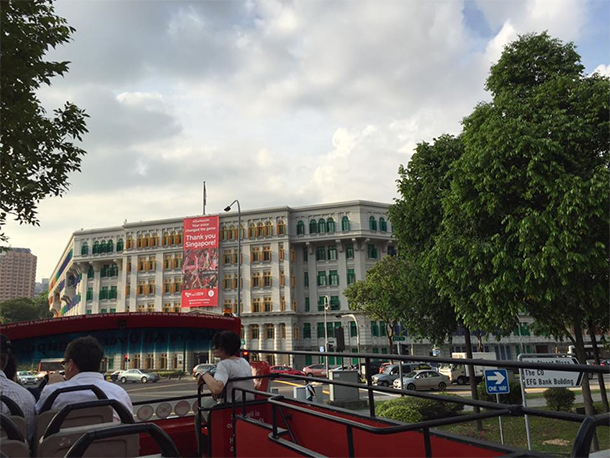 Planning your itinerary will be a lot more easier if you avail the Hop On Hop Off Bus Tours. You can simply get the route map from the ticketing office and then plan your day from there!
We find it very helpful on our HK and Macau trip. We took the Big Bus Tours and easily planned where we were going to stop and up until what time. 🙂
Time-Savers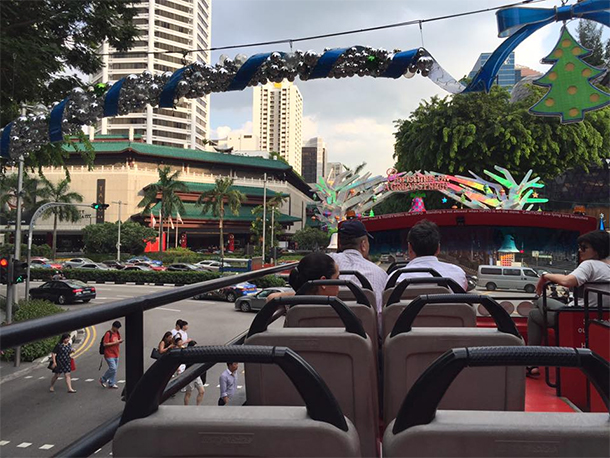 Hop On Hop Off Bus Tours are Time Savers. We usually book our trip 2-4 days only because I had a full-time job.
So, getting around and fully experiencing the city through this tours allowed us to save time. We didn't have to worry about navigating the local transportation. Or finding our way around to go and see the popular landmarks and tourist destinations.
We simply had to refer to our maps and just be conscious of the time for the next bus.
Great Way to Learn More About the City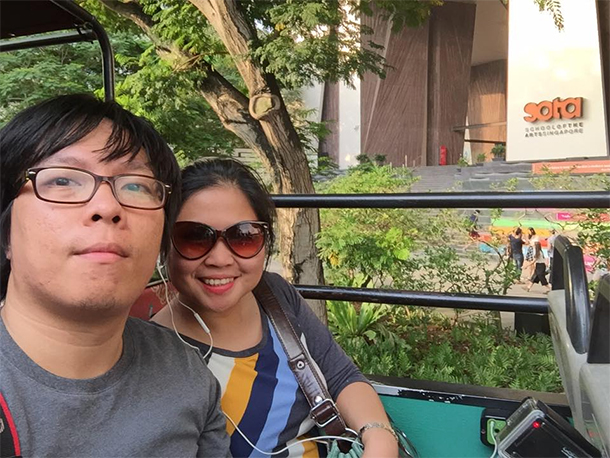 Hop On Hop Off Bus Tours usually includes a Tour Guide. May it be an actual live person or a recorded audio.
The Sightseeing Bus we availed in Singapore had a pre-recorded audio installed on their buses. Also for the Big Bus Tours in Hong Kong.
Headphones were included in the package. You just have to plug it in, select your language and listen to the recorded audio.
It is also timely played/ recorded that as you approach a certain place fun facts and trivia about it are played on.
The Open-Bus Tour in Macau was different though. They had a tour guide on board who talked to the tourists the entire trip. Explaining away as we navigated through the city.
Personally I learned some facts and trivia from the bus tours that I've been in.
Conclusion
Of course, availing these Hop On Hop Off Bus Tours are totally optional. We did not really considered it before too. But, after availing it, we found these Bus Tours pretty convenient. Especially if you are only going to spend a couple of days in a city.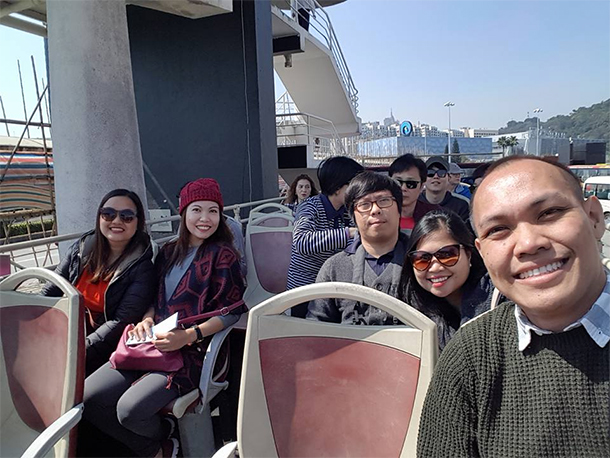 How about you? Have you tried these Bus Tours before or do you prefer to DIY (do it yourself)?
Like This Post? Pin It!