Swimming has always been a favorite past time of ours. Ours as in my family and I. We are just fans of snorkeling and island hopping to say the least. That is why, Moalboal in Cebu has always been a favorite family destination for us. We always find fun and awesome things to do in Moalboal.
Moalboal is a municipality in the Cebu Province. It is pretty popular to the locals because of its amazing dive sites, rich corals, white sand and pristine beach.
Visiting is easy because it can be a day trip from Cebu City and can be included in your itinerary if you are within the province. Provided, of course, that you keep your itinerary light or you have a private vehicle.
There are several beaches that people usually goes to including White Beach and Panagsama Beach.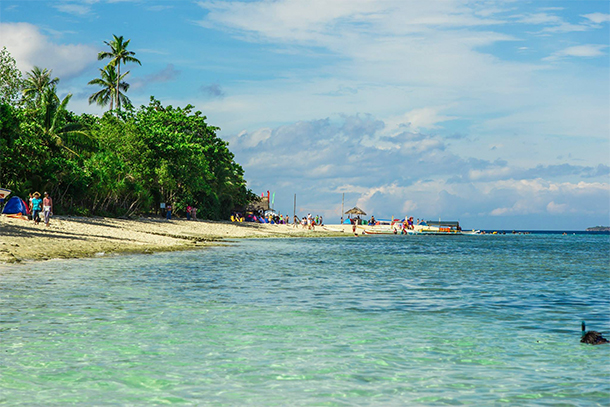 Our favorite area is in White Beach, Basdaku. It's pretty peaceful with comfortable and great accommodation choices.
If you are willing, you can pitch a tent at the Basdaku Public Beach like most tourists/ guests do and stay there at night.
Personally, we haven't tried it as we prefer to be more comfortable since we're with kids and elderly.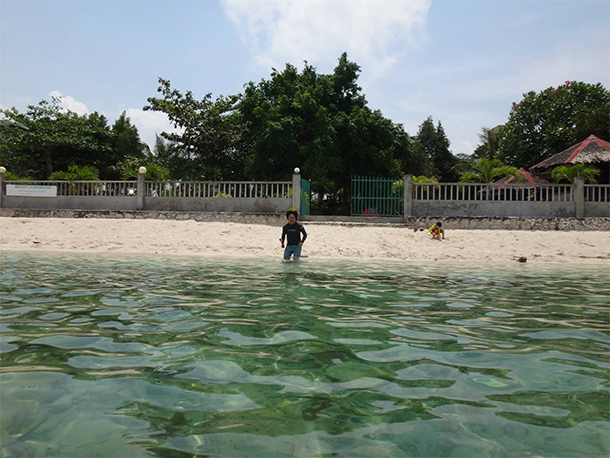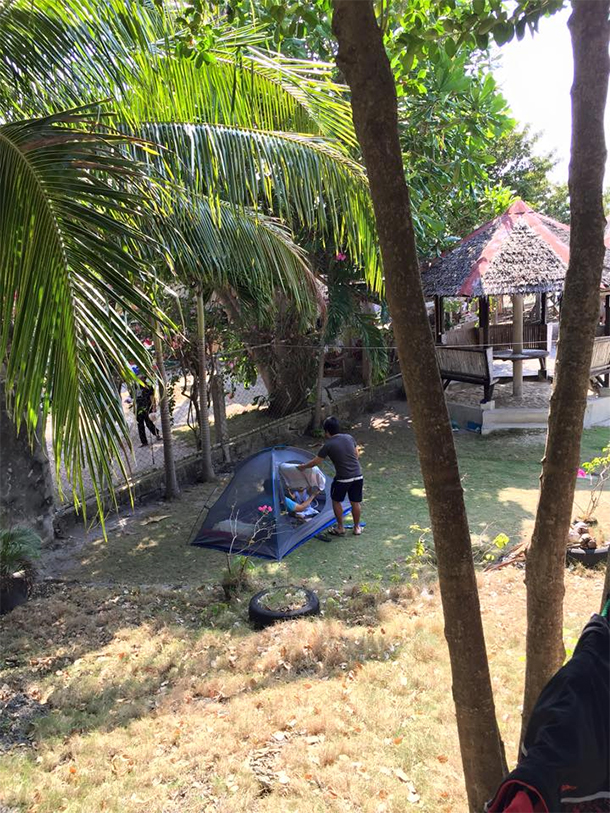 We usually book a day or two stay at the Bigsand Campgrounds Resort. It's a pretty spacious resort in White Beach where comfortable and clean accommodations are available.
They also allow guests to pitch a tent within the property for those wanting a bit more of an adventure. And one of the best things? You and your companions can cook within the campgrounds.
We usually go there during summer when the weather is great with plenty of amazing things to do in Moalboal.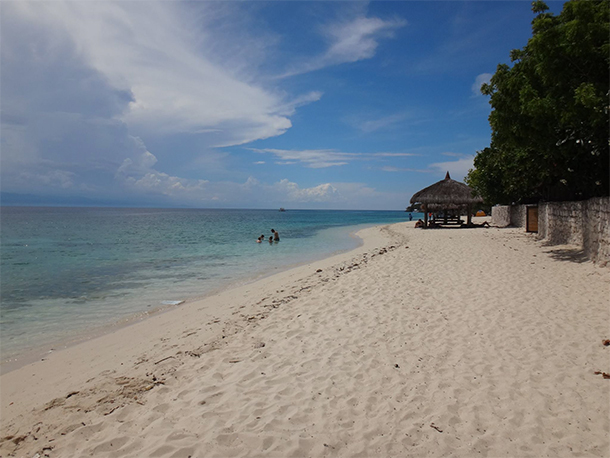 How To Get to Moalboal, Cebu
Travel time getting to Moalboal from Cebu City usually takes 2-3 hours, traffic permits. We usually go there via private car.
But there are plenty of transportation choices that you can take including buses and vans at the South Bus Terminal in Cebu City.
Fare range from 120 – 150 Php (depending if it's the air conditioned or non-air conditioned bus).
Once you arrive in Moalboal, you may take the local tricycle or ride the habal-habal (motorcycle) from the bus stop to any of your preferred beach. Fare for the tricycle is around 80-100 Php and 50 Php (for motorcycle).
Once there, you will find that there are indeed plenty of Things To Do in Moalboal, Cebu, Philippines. Check out our favorite to-dos that you can also try out!
Things to Do in Moalboal, Cebu
Lounging at the Beach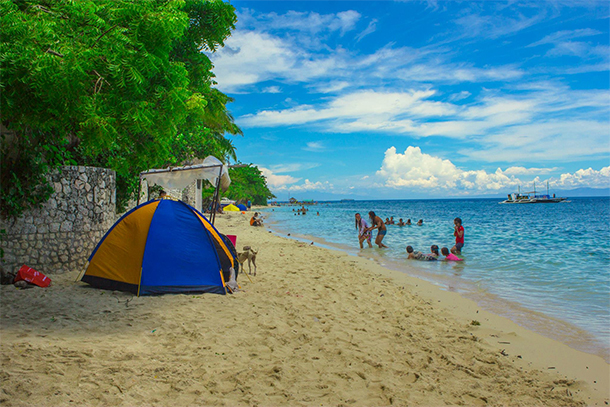 Moalboal is pretty popular for its white sand beach. Lounging at the beach and relaxing your afternoon away is definitely the best way to spend your summer (or any time of the year, I suppose).
Finding the perfect spot to do this is pretty easy. Almost anywhere near the beach is great!
Swimming in the Crystal Clear Water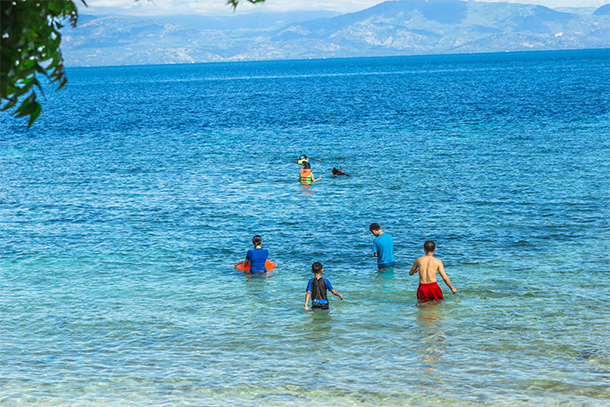 Moalboal's crystal clear water is truly inviting. We usually spend our mornings enjoying the sea (when the water is high). Except for the occasional jellyfish (depending on the season), swimming in the area is definitely high on our list of things to do in Moalboal.
Snorkeling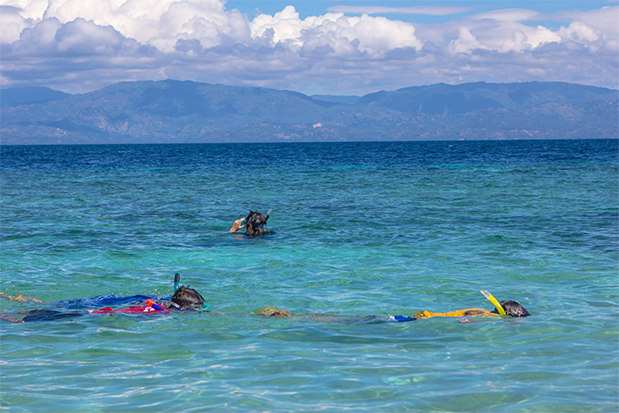 One of the best things to do in Moalboal is snorkeling. Personally, Moalboal has one of the best snorkeling sites that I have swam in.
The corals are very near the shore, which makes it pretty accessible. Best time for snorkeling during summer? It's around 8AM-10AM and 3PM-4PM when the water is not too high and the waves are not too strong.
Of course, take not of the high and low tide just to be sure!
Just a word of caution however, wear life vests (if you are not a strong swimmer) so as to avoid destroying the corals as they are situated near shallow water at times.
And of course, wear aqua shoes to prevent from stepping on sea urchins since the place do have plenty of them. Plus swim leggings or swim tights to add extra protection from the jelly fish.
Finding Nemo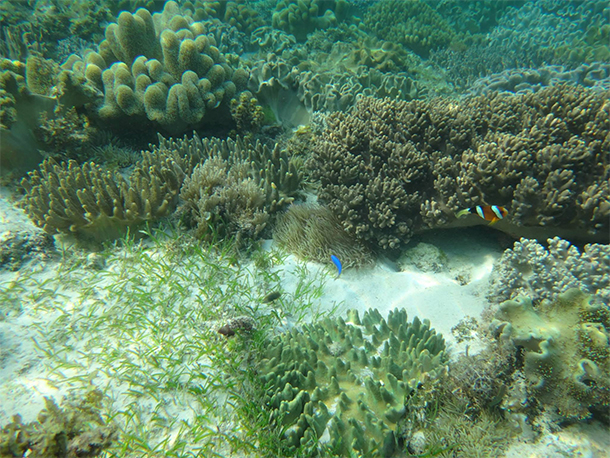 Due maybe to the popularity of Disney's Finding Nemo movie, finding that cute and elusive Clownfish has been a popular past time for those who love snorkeling. Including us!
Moalboal has such an abundant sea life that includes several Clownfish in its water. We, in particular, find it quiet entertaining to look for 'Nemo' among the corals.
Catching one should be avoided, though. We need to preserve them!
Island Hopping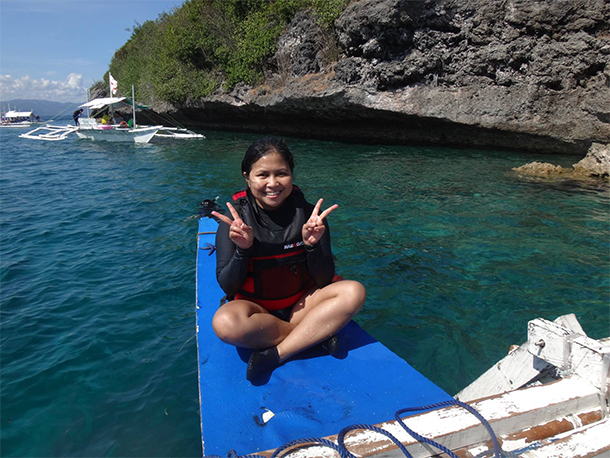 Island Hopping in Moalboal is a definitely must-try. Just like those in Mactan Island and Bohol. It took us about 4 hours to complete the entire island hopping activity.
Small boats are available for rent within the area. You may approach locals for queries.
We were able to inquire at Club Serena (a resort in White Beach where we stayed for 2 nights one summer).
Rental of the boat was about 2,400 – 3,000 Php. This was good for 9 persons. Prices depends on the size and capacity of the boat.
If you want to pre-book a Pescador Island Hopping Private Tour, you can definitely do so.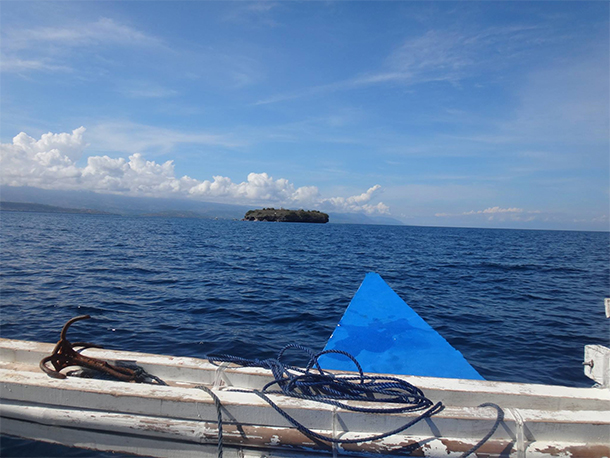 Our island hopping included 2 islands at most with a few side trip, which I have included on this list.
One activity was a visit to Pescador Island. This small island boasts of colorful corals and fishes in different shapes, sizes and colors.
Dolphin Watching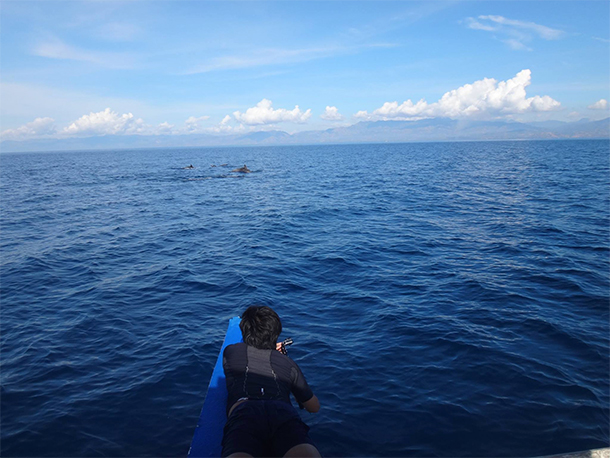 One highlight of the things to do in Moalboal is the Dolphin Watching. It is part of the island hopping activity.
Prior to getting to Pescador Island, the boat ride will take you to a certain part in the sea where dolphins can be seen playfully swimming and showing off to tourists.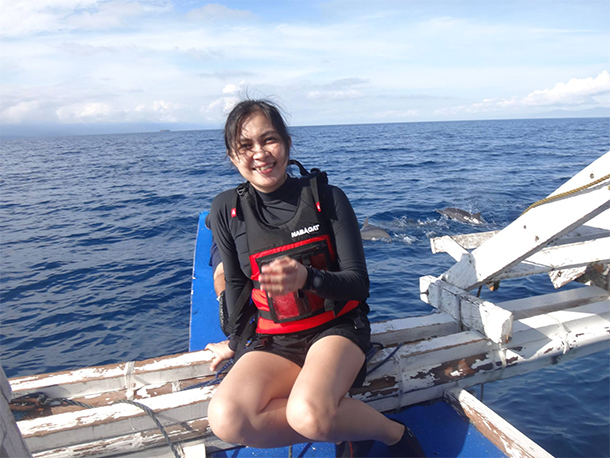 It was such an amazing site to see them chasing the boats. Good thing it was forbidden to swim with the dolphins during this part of the island hopping as it may be harmful to the dolphins.
Sea Turtle Watching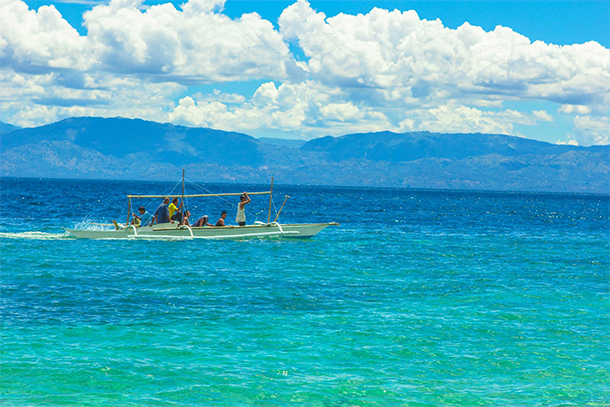 After the snorkeling activity at Pescador Island, we were brought to another area in Moalboal to see Sea Turtles.
Unfortunately, we only got short glimpses of the sea turtles in this area because they were pretty elusive and should be approached very silently. A feat that was particularly hard for us. LOL.
You can also try swimming with the sea turtles at the Apo Island. It's such a cool experience!
Swimming with the Sardines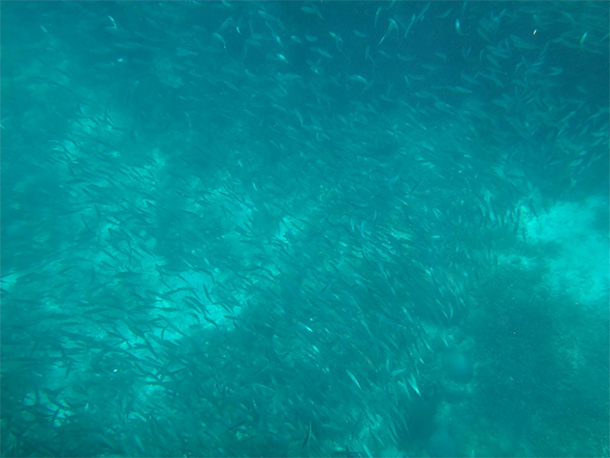 Now, this activity is definitely something that you should try once you visit Moalboal. Swimming with the sardines was the last activity that we had during our island hopping and should be on your things to do in Moalboal, Cebu.
We were taken near the coast of Panagsama beach to try this one-of-a-kind experience. There were plenty of divers within the area when we reached it.
We, on the other hand, just did some free diving and snorkeling.
Personally, it was an eerie and amazing experience, being surrounded by so many fishes at one set-up. The water was a bit dark, maybe due to the fact that there were plenty of sardines surrounding us.
Indeed, it was an incredible sight!
Conclusion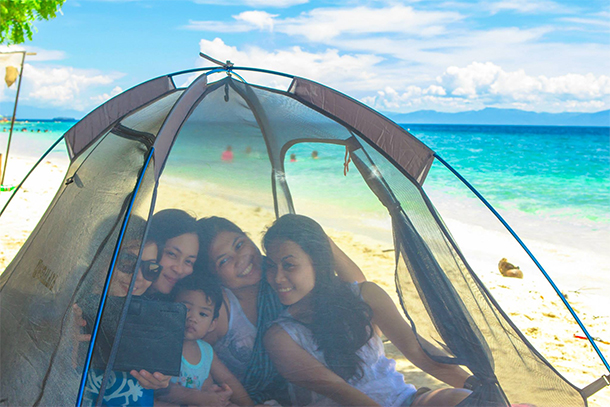 Our stay in Moalboal usually lasts for 2-3 days, depending on everybody's availability. To be honest, 2-3 days is more than enough to enjoy Moalboal with friends and family. Planning a visit to Moalboal has always been easy and it has given us so many delightful memories. 🙂
Have you been to Moalboal, Cebu in the Philippines? What are your favorite things to do? Leave your comments below! 🙂
And oh! Here's our Moalboal video with the family! Hope you like it! 😉
Like This Post? Pin It!